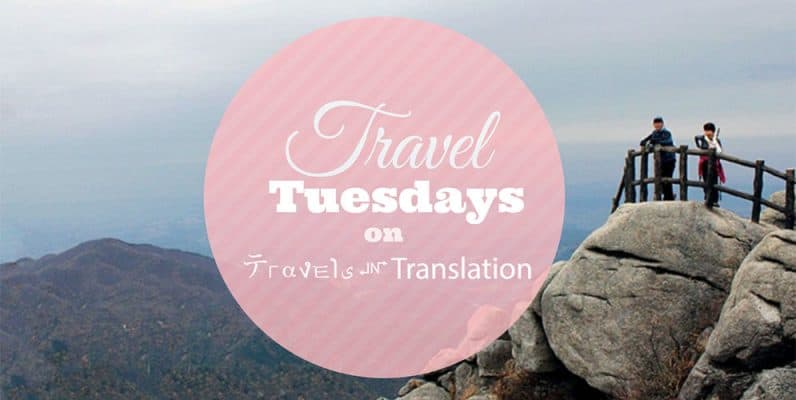 This week we would like to introduce Audrey of That Backpacker. Hi there! I'm Audrey and I'm a Canuck on a quest for more stamps on my passport. Over the years I have called places like Argentina, South Korea, and Thailand home, and I'm currently on an extended adventure that has me hopping continents. 
1. What inspires you to travel, and how would you define the word 'traveler'?
A traveller, to me, is a curious roamer. Ultimately, I travel out of curiosity and because I want to see every place in the world with my own two eyes.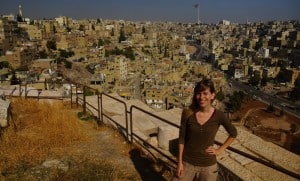 2. How do you afford your travels?
Over the years I have funded my travels in many different ways. I started saving up for travel when I was still in high school working as a tutor, then in university I worked a number of part time jobs from admin work to painting houses, then after graduation I took a teaching position in Korea which helped me save a nice chunk of change, and now I'm a blogger and freelancer. I go into more detail about how I fund my travels in this post.
3. Where was your first international trip and how old were you? 
My first international trip was to Lima, Peru and I was 6 months old. My parents got me started young.
4. Where has been your favorite destination? Where has been your least favorite?
I absolutely loved travelling in Vietnam! I covered the full length of the country from south to north and there was so much diversity in terms of the landscapes: the wetlands of the Mekong Delta, the beaches of Nha Trang, the stunning karst formations of Halong Bay, and the hills of Sapa. I was constantly marvelling at my surroundings.
I don't have a destination that I particularly disliked, however, I did find it hard to connect with Zurich, Switzerland. Everything was so neat and organized to the point where it felt a bit sterile and bland…but hey, send me to the Swiss Alps and I'll likely have a completely different outlook.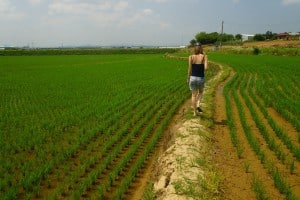 5. Have you ever had high hopes for a destination, tour, etc., only to be disappointed in the end? Or any travel mishaps?
I try to arrive in a new place with an open mind, so I haven't been too too disappointed by one particular destination. But to answer your other question about travel mishaps, my worst to date was being aboard a Thai train that derailed in the middle of the jungle. Thankfully it happened while we were passing through a tunnel, which meant that the carriages which bounced off the tracks were propped up against the wall, otherwise, it could have been a nasty accident.
6. What's the funniest or weirdest cultural idiosyncrasy you've either witnessed or experienced?
Having lived in Korea for a year, there were a lot of quirky things that caught my attention. One of the strangest observations I have from my time there is when I was given cans of spam and tuna as a Christmas present. The cans came in a fancy box set and I knew it was an expensive gift because I had noticed them at the supermarket, but I still didn't know how to reply. "Thank you, I'll feed it to the stray cats?"
7. What keepsake do you have to get at all your destinations?
Art for my future home! I don't know when or where I'll have that home, but in the meantime, I'm collecting ceramics, tapestries, wood carvings, sculptures and metalwork wherever I go. It's going to be a very colourful and eclectic abode.
8. How about the one thing you cannot travel without?
My Kindle. I need something to keep me distracted during the long flights and overnight train rides. Diving into someone else's story does the trick.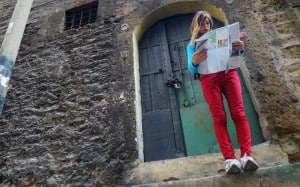 9. Why did you begin blogging?
I started blogging because I had so many photos and stories from my travels I wanted to share. A lot of my stories in social settings would start with "This one time in Brazil…" or "This other time in India…" and I figured putting pen to paper (or taking to the internet) was a better way to share my stories.
10. Previously being a solo female traveler, since joining up with Sam, how has your travel style changed?
It's a lot easier in terms of planning and logistics! It's nice being able to share the responsibilities with someone and getting their input on where we should go next or what we should do in a specific destination.
11. What advice do you have for other couples looking to travel?
Travelling is a great way to find out how compatible you are and wether you can work together as a team. While travel can be exhilarating, it will also throw plenty of challenges your way – challenges that will often come when you're tired, hungry and cranky, and just need a bed to sleep in. There's no better playing field where to exercise respect and teamwork than on the road.
Also, I think budgeting as a couple is something that you should probably discuss before you set out on your trip. If you're a penny-pincher and your significant other likes to splurge on hotel rooms and spa treatments, then you're likely going to run into some problems. Talk about things ahead of time so that there aren't any major surprises on the road.
12. What's next for 2014? 
2014 is going to usher in some travels around Europe! After spending the past year exploring a large chunk of South East Asia and a bit of the Middle East, I'm ready for a change of scenery.
Traveler Toss-ups
Backpack or suitcase? Suitcase! I have a backpack right now, but I so wish it had wheels!
Window or aisle? Aisle for a quick escape.
Solo or group? I want to say couple. 🙂
Tapas or sushi? Sushi all the way.
Beach or mountains? Warm, tropical beaches.
Be sure to follow along in all of Audrey's adventures:
Visit Audrey's site: That Backpacker
Follow Audrey on Twitter: @thatbackpacker
"Like" Audrey on Facebook: That Backpacker