After a long day floating down the Rhine followed by dragging our luggage around Bingen we finally arrived at Hotel Zum Bären in Rüdesheim. Tucked up and away from the main touristy drag, we were ready for a restful night somewhere quiet.
Stepping inside the door we were greeted with glasses of wine. Clearly, this hotel knew exactly what we needed.
Sipping away on wine, I meandered about the hotel trying to find all of the bären hidden throughout the design. I loved how they worked the bear motif thoughtfully throughout the hotel. It was cute, while still being classy and not cheesy.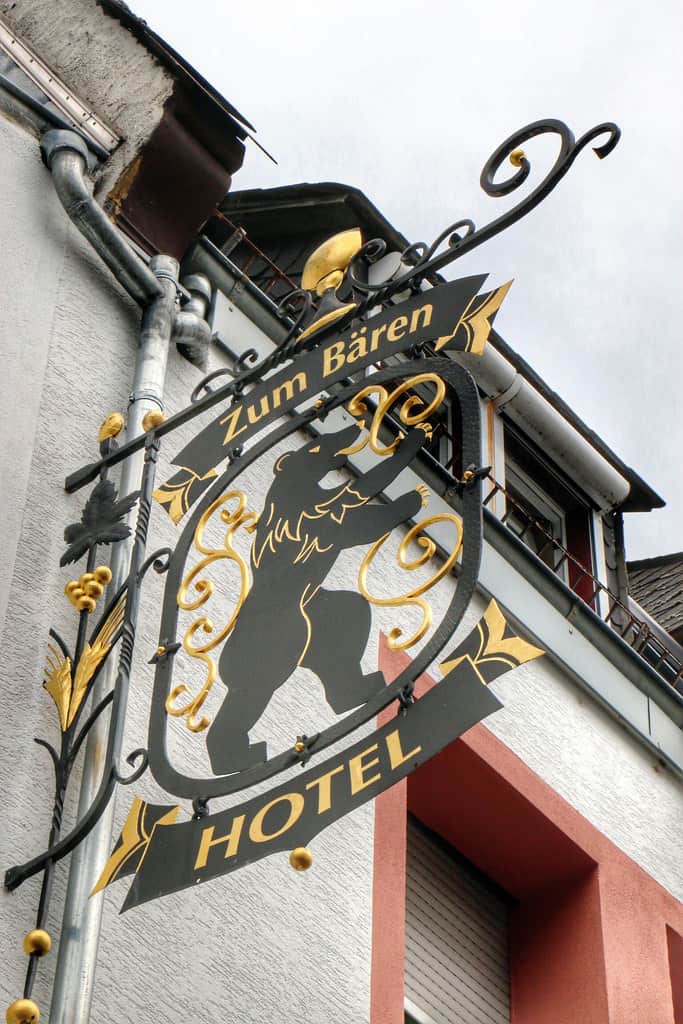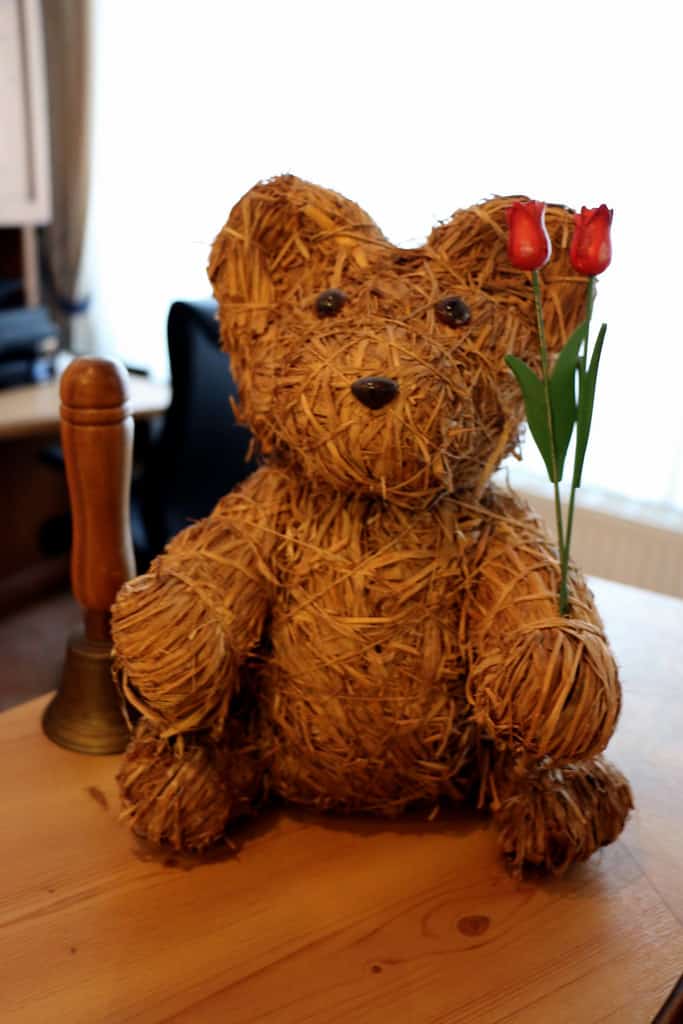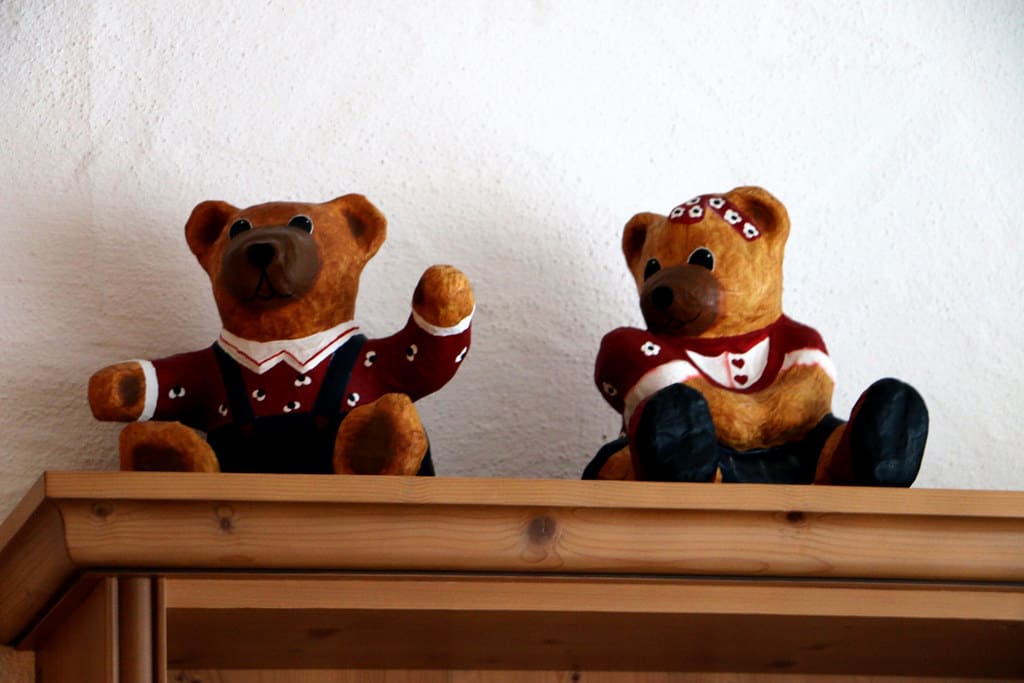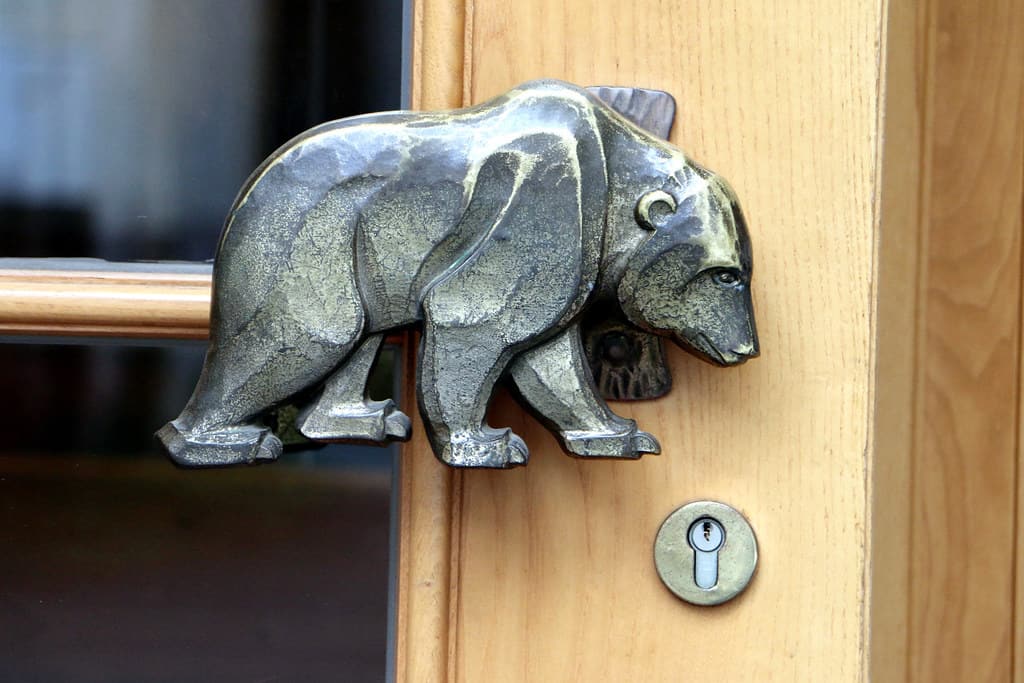 Once I had finished my wine, we checked in at our leisure and were taken to our room. For being a small, family-run hotel, the rooms were surprisingly large and comfortable.
There was a spacious ensuite bathroom and an interesting area outside of it that reminded me of an attic space. It had a clothing rack with hangers, but it also had a nice desk to work at.
After thoroughly checking out the room and wifi connection, I decided to explore the area and grab dinner before shutting myself in for the night to work.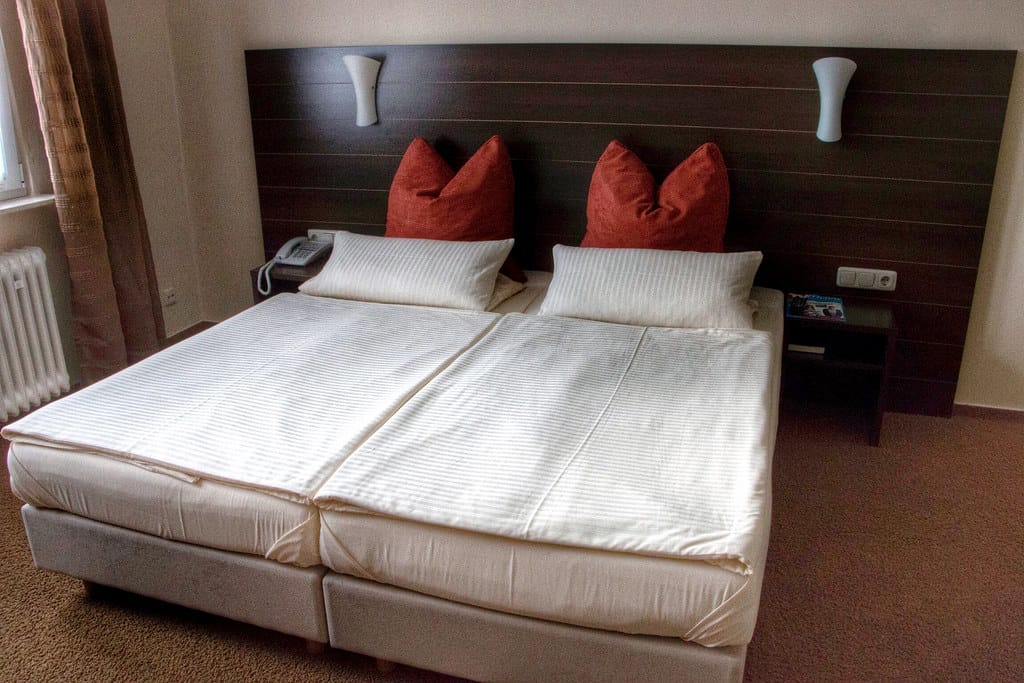 I had previously been warned that Rüdesheim was touristy and not very German. I'm sure when Christmas rolls around and tourism is in full-swing those statements might be true, but from wandering around that night, that's not what I found to be the case at all.
Rüdesheim was very walkable, despite being a semi-hilly area, and the town was filled with picturesque buildings and vineyards. Because we arrived late in the afternoon, we didn't even get to take the chairlift up the hill or explore the winery, but there's always next time.
Not wanting to eat on the main touristy road, we turned a corner and found restaurants galore lining the road going up the hill. It then became a matter of running back and forth, checking menus, and trying to pick the perfect one to eat at. We finally settled on one that has a cute patio dining area and enjoyed our first German meal!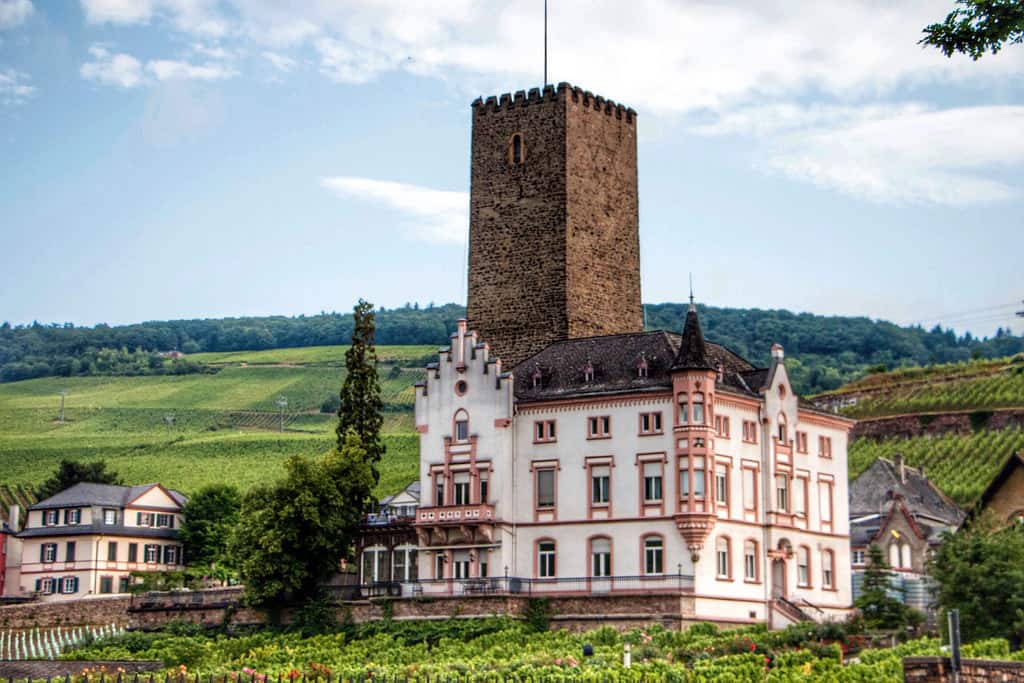 Filled with sauerbraten, we fought our food comas long enough to check out some of the local artisan shops before returning to Hotel Zum Bären. I'm not sure if we were lucky or unlucky that most of the shops were closed since it was Sunday, but it allowed us to call it an early night and relax back at the hotel.
The next morning we had to leave early. As we gathered our bags to check out we saw the had left thoughtful place markers on the tables for all of their guests. Although we weren't able to enjoy a full breakfast, we grab a few pieces of fruit to take with us, and admired the breakfast we'd be missing.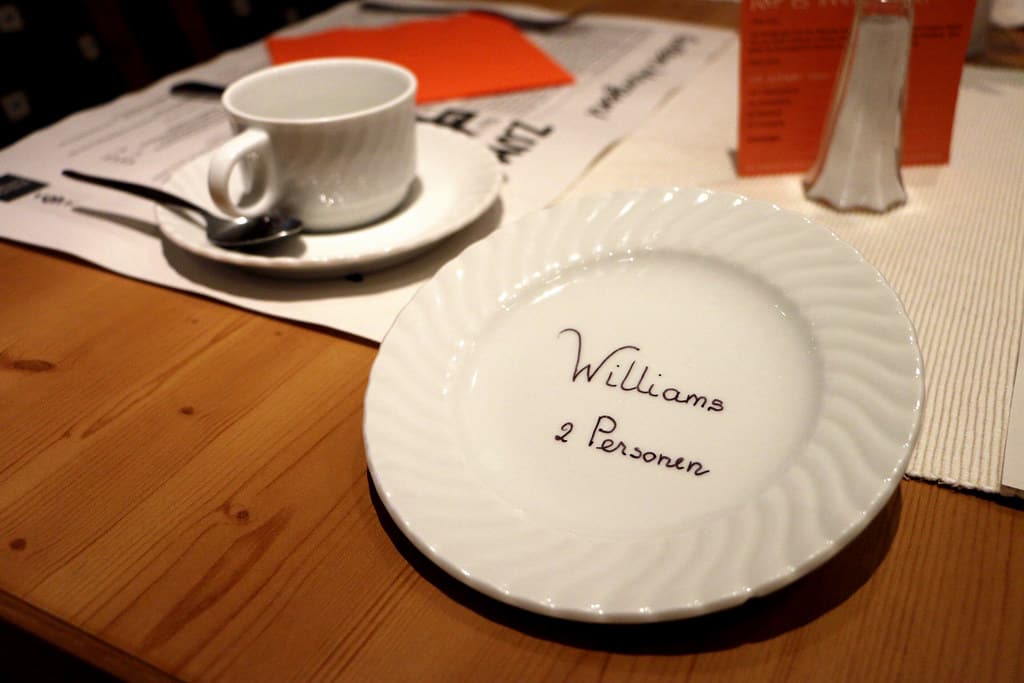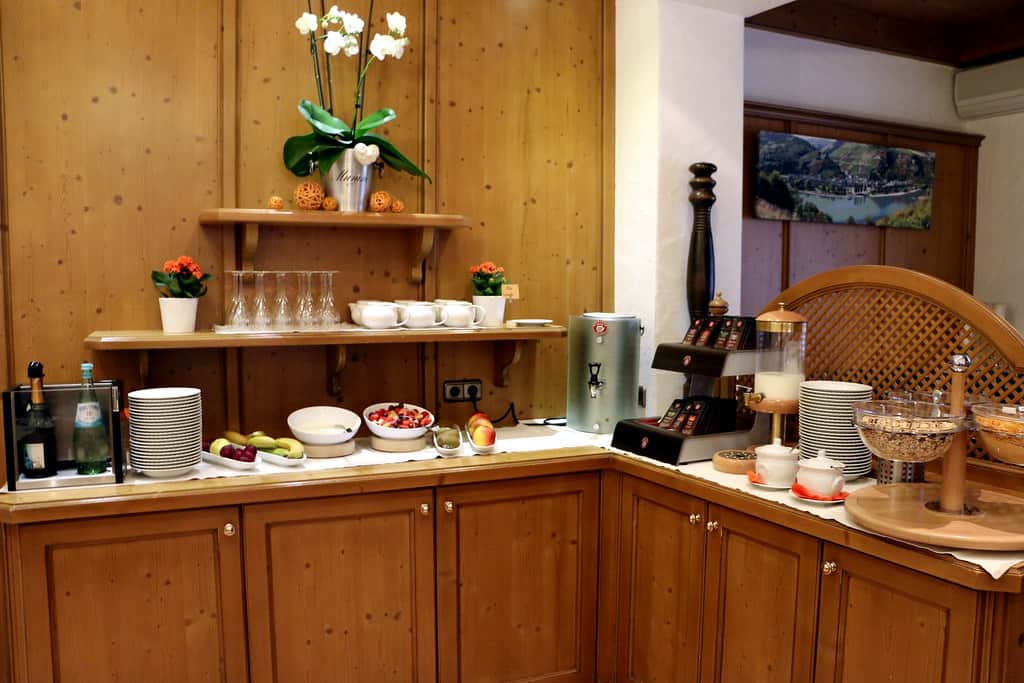 They had a variety of cold cuts, cheeses and cereals standard of most European breakfasts. However they also offered freshly prepared eggs cooked to order and lots of artisan breads fresh from the local bakery down the road.
We couldn't have asked for a better hotel to meet our needs. The owners and staff certainly made us feel right at home, and I hope to visit again the next time I'm in Rüdesheim!
THANK YOU TO HOTEL ZUM BÄREN FOR PROVIDING ME A PLACE TO STAY ON MY JOURNEY TO FIND MY ROOTS. AS ALWAYS, ALL THOUGHTS AND OPINIONS ARE MY OWN.