Cherry blossom season is here!
This is my favorite time of year thanks to these tiny pink flowers, but unfortunately, the blossoms can come and go in what seems like an instant.
Typically, they will last for a week or two, but all it takes is one rain storm or even some strong winds during that time– and poof! The petals are all on the ground leaving us waiting for next year.
Luckily, with the help of some of my favorite cherry blossom products, I (and now you) can enjoy these transient blossoms year round!
> You may also like:
Here are 12 of my favorite cherry blossom related products:
COSMETICS
L'Occitane Fleurs de Cerisier Cherry Blossom Line
This is hands down my favorite cherry blossom scent! I'll admit that I'm insanely picky with all the different cherry blossom scented lotions and whatnot out there… and I typically don't like any of the lotions I've tried. Most of them smell overly flowery and not at all like cherry blossoms.
However, I absolutely adore this line and own both their hand cream and lip balm, both of which are incredibly moisturizing. Of course, L'Occitane is more expensive than your Bath & Body Works and The Body Shop's, but I guess it goes to show you really do get what you pay for!
Sasa Lipstick in 06 Cherry Blossom
I bought this on a whim just because it was called 'Cherry Blossom'. Generally I'm not a lipstick wearer, as I much prefer lipgloss, but I've been really enjoying this one.
It's not at all sticky and the pigmentation is good. It has just a hint of shimmer making it the perfect pink shade!
The Body Shop Japanese Cherry Blossom Eau De Toilette
So, I'm not a big fan of perfumes. I tend to get a lot of headaches and perfumes seem to only help trigger them.
However, I do love the Japanese Cherry Blossom perfume from The Body Shop. It's very light and not overpowering; perfect for spring. Plus, so far it's one of the only perfumes that doesn't seem to set off my headaches!
Bath & Body Works Japanese Cherry Blossom Hand Sanitizer
To be honest, I am not a fan of the Japanese Cherry line at Bath & Body Works. I first received one of their lotions as a gift when I was a teenager, and I hated it! Now that it's been almost ten years, I decided to give it a second chance and sorry to say, I still cannot stand the scent.
The only exception to this is the hand sanitizer– maybe because the scent of alcohol cuts that of the cherry blossoms. Somehow I'm in the minority though as the Japanese Cherry is their #1 selling fragrance!
FOOD & DRINK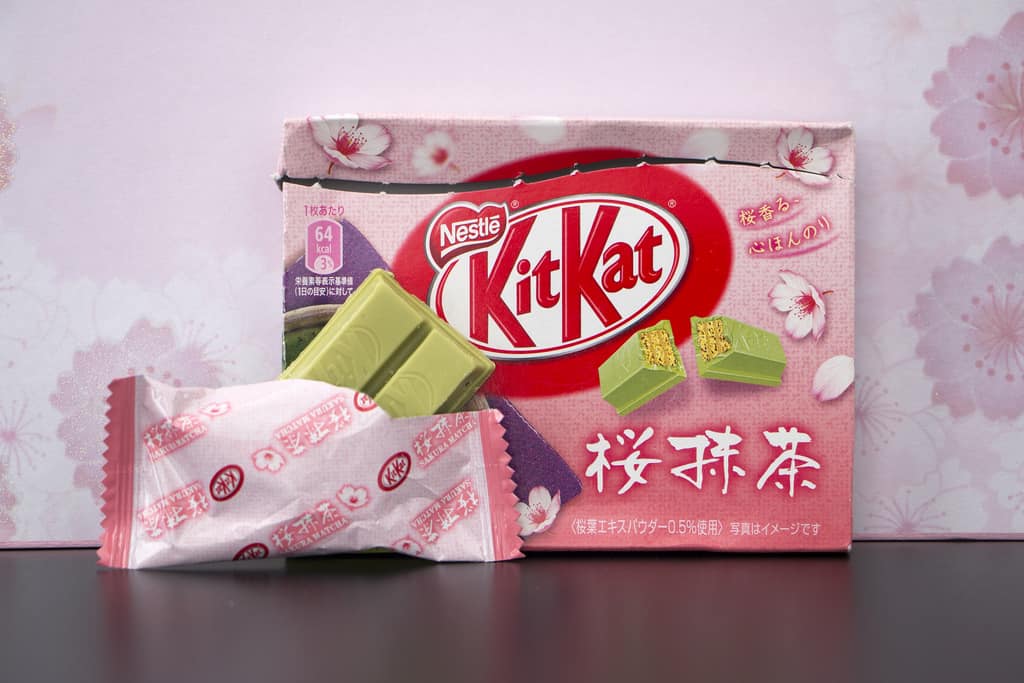 SAKURA MATCHA KITKAT
Surprise, surprise… Japanese KitKats have somehow found their way onto this list. As a lover of all KitKat bars, Japan had me on overload with collecting all of their unique (and kind of crazy) flavors.
Of course, one of the most popular is this green tea with cherry blossom flavor, which can be found across all regions of Japan.
PICKLED SAKURA LEAVES
While this isn't exactly a cherry blossom product, it is related! Did you know that you can eat the leaves of cherry blossoms?
Pickled sakura leaves are often used in Japanese desserts, yes desserts, come springtime– with the most famous being sakura mochi. The sour pickled flavor contrasts nicely with the sugary sweet flavors, for a dessert that is uniquely Japanese.
Interested in learning more about sakura mochi or making it at home? It's my April recipe of the month!
CHERRY BLOSSOM SAKE
There is a multitude of cherry blossom flavored sake and wine out there. However, my favorites have been Sayuri and Sakura Sarasara. Sayuri can be found in most grocery stores across the US and is a light, sweet sake. Meant to be served chilled, it has subtle tastes of vanilla, cherry blossoms and lilies.
Sakura Sarasara, I have not seen sold in the US, but that doesn't mean not to keep your eyes out for it. This sake is more traditional, with a harsher taste. I honestly am not that big of a fan of the taste, but I use the bottle for decorative purposes as it has an actual cherry blossom floating around in the sake.
SKIN & HAIR CARE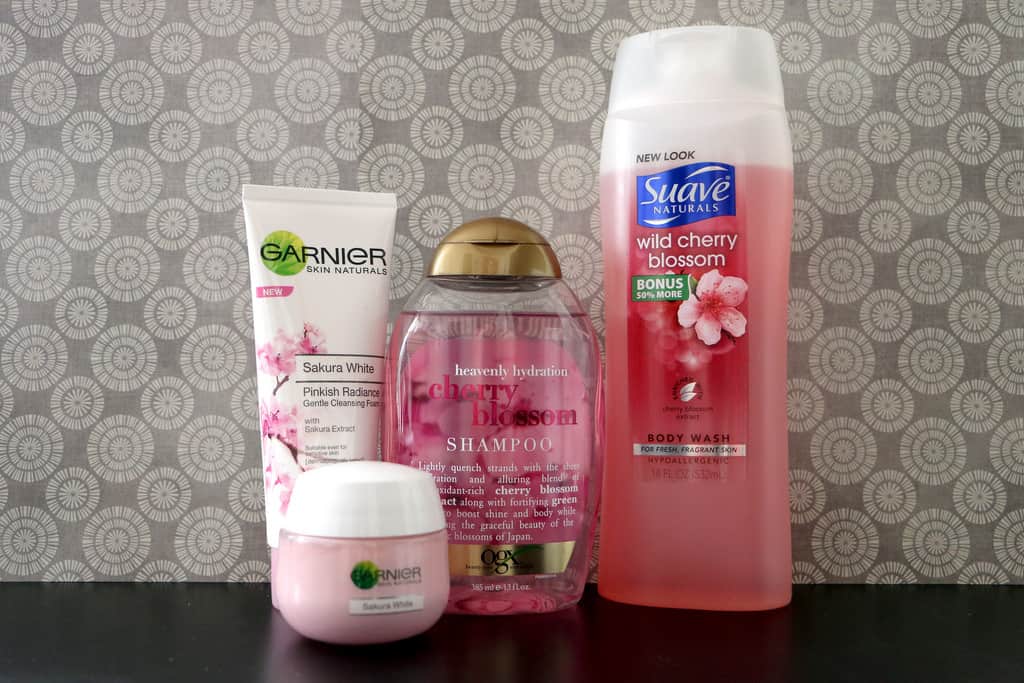 GARNIER SAKURA WHITE
The Garnier Sakura White series quickly became part of my everyday skin care routine after trying it. Made with cherry blossom extract, this line is super gentle on sensitive skin. I use both the moisturizing cream, which has SPF 21++ in it, and the facial cleanser.
Yes, these items are whitening products– but don't let that scare you. For those of you unfamiliar with how Asian whitening products work, no, they do not make your skin look whiter. They simply even out your skin tone, refine your pores and brighten your overall complexion! Unfortunately I don't think they sell this product outside of Asia, but I have seen them sold online.
OGX CHERRY BLOSSOM SHAMPOO
This shampoo uses cherry blossom extract and green tea to hydrate and strengthen your hair. Since using this product, I've noticed my hair become shinier and healthier looking.
I love that it doesn't weigh my fine hair down (because a lot of shampoos do) and the smell is really light and refreshing!
SAUVE WILD CHERRY BLOSSOM BODY WASH
I honestly didn't expect much from Sauve, but I LOVE this body wash. It smells like your typical bubble bath mixed with the light fragrance of cherry blossoms, which is amazing. It's one of my favorite cherry blossom scented products for sure!
STATIONARY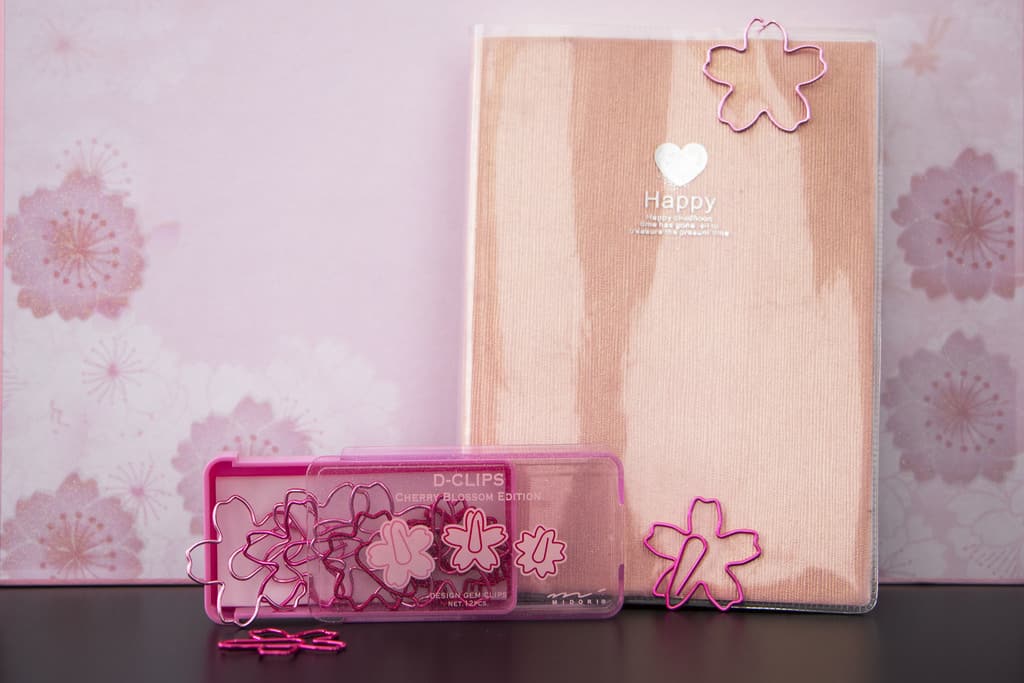 I love any sort of cute stationary, but when I saw these paperclips, I knew I needed to buy them! The D-Clips Cherry Blossom Edition set comes with three different cherry blossom shaped-clips, each in a different shade of pink. They're just adorable when you clip them on paper, and I've actually been using mine mainly as bookmarks.
JEWELRY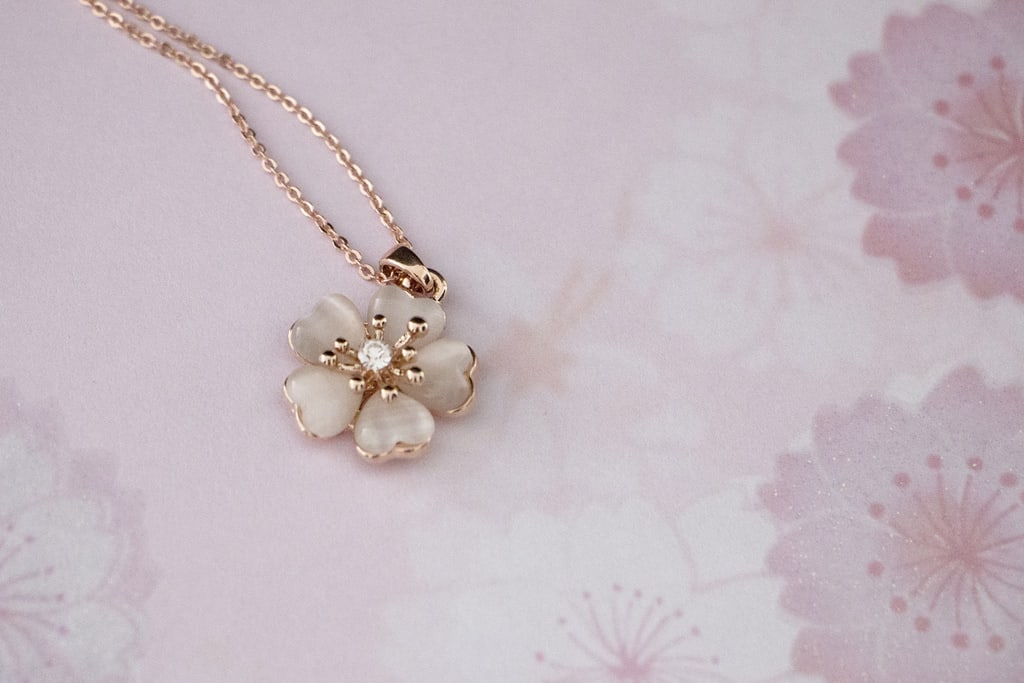 I've long been trying to find the perfect cherry blossom necklace, but what I wanted just didn't seem to exist. Then, I stumbled upon this beautiful necklace on Etsy one day– and while it wasn't what I initially was looking for– I fell in love.
I'm a huge sucker for anything with rose gold as I think it's super feminine. Add in the delicate looking cat's eye and rhinestone and it was too cute to pass up!
BONUS: TOKYO DISNEY SAKURA SERIES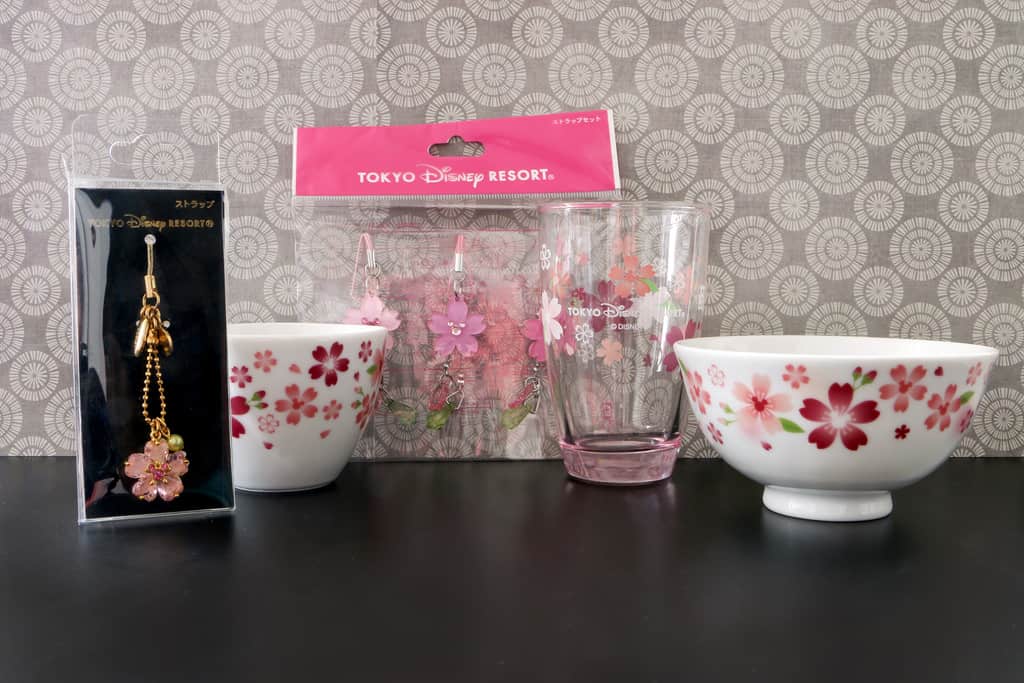 So yes, this would be #13, but I love this series so much I couldn't not share it! I didn't want to include this originally since unfortunately I haven't seen any part of this series being sold online, but now that you know it exists you'll just have to check it out for yourself at Tokyo Disney Resort!
I love the look of the delicate cherry blossoms with the subtle Mickey Mouse silhouette in the centers. This souvenir set from Tokyo Disney is one of my absolute favorites… and I'm pretty sure it's a lot of people's favorites as it doesn't seem to be going away anytime soon.
For the past three years I've seen this set every time we've visited, and each time we've picked up another item for our collection. They even have full-sized plates, cutlery and chopsticks, which I hope to acquire someday soon! 😉
LET'S PIN IT!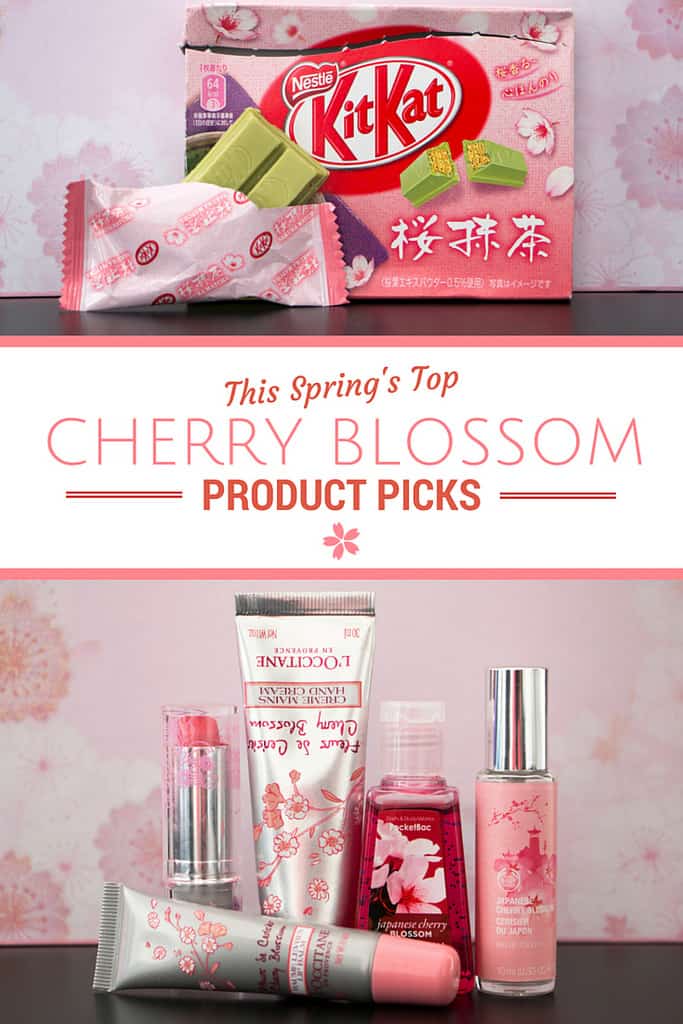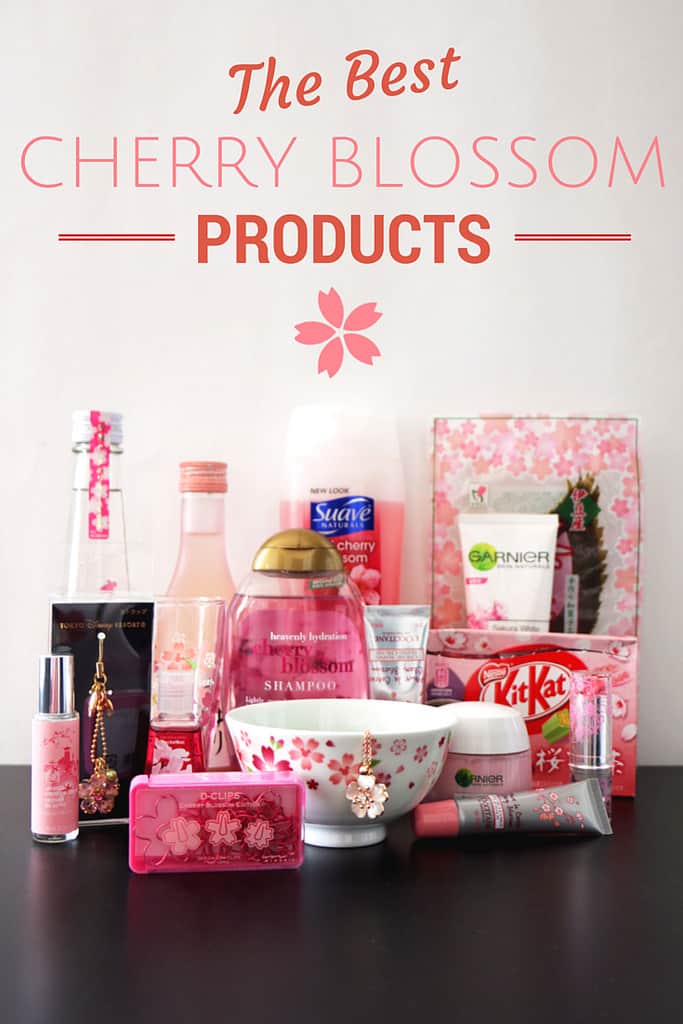 DO YOU ALSO LOVE CHERRY BLOSSOMS? WHAT ARE YOUR FAVORITE PRODUCTS?