Out of our six weeks in Europe, Paris was the city we stayed the longest in with seven days to spend there. After realizing almost all the big tourist attractions cost a lot of money, I began to realize I'd have to pick and choose what to do in order to stay within my budget. And trust me, Paris has a ton to do.
Looking back at my time there, I've realized that my favorite experiences in Paris were not necessarily the ones that were the typical tourist attractions or activities that cost money. Most of my most memorable experiences were in fact free, or at least really cheap. Paris on a budget is certainly doable, so if you can find a cheap flight or take a Flybe flight to Paris, be sure to do so!
So here's a look at my top 10 Paris experiences… on a budget!
1. Picnic under the Eiffel Tower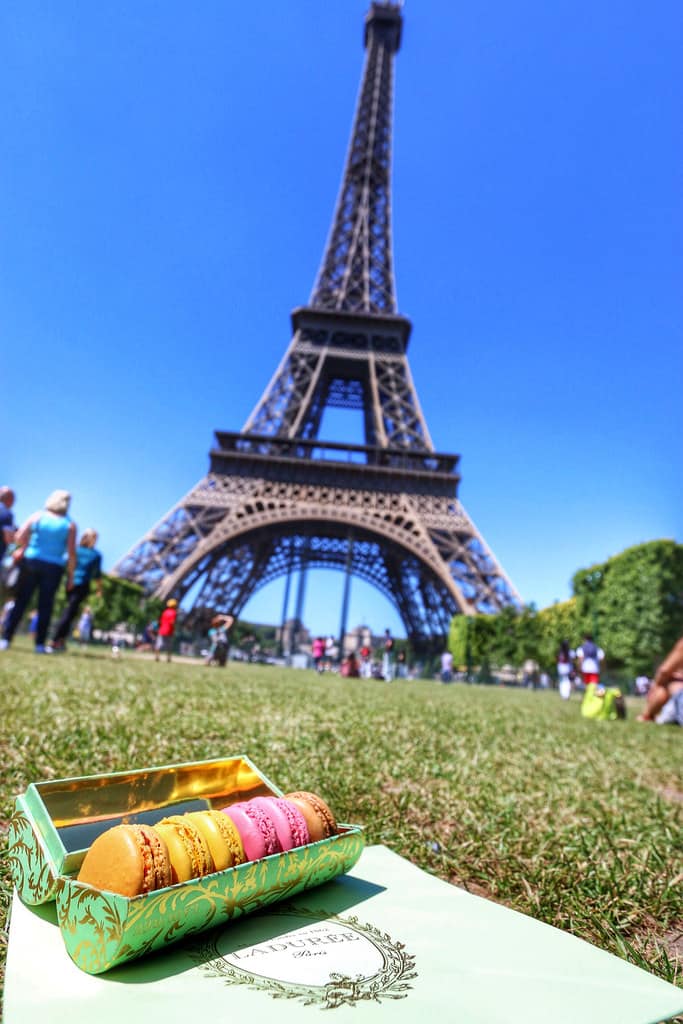 It seems like going up the Eiffel Tower is a dream of many, but I still can't figure out why. It's expensive and don't you want the most iconic symbol of Paris actually in your photos? That's what I thought.
So rather than busting your budget going up the Eiffel Tower, why not grab a baguette or even some dessert so you can enjoy a nice picnic underneath it instead.
Cost: $5
2. Take a cruise down the Seine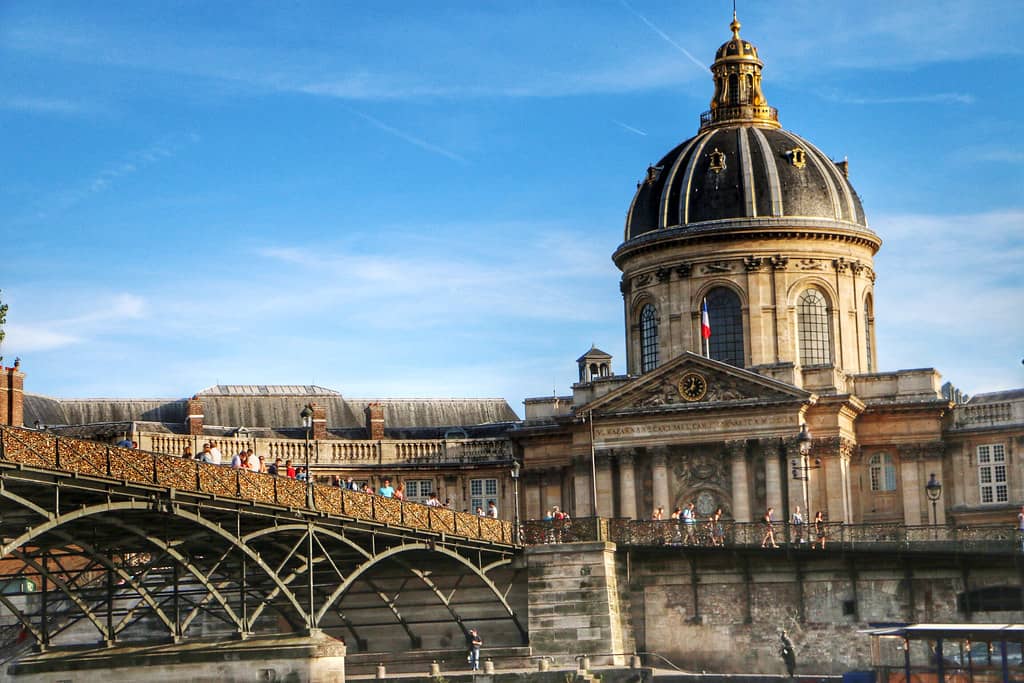 Since this article isn't titled "Free Things to do in Paris", my advice is to pay, yes pay, to take a cruise down the Seine–preferably in the evening.
It's less than 10 dollars which makes it quite budget friendly for Paris and it's actually a great way to see all of the city's most famous attractions since majority are along the river anyways. Just don't pay for the dinner cruises, now those are not worth it nor are they budget friendly.
Cost: $9
3. Visit Notre-Dame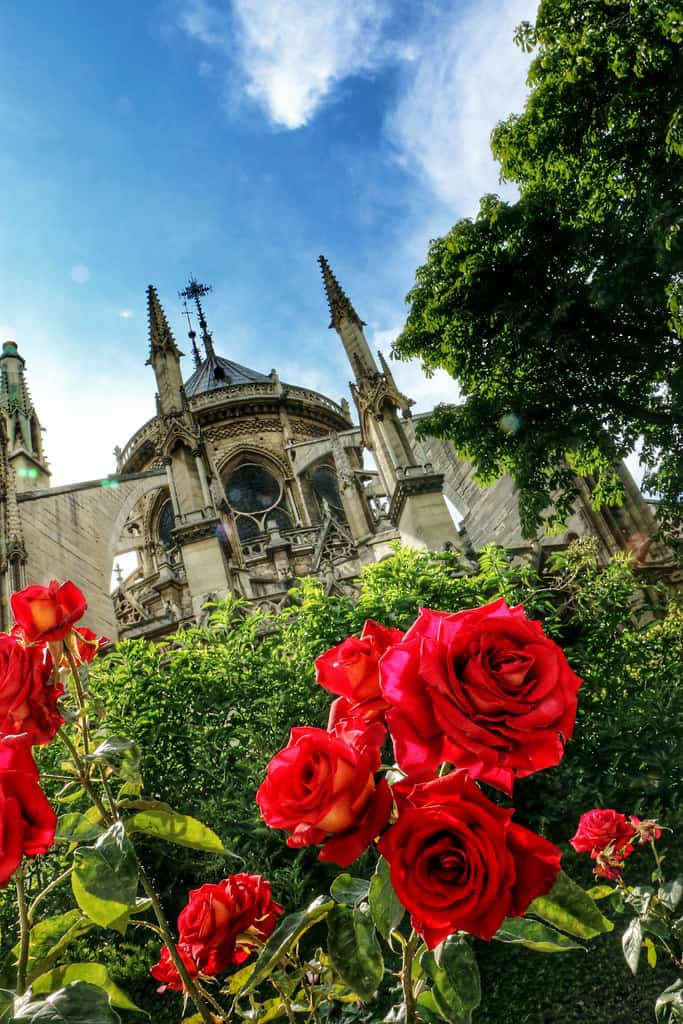 Everyone seems to build up this cathedral in their heads and when they get there, they realize it's much smaller than they thought it would be. Nevertheless you still can't visit Paris without making a stop at Notre-Dame.
When you finally wrap your head around the fact that this masterpiece was started in the early 1100s, you remember that it's just as impressive as you had always hoped it'd be.
Cost: Free!
4. Eat macarons at Ladureé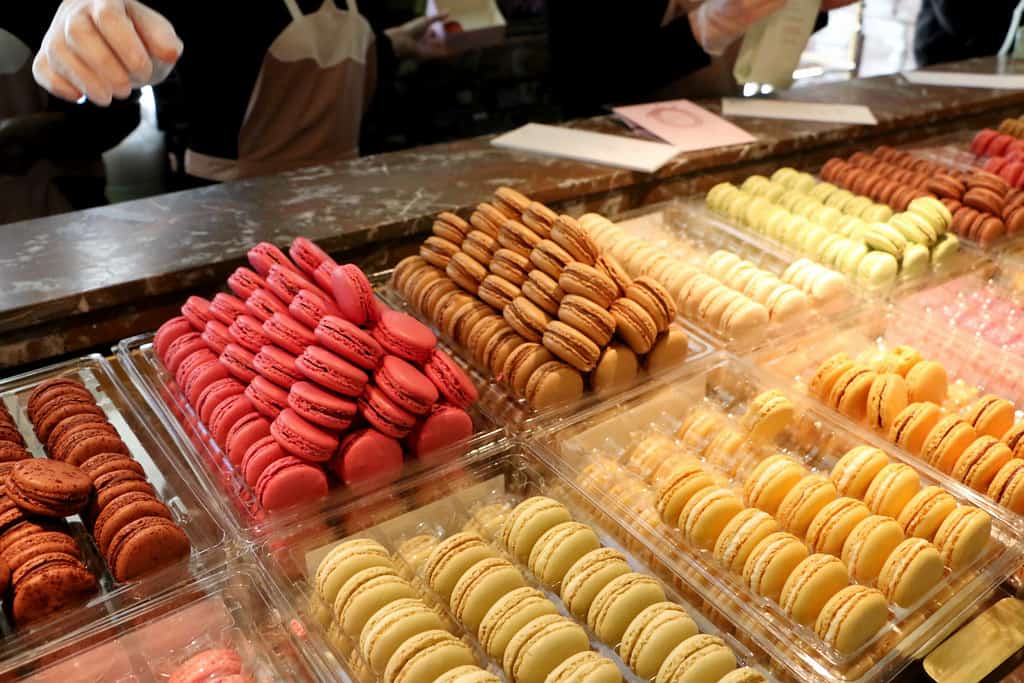 If you're addicted to macaroons like I am, this should be at the top of your list. Spend some time wandering the Champs Élysées before jumping in line with everyone at Ladureé.
Sticking to a stricter budget, simply buy a macaron or two to go, or if you really feel like splurging buy a whole box to sample all their flavors or one of their other fancy desserts.
Cost: $3 if you have good self-control.
5. Stroll through the Jardin du Luxembourg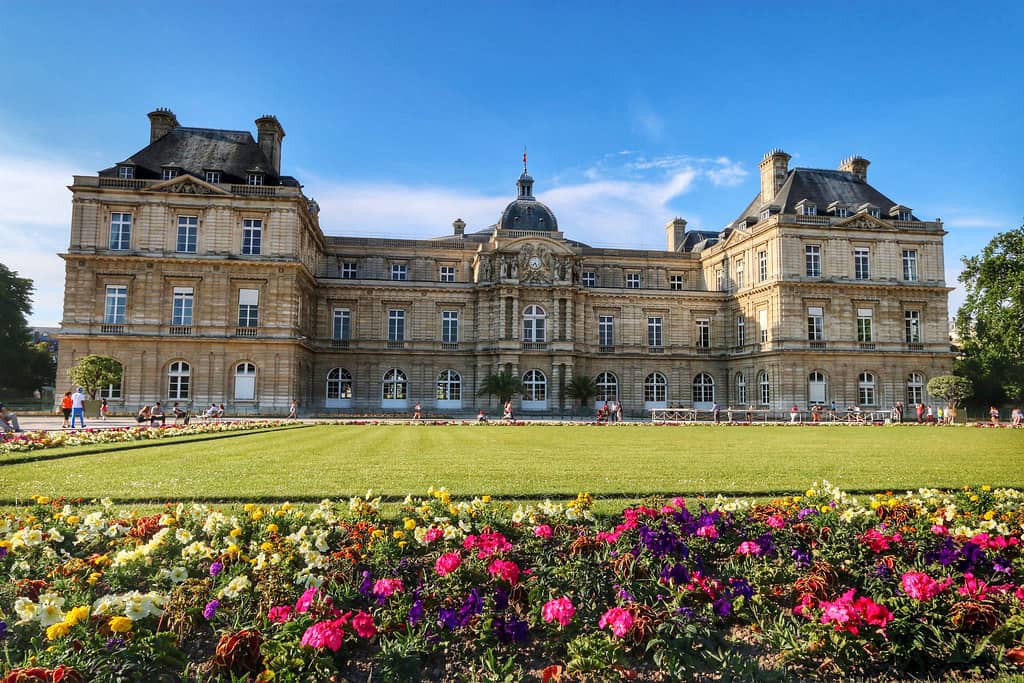 Head to these gardens on any day of the weekend and you'll be surrounded by local Parisians doing the same. People love to just sit in the grass with their friends and relax, bring a bottle of wine or two, and then call it an evening.
Be sure to actually wander through the actual garden part too as they're beautiful, especially in spring and summer.
Cost: Free!
6. Relax at one of Paris's many sidewalk cafes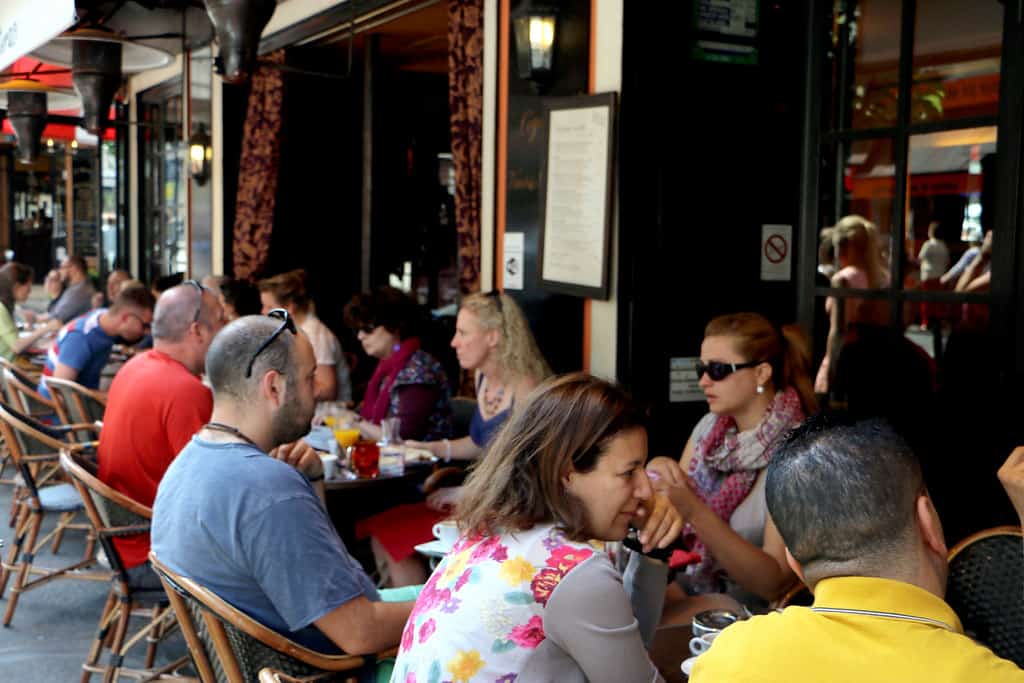 Paris has no shortage of sidewalks cafés, so do something very Parisian by sitting at one all evening. Grab a few friends, sip some wine and devour a nice dinner.
Typically once you've paid for food there, the table is yours for the night. So relax and enjoy– just don't be too judgmental of those passing by on the street!
Cost: $10-15 depending on the place.
7. Photograph the Pyramide du Louvre at sunset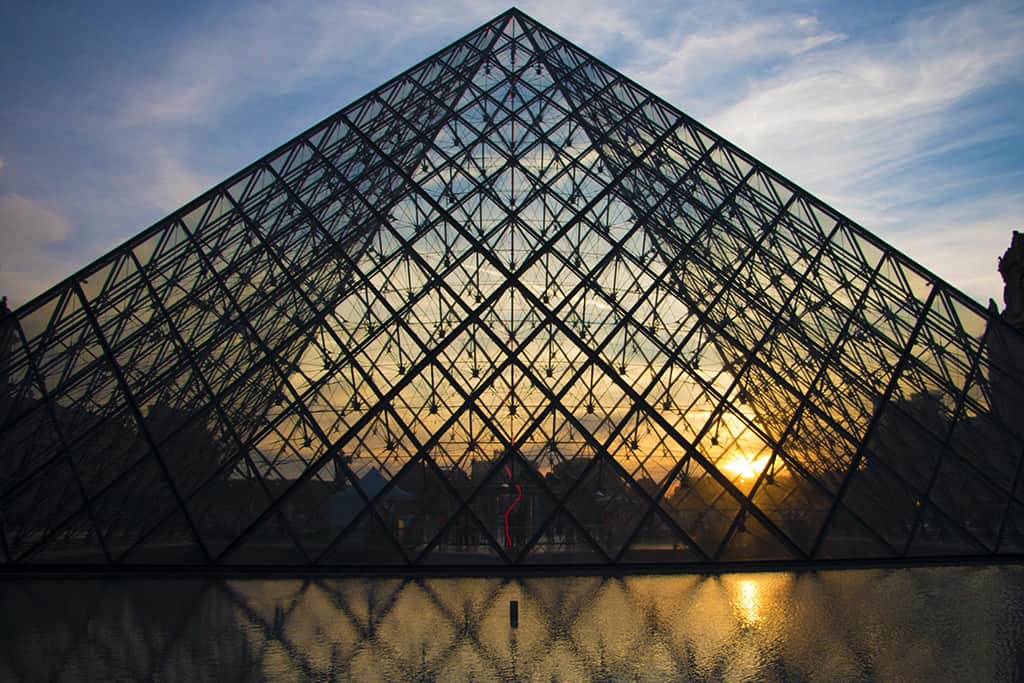 The Louvre may be expensive to get in to, but it's free to visit the pyramid outside. Even though doing a whole photoshoot there is a bit touristy, there's still something magical about it as the glass reflects the sunset.
Be sure to arrive early as surely there'll be other people there starting to set up their cameras as well.
Cost: Free!
8. Hang out with locals on the banks of the Seine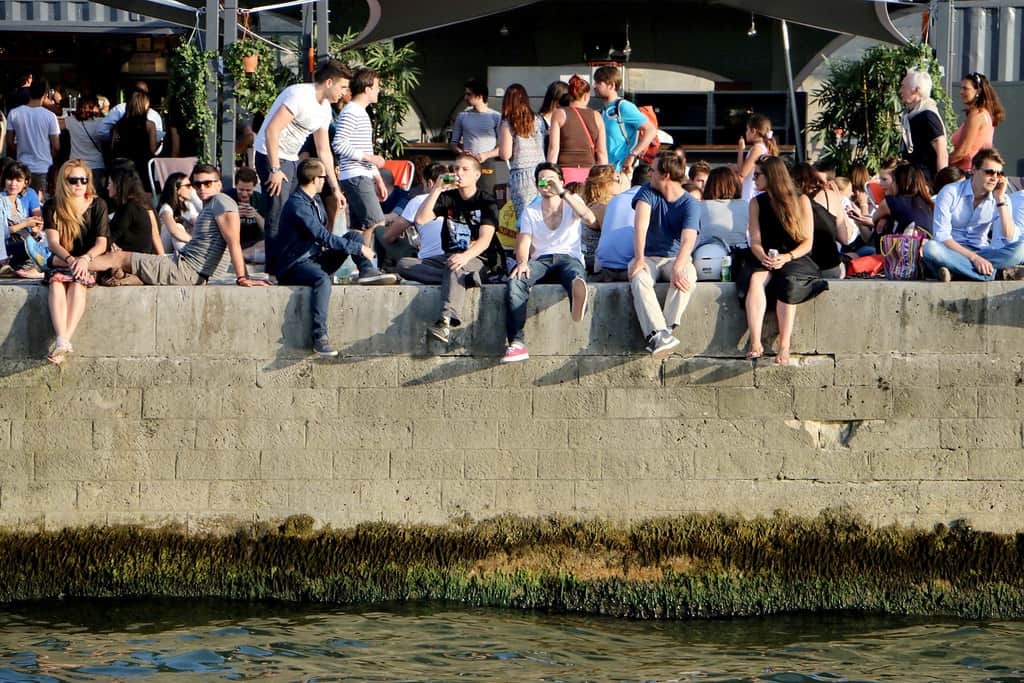 Besides frequenting cafés, another thing locals seem to enjoy is hanging out around the Seine. Probably because everyone lives in apartments too small to host a group of friends for the evening, people just seem to go outside instead.
Almost nightly we would see hundreds of people gathered along the river just enjoying the good views and company.
Cost: Free!
9. Walk up the back hills of Montmartre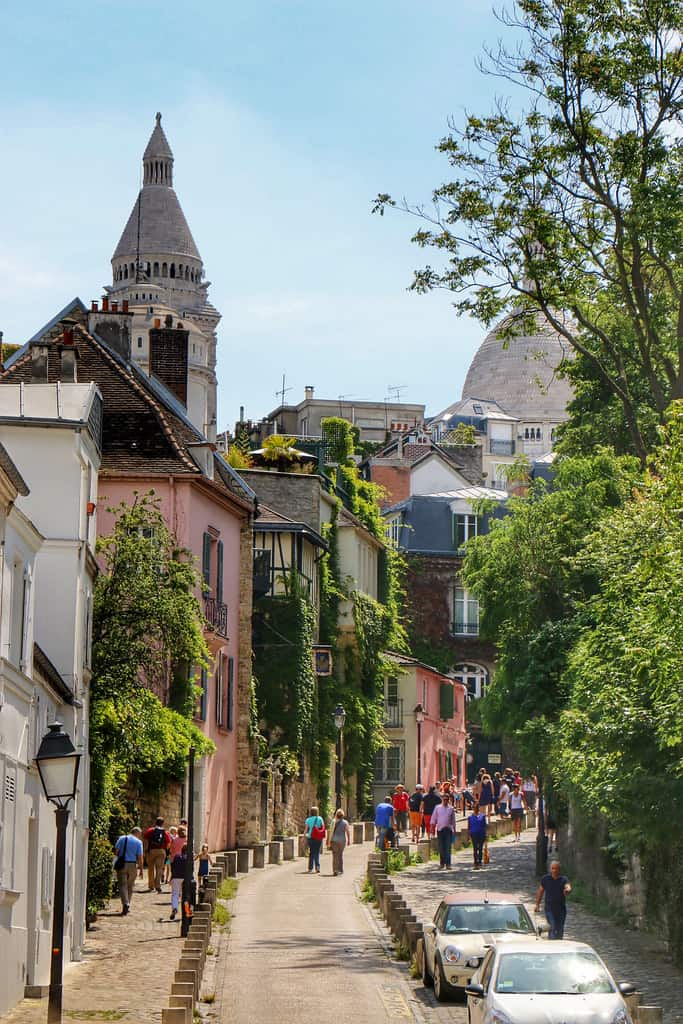 Don't be hassled by touts walking up the stairs of the Sacre-Couer, instead walk up the back hills of Montmartre that will eventually lead you to the top of the hill. The scenery is pleasant and a much easier walk for those who are concerned about the grueling stairs.
Along the way you can stop in small shops, cafes and see the homes of this generation's artists. Plus you'll get to fall in love with the boho vibe of Montmartre that still exists today.
Cost: Free!
10. Go up Tour Montparnasse 56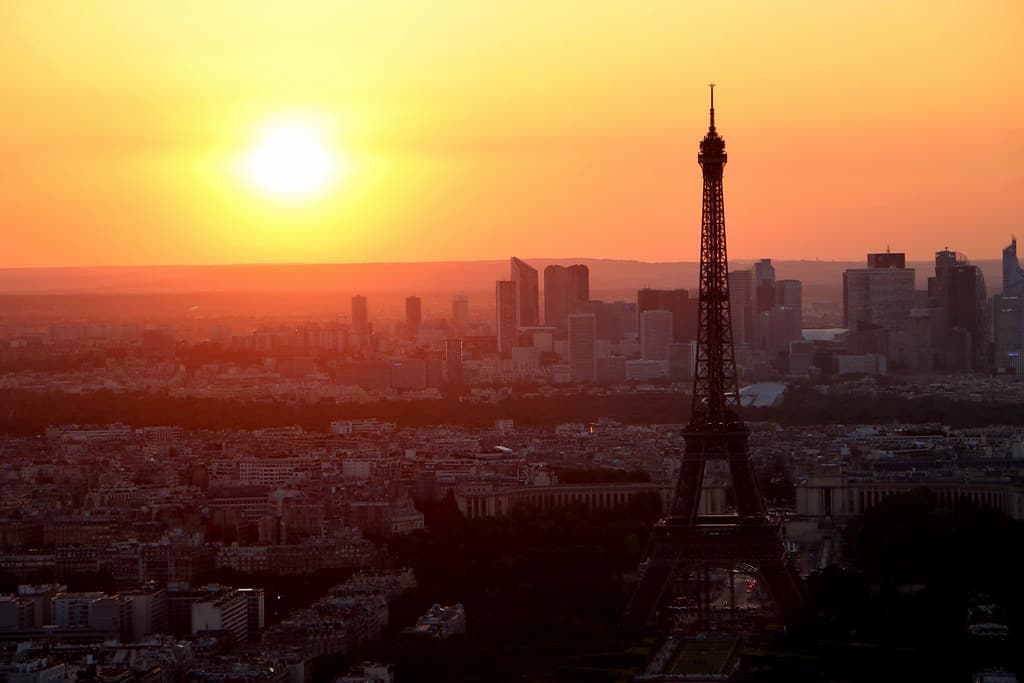 This may be the ugliest building in Paris, but the observation deck on the 56th floor gives the most beautiful views. While the $20 entry fee may not exactly be "budget-friendly" for most, it's the one thing you really should splurge on while you're there.
The deck gives you 360° views out of Paris and you're allowed to stay up there as long as you'd like. We bought our tickets and went up in the evening, stayed through sunset and were finally able to see the Eiffel Tower shimmer in the dark. Encroyable!
Cost: $20
Want to save even more money in Paris? Consider buying the Paris Museum Pass! This little card helped us breeze into most of Paris's most popular museums. While yes it's mostly museums, there are also lots of great monuments covered as well.
See the Mona Lisa in person, the beautiful stained glass windows at Saint Chapelle or simply climb the Arc de Triomphe for gorgeous views over the city. It's also possibly with this one little card!
Let's Pin It!
What are your favorite budget-friendly activities in Paris?