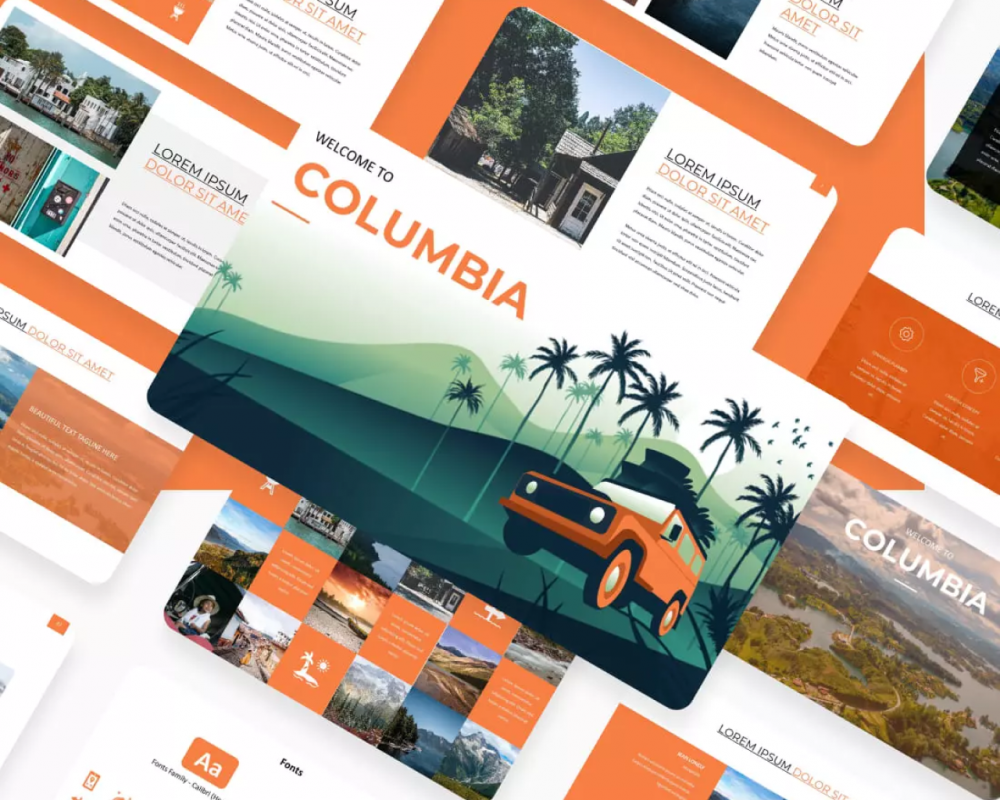 How many reasons are there to create a travel-specialized presentation? Dozens! We know very well how much time is being spent to: 
–   Create a presentation of a new destination for the clients in a travel agency
–   Tell your friends about your trip uniting your travel experience with the photos from the journey
–   Announce an international festival for the tourists
–   Present your tourist-orientated business for potential clients (camping, vacation rental, hotel, car rental, etc.).
How to save time working on a travel presentation?
Trying to make your templates bright, diverse, and attractive takes tons of time. Every element must be in the right place, all the fonts need to match each other, and the composition in general should stay harmonious and not overloaded.
These criteria are too much to comply with all at once, but there's a solution we'd like to offer you. To download a ready-made stylish PowerPoint design for your perfect presentation, visit MasterBundles, a great resource for content-makers who value their time. 
Illustrations and graphics, fonts, add-ons, stock photos, and the best PowerPoint themes are at your disposal in one click: choose and download adding your data to the template. And no more waste of time creating a template from scratch.
TOP 7 ready-made travel presentations in PowerPoint
With hundreds of designs and theme variants, it is not easy to find a universal one for the tourism niche. We've done this selection for you to take advantage of only the most effective PPT templates. Let's take a closer look at which designed slides will work better for hotels and camping lovers, and which ones will be great for the entire tourism sphere.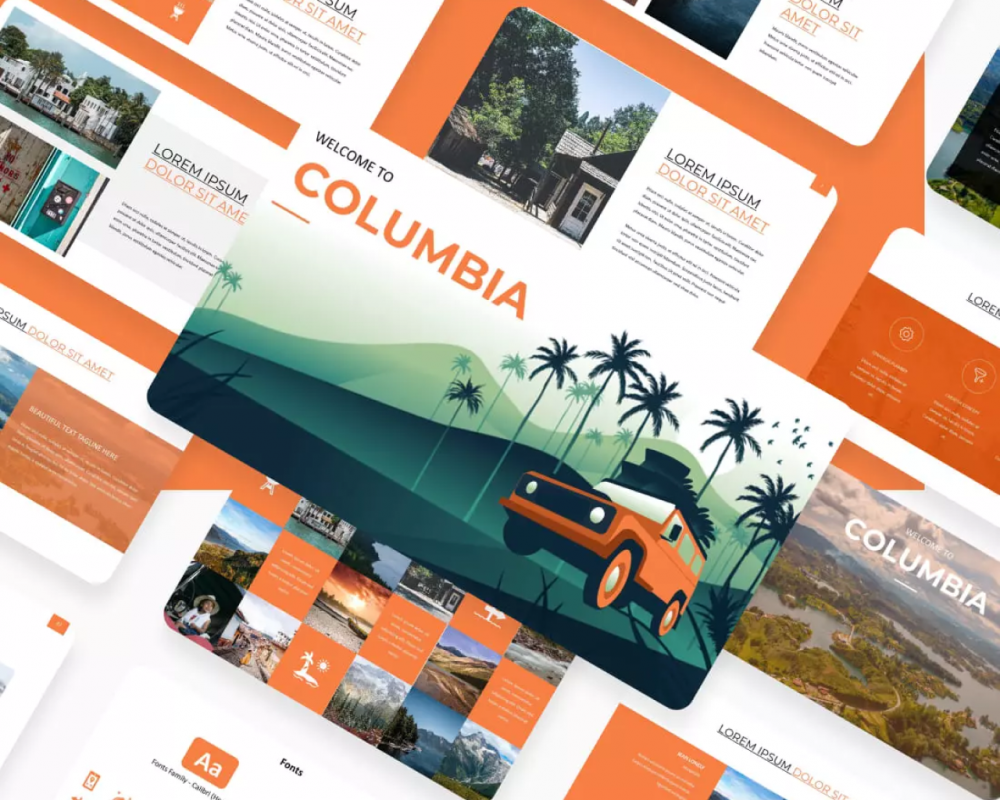 Here you have 5 color schemes to try on for the slides, so you can choose the right one depending on the pictures you use. A lot of graphic icons in this theme will help you to divide the material into sections and present each one separately.
This template is ideal for speaking about a country or a city for purpose of tourism: showing possible sights to see, telling about the features of the place, and listing its pros and cons. You can use built-in diagrams to visually show the statistic numbers.
Generally, this template is a universal variant for any travel topic from presenting a new destination for travelers to making a report about a specific place.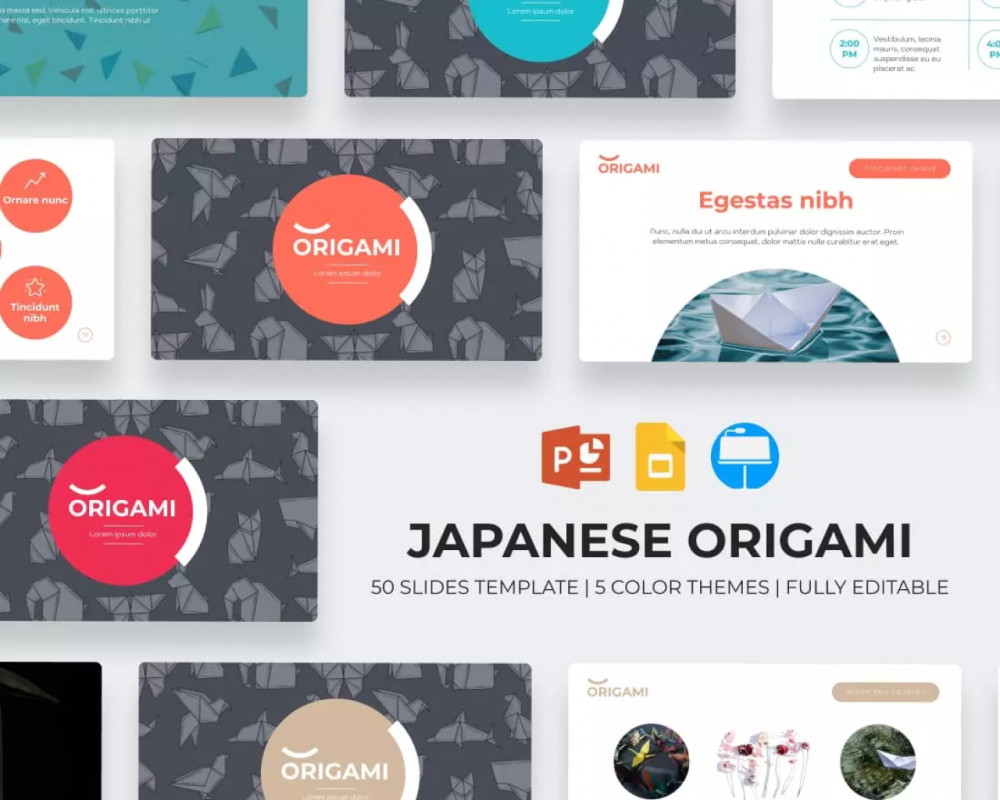 It's a super effective theme for travel agents who needs to present a destination to the clients showing the nearest dates for the departure, variants of hotels, and comparing prices and activities in the tour. 
50 slides of fully-editable design can be managed for your purpose. Here you have various options: a bar chart, a pie chart, visual points, and comparison tables. And of course, a lot of attention is paid to images and their placement.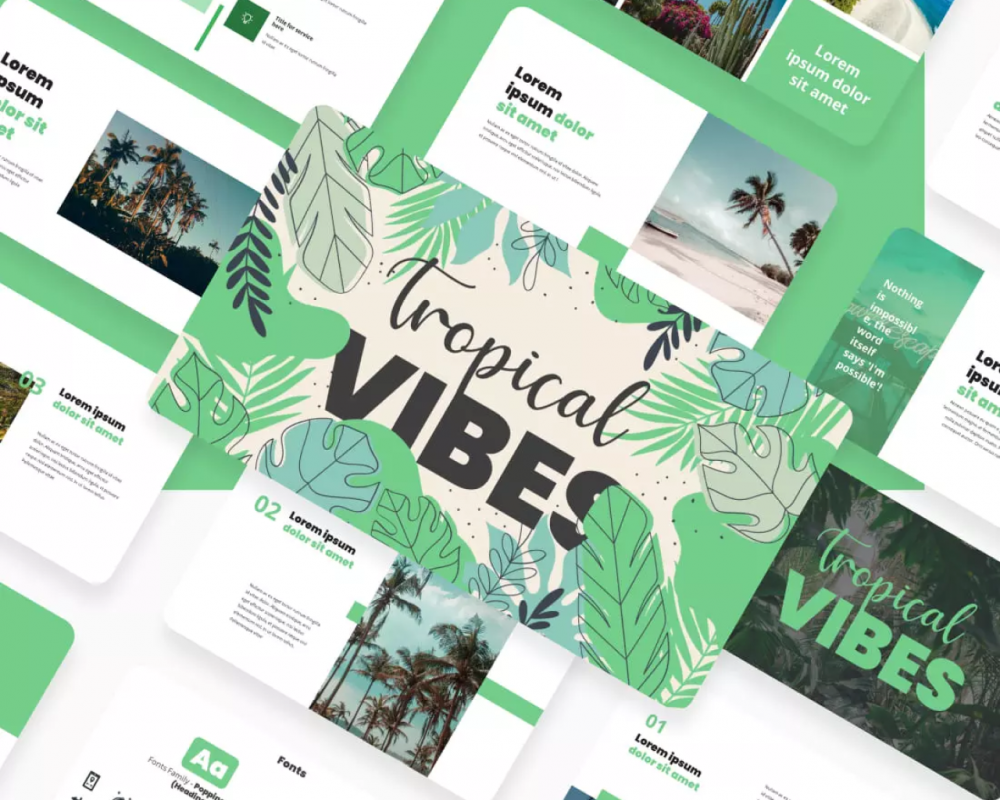 If you are looking for an eye-catching design to gain maximum attention to your project, then this is your choice. Perfect for showcasing sea and ocean destinations, and tropical paradise places, this template has bright accents emphasizing the beauty and uniqueness of such journeys. 
The feature of these slides is an opportunity of visualizing information with the charts in the form of a country, a continent, or a world map. The other graphic elements of the template are also interesting and will make your presentation stand out.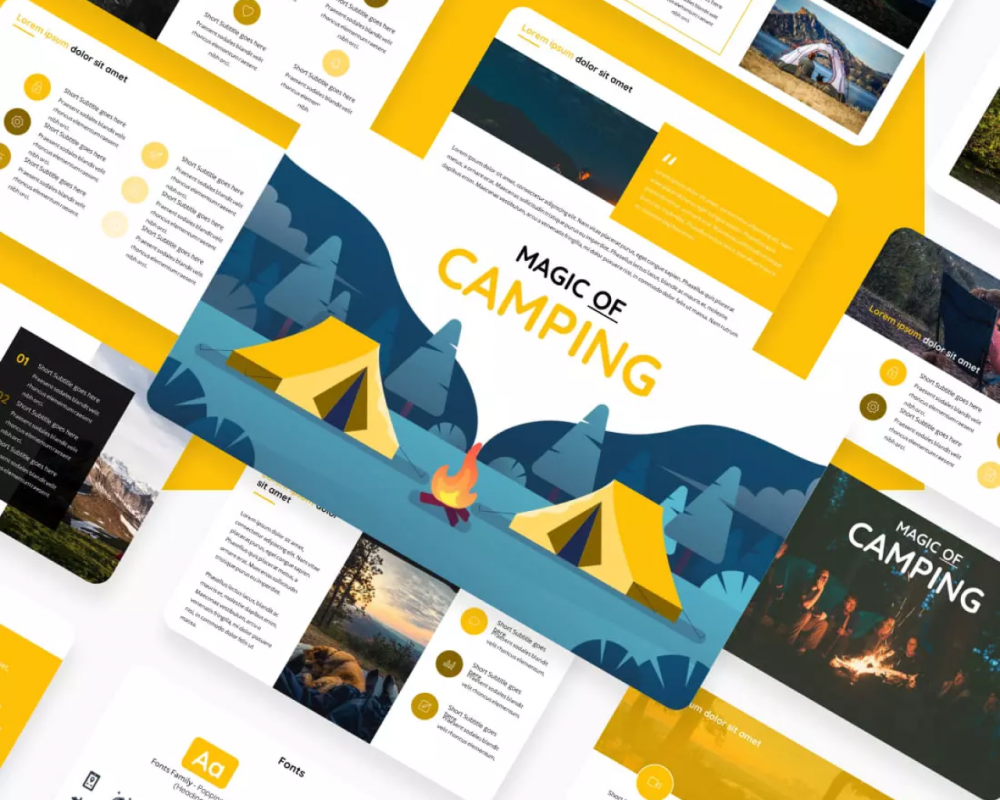 Camping lovers deserve a dedicated template! And those who have never tried camping before will be charmed by its atmosphere through this presentation design. A view of a sunset out of a tent with some info by the side will definitely interest those who always has wanted to try camping but yet hasn't.
This theme is also useful for promoting camping houses illustrating their models, options of comfort, and designs.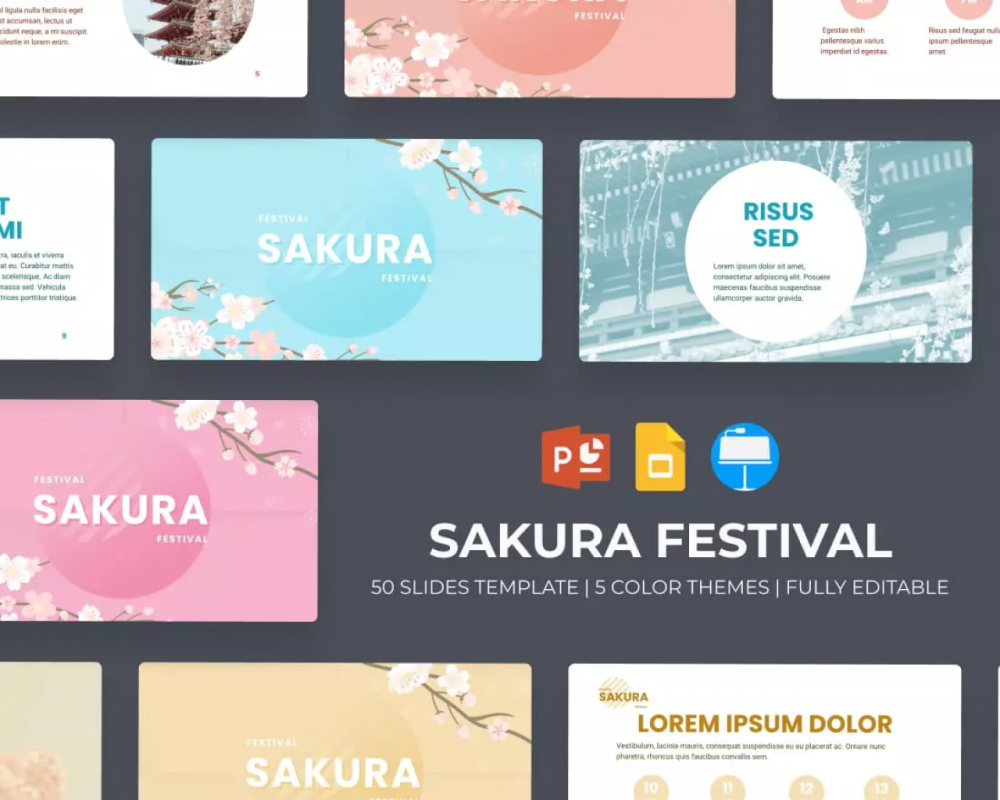 50 slides of fully-editable content are performed in 5 color schemes to suit any occasion. The design is clean and minimalistic. Muted tones of backgrounds and titles create an atmosphere of an unobtrusive and delicate performance.
Tell about a festival in pictures and numbers, and use creative built-in diagrams and graphics to visually show the festival's timing, the list of participants, the list of activities, and the level of attendance by year.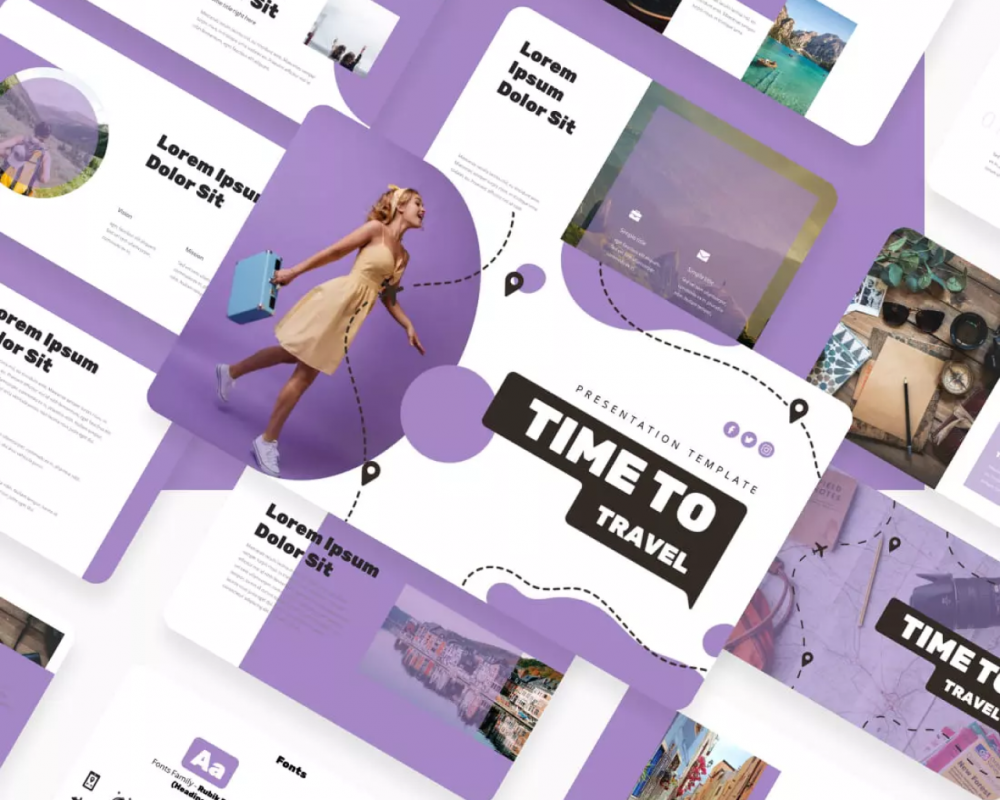 This adventure-inspired PPT template has 5 absolutely different color schemes you can choose from to match your report with a certain travel atmosphere of your offer. The design is very airy. It impresses with its modern lines and graphics combinations, creating an easy-going mood. 
There is plenty of space to include some texts or characteristics, so this presentation is perfect to use when you need to print the materials and present your clients to look through.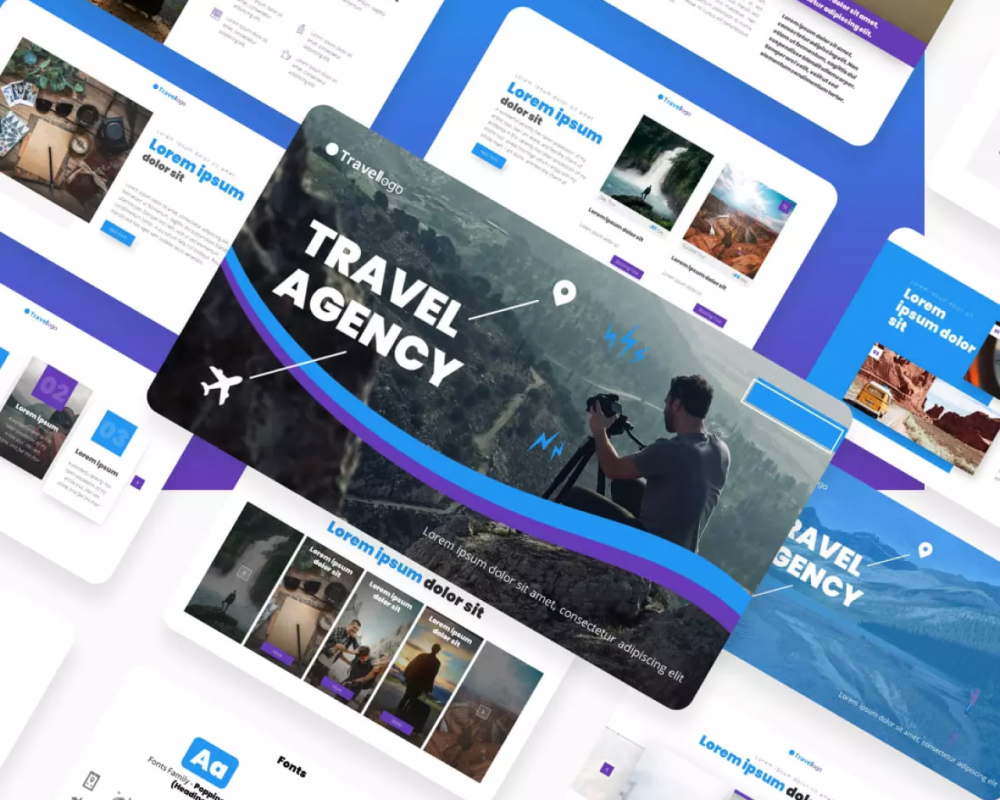 This product is a travel agent's dream! There are so many effective colorful ready-made slides to use. Adorable icons, bright comparison columns, buttons, and two-colored titles will make your agency and travel offer stand out.
The design of this template gives the impression that you're visiting a website where you browse online all the features of the agency. It is light yet bold and puts accents in the right places.
Let's Sum Up
As we know, when it comes to choosing a travel agency much is decided by the first impression. Create your clients' beliefs professionally – perform with pre-designed stylish and modern travel PPT templates. That not only saves your time significantly but also builds a positive image and brand reliance.