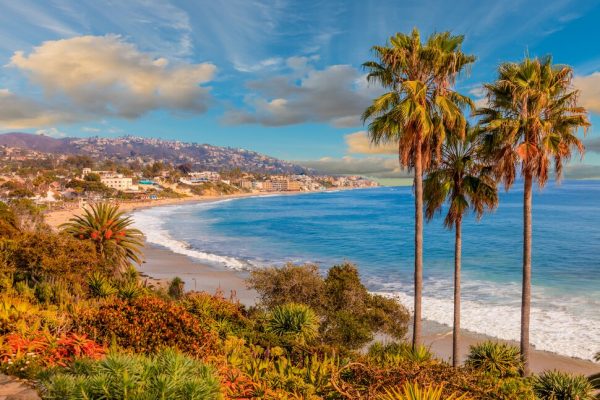 Orange County (OC), the dreamy coastal paradise sandwiched between Los Angeles and San Diego, offers a symphony of incredible experiences, scenic beauty, cultural richness, and laid-back beach vibes. 
A place known for its year-round sunshine, golden beaches, swaying palm trees, and an unending list of things to do and places to explore, Orange County certainly deserves its own spotlight. So, let's dig into what makes this Southern Californian gem worth a visit.
The Idyllic Beach Towns
An exploration of Orange County must start at its pristine coastline. With more than 40 miles of coastline dotted with picturesque beach towns, the county offers a variety of marine experiences. From Huntington Beach, known as 'Surf City USA' for its excellent surfing conditions, to the sophisticated shores of Newport Beach, there's a beach setting for everyone.
Laguna Beach is another standout, with hidden coves, tide pools brimming with marine life, and stunning vistas from high bluffs. If you're an art enthusiast, Laguna Beach's thriving art scene, filled with galleries, art installations, and the iconic Pageant of the Masters, will surely enthrall you.
Historic Charm and Modern Luxuries
Step back in time at the Mission San Juan Capistrano, the "Jewel of the California Missions." Here, you'll be transported to the 18th century as you stroll through lush gardens, ancient adobe, and stone church ruins. The mission's swallows, who return every March, are a sight to behold.
Orange County's love for luxury becomes evident as you wander through Fashion Island in Newport Beach or South Coast Plaza in Costa Mesa, two of the country's premier shopping destinations. Boasting a plethora of high-end boutiques, department stores, and world-class restaurants, these shopping destinations are a haven for those seeking a lavish retail experience.
The Happiest Place on Earth
A visit to Orange County would be incomplete without experiencing the magic of Disneyland Resort in Anaheim. Whether you're a thrill-seeker, a Disney lover, or a food enthusiast, Disneyland and Disney California Adventure Park offer something for everyone. Disneyland immerses you in a world of enchantment and classic Disney charm, while California Adventure celebrates the Golden State's storied history and culture.
The Great Outdoors
Orange County is not just about shopping and theme parks; it's also a fantastic destination for outdoor lovers. Crystal Cove State Park, with its rolling surf, sandy beaches, tidepools, and gently sloping hills, is a must-visit. For those who love hiking, the trails in the Laguna Coast Wilderness Park provide awe-inspiring panoramic views.
While some crave the hustle and bustle of busy cities, you may want to escape the traffic in a busy city like Fullerton, where there were 684 car accidents in 2021 alone. There are plenty of ways to enjoy the peace and quiet of the outdoors such as a stroll through the Fullerton Arboretum or walking the trails at the Laguna Lake Park.
Additionally, the county is home to several regional parks and wildlife sanctuaries, like the Bolsa Chica Ecological Reserve, which is an important stop for migratory birds on the Pacific Flyway.
Gastronomic Delights
With a diverse culinary scene that caters to a range of tastes, Orange County is also a foodie's paradise. From globally inspired gourmet food to the farm-to-table movement, there's an exciting dining experience waiting at every corner. 
Treat your palate to contemporary Mexican cuisine at Taco Maria or try Studio at Montage Laguna Beach for a five-star oceanfront dining experience. The Anaheim Packing District, a collection of renovated historic buildings housing trendy eateries, is another culinary hotspot worth exploring.
A Captivating County
Orange County, with its captivating blend of beach life, outdoor adventures, high-end luxury, cultural heritage, and exciting food scene, truly holds something for every kind of traveler. It's a place where you can surf at dawn, hike through lush green parks in the afternoon, shop till you drop in this beautiful and vibrant county.