Who let the dogs out! Or the cats or any of your furry little friends. They love to walk and run around, and you can see them wagging their tails off when you take them out. So, where are some of these places you can visit with your dog for a hike, a water game, a leisure stroll, or a quick meal? The East Bay in California is filled with trails, parks, and pet-friendly restaurants: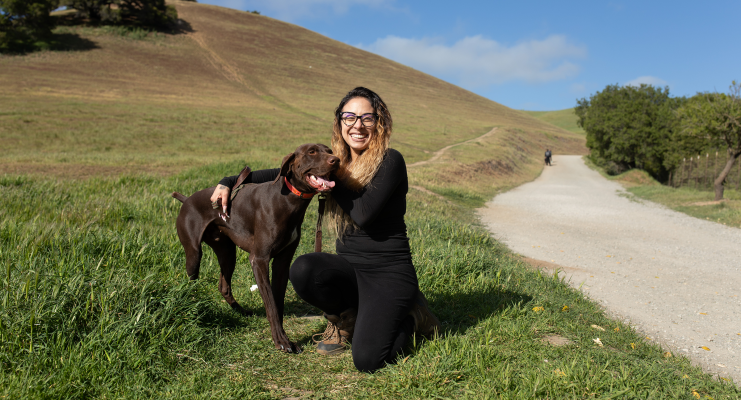 Breathtaking Trails for You and Your Pup
Mary Bowerman Trail: Visit this trail if you enjoy climbing mountains because it has a beautiful view of Mount Diablo. Your furry best friend can sniff and paw at the many wildflowers there, and you can marvel at their beauty. The Bowerman trail is for short strolls.
Kings Canyon Loop: If it's a dog's day out and you're looking to cover a bit of a distance, then it will do just fine. It is an incredibly scenic 6-mile trail through open woods and stunning views of the San Leandro Reservoir.
Lafayette Reservoir Recreation Area: This place has all: hiking trails, biking paths, picnic spots, and fishing opportunities. Plan your day for you and your pup and create beautiful memories as you get through the various activities one by one.
East Bay Skyline National Recreation Trail: The skyline trail is a 31-mile continuous path with stunning landscapes of the East Bay. Stroll, run, play throw, and catch with your dog as you revel in the breathtaking views of the city and the bay and as you pass through historic parks.
Del Valle Regional Park: This is an exquisite choice for outdoor enthusiasts, and if you have an overly active dog, it is a plus. There are several hiking trails to explore, a marina, and you can even camp under the stars. Visit this park for a weekend full of adventure with your furry best friend.
Alameda Creed Regional Trail: For those who love to switch things up midway, this trail offers a peaceful escape and a vigorous trek for you and your furry companion. It has a scenic river view for up to 22 miles.
Point Pinole Regional Shoreline: The Shoreline is a wonder for your and your pet's senses. It offers meadows, flowers, and bay views just begging to be felt and explored. Get the leash on and tag them along for the beautiful surroundings reminiscent of neighboring Point Richmond.
Water Adventures with Your Canine
Muir Beach: Here, there are rocks to poke at, cliffs to explore, and water to pay for your pet without any constraints. And while you wait for them to come and shake the wetness on you, soak in the calming sounds of gentle waves.
Eddos Harbor & RV Park: If you're relaxing after a long day with your best friend, visit this harbor. You can boat, fish, spread a blankie, lay with your dog with your eyes closed, and enjoy this serene atmosphere.
California Canoe & Kayak: For dogs and owners that love water sports, go kayaking or canoeing on these waters. Grab a life vest for your pup and explore these waters for long-lasting memories.
Parks Tailored for Pooches
Point Isabel: Get the leash off your dog and let it sprint off in this dog paradise. There is more than enough space for the dog games, and when you sit to catch your breath, enjoy the views from the Golden Gate Bridge and Marin County as your dog enjoys an invigorating romp.
Bruno Canziani Dog Park: Your dog needs to socialize with those of its own, and this is just the place for it. A quick trip to this park and all that excess energy from your pup will be catered for. And just to add to the already fun hiking trails, BBQ pits, and a playground surround this area.
Indulge in Canine-Friendly Dining
The Hangout: Literally hang out with your furry friend in the company of finger-licking meals as your dog rolls about for a belly rub.
Xoshi the Dog Cafe: The name says it all. This café has pet-friendly seating arrangements; you can just chill with your dog while catching up with friends.
The Hideout Kitchen: The Hideout Kitchen is an outdoor seating area providing a cozy setting for both to enjoy. And you can keep an eye out as they run around.
MyGoodness: At MyGoodness, your pup is just as welcome as you are. Slurp your drink or ice cream and give your furry companion a little lick.
Conclusion
When preparing to travel with your dog, remember to plan ahead for pet friendly activities. Bring plenty of treats and water and make sure to you have a safe space for your dog to rest and cool off. Dogs may become anxious in a new setting, so watch for warning signs, including snarling, rigid posture and laid-back ears. While enjoying public spaces with your dog is fun, it is your responsibility as a dog owner to make sure your dog and the people around you are safe. In California, dog-owners have strict liability for bites.
Doesn't matter what your or your pet's interests are; the East Bay has something for everyone. Whether a scenic trail is your thing, or you enjoy the tranquility of a water park, whether running or hiking or simply sitting at a cafe with your pet by your side, grab your friend and head out. Go make those memories!