Thailand being one of most top preferred destinations in South-East India has geared up itself for the last fifteen years to serve its guests at any given time of the year. Though initially it was a destination that can be visited only during summer months it has now stretched itself to being one of the most visited beach destinations with the help of attractions that can make any individual crave to visit it at least once at a given time of the year.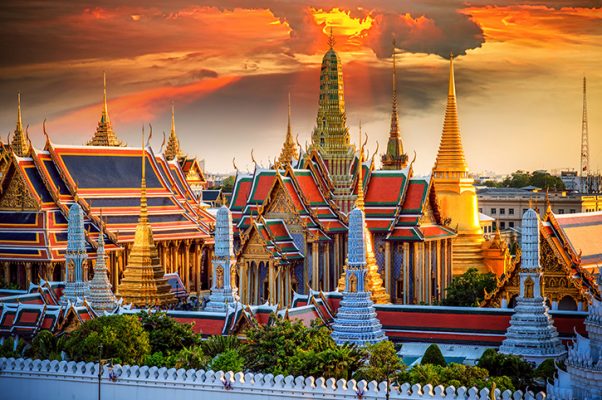 A trip to Thailand can initially be summed up within seven to eight days but if you are keen to explore it with depth and enjoy it at its core then even 2 trips a year are not enough with different seasons and months offering their unique experiences. If you want to visit it according to your ease and taste then here's a guide for the best time to visit Thailand to make your experience even more special and cheerful.
Thailand in January 
During January Thailand is fully crushed by the rush of tourists visiting it in search of winter sun with most of the accommodation facilities packed being booked out. So it is advisable to plan your Thailand Tour Packages well in advance with prior bookings to fit your trip in budget.   
Weather

– Weather in January unlocks almost any area to cover for nature lovers with clear skies and bright sun as January is the transition period for Thailand to let its nature bloom. One can observe isolated rain showers for a short span, which eventually makes it a perfect season with a bright sun in the mornings and a cool atmosphere during the evenings. Though it's recommended to carry warmer clothes if you are visiting the northern-east side of Thailand.  

January highlights

– Apart from common attractions and destinations to visit there are certain unmissable things one can enjoy during January. This month is celebrated as Children's Day known as Wan dek. One can observe regular celebrations at new destinations with certain special activities for children. Certain destinations can be observed celebrating the Chinese Lunar New Year with its traditions and culture. 

Bo Sang situated on the outskirts of Chiang Mai City can be a jackpot for anyone visiting Thailand with the Bo Sang umbrella festival being celebrated on the third weekend of January. One must ensure to visit Bangkok during the evening of Symphony Orchestra which is a traditional outdoor concert, the unwinding culture of Bali. 
Thailand in February 
February with a massive drop in prices comes with a full surprise package for its visitors right from its weather, attractions, and major highlights. Moreover, it will be a trip with complete madness for its visitors.
Weather

– Visiting Thailand in February comes with an abundance of sunlight for major attractions to cover without any hesitation with low humidity levels and accompanied by almost no rain. Visiting other parts of Thailand such as Chiang Mai and Chiang Rai may require its visitors to carry light jackets.  

February highlights

– A major festival that can entertain every individual of a family is Chiang Mai Flower Festival where one can encounter thrilling lineups of flowers and amazing sculptures carved from it but along with it one can also enjoy the live music, culture, and street parade accompanied by vintage cars, marching bands and locals in traditional customs. Sometimes the Chinese lunar year may also fall in February giving some major festive vibes but visiting any flower market can also give a serious vibe of Valentine's Day celebration. 
Thailand in March
March generally indicates the ideal time to start hitting beach destinations of Thailand but for visitors expecting to explore Thailand, it is the ideal time as the peak season has passed by and one can get good deals on a budget. 
Weather

– the weather is mostly sunny and hot during the daytime and even at night with some unsatisfying views during the morning doesn't mean that the country has nothing to offer. With the progressing day, the views get better with adorable and picture-perfect views during the evening. But the atmosphere remains hot and dry most of the time so it is preferred to visit more beach destinations in Thailand.

March highlight

– Visiting national parks and sanctuaries can be fun during the march as Thailand celebrates its National Animal Day with certain fun activities going around in zoos and national parks to engage visitors. March 17 is celebrated as National Muay Thai Day where one can explore gyms or boxing studios to enjoy the celebration which is named for famous and legendary boxer Nai khanom tom. Apart from these two major events one can encounter kit flying in Bangkok around areas such as Sanam Luang which is an open space for adults and children to test their kit flying skills.
Thailand in April
Though April is counted as one of the hottest months for visitors, Thailand has adopted air conditioning services anywhere you visit such as taxis, shopping malls, and hotel rooms, and almost every feature is associated with travelers which makes it comfortable for visitors to travel. 
 Weather

– Mostly every corner of the country is roasted with an extreme temperature of 40. C which makes it preferable to roam around during the evenings and early morning and spend the rest of the time exploring indoor activities such as malls and resort amenities.  

April Highlight

– Despite extreme heat what urges visitors to travel Travel to Thailand is its wide range of festivals celebrated to keep their visitors engaged. On April 13 and 15 one can witness the Songkran Thai New Year festival which is a water-throwing festival and can be seen with different variations in different provinces while one can also witness Poy sang Long where one can observe colorful celebrations for young minds taking a path of a Buddhist monk. April 6 can be witnessed with cultural celebrations on the foundation day of the Chakri dynasty.  
Thailand in May 
May onwards Thailand sees a drop in the number of visitors or listed down are some major attractions from May to December and their basic changes.  
Thailand in May – Tourist season starts getting mild in May with changing seasons and major festivals coming to an end. But If you are looking for a vacation just to isolate yourself from the urban crowd then you can definitely visit Thailand with accommodations and travel options available at cheap rates.  
 Highlights of May

– With the kickstart of the rainy season and the end of the hot climate one can go for beach destinations but apart from that, traditional celebrations go around such as the Royal plowing ceremony in Bangkok which holds an importance for rice and paddy in their culture. These festivities are celebrated with homemade rocket launches and boisterous parties. Vishakha Bucha is another festival that falls in Thailand that tourists can enjoy. It is a spiritual festival celebrated by the believer of Buddha with a national holiday in the region. 
Thailand in June 
June is the month for nature lovers to explore destinations with rain all around,moreover a perfect chance to explore destinations with less crowded attractions, cheap rates to travel, and easy accomodations and eventually perfect abode for beach lovers as beach resorts can be fun during rainy seasons to explore.  
Highlights of June

– June is the month with variable seasons and thus Southern Thailand can be best to explore but apart from that one can explore Hua Hin Jazz Festival at different resorts in Hua Hin. Certain local fruit festivals can also be observed in June known as the orchard of Thailand along with other attractions. 
Thailand in July 
Thailand in July – July is generally a period of very low tourist observations and a complete sense of stagnancy with spiritual events being celebrated at every corner. Moreover, it's a month of Buddhist events, so one can expect candle parades at several locations. 
Highlights of July

– The Gulf Coast region observes less rainfall compared to other regions so one can book accommodations around that place and explore attractions in nearby provinces. But one can expect more spiritual events such as candle marches, Ashna bucha day, and Wan khao phansa which is a rain retreat. 
Thailand in August
August is a season with rain at its peak but it turns out as an advantage for people who just want to explore resorts and their amenities as prices are comparatively very low and one can get their trip done at the expected budget. 
Highlights of August

– Shorter trips are preferable if you plan to visit in August as weather can be variable with clear skies and rains which can disrupt your visit to any outdoor attraction. One can prefer to stay in the beach resorts of Pattaya as it seems to observe lesser rainfalls but apart from that, there are very few local celebrations such as Queen Sikrit which is a national holiday with cultural celebrations at every corner. 
Thailand in September 
The season in September still remains variable with two seasons a day but again it has its own advantages with popular accommodations at cheap rates. Moreover, a perfect vacation can be held to isolate yourself from the urban mess and enjoy your time in the pool and resorts.  
Highlights of September

– Weather can not be guaranteed in September with a swing of summer and monsoon together but accommodations on Koh Samui and Andaman coasts are perfect for exploring the nearby areas. Apart from enjoying indoor amenities and gorgeous views Long boat racing on 28th September is the only event one can enjoy.  
Thailand in October 
It's a perfect season where the rainy season ends unofficially and tourist season kickstarts with less crowded attractions. Moreover a perfect season of blossoming and removal of stagnancy with several events around the corner. 
Highlights of October

– One can roam around everywhere in October with stable weather conditions but accommodation at the beach can be preferred to enjoy at its best. Celebrations of October start with the Awk phase which is a Buddhist holiday that marks the end of rain retreats and hosting merit-making which is followed by the vegetarian festival which can be observed majorly in Phuket and Bangkok. 
Thailand in November
The perfect season to travel to entire destinations as the tourist season starts peaking up in the second half with the advantage of stable rates and convenient accommodation options. 
 The highlight of November

– The weather is completely stable with almost clear skies and a bit humid atmosphere enabling every attraction to be visited which can give adorable views but what makes the November trip even more special is the series of festivals held which keeps the atmosphere even cheerful and bright. 
Thailand in December
It is the peak of the tourist season with almost all accommodations booked and crowded attractions so it is advisable to plan your trip well in advance but it's a perfect opportunity to see Thailand's culture, traditions and it's natural beauty at its best. 
Highlights of December

– Thailand observes a completely different vibe in December compared to any other month with every street decorated with a vibe of major festivals in December which enables a perfect place for outsiders to celebrate festivals such as Christmas in Thailand. Accommodations at any place can be fun with an atmosphere of different celebrations but moreover visiting Thailand in December can be more for celebrations and festivities and less for visiting attractions, 
Moreover, every month in Thailand has its own atmosphere and vibe enabling different attractions to visit. But apart from visiting the attractions, months to visit Thailand can be decided on the basis of your taste in events and celebrations.