Christmas is already right around the corner– time is ticking to figure out the perfect gifts for all your friends and family. There's only so many shopping days left my friends!
So what do you get someone you've been a bit disconnected with because they're a travel addict out seeing the world? Or what do you get for your friends who have already sold most their material belongings in preparation for their big RTW trip?
Money seems to be the most obvious and easiest choice, but if you're looking for something a little more thoughtful than cash, look no further! I've listed 13 awesome gifts for travelers that anyone is bound to love, and you can also find out what's #1 on my travel xmas wish list.
1. iPad or iPad Mini


Since I've bought my iPad over a year ago, it's probably the single item I recommend most often. Whether you're a traveler, student, teacher, or anyone in between Apple's iPad has something for everyone.
Need a place to jot down notes from your trip? Want to read guidebooks on the go? Send a quick e-mail or Skype call? Even photo editing and blogging can be easily done from the iPad thanks to Bluetooth keyboard accessories.
Traveling with a laptop can be cumbersome, so get an iPad instead. Especially now with the release of the iPad mini, traveling while staying connected is easier than ever before.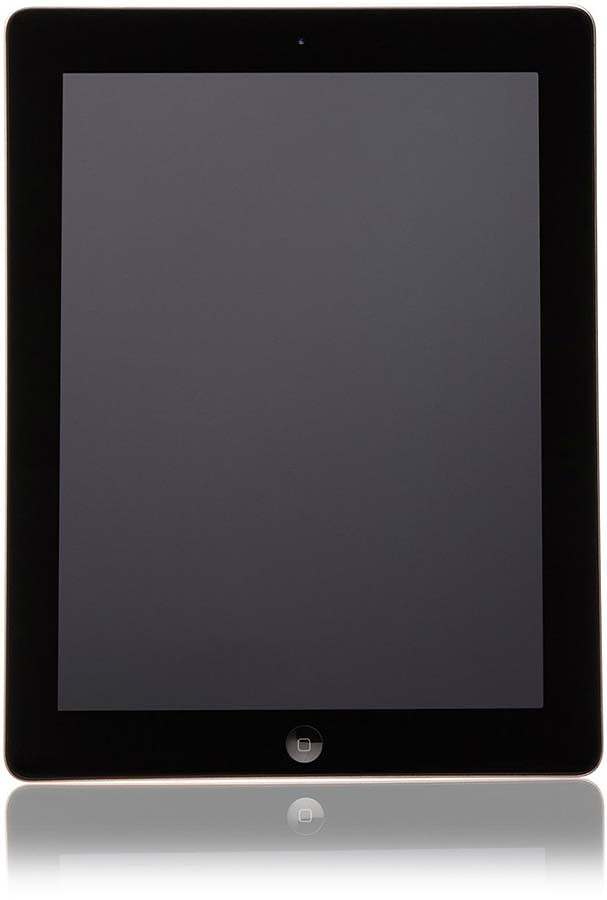 2. Travel Guide Books


Travel guides are something almost any traveler would be happy to receive. While you can look just about anything up online, nothing beats having everything in one book to bring on your travels.
Think one travel guide isn't enough? Why not purchase them a few. There are so many specialized travel guides, whether it's the top 10 sites to see or a guide to cemeteries across the US, there's something for everyone.
And if they have the previously mentioned iPad (or any other tablet) you can purchase them all as digital copies so the traveler in your life has even less to carry. Even more reason to buy an iPad!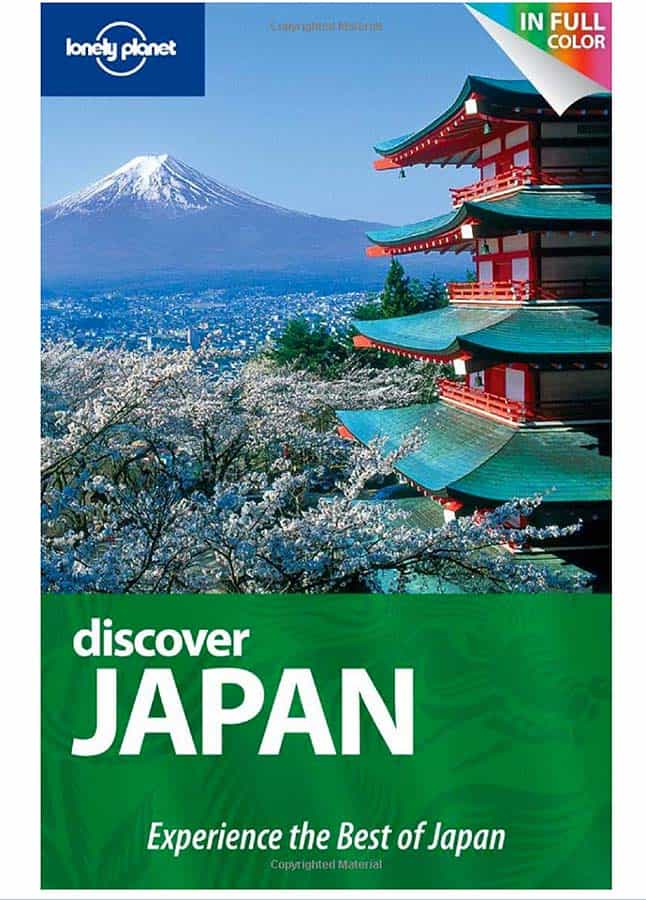 3. 1000 Places to See Before You Die
This is a present I had received upon graduation before setting out on my own travels. Rather than using this as a grocery-item list, trying to check off all 1,000 places, I think this book helps to give inspiration to travel.
Although I don't agree with her methods of travel (it seems a little geared to those with either unlimited income or a 401k to blow), it's a good place to start learning about locations you may not have considered traveling to before.

4. Moleskin City Notebook
As a traveler I always keep a notebook handy, and as an artist I love Moleskin. So I was rather thrilled when Moleskin released these "City Notebooks" a few years ago. Moleskin has made a book for almost every major city traveled to around the world–Chicago, New York, London, Tokyo, Hong Kong and many others.
The book has around 90 blank pages for you to fill with travel notes and a few tabbed areas to create categories for as well. There are small pieces paper that can be easily ripped out incase you need to exchange information with someone unexpectedly and an envelope where you can keep ticket stubs or other small memorabilia from your trip.
On top of all the benefits you find with normal notebooks, inside you'll also find small fold out maps of streets, subway systems and more. The book comes with sticky transparent sheets that you can lay over the maps to draw your own routes of where to travel. And there is a list of addresses and phone numbers of popular tourist locations and restaurants in the back.
Why buy expensive travel guides when you can write your own?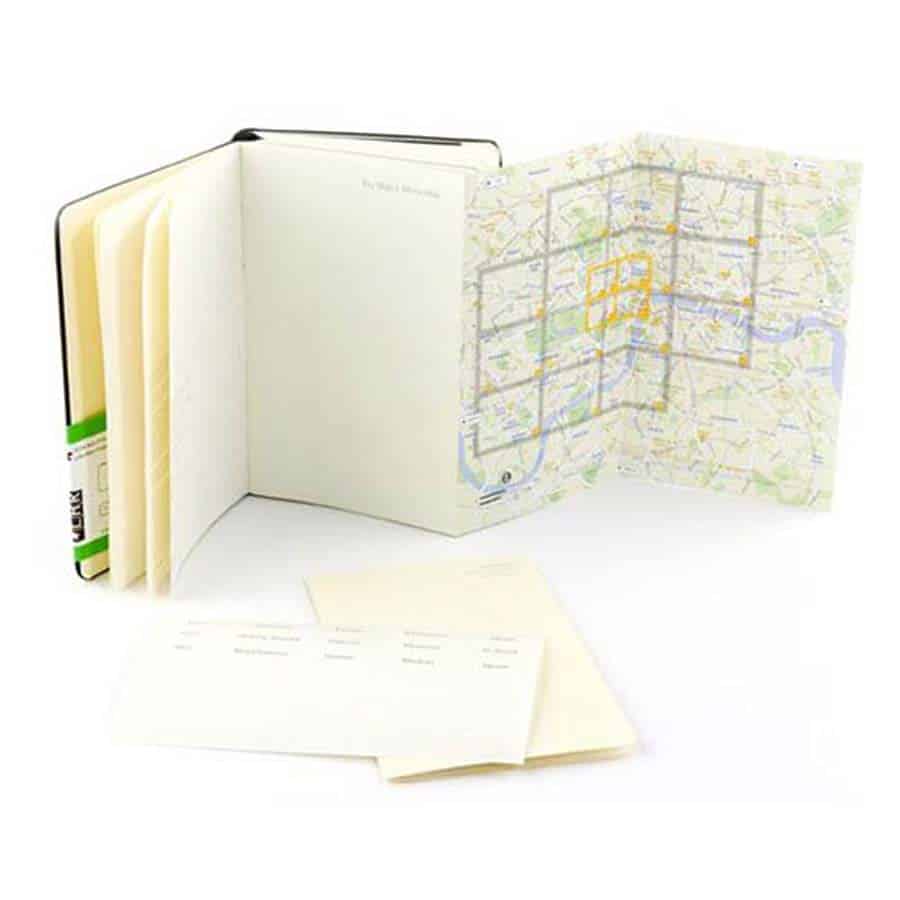 5. World Wall Map
A map is a simple gift that any traveler could enjoy. It has practical purposes of course, but they also look great on a wall. Filling up a map with push pins on locations you've visited is as nice of a decorative pieces as it is an instant conversation starter with future house guests.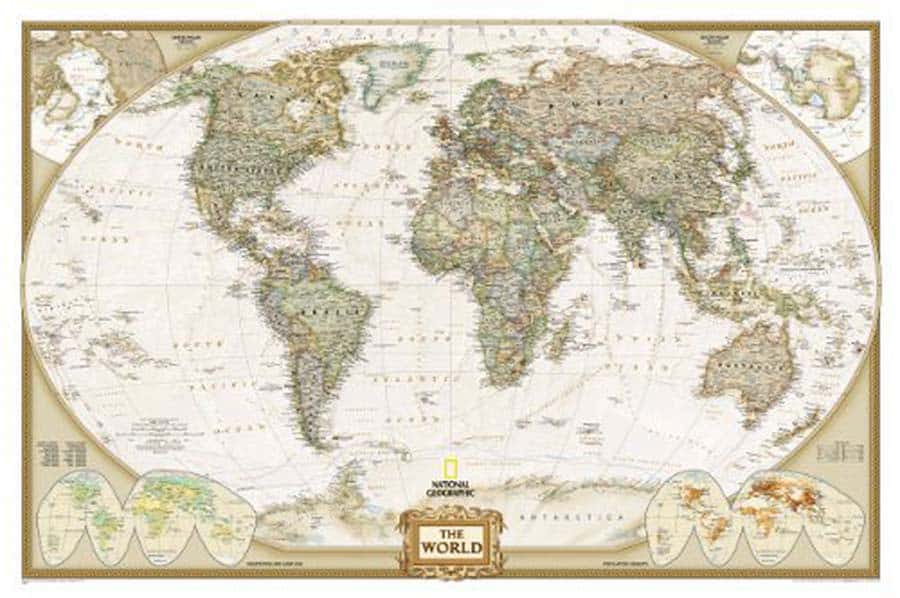 6. Hardshell Luggage
After my previous luggage was destroyed during my first trip overseas–and their first use mind you, I was very happy to switch to hardshell luggage. Sure, it gets scratched up quite a bit, but it's been so much better than my previous luggage.
Not only has it been durable, but the polycarbonate or polyurethane material is extremely lightweight. And with airports being more strict about baggage weight, this is becoming more of an important factor when buying luggage. Standard carry-on limits are generally only 15 pounds, and when my last carry-on weighed 11 pounds …well, let's just say I couldn't even fit the clothes I needed for the weekend without going over. Thankfully these bags are only around 6 pounds!
Another plus is that most hardshell pieces also have multi-directional wheels. After using these wheels, I will never go back to single-direction wheels when traveling.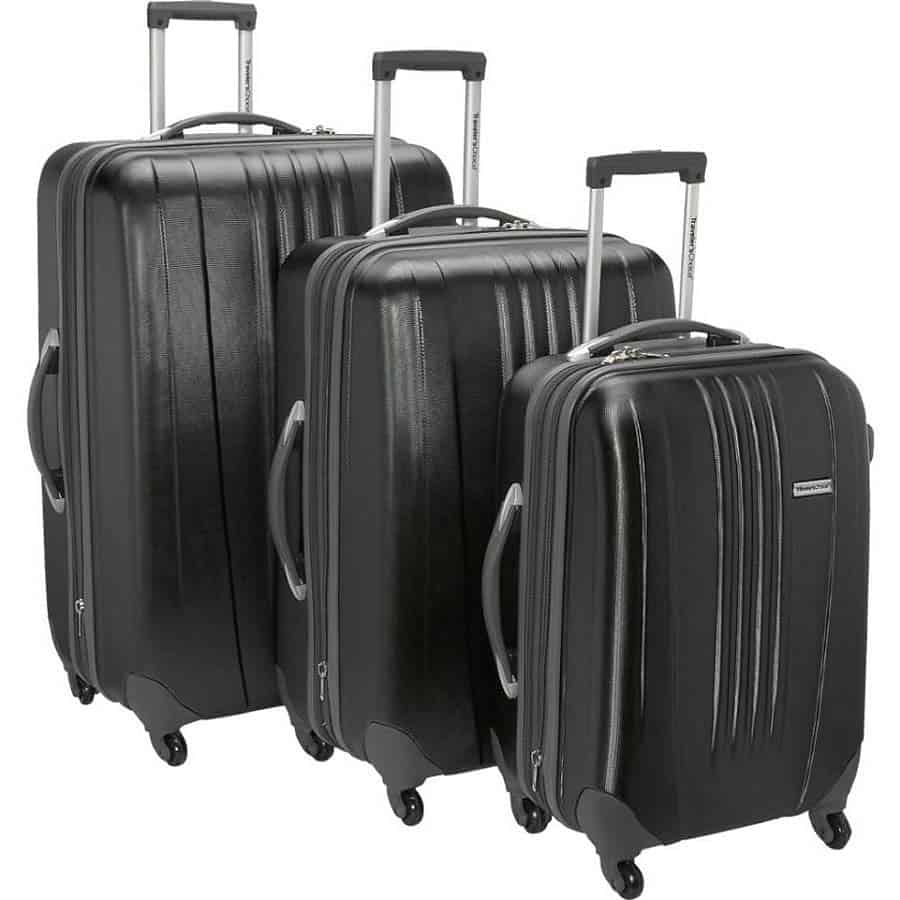 7. Pacsafe Backpacks
Now I don't actually own a Pacsafe bag, but I can assure you the Pacsafe Slingsafe Gii 300 is my favorite backpack, and I love backpacks. If I can get away with only bringing one backpack on a trip, I do. So what makes this backpack so special?
This backpack is made for traveling! It is made from slashproof material, also on the straps, to prevent pickpockets. (Trust me, traveling around China people get their bags slashed all the time!) Besides that, it has plenty of secure pockets, including a padded spot for small laptops or iPads, and all of the zippers are secured by turn and lock hooks.
There are Smart RFID-blocking pockets designed specifically to protect personal date on passports and credit cards to help avoid identity theft.
Lastly, the whole bag is water repellant. So as a lover of backpacks– these seem pretty perfect, if I do say so myself.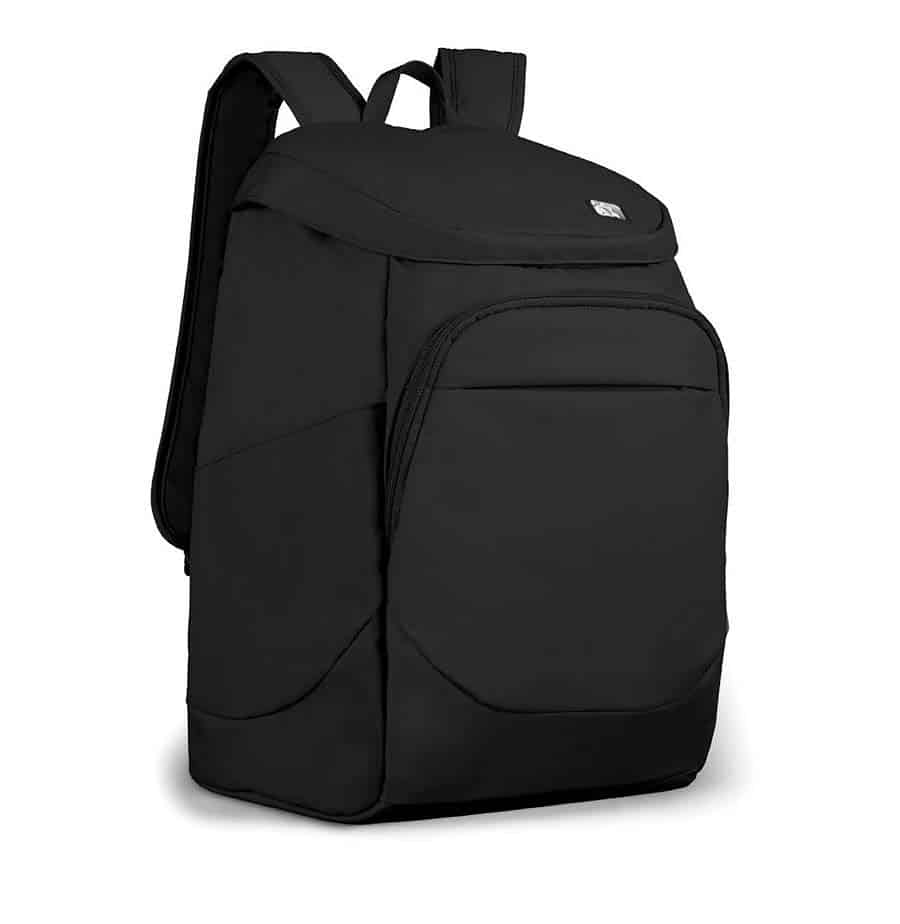 8. Restore Charging Valet
Let's face it, one of the worst parts of packing is trying to organize all the junk you wish you didn't have to bring. Phone chargers, camera chargers, iPad chargers, etc. It's all just a heap of cords taking up space and weight in our bags. Every time I see myself packing all of these billions of bundled cords, I wish I could just go without.
Well, there's a new way to travel (almost) cord free. The Sharper Image has come out with a charging station. It can charge 3 devices at once (iPhone, Android, cameras, you-name-it) as well as an iPad or iPod. The best part is, the whole device folds up into something not much bigger than a wallet. Now that's a lot easier to pack in my suitcase!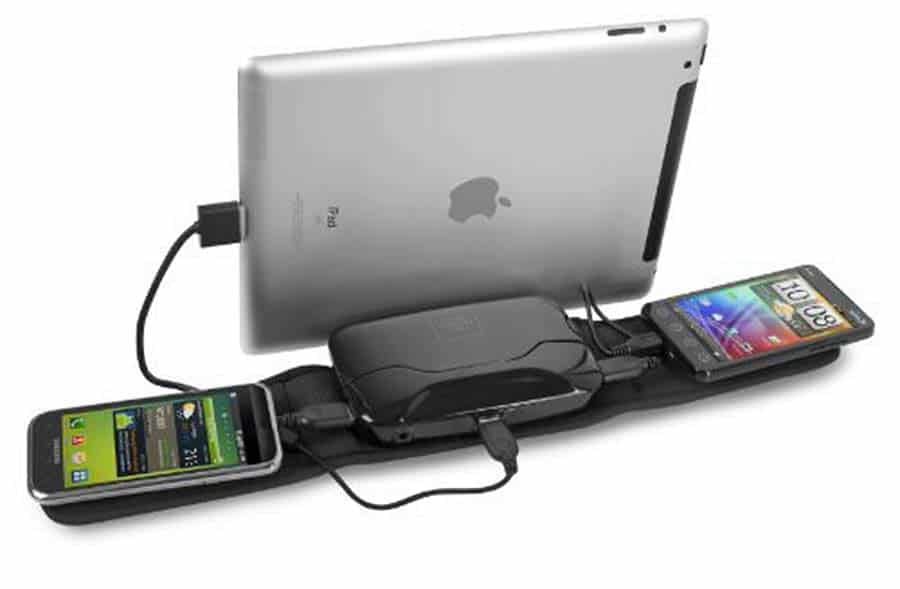 9. Camelbak All Clear Purifier
Ever heard someone say "don't drink the water"? Unfortunately most American's don't realize how easy we've got it. We can drink our tap water almost anywhere, and the worst we'll find is maybe an off taste, but it's not harmful to us. In most other parts of the world, especially Asia, you should never drink the water and not because "it tastes funny".
But now, you can thanks to Camelbak's new water bottle system. You can fill up water from any tap, well or stream and it'll be sterilized with the use of UVs. It kills 99.9% of bacteria and viruses including Giardia. So instead of buying water bottle after water bottle while traveling, you can use this–a lot of travelers will vouch for this awesome product.
It'll be better for your wallet and the environment.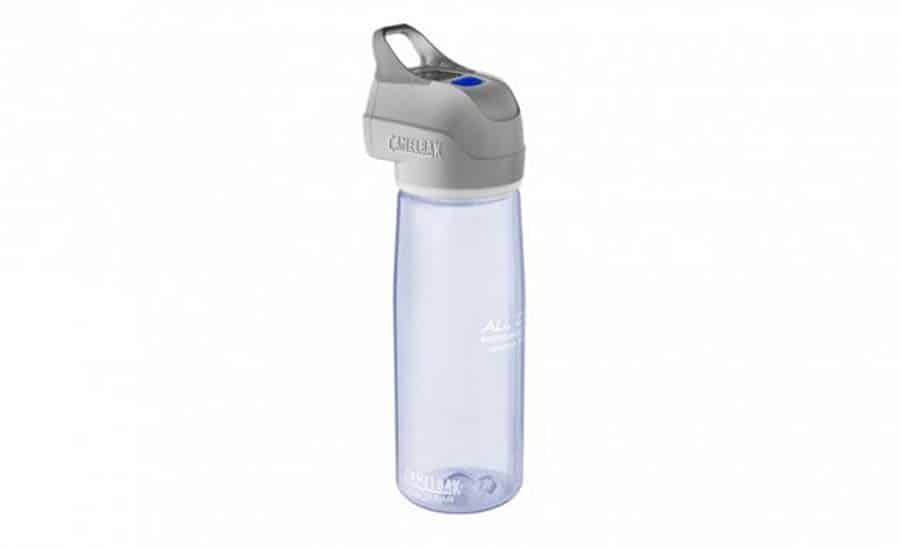 10. Olympus Digital Camera
Almost every traveler out there brings a camera to document their journey–and if they don't, even more reason they need a camera ASAP to start. However, it's important to get a versatile camera rather than just anything that's cheap. And trust me, when it comes to photography, you get what you pay for.
While most people shoot with dSLRs, a lot of people just don't want the bulk while on the road– which I completely understand. Olympus makes a range of cameras that are just a step down from owning a dSLR.
A lot of their newer point-and-shoots offer the ability to change the lenses, similar to a dSLR. Their 4/3 line offers great choices, but I would personally recommend their TG-1iHS. Here's why:
Oh what I would've given to have an underwater camera before going to Thailand. I always said my next camera would be waterproof, but when my POS died a few months ago, I quickly bought a replacement without even thinking about. Next time, I swear!
The TG-1iHS Olympic camera is built to be awesome in any situation that a traveler may find themselves in. It can go underwater, it can be frozen, it can be dropped and banged against mountain sides.
It's basically indestructible and the perfect travel companion.
11. Monopod
Now I'll admit, when I first saw these I thought they were the most lonely invention ever… but now that I've been traveling I think they're really useful!
Monopods are great for some stabilization when carrying around a full tripod just isn't practical. Let's face it, Asia is crowded. For certain events it's hard to make room for yourself let alone for a bulky tripod. So using a monopod won't take up much room and it provides enough camera stabilization that photos will turn out better than hand holding.
Using a monopod is also great as an arm extension to get that little extra detail. You can hold it up in the sky to get better firework shots without everyone else's heads in the frame, you can hold it close to animals or things you might not want to get close to yourself, and so much more.
And yes, it will help you take photos of yourself in front of any famous tourist site.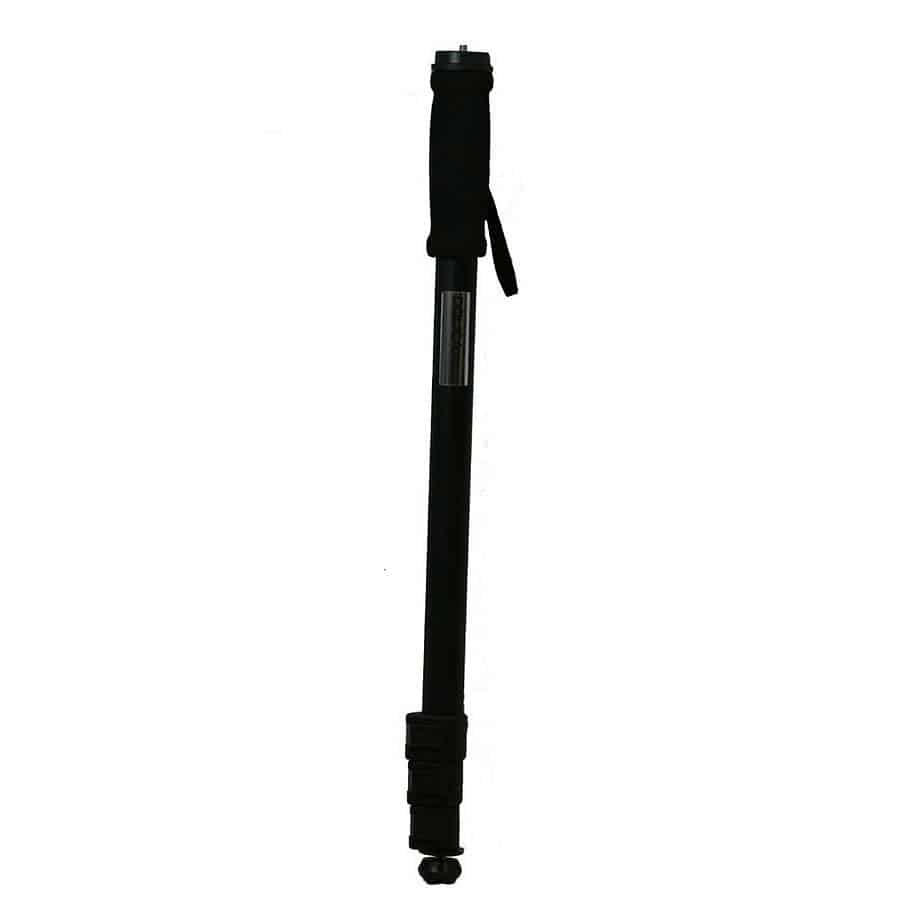 12. Personalized Photo Gifts
I'm a big fan of "coffee table books". I love going to people's houses and getting to flip through a book filled with interesting photographs about a particular location. It even makes a good conversation starter when I start to ask them if they've been to the locations in the book.
In this digital age, a lot of families no longer make prints to create photo albums of their family. Instead photo books are becoming popular to document the growth of a child or for special events such as weddings. And they're really easy to make too– most websites have pre-made templates you can take and dump your own photos into.
So with websites such as Shutterfly or Blurb, you can make your own coffee table books. So why not take some of the photos that the traveler in your life has taken, and make a good for them. It's a great personalized gift and it will help preserve the memories of their times abroad.
Don't want to make them a whole book? How about a calendar, coffee mug or even an afghan featuring their travel photos.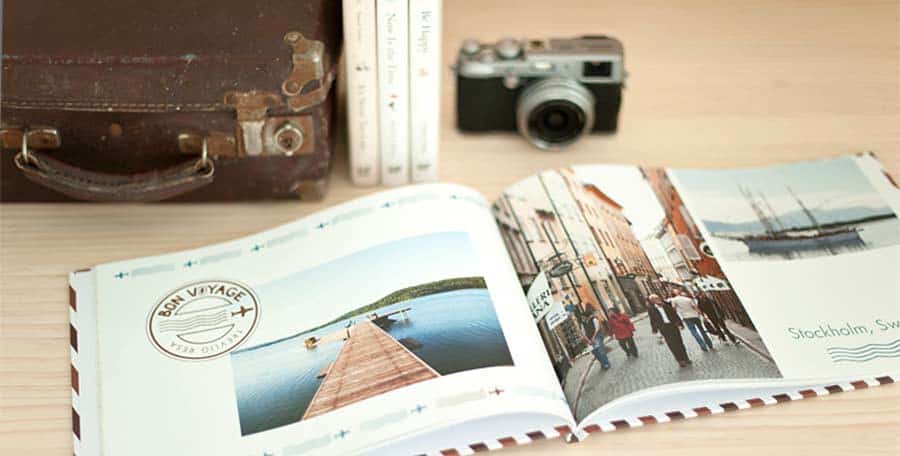 13. A Place on the Internet
Whether it's commercialized or purely to keep your friends and family updated on your life, a majority of people who travel blog or at least want to give it a try. And those who don't blog, still usually take photographs of their travels. So why not buy that special traveler in your life their own place on the internet?
You can buy them blog space, such as on Bluehost, their own domain name (www.whatevertheywant.com), or even just an account on photo sharing sites such as Flickr, where they'd be able to upload all their photos someplace nicer than Facebook.



So there you have it! 13 totally awesome traveler worthy gifts for the holidays.
Although I own majority of the items mentioned above, there are a few I do not– but they are on my own wish list! I would never recommend a product I do not own and love myself–or plan to purchase in the near future. I promise I didn't just pick a bunch of items for you to buy hoping I'd make a few bucks! Do note if you click on any of the "Buy it on Amazon" links, I do make a profit from your purchase (gotta try to make some profit through blogging right? >.>)
That being said what's holding the #1 spot on my own wish list? Well this won't be a Christmas item for me this year, but it is something on my wish list to buy hopefully during 2013.
#1. An Upgrade to my current DSLR
I love my camera. I bring it with me almost any place I go that I know I'll want to photograph. I've had two different Canon Rebel series dSLRS, and while I've loved both of them, I think I've outgrown them. Don't get me wrong, I think the Rebel series makes great cameras for beginners at a great price (usually $300-$800 USD max) but I think I'm ready for something a bit more advanced.
I would love the Canon EOS 5d Mark III–what photographer wouldn't. But seeing as I don't have an extra $3k laying around, I'll be looking at something more in the middle ($800-$1200 range).
Currently I've had my eye on the EOS 60D or EOS 70D, but both of these cameras are a bit overdue for an upgrade themselves. It's been rumored that Canon will be releasing something new to replace these cameras by March 2013. So until then I'll just have to wait and see… and start saving some money.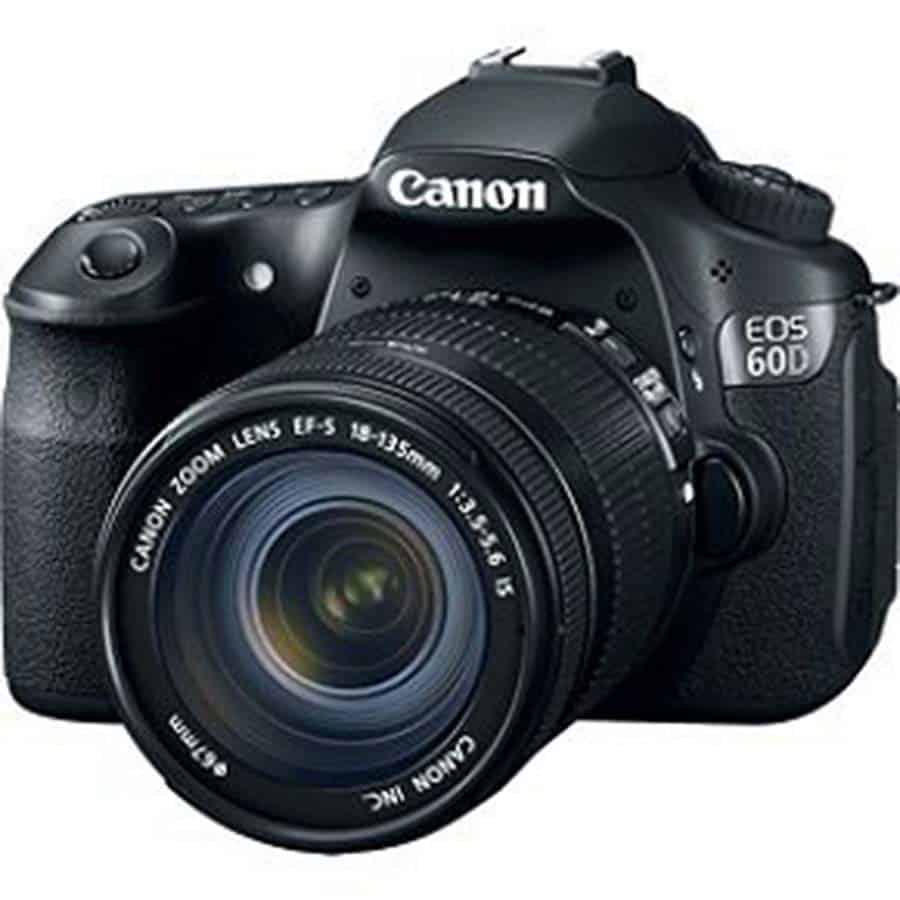 What's on YOUR Christmas list this season?