Afew weeks back I had posted a review about one of the tours we took in Phuket. Today I'd like to give another review on the other tour we took during our stay in Thailand. To be honest, I've been kind of dreading this post and it took a lot of going back and forth to actually get it written, but I think it's important to read for those who are thinking about going on elephant trekking tours.
This tour was through a company called Island Safari and they specialize in elephant trekking.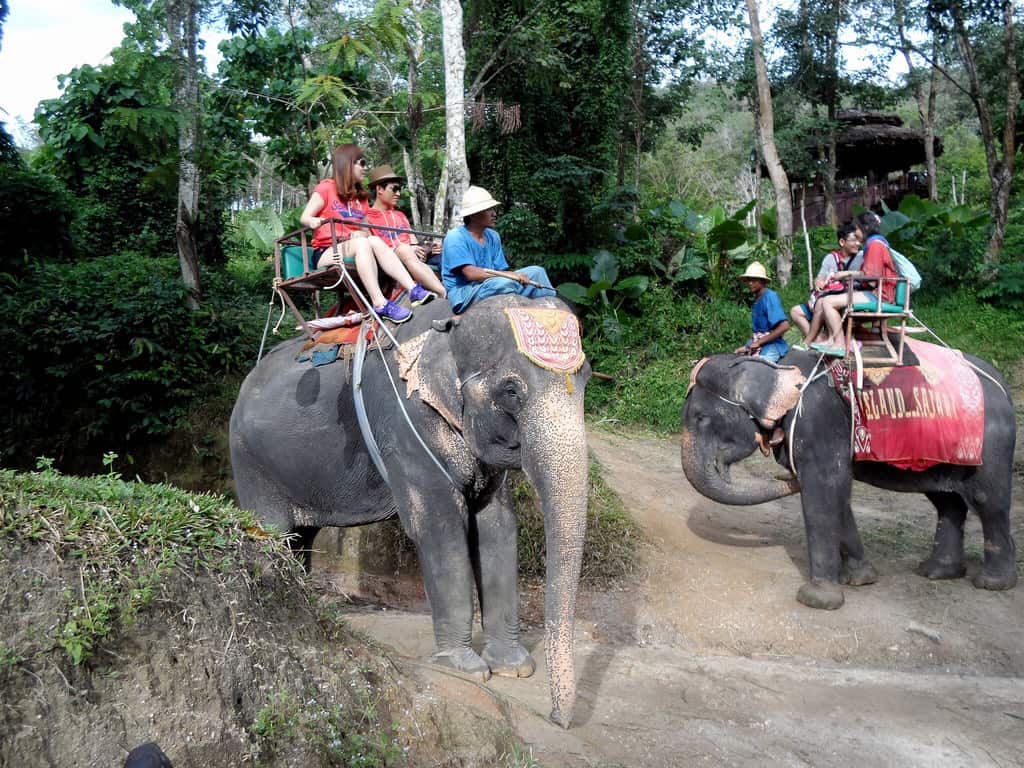 At the time, all we knew was that we wanted to see some elephants, so we quickly chose this tour because it was very basic (we didn't want to see any monkey shows, elephant shows, etc.) and cheap.
In retrospect, I wish I would've been able to read reviews on this company, because a few do exist online. I hadn't even bothered to look because when previously trying to find tour reviews for the Nikorn Marine tour, I had been unsuccessful.
Island Safari offered a wide range of elephant trekking packages, some that included rafting or ATV riding. We chose the most basic package we could find–30 minutes of trekking with orchid garden, seasonal fruit, hotel transfer and English guide.
The list price was 800 baht pax, but again never pay what they're asking. We again haggled it down, and then proceeded to wait at our hotel for the van.
We were a few minutes late getting to our lobby for the van, and after a while of waiting I had begun to think we had missed our van. The van finally showed up about 15 minutes later and seemed as though they were trying to make up for time with their crazy driving.
When we arrived, everything was laid out in various small huts and each hut was a different "attraction".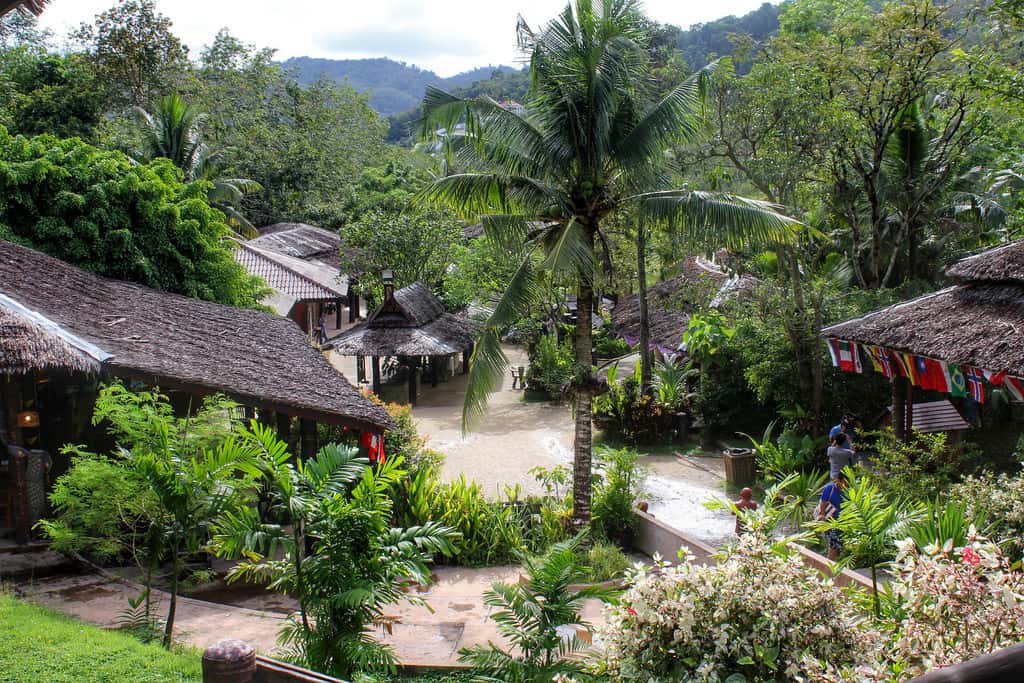 As soon as we got out of the vans, the guide quickly rushed us to the elephant riding station. He was walking so quickly, it was hard to keep up with him. I was a little worried about getting on the elephants, but this place used a platform which made it very easy.
We waited for our turn to get on an elephant.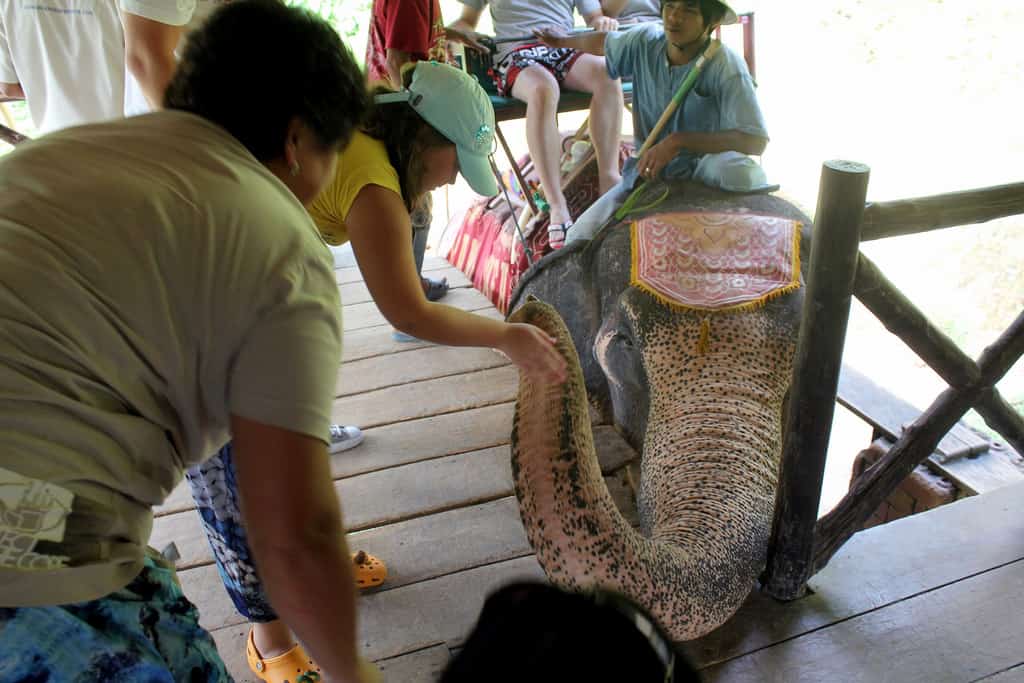 Before getting on the elephant, there were signs that said "no photography", but I'm not sure anyone ever verbally told us– most people seemed to be taking some photos anyways. I've heard at many other trekking companies the mahout will jump down and take a bunch of pictures for you while you're on the elephant. That was not the experience here.
I guess they were pretty serious about the "no taking photos", as they had a staff member take a photo of you on the elephants instead. Later they tried to sell us the photo for 800 baht (more than the price of the whole tour…). Ridiculous. Therefore the only photo I have of us on the elephant doesn't even look like we're on an elephant.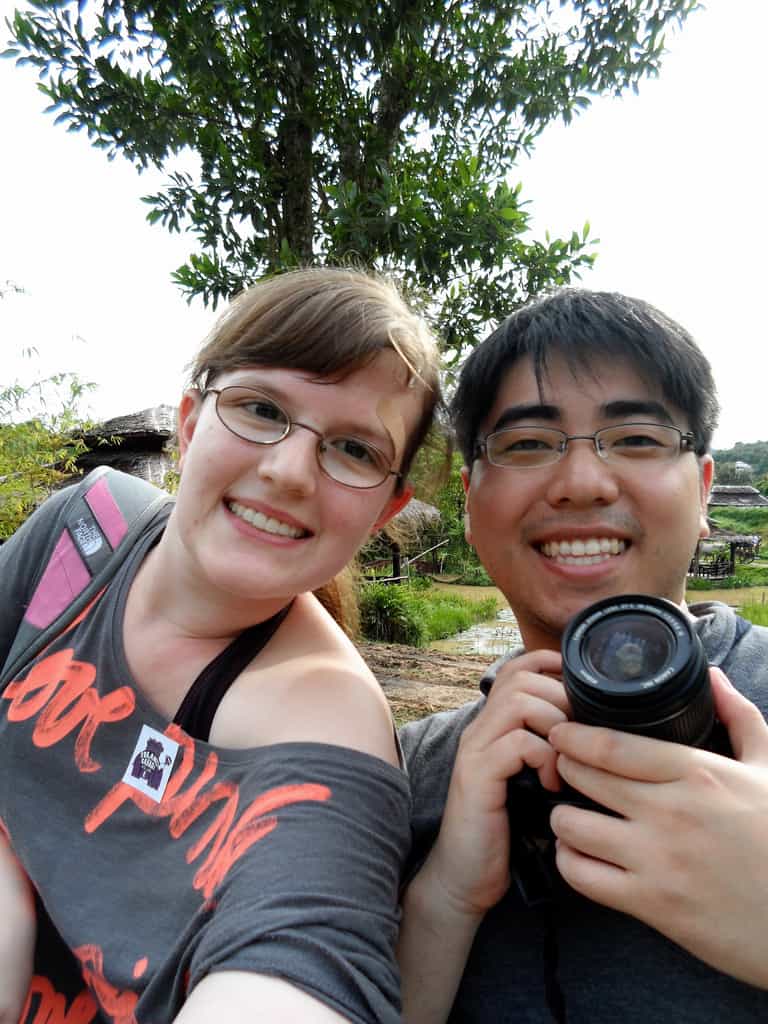 Seeing the elephant trekking area was a bit disappointing from the start. All the elephants just wandered circles around the same course, following closely behind one another. I was hoping what we saw was only part of the course, but unfortunately that's all there was to it.
Shortly after leaving the platform, we were asked if we wanted to buy bananas for our elephant. The price was a pretty steep 60 baht (more than my lunch for the day) so we politely declined. I guess our elephant really wanted some bananas because he did not want to leave that banana stand. When he disobeyed the mahout's command to move onward,  the mahout immediately began beating him with the bullhorn until he continued on. The elephant made horrible cries, and it took a few minutes to get him in control. At first I felt a little scared that we could get hurt on this animal and then I quickly started to feel horribly guilty about not buying him the bananas.
The rest of the trip our elephant just followed along in the line.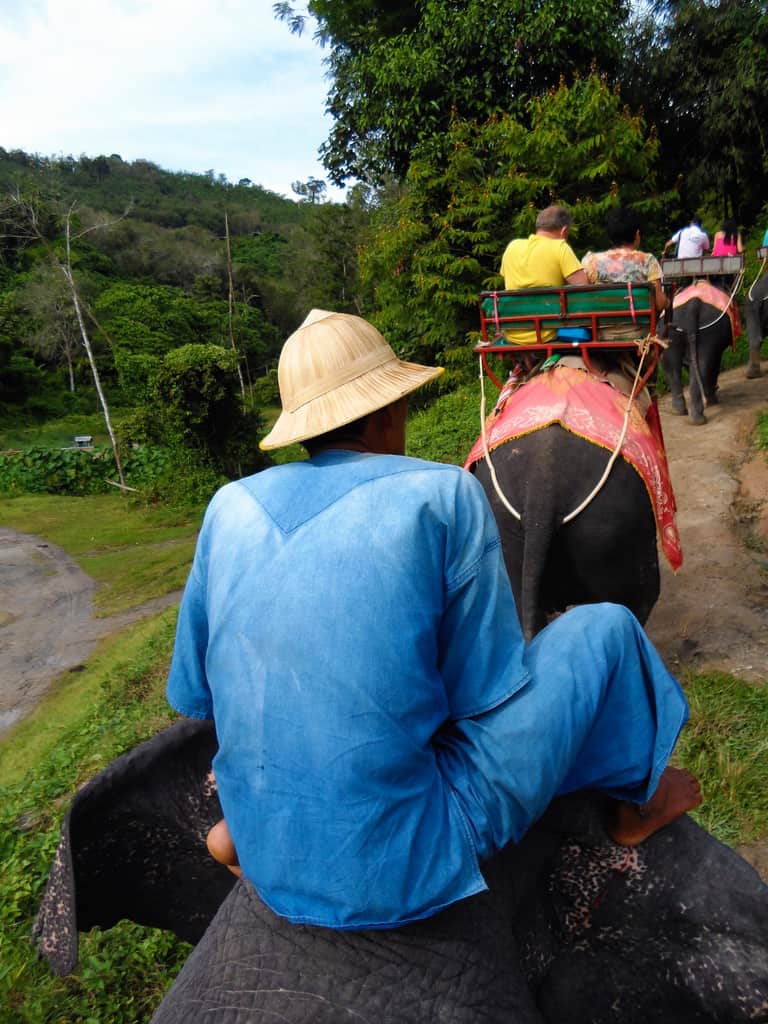 When the elephants had made their circle, we were taken back to the loading platform. All the mahouts at this point were holding money in their hands, seemingly hinting that you should tip them. We didn't tip ours and were once again quickly rushed to the next location, which we were told was a baby elephant show.
On the way to the show, we passed the areas for oxen riding and monkey shows. All the animals seemed unhappy. The oxen seemed tired, the monkey was chained. It seemed miserable.
When we arrived at the elephant show, the elephants seemed no different. At the start of the show they were both chained. They were playing a lot of US "Top 40" music and the elephants were swaying along. Not sure if they were "dancing" or swaying because they were distressed. When the show began, the elephants were both released of their chains.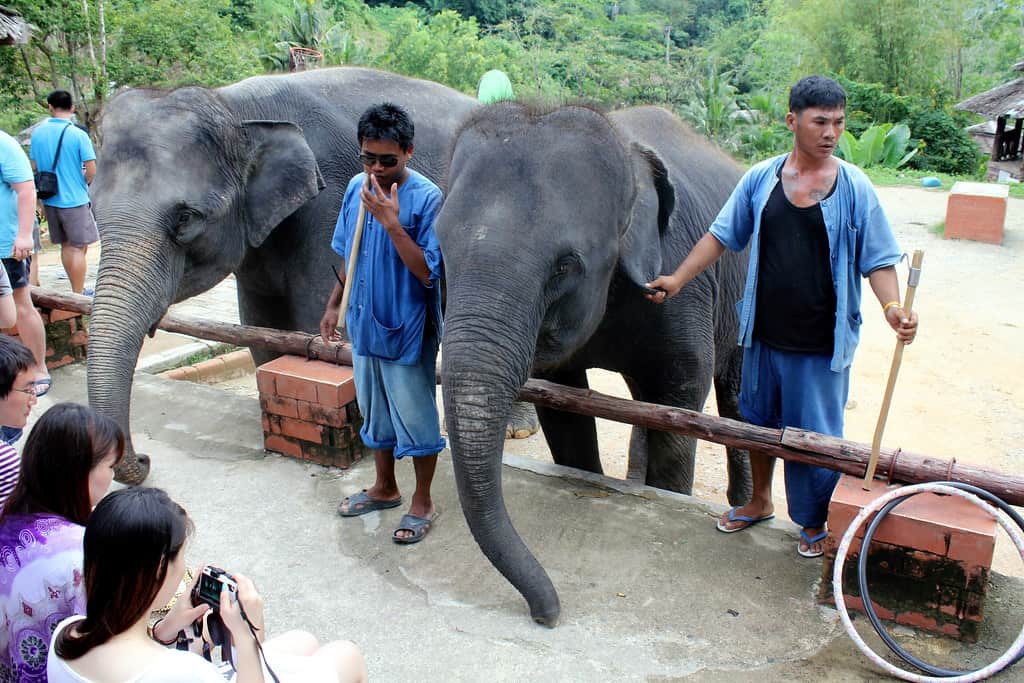 The elephants were 5 and 7 years old, and the whole show consisted of them performing tricks. Handstands, playing soccer, and throwing darts were just some of the acts. It all seemed fun and cute, but the trainers seemed ready to put the elephants in their places if need be. Overall, the elephant show seemed cruel and humiliating.
At the end of the show you were able to participate in the "baby elephant massage", where the elephant lightly tapped its foot on everyone's back.
When the show was over, everyone was ushered back to the vans and we were once again delivered back to our hotel. The drive home was just as scary as the ride there, I think at one point our driver actually bumped into the car in front of us.
Unfortunately our stop was pretty much last so the car ride lasted a lot longer than I was hoping for.
Would I Recommend the Tour?
No! The whole place seemed like a giant tourist trap– everything was overpriced and staged. For a country that worships elephants, and an establishment that welcomes you with a shrine devoted to the "elephant god", how they treat their animals is shocking and appalling.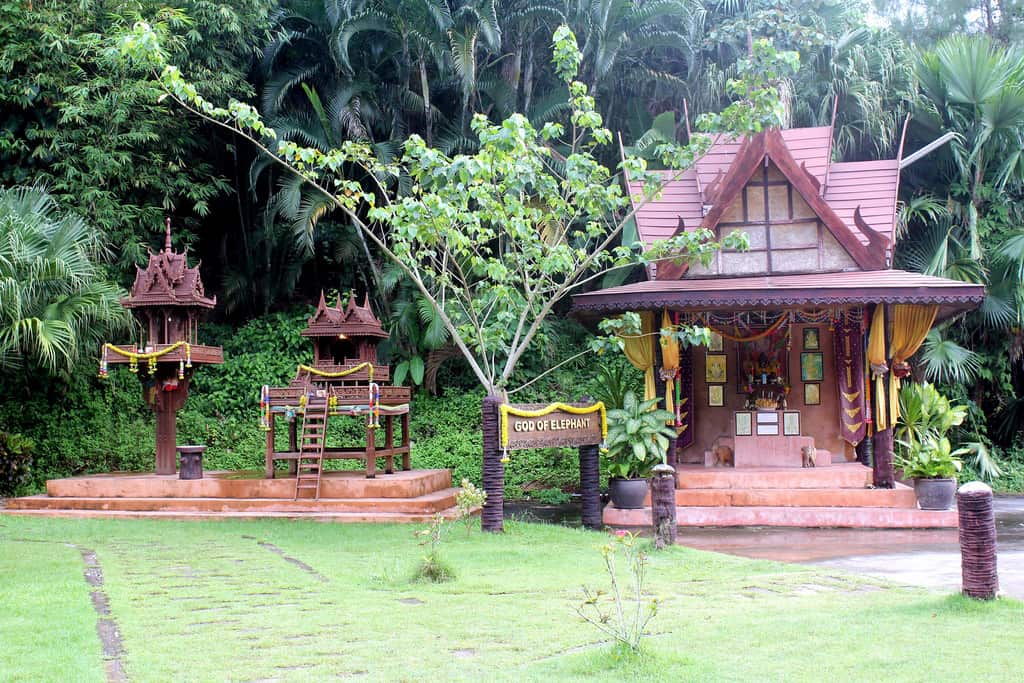 Elephants are magnificent creatures, so it's no wonder that people want to visit them when in Thailand–but do so by other means. I would not recommend giving Island Safari your money.
Have you had any horrible tour experiences? Tell me about them below!