Singapore Changi Airport has recently beat out reigning champion Hong Kong International Airport as the better airport. And while this airport was pretty impressive, there are some definite things that you should know before flying out of Changi Airport.
Similar to HKIA, Changi Airport can be reached a number of ways, including directly by MRT.
The MRT is a cheap and fast method of reaching the airport. Our taxi leaving the airport to go downtown to our hotel cost S$42, but from our hotel to the airport by MRT only cost S$2.10–huge difference!
From first glance the airport didn't seem too impressive. There were many check-in counters surrounded by various restaurants including your typical McDonalds and Starbucks chains.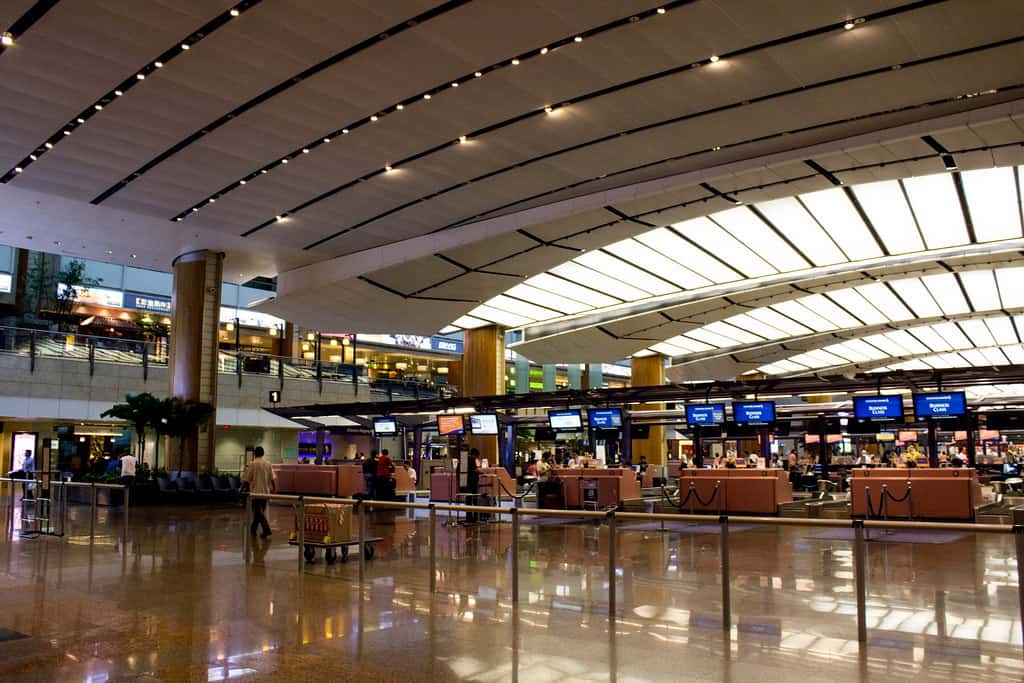 With having almost missed our flight to Singapore, we definitely didn't want to miss our flight home so we decided not to take any chances with time. After getting checked in, which took less than 2 minutes, we sat down to quickly finish our waters before getting in line for security.
The man at the entrance checked our tickets and passports– normal.
We then saw one x-ray machine checking random people's luggage, but letting the majority pass right through to immigration–   not normal.
The line for immigration was long and after all was done, we commented how it was weird that we didn't have to go through much security, but then got ready to enjoy an hour milling around the airport.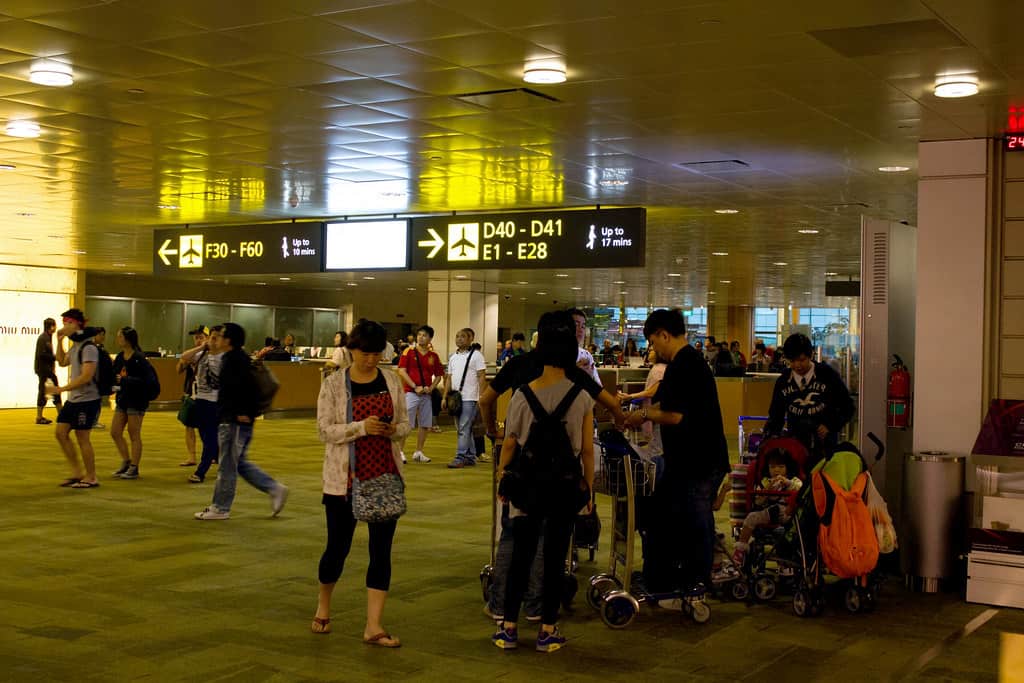 The inside of departures was much better than any other part of the airport. It will filled with tons of shops, restaurants, entertainment, gardens and even a grocery store. Now this was the world-famous Changi Airport we were expecting.
We spent some time browsing the shops, checking out the entertainment and grabbing some bottled waters to take on our flight. We didn't want to spend too long because our terminal was in E, and according to the sign pictured below it says it can take 17 minutes to get there.
We weren't sure if this meant we would be needing to take a tram or a bus to our terminal–which was the reason we had almost missed our flights to Singapore in the first place. Again, we weren't taking any chances–we both had work in the morning and at this point I had been bleeding from my knee for over 12 hours. We needed to get on that plane.
Changi Airport features a lot of great things to keep people entertained during their stay. Besides featuring gardens and a movie theater, they also have set up "Xperience Zone" stations throughout the airport.
These stations were great!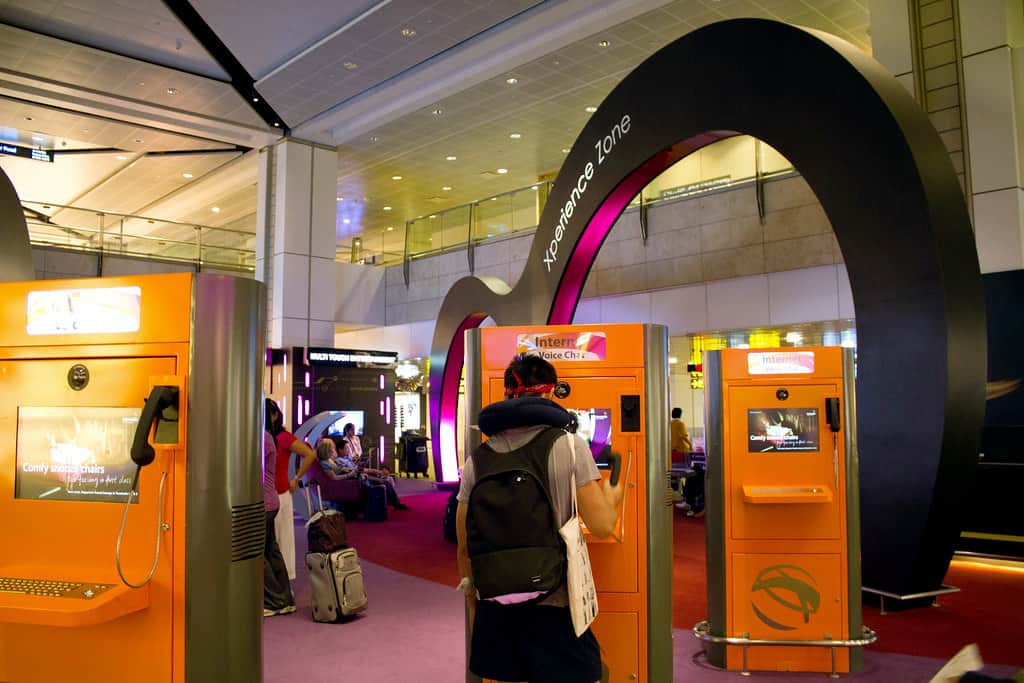 The main highlight of the "Xperience Zone" that I used was the "Internet Voice Chat" stations. Here users could log onto any internet messaging platform (yahoo!, Gtalk, Skype etc.) and call their friends and family.
It was great to be able to call back home to Hong Kong. At this point I still hadn't gotten a hold of Johnny to tell him about my injury–so it was just a really great feature that I have yet to see in another airport.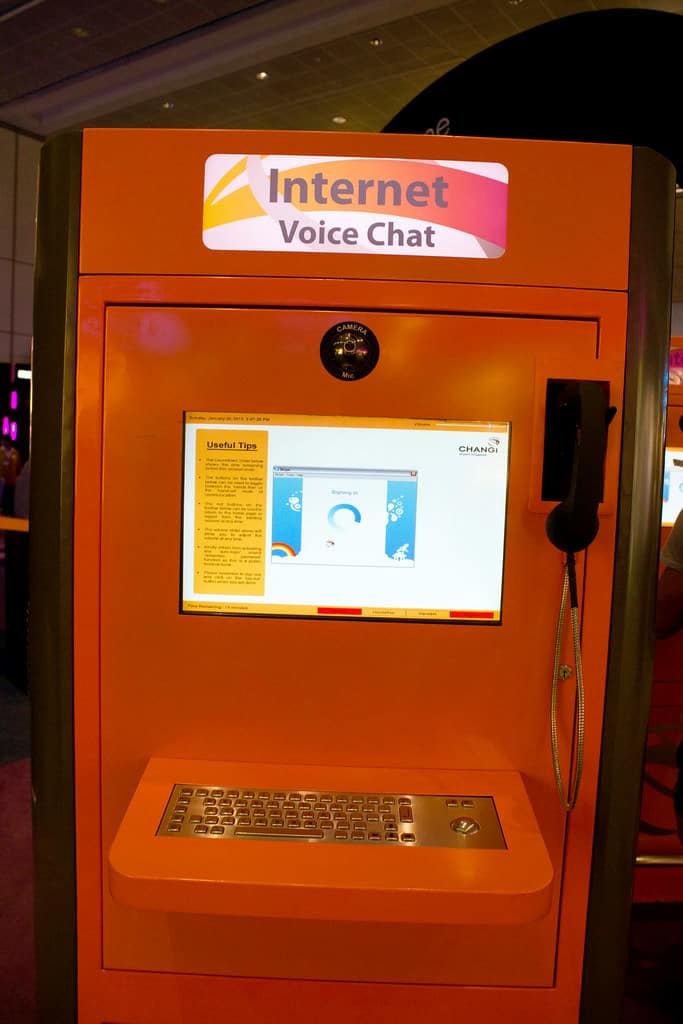 Besides the voice chat booths, they also had wifi stations set up, and computer stations for those who didn't bring their own laptops.
For those who didn't want to bother with technology during their time at Changi, they had reclining chairs with personal flat screen TVs and free foot massage stations.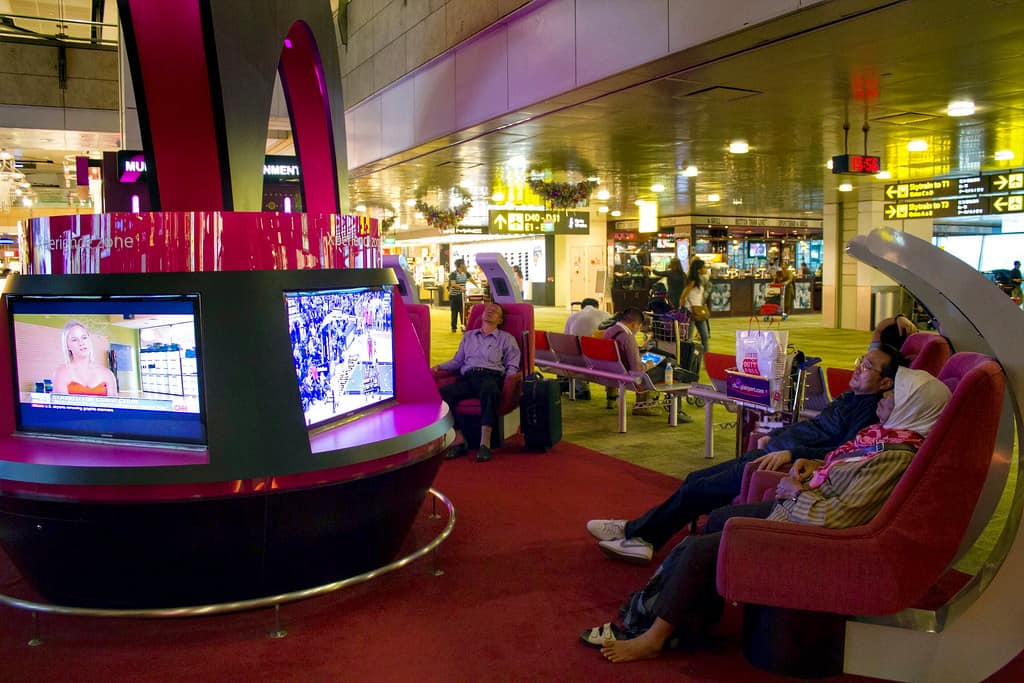 The inside of departures also had plenty of eateries to choose from, including some hard-to-find chains. After being unable to resist a donut (Sorry! They just don't exist in Hong Kong) and a bottle of water for the plane, it was time to find our terminal.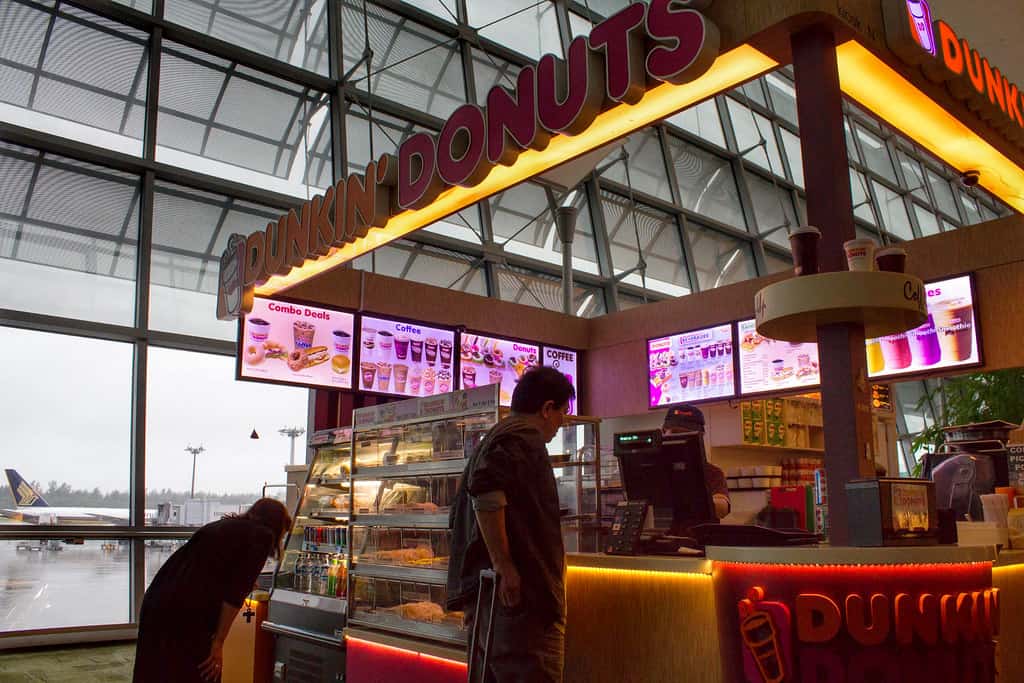 After a bit of walking (it doesn't seem like trams or buses are used frequently at Changi) we found our terminal! To our surprise, gates were separated from one another and at the entrance of each one was security.
As I mentioned previously, we were puzzled as to why we didn't have to go through security earlier–this now made sense. I'm really glad we had left an extra 20 minutes before boarding time. I can totally see people losing track of time, shopping in duty free, and then missing their plane because they didn't know that they have to go through proper security at their respective gates.
Security in Changi was… a hassle. They make every person take off all jackets, sweatshirts, belts, footwear, etc. They rummaged through all of our luggage and then just left everything hanging out (underwear and all) for us to quickly smash back in.
They also refused us bringing water through security. Now I know this is common procedure, but most airports have shops on the other side where you can purchase water, but this security led directly to the walkway onto the plane.
Normally this wouldn't be an issue, but using a budget airline like Tiger, means that we wouldn't get any water on board, and I was injured and dehydrated.
I tried to show the officer that it was sealed–didn't matter. I showed them the receipt that I had just bought it 5 minutes ago in the departure hall–didn't matter. This made me a little upset that I had just wasted S$3 on water. They told me I could exit security, drink the water and then return, but that I wasn't allowed to bring water on the plane.
After looking at the line forming to go through security (there was about 5 minutes left until boarding…) I knew that wouldn't be possible. They said I could bring the empty bottle back with me and fill it at the drinking fountain before boarding. So was it that I can or can't bring water on the plane? Eventually I gave up arguing and asked them to pour the water in their own trash can and to give me the bottle so I could fill it up at the drinking fountain.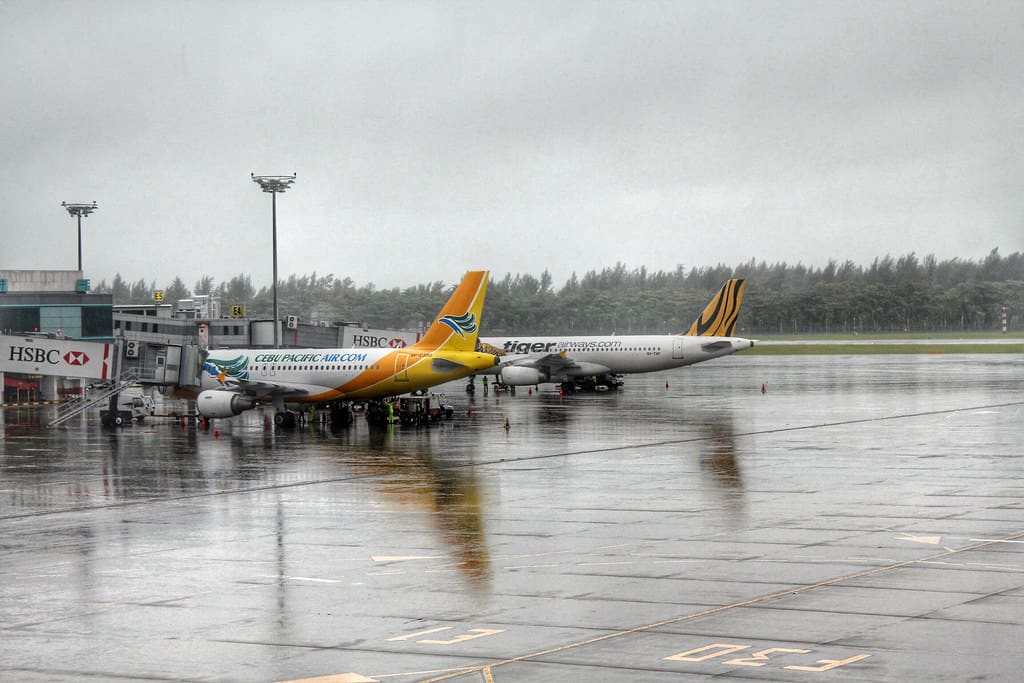 So lesson learned: don't buy water once you're past immigration to bring on the plane AND remember that you still have to go through real security at your gate.
Hopefully these tips will help you if you find yourself at Changi Airport! I sure wish I had known beforehand.
What was your experience at Changi Airport?