Back home I was always fortunate enough to be a short drive away from multiple zoos. As an animal lover, visiting zoos was always something I enjoyed doing for a day out. But here in Hong Kong, the closest thing we have to a zoo is Ocean Park, a marine mammal theme park.
As soon as I booked my flights to Singapore, I knew a visit to the world famous Singapore Zoo would be in order, especially with its reputation of being "the best zoo in the world".
Singapore Zoo is one of the first and few "open-concept" zoos in the world. The animals are kept in well-designed landscaped enclosures– similar to their natural habitats. These natural environments are separated from visitors by the use of moats and sometimes glass or barriers all of which are hidden by plants and rocks. For most exhibits, I really felt as though nothing was in between the animals and me. 
Which was mostly awesome, but sometimes scary when face-to-face with dangerous animals such as the Komodo dragon.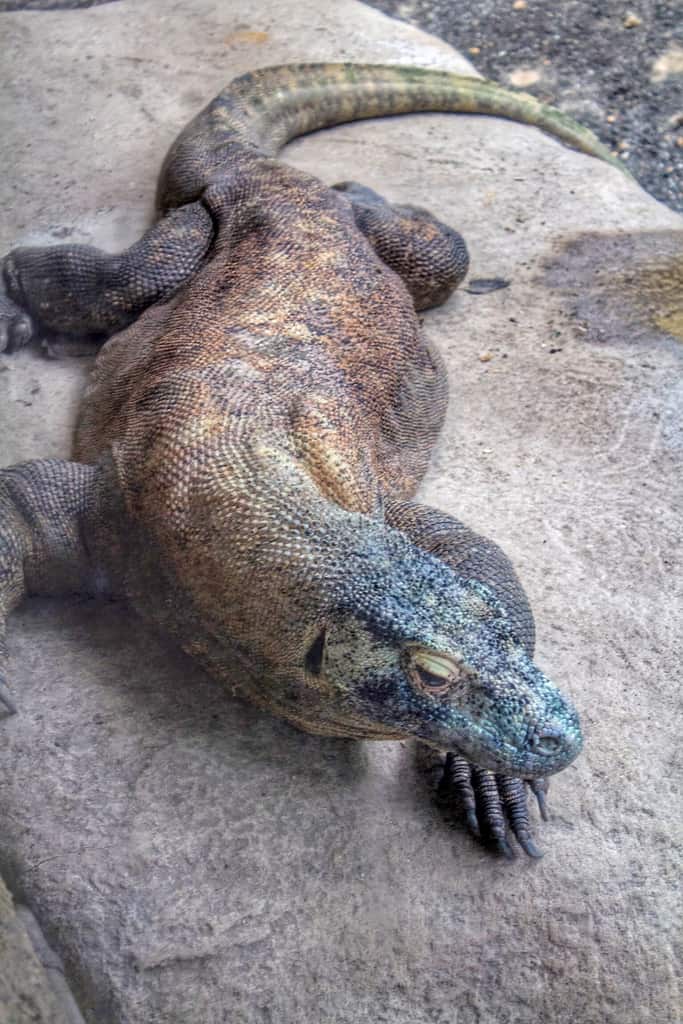 For some of the exhibits, there really was nothing between you and the animals. Singapore Zoo is the first zoo in the world to offer a free-ranging orang utan habitat, complete with boardwalks that bring you to the top of the trees to watch these animals.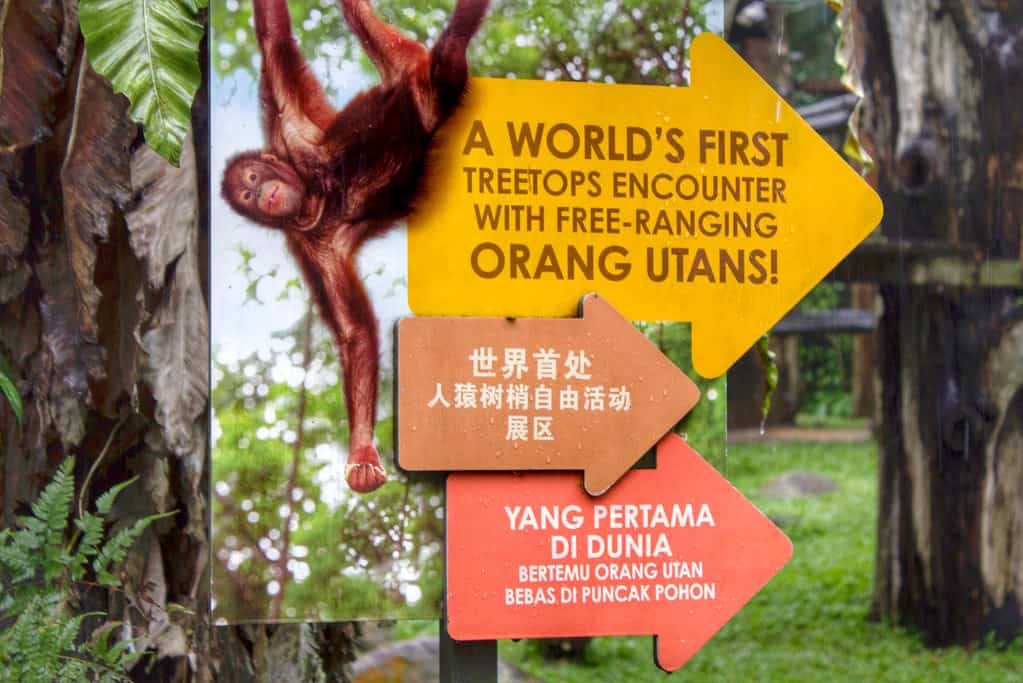 Other animals were brought out periodically by a zoologist so that visitors could get a closer look.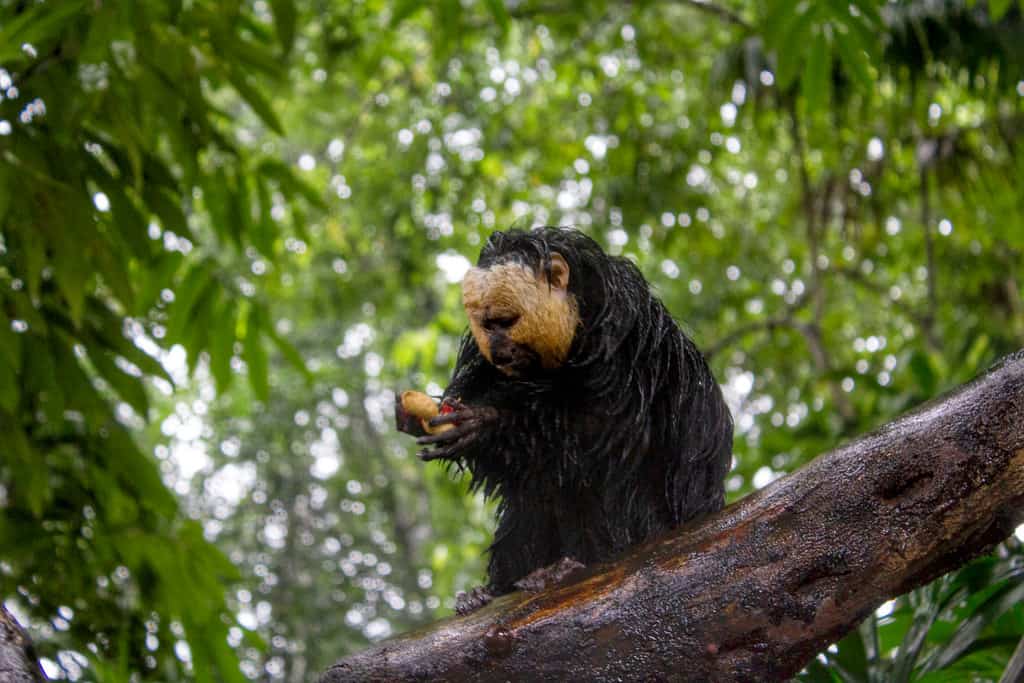 Even the walkways through the exhibits were beautifully designed and landscaped. The walkways twisted and intertwined, often allowing you to choose from multiple paths. You really feel as though you're exploring and discovering these animals in the wild.
There were even times I felt I had to be extra quiet in my movements, as if I needed to sneak up on the next animal in order to try to catch a glimpse at it.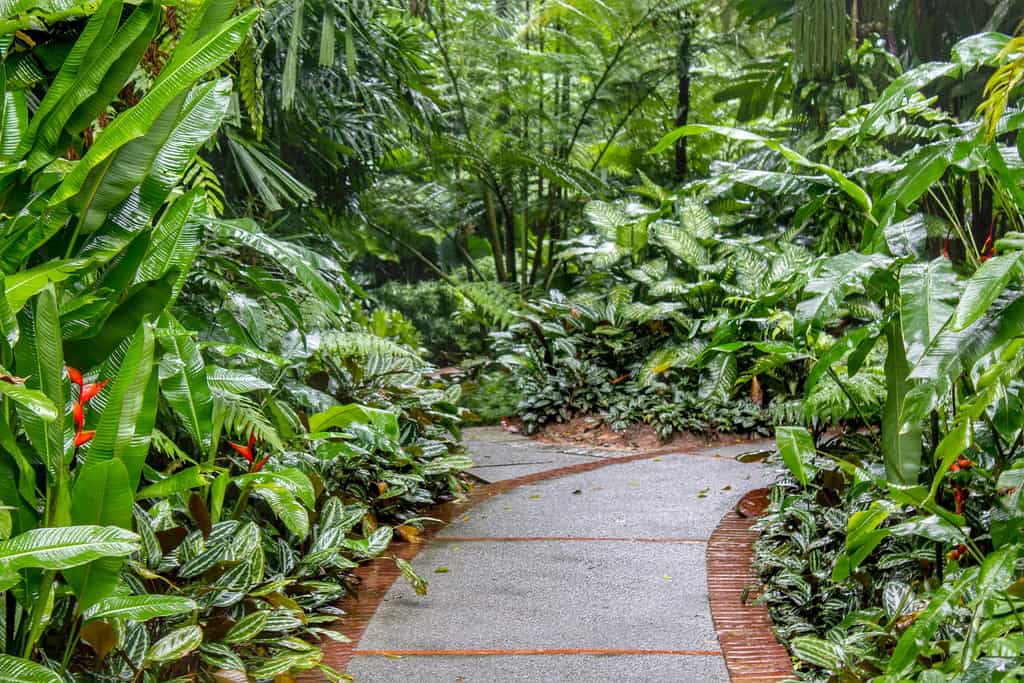 I will say, Singapore Zoo is probably the best zoo I've ever been to from a design standpoint. Even the restrooms went along with the themes of openness and being natural.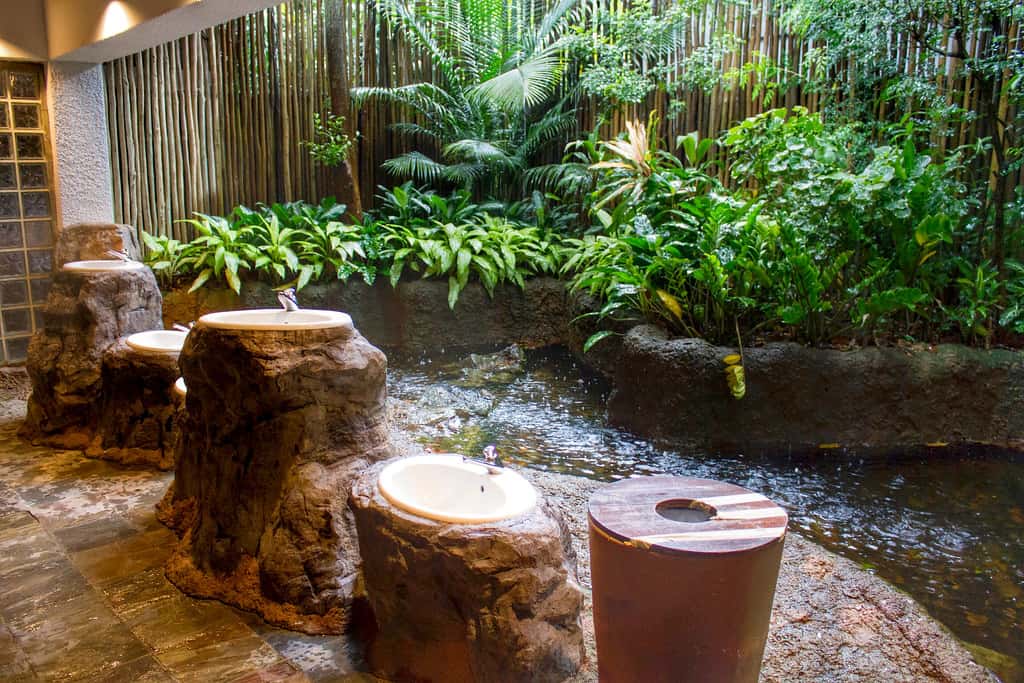 Apart from being beautifully designed, all of the exhibits were complete with interactive educational displays. I find I rarely read the displays at zoos, but here the information was presented in a fun way with minimal text. After spending some time watching the animals, I ended up reading almost all the displays about them.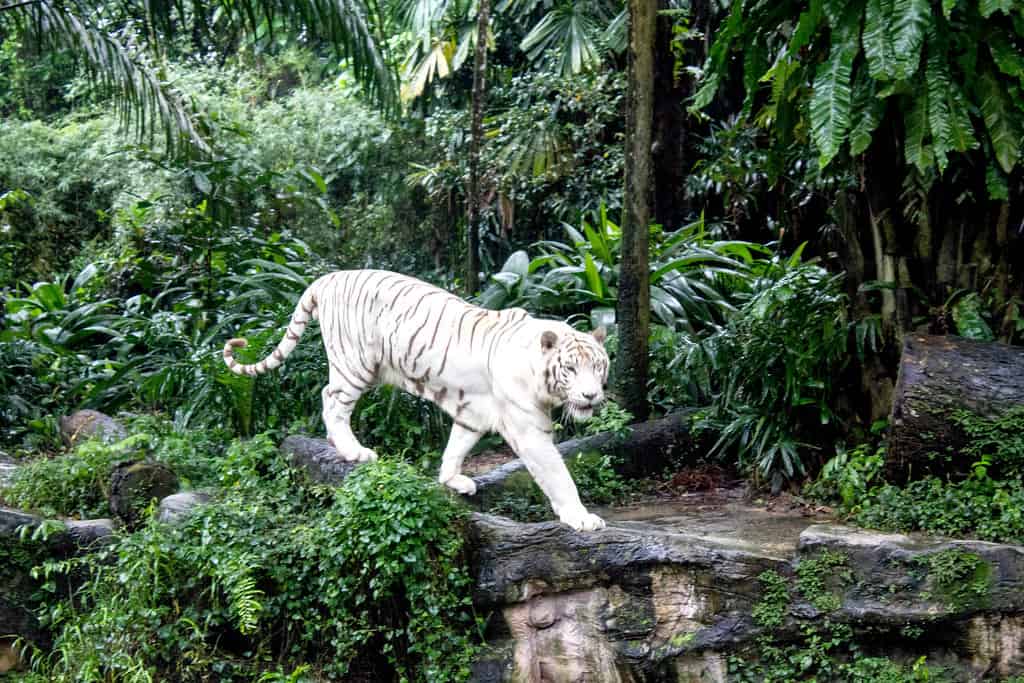 What to Do?
Singapore Zoo offers "Token Feeding Sessions", which is something that sets this zoo apart from most. This is something I was super excited about during my visit, and it's definitely something you don't want to miss.
All throughout the day, visitors have the opportunity to hand-feed animals for a small fee. The schedule is posted online and in the zoo maps, so be sure to see if your favorite animal is available to meet and feed!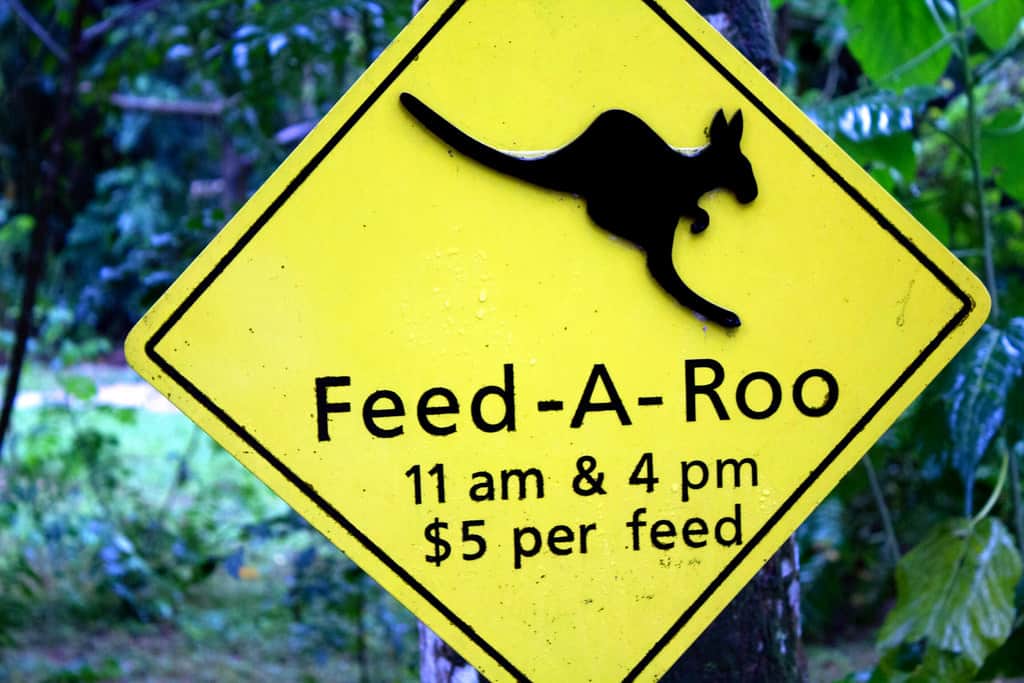 I was all ready to meet some adorable kangaroos (along with a few other animals) but unfortunately for me, the day I visited it was pouring rain. Although this kept temperatures cooler and crowds more manageable, it also meant that a lot of animals weren't out and almost all of the feeding sessions I signed up for were cancelled.
However, I was fortunate enough to catch a feeding session of one of my favorite animals!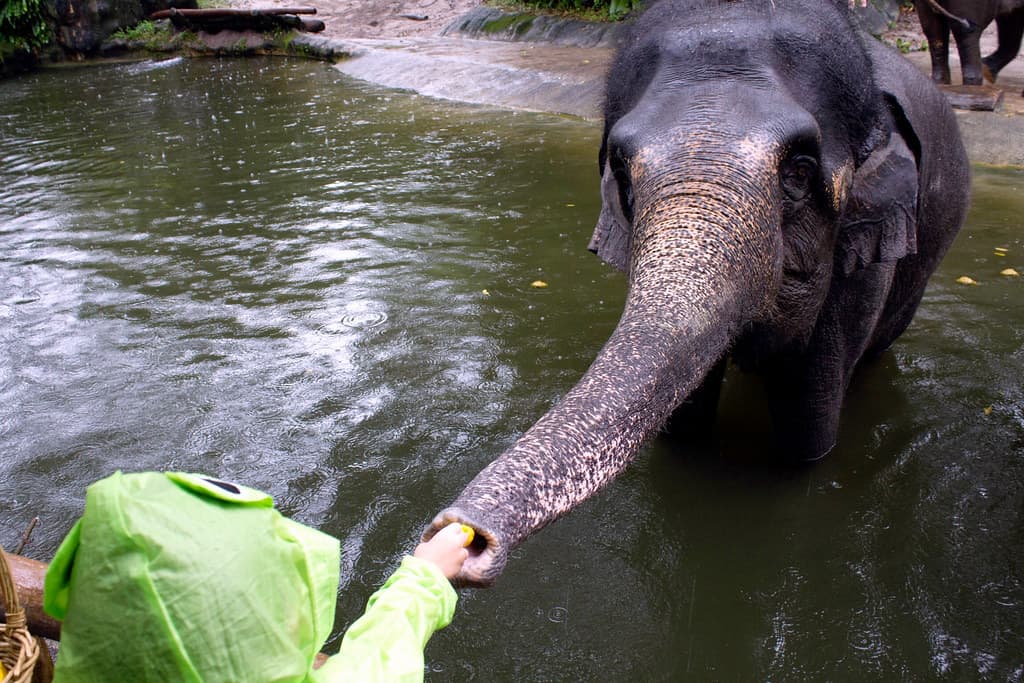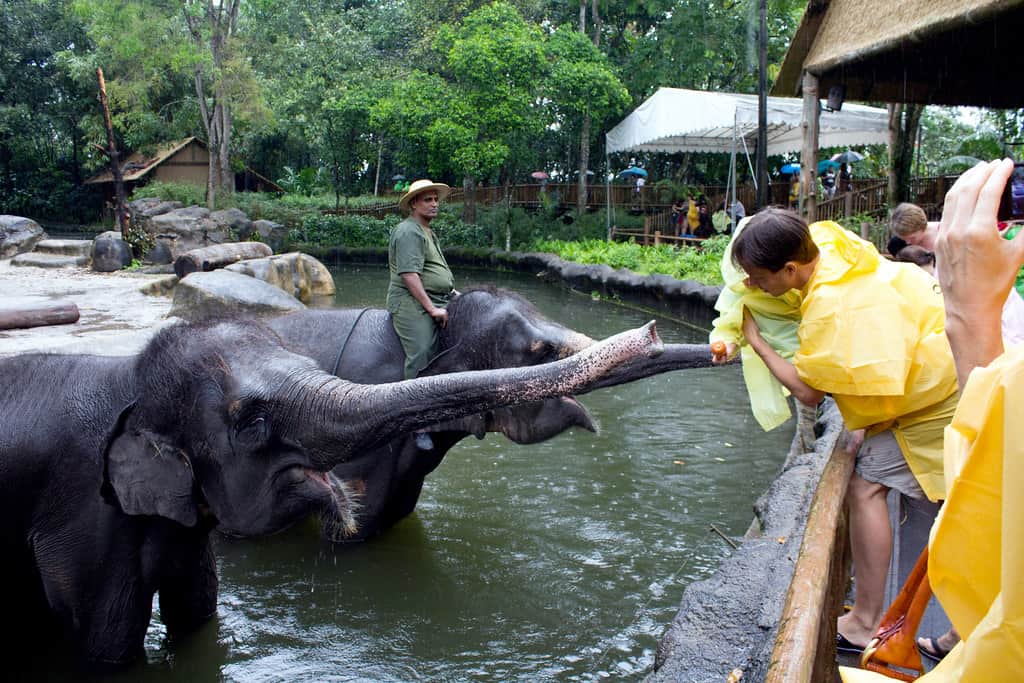 Before taking part in the Asian elephant feeding, I was able to watch the popular "Elephants at Work and Play" show.
When sitting down to wait for the show, I was a little worried that this was going to be similar to the horrible elephant show I saw in Thailand— but that wasn't the case at all!
Yes, they did showcase tricks performed by the elephants, but the elephants seemed genuinely happy. The mahouts here did not use cruel bullhooks and really seemed to love and care for their elephants.
The show also demonstrated the strength of elephants by showing them at work moving logs. Although I'm glad elephants are being rescued from the hard labor of logging, it was kinda cool to see just how strong these creature are.
It was pretty incredible.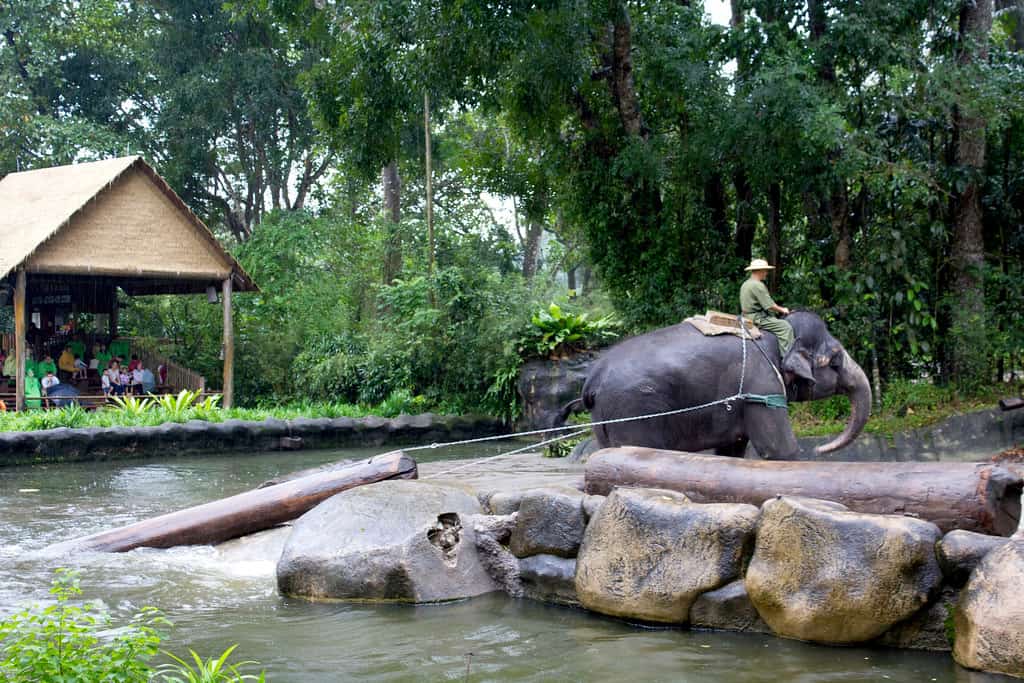 Luckily the rain didn't cancel most of the shows in the afternoon. After feeding some elephants, I was able to go watch another show called "Rainforest Fights Back". This show featured a lot of audience participation. It was quite cute and great for kids.
For me the highlight of the show was when the host picked out the most "macho" looking guy from the audience. The volunteer was then put in a competition to see who could peel the most coconuts– the "macho man" or a 19 year old pregnant orang utan named Miri.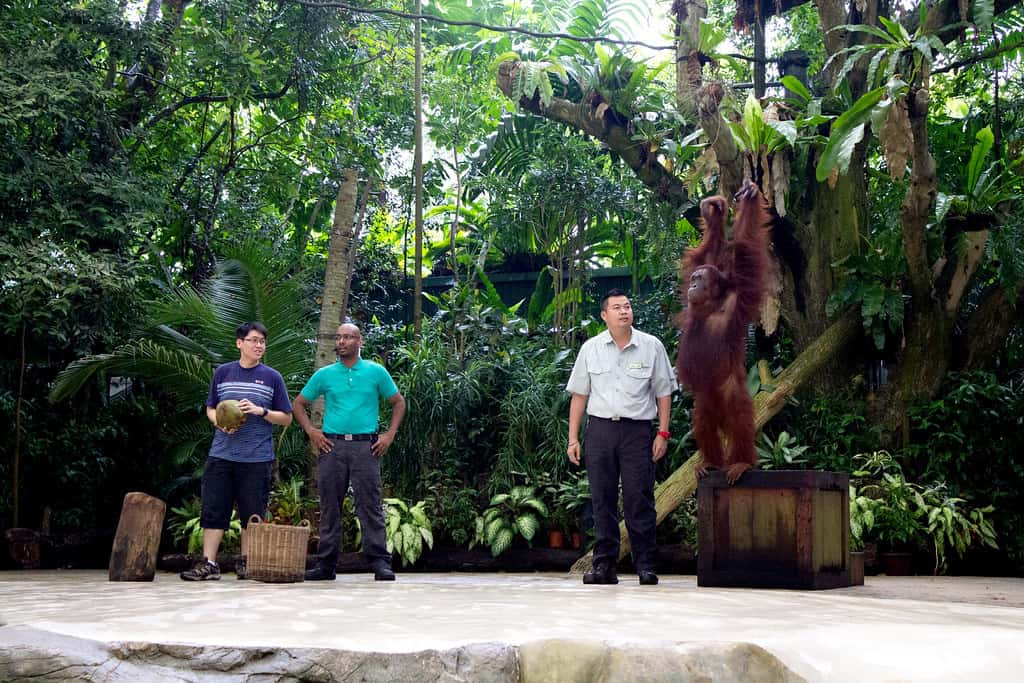 The poor guy didn't have a chance. She had peeled her whole coconut before he could even get his started. Nevertheless, it made for a fun segment in the show.
My Recommendation?
Singapore is hot. If you're not visiting on a rainy day like I did, I would recommend pacing yourself. Try visiting the zoo later in the day to avoid the oppressive heat. Plus by then most of the crowds will have died down. Just remember that the zoo closes at 6pm daily!
No matter what time of day you visit, be sure to bring plenty of water to keep yourself hydrated. Singapore Zoo is actually pretty large, so you'll end up doing more walking than you think. However, there are trams and boats that you can use (for a small fee) that make getting around the grounds much easier.
And lastly, Singapore Zoo is in a somewhat isolated area of Singapore. It is located in the Upper Seletar Reservoir, so there were quite a few mosquitos lurking around. I ended up coming home with 3 bites, so it's a good idea to bring insect repellant, as well as plenty of sunscreen.
Final Thoughts
Any trip to Singapore definitely warrants a visit to Singapore Zoo. Even spending the day there, alone and in the pouring rain, made for a great first day in Singapore. I really hope to return to the zoo during my next stay in Singapore to take part in more feedings and to experience the world's first night safari!
Let's just hope it won't be pouring rain. 🙂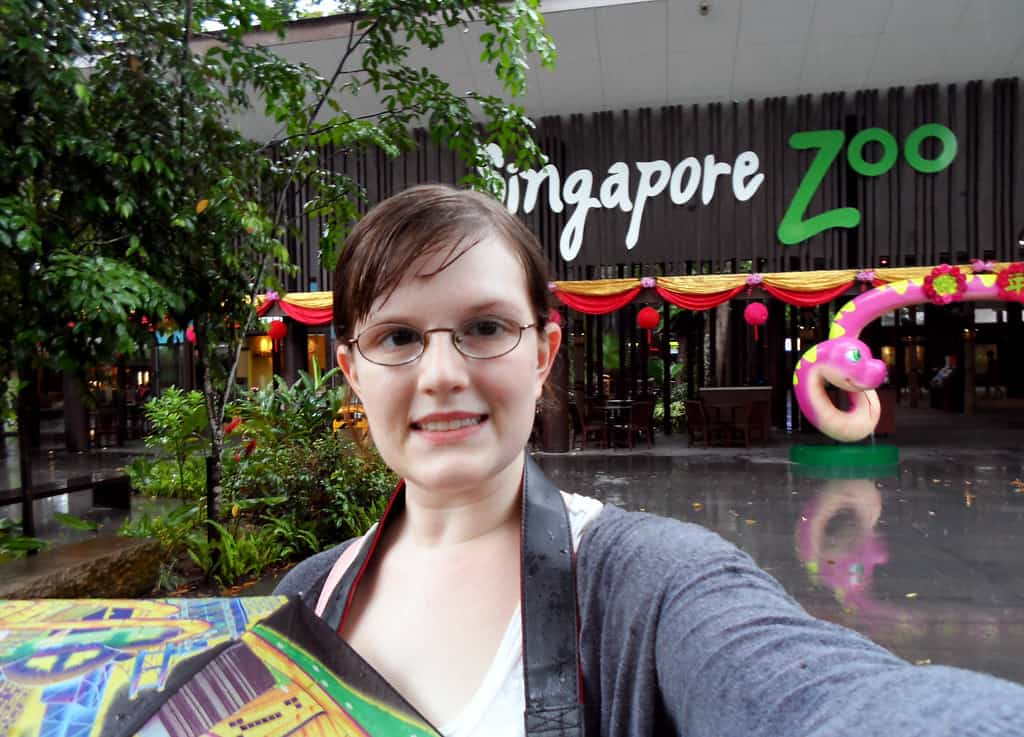 Soaking wet and still happy after a fun 5 hours of exploring Singapore Zoo
How to get there:
Singapore Zoo is not located directly on any MRT line, which makes it a little tricky to get there.
You can obviously taxi, but that will end up costing quite a bit of money. Instead, I would recommend one of two options.
Option #1: Ride the MRT to Ang Mo Kio station (NS16 on the red line) and take the #138 bus that is located right outside the station. This bus will take you directly to the zoo. This will probably cost ~S$5 in total.
Option #2: Take the Singapore Attractions Express (SAEx) shuttle. (This is how I got to and from the zoo.) Although it's a tad more expensive than taking the MRT/bus, the SAEx shuttle has various pickup locations throughout Singapore. If you are planning on doing more sightseeing after the zoo, this option is perfect for you because it has drop offs at all the popular tourist attractions.
It costs S$5 per trip, or you can buy a 24h pass for S$13.
What do you think is the best zoo in the world?
I received a complimentary ticket for Singapore Zoo in exchange for a review. But as always, all opinions are entirely my own.