Macau, the Vegas of Asia, has recently become a popular day-trip option for those traveling in Hong Kong. Being only an hour away with visa-free entry (for 66 countries) makes it rather appealing to see what this former Portuguese colony has to offer.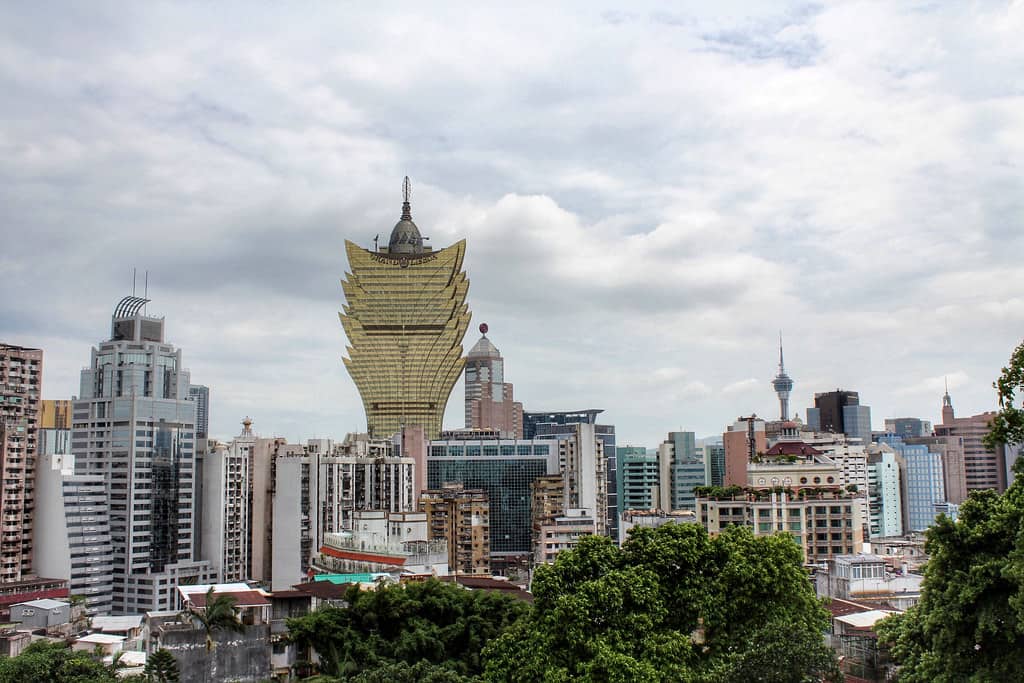 There are three ways to get from Hong Kong to Macau: by ferry, by helicopter and by regular airplane travel, so I will be explaining two of these (I don't think you'll need my help figuring out how to find commercial flights).
BY FERRY
Taking the ferry is the most popular method of transportation between Hong Kong and Macau. It's convenient, fairly fast, and certainly the cheapest way to travel. There are two ferry terminals in Hong Kong that will take you to Macau. If you are looking for how to get to Macau from the airport, please scroll down.
The two terminals are China Ferry Terminal and Hong Kong – Macau Ferry Terminal. The terminal I have used is the China Ferry Terminal as it is very easy to get to and the ride itself is just a tad shorter.
Here are the addresses for both terminals:
1. China Ferry Terminal
Address: 33 Canton Road, Tsim Sha Tsui, Kowloon, Hong Kong.
+852 2738 2901
How to get there: MTR Tsim Sha Tsui Station Exit A1. Walk down Haiphong Rd. and turn right on Canton Rd., the terminal will be a bit further down on your left. 
2. Hong Kong – Macau Ferry Terminal
Address: Shun Tak Centre, 200 Connaught Road Central, Sheung Wan, Hong Kong.
+852 2547 4386
How to get there: MTR Sheung Wan Station Exit D
Once you arrive at a ferry terminal, it will be time to pick which ferry service you'll use.
Over the past few years, almost half the ferry services have ceased operation. Now you're pretty much limited to two main choices. And while there still are a few others, I have found that these two companies are the most… reliable (read: not shady).
1. Chu Kong High-Speed Ferry Company Limited (CotaiJet)
This ferry goes to both Macau Maritime Ferry Terminal and Macau Taipa Ferry Terminal
2. Shun Tak-China Travel Ship Management Limited (TurboJet)
This ferry only goes to Macau Maritime Ferry Terminal
There is no need to book your tickets in advance, simply walk past all the touts and approach the counters to purchase your tickets. You'll be able to buy both single and round-trip tickets there.
Tip: I know it's tempting to pay the cheaper prices from the touts (and our first trip we did…) but they often give you tickets for the wrong boarding times, dates, etc., so there is a chance the ferry attendant will not allow you to board. 
HONG KONG INTERNATIONAL AIRPORT FERRY
The ferry terminal at HKIA is called SkyPier and is operated by CotaiJet. This ferry goes to both Macau Maritime Ferry Terminal and Macau Taipa Ferry Terminal.
SkyPier at Hong Kong International Airport (HKIA)
Sky Pier – Hong Kong International Airport
Address: Hong Kong International Airport, Tung Chung, Lantau, Hong Kong.
+852 2215 3232
Please note that traveling through SkyPier is restricted to transiting air passengers only. You can only access the terminal from inside arrivals. 
BY HELICOPTER
The main helicopter service is Sky Shuttle Helicopters Limited (Sky Shuttle). Flights depart daily, every 30 minutes between 9am and 11pm.
Although the flight only takes 15 minutes, it'll cost you a whopping $4k HKD each way (honestly it's probably cheaper to take a commercial flight). At least you'll get amazing views of both Hong Kong and Macau in the process. Tickets can be easily booked on their website.
You may also check out HotelsCombined's blog on How to get to Macau from Hong Kong: A Family Guide for more travel and accommodation tips in Macau.
HAVE YOU BEEN TO MACAU FROM HONG KONG?