If you read my previous post, you'll know that I finally got to eat dim sum at the famous Tim Ho Wan (添好運).
I last left my readers with my 3 categories of: "the best I've had", "pretty standard", and "lacking", and said that there was nothing downright bad– just things I didn't care for. So let's take a closer look at my final verdicts and see which items fit the bill.
Want to know what dim sum to order or what to avoid? You've come to the right place.
So let's get started with the "pretty standard" section.
PRETTY STANDARD
These items were all good, not great. They were typical staple dim sum items that basically taste the same wherever you go.
1. SIU MAI 鮮蝦燒賣皇 (HK $24)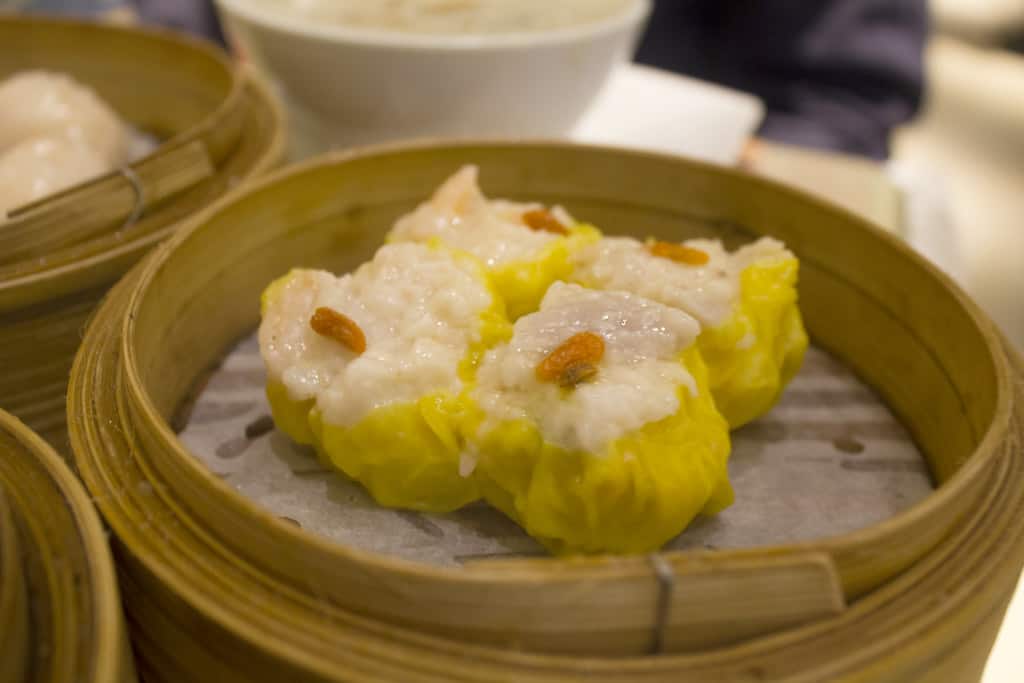 A dish found on almost every dim sum table, siu mai is a steamed pork dumpling with shrimp. Here they were good, but nothing to rave about.
2. MA LAI GO 香滑馬拉糕 (HK $14)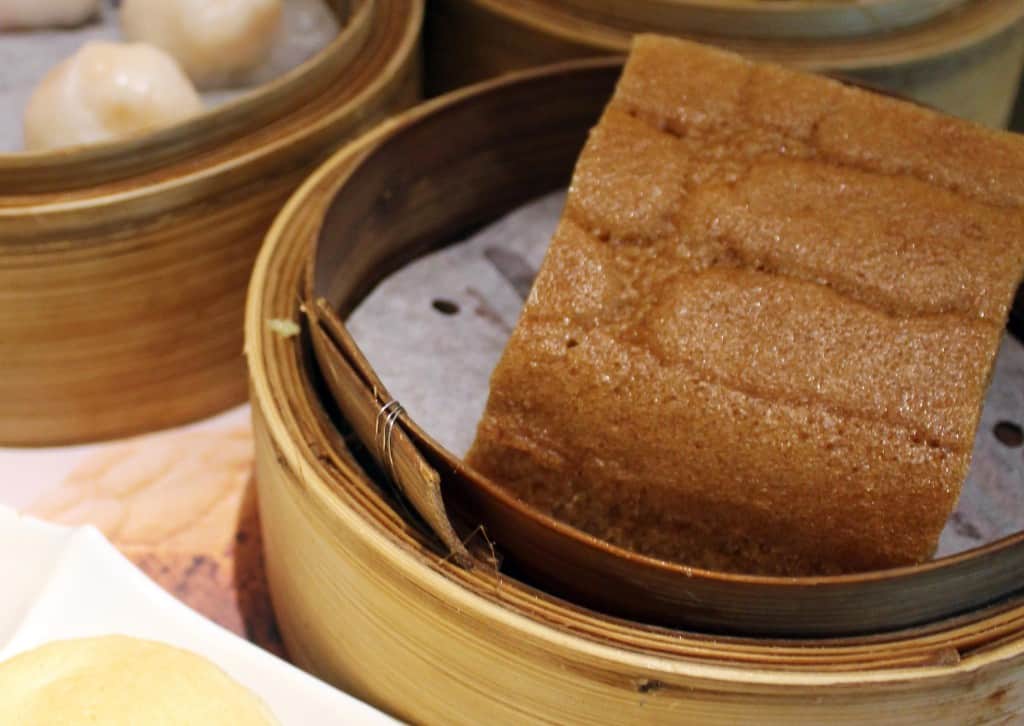 Considered "old style" dim sum, ma lai go means simply "Malay cake". Despite the name, it is a Chinese dish in origin and not actually from Malaysia. It's a steamed egg cake similar to sponge cake. I thought this particular cake was good, very soft and bouncy. The taste was a little strong compared to others I've had, but I enjoyed that– however, Johnny did not, proving it's not for everyone.
3. LO BAK GO 煎臘味蘿蔔糕 (HK $14)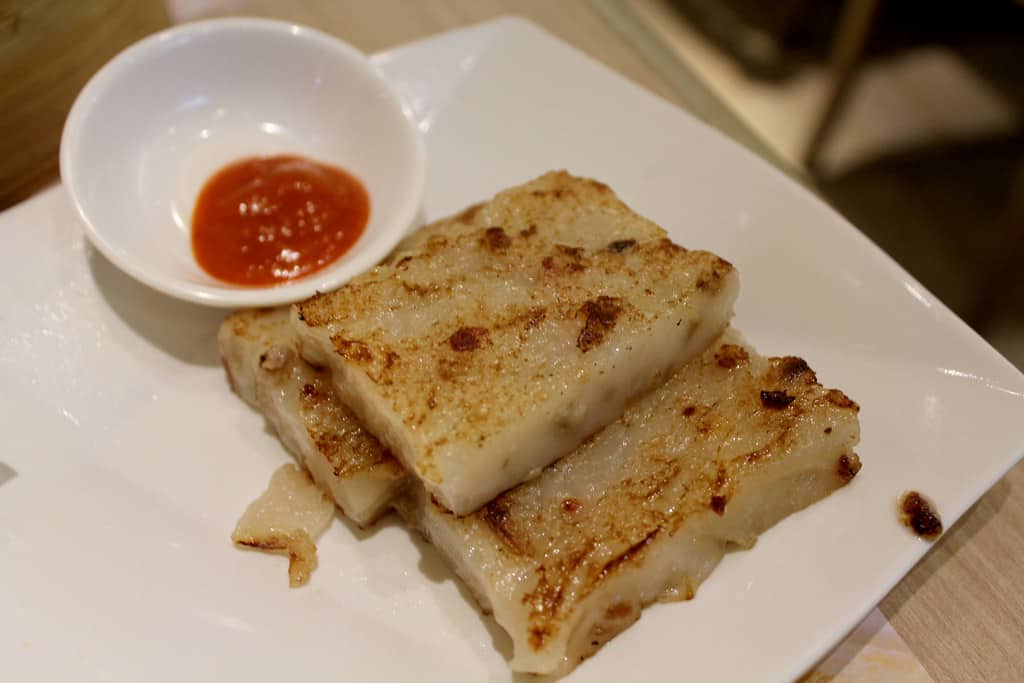 Another standard dim sum dish, but one of my all time favorites, lo bak go is pan-fried turnip cake. The turnip cake here had a good, yet light flavor and the inside was very soft. However, the outside could have been fried a bit more because it was almost too soft, making it impossible to pick up without breaking.
With that being said, had it been fried just a bit more, I think this would've made it into the "best I've had" category.
4. PEI DAN SAU YUK JUK 皮蛋瘦肉 (HK $16)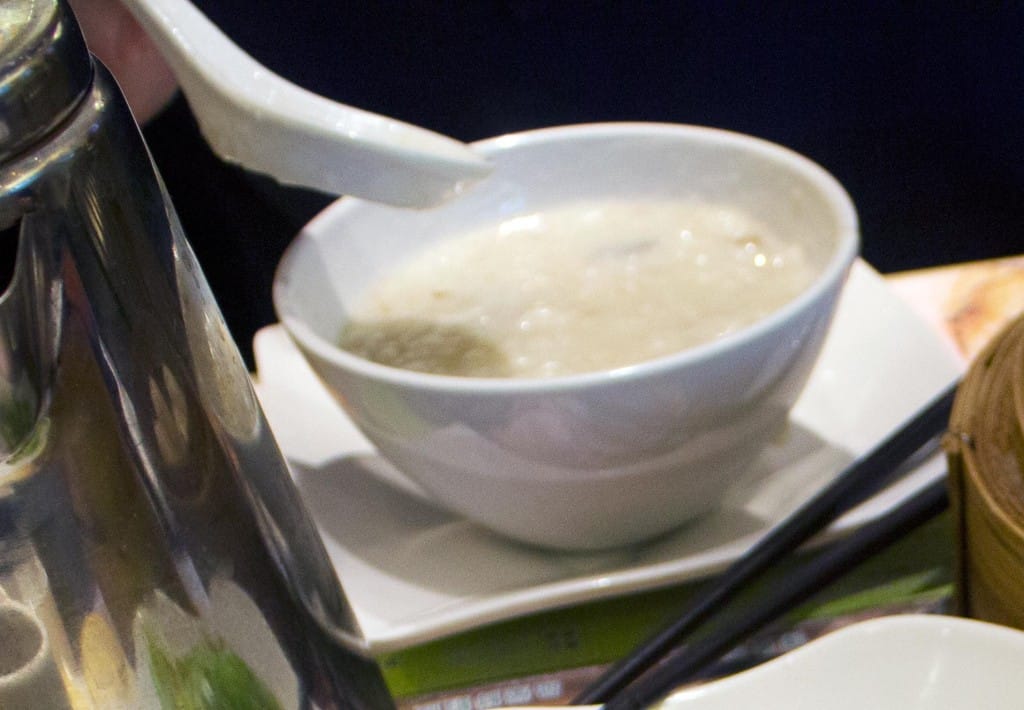 Congee is another popular breakfast item in Hong Kong. This variation was thousand-year egg and pork congee, which is generally our favorite variation. However, here it was pretty standard compared to other places we order this at. Again, just good not great.
Although I've basically stated that these were "good not great", these are all items that I would order again and recommend ordering based on their importance in Chinese dim sum. They taste pretty much the same as any other dim sum place, but they are classics nonetheless.
THE BEST I'VE HAD
These next 4 items are the ones that are better than their counterparts at any other dim sum place (that I've so far tried), or specialty items that I highly recommend.
5. CHA SIU BAO 酥皮焗叉燒包 (HK $19)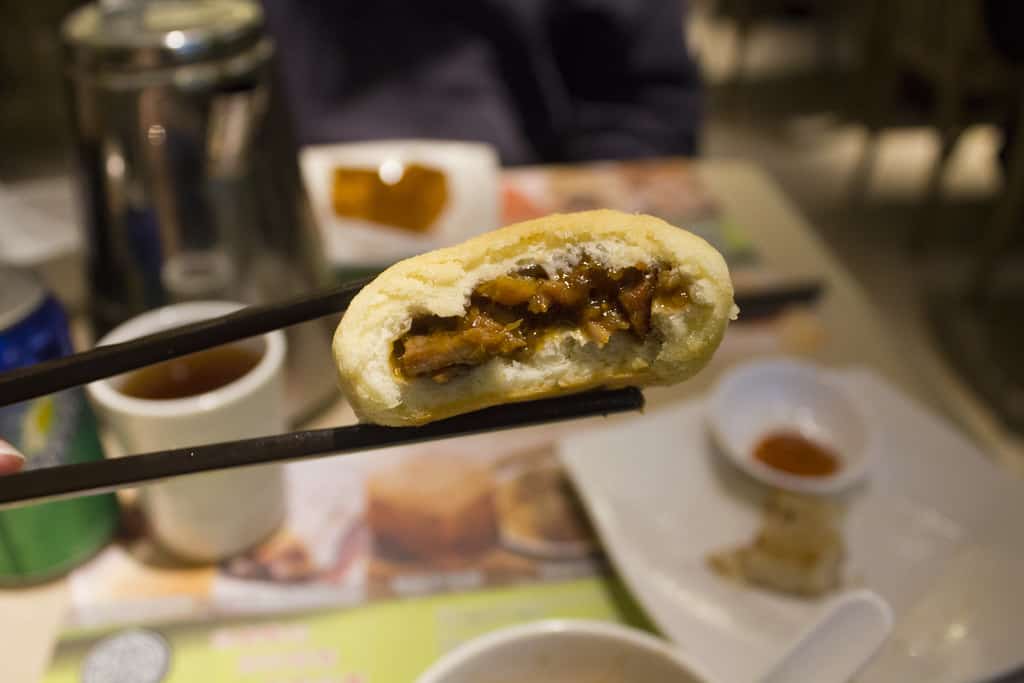 Usually I can take 'em or leave 'em, but these particular buns have my mouth watering just at the thought of them. You will not find this variation anywhere else. The outside was less of a bun and more of a pastry, tasting very similar to Chinese bo lo bao (pineapple buns) or to Japanese meron pan.
Once you bite past the pastry outside, the cha siu (bbq pork) on the inside is sugary-sweet and very tender. These were truly the best I've had in Hong Kong to date, and the best dish we ordered that day. No visit to Tim Ho Wan should go without–and make sure you order enough for your whole table! Each order comes with three buns.
6. HA GAO 晶瑩鮮蝦餃 (HK $24)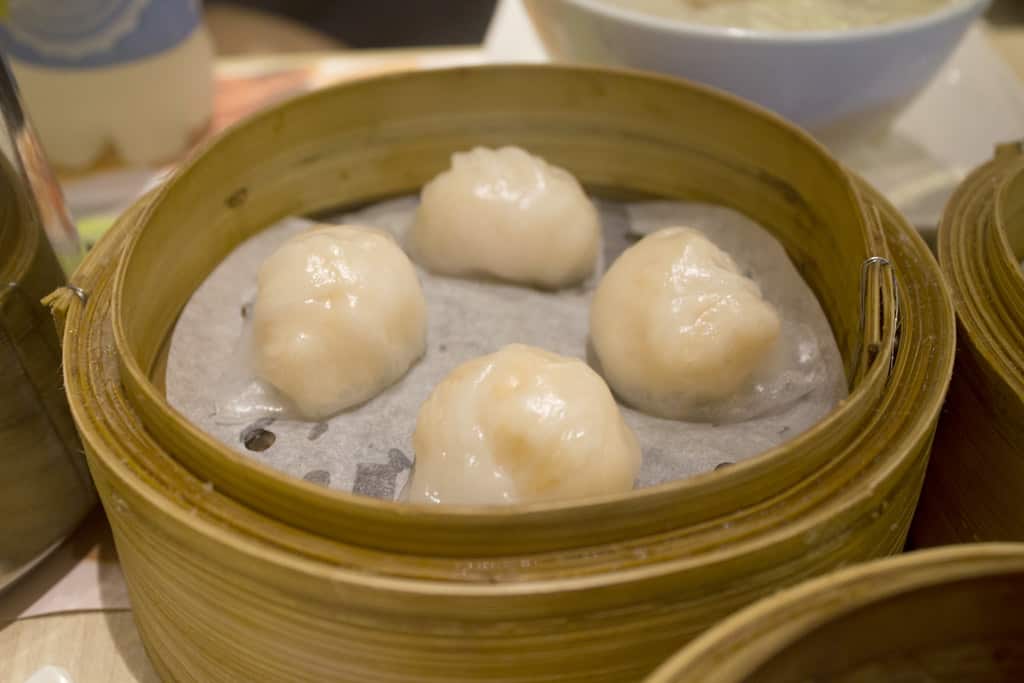 Although I didn't try these steamed fresh shrimp dumplings myself (due to my fear of my shrimp allergy), Johnny said this staple dim sum item was well above average. I could tell how thin and delicate the dumpling wrappers were just by looking at them– and they looked good.
7. BAK CHEK CHENG YAU CHOI 白焯青油菜 (HK $14)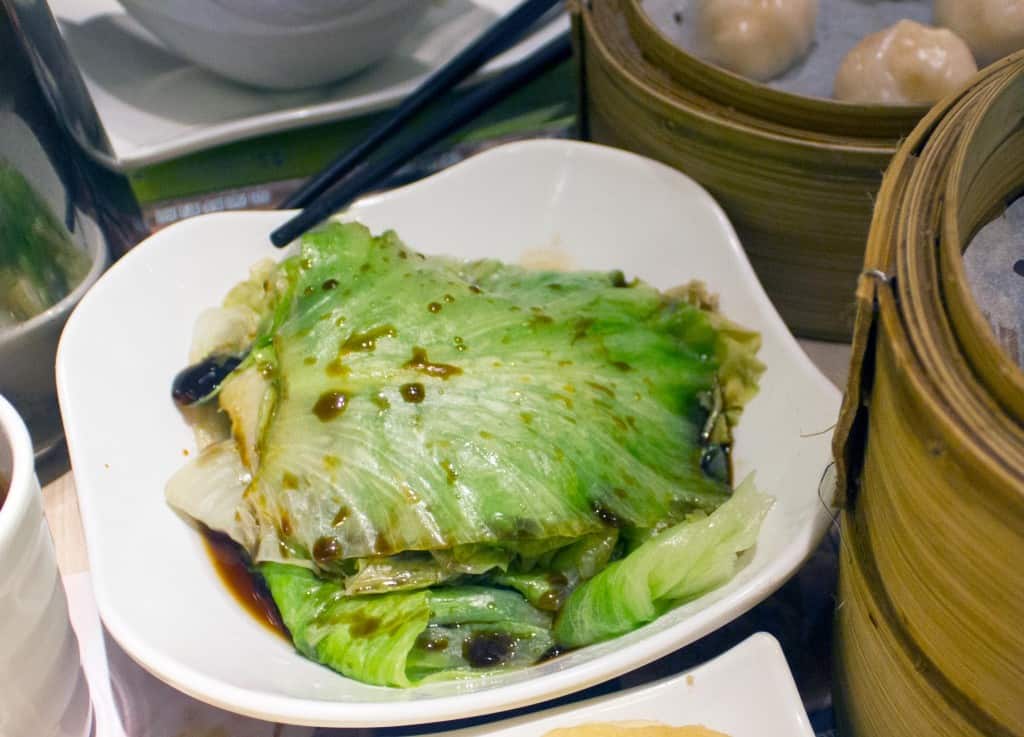 You're probably wondering why I included plain steamed seasonal vegetables on here. Well let me tell you. They were delicious! Maybe it's because I love vegetables, I don't know. But at most other dim sum places I've found that the quality of the vegetables is fairly poor–often with brown or wilted parts.
These veggies were in perfect condition and cooked just right– not too tough and not too mushy.
8. GWAI FA GOU 杞子桂花糕 (HK $12)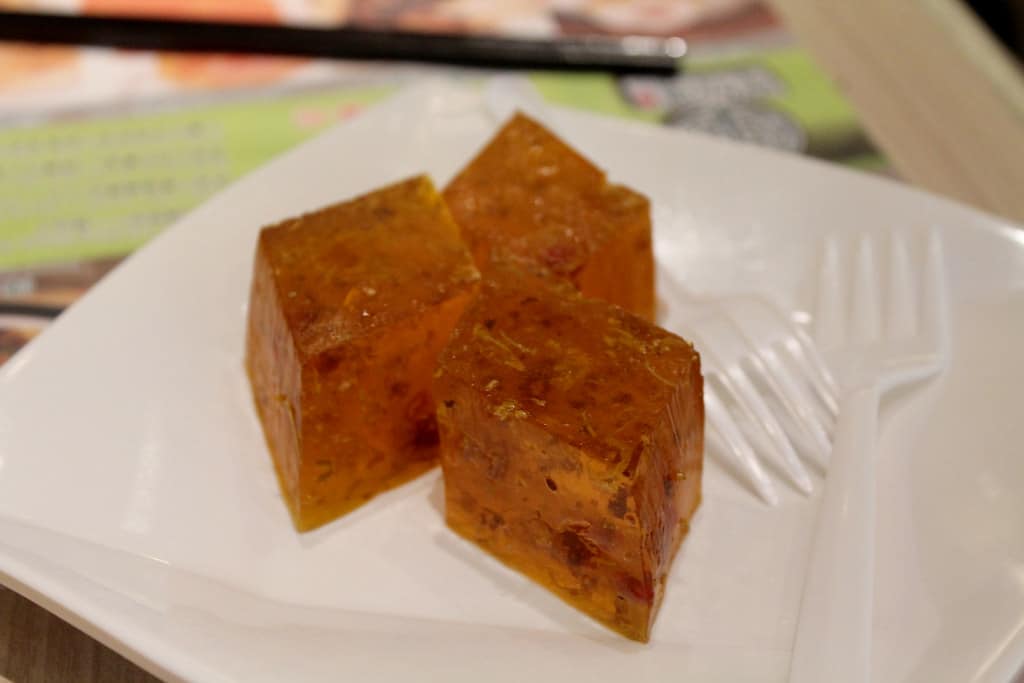 An item that I was hesitant to try, but Johnny insisted. Called "tonic medlar & petal cake" on the menu, I had no idea what the heck I was eating. I later learned that it was a horrible translation for osmanthus jelly.
The jelly was very clean and refreshing–perfect for after a heavy dim sum meal. It was very fragrant and sweet, which I would've enjoyed more had I not been freaked out over what I was eating. After eating only half of a single cube, my palette was completely cleared.
LACKING
Again, these items weren't exactly bad. I just found myself desiring something more than they offered, and have had better at other dim sum places.
9. NGAU YUK CHEUNG FUN 免治牛肉腸 (HK $18)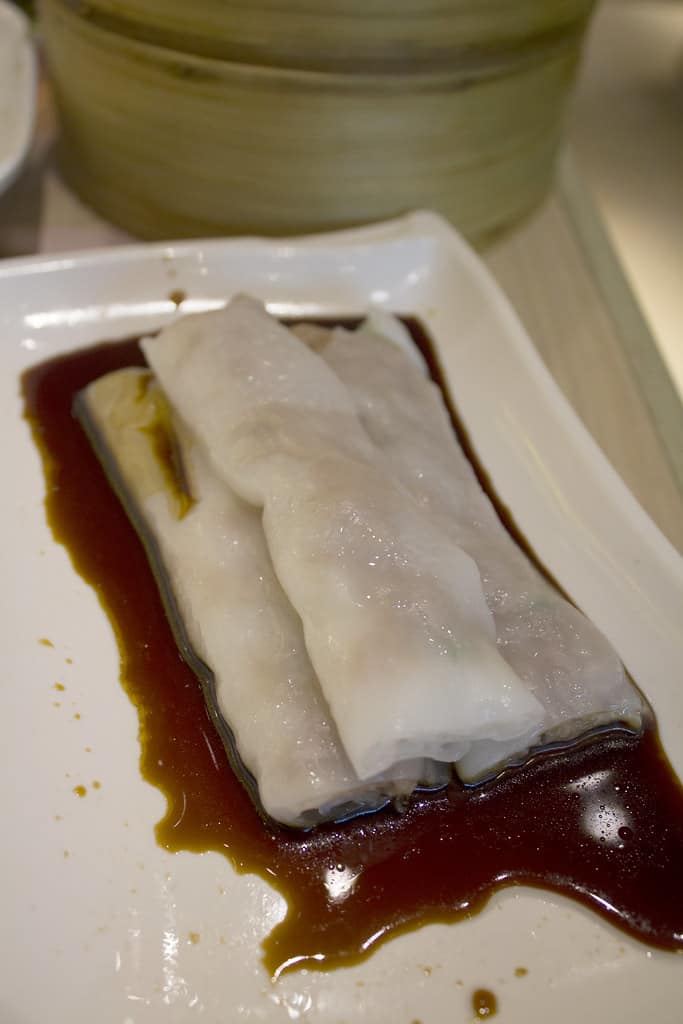 Cheung fun is another one of my favorite dim sum dishes– anything rice noodle I just can't get enough of! The noodle part was actually pretty good, smooth and silky. But the beef on the inside was soft and mushy like meatloaf–and I hate the taste of meat loaf. If Tim Ho Wan offered plain or a vegetarian option, I would continue to always order my loved cheung fun.
10. PU-ERH TEA 普洱茶 (HK $3/PER PERSON TEA CHARGE)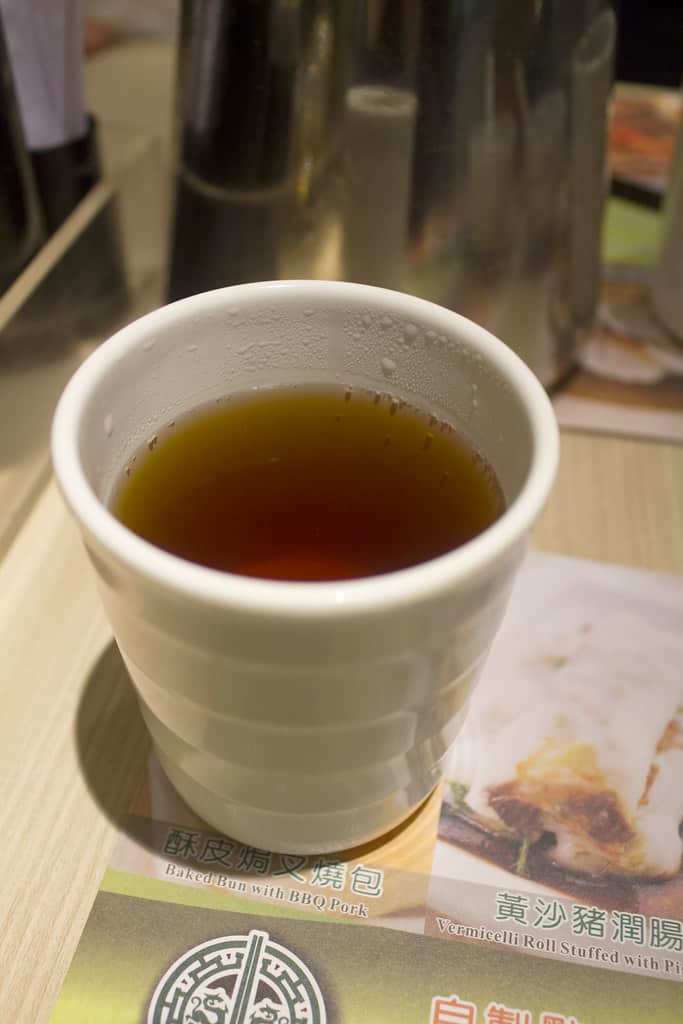 It's something I have to talk about because it is yum cha after all, and like any yum cha place, everyone is charged a tea fee whether you drink any or not. I was excited that the tea was pu-erh because that's really the only kind of tea I enjoy in Hong Kong, but my excitement quickly faded as I poured myself a cup.
Unlike most yum cha places, there were no tea leaves steeping in our tea pot. This meant that the strength of the tea could not be changed, and well… as you'll notice in the picture the tea was very watered down. I like it when the tea is so dark that you cannot see the bottom of your cup, so this just didn't cut it for me and I couldn't relax and enjoy the tea here as much as I do at other yum cha locations.
And there you have it! My final verdict on the dim sum at the famous Tim Ho Wan. As I mentioned before, overall it was amazing. I hope to go back soon despite all the crowds.
Some people may argue that Tim Ho Wan is overrated, but it is the best value for the price in Hong Kong– especially for a restaurant holding a Michelin Star. Our whole bill totaled around HK $160 (US $20) for 2 people and too much food, not bad!
So if you find yourself in Hong Kong, do check it out.
Want to go to Tim Ho Wan?
Shop 72, G/F, Olympian City 2, 18 Hoi Ting Road, Tai Kok Tsui
大角咀海庭道18號奧海城二期G樓72號舖
MTR Olympic Station, Exit D3
Tel. 2332 2896
Hours: 10am – 9.30pm daily
G/F, 9-11 Fuk Wing Street, Sham Shui Po, Kowloon
九龍深水埗福榮街9-11號地下
MTR Sham Shui Po Station, Exit B2
Tel. 2788 1226
Hours: 8am – 9.30pm daily
Shop 12A, Hong Kong Station (Podium Level 1, IFC Mall), Central
中環香港站12A鋪(IFC地庫一層)
MTR Hong Kong Station, Exit A1
Tel. 2332 3078
Hours: 9am – 9pm daily
Shop B, C, & D, G/F, 2-8 Wharf Road, Seaview Building, North Point
北角和富道2-8號嘉洋大廈地下B,C及D鋪
MTR North Point Station, Exit A1
Tel. 2979 5608
Hours: 10am – 9.30pm daily
WHAT'S YOUR FAVORITE DIM SUM DISH?