Si (市), or market in Cantonese, are virtually everywhere in Hong Kong and are an integral part of daily life for many locals. From fish to fashion to flowers, you can find exotic street markets specializing in an assortment of products.
The Yau Tsim Mong district is the heart of the urban area on the Kowloon side. Named after its major areas: Yau Ma Tei, Tsim Sha Tsui, and Mong Kok, you'll find the most famous Hong Kong markets all in this area– and all within walking distance.
So spend a day exploring a different side to Hong Kong life, by embarking on your own walking tour through these 8 intriguing local Hong Kong markets. 
1. APLIU ELECTRONICS MARKET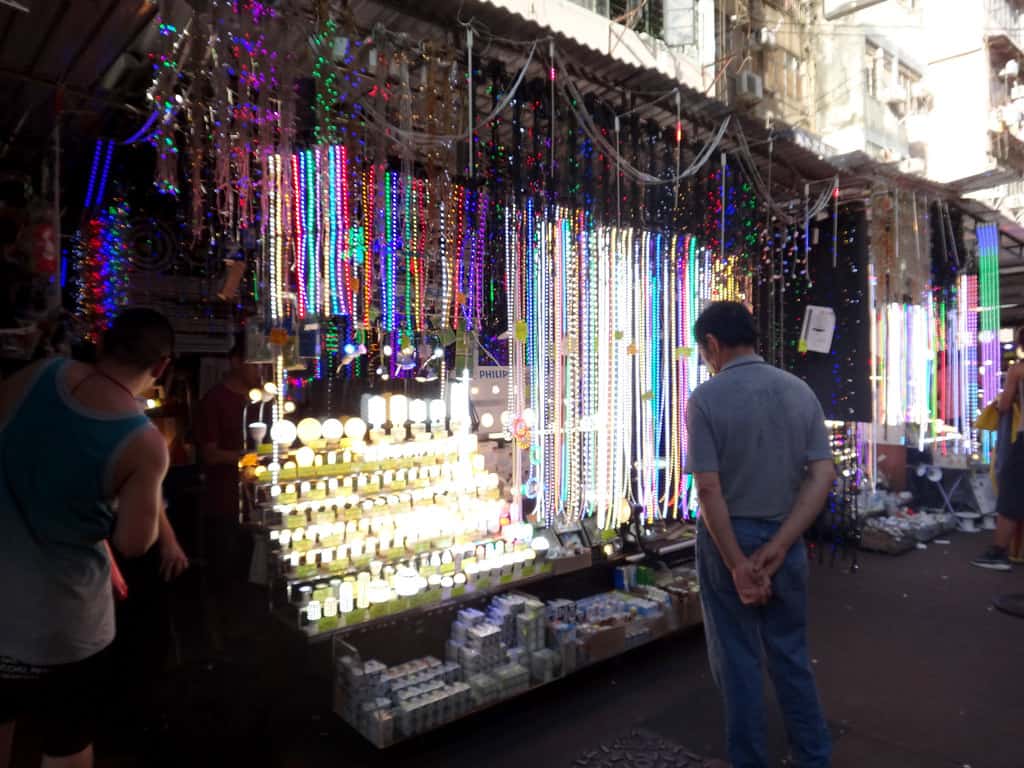 The Akihabara of Hong Kong, this market is a techy's dream, filled with new and used computer parts, vintage cameras, LEDs and more. If you're looking for a bargain on electronics, this is your best bet. Not interested in electronics? You'll find a lot of other random antiques and second-hand items thrown in the mix, so keep your eyes peeled.
2. FLOWER MARKET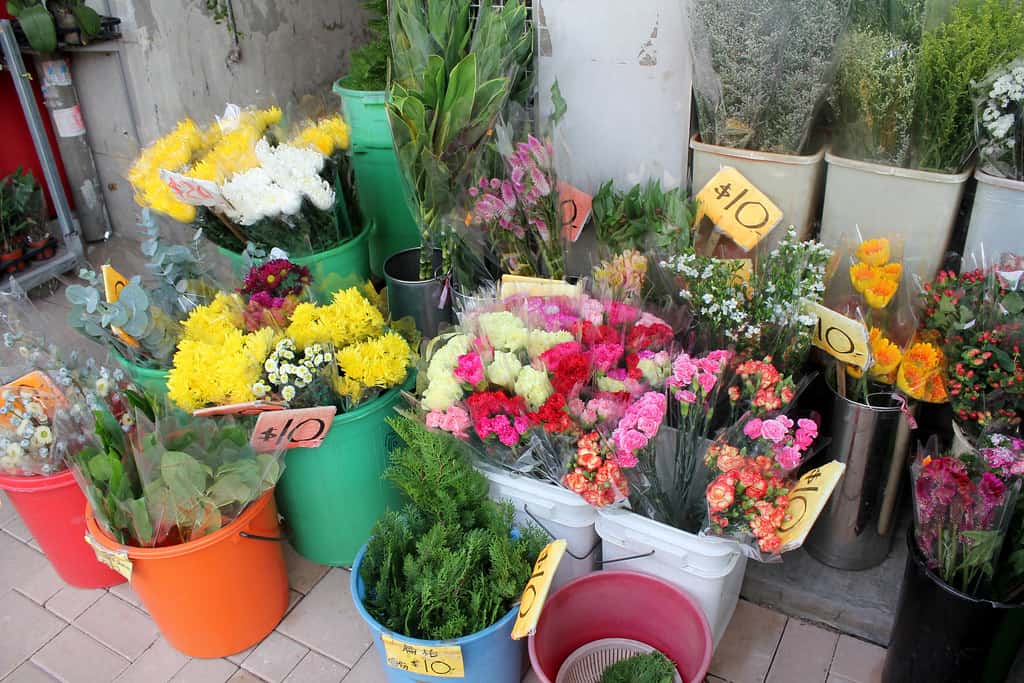 The Flower Market is made up of over 100 shops and stalls selling vibrant, fragrant and auspicious flowers and plants. Unlike the flower markets that pop up around Chinese New Year, this market runs year round and you'll find crowds of people picking up fresh cut flowers here daily. You can purchase cheap bouquets for around $1 USD to really fancy shops that cater flowers for weddings and everything in between.
3. YUEN PO STREET BIRD GARDEN MARKET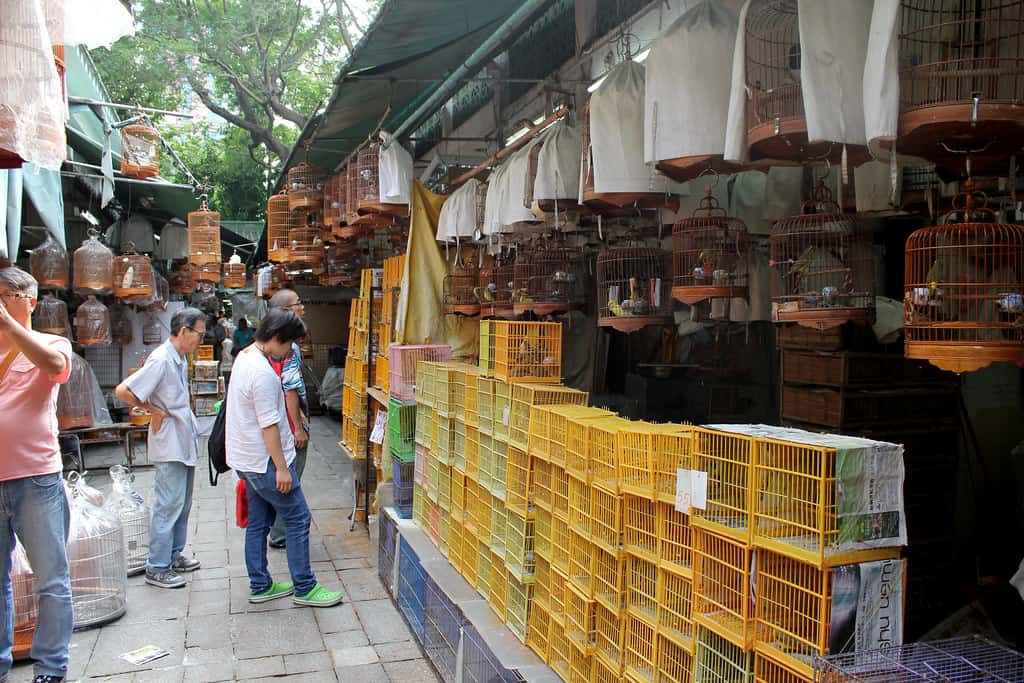 This market is designed in the style of a traditional walled Chinese garden. Within, you'll find various species of exotic birds and bird accessories for sale.
Now obviously, if you're vacationing in Hong Kong, I don't expect you to be purchasing pets; but it's a nice area to get a feel for local Hong Kong life. You'll find elderly men who sit and preen their radiant birds, who will, in exchange, provide them with loving, whistling songs.
4. GOLDFISH MARKET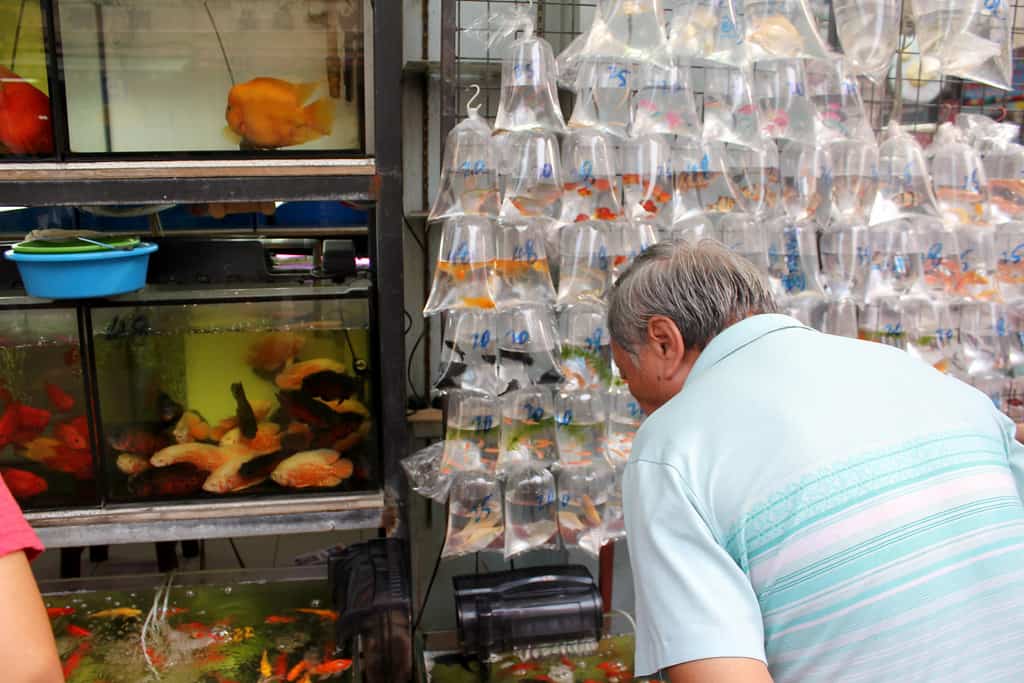 Goldfish are popular pets in Hong Kong for two reasons: the first being, most apartments lack space and are restricted from any pets besides fish, and the second because they are important in feng shui for bringing good luck to the home.
The market lining Tung Choi St. is filled with shops selling fish and aquarium accessories. Looking for exotic tropical fish or coral for your tank? You'll find it all here. But like everything else in Hong Kong, the more rare and exotic, the more jaw-dropping the price tag. 
5. WET MARKET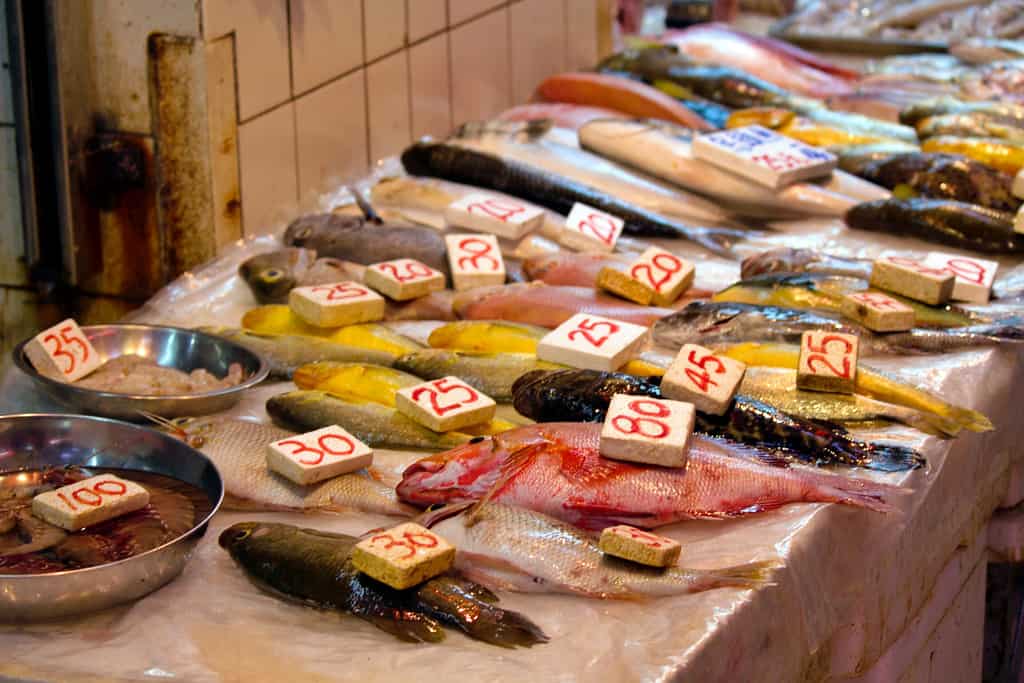 Selling a variety of fish, vegetables, fruits and more, most Hong Kongers will take a trip to wet markets daily. Rather than going to the grocery store to stock up once a week like we do in the west,  people like to stop by their neighborhood wet market on their way home from work to get the freshest ingredients possible for cooking that night's dinner.
Warning: Hong Kong wet markets may not be as scarring as wet markets in Mainland China, you won't find any dogs or cats here, but if you have issues with seeing living creatures of any type getting slaughtered, I would recommend you pass on visiting. Often after a walk through certain wet markets I feel like I want to become a vegetarian– it's not for the faint of heart!
6. LADIES MARKET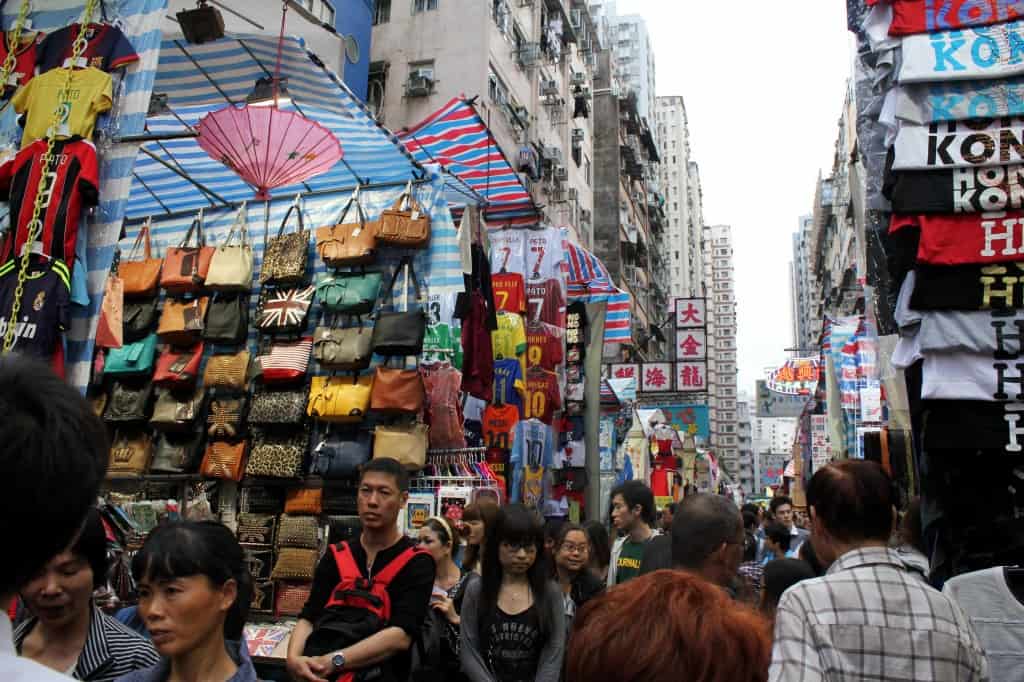 Despite its name, the Ladies Market sells goods geared towards both genders. Filled with stalls selling trinkets, clothing, and accessories, this is the perfect place to get all of your Hong Kong souvenirs for cheap.
Be prepared to test out your haggling skills because everything at this market is priced way above what it's worth. Also be aware that any electronics you find are more than likely counterfeits.
7. JADE MARKET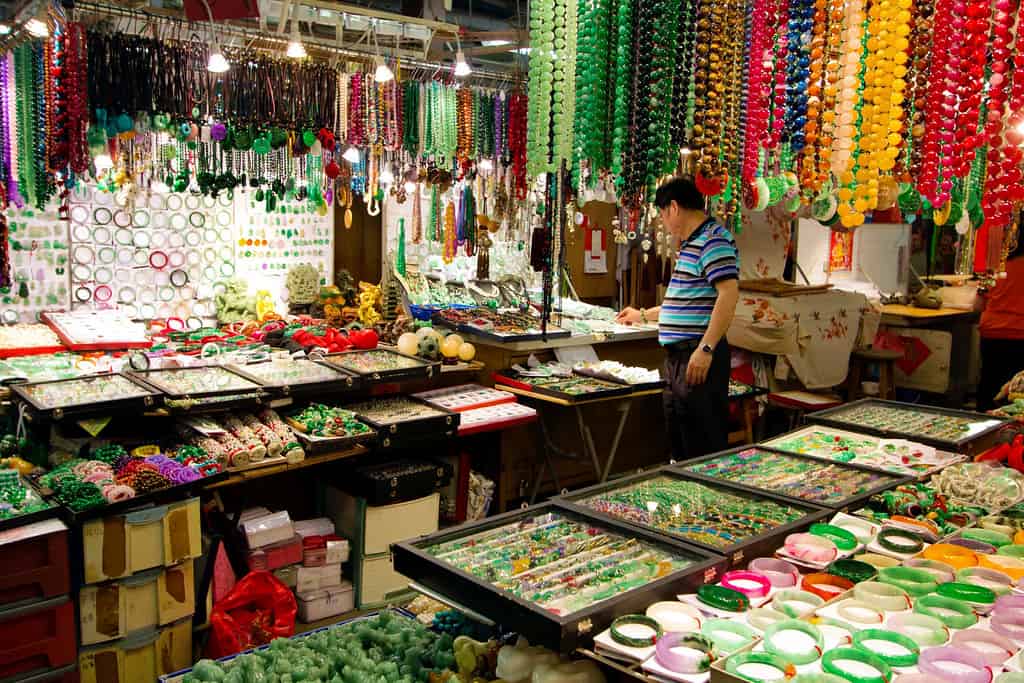 If you're looking for jewelry, make a stop at the local jade market. Filled with auspicious jade of all colors and quality, it's a good idea to learn how to tell real jade from the fakes. See nothing to fit your personal style? Most stalls will sell the jade and settings separately so you can customize your perfect souvenir.
And just remember, if your jade jewelry breaks, it is said that bad luck was heading your way, so make sure to stop wearing it and replace it!
Tips: Most jade sold in Hong Kong comes from Myanmar. To help identify real jade, it should be heavy and make a high-pitched sound that resonates when clinked together.
8. TEMPLE STREET NIGHT MARKET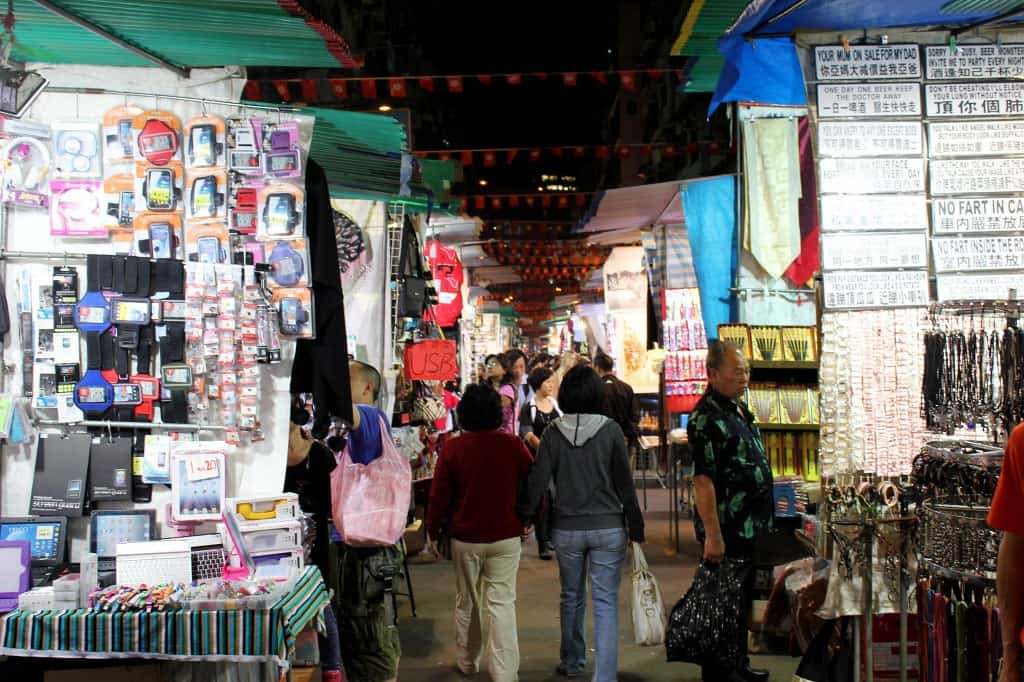 Often nicknamed the "Men's Market", this market doesn't pop up until the sun goes down. Here you'll find counterfeit electronics and accessories aplenty, apparel, antiques and more trinkets than you can imagine. Lining the outsides of the market you'll find cheap local eats and street food galore.
If you're lucky, or just visiting on the weekend, you'll also see plenty of Chinese opera singers and fortune tellers who only add to the atmosphere of this nightly bazaar.
READY TO EXPLORE SOME MARKETS?
Perfect! Here's a handy walking guide that will help you to spend a day enjoying some of the best Hong Kong markets. It really will take a whole day if you want to explore all of these markets. So put on some good walking shoes and maybe grab an umbrella! Just remember not to start at the opposite end since Temple Street Market doesn't open until 6pm and onward.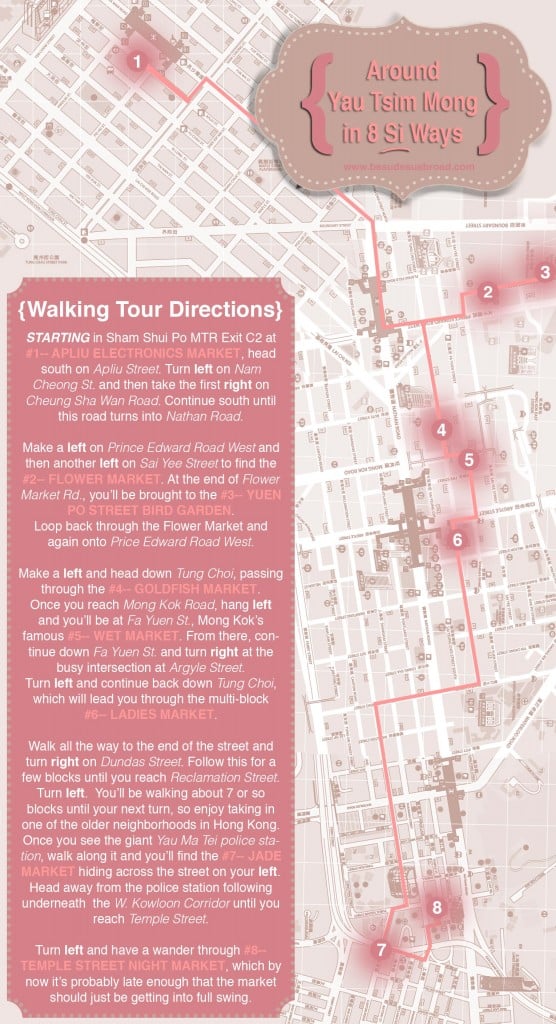 Have you been to any cool markets? What were they like?