Located in Chiba, Japan, Tokyo Disney Resort was the first Disney theme park to open outside the United States, and it's the third most visited theme park today (After, go figure, Florida's Walt Disney World and California's Disneyland).
Tokyo Disney Resort is often regarded as the pinnacle of Disney theme park experiences by many Disney fans, but just what is it that makes this resort so special?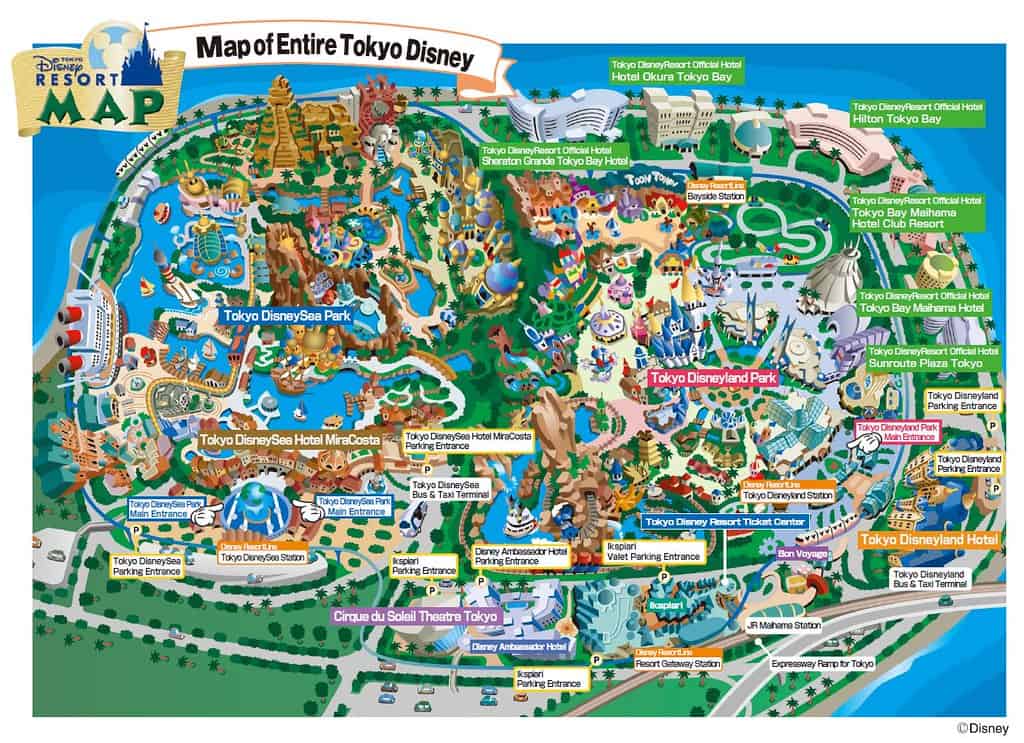 At Tokyo Disney Resort you'll find two theme parks: Tokyo Disneyland and Tokyo DisneySea.
Unfortunately, unless you're planning to stay three days or longer, there is no "Park Hopper" option like there is in Walt Disney World, which means you'll need to buy separate tickets to both resorts.
Prices for a one-day passport are ¥6,200 ($63 USD) for adults 18 and over. If you're looking to visit both Disneyland and DisneySea, I highly recommend purchasing a two-day passport for ¥10,700 ($109 USD), which allows you to visit one park the first day, and the other park on the second day.
TOKYO DISNEYLAND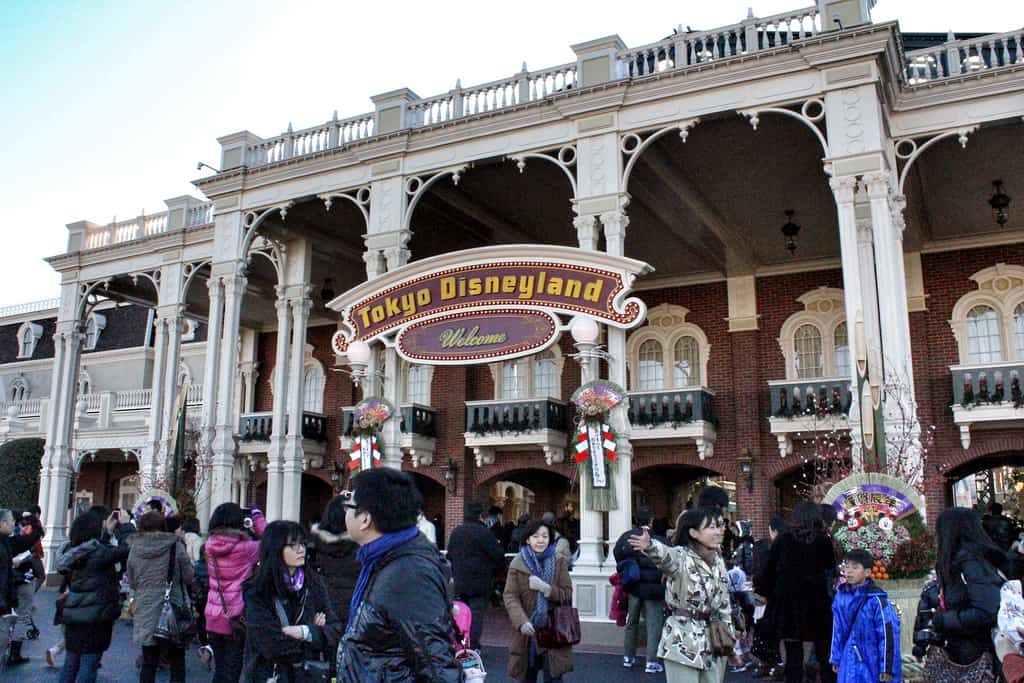 Centered around Cinderella's Castle, Tokyo Disneyland is not much different from any other "Magic Kingdom"-styled park that you'll find in Florida, California or Hong Kong.
There are seven themed lands in Tokyo Disneyland including: World Bazaar, Tomorrowland, Toontown, Fantasyland, Critter County, Westernland and Adventureland.
Apart from the shows and Pooh's Hunny Hunt, all of the rides found in Tokyo Disneyland can be found in other Disney parks.
 TOKYO DISNEYSEA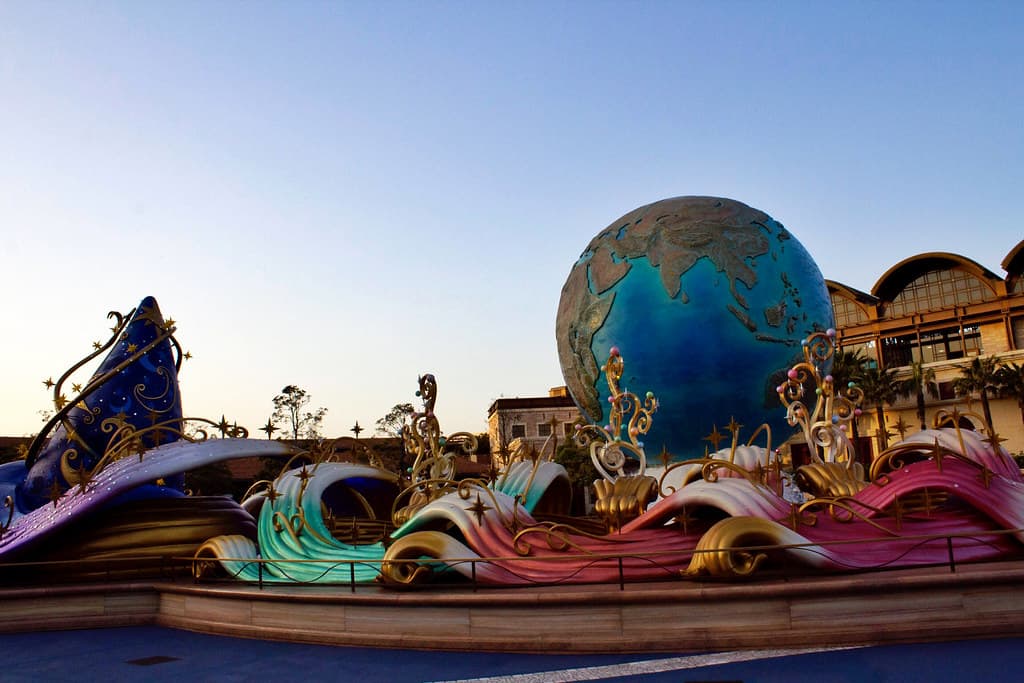 Tokyo DisneySea is an ocean-themed park, and home to Duffy the Disney Bear– a character well loved by most in Japan.
It features seven "ports of call", as opposed to "lands", and these include: Mediterranean Harbor, American Waterfront, Port Discovery, Lost River Delta, Arabian Coast, Mermaid Lagoon, and the Mysterious Island.
Almost all of the rides (with the exception of maybe one or two) are exclusive to this park, which is part of what makes this park so special.
TOKYO DISNEY RESORT HOTELS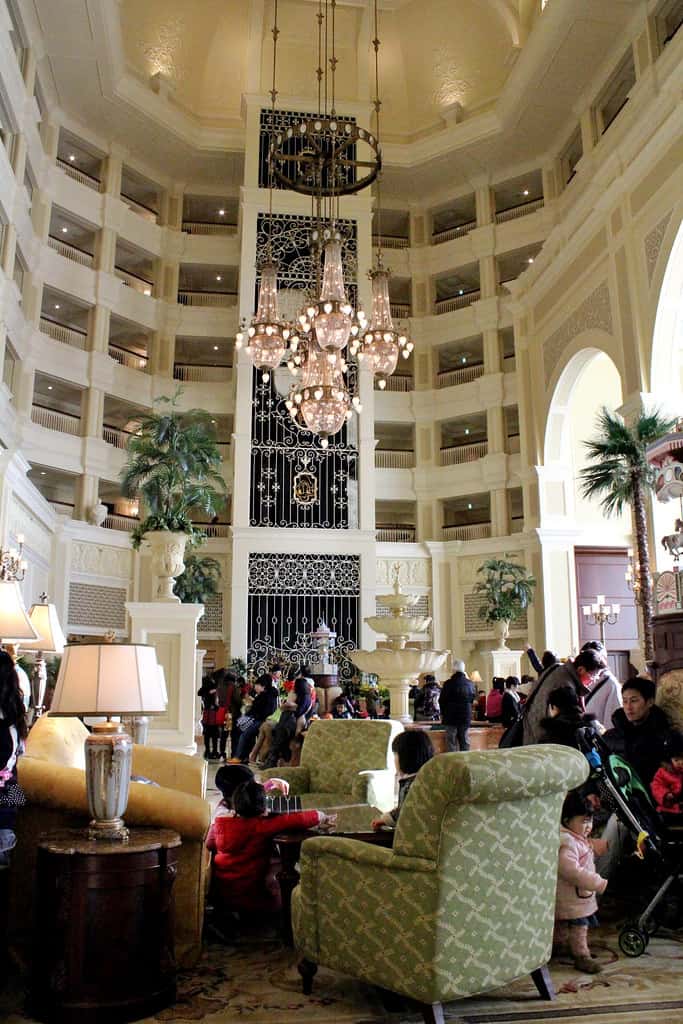 There are a total of nine hotels in and around Tokyo Disney Resort— three of these are Disney Resort hotels and the other six are "official" hotels. Each hotel has varying prices depending on season and benefits for guests staying there.
If these hotels are out of your prince range and you don't mind staying off property, there are also five other "partner" and 12 "good neighbor" hotels located throughout Tokyo.
TOKYO DISNEY RESORT WELCOME CENTER
Just outside the JR Maihama Station, the Tokyo Disney Resort Welcome Center is where you'll want to head to first if you're planning on going to the park that day. Here you can check into any of the nine hotels on property, and they'll give you a room key even if your room isn't ready yet. You can also leave all of your luggage here and they'll deliver to your hotel room so that you don't have to deal with it at the park.
TOKYO DISNEY RESORT TICKET CENTER
Just downstairs from the Welcome Center you'll find the Tokyo Disney Resort Ticket Center. Here is where you will purchase and pickup advance tickets, multi-day passports, and season passes. If you are planning to buy tickets for entry that day, you can skip visiting here and instead buy tickets from the Welcome Center or any of the ticket windows directly outside either park entrance.
BON VOYAGE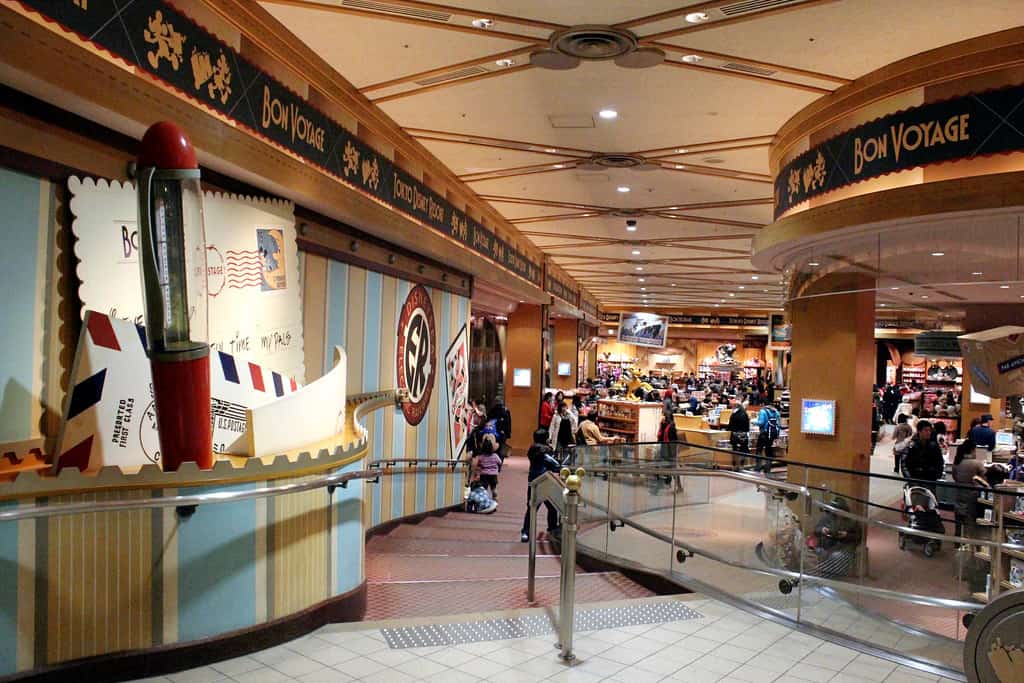 Bon Voyage is a souvenir shop located (dangerously) outside the Disney Parks and right next to the JR Maihama Station. Inside you'll find basically everything sold inside the parks and more, making it the largest selection of Disney merchandise in Japan.
Stop by here to deck yourself out in Disney apparel before hitting the parks!
IKSPIARI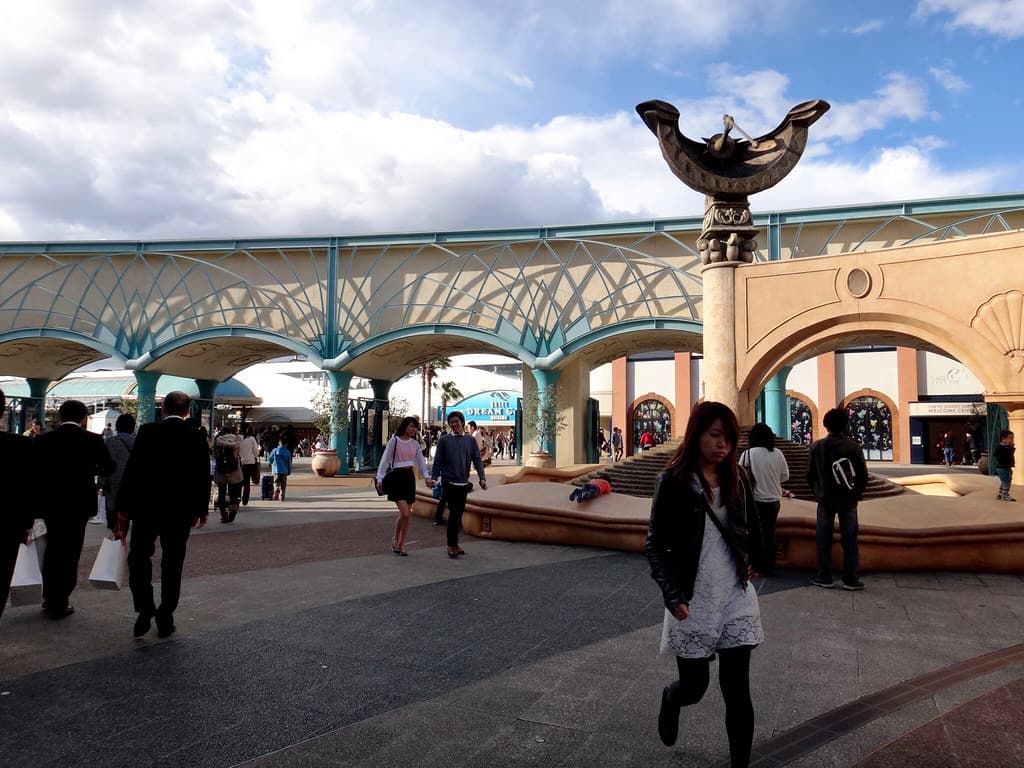 Ikspiari is Japan's version of Downtown Disney with over 140 shops, restaurants and a movie theater.
There is a food court filled with cheaper options for those who don't want to break the bank eating every meal inside the park. Across from it, you'll also find a grocery store, which is perfect for stocking up your hotel room with snacks or meals. If you're weary of Japanese food, you'll also find many western chains here like TGI Fridays, Rainforest Cafe, and others.
Disney Stores are seldom found across Japan. Tokyo has two, one of which, you guessed it, is also found here in Ikspiari.
TOKYO DISNEY RESORT LINE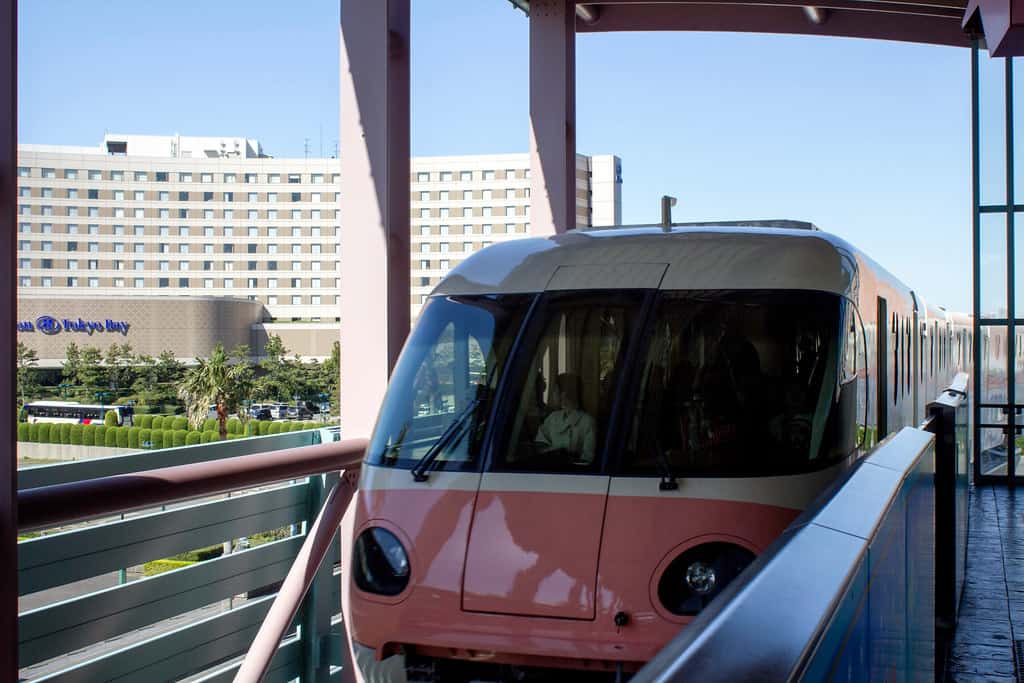 Complete with Mickey-shaped windows, the Tokyo Disney Resort Line monorail makes getting around the park simple. The line has four stops: Resort Gateway (JR Maihama Station and Ikspiari access), Tokyo Disneyland, Bayside (Official hotels access), and Tokyo DisneySea.
Unlike other Disney monorails, this one costs ¥250 ($2.50 USD) for a single ride, though you can also buy day passes starting at ¥650 ($6.50 USD).
Know Before You Go
Tokyo Disney Resort gets very crowded, so try to avoid visiting on a weekend or during one of the three major Japanese holiday periods (New Years week, the first week in May, and Obon week in August).
Book any hotels and restaurant reservations 1-2 months in advanced. If you are not planning on staying in a Resort Hotel, also book your park tickets ahead of time as well.
Reserve all your tickets online and pick them up from the TDR Ticket Center to avoid long lines elsewhere.
Low season is in January and February because of the cold and snow.
People line up one hour before opening, so prepare to get there early as well. During this time many characters will come out and greet you, so have your camera and autograph books ready!
Most rides and shows are in Japanese-only, but for some you request an English headset.
Major credit cards (Visa, MasterCard, etc.) are accepted around the park. The only ATM that accepts foreign cards is located in Ikspiari on the 2nd floor. Fun Fact: TDL guests spend an average of ¥9,700 ($99 USD) per day — not including souvenirs!
LET'S PIN IT!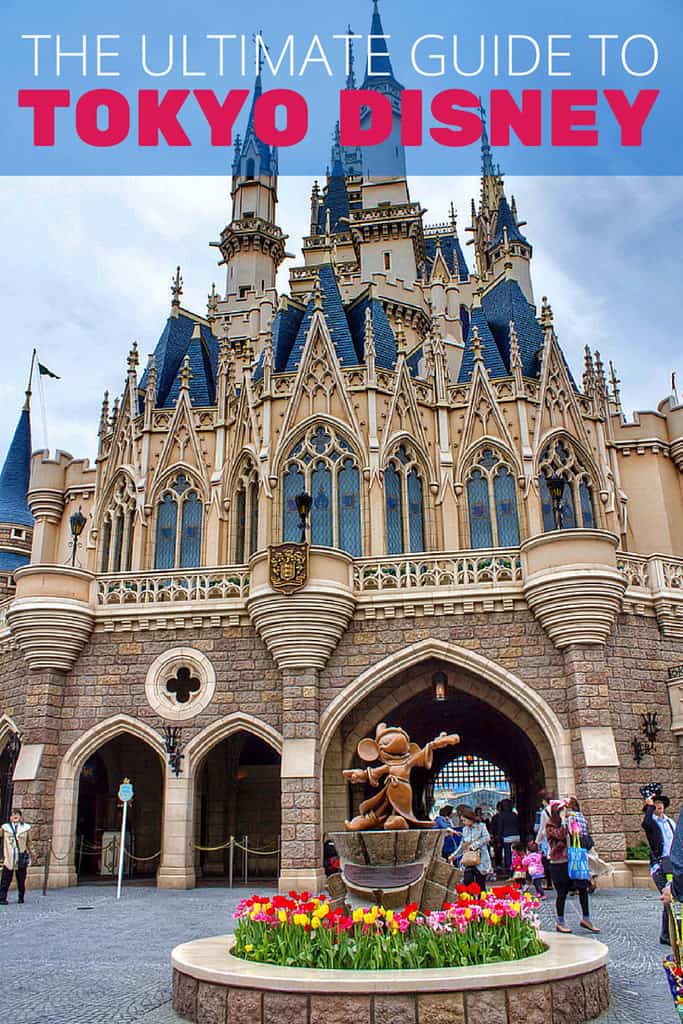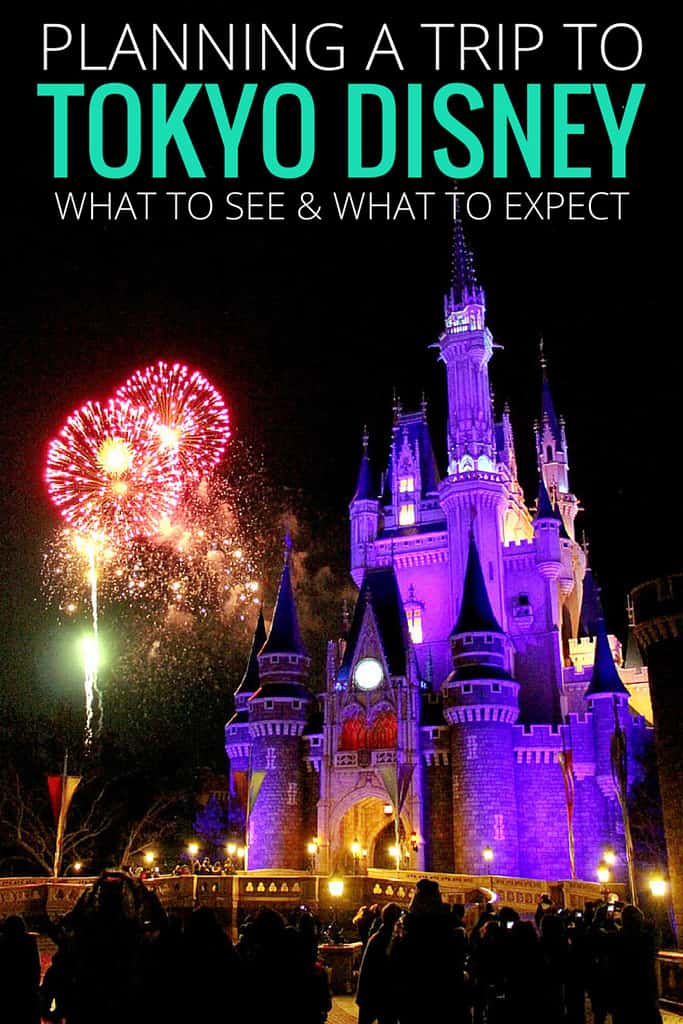 HAVE YOU BEEN TO TOKYO DISNEY RESORT? WOULD YOU LIKE TO?