Mercure Phuket Deevana is located just down the road from the infamous Patong Beach, the center of Phuket's nightlife. Luckily, it's far enough down the road that the hotel provides a nice retreat away from the craziness that is Soi Bangla, while still being within walking distance for the curious.
Basically what I'm trying to say is, Mercure is in an ideal hotel, giving guests who stay there the best of both worlds.
THE LOCATION
Tucked away on the south-side of Patong, the hotel can be easily overlooked if you don't know what you're looking for.
When we arrived, even our taxi driver wasn't completely sure we were in the right location, as it wasn't marked very well. There were no giant neon "Mercure Hotel" signs, instead the building was rather conservative, with just a small driveway leading back towards the lobby.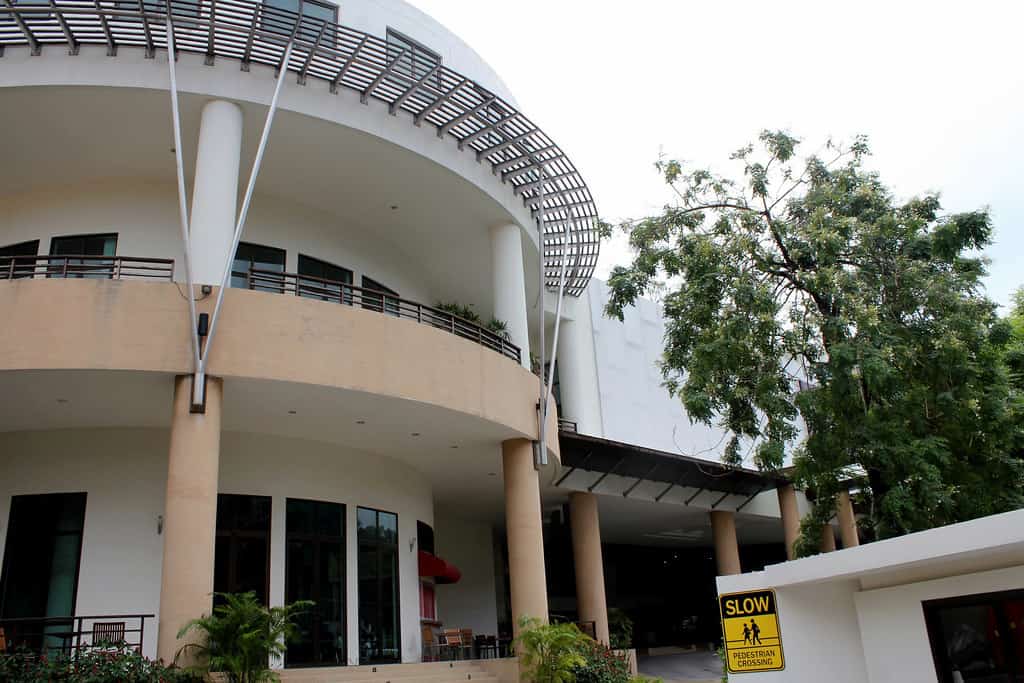 Before our stay we had heard how loud and obnoxious staying in Patong can be. While we were subjected to the bustling speakers and shouting during our massages just up the road, we never experienced these issues at our hotel.
At night we did occasionally hear music from the nearby Hard Rock Cafe, but when it was time to actually go to bed, the area was pretty peaceful.
During the day, Mercure's location provides easy access to the beach. Although it's not actually located on the beach, which is why it's a lot cheaper than many other hotel choices, it's just a short five minute stroll away.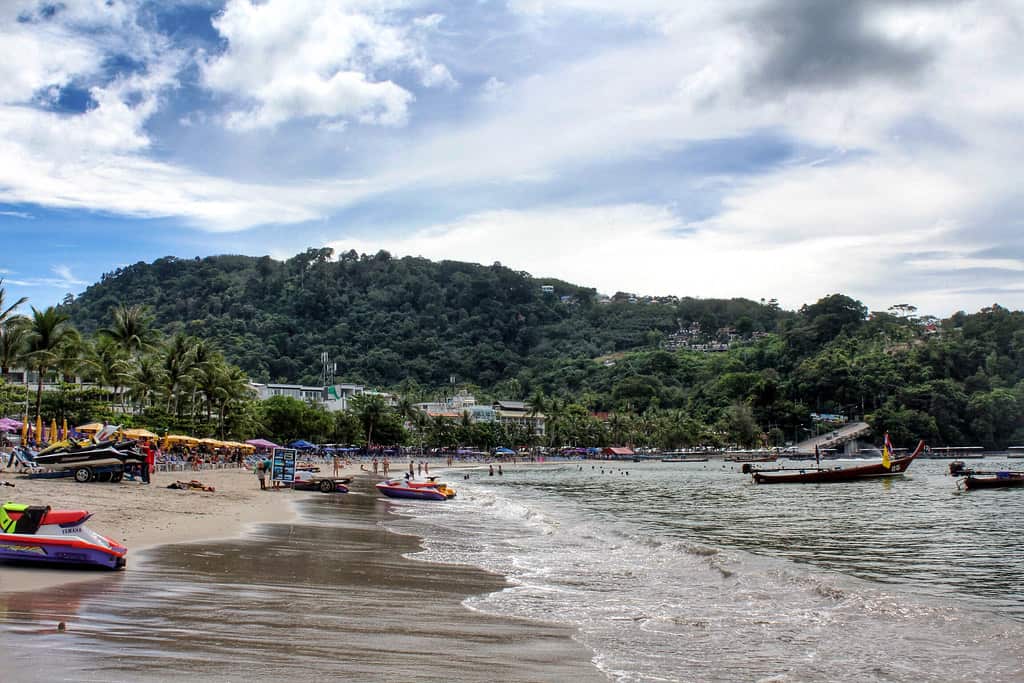 THE ROOMS
For the price, I expected the rooms to be a lot smaller, but they were actually fairly large. We had a desk, as well as a writing table, plus a furnished balcony overlooking the markets.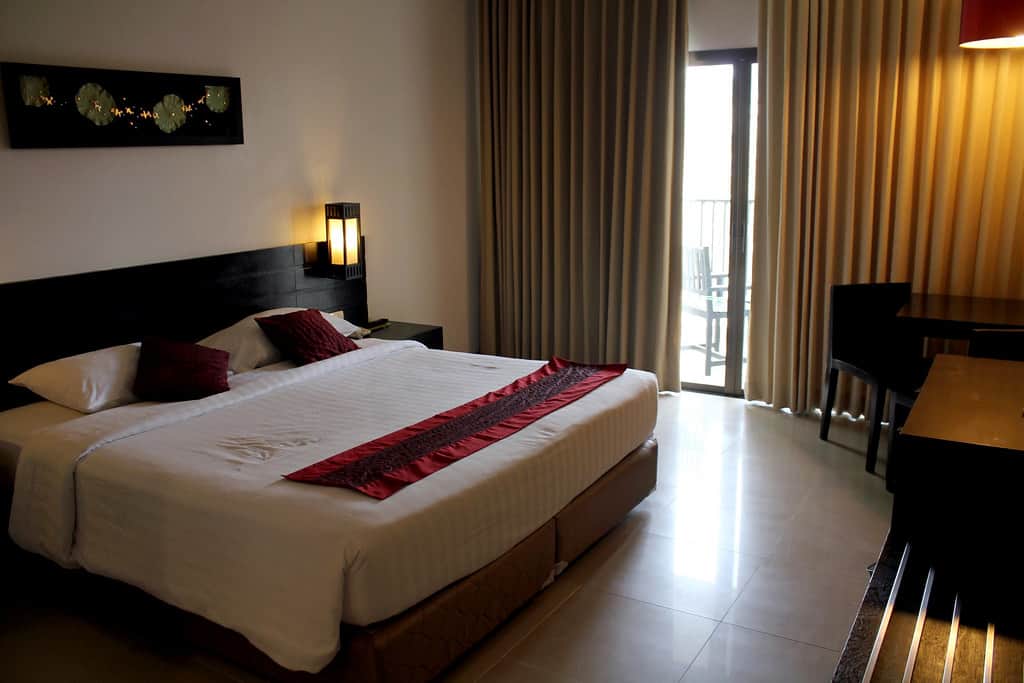 The bed was plush and the pillows fluffy, a much needed relief from the boards of wood that are Hong Kong beds. While we didn't spend much time in our hotel room, we always looked forward to falling into our comfortable bed at night.
Even though the room was moderately decorated, it was still homier than most budget hotel rooms. When we would arrive back to our room, we would always be greeted by new friends such as this cute towel elephant.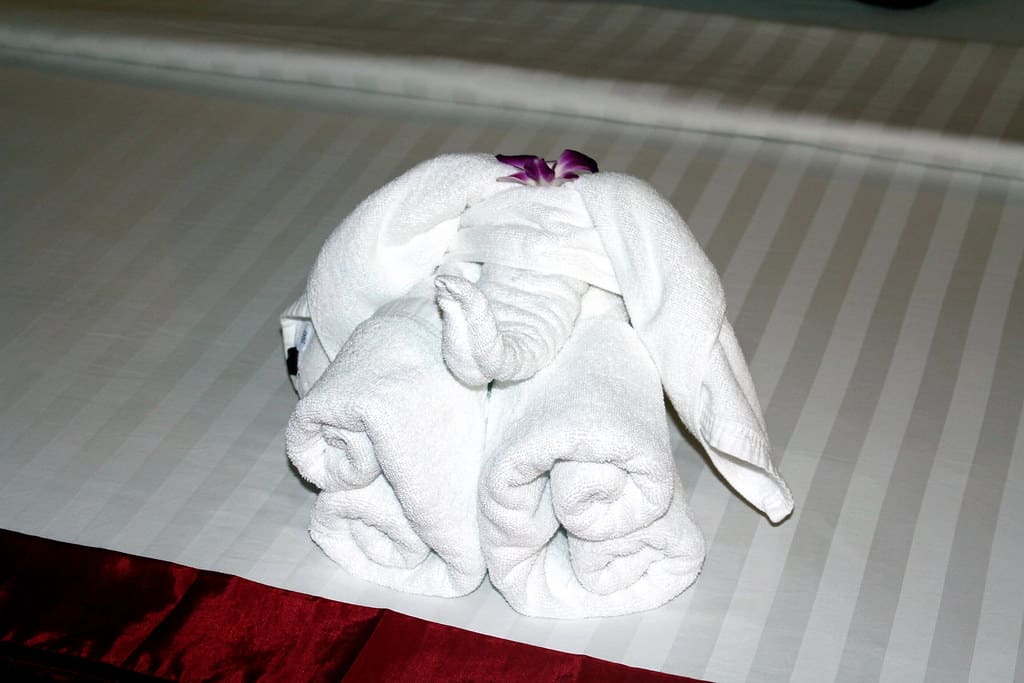 It seemed cleaner than most Asian hotel rooms, but unfortunately towards the end of our trip, ants found their way into our bed. If we hadn't only had another night left, I would have complained so we could switch rooms, but by this point it would've been more of a hassle. Luckily spreading toothpaste around our beds perimeter seemed to help.
The room was big enough to hold a small family, especially if two separate beds or a roll-away cot were requested. However, I'm not sure I would recommend this room to families or friends, because one feature of the room makes it a little awkward…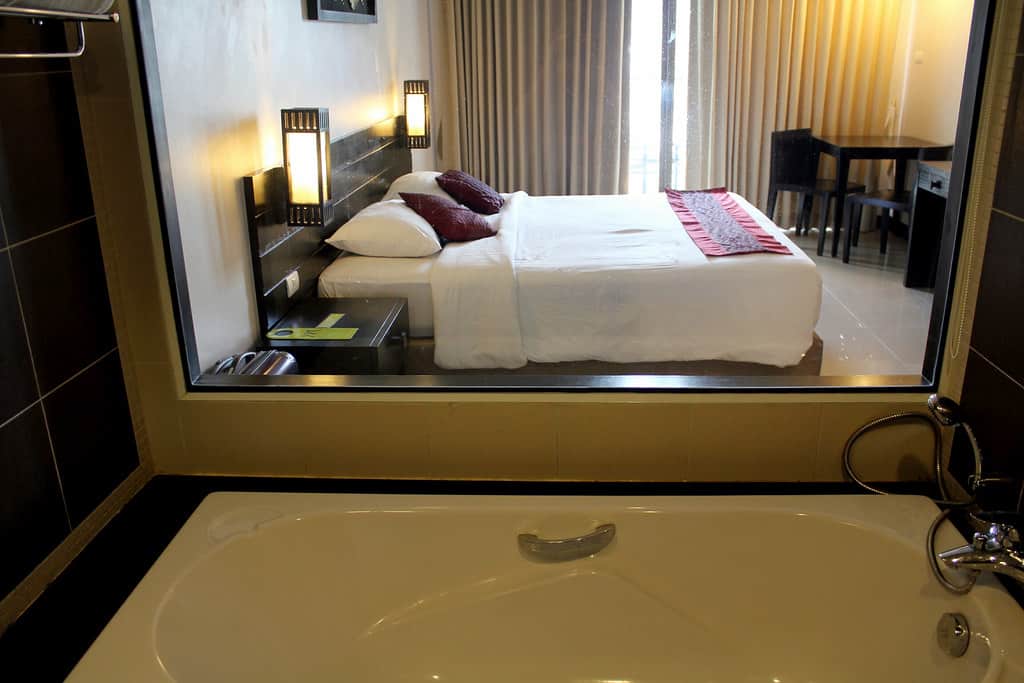 Yup. There's a huge glass window that looks right into the bathroom.
Anytime anyone would need to shower or use the toilet, the whole room would have a good view of the show. Definitely awkward.
I don't know why anyone would ever consider this a good design– unless they were planning to have people watch TV while in the bathroom. Which you totally can.
THE FOOD
There was one restaurant and a few bars located at Mercure, including a swim up bar in the pool. All of the bars offered a good "Happy Hour" price, but unfortunately we were never around during that time to use the offer. The only drinks we tried were complimentary at check-in, which were still good.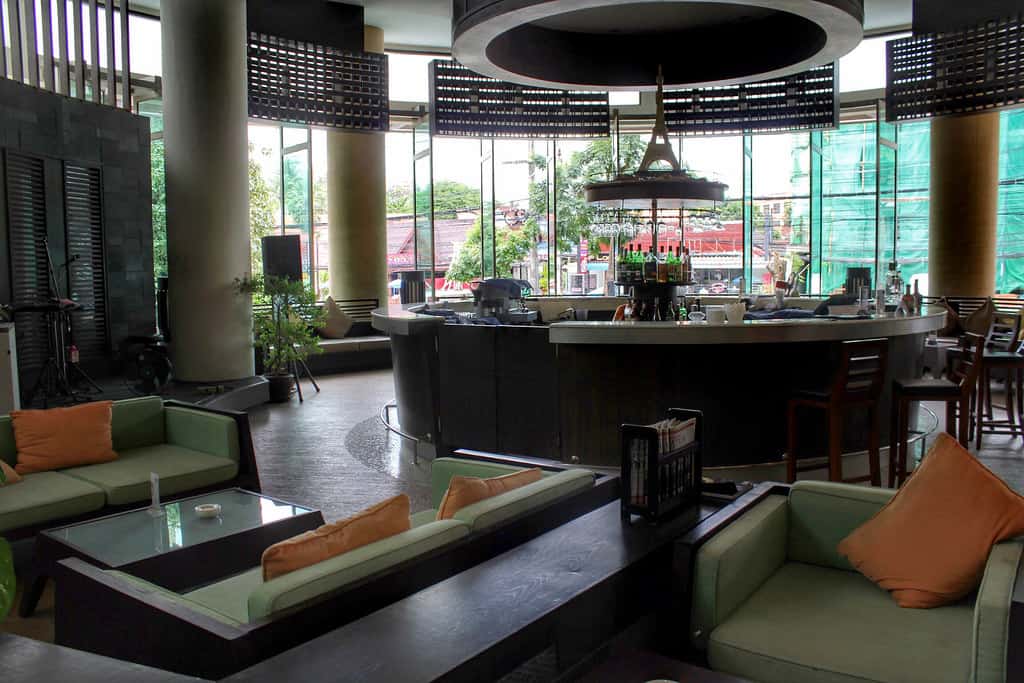 We never ate at the hotel because it was too overpriced, and seemingly only subpar Western food. We much preferred eating at smaller Thai establishments around town. However, we did take advantage of having a mini bar with fridge in our hotel room and used this to store food we purchased at the grocery store.
THE FACILITIES
The hotel itself wasn't very large, but it did still have all the normal facilities you would expect at any other hotel. There was a business center, although it seemed very small from the outside. We never went in because all of the rooms already offered free WiFi.
Around the hotel there were various lounges, although they were either closed or just untouched by most visitors- even the rooftop bar was pretty empty. There was a lounge right near our room, and we could always see great sunsets as we passed by. It looked like it would be a nice place to relax, but unfortunately we just never had the time.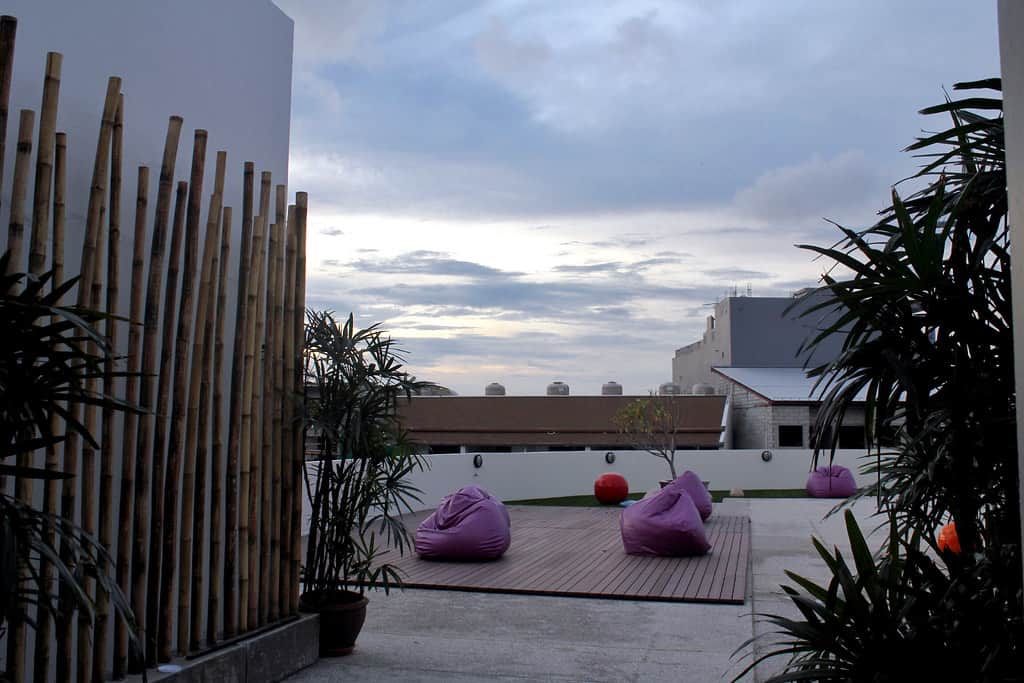 There was a spa, gym and a lovely outdoor swimming pool, with the aforementioned swim up bar. We were a bit gutted that we kept passing up the pool to do other things, but we finally gave it a go one evening. The pool wasn't heated and by then it was too cold, so our swim session was very short lived. Even the "hot tub" was cold, so no swim up bar drinks for us!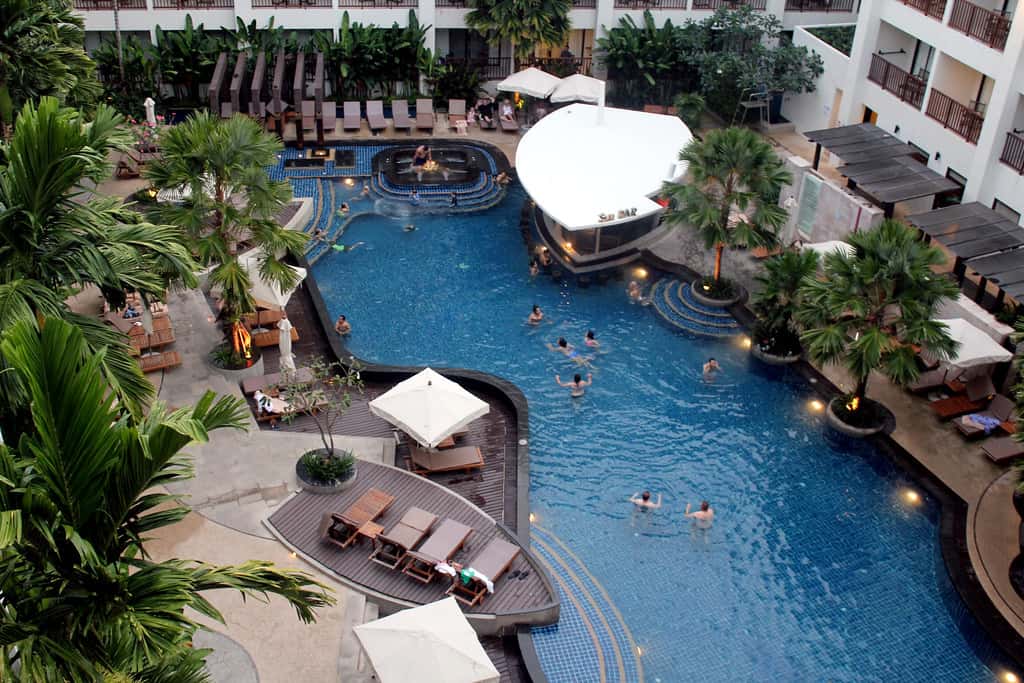 WOULD I RECOMMEND MERCURE PHUKET DEEVANA?
While there were some unexpected hiccups, like ants infiltrating our room, overall I thought the hotel was pretty good. We were impressed by the attentiveness and friendliness of the staff as they seemed to really take pride into every last detail. (Even the ashtrays were continually groomed like a Zen garden!)
It was good value for the money, and the location made it all worthwhile. If I'm looking for someplace to stay on a budget, I would definitely consider staying at Mercure again.
HAVE YOU STAYED AT A MERCURE HOTEL?