Just what do you pack for one week in paradise?
While I thought packing for one week in the Maldives would be simple, it's actually been a bit more challenging than you think!
Being right on the equator, it's going to be hot, so we needed to pack a lot of lightweight clothing and swimwear. However, the Maldives is an Islamic country, so strict dress code does apply when you're not at your resort– especially for women.
A Note on Packing for the Maldives
Dress Code:
Men can get away with wearing shorts that cover from the knee up and a t-shirt, although I may recommend wearing long trousers if visiting a mosque.
Women on the other hand have a bit more restrictions. You'll need to dress modestly by fully covering your shoulders and legs, and the material should be opaque, nothing sheer or see-through*.
(*I was originally planning to wear a maxi dress, and the outer layer that covers my legs was made from a sheer fabric. Then I learned sheer fabrics are still a no-no, so I had to go buy something else the day before we left. Just make sure to plan ahead!)
That also means no sleeveless tops like tank tops, nothing low-cut, no halter-tops and no mini skirts!
Although women are not expected to cover their hair, you may choose to if you feel uncomfortable.
Also be aware if you go swimming in the capital, or any other island inhabited by locals, you are not to wear swimsuits and will be expected to swim in shorts and a T-shirt.
Restricted Items:
Of course there are many restricted items when traveling to any country, such as weapons or pornography. But there are a few items that travelers may frequently pack that, no matter the circumstances, are illegal to bring into the Maldives, so please take note of this when packing.
These items are: any alcohol, products with pork in them (so no Slim Jims or beef jerky snacks!), and any religious material not affiliated with Islam.
So with that being said, here's a look at what we packed for one week in the Maldives:
Clothes and Shoes
I'll admit that we often pack too many clothes, so this time around we really tried to keep it light, especially because we're only bringing carry-on luggage.
For me, I only packed a few bottom items and brought simple tops that could match with any of the bottoms. Everything was light materials, but I also packed some scarves and sweaters for when visiting local islands.
Johnny had a bit of an easier time packing, but like I said before, guys don't have as many restrictions and he never gets cold so he didn't bother with layering items like sweaters and scarves.
I divided the list into "Hers and His" packing lists, to make it easier to see what we each brought.
This list also includes the items we wore on the plane. Overall, I'm pretty proud of my packing because my list wasn't much longer than his for once!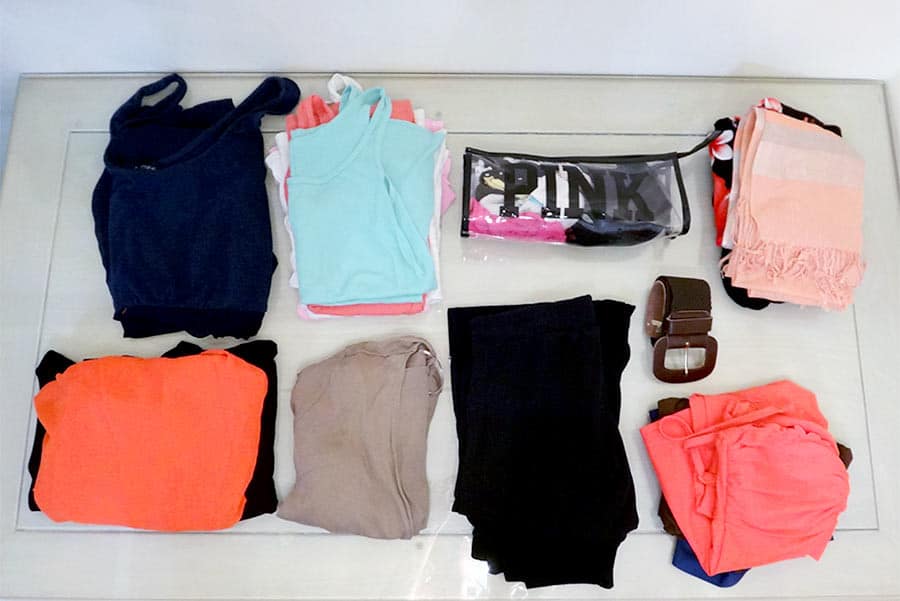 | | |
| --- | --- |
| HER PACKING LIST | HIS PACKING LIST |
| 2 long dresses | 1 pair of long pants |
| 2 maxi skirts | 2 pairs of shorts |
| 1 pair of pants | 5 shirts |
| 1 pair of leggings | 1 dress shirt |
| 2 shirts | 1 pair of pajama pants |
| 4 tank tops | 8 pairs of underwear, 4 undershirts and2 pairs of socks |
| 2 sweaters | 1 swimsuit |
| 8 undies, 2 bras, and 1 pair of socks(in a no shoes atmosphere, I don't think I'll be needing any socks– but just incase!) | 1 pair of flip flops |
| 1 pair of pajama pants | 1 pair of shoes |
| 1.5 swimsuits (1 top and 2 bottoms) | 1 sweater |
| 1 pair of flip flops | 1 belt |
| 2 scarves | |
| 1 sarong | |
| 1 belt | |
Toiletries and Accessories
I didn't divide this part into "Hers and His", because many of these items will be shared by the both of us.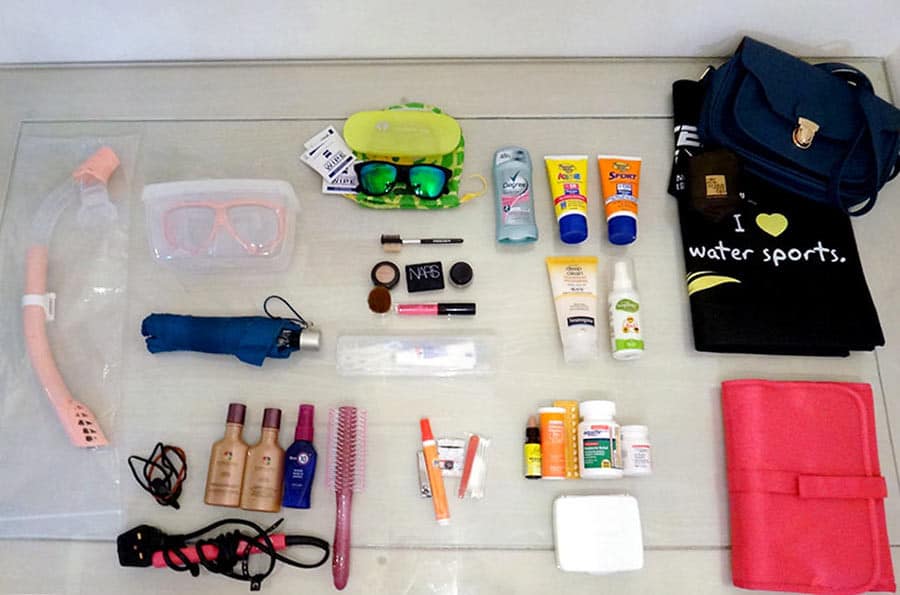 Toothbrush + toothpaste + floss picks kit (x2)
Modest makeup (1 eyeshadow, 1 blush, 1 lipgloss, 1 chapstick, mini blush brush and eyebrow brush)
Shampoo + Conditioner + Perfect 10 hairspray
Bug spray/sunscreen combo spray (it was near impossible to find any spray sunscreens to use on my scalp, but I finally found a bug repellant-sunscreen combo spray, so let's hope this works!)
Waterproof sunscreen (x2)
Travel Medical kit (a few bandaids, q-tips, nail file, nail clipper, allergy medicine, birth control, Benadryl, Excedrin, Emergen-C, Rescue Remedy and White Flower Oil)
Spare glasses + lens cleaner
Diving mask + snorkel (x2)
Gear and Electronics
Now this is where my bag suddenly becomes jam-packed and heavy. I have a lot of electronics, and unfortunately they all have different chargers, cords and other random accessories that need to be brought with to make them work.
These items are heavy and bulky …and take up most my bags, but I need them for working online and running this blog, so there's no way around it!
Majority of our electronics are carried in a bag separate from our suitcases.
Again, this isn't divided into "Hers and His" because it's things we share, or things that are mine that Johnny gets to carry.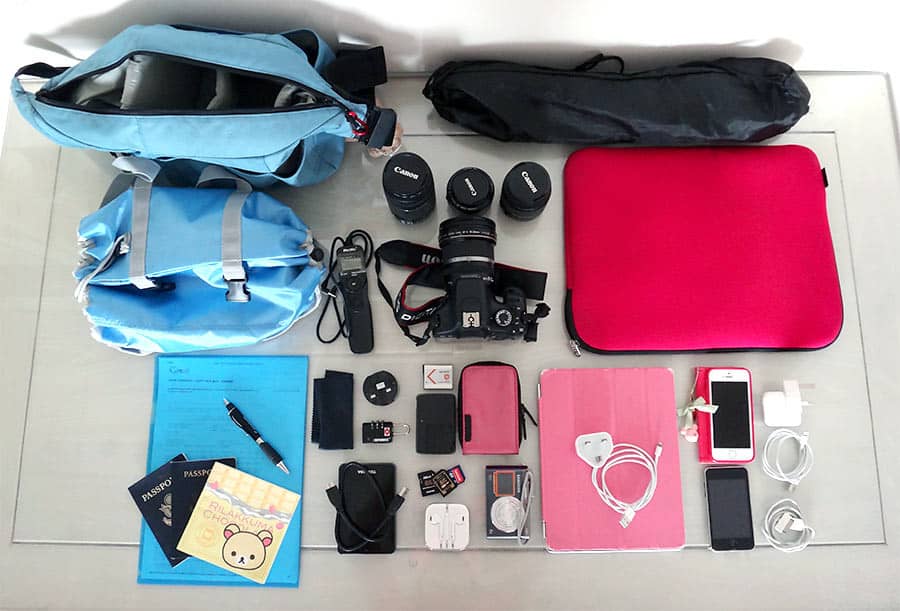 Underwater camera + charger + spare battery + memory card
Point and Shoot with front facing camera + charger + memory card
DSLR camera + charger + filters
18-55mm, 10-22mm, 50mm and 55-200mm lenses
Aperture Timer Camera Remote Control
Macbook Pro Retina + Charger
Folder with copies of all travel + work documents
Passport, credit cards, etc.
Hoboroll to put everything in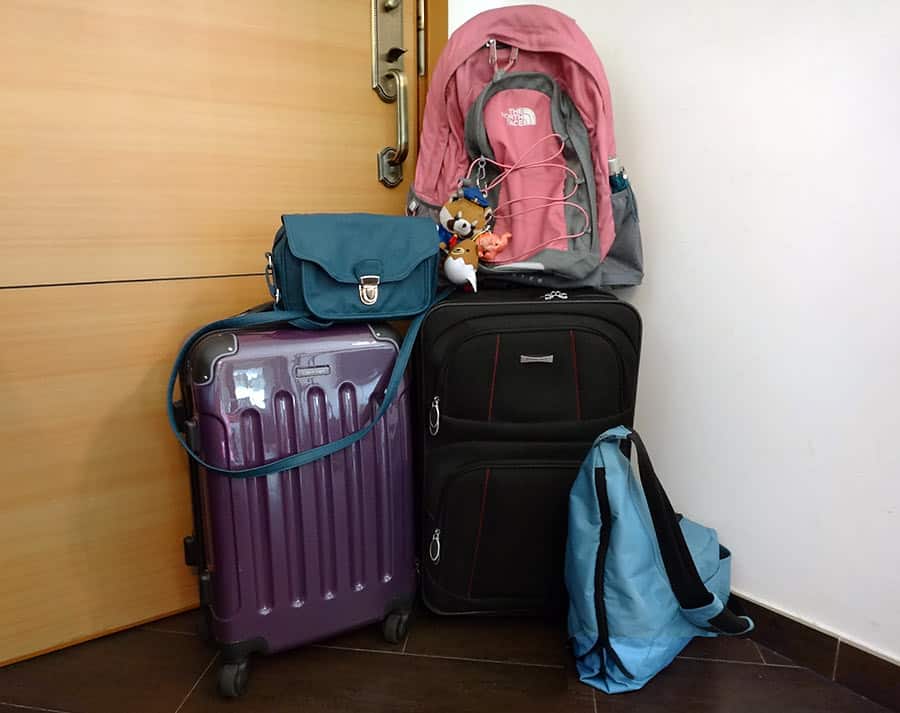 While we probably still over-packed, we were at least able to condense everything to carry-on luggage only. After our trip is over, I'll update this post and make comments on anything that we didn't end up needing after all, to be sure to check back then!
What would YOU pack for a week in paradise?