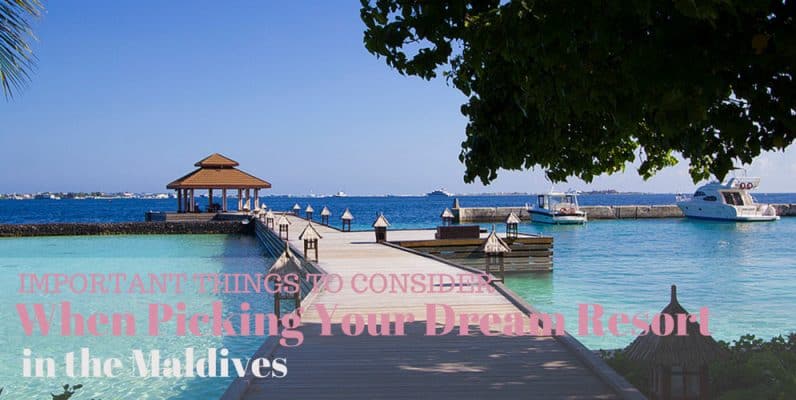 As you're reading this, we are just settling into our overwater villa in the Maldives!
There are over 5,000 overwater villas in the world, and around two-thirds of those are located in the Maldives.
What many people may not realize, is that the Maldives is made up of almost 2,000 islands, that have been grouped into a total of 26 atolls. It spans over 35,000 square miles, which makes it one of the world's most dispersed countries.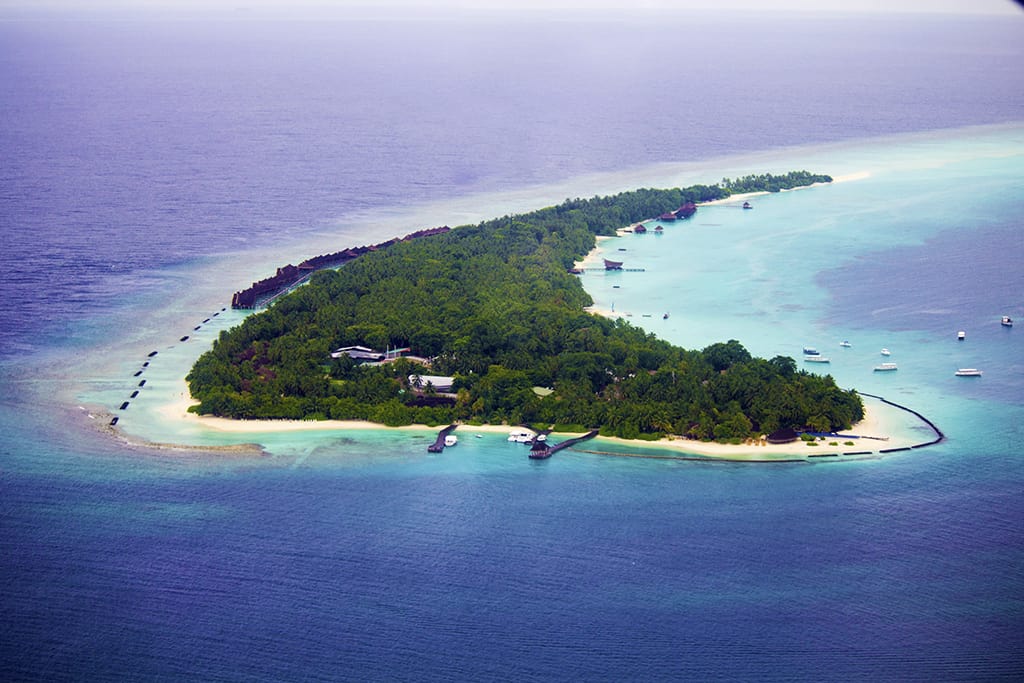 Typically, people will pick one resort and stay there for the duration of their trip. Island hopping can be very time consuming and costly since you need to fly a seaplane from island to island. Therefore, the resort you choose is very important!
There are more than 100 different private-island resorts here, ranging from 3-stars to 5-stars, all with different atmospheres and facilities, so choosing your dream resort can quickly become a daunting task!
After spending hours mulling over different resorts and making spreadsheets of what each resort offered, we finally narrowed down our choices based on what was most important to us. Be sure to scroll down to see which resort we ended up choosing!
Although everyone has different things they look for in a resort, hopefully this list can help you determine what's most important to you and help make choosing your resort a little less stressful.
5 Things to Consider When Picking Your Dream Resort in the Maldives
Resort Atmosphere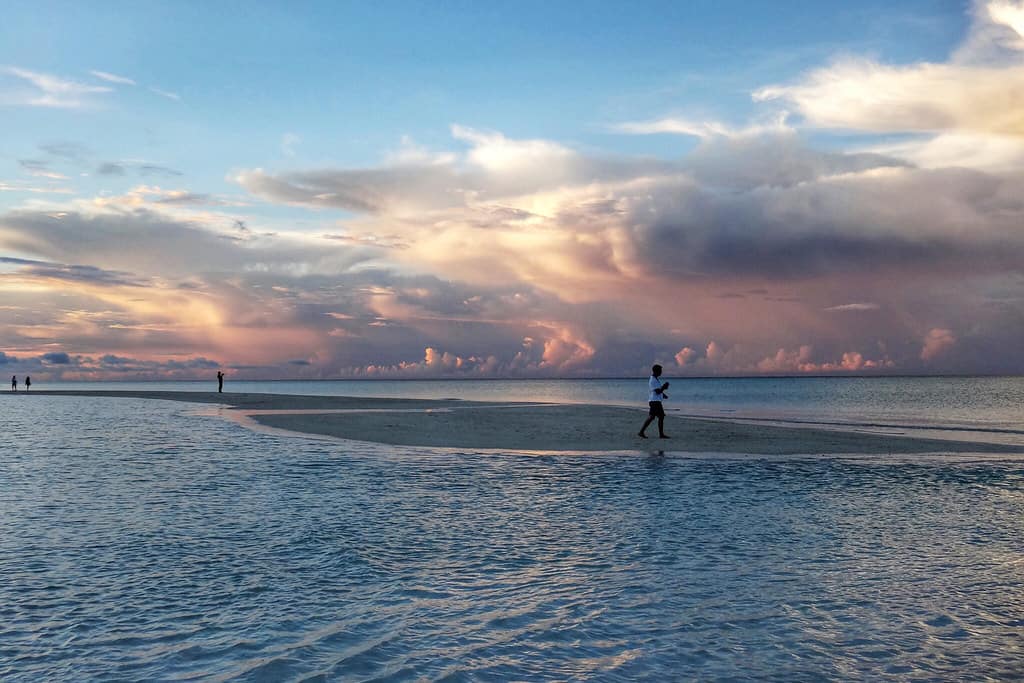 Every resort has it's own unique atmosphere, and it's important to take that into consideration when looking for a resort.
Some resorts are all about "no shoes, no news", where they take your shoes away from you as soon as you get on the seaplane. You can expect a Robinson Crusoe feeling as if you've been cast away on a remote island. Don't expect to use any digital devices or see a newspaper here.
Some resorts place emphasis on their food experiences, or their nightlife. There are some family-friend resorts, while others have a strict "no under 18 rule". If you're traveling with children, make sure you check your resort's policies.
Decide what type of atmosphere you're looking for first, to help narrow down your choices.
Resort Location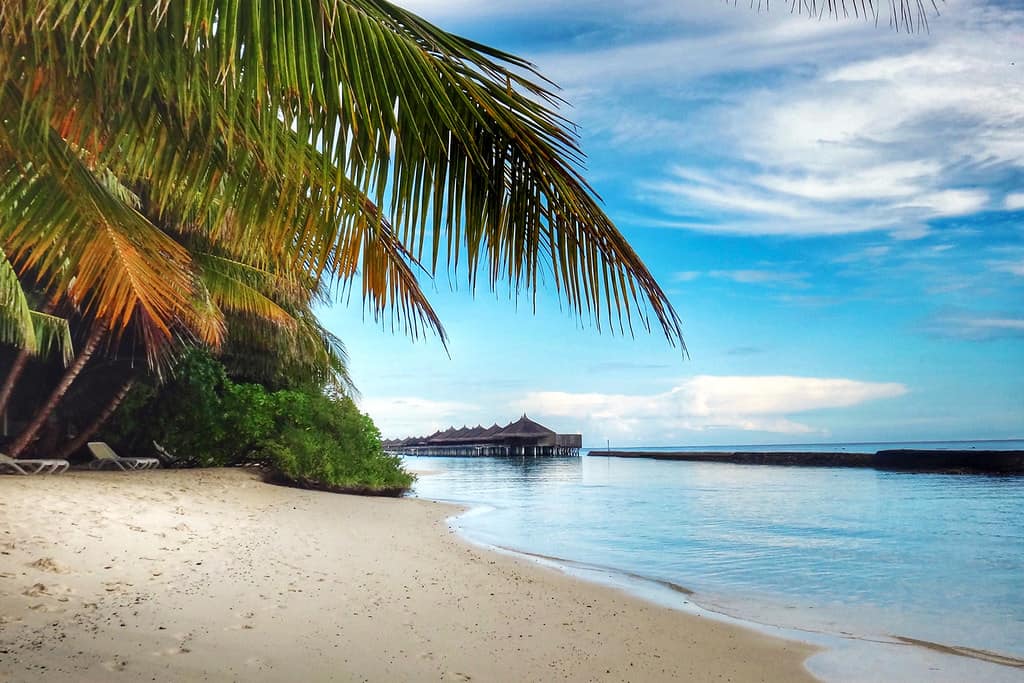 Location, location, location! Location is key in the Maldives.
Some resorts have a better location for diving or snorkeling. Whereas, some don't even have house reefs at the resort, so if that's what you're going for, make sure to research that.
Once you arrive in the Maldives, you'll be whisked away by your resort. To transfer to any resort, you'll either have to take a speedboat or a seaplane. While many of the resorts offer both of these methods of transportation, some of the farther resorts can only be reached by seaplane. Seaplane transfers typically cost an extra $300 USD per person, so do keep your budget in mind and stay at a resort that can be reached by speedboat if necessary.
If you only have a few days in the Maldives, you may also want to look at a resort that is located closer to the airport, as you won't waste as much time dealing with transfers.
Resort Accommodation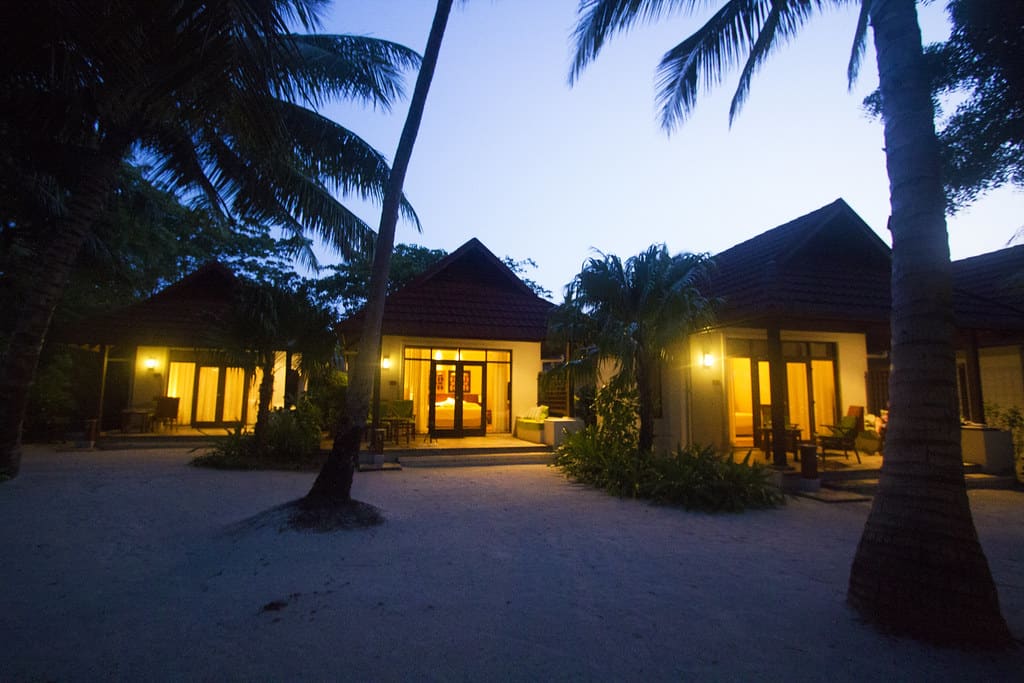 Remember how I said two-thirds of the world's overwater villas are located in the Maldives? Well, not every resort even offers that type of room.
If you're dead set on a certain type of room, like we were, you can automatically eliminate all the resorts that don't offer that type of room. This made our list of 100+ resorts dwindle down to a more manageable 60 or so to search through.
There are many accommodation options throughout the Maldives, but the most popular two would have to be beach villas, and of course, water villas.
Even the water villas vary greatly in how tropical they look (or don't look) and how secluded they are from other villas. Be sure to look at plenty of room photos on the resort's website to help you decide!
Resort Excursions and Activities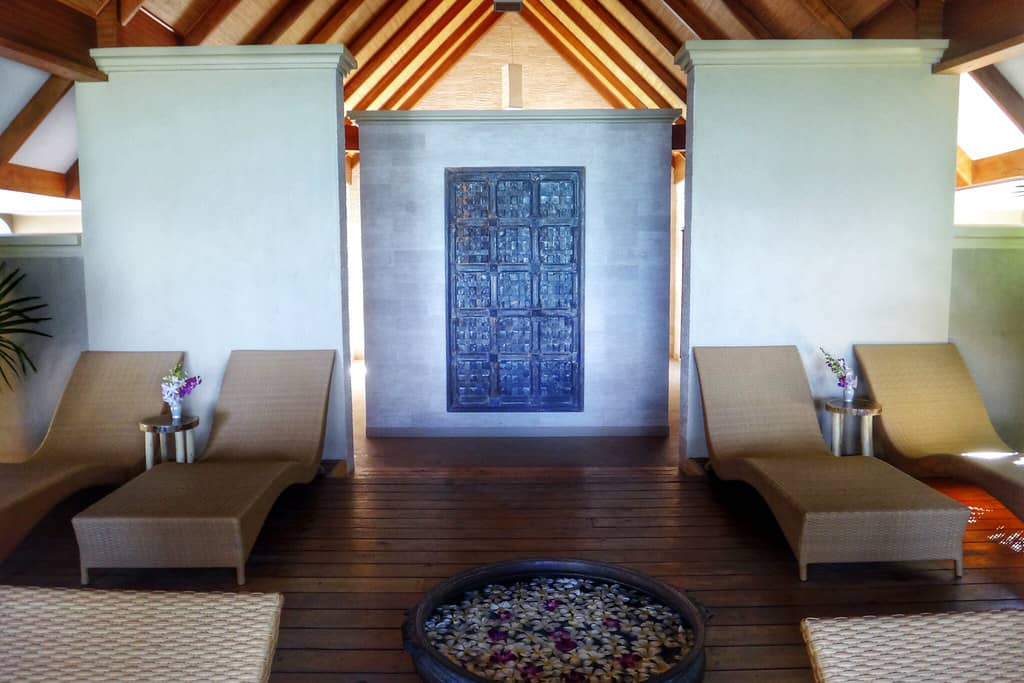 While some people come to the Maldives to sit around doing nothing all day, others come for the unique excursions and activities.
Each resort offers different excursions from diving to seaplane photo tours. Even the activities at the resort vary, for example not all resorts have spas, water sport equipment to rent or swimming pools.
Looking through various resorts I found lot of cool excursions offered like cooking classes or local village tours– but I rarely found a resort that offered every single excursion you could want. So think about what you want out of this vacation, and then make sure your resort can accommodate it.
Resort Packages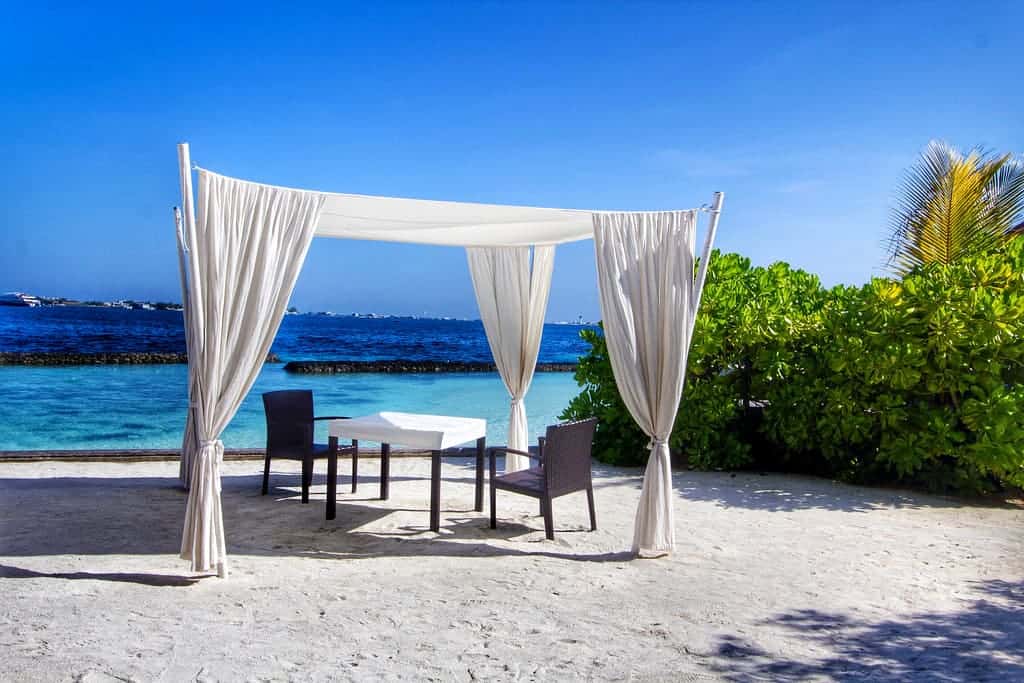 Almost all resorts in the Maldives will provide at least half-board, meaning you'll get a free breakfast. Majority of them can be upgraded to full-board, where you will also be given dinners.
Some resorts even have "All-Inclusive" packages, which allow you to have free-flowing alcohol and food during your entire stay, and sometimes will throw in a free excursion or two. If All-Inclusive is important to you, you will have only a handful of resorts to choose from.
I recommend opting for at least full-board. I've heard a lot of stories about people who get a great deal on a half-board resort, only to find that a simple dinner of spaghetti cost $75 US dollars. So at least make sure your dinners are covered!
So Where are we Staying…?
Kuramathi Island Resort!  Located in the Rasdhoo Atoll, it is one of the Maldives largest islands. We chose this resort because it ticked all of our main requirements:
The resort is more on the family-friendly side, but they also offer romantic options for those looking to celebrate their honeymoon.
The location is far enough away that we are taking a seaplane to get there– and experience I didn't want to miss, while still boasting extraordinary house reefs for snorkeling and diving.
It has private overwater villas, which we were bent on having. A lot of the water villas we saw just didn't give us the "tropical feeling", but we really enjoyed the design of those at Kuramathi. Even better yet, the villas have Jacuzzis on deck!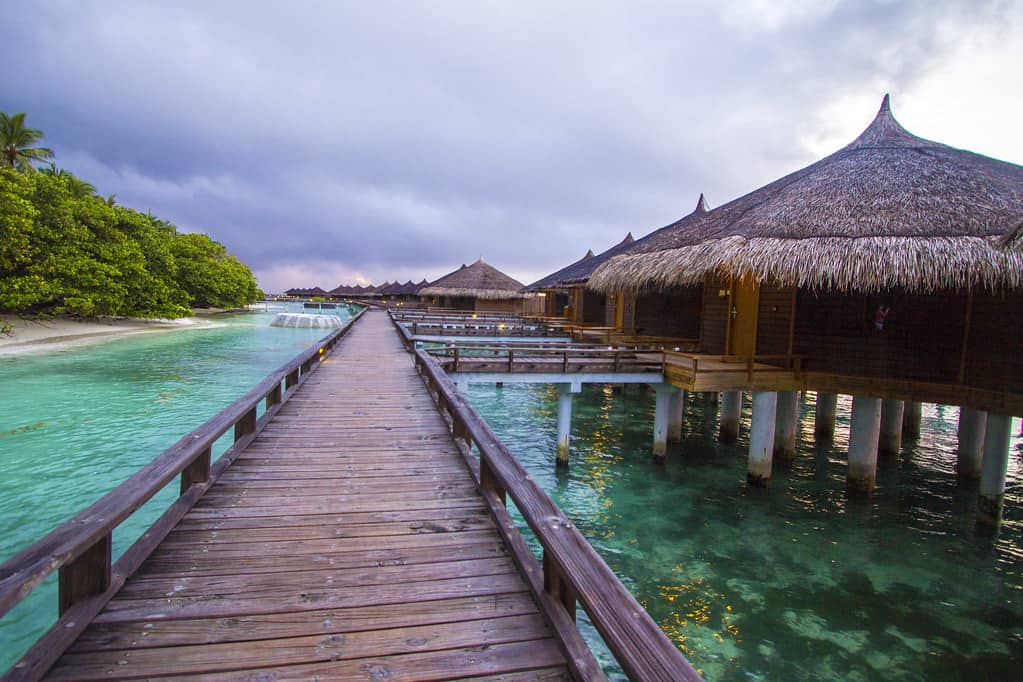 Welcome to where we'll be sleeping the next week in paradise!
There were a few excursions and activities we were really bent on having, such as good snorkeling/diving, big game fishing, local village tours and sunset cruises. Kuramathi offered us all of that and more. While I did originally want a resort that offered a seaplane photo tour, we figured that just transferring to the resort in a seaplane would give us the same experience.
Lastly, the resort does have an "All-Inclusive" package, along with being known as a bit of a foodie resort. Kuramathi has more restaurants and bars than any other resort, and we'll be trying as many as we can over the next week. Oh, and let's not forget all those free-flowing tropical drinks on the beach!
Want to learn even more about Kuramathi and our Maldivian experiences? Make sure to follow along on Twitter for live updates and photos from throughout the trip!
What's most important to YOU when picking your dream resort?
Disclaimer: We were kindly provided a discounted rate for our stay at Kuramathi Resort.