It's Thursday! So Johnny is back again to tell us a little about our surprise visit to Duniye, Kuramathi's new gastronomic restaurant.
Last week when we talked about our dining experiences, we mentioned the different a la carte restaurants conveniently placed throughout Kuramathi.  One of the nights we had the opportunity to dine at one of those restaurants, Duniye.  As their newest restaurant, it opens only for dinner and it is touted as a "gastronomic adventure".  Honestly, I didn't even know the word gastronomic existed until coming to the Maldives, but soon learned it means "gourmet".  From the moment we tasted our dinners, we agreed they were indeed accurate with their description.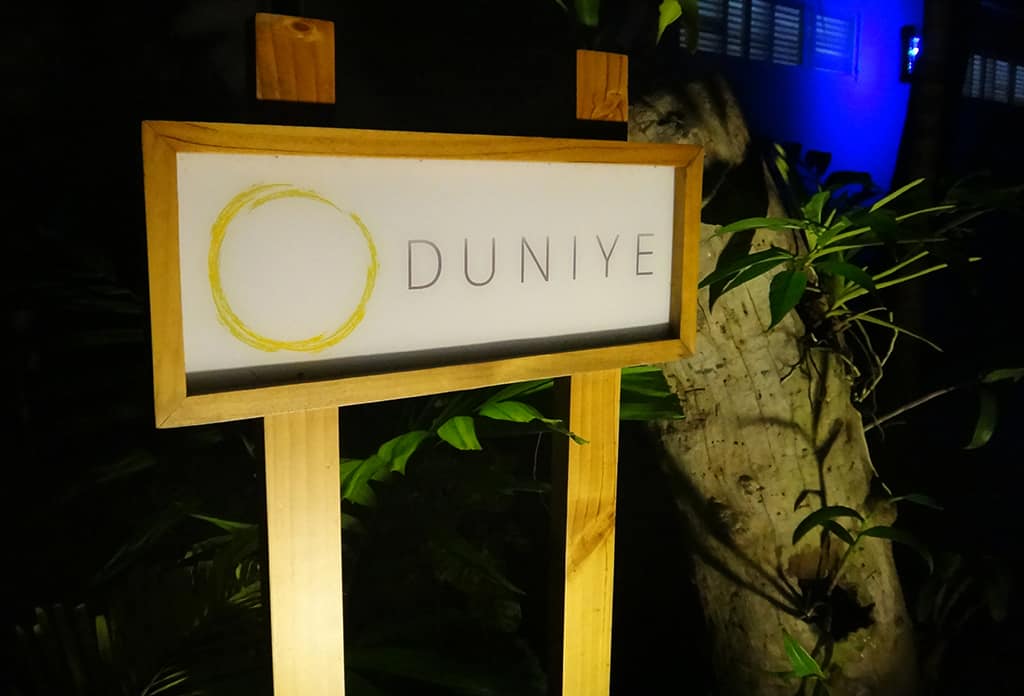 Since Duniye was located so close to our room, we would often peek in as we walked by on our way to excursions or main meals at Malaafaiy. It's windowless structure allowed us to view inside with ease. With only a few tables lit by candlelight, it seemed fancy and intimate. No wonder it was often fully booked weeks ahead.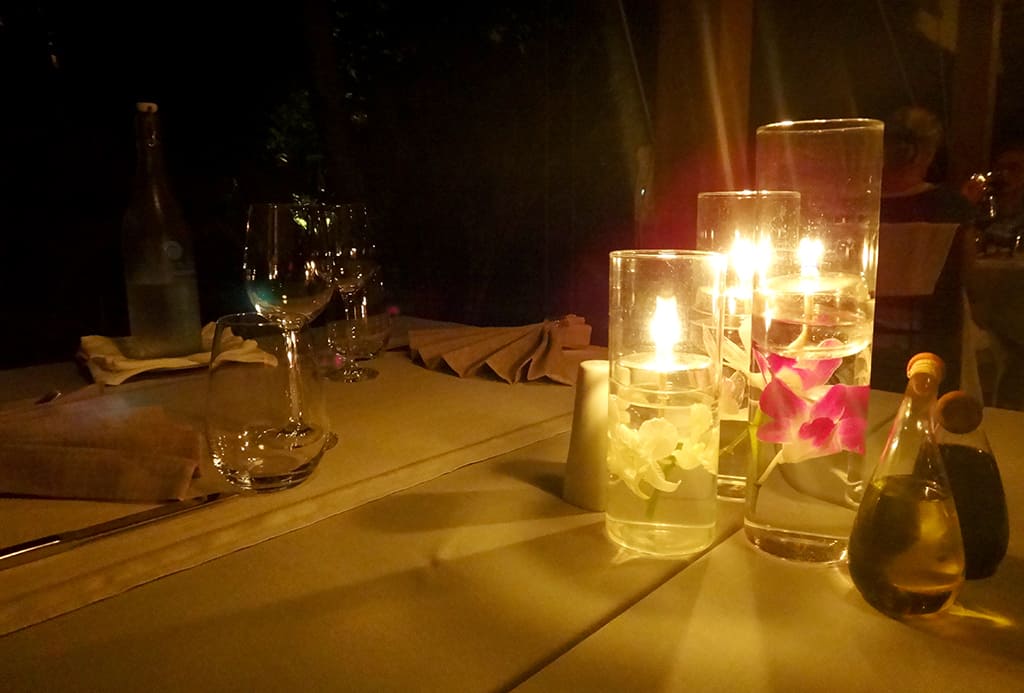 I didn't know what to expect when I found out that we were going to Duniye. As much as a fancy night out is nice, it meant having to skip our normal dinner buffet at Malaafaiy, which was going to be Chinese-themed that night. But as soon as we sat down to read the menu, we became more eager and excited for the meal that awaited us.
Duniye offers a wide variety of foods and wines from across the world.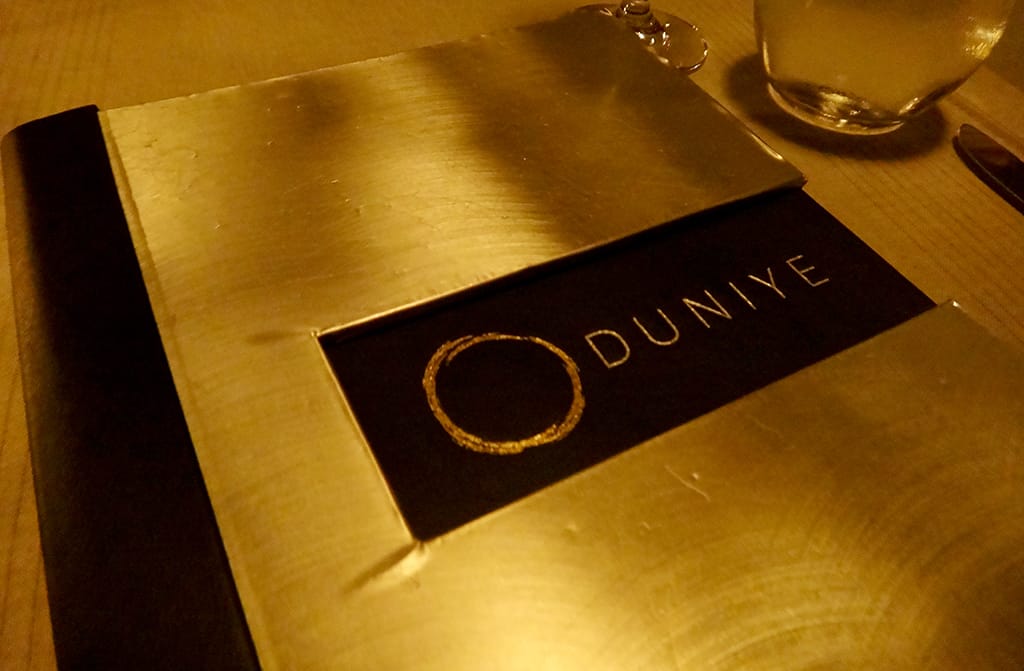 After we placed our orders, we were brought fresh baked bread for while we waited. I tried to avoid eating much, after all we didn't come for bread, we came to the elaborate main dishes! Beth on the other hand, indulged a little too much. She blames the balsamic vinegar.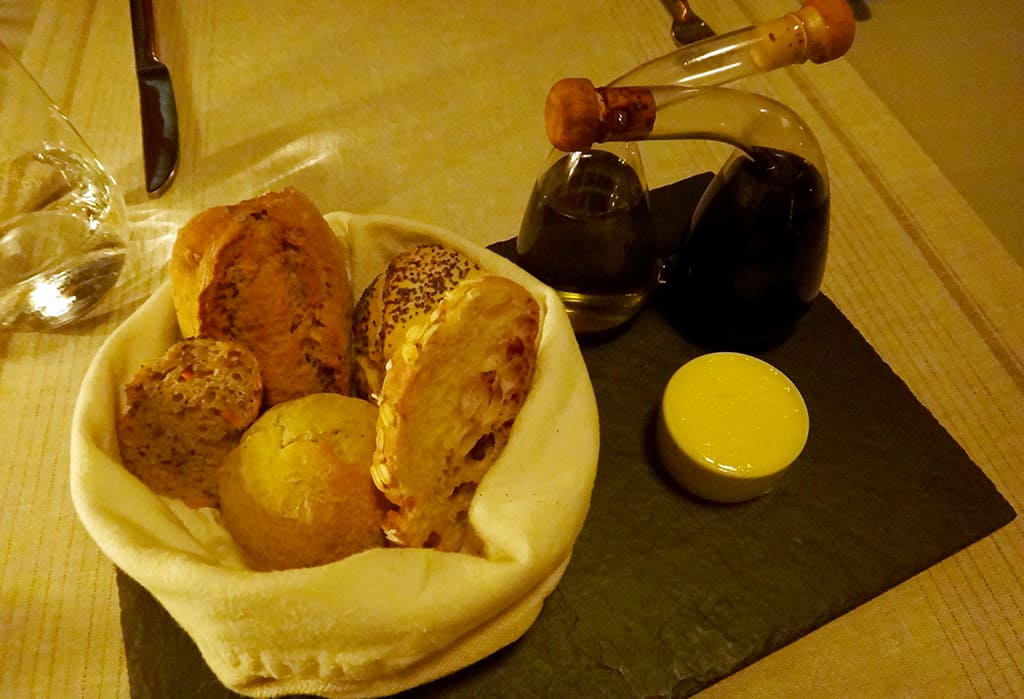 Not long after finishing our bread did our main courses arrive before us. Beth got the Wagyu Beef Tenderloin, and although there the portions looked small compared to our nightly plates at the buffet, the tenderloin was very filling. Cooked to perfection, the tenderloin was tender indeed.
Each piece of beef was topped off with a piece of sea salt, which provided a good balance saltiness against the sweet bing cherry chutney. Both compliment the juicy beef cubes perfectly.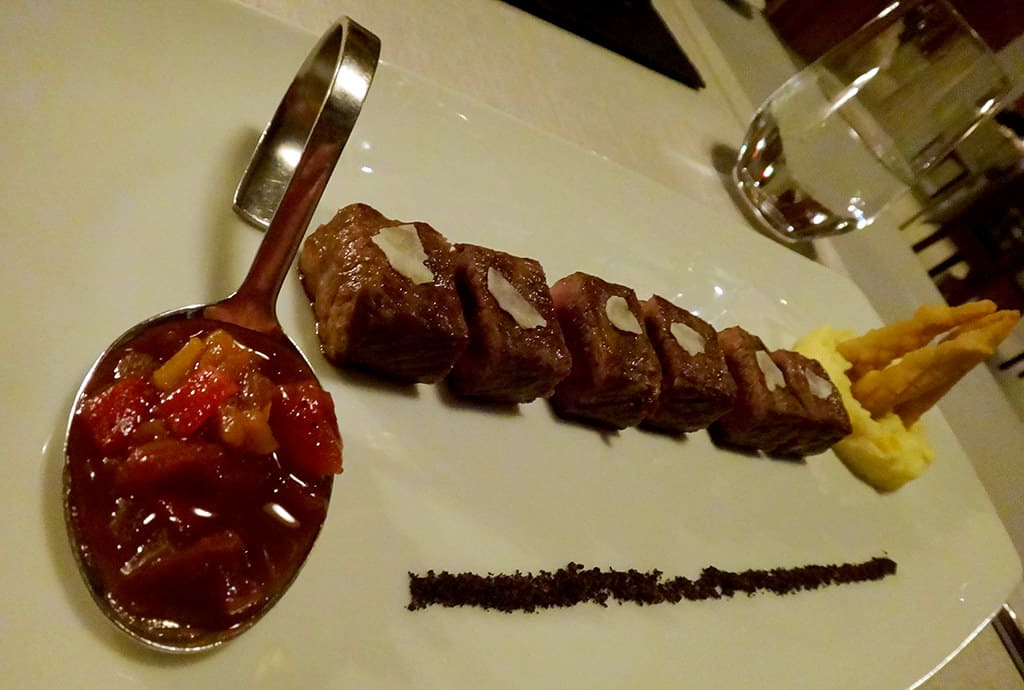 The side of baby corn tempura with coconut polenta maja blanca style, was a bit too sweet for my taste, but Beth thoroughly enjoyed the polenta. And I didn't really have a chance to try the bing cherry chutney that came with this dish because Beth liked it so much as well.
As for me, I got The Flavors of Morocco.
It was a sampler dish with four different things, some better than others. Thinking back though, I think I ate them in a slightly peculiar order, which affected my fondness for certain items.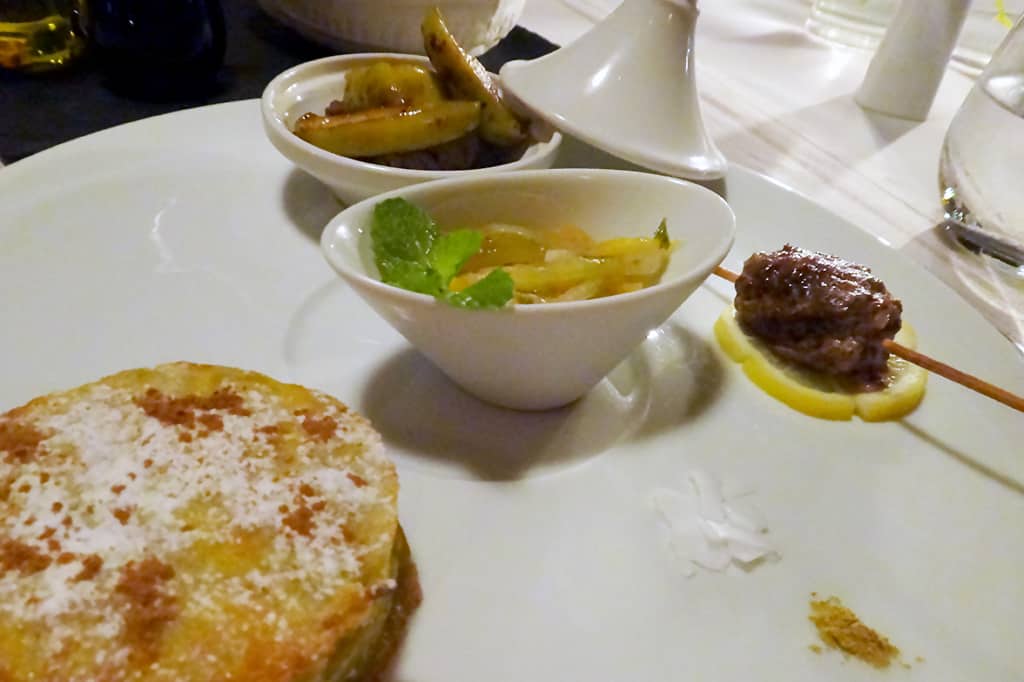 I started off with the apples and sultanas raisin beef tagine.  I thought it was just ok, the beef was a lot tougher than Beth's tenderloin for sure, but it was still better than any beef we've cooked back home.  Beth really enjoyed eating the apples off the top, as they were cooked and tender.
After finishing this item in whole, I then moved on to the preserved lemon and tomato salad.  I probably should have eaten this before the beef, because the salad was a little too zesty after eating something heavy like the tagine.
Next was the lamb kefta kebab, which was really good. The lamb was spiced well and it was served on a lemon to soften the flavor. Beth also agreed, after craving kebab for a while, that this was indeed a good kebab.
Last, but definitely not least, the best sampler of mine was the chicken pastilla.  Covered with a flaky crust, it was slightly sweet with a light salty flavor, which complimented the moist chicken well. With this dish I felt I was able to get a true taste of Morocco despite the fact that I have never been there.  It was also the first time I have ever seen a tagine pot.
As we finished our meals, the tropical breeze began to pleasantly roll through the restaurant. As we placed our dessert orders, it suddenly began raining. The sound of the rain falling on the plants only added to our enjoyment and relaxation while eating our desserts.
For the dessert, Beth got the Garden Banana Mille-Feuille and I got the Strawberry Panna Cotta. The mille-feuille wasn't as sweet as Beth was hoping for, but the bananas certainly were. Her favorite part though, was the homemade vanilla ice cream with caramel.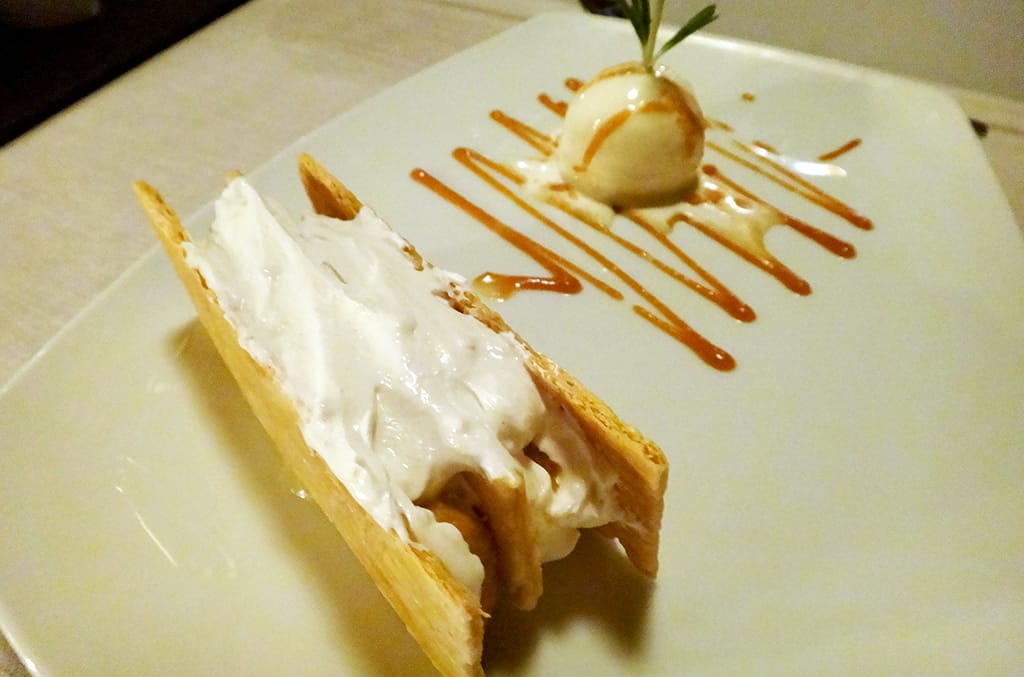 The strawberry panna cotta was served with a scoop of homemade strawberry ice cream.  Whoever thinks that having ice cream in November is crazy, obviously hasn't been to the Maldives where it is nice all year round.  The dessert itself tasted as good as it looks, it had a good gelatin consistency and it wasn't too mushy.  The strawberry sauce on top made the dessert extra sweet.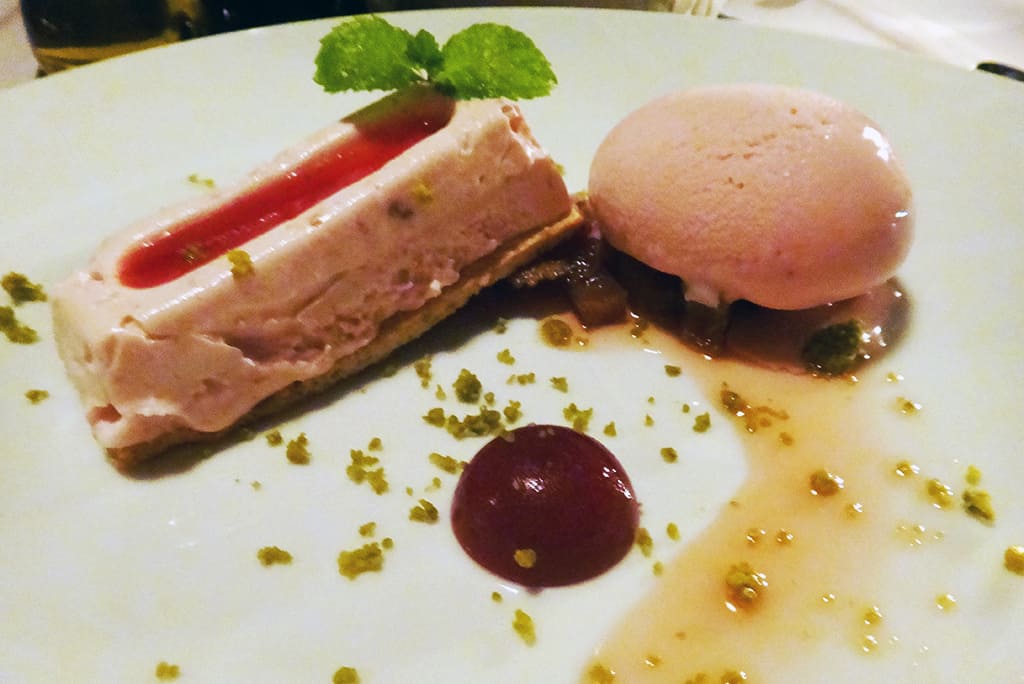 Although we ate there recently, it seems like Duniye changes their menu slightly every so often, perhaps seasonally; because they no longer serve the dessert I had or the baby corn tempura with coconut polenta. With a rotating menu, I guess that just means we will have to go again to experience all that Duniye has to offer.
While we both enjoyed Duniye completely, the one thing that would make the Duniye dining experience even more amazing, would be if it was located closer to the water.  Although we had the sound of rain to listen to, the sound of the ocean waves would be even more relaxing.
As with all the restaurants we tried during our stay at Kuramathi, the service here was great.  With a good staff to customer ratio, the staff was attentive and friendly.  At the end of the meal, the chef even came out and asked us how the food was.  It was a great gesture and we certainly let her know how much we enjoyed our meal.
A huge thank you to Kuramathi for allowing us to try their new restaurant Duniye, it was a wonderful surprise. While we were guests of Kuramathi, all opinions and love of Wagyu beef are our own.