One of the main reasons people want to travel to the Maldives, apart from the obvious natural beauty of the country and marine life, is for the chance to stay in an over water villa.
You've probably seen a million photos circulating around the web of idyllic teak bungalows, peacefully situated above crystal-clear water. While this might not fit everyone's description of paradise, it certainly fit ours (or at least mine). The Maldives isn't called the "over water villa capital of the world" for nothing– over two-thirds of the world's water villas are located there.
We knew as soon as we booked our flights that staying in an over water villa had to be part of our Maldivian experience. Seeing that Kuramathi had two different options for over water villas and fit all of our other hotel requirements, we knew this would be a perfect fit for us, so we excitedly booked our stay at Kuramathi Island Resort in one of their Over Water Villas with Jacuzzi.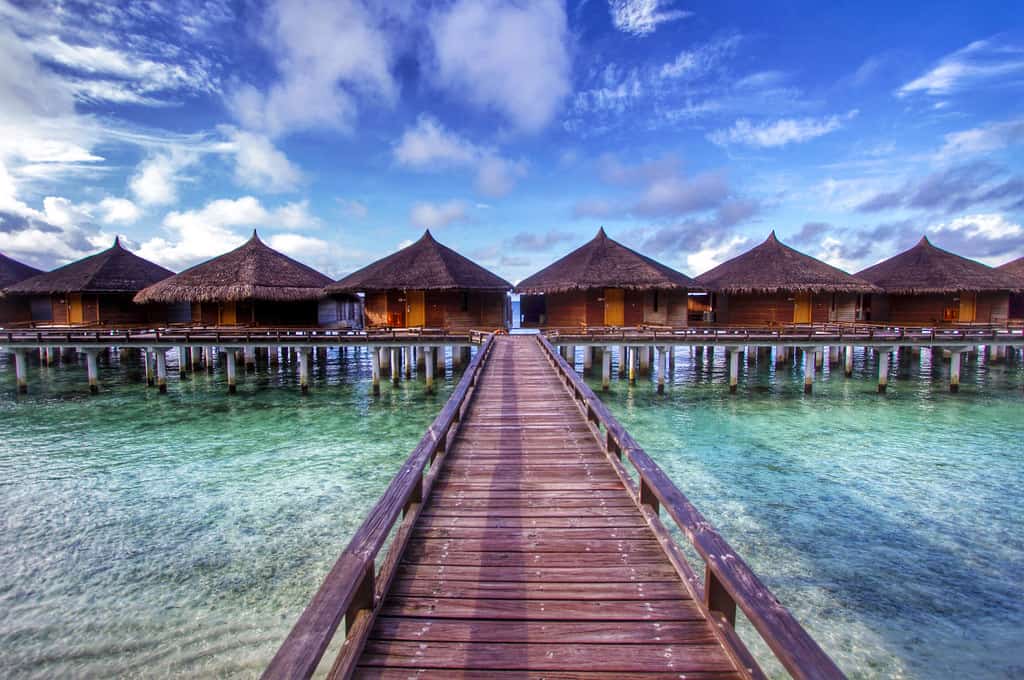 Upon being shown to our villa, I wanted to run around like a kid on Christmas morning. From the enormous bathroom to the perfect sundeck, the villa was even better than I could have hoped for– it was definitely worth the splurge.
I could go on and on about my love for our villa. Like how magical it was to have to sound of the ocean lapping against the stilts lure us to sleep each night. Or how the lemongrass oil diffuser mixed with the fresh scent of lime bath soaps were the perfect combination for relaxation. But no matter how many carefully thought-out words I use, I know that ultimately they will not do them justice. So hopefully, these photos will.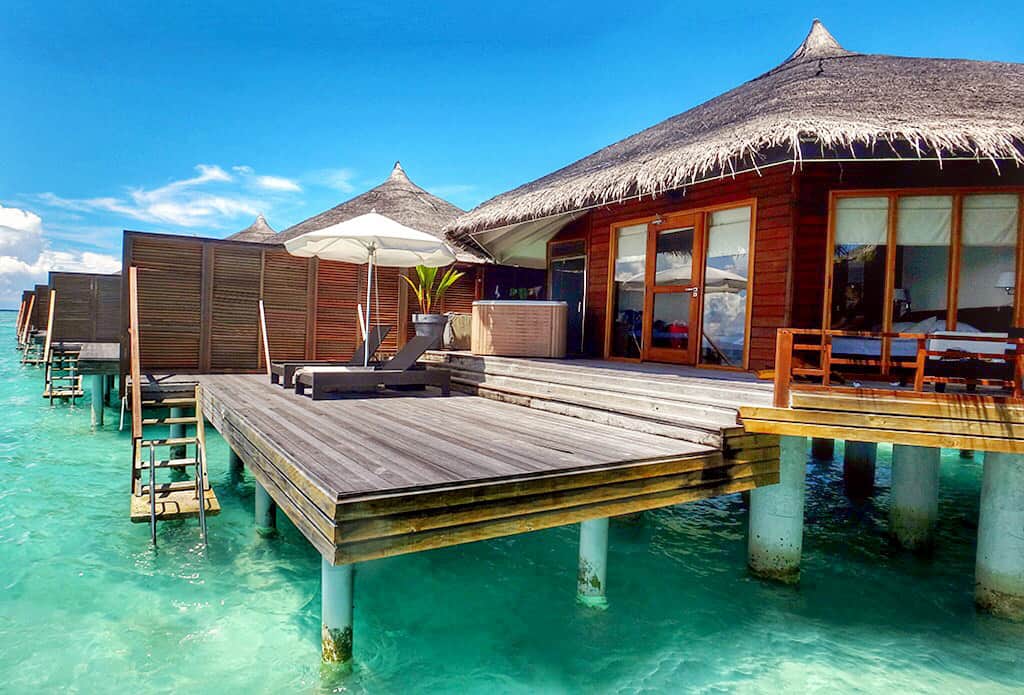 OUR OVER WATER VILLA
The villas were gorgeous inside and out. With extra high ceilings and large panel windows, these rooms felt airy and even larger than their supposed 90 square meters. We rarely needed any artificial lights during the day with the amount of sun the windows let in, but when we were in need of an afternoon nap, lowering the thick blinds was almost enough to black-out the room.
If you've ever been to China, you'll know they love their beds to be as hard as a board of wood. So after spending six months at home in Hong Kong, sleeping on this fluffy King-sized bed was a dream come true. Mix in the sound of the ocean as I mentioned earlier… I don't think I've ever slept better.
And while there was a giant TV in our room, we never used it other than to listen to music — but why would you when you could instead watch the ocean right outside.
With Kuramathi placing an emphasis on nature and conservation, we tried to play our part by not having our sheets and towels laundered each day. However, we did have our room stocked with fresh fruits and our minibar refilled daily.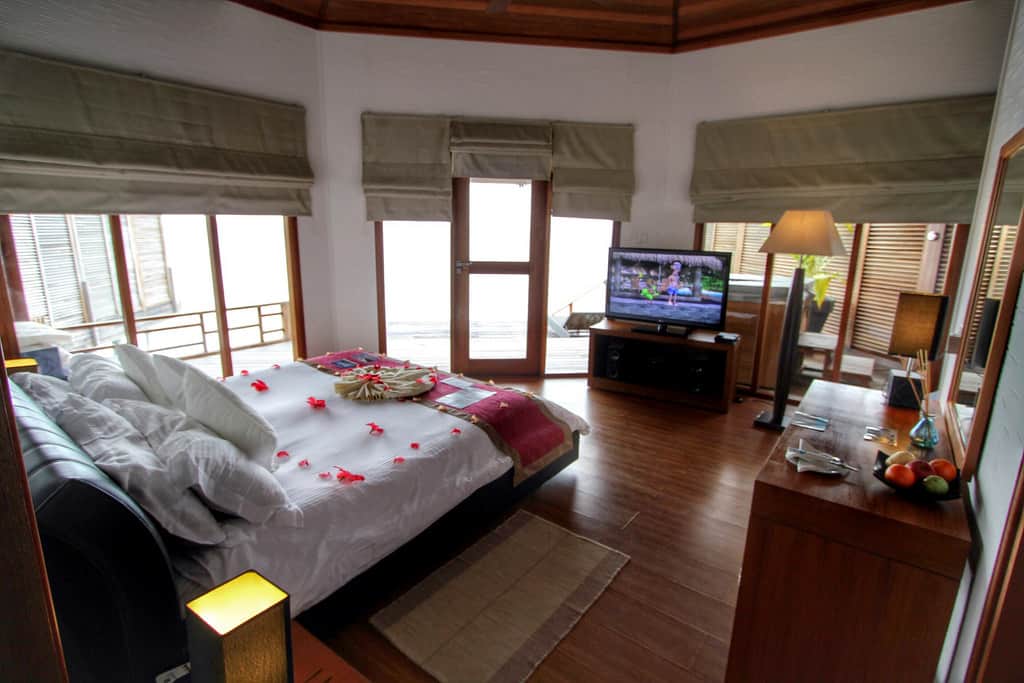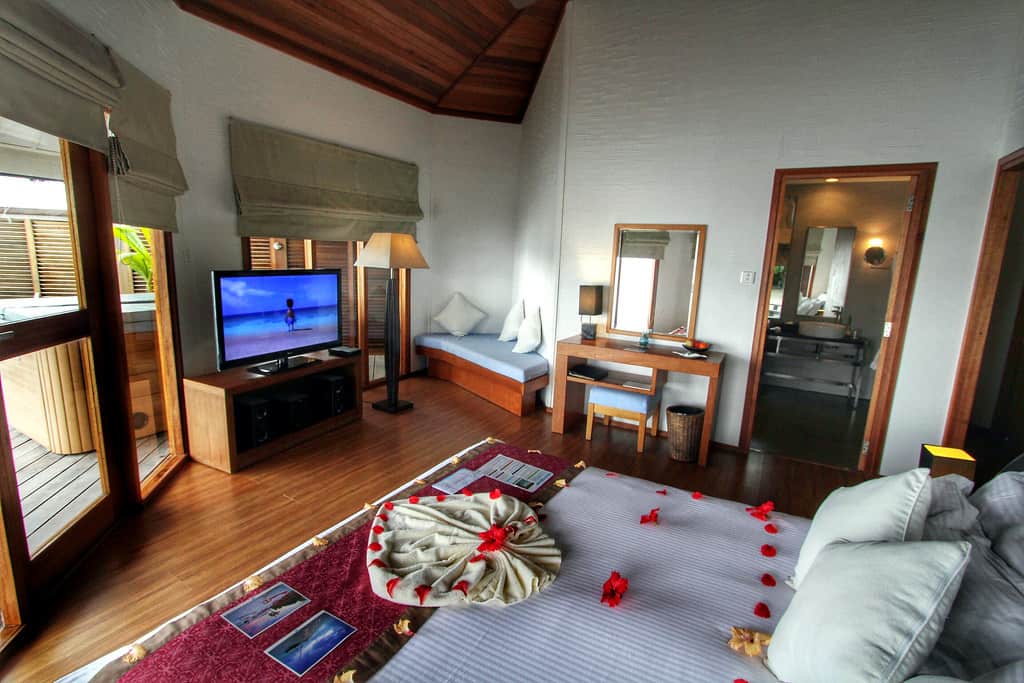 Almost as exciting as our bedroom was the bathroom. Larger than our bedroom back home, this bathroom had a beautiful twin vanity and rainfall shower, not to mention a window at the vanity that allowed us to watch for fish in the water below.
One of my absolutely favorite features was that the shower had a glass paneled door to go directly outside. Not only was it convenient so that we didn't go traipsing through our bedroom soaking wet from the jacuzzi or snorkeling outside, but it also allowed us to gaze out at the Indian Ocean while showering. Talk about an experience.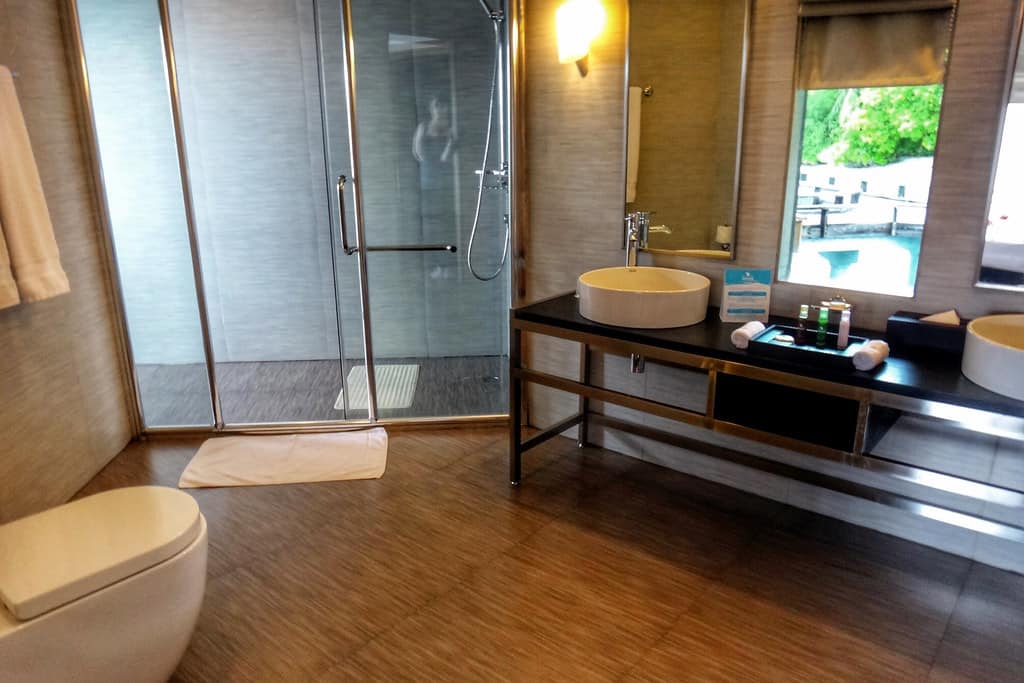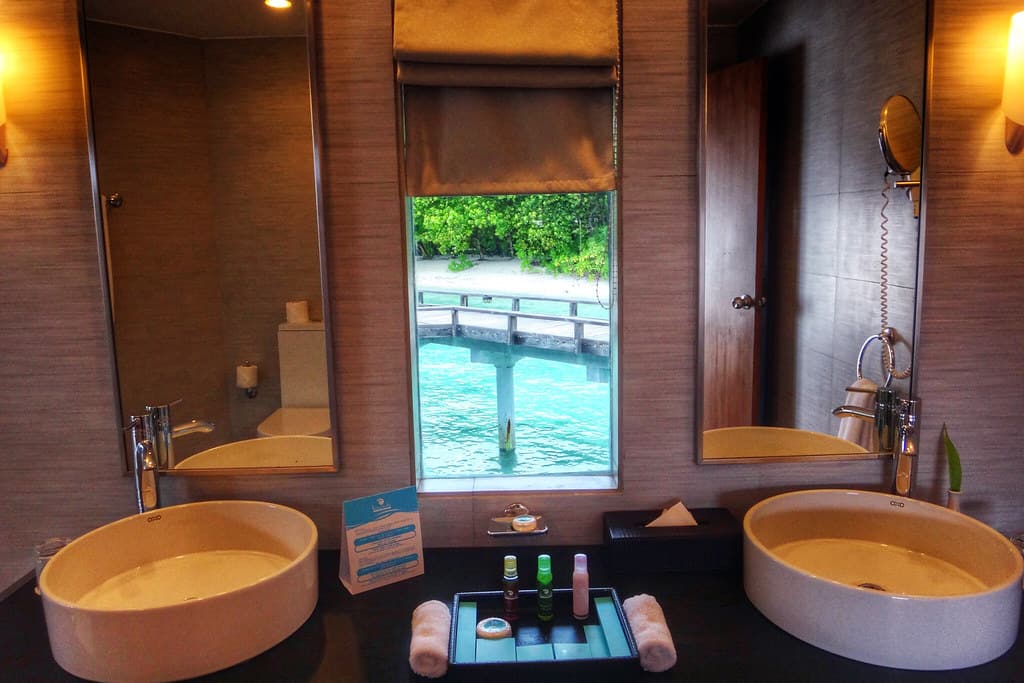 As much as I loved everything inside our villa, the best part was outside. The first thing we'd do each morning was step outside onto our deck, which would present us with this glorious view.
Good morning indeed!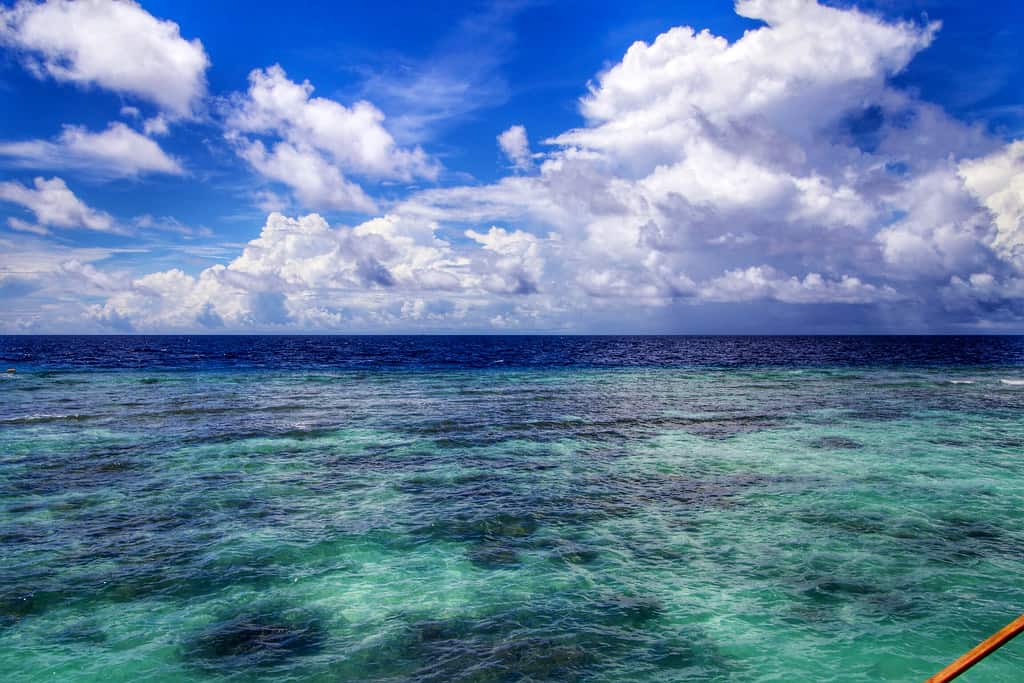 Our split-level decks were where we spent a majority of our time each day. Furnished with two sunloungers, a day bed, and the jacuzzi, there were always plenty of options for relaxing and taking in the view. And while we could sometimes hear our neighbors on their decks, we at least never had to see them thanks to the privacy walls built into each villa.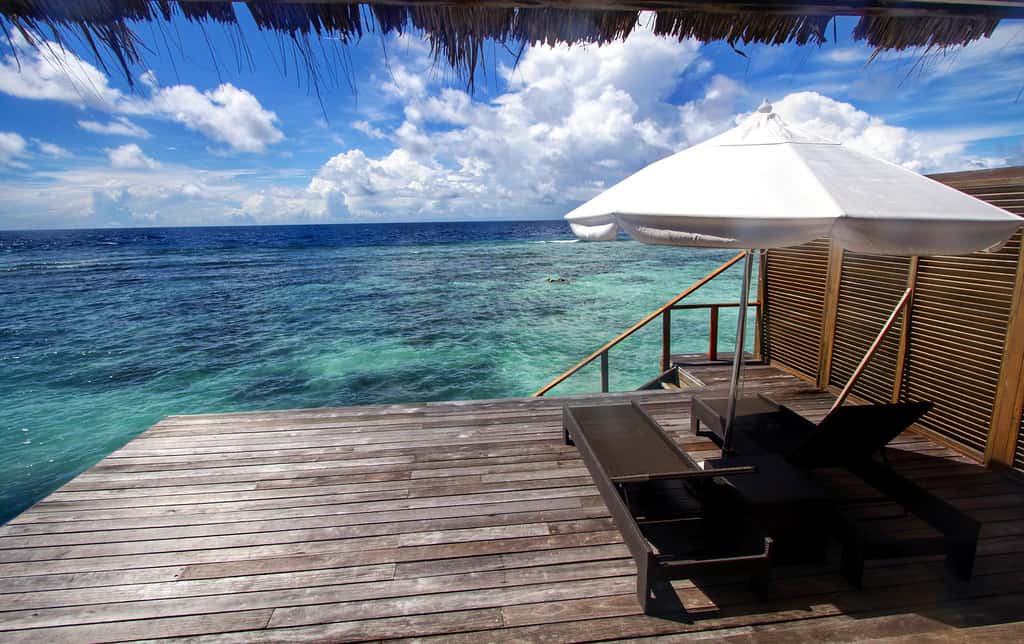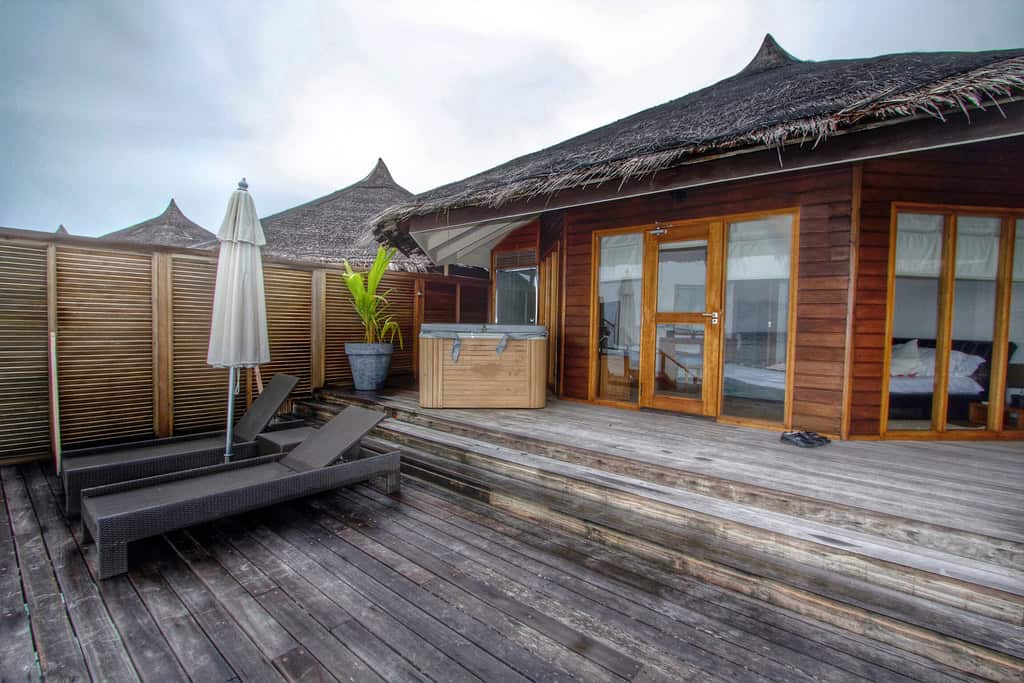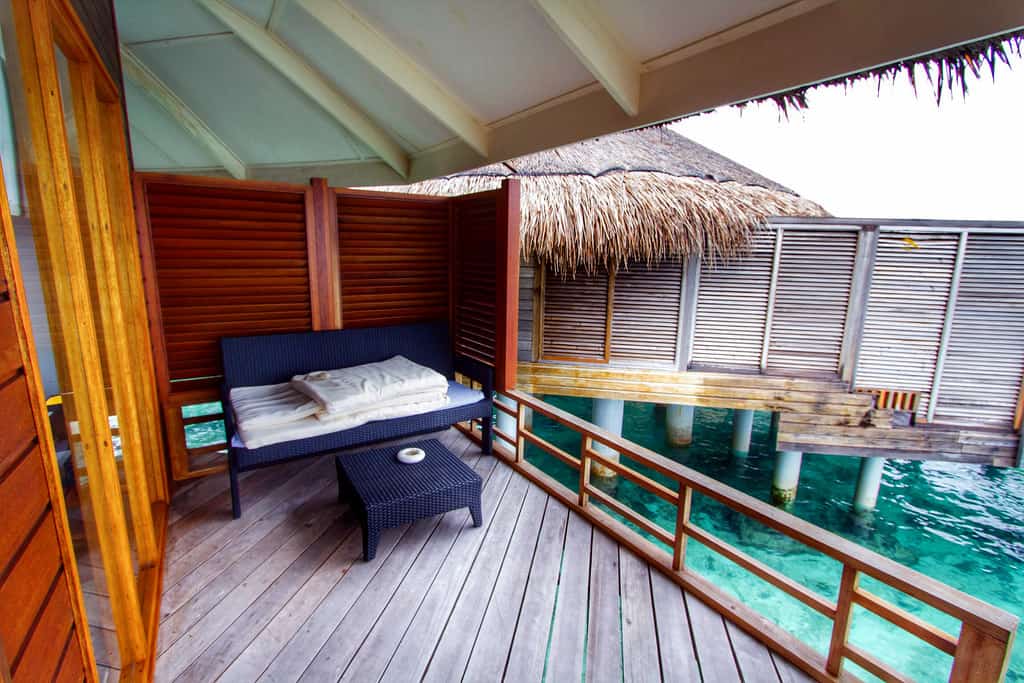 My favorite view? 
From inside the jacuzzi, of course! What's there not to love about staring out at a gradient of brilliant blues, while letting the jacuzzi's hot water and jets relax your muscles? I can assure you, not much.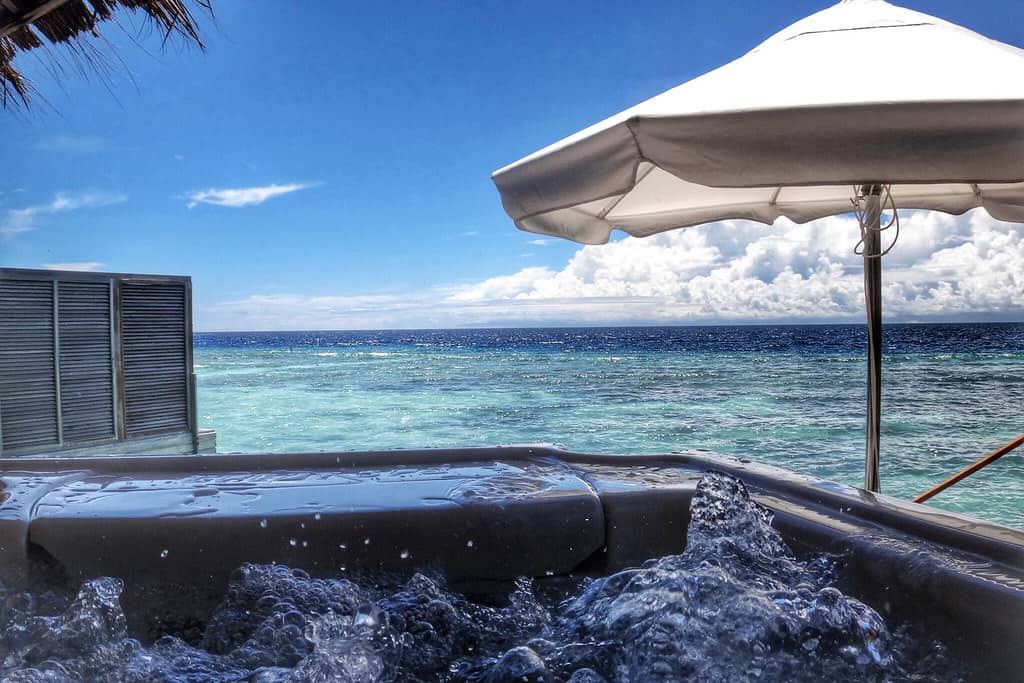 The most incredible part about staying in an over water villa though? The fact that you're surrounded by water!
I couldn't tell you how often we'd sit (or stand) on our deck looking into the waters that surrounded us. We saw so much cool marine life right in our own backyard. During our stay we saw tons of colorful fish and even sharks, rays, and dolphins approach our deck.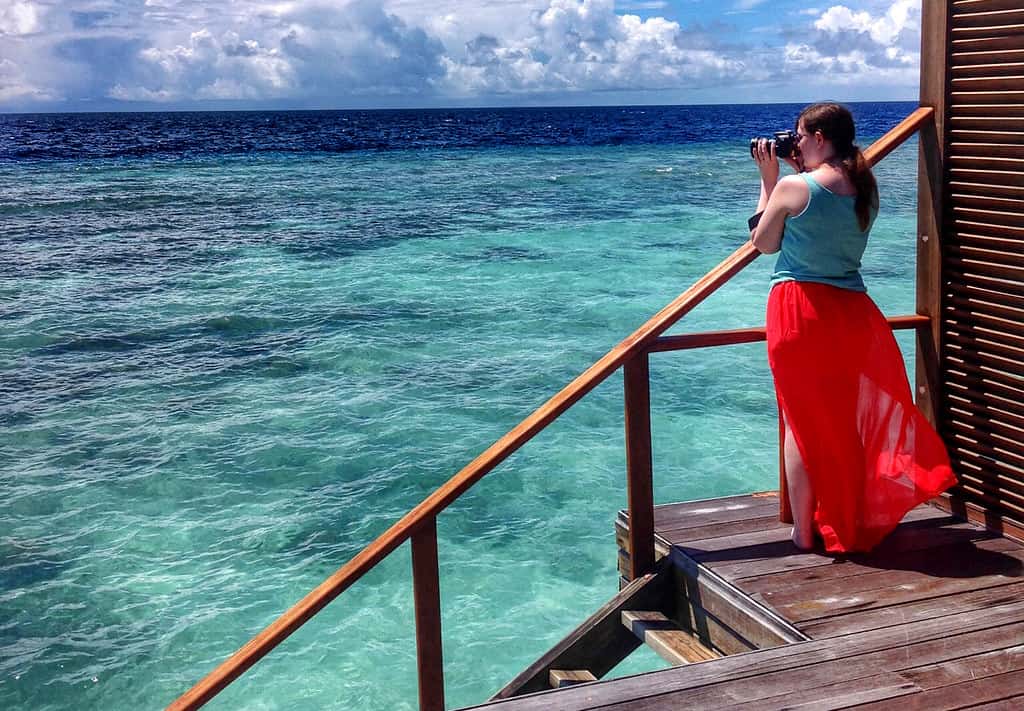 We were never bored during our stay because at any given time we could just walk down our staircase directly into a coral garden teeming with fish. It was the perfect spot for an afternoon, or morning, snorkel.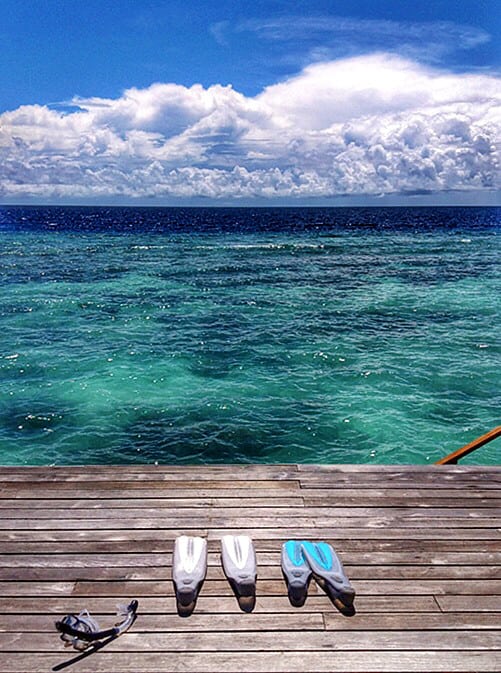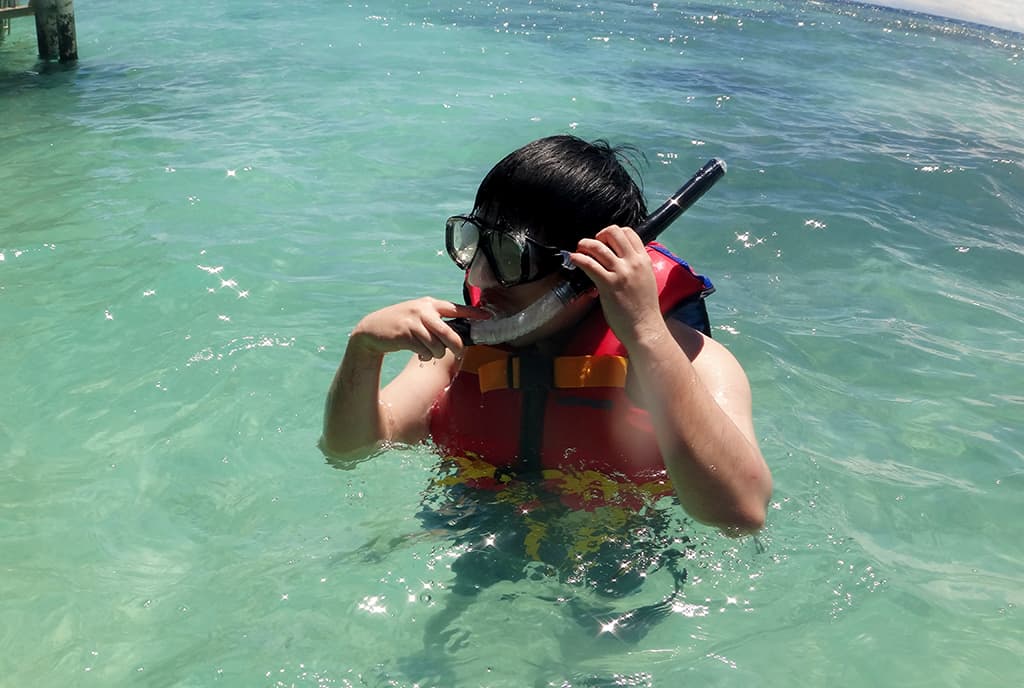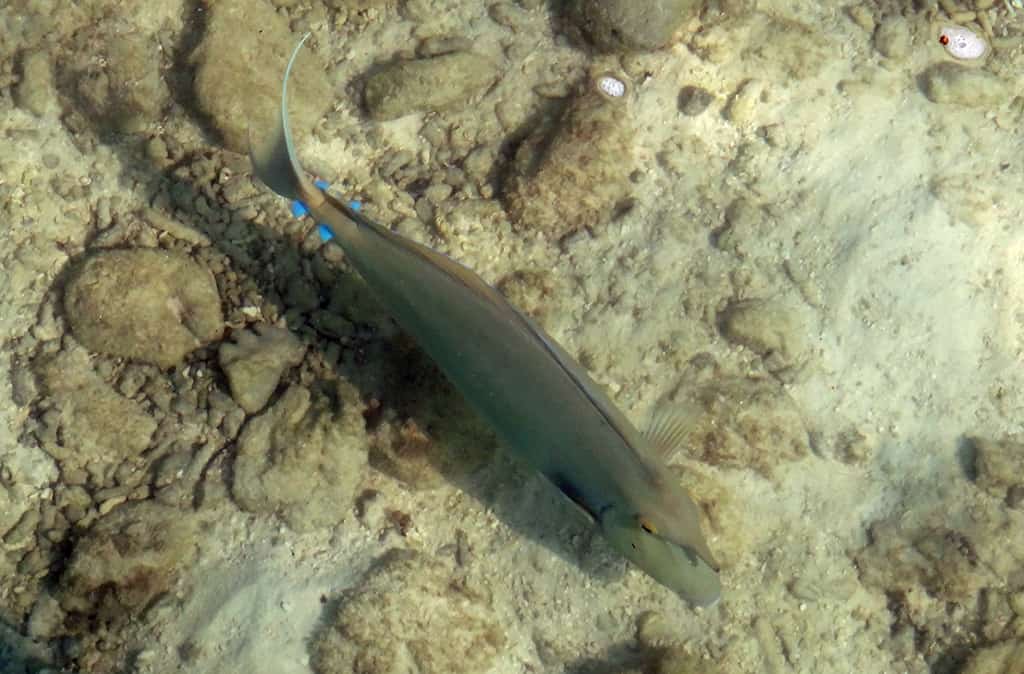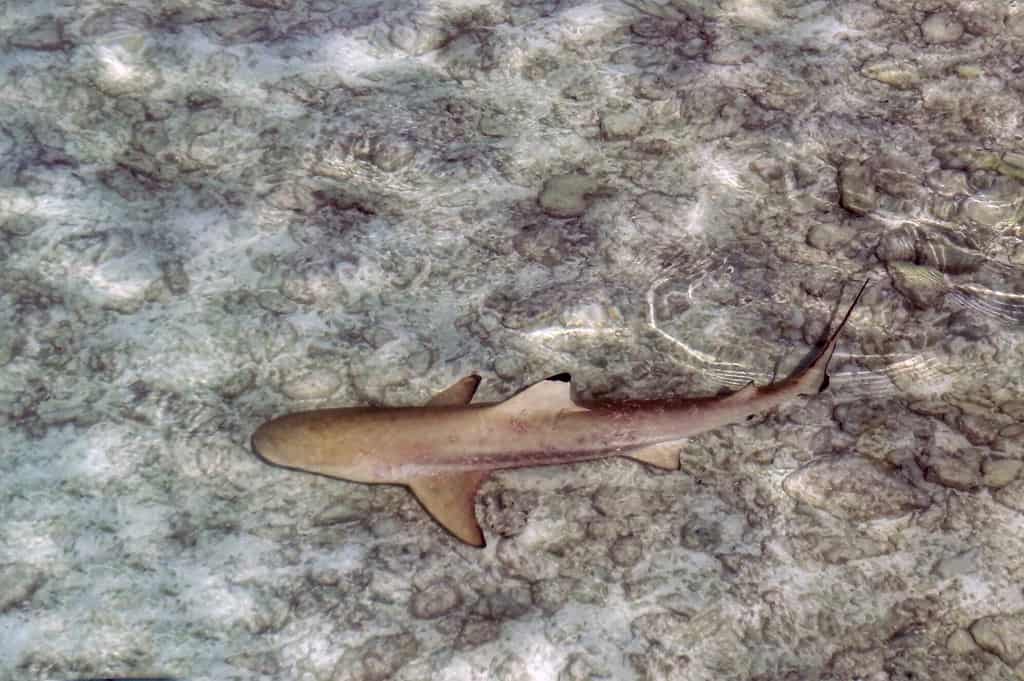 Johnny may have been skeptical about sleeping in an over water villa and not the biggest fan of beaches, but this trip certainly changed that. Now he appreciates the water even more (Score! Since I've always been a water baby.) As for me, this trip certainly spoiled me and I don't think anywhere else will ever compare.
Before leaving on our trip, I remember seeing on a forum, a bunch of people who had been to the Maldives 8+ times. A lot of them agreed that over water villas were overrated, not worth the money, and that they much preferred staying in beach or garden villas. I was a little worried if I made the right choice booking a water villa after reading all of their criticism.
But now I can confidently say, all of those people are either crazy… or have run out of money visiting the Maldives so many times and simply can't afford the luxury of an over water villa anymore! Because I don't think I could ever, ever get sick of staying in one.
Want to see more about our incredible Over Water Villa with Jacuzzi? Watch our video below!
HAVE YOU STAYED IN AN OVER WATER VILLA?
AND AGAIN, A HUGE THANK YOU TO KURAMATHI ISLAND RESORT FOR THEIR GENEROUS HOSPITALITY. WE RECEIVED A MEDIA RATE ON OUR OVER WATER VILLA WITH JACUZZI. AS ALWAYS, ALL OPINIONS AND LOVE FOR WATER VILLAS ARE MY OWN.