After publishing 10 things to do in Kuala Lumpur, I immediately got an overwhelming response with people saying things like "eating better be at the top of the list!" and "9 out of 10 of those things better be eating!"
And although my list wasn't actually in a particular order, without a doubt, I would have to put eating at the top of it. Malaysian food is probably the most underrated food ever, and now I can't get enough of it.
So if you don't know what Malaysian food is, don't worry. Before my trip I really hadn't tried a lot of Malaysian food. Come to think of it, I think the only thing I really knew beforehand were laksas and rendang. But even though I personally hadn't had a lot of experience with Malaysian food, I knew it was something people raved on and on about.
This gave me high hopes for eating on my trip, but yet I was a little afraid of trying new foods in a country that places so much emphasis on shrimp, which is something I'm allergic to. Where was I to start? How was I supposed to know if something had shrimp in it? I started to get a bit paranoid the more I worried about it.
However, that's where Food Tour Malaysia came into play. I was super excited to be joining a food tour on my first night there to get the lowdown on what foods were delicious– and safe for me to eat!
Food Tour Malaysia is Kuala Lumpur's original food tour, and while I haven't been on any other food tours in Malaysia, I can't imagine there being a better one.
Food Tour Malaysia promises that you'll "taste the real Malaysia" while on their tours. Little did I know this meant embarking on an over 5-hour journey through local establishments on the outskirts of the city. Being led around by a local, to joints where only locals go, was an experience I couldn't have easily replicated on my own.
As I've mentioned before, Malaysia is made up of primarily 3 cultures: Malay, Indian and Chinese, so it was only fitting that we sample a variety of dishes from each culture.
On top of that, after hours of conversation on culture, politics and general life in KL, I felt that I left the tour with a much better understanding of the country and its people.
So what's better than learning about the staples of Malaysian cuisine and culture?
Actually eating the food!
So without further adieu, here's a look at some of the best dishes from my introduction to Malaysian food:
MALAY
Our first stop of the night was a hawker center for some proper Malay cuisine. Our small group of four sat down and within minutes baskets of food were being placed in front of us at our table.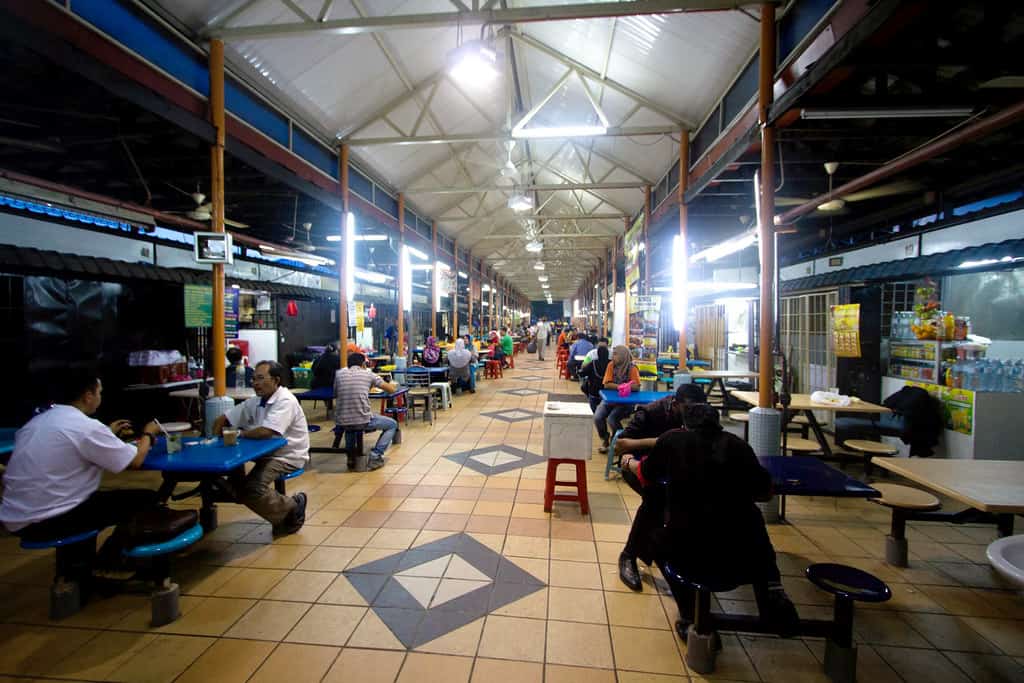 The first thing we tried was nasi lemak, which is unofficially known as the national dish of Malaysia. Traditionally, this is a breakfast item, but nowadays you can find people eating this at all times of day.
Nasi lemak is simply rice cooked in coconut milk, but this dish is all about the toppings. What this dish comes with varies depending on what region of Malaysia you're in, but typically you'll find a hard-boiled egg, peanuts, anchovies, and sambal piled on top.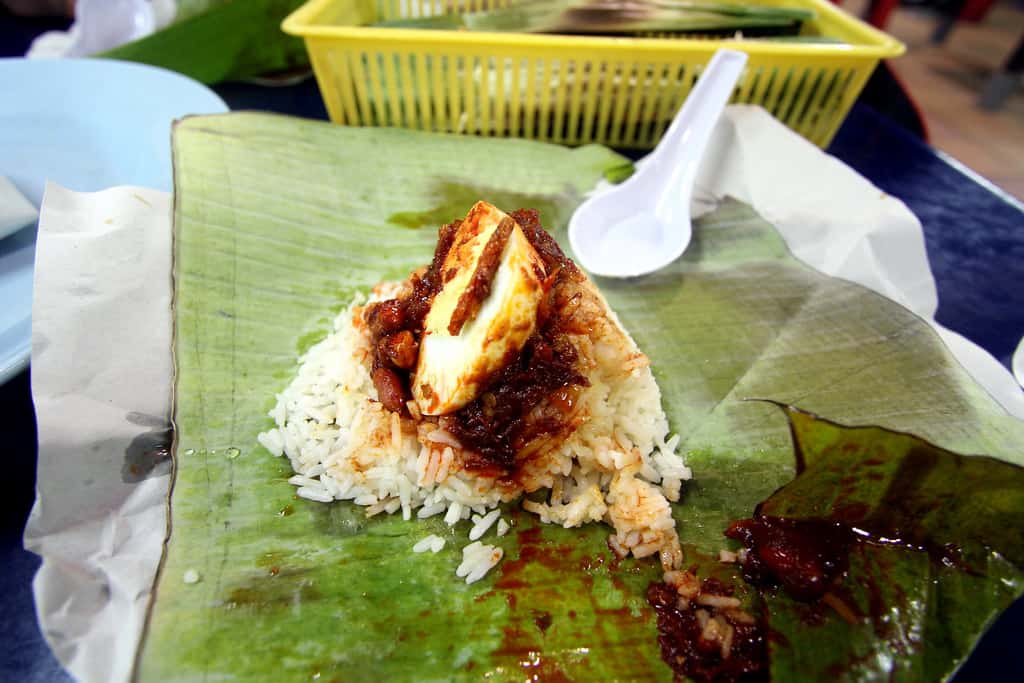 As we were shoveling spoonfuls of rice in our mouth, another basket was placed in front of us. Inside it looked like a bunch of thick leaves held together by toothpicks. Our guide Deric pulled out the toothpicks and the actual dish was revealed inside.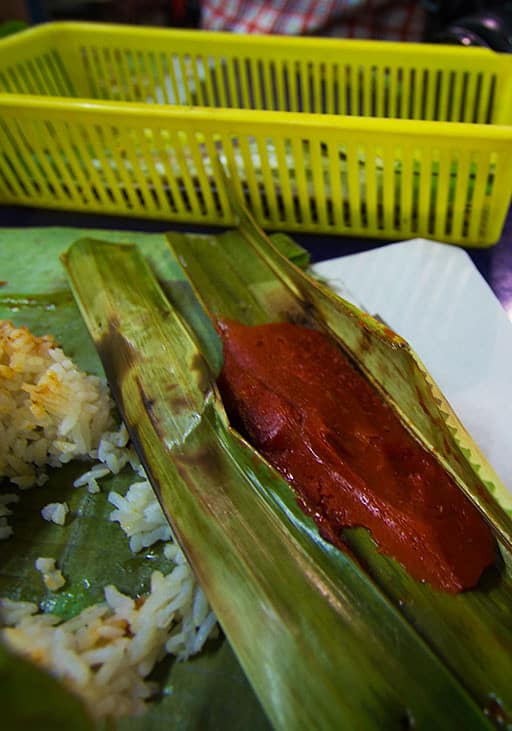 Called otak-otak, Malay for "brains", this dish is made of mashed fish paste that's been infused with spices. Once all the ingredients have been nicely blended together, they spoon them into the leaf and barbecue it over a grill until the leaf becomes slightly charred.
While the texture looks a bit off-putting from first glance, once you bite into it, the flavor of the spicy fish keeps you eating more until its all gone.
Finishing what we could, we then had a short chat with the chefs, telling them how delicious we found Malay cuisine thus far. We watched as they quickly and effortlessly assembled more of the dishes we had just eaten before making our way to our next destination.
CHINESE
Ah, Chinese food, something I'm at least familiar with due to living in Hong Kong. We arrived at another location that seemed similar to a hawker center, except for Chinese dishes only. Sitting around on plastic tables, talking, we waited for our food to arrive.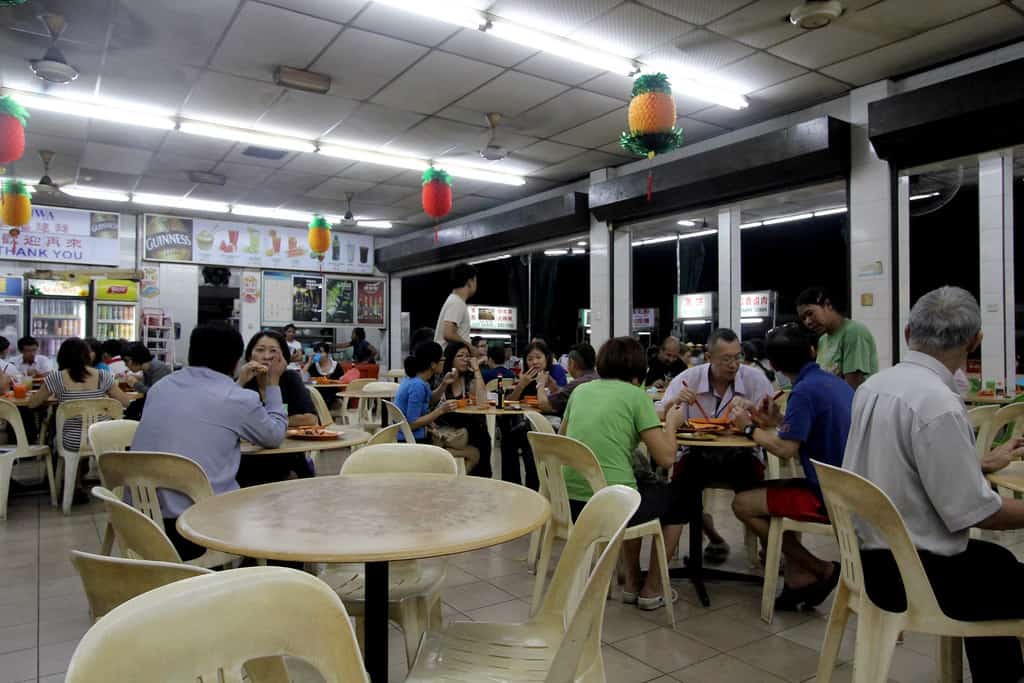 Soon, dish after dish was brought to our table, and like proper Chinese, we began to pick what we wanted from each individual dish, family-style.
There were a variety of noodle-based dishes, like the Malaysian favorite Hokkien mee, as well as things like spring rolls, peking duck and yin yang rice.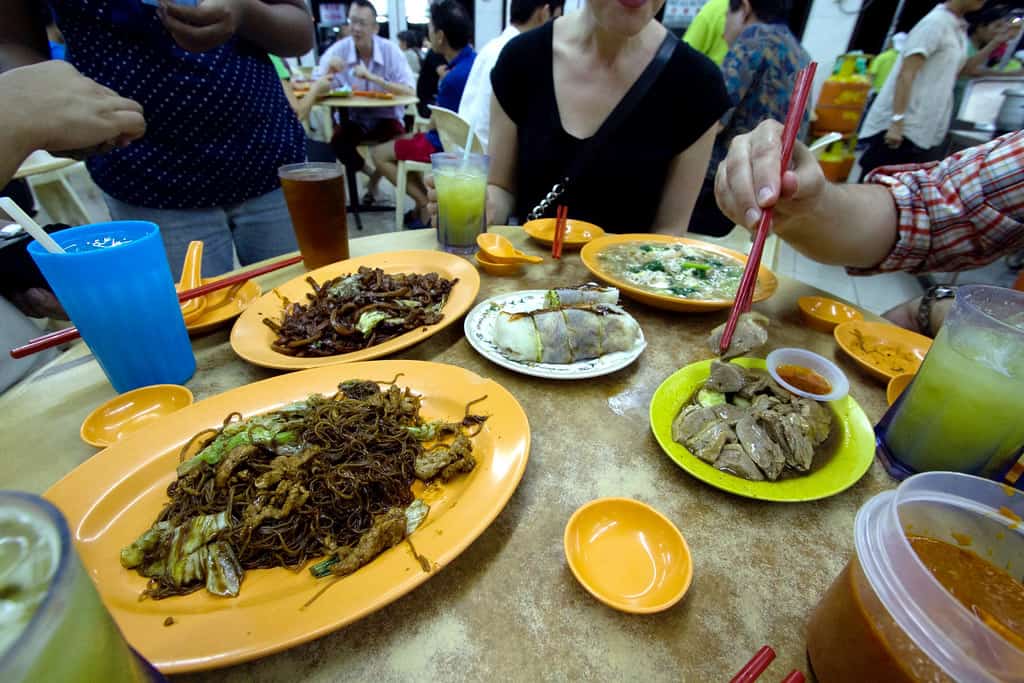 While none of these were particularly new to me, I found the peking duck to be absolutely amazing and I kept picking away at it piece by piece. However, I did try one thing that was new, asam boi.
Asam boi is a drink often sold in hawker centers. It was bright and yellow in color, so I immediately got excited thinking it would taste like lemonade. That excitement quickly disappeared when Deric informed me that lemon flavored anything is extremely rare as lemons can't grow in Malaysia, and the imported ones are extremely expensive. He corrected me by telling me the drink was made from limes.
Ugh, I hate limes. After hearing what it was, I was immediately reluctant to give it a try. I thought there's no way I could like it. Asam boi is a drink not only made from limes, but it's also been flavored with sour and salty dried plum.
There was really nothing that sounded appealing about this drink, but seeing as I'm always thirsty, and I needed something to accompany all that peking duck, I gave it a sip. Delicious.
While I still can't say I like limes (since I've tried them post-trip in Hong Kong), there's just something about these combination of flavors that was incredibly refreshing and thirst quenching!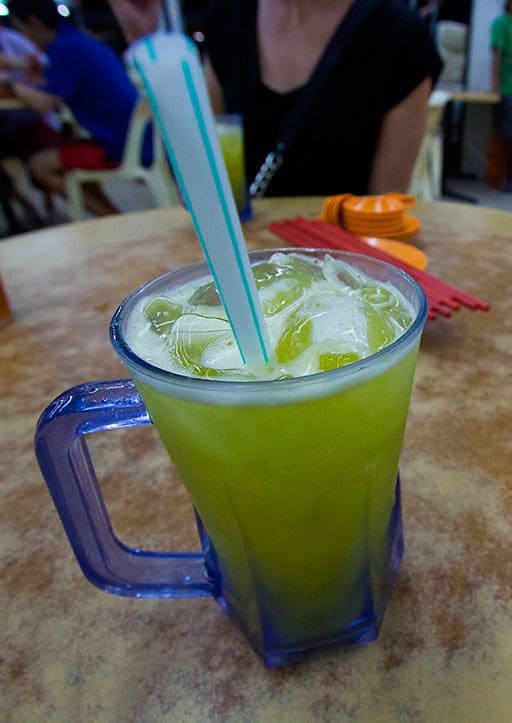 As we hopped in the car to seek out our next location, we happened upon a night market. Deciding it would be fun to experience one of KL's "roaming night markets", we scoured for a parking spot and made our way through the crowds.
Walking through the twisting path of stalls, we stopped to make small purchases of anything that looked appetizing. We grabbed a few bags of fish crackers, different meat satays, and a few desserts, before stopping near a vacant alley to eat them.
All the street food I sampled was exceptional, but my favorite was something called apam balik.
This sweet treat is basically a really thick giant pancake loaded with sugar and peanuts. It may sound really simple, but the flavors were what made it great. Watching the vendor skillfully make each pancake, we were amazed at the work and skill that went into making it.
We knew we weren't the only ones who loved this snack, as a crowd of others gathered around us waiting for their turn to purchase one.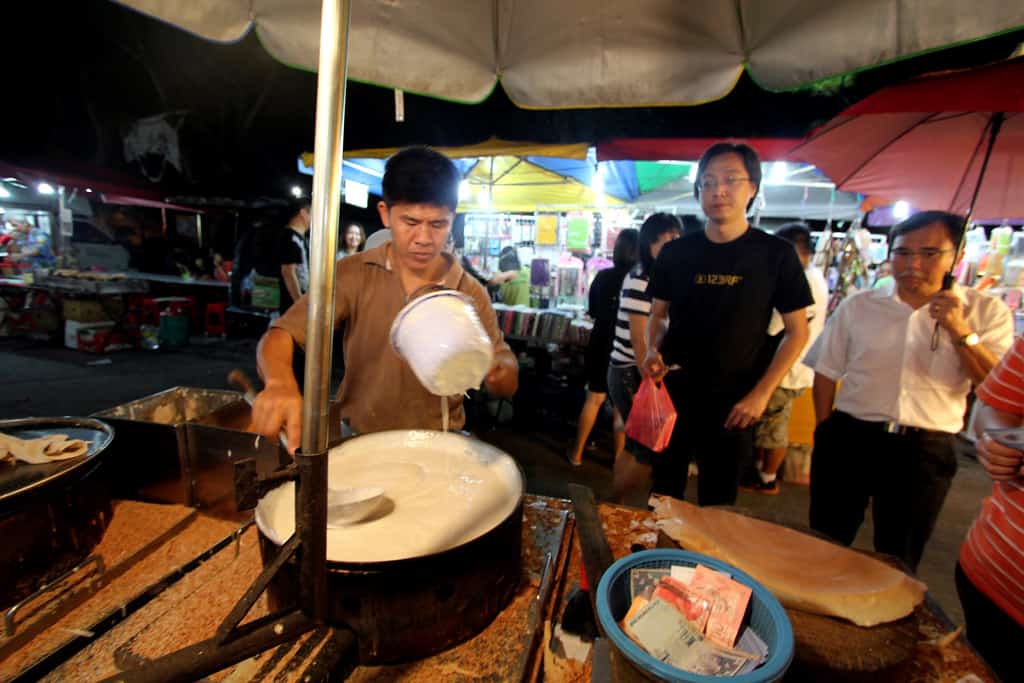 INDIAN
When it came time to go sample some Indian food, we were all so full we didn't think we could eat anymore. Luckily, it was a bit of a drive so our stomachs had some time to rest.
Ordering only two lighter dishes, I couldn't have been happier with our choices.
Our first dish wasn't exactly Indian, but rather a dish locals order late at night– perfect, since it was already past 10pm! As many places close early in Malaysia, it's common for groups of friends to hang out or study in diner-like establishments until the wee hours of the morning. One of the most common dishes you'll find served this late is maggi goreng made from instant noodles.
Served on a traditional banana leaf, these noodles came with fresh vegetables and an egg on top, so don't think of this as the sub-par noodles you make from packets. These noodles had great texture, and an even better flavor.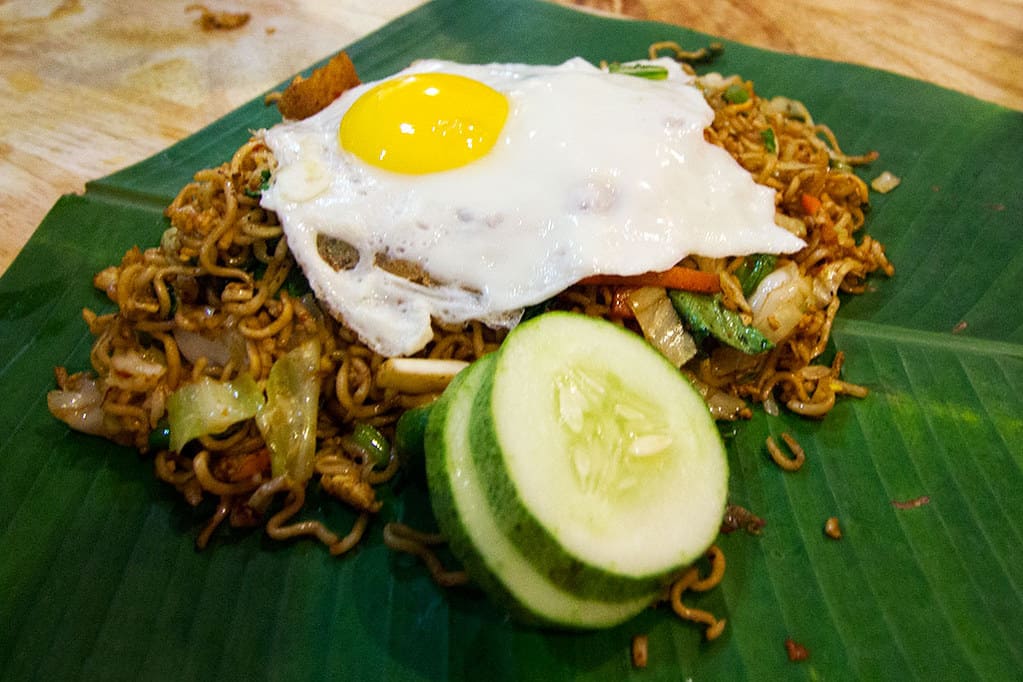 As for actual Indian food, we ordered a paper dosa, which is something I had heard of, but had no idea what it was.
Minutes after placing our order, a giant paper-thin sheet of bread was placed at our table, followed by a giant vat of four different sauces. We spooned a bit of each sauce onto the banana leaf plates before ripping the bread to pieces and digging in.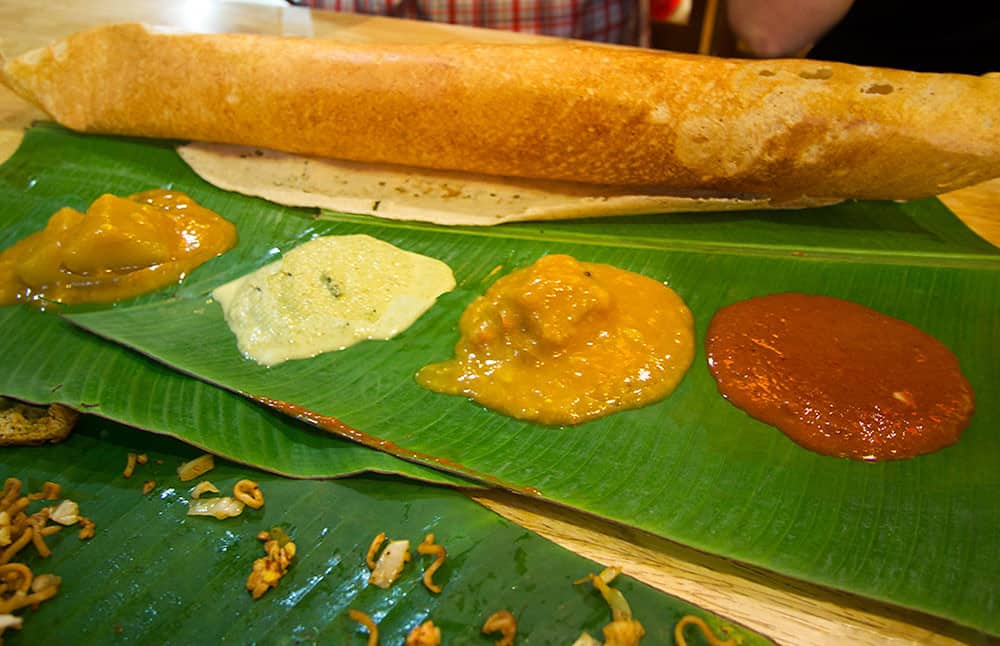 I had just discovered my new favorite dish that I would continually eat for the week to follow.
There's something about the thin bread being dipped into different flavored sauces. Some were curry, some were spicy, some were mint-based, but all of them delicious.
 THE DURIAN
I couldn't include this above since it doesn't exactly fit into any of the three cuisines, but you can't come to Malaysia without trying a durian. The 'King of Fruit' is a taste loved by all and a smell hated by just as many. There are over 100 different cultivars of durian, and many of them come from Malaysia.
Whereas other parts of Asia love durian as well, most don't have shops dedicated to eating solely this fruit.
I don't know why I think I'd get off scot-free without having to taste durian; I should have expected it, but I didn't. It came as a bit of a shock as we pulled up to a street shop piled high with durians. Deric talked to the shop owner while we stood there looking around. The whole place reeked of that funky, pungent durian smell.
Everyone seemed to be enjoying their durian, talking with friends. And then it was our turn.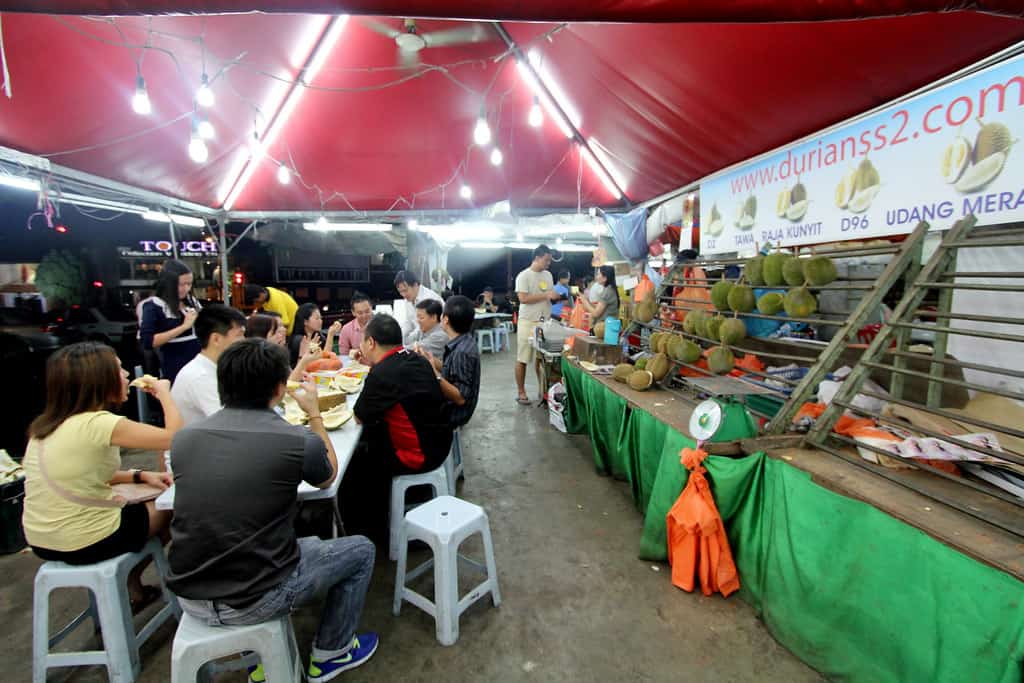 A durian was brought to the table and freshly hacked open by a machete. I grabbed my piece, and could barely stomach it. Every time I give durian a try it tastes like something different. Tonight, it tasted like onions. Bleh. We also got a bag of mangosteens, which I certainly preferred over the durian.
But at least now I can say I ate durian in Malaysia!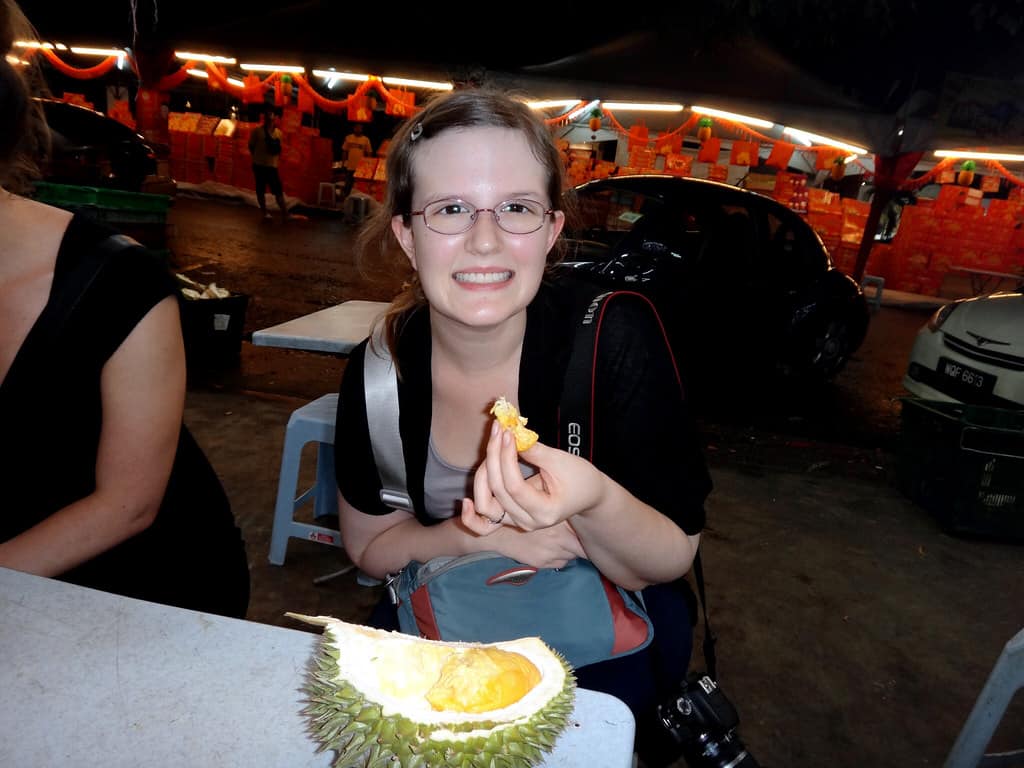 WOULD I RECOMMEND THIS TOUR?
Yes, yes, yes, and yes! I mean, I love anything food related, but this was so much more than a food tour.
Our guide Deric was absolutely wonderful and knowledgable about KL and Malaysia. He was also just a blast to hang out with and incredibly passionate. I loved hearing about the culture behind the food and the bits of information about each place that made it even more special.
One of the things I like most about this tour, is that there is no set itinerary. When we started out, there were actually two different groups being led by two different guides for the night. Even though we saw them at our first destination, we never ran into them again. The places you are taken to change depending on where the guide feels it's best to go that night. I could take this tour 10 times over and still enjoy trying new places and new dishes.
This also means that the tours are extremely flexible. If we had been on a set schedule, we probably couldn't have enjoyed the night market we ran into, or have tried extra items we thought sounded good. Everything was tailored to us. Anytime we made a comment about always wanting to try such-and-such, a few minutes later, Deric would order it for us. And the whole reason we stayed out until almost midnight was because everyone in our small group was so interested in the different foods and enjoyed talking together.
By the end of this tour, I really did feel as though I had tasted the real Malaysia.
"Off the Eaten Track" tour runs daily, but advanced bookings are required.
Time: 7pm until ~11pm
Price: RM 160 per person
Meet at Taman Paramount LRT station at 7pm.
Book your tour today online at Food Tour Malaysia.
WHAT MALAYSIAN DISH WOULD YOU LIKE TO TRY?
A huge thank you to Food Tour Malaysia for showing me the best of Malaysian cuisine, and to Deric for being an awesome guide for the night! I kindly received a complimentary tour, but as always, all opinions are entirely my own.