Easter and Holy Week are a pretty big deal in the Philippines, which is one of the most religious countries in the world, with over 95% of the population actively practicing religion.
Their religious roots trace all the way back to around 1500 thanks to Magellan accidentally landing in Cebu during his search for the Spice Islands. His visit ended with nearly 800 newly baptized Filipinos, and still today, a majority of Filipinos are devout Roman Catholics.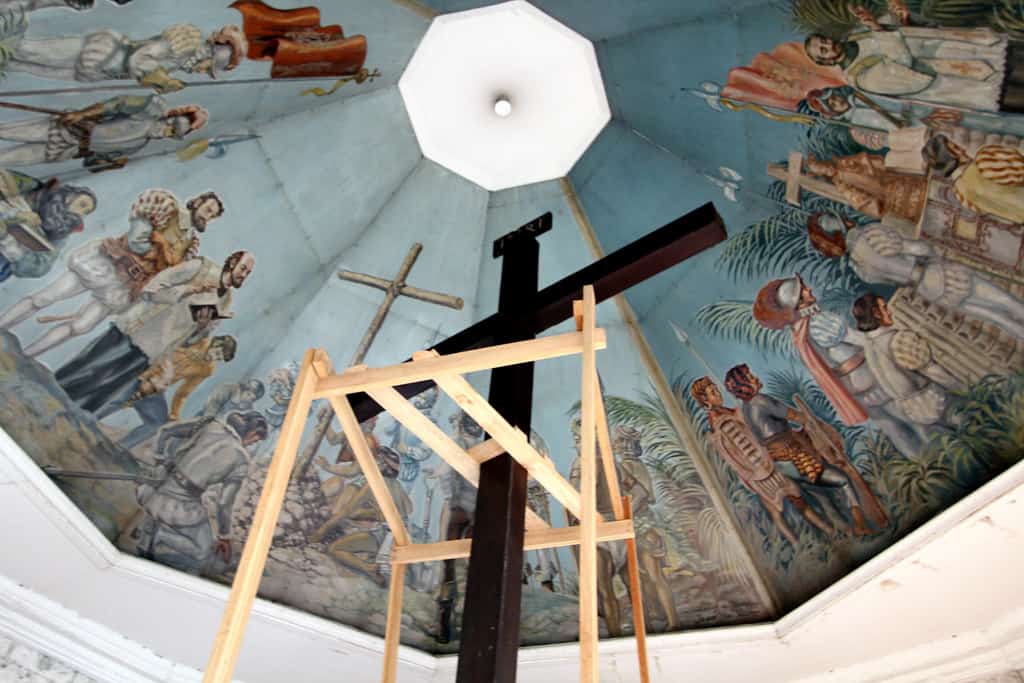 During Holy Week, you can expect celebrations of religious processions involving dancing, colorful floats and reenactments– including the zealots who participate in self-crucifixion and self-flagellation. Each province will have their own celebrations across the country so it won't matter which of the 7000+ islands you find yourself on (so long as they're habited that is).
Throughout most of my life I grew up in the Catholic Church and went to a private, Catholic school, so I'd like to think I'm pretty familiar with Holy Week traditions. As a child, each Lenten season I would carefully decide what I would give up for 40 days and would be excited to finally celebrate Easter with painting eggs, finding Kitkats in my hidden basket and gathering together with my extended family. I thought the traditions we had were pretty typical, until I went to the Philippines.
Things there seemed almost backwards from how I've grown up celebrating, so here's a look at celebrating Holy Week in the Philippines:
Lent
While we weren't actually in the country for most of the Lenten season, our local guide talked a lot about their traditions and was nice enough to answer our billion questions.
Lent begins like everywhere else with people attending Mass on Ash Wednesday to be reminded of the dust and ash they came from. If you don't have a mark on your forehead, prepare to be questioned by many as to if you have attended Mass or not.
Most of the traditions and activities during Lent seemed the same; however, you won't find any children trying to give up homework here, or even chocolate or video games for that matter.
Our guide seemed a little confused when we said people in the US will often give something up for the whole of Lent, and said that people don't do that in the Philippines. However, some people will be taking part in attending Mass daily, fasting, meditating or repentance from Ash Wednesday all the way until Holy Week.
The one thing people do give up is the eating of pork on Fridays, whereas I always practiced abstaining from any form of meat on these days.
Holy Thursday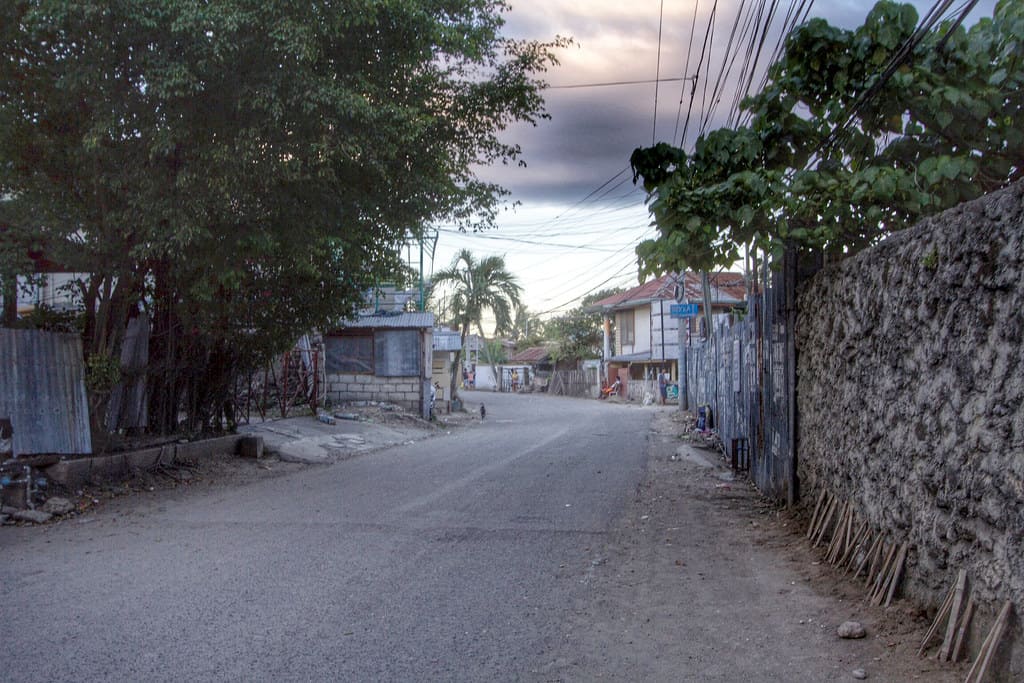 Known as Maundy Thursday, the last Mass before Easter is held on this day, which reenacts the Washing of the Feet done by the Apostles. This day is celebrated very solemnly with government offices and businesses shutting down for the next couple of days. Even grocery stores and many restaurants shut down, so it's best to stock up on food and supplies beforehand.
This really surprised me as Holy Thursday is just like any other day back home, apart from possibly taking part in Mass during the evening.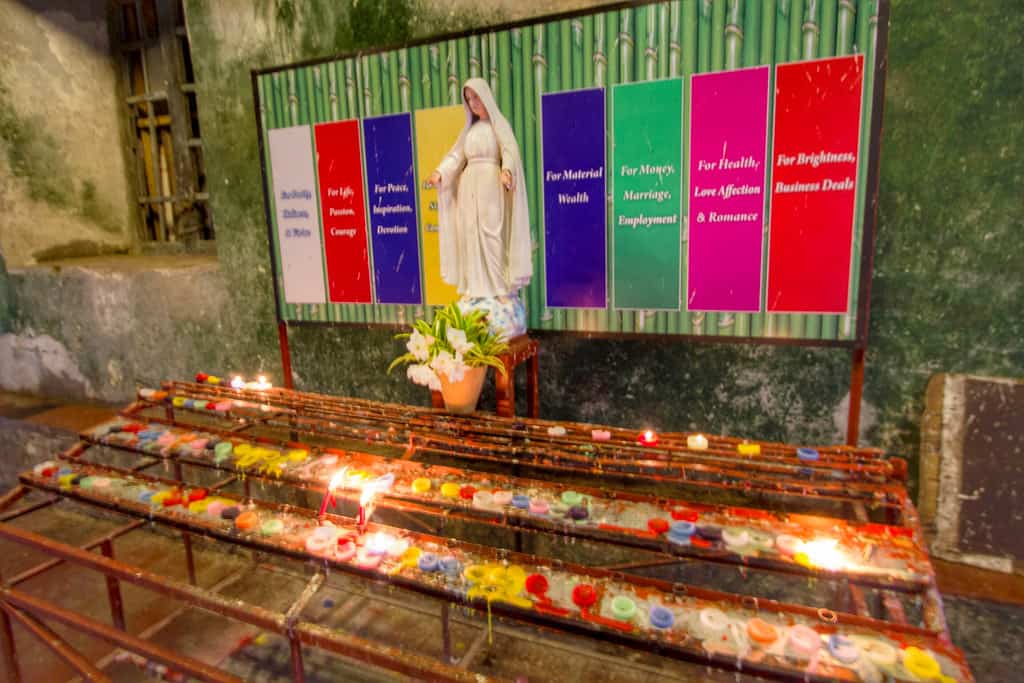 If people were outside, they were usually taking part in the Bisita Iglesia, or church visits.
It is common on this day for groups of people to visit seven different churches or more to take part in the Stations of the Cross. Growing up we would always take part in the Stations, once. I can't imagine doing it seven times in a row on the same day. This activity is often done together as groups of families or friends. Even groups of coworkers may get together to complete with Bisita Iglesia— mixing religion and work is something you would never see in the US.
Good Friday
Shops and businesses are still closed on this day. This was our first day arriving in the Philippines and we were surprised to see it was a ghost town. The famous traffic jams of Cebu City were nowhere to be found, and our tour of the city had to be altered greatly because almost every attraction we went to go visit was closed down– even the malls.
From noon until around 3pm, people head to church to hear the Siete Palabras, or seven last words. Most churches are too small to accommodate all the people who attend, so often they are held outside on public stages.
At 3pm, the time people believed Jesus died, the whole city fell silent. Even Filipino radio and TV stations were shut off. Families stayed inside their homes or in churches and children weren't allowed to play. They believe that when Jesus is dead bad things are apt to happen, like if a child was to injure themself playing their wounds may not heal.
This is also the day when you are bound to see people walking the streets whipping themselves dripping blood in the streets or putting on plays of the Passion, called senakulo, some having actual crucifixion of participants.
Holy Saturday
Called "Black Saturday" in the Philippines, shops and malls slowly started to reopen for business, and you began to find more and more people outside.
Some of the people we saw out were taking part in another seven churches visit, and some of the churches we passed through had hung up a dummy representing Judas Iscariot. At night we were told the dummy is often attached to firecrackers or burned.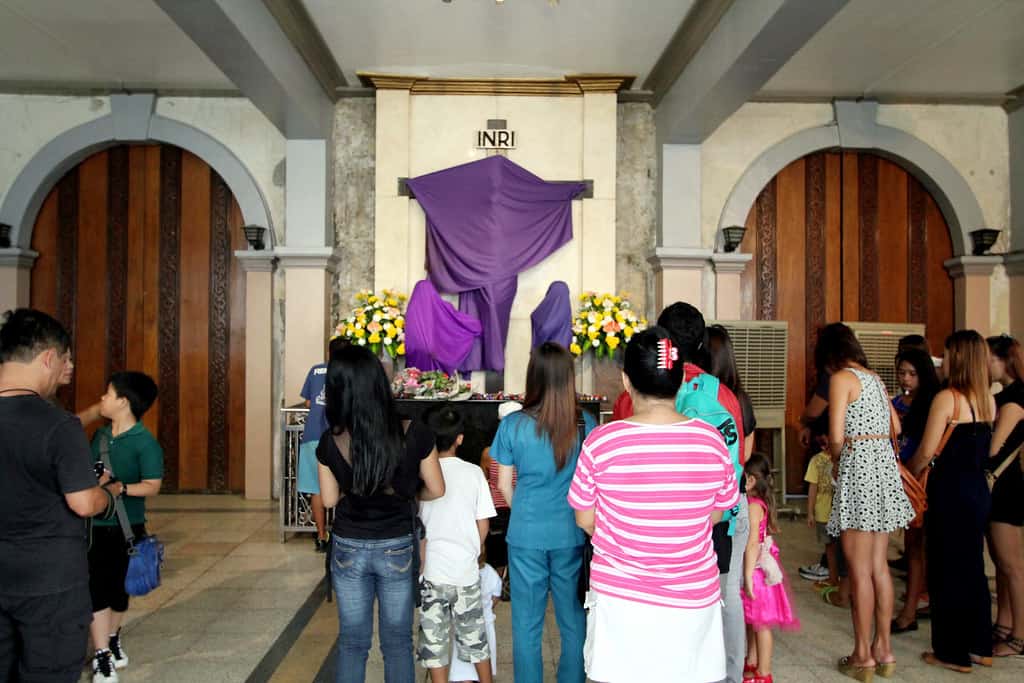 Easter Sunday
Easter is a joyous occasion. People will often wait up outside a church until the clock strikes midnight to celebrate. They will then return to church later in the day to attend actual Mass, as Easter Vigil Masses did not seem to be popular where we were staying.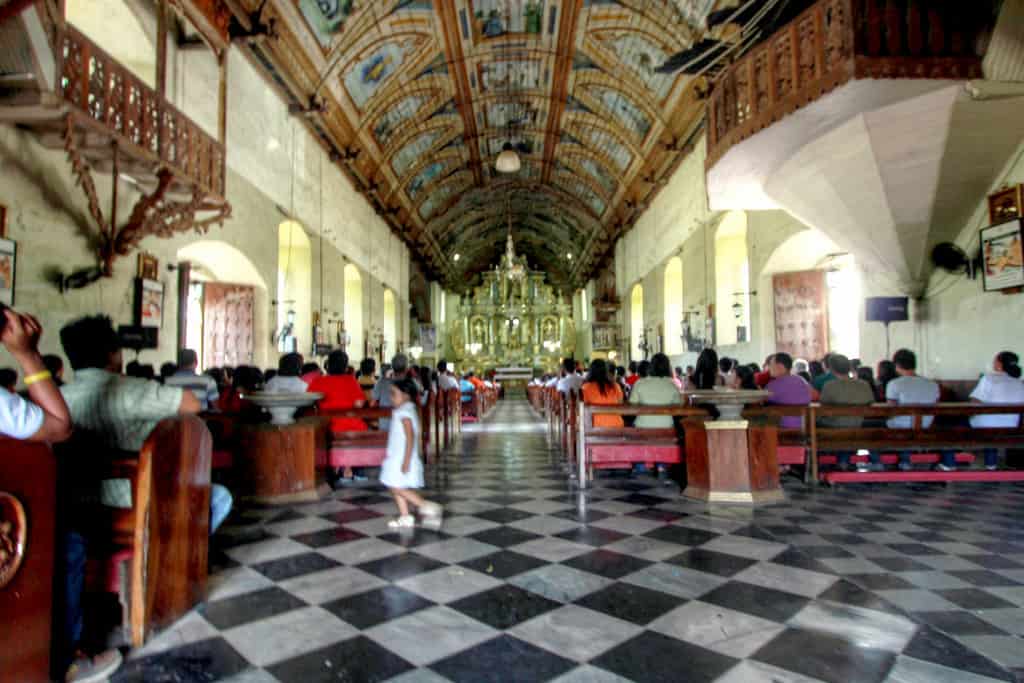 During the day, instead of gathering together with family in one's home, the day is often spent out. People like to go to the mall, have BBQs or spend the day at the beach.
For such a religious country that celebrated the rest of Holy Week so seriously, their way of celebrating actual Easter seemed very casual compared to celebrating Easter in the US. Some people did choose to celebrate with their families, and some with their friends, while others chose to simply attend Mass and then go back to grocery shop and do chores now that the stores had reopened.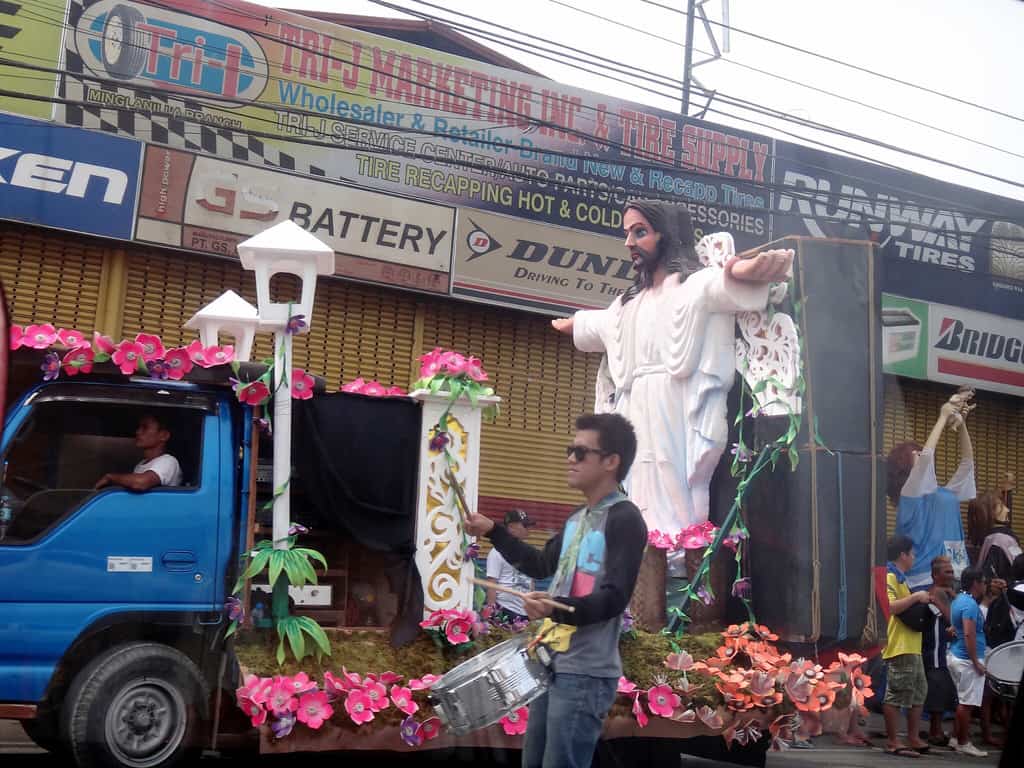 It seemed Easter easily could have been any other Sunday in the Philippines, except for the few processions we encountered. With trumpets blaring, dancers showing off colorful costumes and life-sized figures of Jesus and Mary, it was a unique way of celebrating Easter for sure!
Have you celebrated a familiar holiday in a different country?