Every Friday I'll be sharing a photo from someplace in my travels.
This week's photo is of the Aqua Luna in the Sparkling Victoria Harbour.
Hong Kong will elicit sensory overload from just about anyone who is unsuspecting– the lights, the smells, the sounds.
At first the city can be a little intimidating with its densely packed streets, fluorescent lights and cultural idiosyncrasies, but that feeling quickly dissolves away as you stand in awe at your surroundings. It's the epitome of 'East meets West' and the perfect introduction to East Asia.
The name Hong Kong directly translates to "fragrant harbor", so don't be surprised when you find yourself being drawn to the vibrant harbor downtown.  It is, after all, where Hong Kong's world-class skyline can be seen.
Said to be one of the best skylines in the world, it's one of the best places to sit back and fully absorb the culture and beauty of Hong Kong.
Merely sitting on the steps at the promenade is nice, but the best way is to take it all in and surround yourself with it. Every day the Aqua Luna, a traditional-styled junk takes cruises, although I really recommend one of their nighttime ones.
I couldn't think of a better way to spend time taking in the sights and sounds of the harbor. As the sun goes down and those lights turn on, shimmering across the water, I guarantee you'll fall in love.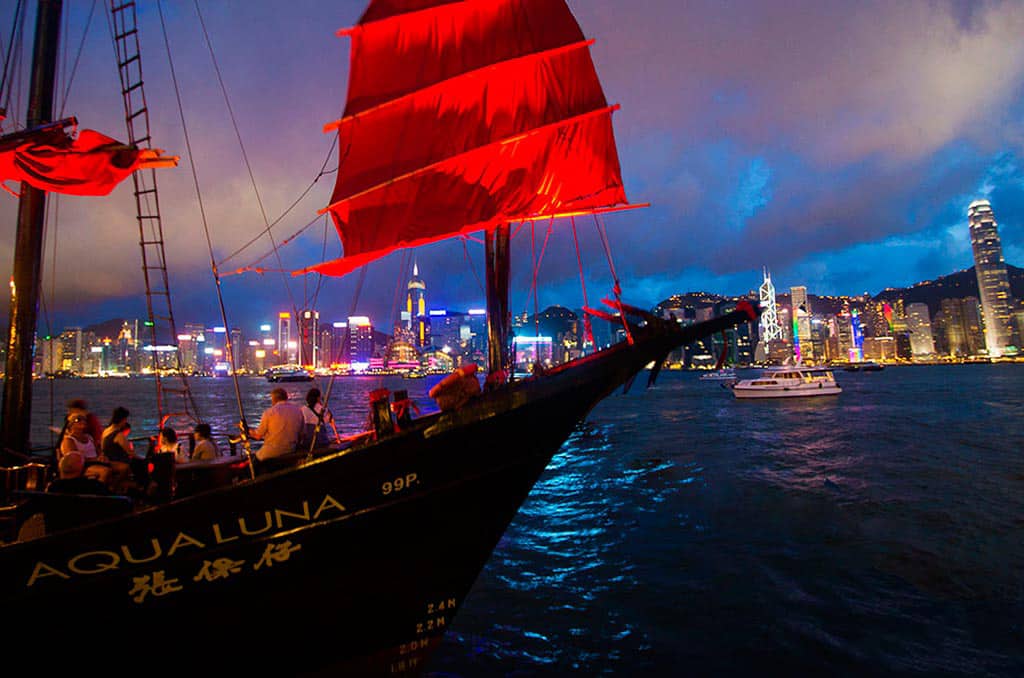 IF YOU ENJOYED THIS PHOTO, PLEASE SHARE IT!