I can't believe Songkran was two months ago already.
Despite having all this time pass since then, I still remember it as though it were yesterday and will continue to have fond memories of it. So what is Songkran you ask?
Imagine thousands of people of all ages on the streets armed with water guns, hoses and plain old buckets of water, all waiting for the next person to cross their path who will become their next victim. That is Songkran.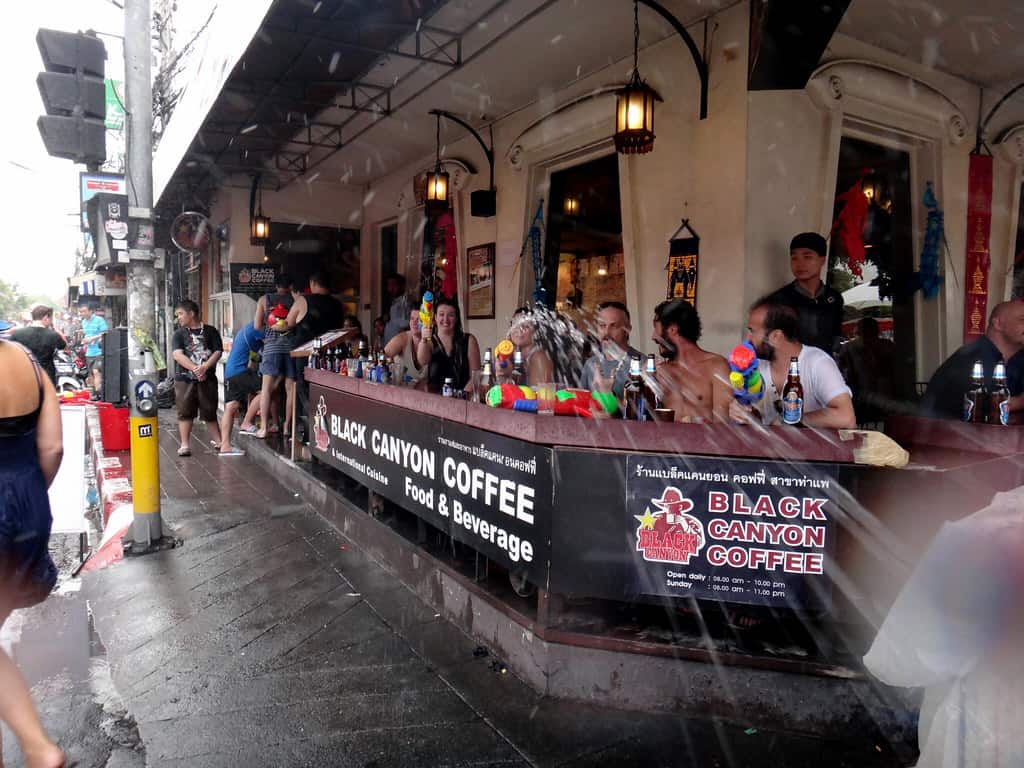 Songkran is the traditional Thai New Year, and to celebrate, scented water gets poured over statues of Buddha for good luck. While this is still practiced today, people also throw water on each other as a form of blessing, and well-wishes for the New Year, which quickly escalates into a city-wide water fight between complete strangers.
The celebration lasts for 3-5 days in April, the hottest month in Thailand. And despite it being hot, it still didn't prepare us for the buckets of ice water that were constantly poured on us.
If you're dry, you won't be for long. No one is safe; nowhere is safe. We thought we would take refuge for a few minutes in a 7-Eleven only to be greeted with a squirt gun to the face by the workers at the counter as we walked in.
Songkran is experienced all over the country, from the small Laotian villages in northern Thailand to the sweaty streets of Bangkok, but the best place to experience it is undoubtedly in Chiang Mai. It is seriously nothing like you've ever experienced, and it is hard to put into words how fun it was.
It was amazing to see everyone from two to 82 participating in the festivities. Groups of Thais wearing fun Hawaiian shirts and armed with water guns walked around by foot, piled into tuk tuks and even filled the back of their pickup trucks with water to take part in the action.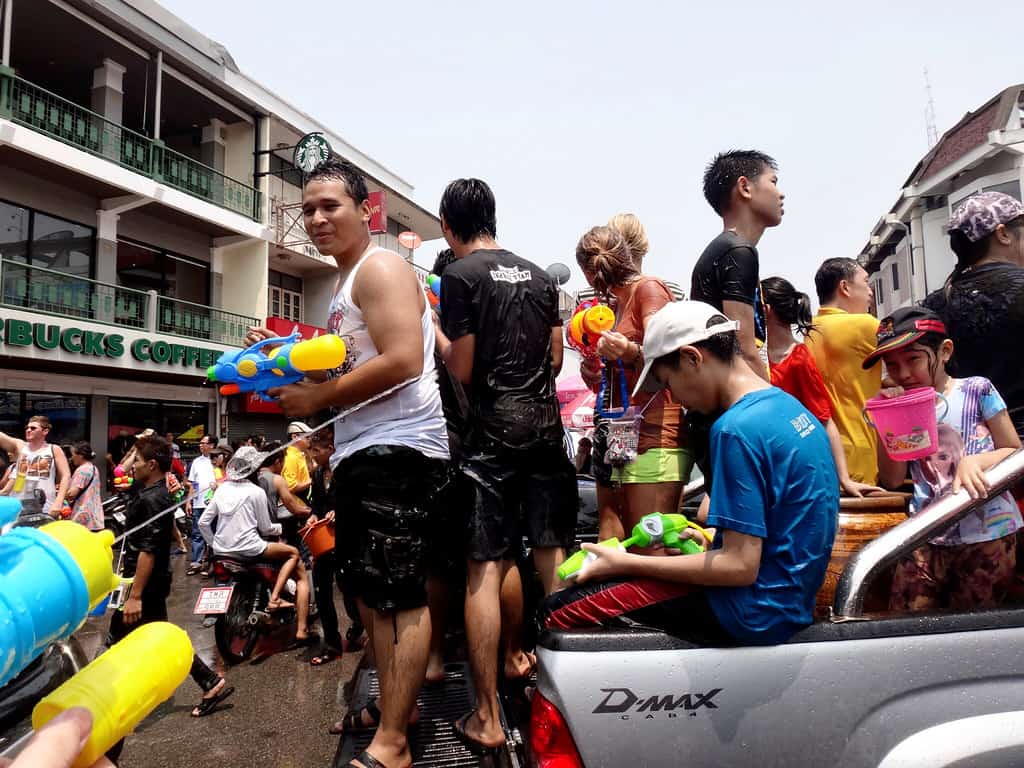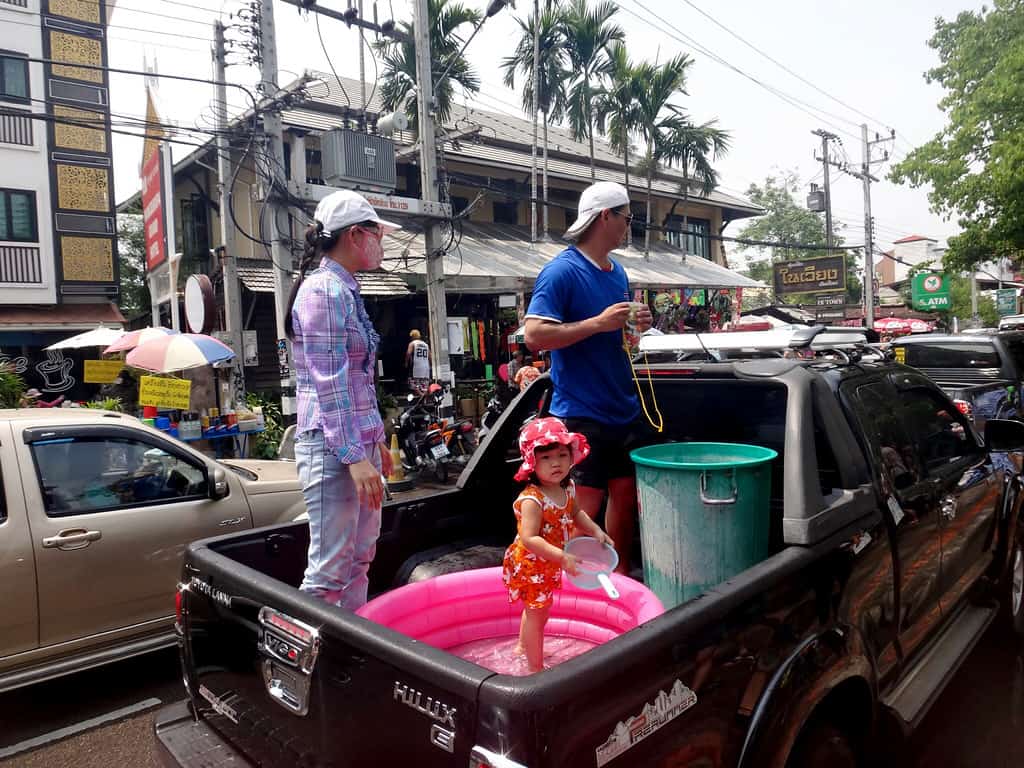 It was complete chaos, yet somehow incredibly polite. People relentlessly sprayed others in the face or poured buckets of water on each other, only to apologize, laugh and wish them well in the New Year.
Festivities will be taking place all over the city, but if you really want to get into the action, just stay near the Old City. This square-shaped area is defined by the moat that surrounds it, which also served as a perfect refill station of sorts. There are also giant barrels located each block or so that you can use for refills.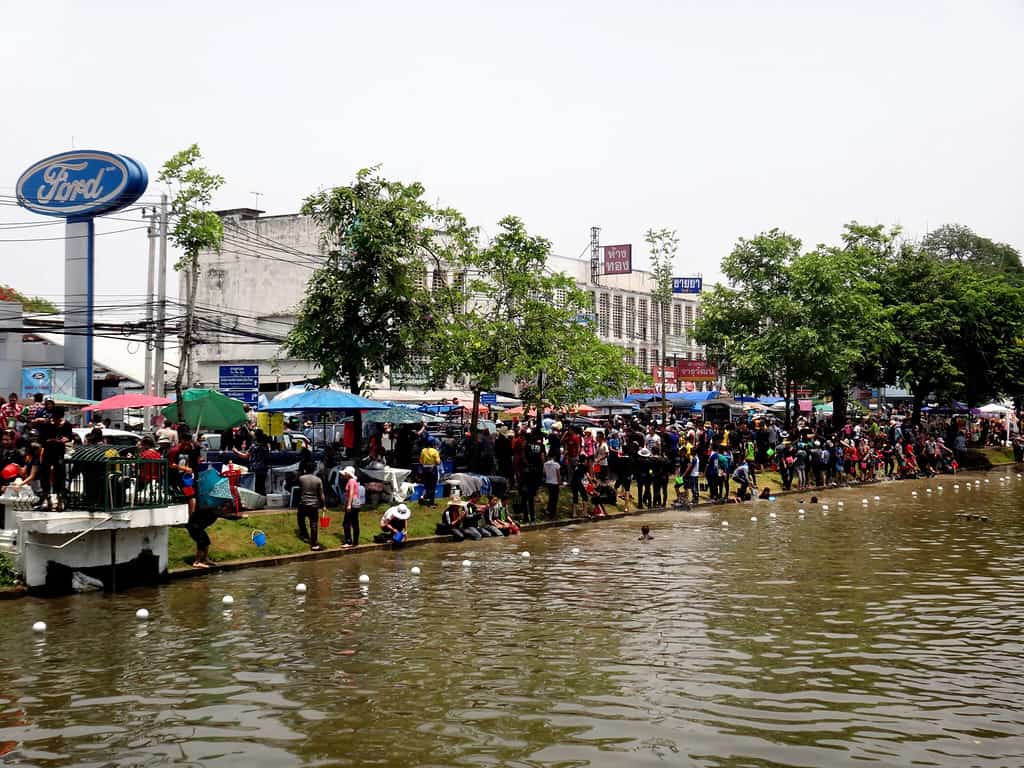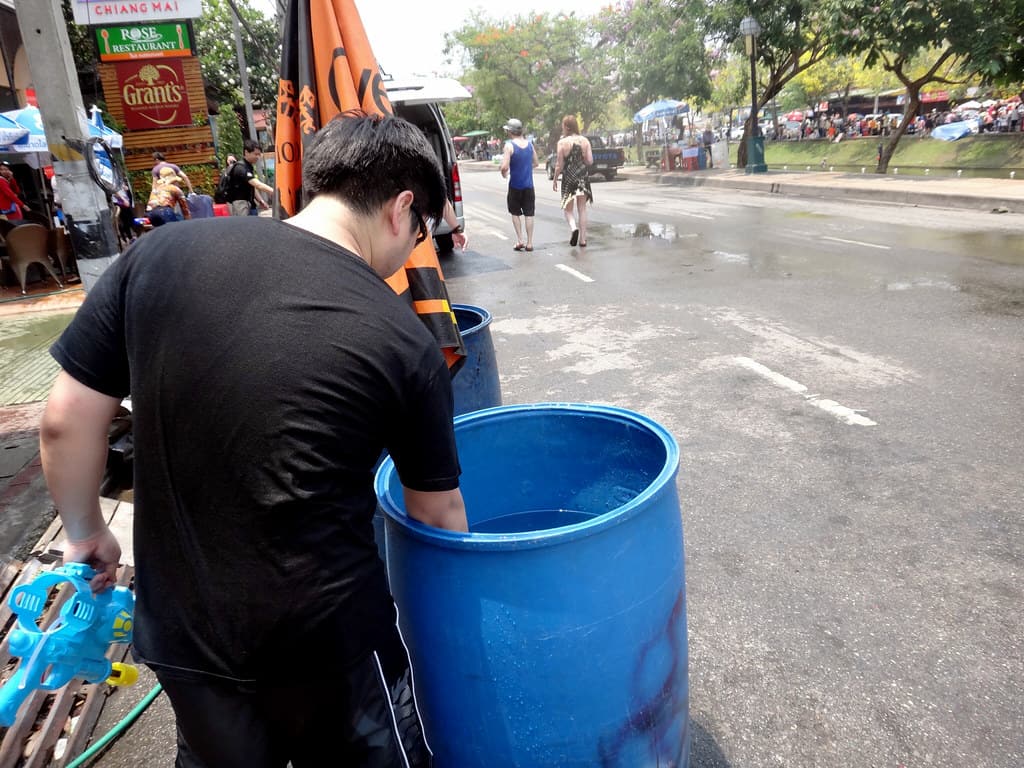 Along the moat is where most people congregate during the festival. Lowering their buckets with string, they'll use the dirty moat water to refill their water guns. Be careful getting too close or else you risk just getting pushed in.
Tuk tuks and pickup trucks continually parade around the outskirts of the moat, blasting pedestrians as they drive by.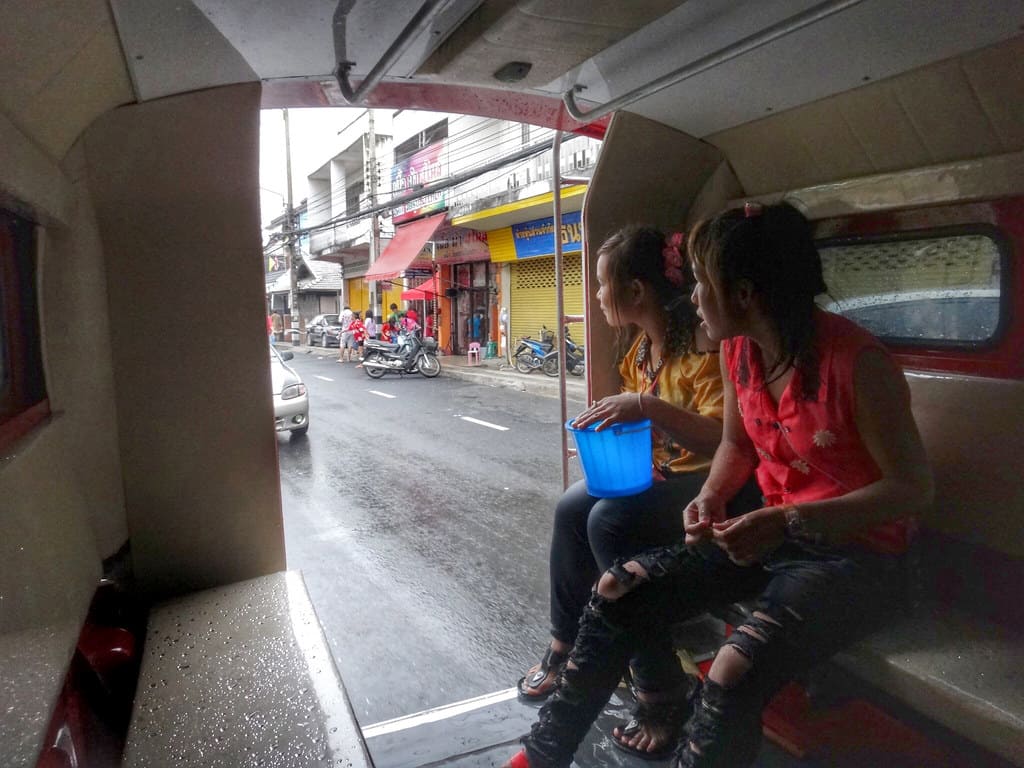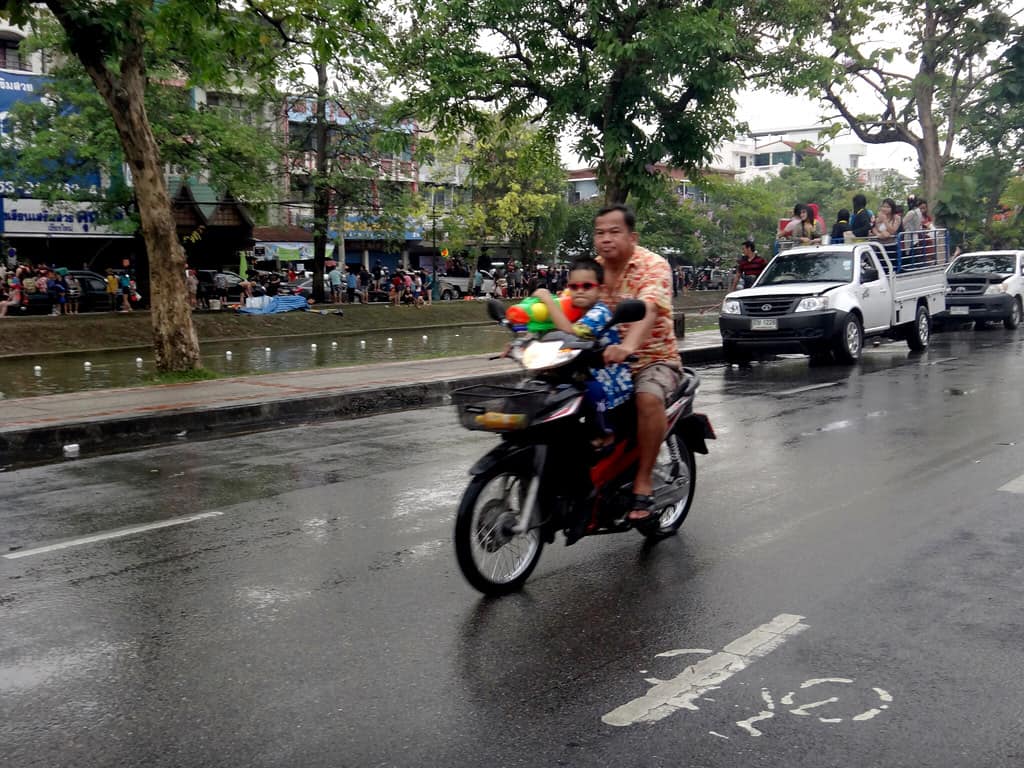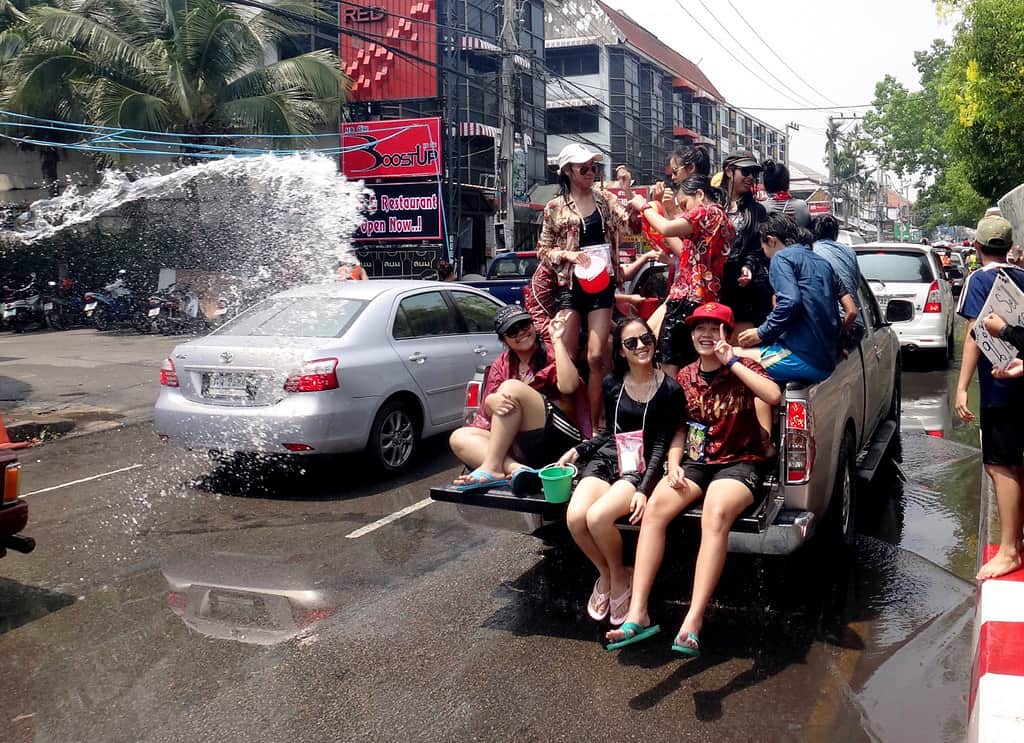 Of course, almost everyone with a giant barrel of water in the back of their pickup had also added giant blocks of ice just to give it that extra something. It is never hot enough to have ice water poured all down your back.
Don't be surprised to have children running over and squirting you in the face or elderly women waving you over to allow them to pour a bowl of water down your shirt.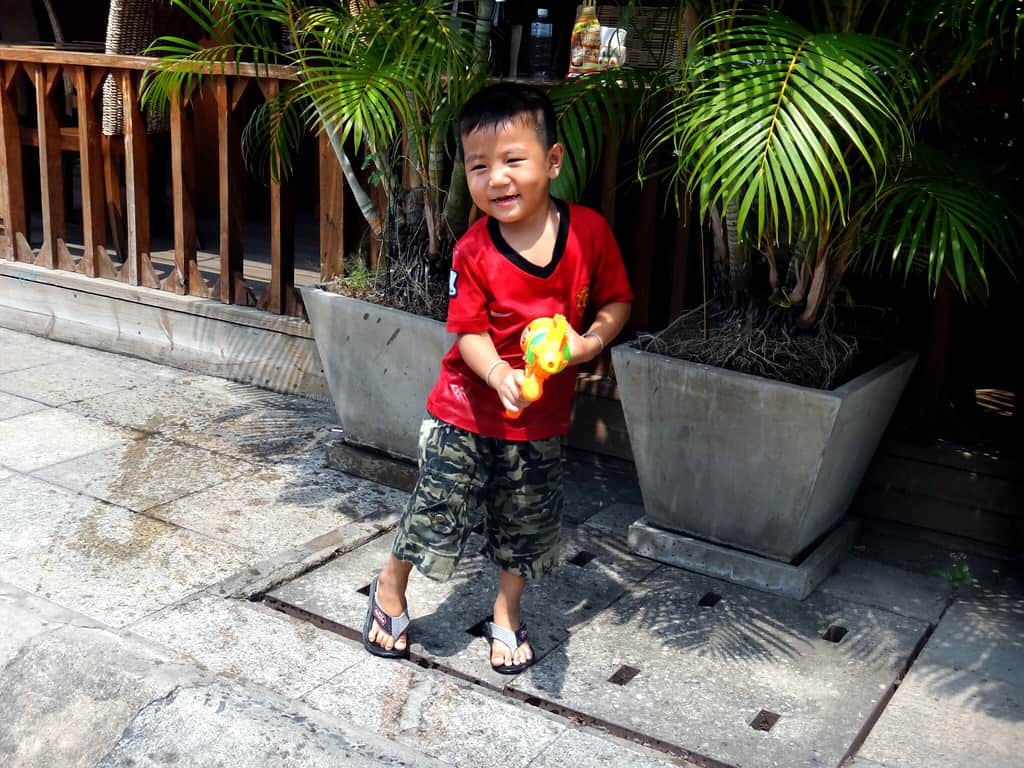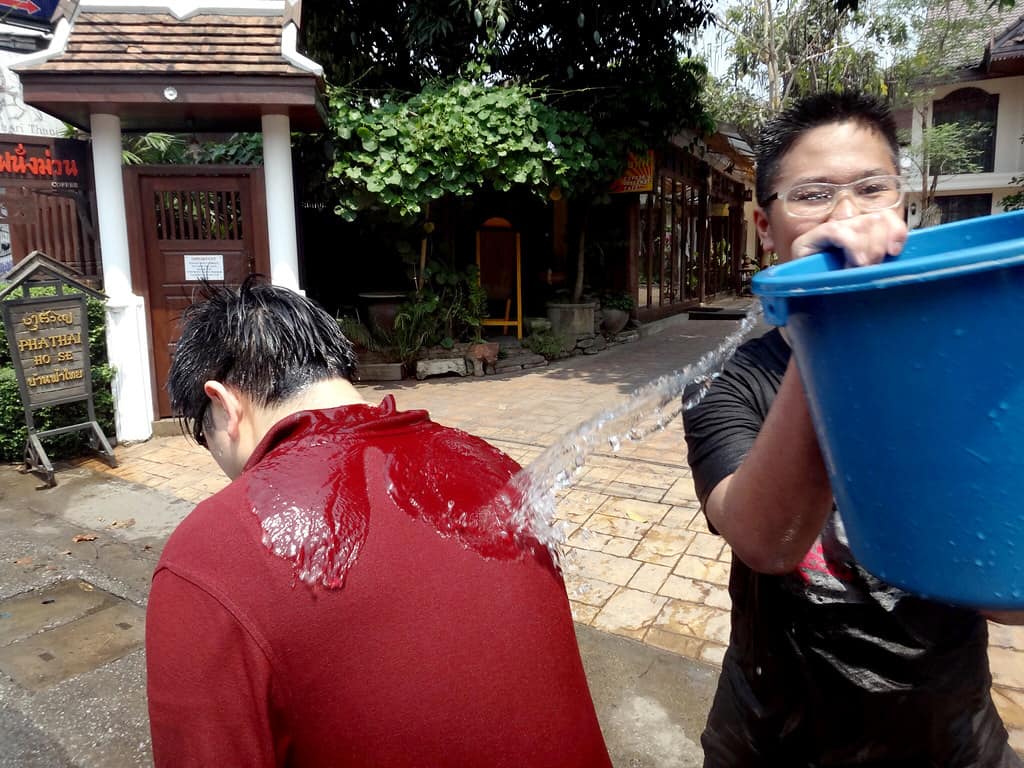 Near the Thapae Gate you'll also find large stages and tents set up by various sponsors like AirAsia or NokAir. There will be loads of entertainment throughout the day with DJs playing Top 40 hits and dancers in skimpy outfits spraying down the crowd with hoses.
One of the stages even had a bubble machine running, creating a giant foam party in the streets. It was like university all over again.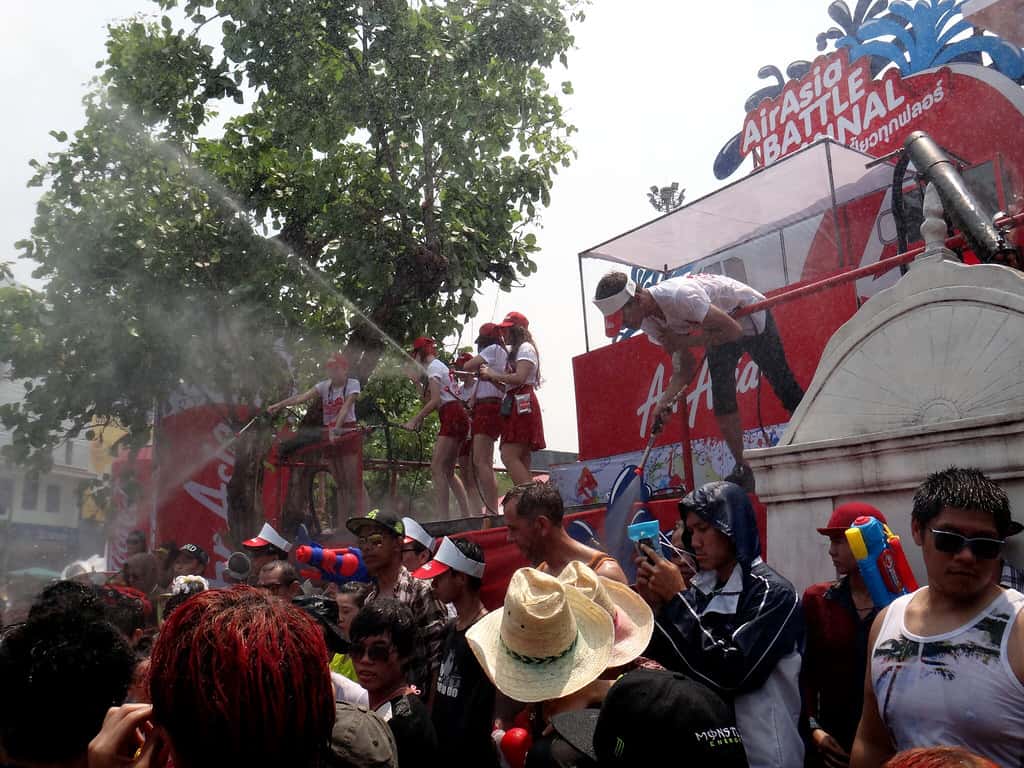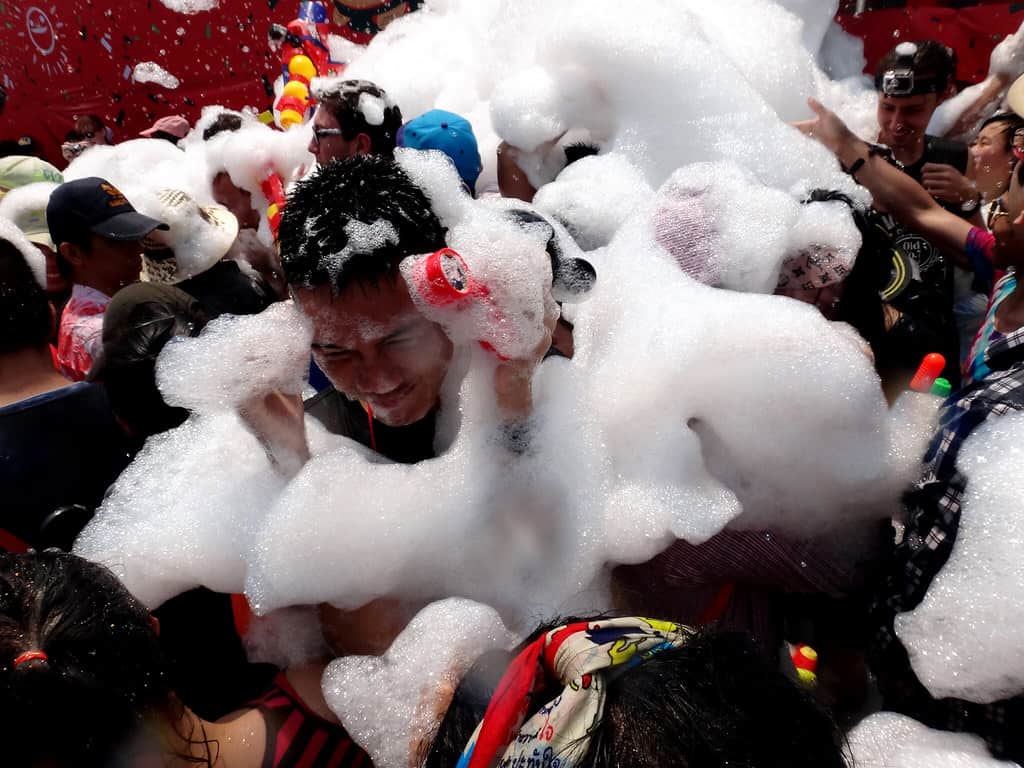 Alcohol is as free-flowing as the water, so do be aware and use good judgment. While it's rarely ever a good idea to rent a scooter in Thailand if you're an inexperienced driver, you especially won't want to do so during Songkran. No one even thinks twice to throw buckets of water in drivers' faces as they pass by on scooters and tuk tuks.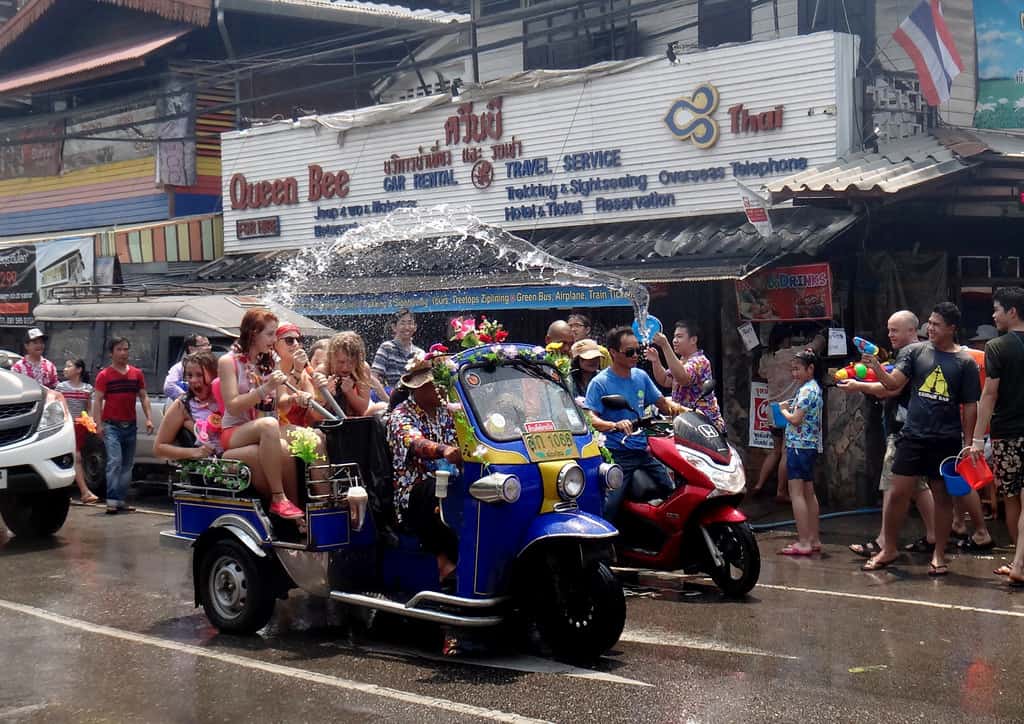 While Songkran may seem like a bit of a free for all, take note, as there are some guidelines to follow such as: avoid shooting water into people's eyes, don't use hot water and cease fire once the sun goes down.
Don't worry– just because the water fights are over at night, doesn't mean the festivities are. Head out to the main stage area or wander the market to experience more entertainment like traditional performances, Miss Songkran and even talent shows.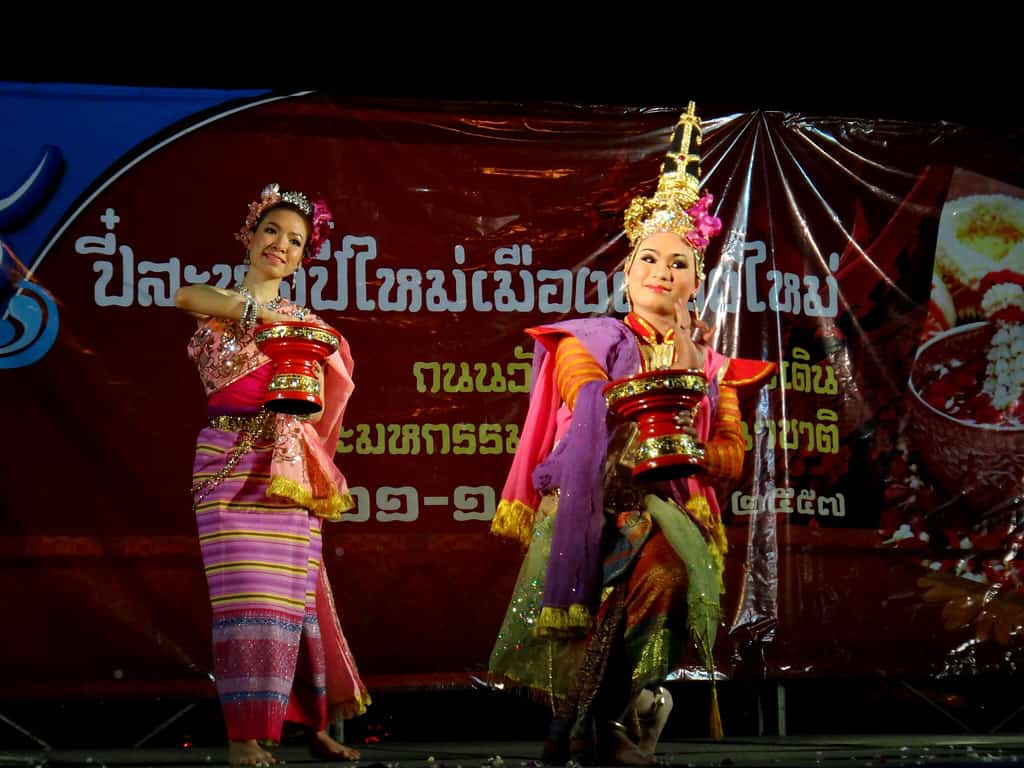 There will also be religious processions marching through the town with beautiful floats containing statues of Buddha from various wats around the city. While not many foreigners bothered to witness this event, try to if you can. It was fun to watch all of the elderly Thai folk trying to splash water on the Buddha's shoulders as the floats passed by. Go ahead and give it a try yourself for good luck!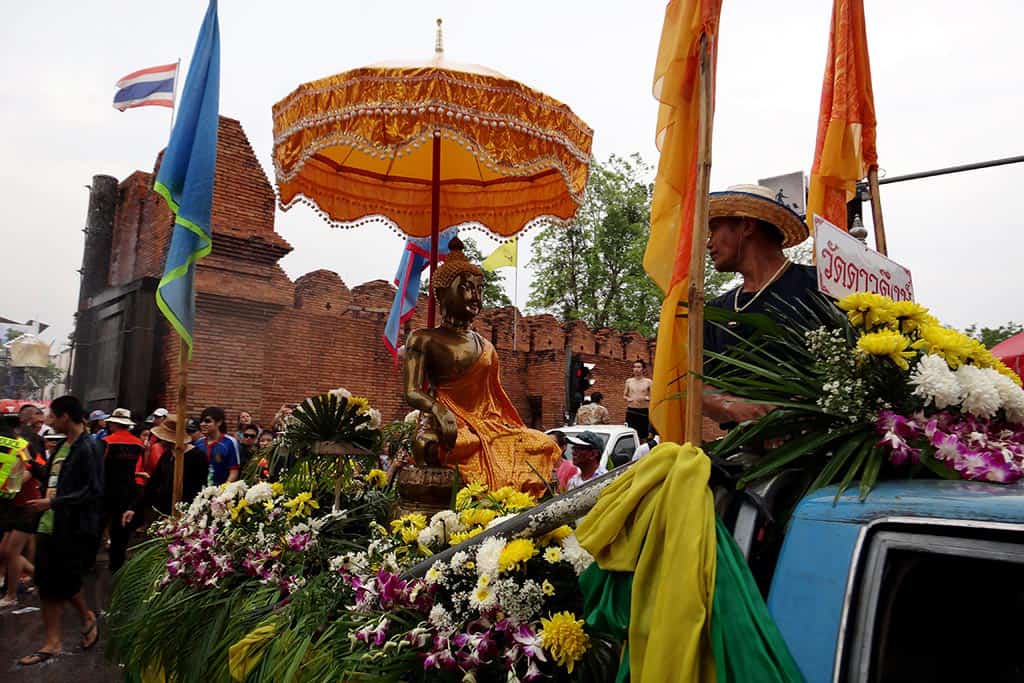 Everyone during Songkran was very friendly. People were always smiling, having a good time, and it's easy for foreigners to join right in with the Thais. And don't be surprised if they smear muddy chalk on your cheeks, a local form of sunscreen—it'll make you feel like you're truly a part of the celebration rather than just a foreign spectator.
After hearing so many stories from other travelers about Songkran, I'm so thankful I was able to coincide my visit with this amazing festival. This has probably been the best festival I've ever been to so far.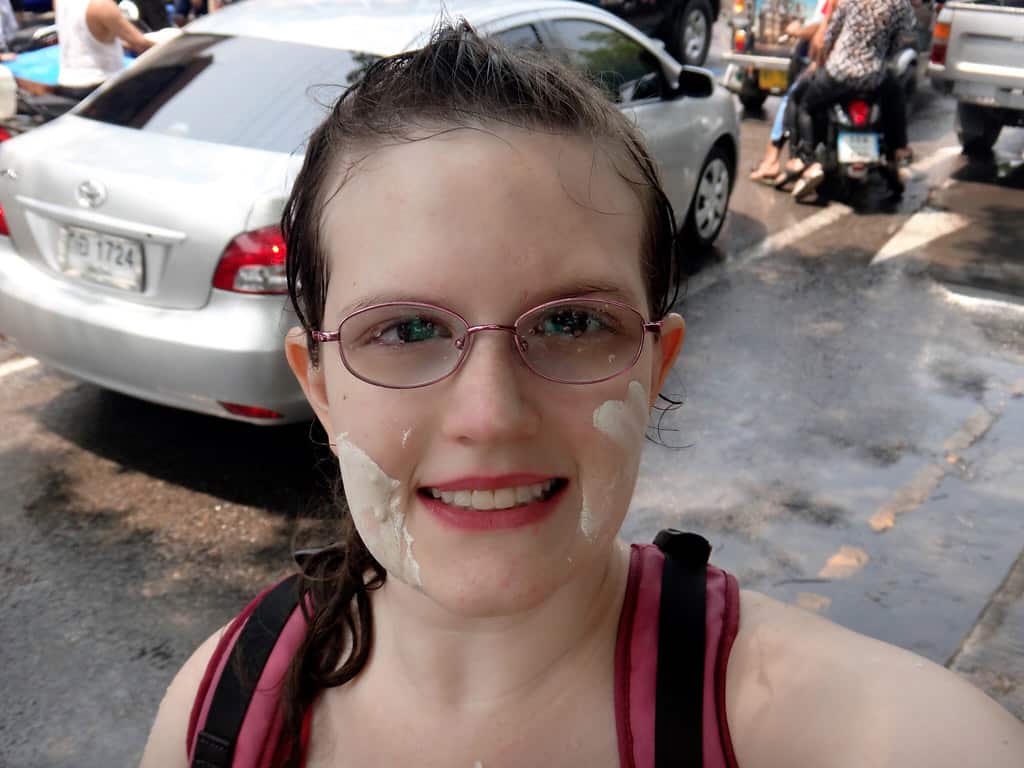 WOULD YOU LIKE TO CELEBRATE SONGKRAN?