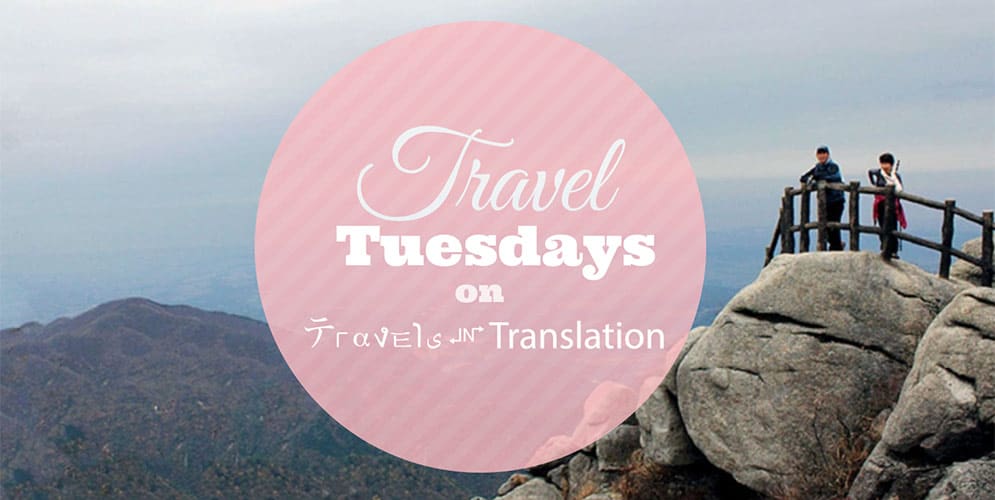 This week we would like to introduce Jenny Marshall of A Things for Wor(l)ds. Jenny is a language and culture fanatic. She's based in Spain where she teaches English to rowdy middle-schoolers and attempts that sexy Spanish lisp. She can't decide which is more fun, travel or grammar, so she frequently jaunts around Europe and picks up cool new words from each new destinations. 
1. What inspires you to travel, and how would you define the word 'traveler'?
I'm inspired to travel by chasing the high I get every time I see a building older than my country; any time I taste a new food I never knew could get that good; encountering new languages I've never heard or heard of before; and that "woah" moment when you realize people don't use dryers, arrange their furniture, or even refrigerate their foods the same way they do in the States.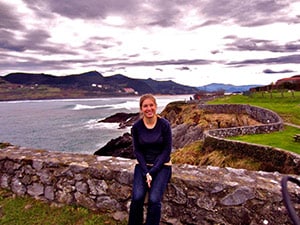 A traveler for me is anyone who wants to experience that same new wealth of knowledge, and puts on some good shoes and a backpack to get the job done. (Or some wedges and a rolling suitcase, if you're going somewhere posh 😉
2. For those who don't yet know you, can you explain your travel style?
Right now my style is to be based in one place—currently Spain—as an English teacher. Then I get to travel on school holidays and during summer. I do short trips while maintaining a home base.
3. How do you afford your travels?
I make my income from teaching, and the cost of living in Spain is really cheap. I also budget well, and travel smartly (read: stingily). I take budget airlines, buses instead of trains, stay at hostels or with friends, and don't eat every meal at a fancy restaurant. But I'll also splurge on what I think is important in each destination—for example, in Scotland I didn't skimp out on a tour of the Highlands, even though the British Pound makes me cry myself to sleep.
4. Where was your first international trip and how old were you?
I went to Mexico with my family when I was 8. I remember crying for a full day because I lost my favorite beach towel, and that's probably around the time my parents looked wistfully back on a life of travel pre-children.
My first international travel without the family was when I was 16. My high school track coach leads a small group of runners overseas every other year, on a trip he founded called Arete (which means "Excellence" in Greek). He started it in the 70's primarily to bring runners over to some big European meets, and have them see all four ancient tracks in Greece. He continues the trip to this day, though now it's much more focused on history and culture, and less on running (otherwise I would have never been invited; I placed dead last every meet.)
For 9 months the small group of us (7 in my trip) studied up on ancient history, philosophy, religion and culture of the countries we were to visit, and then in the summer we took a life-changing 6-week journey through Egypt, Turkey, Greece, Italy, Switzerland, Austria, Czech Republic and Germany. I knew after that trip that I could never stop traveling.
5. Where has been your favorite destination? Where has been your least favorite?
Favorite = God how am I supposed to choose. Krakow for its tragic yet fascinating history and for going it alone; Switzerland for its unfiltered beauty; Ithaca for its stuffed tomatoes and the fact that you can't really argue with the Greek islands. (Also: IstanbulLisbonSevillapleasedon'tmakemechoose). Least favorite = Belgium. Just not a whole lot going on there! You know a country doesn't have much to brag about when its main tourist draw is a statue of a peeing boy (Manneken Pis).
6. If you had to settle down in one location forever, where would you choose and why?
I hope I don't get kicked out of the travel blogging community for what I'm about to say. But I'd choose San Francisco, a.k.a. the city 20 minutes from my hometown. I love traveling; I also love feeling fully integrated where I am, which, so far, I haven't felt as a traveler or an expat. Even though I've never lived directly IN San Francisco, I love spending time there and each time I go in, I discover something new about the city that I fall in love with (last week: a store devoted to rice pudding). The neighborhoods are so different; the temperature is unbeatable; the views from the hilltops are unparalleled; the rent prices are. . . . oh right, that's why I haven't moved there yet.
It's been a process for me to conclude that, while I absolutely love living abroad while I'm young, I actually do feel very connected to the place where I grew up. And there's no shame in wanting that again sometime in the future. I don't need it this very moment, and I'm heading back to Spain for another year, but I no longer feel a desperate need to secure a permanent European visa.
(Plus, San Francisco has a great international airport, so the travel wouldn't have to stop!)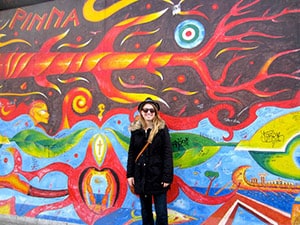 7. Have you ever had high hopes for a destination, tour, etc., only to be disappointed in the end? Or any travel mishaps?
When I went to Egypt when I was 16, it was my first time outside of North America. I had idealistic ideas of what such "exotic" travel would be like—just us, alone with the pyramids, "experiencing history" at its fullest. I was told we were to take a "boat" on the Nile, which I naively assumed would be a little row boat. (Seriously, I did no research.) Turns out it was more akin to a cruise ship, and three days on the Nile, with stops in Luxor and the Valley of the Kings and Queens, was the first of many wake-up calls. It's a globalized world, and in exchange for a chance to marvel at natural or man-made wonders, you'll have to fend off an entire tourism industry designed to capitalize on your American dollars. It was naïve to think I could experience Egypt "like a local," but also disheartening to feel like I was fighting vendors at every turn. I experienced a surreal mix of extreme guilt and annoyance when I would harden against the 8-year-olds rushing to sell me bracelets.  I'd like to do Egypt again, but this time going in a bit more mentally prepared.
8. What's the funniest or weirdest cultural idiosyncrasy you've either witnessed or experienced?
I'll just go with a Spanish one, since that's the culture I have most contact with at present. If there's one thing that completely confuses me, it's that all my roommates will cook food and then leave the leftovers out overnight instead of refrigerating them. Meat included! I'm just dumbfounded how they don't get food poisoning. But it has me thinking—we grow up with certain norms, so sure that leaving eggs or a turkey sandwich out of the fridge for three hours will kill us. And then, guess what—your Spanish roommate eats a slice of pepperoni pizza that's been sitting out for 26 hours, and he's fine. Maybe it's luck, or maybe you've been brainwashed into refrigeration for the last 23 years.
9. What keepsake do you have to get at all your destinations?
I'm not one for tons of souvenirs, but I do get a postcard in every place. My camera is too crappy not to 😉
10. How about the one thing you cannot travel without?
Earplugs! Such a grandma statement, but a shared hostel room without earplugs is my own kind of personal hell.
11. Why did you begin blogging? And how did you come up with your blog name?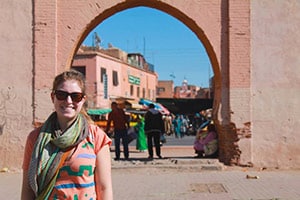 I started blogging when I went to study abroad in Granada, Spain in 2011. That blog (called "Sabores of Spain") was just to keep up with family and friends. But it turns out that I loved the writing process and it really helped me find my voice, so I started "A Thing For Wor(l)ds" when I got home. Actually, this blog was originally a way to document all the funny things that happened while I was learning Spanish studying abroad—like the time I said "Happy birthday, retard" instead of "Happy belated birthday" to an acquaintance. I wanted to have a record of all my mistranslations in one place. Then, once I decided to move abroad again, it morphed into an expat blog combining language and travel. The title is a play on words with language, travel, and, of course, writing—three of my favorite things. (If only I could fit "tea" and "kittens" into the title, it'd totally complete me.)
12. What's next for 2014?
Probably by the time you run this post I'll have moved to Barcelona! I'll be going on my third year in Spain, this time helping out as an English assistant at a day-care (eek!). Maybe check back in with me before running this to make sure I'm actually still alive 😉
While based in Barcelona, I hope to travel extensively through Eastern Europe, and also hit Croatia and Slovenia. But really, it's time for me to start exploring other parts of the world. So potentially after my job is over in June, I'll blow any and all savings on a massive trip through Southeast Asia.
Traveler Toss-ups
Backpack or suitcase? Backpack. I always have the last laugh when our AirBnB is on the fifth floor of a walk-up, and my friends are struggling with their suitcases while I fly up. Of course, maybe I'd have more friends if I offered to help instead of laughing. .  .
Window or aisle? Window so I can sleep, but aisle if I happen to be particularly well hydrated that flight.
Solo or group? This is changing. Used to be group, but I did a solo trip through Poland in April and now I'm a convert.
Tapas or sushi? Tapas. Because here's an insider's tip for you: in Spain a tapa is just a little plate of food. So it can be anything! A mini hamburger, a few bites of pasta, I've even had sushi tapas! So everyone wins J
Beach or mountains? Please don't do this to me.
Be sure to follow all of Jenny's Spanish escapades:
Visit Jenny's site: A Things for Wor(l)ds
Follow Jenny on Twitter: @AThingForWords
Follow Jenny on Facebook: A Things for Wor(l)ds