Munich was one of the cities that most surprised me in Europe– in a good way.
From the moment we arrived, entering the city by bus, I was taken aback by the city's size. As we made our way from quiet residential neighborhoods to the Old Town, the architectural styles quickly started to change. It might not have been the cute gingerbread-style houses typical of the Rhineland, but it was something just as special.
Filled with large, open pedestrian spaces and green parks, Munich seemingly had it all. Had we finally found the most livable city in Europe?
I instantly began to picture myself moving there, but I also wondered if such a town would be too boring for my tastes. Other than during Oktoberfest, this city sees very little tourism, and I thought maybe it was due to a lack of things to do. As the week went on I learned that wasn't the case at all, as Munich offers plenty for visitors and locals alike.
SO TODAY I'D LIKE TO SHARE WITH YOU 50, YES, 50!, THINGS TO DO IN MUNICH:
1. Spend the day at Schloss Nymphenburg. This Baroque palace was once considered to be the countryside despite its convenient position downtown modern Munich. Back then it was used as the summer residence of Bavaria's previous rulers, and today, along with its garden, it has become one of Munich's most popular attractions.
2. Head out to Olympiapark. Constructed for the 1972 Olympics, this strangely designed metal playground is still used today as a venue for many events. Even if nothing in particular is going on, it still makes for an interesting trip as there are daily tours and exhibitions showcasing the past Olympic games.
3. Watch the Glockenspiel at Marienplatz. If you're coming with high expectations, you'll probably be disappointed, but nevertheless, you can't come to Munich without witnessing this icon. Every day at 11am, with additional times in summer, the Glockenspiel bells chime as stories from the 16th century are re-enacted, with the finale being a classic jousting match between Bavaria and Lothringen– Hmm, I wonder who wins…
4. Experiment at the Deutsches Museum. The Deutsches Museum is the world's largest museum of science and industry. With over 28,000 exhibited artifacts, it's easy to spend a whole day, or two, at this world-class museum.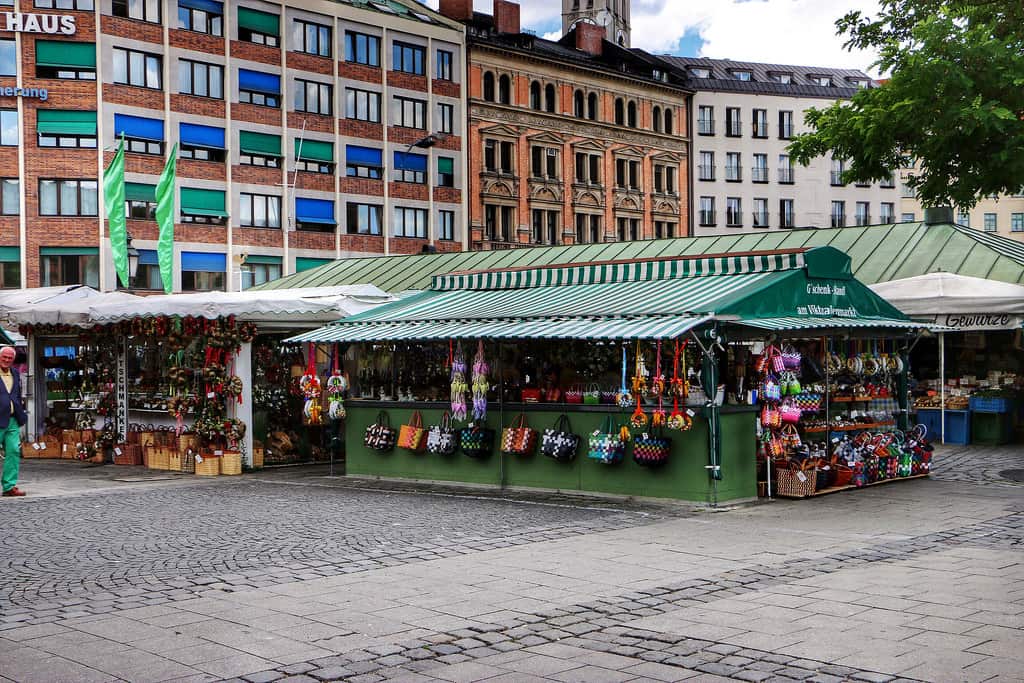 5. Go shopping at Viktualienmarkt. Munich's most famous permanent market, Viktualienmarkt is visited by both tourists and locals daily. Each day you'll find a wide variety of produce as well as specialty items like fresh fruit smoothies, baked goods and other such treats. Perfect if you're looking to take home some Bavarian souvenirs!
6. Take a free walking tour. Walking tours are popular all throughout Europe, but we found the ones in Munich to be the best. They covered everything you  could possibly want to see and lasted for over three hours!
7. Sit back on the Gray Line Sightseeing Tour. If you don't want to be out walking around for three hours, which is understandable, sit back and enjoy the ride as you pass by all the best sights of Munich by bus on Gray Line Sightseeing buses.
8. Climb St. Peter's Church Tower. One of the few free climbs in all of Europe, a climb up these 306 steps will reward you with some of the most spectacular views over Munich.
9. Watch river surfers at Eisbach. Despite being landlocked and some hundred-thousand miles away from the coast, Munich boasts some of the best surfing in Europe. This surfing, however, is all done on a river and the waves aren't for any novice. Located right downtown, be sure to stop by and give the surfers a watch for a while.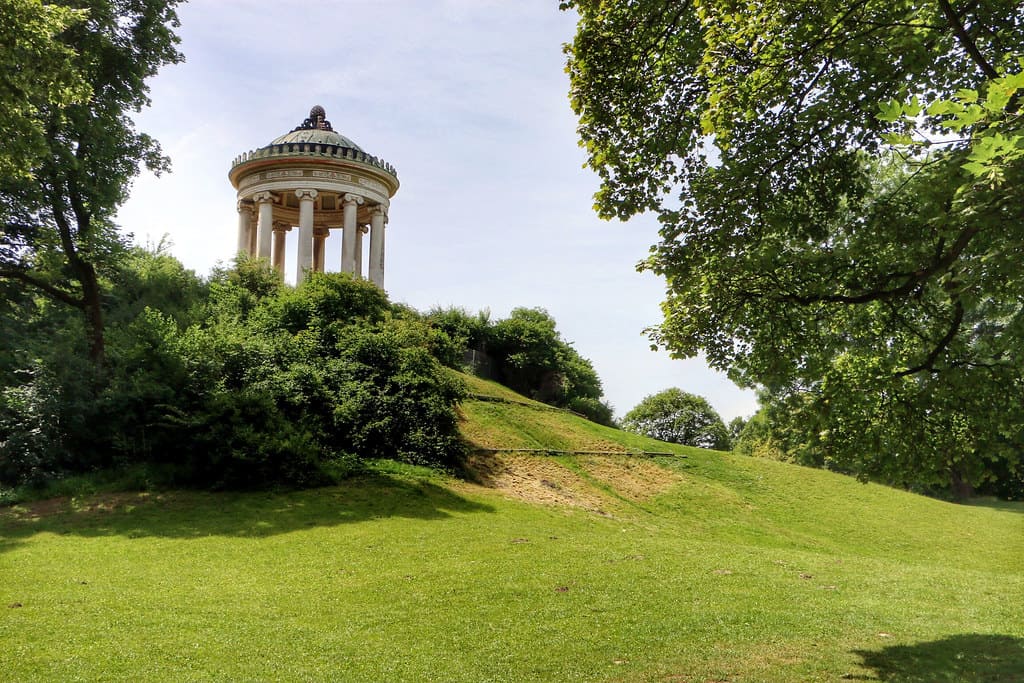 10. Enjoy the Englischer Garten. This is one of the largest public parks in the world, even larger than New York's famed Central Park. Filled with bike and horse trails, walking paths, a Japanese teahouse, WWII remnants and one of the largest outdoor beer gardens in Munich, you'll find plenty to keep you occupied there.
11. Explore the Kunstareal. Known as Munich's museum district, you'll find multiple art galleries and world-class museums here. Even better? If you go on a Sunday, all of Munich's museums cost only €1!
12. Taste some local brews and learn about Munich's local beer culture. You can't come to Munich and not try the beer! Even if you don't like beer, it's not an excuse. You'll soon realize that all stories from Munich's history have beer involved in some way or another. Appreciate it!
13. Take a day trip to Neuschwanstein. Although not actually in Munich, this is the castle of King Ludwig's dreams. Munich proves to be the perfect base for many day trips including this must-see attraction!
14. Escape to nature at the Isar River. Located right in the middle of the city, the Isar River offers visitors a green space for biking, jogging, or simply relaxing. You'll forget you're in the city in no time.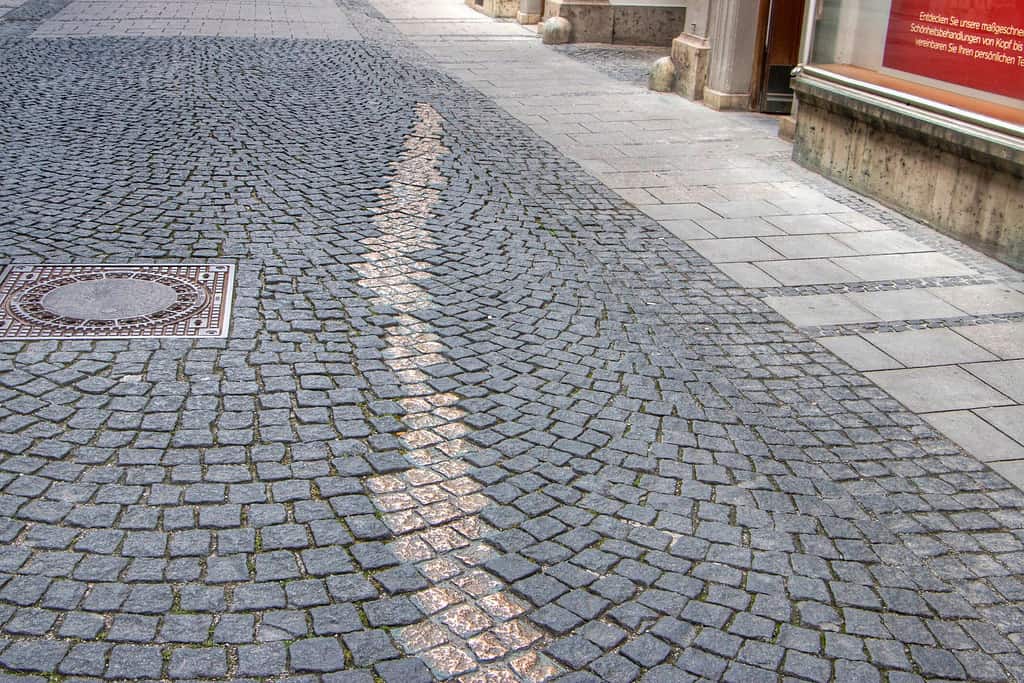 15. Take a moment to find the subtle reminders of Munich's history scattered throughout the city. Most people don't seem to realize the role Munich played with Hitler and the Nazis, but the fact is, the Nazi Party was born here. While Germany doesn't like to pay tribute to its dark past, they still don't want people to forget, so you will find small reminders hidden around the city.
16. Visit Hofbräuhaus. Again, beer. Hofbräuhaus is one of Munich's oldest breweries. So if you're looking for a place with giant steins, encompassing beer halls and girls in dirndls, Hofbräuhaus is just what you're looking for.
17. Stroll around Altstadt. Altstadt, or the "Old City", is one of the most picturesque areas on Munich. Although today it's mainly filled with modern brands and restaurants, it's still a fun area to explore, especially down its lesser trafficked alleyways.
18. Rent a bike. Biking seemed just as popular in Germany as it did in the Netherlands, except unlike in Amsterdam, Munich was perfect for biking as a tourist with wide open spaces and less frenzied cyclists.
19. Remember history at Dachau. While it's certainly not a happy place, Dachau is a must-visit for those visiting the area. It's important to remember historic events, both jovial and tragic, to create a better understanding and desire for world peace.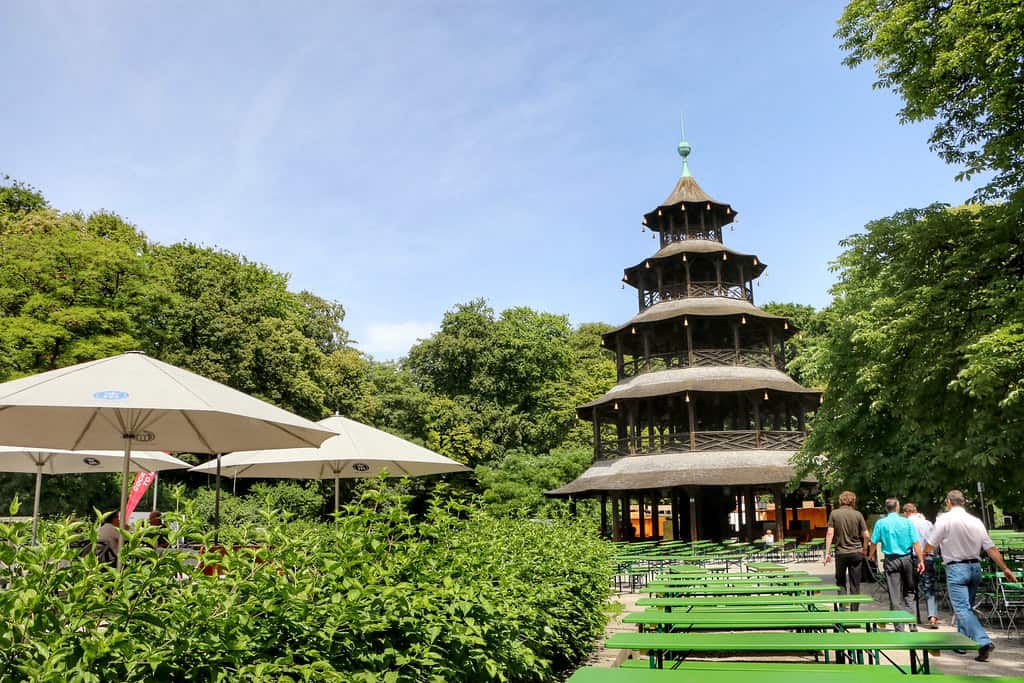 20. Find bits of Asia at the Chinesischer Turm. The Chinesischer Turm, or "Chinese Tower", is located in the largest beer garden in the English Gardens. Originally built in the 1700s, no one really knows why this Chinese pagoda is standing, but I loved finding this hidden piece of Asia in Munich.
21. Play with cars at the BMW Welt exhibition. This space shows off the latest and greatest BMW models and their technology. Whether you love cars or not, this is a fun space to spend an afternoon.
22. Spend a night out at the Bayerische Staatsoper. The Bavarian State Opera in Munich is said to be one of the best in the world. While tickets can be hard to get your hands on, if given the chance, go!
23. Cheer on Germany at a football game. Germans love their football, so whether it's a regional game or a fight in the World Cup, grab a pint and support the home team at one of Munich's many pubs.
24. Buy authentic souvenirs. Skip the tatty tourist traps and shop like a local. Of course you may want to bring home beer and brats, but that isn't always possible! Munich offers other great souvenir options though like steins, handicrafts and great Christmas decorations.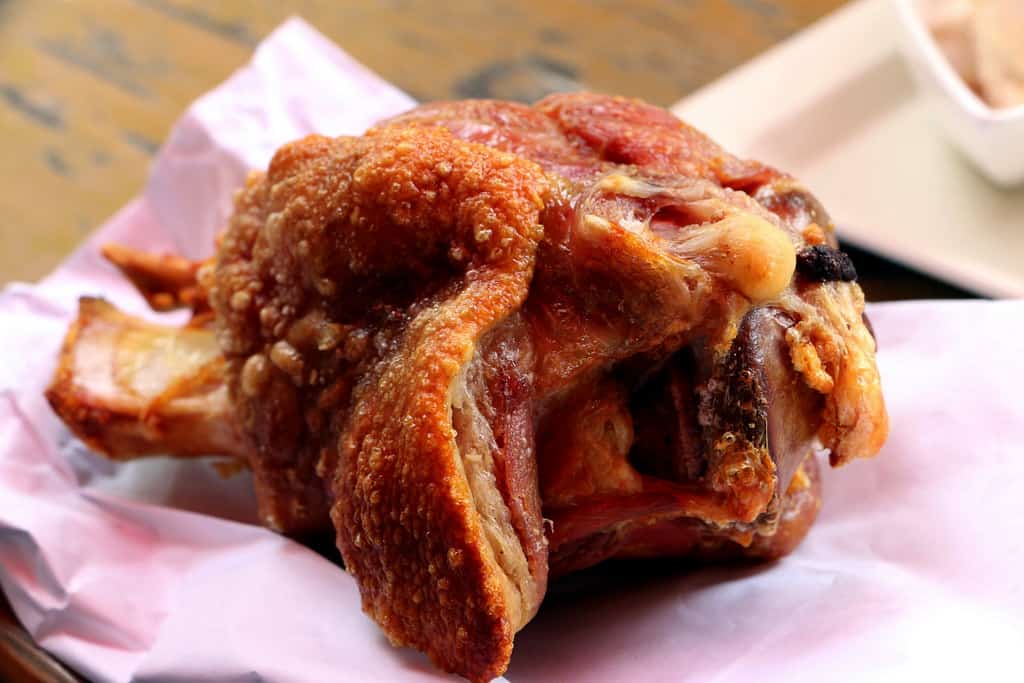 25. Chow down on traditional German fare. German food may be an acquired taste for some, but you have to at least give it a try. Between schnitzel, spätzle and schweinshaxe, there's plenty of options that don't involve sauerkraut.
26. Wander down Prinzregentenstrasse. The wealthiest part of Munich, Bogenhausen, is filled with beautiful Art Nouveau villas and boutique shops. Take a stroll down their main street, Prinzregentenstrasse to get a feel for this upcoming neighborhood and its interesting architecture.
27. Try your hand at masskrugstemmen. Literally. See how you last in a challenge of strength and endurance in this traditional stein holding competition. No spilling beer and no bending your arm, think you could do it?
28. Indulge in dinner at Olympiaturm. Enjoy dinner from 623 feet in the sky at the Olympic Tower. This restaurant is constantly revolving, giving dinners the best possible night views of the city.
29. Check out the Haidhausen neighborhood. Also called the "French Quarter" this district is well-known for its food and nightlife. While you won't find many tourists here, it makes for the perfect night out amongst locals.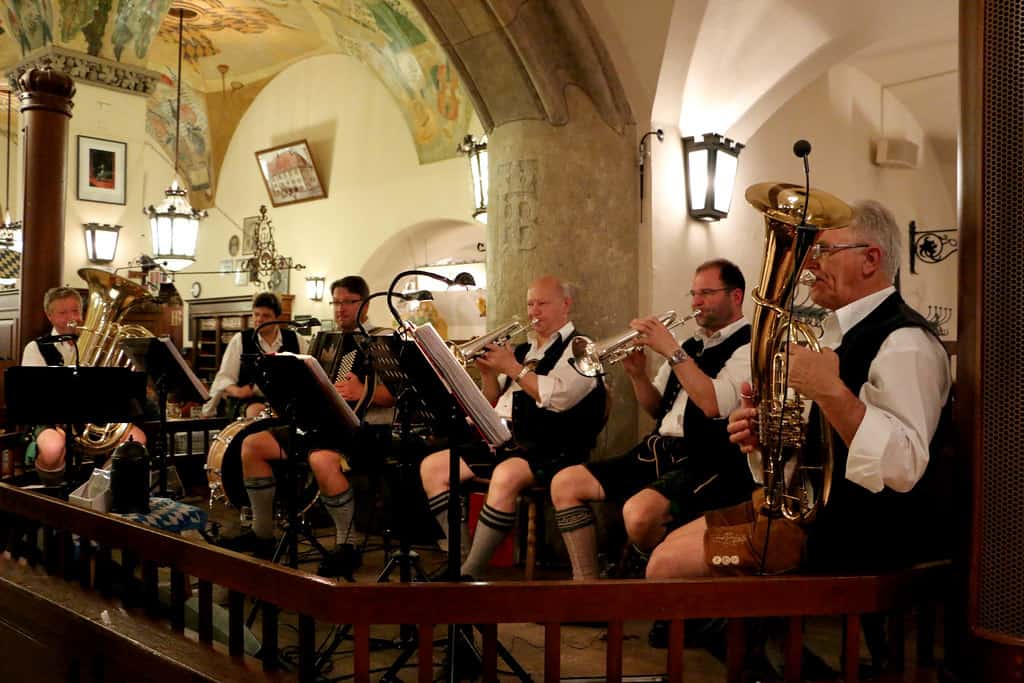 30. Revel in some yodeling and polka. While I doubt this is anyone's choice genre of music and dance, it still makes for a fun night out Bavarian style!
31. Visit the Munich Residenz. Once a palace for Bavarian royals, this residence is open to visitors showing off its architecture, rooms and royal collections. If you don't know anything about Bavaria's rulers, you will after leaving from this museum.
32. Drink beer at one of the many beer gardens. Munich has fabulous weather in the summer so take advantage of it by heading to one of their many outdoor beer gardens! Seating might be hard to find, so get there early.
33. Go car shopping on Maximilianstrasse. Window shopping that is! One of Munich's richest streets, you'll find people love showing off their expensive cars on this avenue downtown. Is that why they call it Maximillion street in German?
34. Visit Frauenkirche. One of the most popular churches, the Church of Our Lady is a recognizable shape in Munich's skyline with its twin towers. While it may be known for its outward appearance, just be sure to also take a moment to step inside.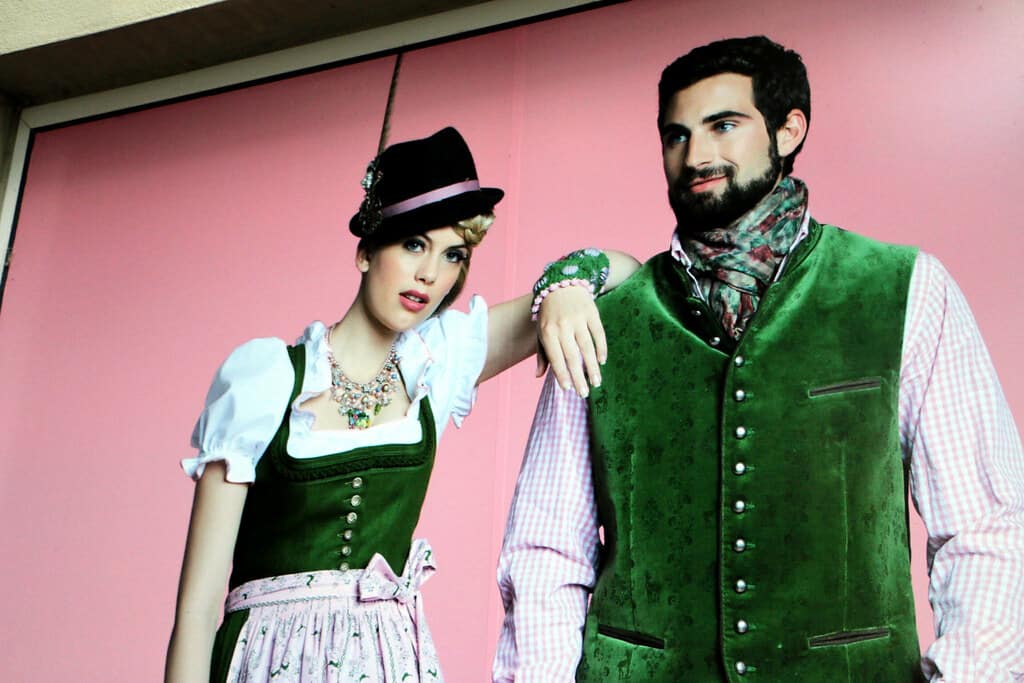 35. Try on a dirndl and lederhosen. The national clothing of Bavaria make for a fun fashion show at any shop in town. Just don't get too attached and your wallet will thank you.
36. Go to Karlsplatz. This is one of the nicer giant squares in Munich and is known for the buildings that surround it, like the Palace of Justice. In winter, the big fountain is turned into an open-air ice skating rink!
37. Stop at Leopoldstrasse. Lined with cute shops and cafes, you'll often find artists painting and selling their products on the street. Amongst them will also be people selling their used books and other vintage goods.
38. Become a flying fox at Munich Stadium. If you're looking for adventure in Munich, look no further. At Flying Fox you'll walk around the perimeter of the stadium before flying across it at 35 meters high. With a mix of adrenaline and beautiful views, there's not much else like it!
39. Peer through the eyes of Bavaria. Visit Theresienwiese to see the statue of the Maiden of Bavaria, who watches over Munich in legend. Go inside the statue and climb up the 130 steps in order to peer through her eyes at the bird's-eye view of the city.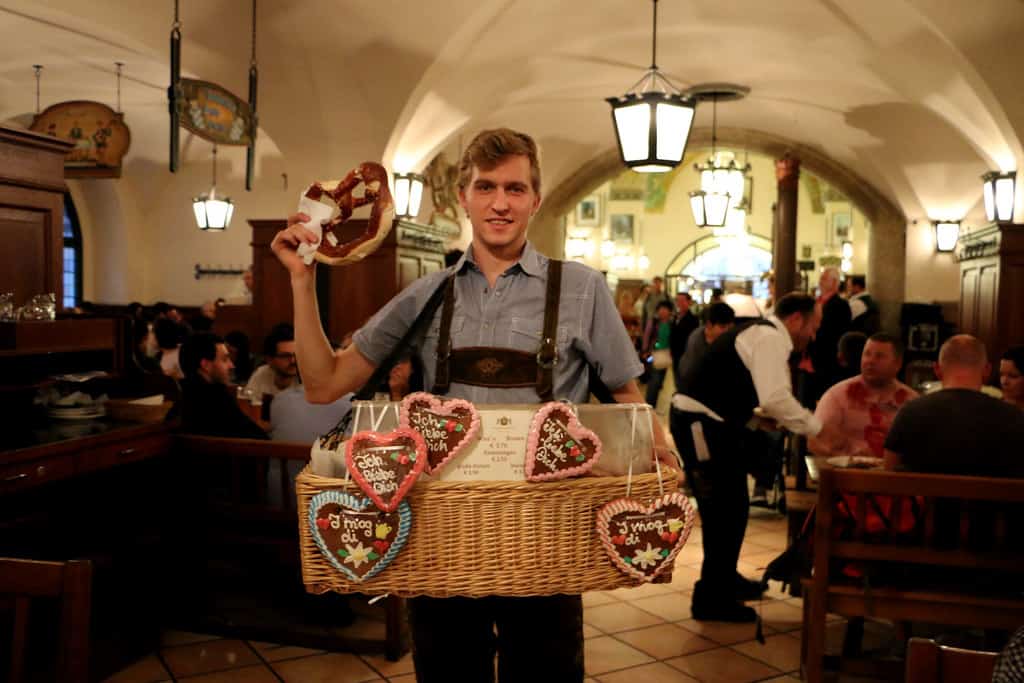 40. Grab a pretzel or gingerbread cookie. These popular street foods are sold everywhere in Munich, and for good reason. So the next time you're in need of a snack from all of your sightseeing grab one and give it a try!
41. Explore Schwabing. This district in Munich is becoming very popular recently. It's bohemian charm is often compared to that of Greenwich Village in New York.
42. Take your kids to Bavaria Filmstadt. Munich's answer to Universal Studios, here you can go on set tours, see live-action entertainment and kids can enjoy rides– like a ride on the dragon from "The NeverEnding Story".
43. Tour Allianz Arena. If you're a fan of FC Bayern, you'll certainly want to stop here. Each day they offer guided tours of the stadium and if you're lucky, you'll be able to catch a game there as well, before heading to the main FC Bayern shop to buy all your favorite fan gear.
44. Stroll down Kaufingerstrasse. This is one of the oldest streets in Munich, but now it's pedestrian only. Here you find plenty of shopping and outdoor eateries lining the street.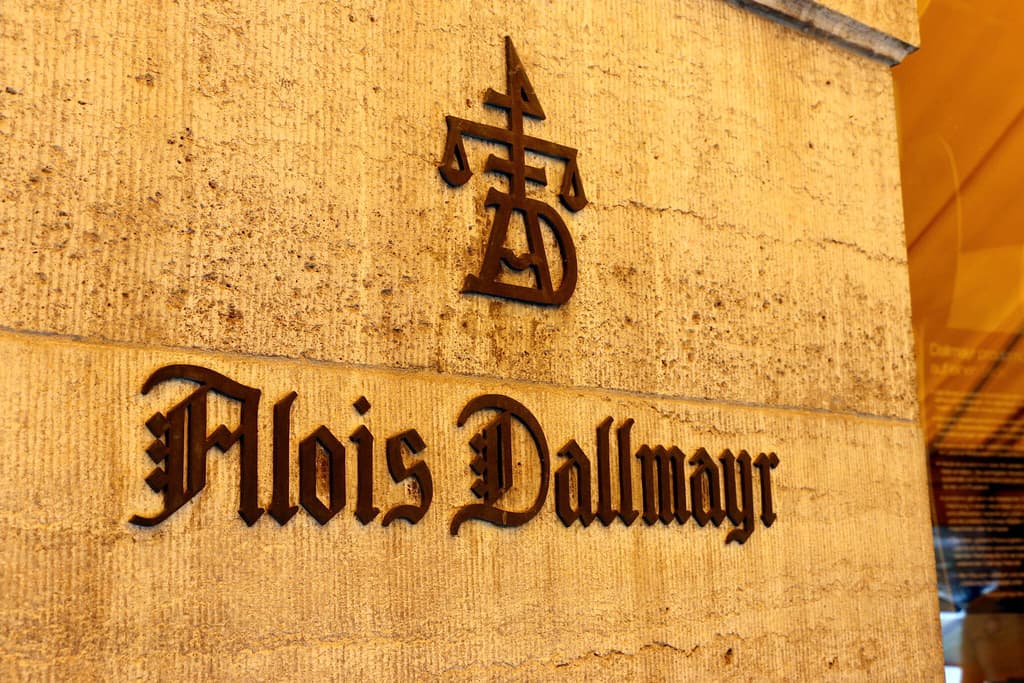 45. Shop at Dallmayr. This shop goes back to the 17th century when it used to supply luxury food items to the royal family. Especially known for their high quality tea and coffee, today over 2.5 million people still visit this delicatessen annually.
46. Take a swim at the Müller'sches Volksbad. This Roman-style public bath and sauna has been around for over one-hundred years. Just be prepared that there is no clothing or swimwear allowed in these traditional pools!
47. In winter, visit a Christkindlmarkt. Munich and the surrounding areas have some of the best Christmas markets in Germany, so take advantage of that if you're visiting during the holiday season.
48. Tour Andechs Monastery and Brewery. Located outside of Munich on the Holy Mountain, this has long been a site of pilgrimage and beer culture– ever since the Middle Ages.
49. Go log-rafting. Yes, that is a thing. Grab a group and go log rafting down the Isar River for an offbeat adventure you'll never forget.
50. Attend Oktoberfest. No list of things to do in Munich would be complete without mentioning Oktoberfest! This event lasts for 16 days each fall commemorating the royal wedding of Prince Ludwig. Today, just as it was then, it is celebrated, of course, with liters of beer!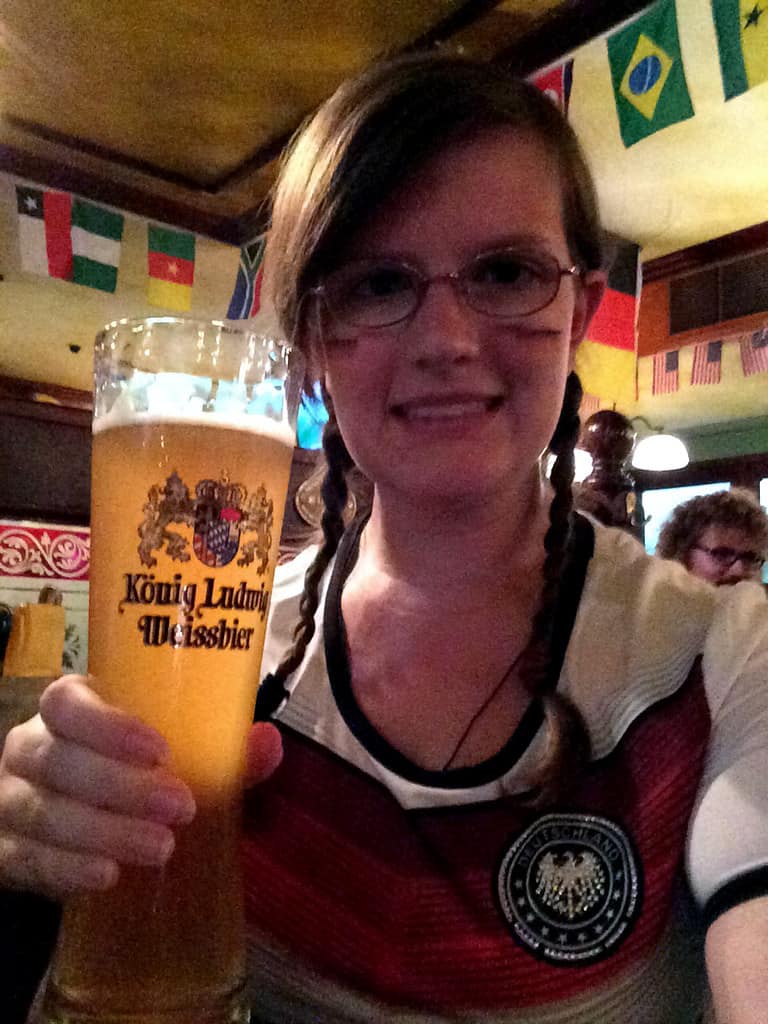 LET'S PIN IT!
WHAT IS YOUR FAVORITE THING TO DO IN MUNICH?