Looking back, we must have been blessed by the weather gods or something while in Europe.
We had beautiful blue skies in London, that alone should be case and point right there, warm summer nights in Paris, and perfectly breezy days along the Mediterranean coasts. Sure, a lot of our days were a bit overcast, but we only experienced one day of actual rain– and for a 50-day trip, I'd say that's pretty good!
Unfortunately for us, that day was our trip out to Neuschwanstein Castle from Munich.
Neuschwanstein was one of those places I knew I wanted to visit from the moment I laid eyes on one of its many photographs circulating online. I mean, how could I not want to visit something known as the inspiration for Disneyland castles? And after going on a great tour of Munich with SANDEMANs New Europe and learning that they also offered a tour to Neuschwanstein? It was a done deal.
Honestly, all I wanted was to go and take those iconic shots of the castle. I didn't even know if I would pay the extra 12 Euros to go inside, especially because there are only 14 finished rooms to see out of the 360.
But alas, as our train rolled into Füssen, it seemed the storm clouds came right along with it.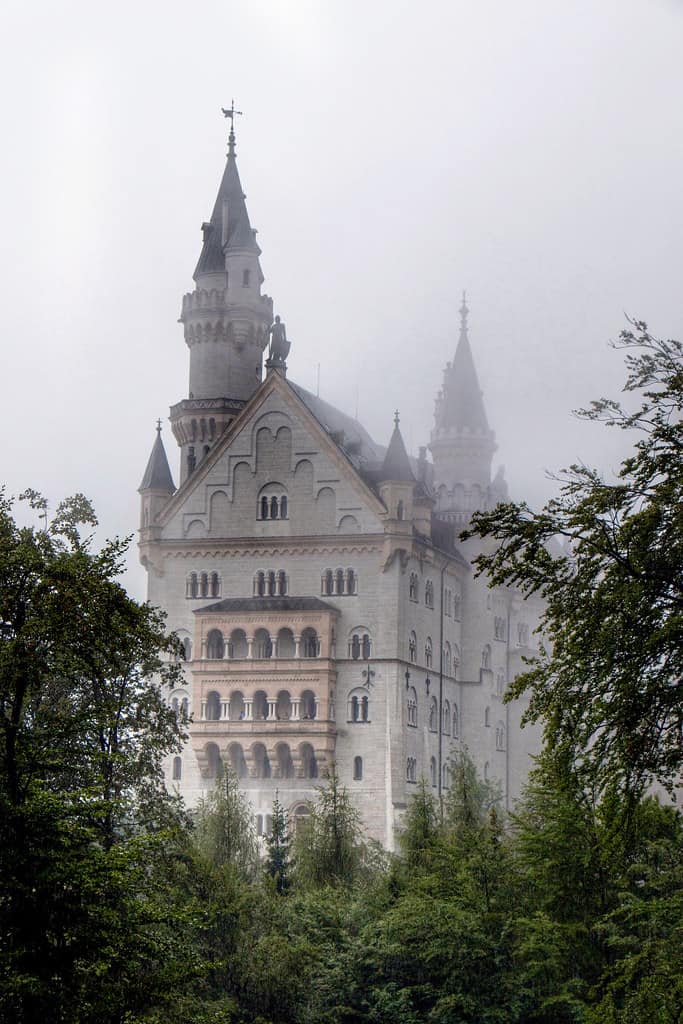 Within minutes of stepping off the train it started pouring. And I don't just mean that lightly, I mean, the type of pouring where everything is soaked through and you're chilled to the bone. Our lovely guide Javier quickly grabbed everyone umbrellas, but even that barely made a difference. At that point, I just wanted to get inside anywhere, so inside the castle we went.
It's funny how sometimes things just fall into place, because let me tell you, that 12 Euro entrance fee was worth every cent.
Never had I been transformed to such a place of magic and wonder. By the end of the tour you could really see that Neuschwanstein was more than Ludwig's castle– it was his dreamland, his own personal Disneyland.
A lot of people question whether he was crazy or not, which, hey, maybe he was. The line between crazy and genius is only defined by success isn't it? But looking at his dreams translated to life through the rooms he designed made it almost painful to end the tour with a walk through unfinished rooms.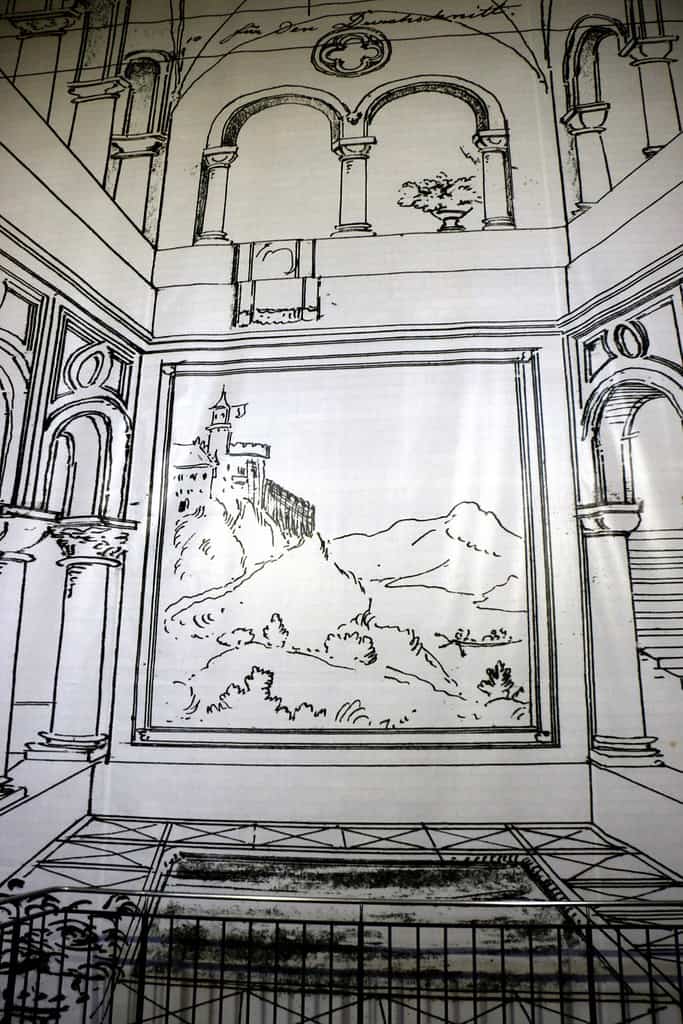 Unfortunately if you don't go with a tour group, you will be stuck with only the official castle guides and you probably won't find that same connection.
You would think having a designated guide who works for the castle be a good thing, right? Maybe we were just unlucky, but our guide had the look and personality of Heinrich Himmler. He couldn't have cared less about the enjoyment of the people who were paying to visit inside the castle.
As he rushed from room to room he gave quick explanations that ended before half the group even arrived. When someone asked him to slow down, he looked annoyed as he made it clear that it was our fault for not running to the next room. Our fault?? We had a giant group of 50-some people, including a few elderly folks with walkers who were struggling as they tried to climb up far too many stairs that were NOT advertised.
At one point it got so ridiculous that our guide, Javier, actually spoke up and began arguing angrily with the castle guide over his behavior. (Which we were all very thankful for). The castle guide slowed down a little, but instead began to speak with a mutter so that no one could understand him.
Every time the official guide would finish his explanation, Javier would step in to give our group more interesting stories and explanations. I began to notice others from outside our tour would linger to better their experience there as well.
The rooms themselves were gorgeous, each one more intricate than the next. They don't allow photography inside, so I don't have any photos to show for it, but that's even more reason to go and visit yourself!
By the end of the tour, the rain had mostly stopped. Javier hiked with our group up to Marienbrücke, the bridge that gives the iconic shot of Neuschwanstein, but when we arrived the castle was nowhere in sight. The rain may have stopped, but it created tons of fog that obstructed the view of the castle.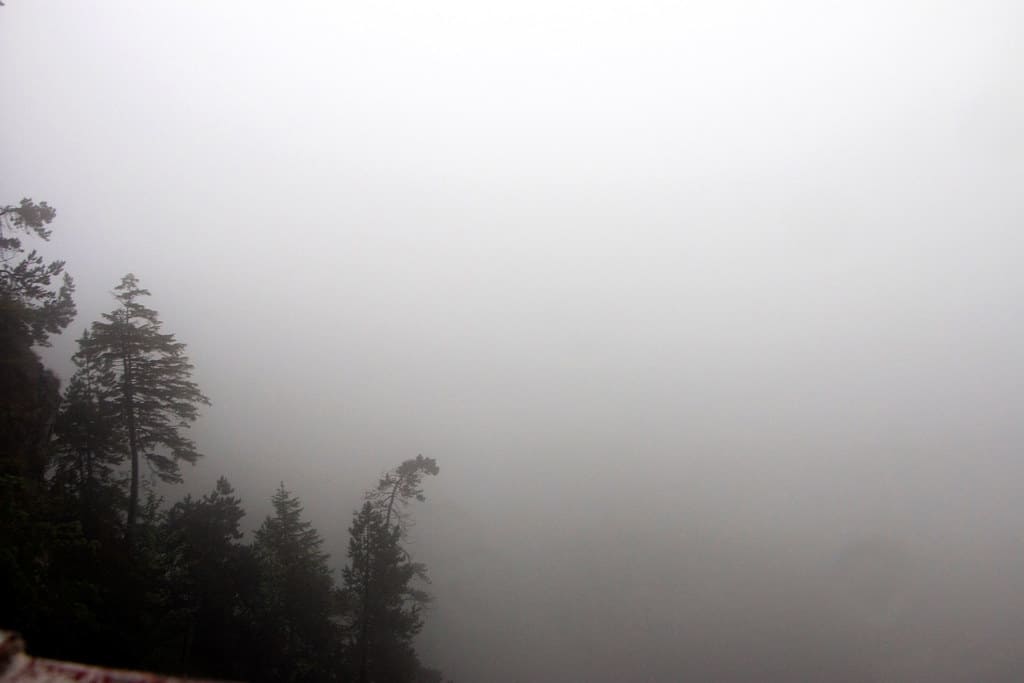 Our group lingered around a bit longer as Javier shared a few more stories of Ludwig's tragic tale.  As we got ready to make the descent down the mountain, the castle finally showed itself for all of five seconds, but that was all I needed.
There was just something about that place, and about Ludwig, and his dreams that I just really connected with. Of course all of this was brought to life by hearing the stories and history that Javier told us. Had it not been for him, our visit would have been as grey and miserable as the weather outside.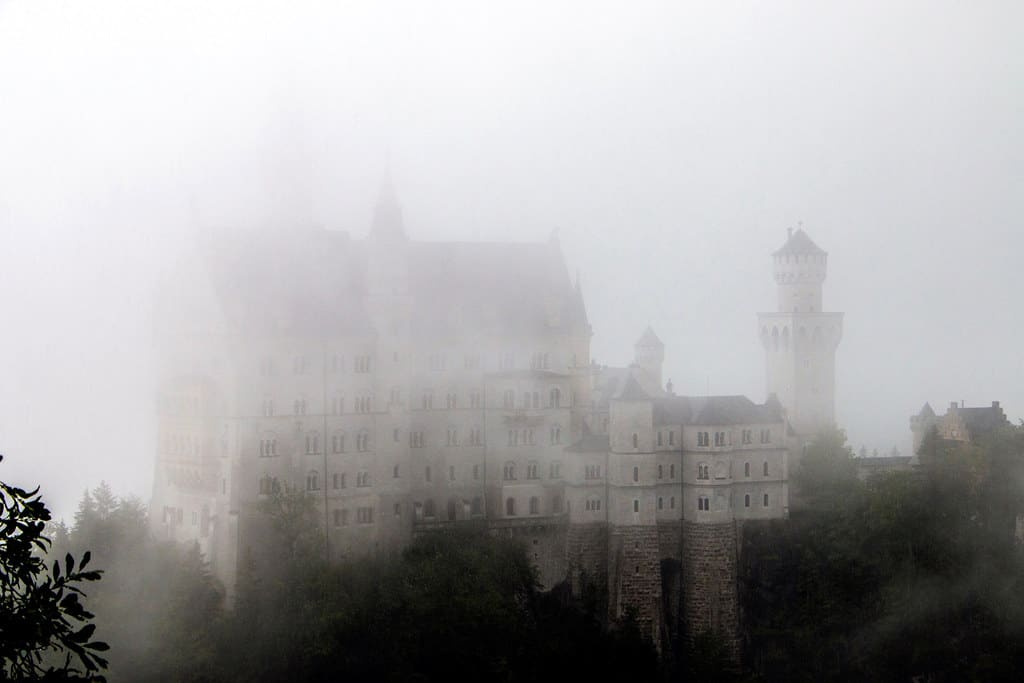 HAVE YOU BEEN TO NEUSCHWANSTEIN?
A huge thank you to our amazing guide Javier and to SANDEMANs New Europe for allowing me to live out my Disney fantasies by hosting me on their lovely tour. All opinions of the tour and other Nazi tour guides, as always, are my own.