Growing up a five-minute drive from my grandma, she often became my babysitter whenever my parents had to go out.
When it was hot enough this meant being able to swim in the community pool, but this is Chicago after all, so more often than not I was stuck inside her apartment. It wasn't all that bad though, without cable TV it just meant we had to be a little more creative. Well, not really, it just meant we watched the same rotation of movies over and over again!
I'm sure you're probably thinking that knowing me it involved Disney classics– but surprisingly enough it did not. Instead it of consisted of musicals ripped off PBS on old VHS tapes. I quickly grew familiar with every lyric from Cats, My Fair Lady, The King and I and of course, The Sound of Music.
When I began the initial stages of planning my Europe trip, I'd map out the countries we'd visit including the cities within. When it came to Austria, there was one destination I knew we needed to visit– Salzburg.
Home to Mozart, Salzburg has long been a city of music and fine arts. However, if you were to ask most locals today who Rogers and Hammerstein were, there's a good chance they might not be able to tell you! You see, The Sound of Music is virtually unknown in Austria. And those who do know it generally don't like it for all of the liberties Hollywood took with it.
Even if you, too, aren't a fan of the movie, it's still worthwhile to pay a visit to the sites featured in it. As we only visited Salzburg as a day trip from Munich, we couldn't visit everywhere, but we tried our best to pack in as much Sound of Music goodness as possible.
Here were a few of our favorite things (sorry, I couldn't resist!):
MIRABELL GARDENS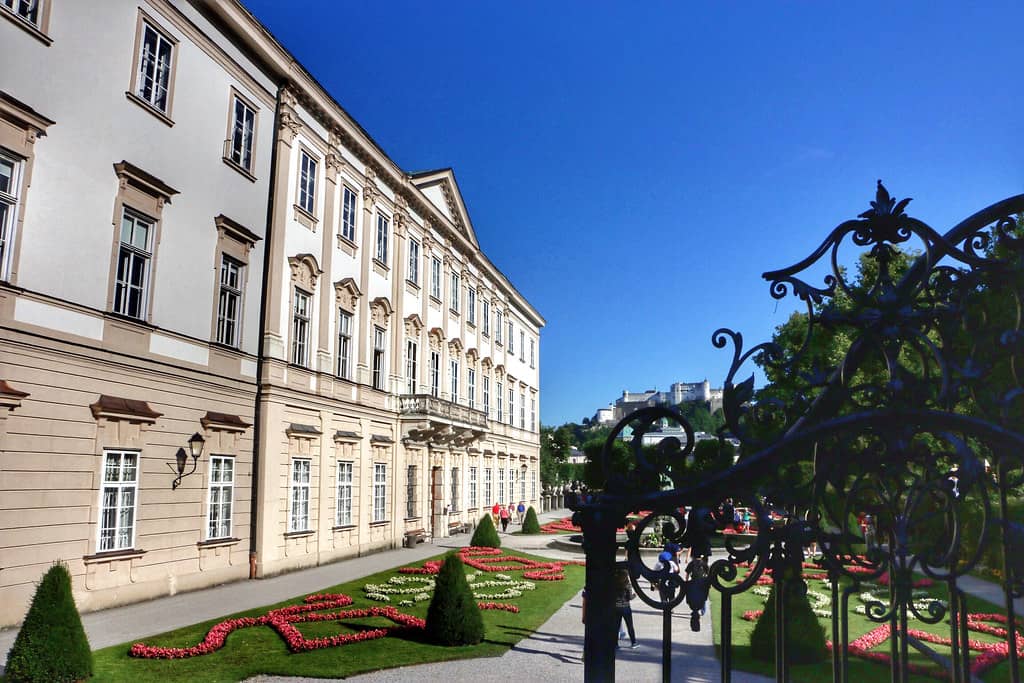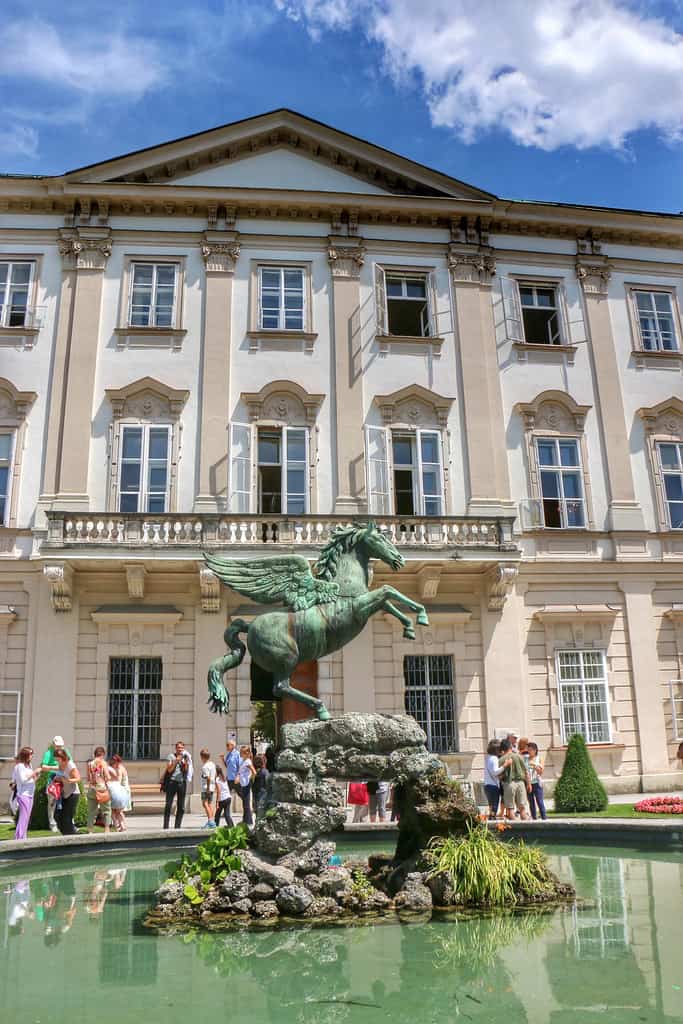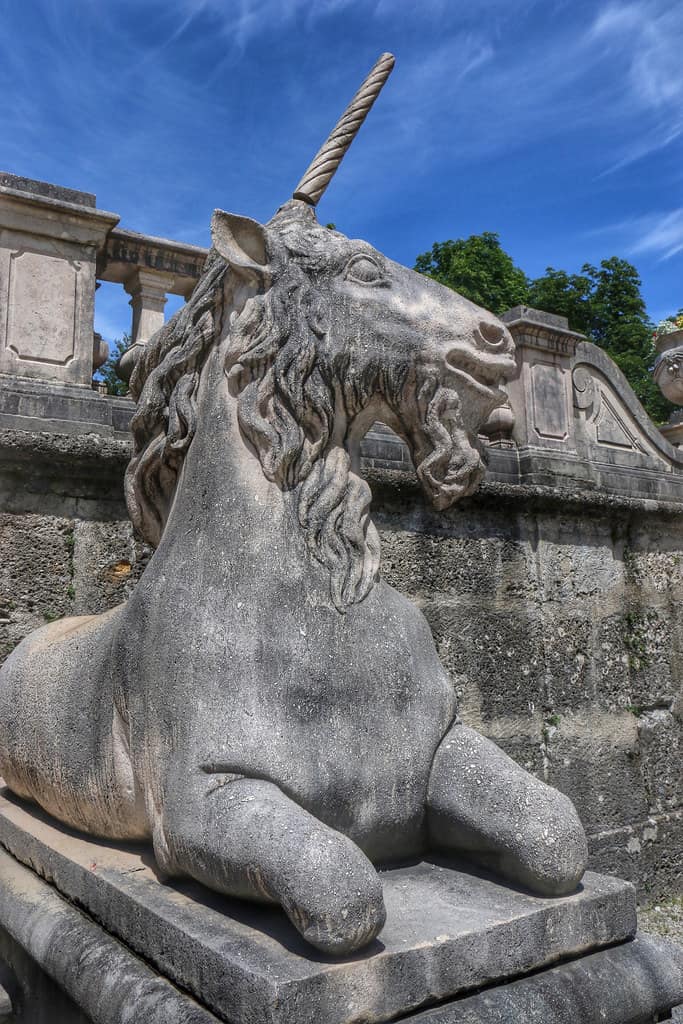 These 18th-century gardens are one of the most popular sights in Salzburg, and not just because of the Sound of Music. We started our day here and the Mirabell Gardens were packed with people enjoying the sunny weather, posing in front of the Pegasus Fountain, and trying to re-create the "Do, Re, Mi" scenes by hopping up and down the steps.
We unfortunately didn't have time to fully explore the gardens, but if you do, you'll notice many scenes from the movies were filmed there.
LEOPOLDSKRON PALACE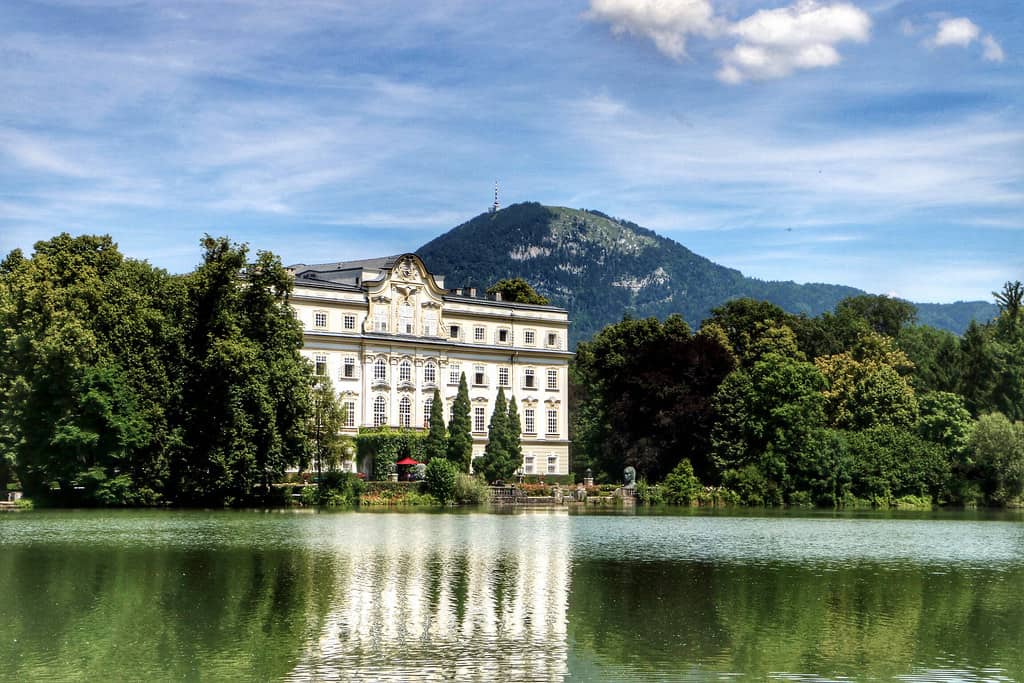 Unfortunately for Sound of Music fans, the von Trapp family home as we know it just doesn't exist. There was not one particular mansion used for filming, but rather multiple locations pieced together. One of the most recognizable would be Leopoldskron Palace, which was featured as the back of the home in many scenes, including the famous boat incident.
Although it can't be seen, as the palace is closed to visitors, it's worth mentioning that the Venetian Room inside was also used for filming. However, part way through filming they lost permission, so rather than scrapping the previous shots, they recreated the room entirely offsite as a set in order to finish the scene.
HELLBRUNN PALACE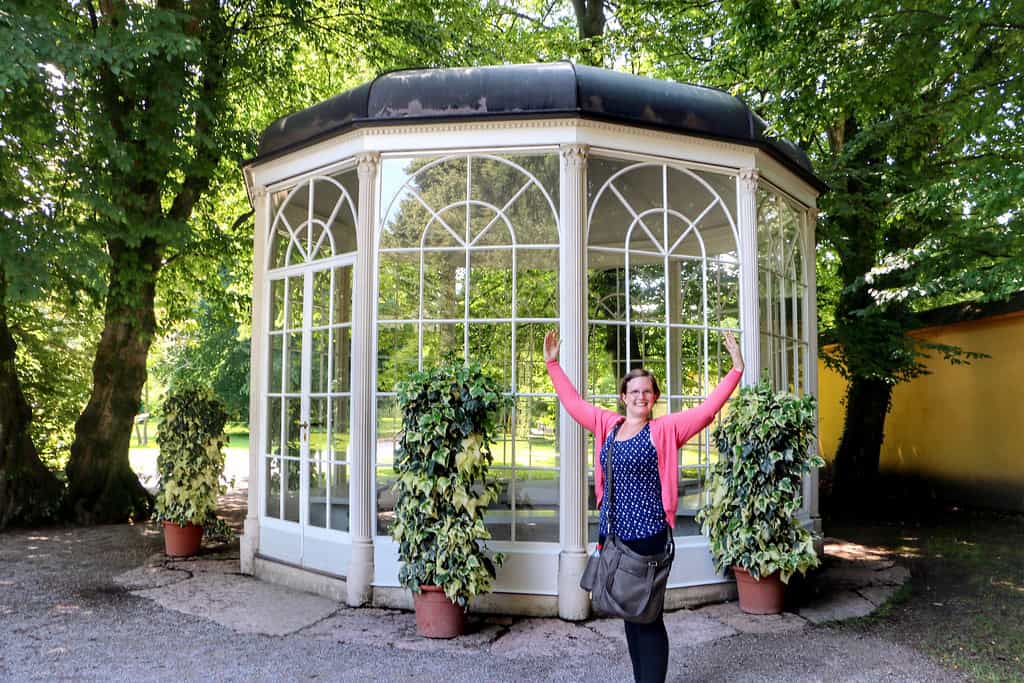 While you won't find any of the movie filming locations here, what you will find is the gazebo set from the "16 Going on 17" scene.  This gazebo originally was outside of Leopoldskron Palace, but due to the number of tourists constantly paying it a visit despite being on private property, the gazebo was relocated to Hellbrunn Palace.
ST. MICHAEL'S CHURCH
Located outside of Salzburg in the town of Mondsee is the church where the wedding of Maria and Baron von Trapp took place. Although this filming location is a bit further away, it was actually one of my favorite areas!
The church interior with its pink and white was so unique, and the mountainous lake regions of Austria were jaw-droppingly stunning.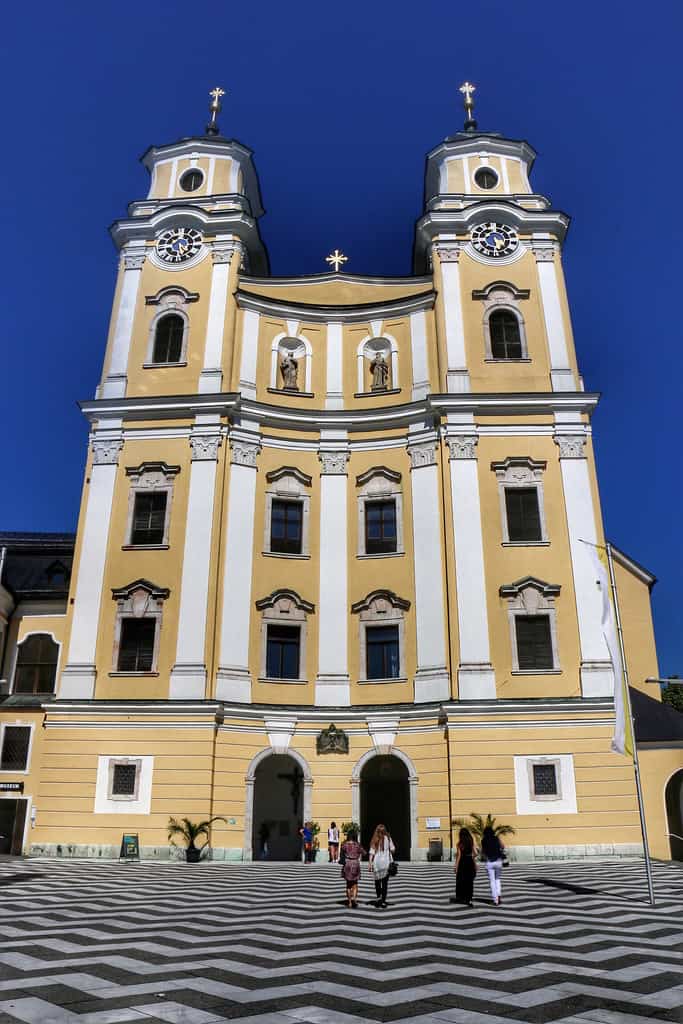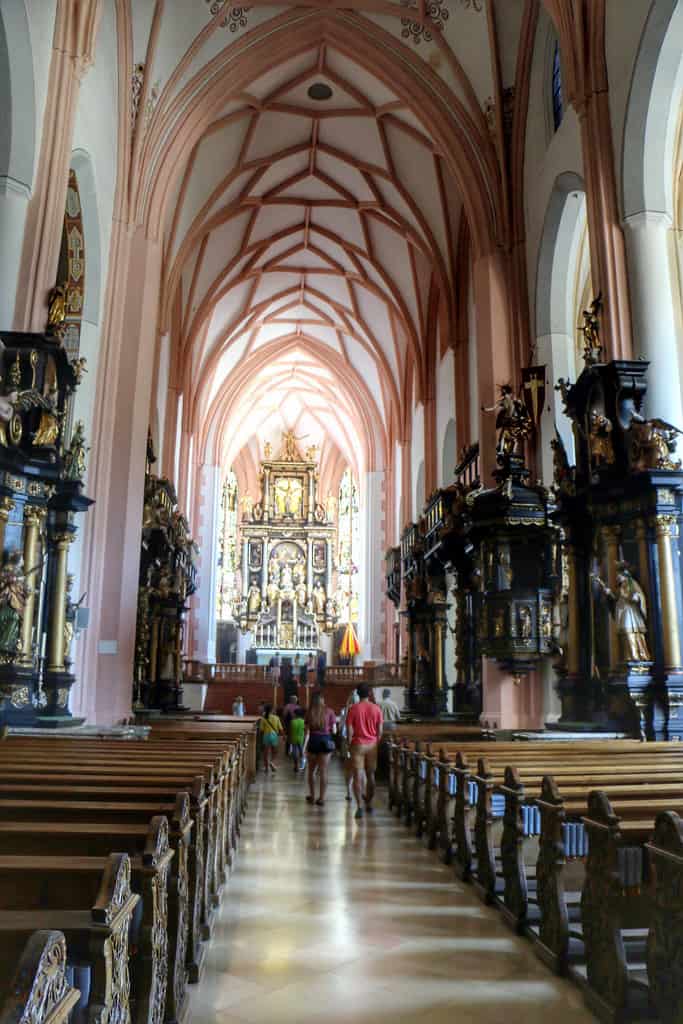 THE SIGHTS AND SOUNDS OF SALZBURG
Now that I've shared with you some of my favorite 'Sounds', I also wanted to share some of my favorite sights. Taking The Sound of Music aside, Salzburg is an absolutely beautiful city. With the snow-capped Alps in the background and the clearest blue lakes I'd ever seen, it was like I was on a daylong photography walk as I was continually taking photos of the surrounding scenery!
It's no wonder that many Austrians choose to have vacation homes in this area– I would too.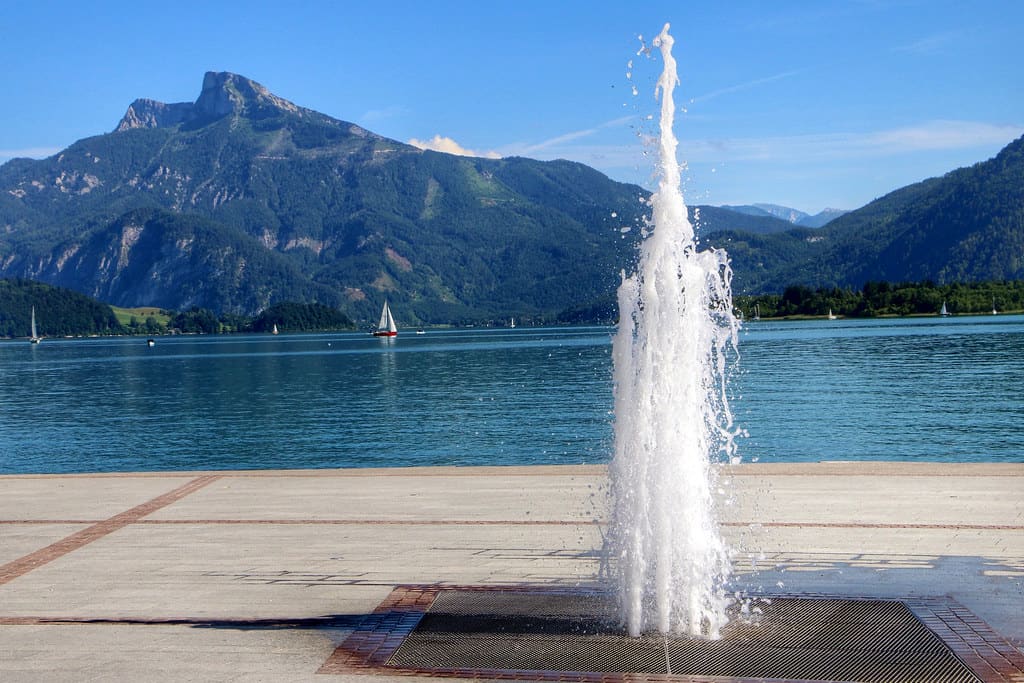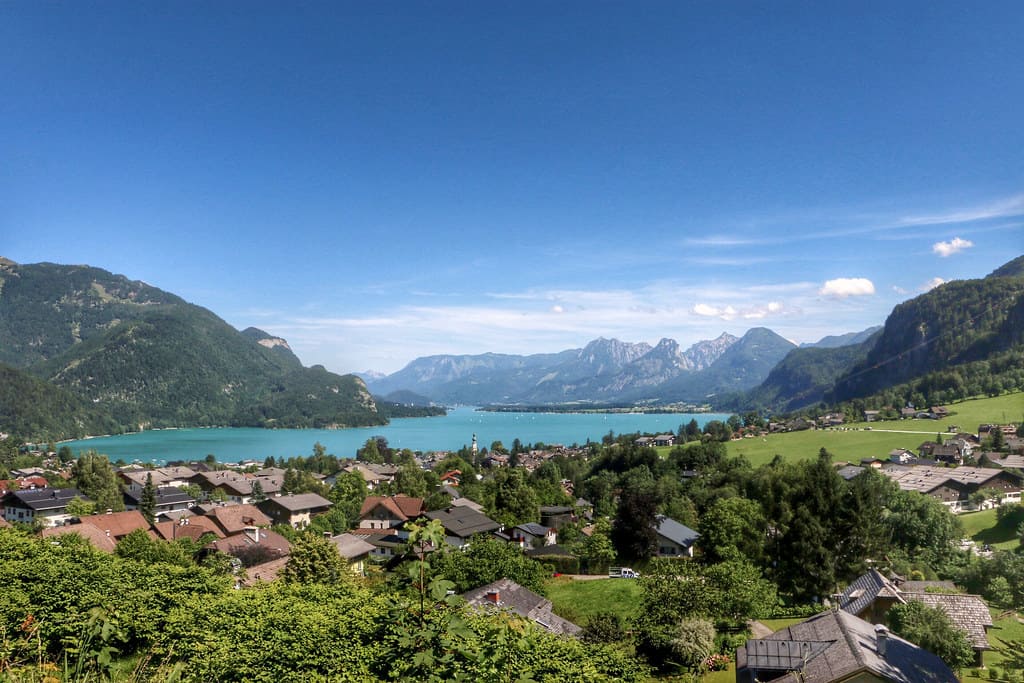 While you could visit most of the Sound of Music sights within the city limits easily on your own, I chose to experience the sights and sounds of Salzburg with other fans by taking Panorama's 'Original Sound of Music Tour'.
It was an extremely enjoyable tour and allowed me to visit further out locations such as Mondee and the gorgeous lake district.
Our guide Peter provided lots of information that I never knew about, not only the movie, but also on Salzburg, Julie Andrews and the real von Trapp family. At one point he played the soundtrack and the bus ride turned into a giant sing-along session.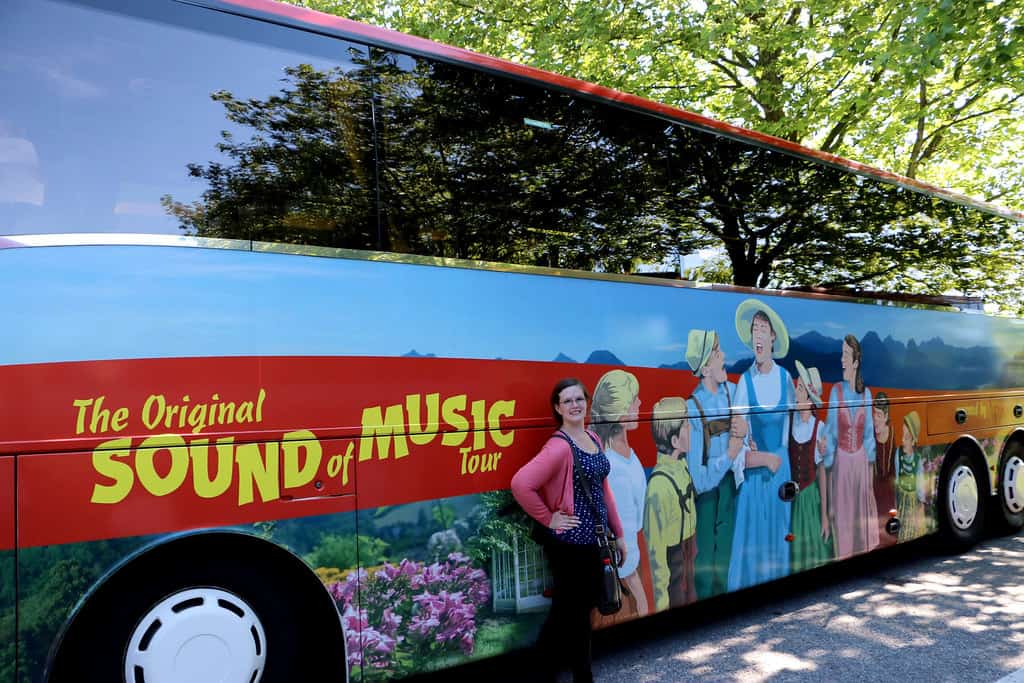 DO YOU LIKE THE SOUND OF MUSIC? HOW ABOUT SALZBURG?
I was a guest of Panorama Tours. As always, all opinions and love of The Sound of Music are my own.