Apart from being known for our brutal winters, Chicago is probably most famous for its food.
Ask almost anyone what dishes hail from the Windy City and most could probably at least reply with deep dish pizza. I mean, even all the way on the other side of the world in Hong Kong I was able to find little tastes of Chicago.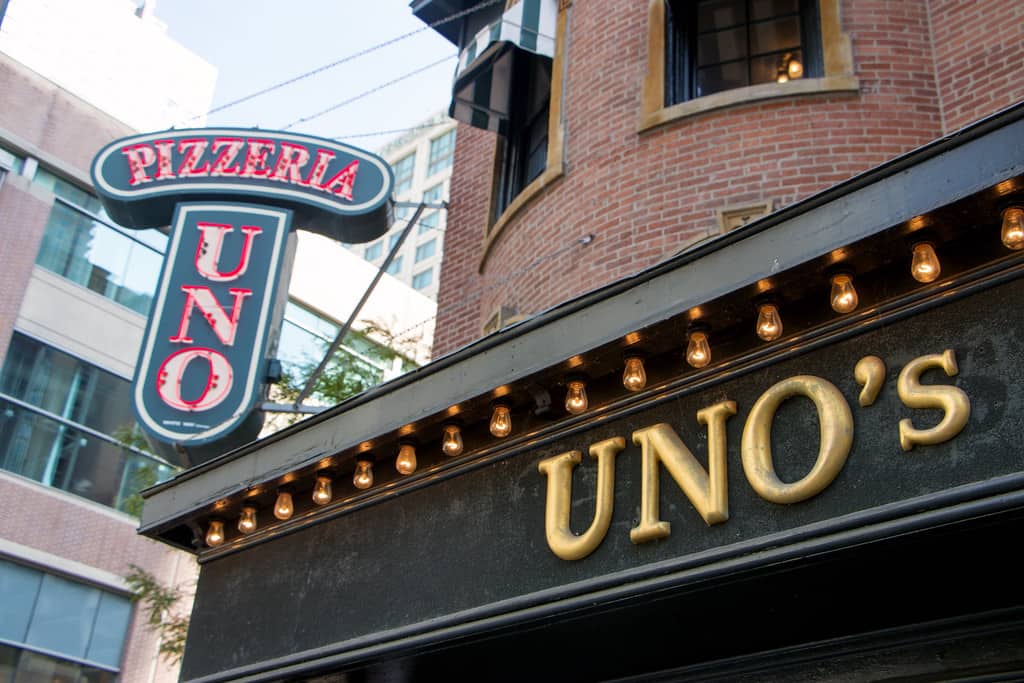 So back when the weather was still acceptable, I was super excited when Johnny and I were invited on a food tour of the city with Great Food Tours Chicago.
Rather than your typical food tour, which only samples Chicago's most famous food trifecta (of deep dish pizza, hotdogs and Italian beef), this one embraced Italian heritage here in the city.
Over the course of around two hours or so, you'll stuff yourself silly with five deliciously different samplings. Seriously, by tasting number three I could barely go on!
So make sure to wear good walking shoes and loose clothing because you'll definitely need them. It is a walking tour after all, which is good because you can tell yourself you're working off all those calories you're putting on.
Mmm calories.
As our guide Jason walked with us from shop to shop, he told us the history behind the food we were eating and the families who cook it. Despite being from the Chicago area, I really don't know that much of the city's history, so I enjoyed getting to learn bits of it through the food we ate.
And I guess other locals do too since out of our 15 person group, surprisingly, everyone was from the area.
Come 3 o'clock we were finally all gathered and ready to eat!
AL'S FAMOUS ITALIAN BEEF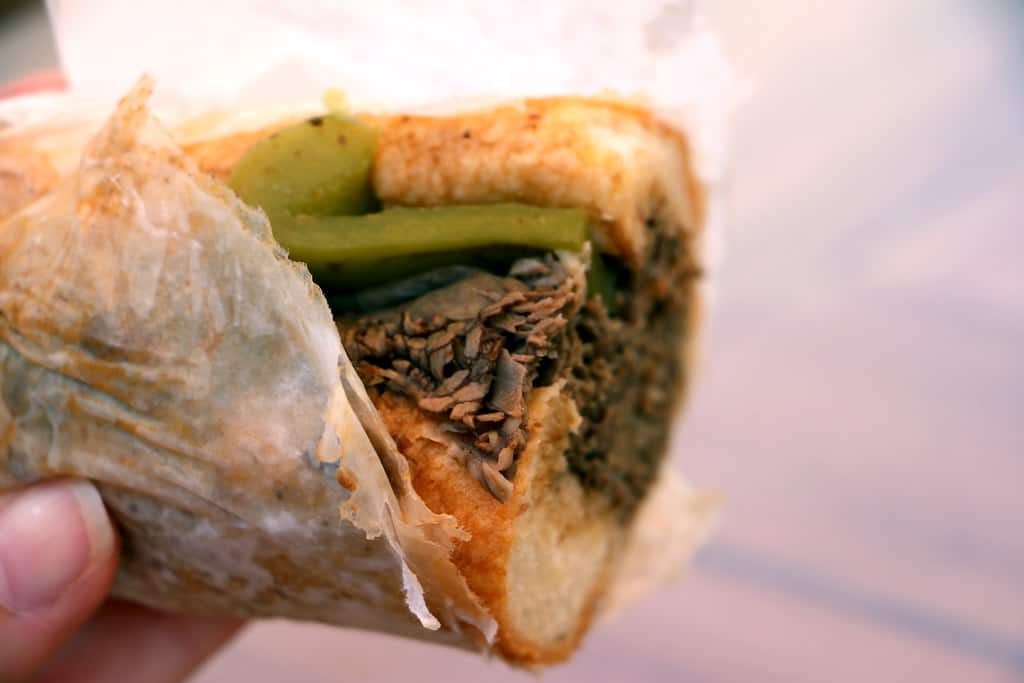 Our first stop of the tour was to taste Chicago's most popular sandwich. While most people don't know it, Italian Beef was invented right here in Chicago by Al and his family back in the 1930s.
Thanks to the Great Depression sweeping the nation meat was scare, so to make the most of what they had, they began slicing the meat extra thin and putting it on extra thick bread. This of course made the sandwich a bit hard to stomach, so the au jus was added to make all that bread more palatable.
I honestly was never a huge fan of Italian Beef, but that's probably because I used to have to cook it every week at a cafe I worked at in uni and it was a major pain. Trying it at Al's though, I was pleasantly surprised and loved the seasoning they used.
PORTILLO'S & BARNELLI'S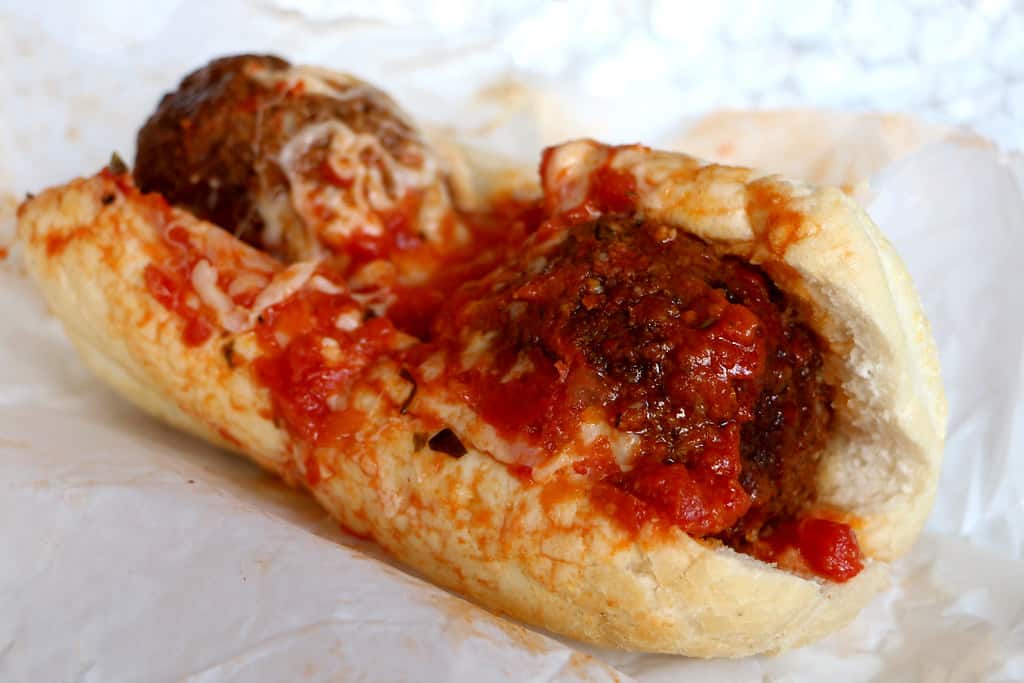 Another hardy stop, this time we were sampling another sandwich from Barnelli's across the street. As there are multiple Portillo's in the Chicagoland area, it's a place I was already pretty familiar with and will eat there a few times per year.
Portillo's and Barnelli's always share one building with two different counters inside. Usually I opt for a simple hamburger or hotdog; I've honestly never even looked at Barnelli's menu before, and I'm not sure why.
When Jason brought us out the meatball sandwiches my ordering habits at Portillo's forever changed. Now that I've tried their homemade meatballs on Italian bread, I can't go back to the days of hamburgers and hotdogs.
Delicious.
UNO PIZZERIA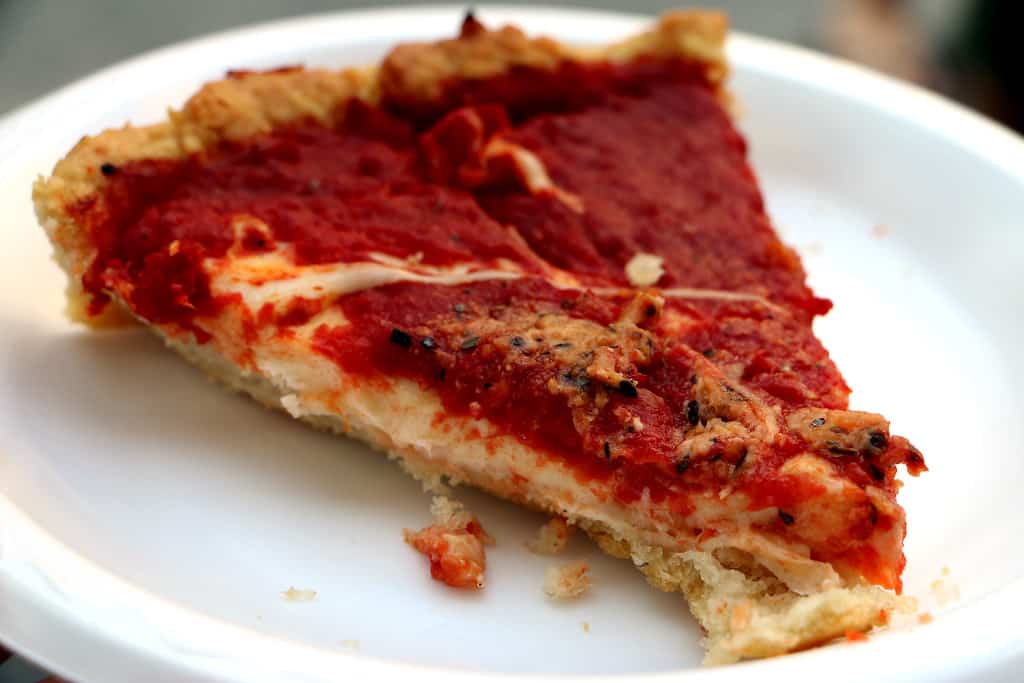 Our next stop was to Uno Pizzeria, home of the original deep dish pizza.
Did I mention I'm actually a pretty bad Chicagoan? Not only do I dislike Italian Beef, but I only like ketchup on my hotdogs and I'm also not a fan of deep dish pizza– and that's saying a lot considering I love almost any type of pizza, even the cheap, frozen kind. 
The only deep dish I've ever found myself enjoying is Lou Malnati's, so needless to say I wasn't all that interested in this stop.
After giving it a chance, I will admit it was better than I thought it would be … but still a bit too doughy for my tastes. I guess I'm still on Team New York Pizza after all.
Johnny loved the deep dish here though, as did most other members of our group. Many of which went back to purchase a second slice (and presumably a second stomach).
L'APPETITO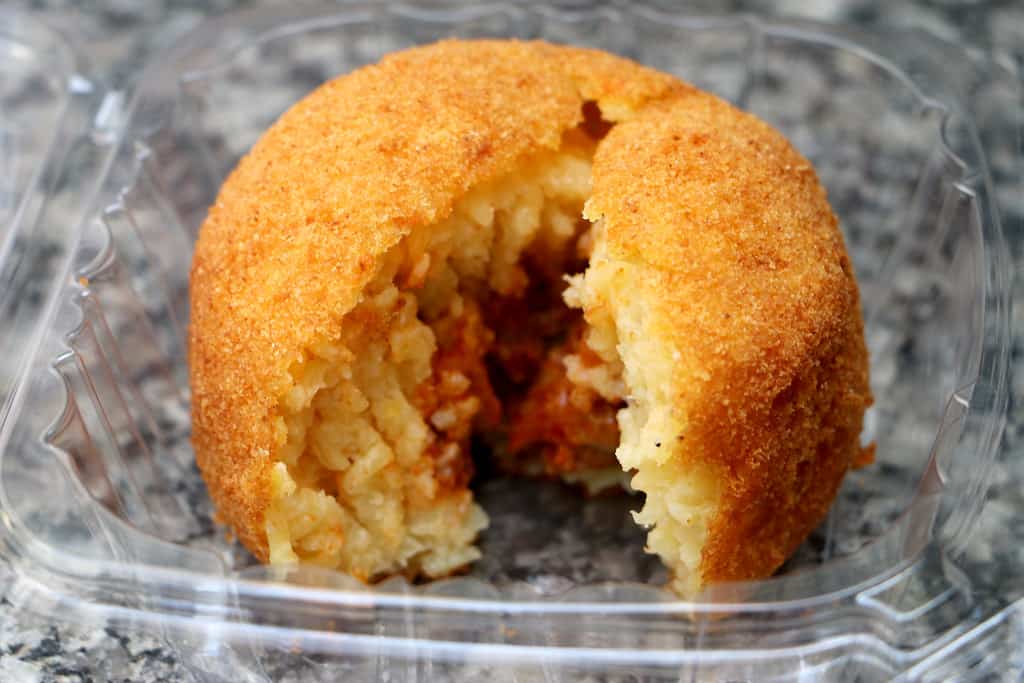 By this point I could barely stuff my face anymore, but for you guys and the for the sake of this blog I pushed myself to continue.
Making our way to L'Appetito on Michigan Avenue, we lined up to try their famous Arancini, or Italian fried rice balls.
Stuffed with peas, a little meat, and ricotta cheese, it was no wonder why people love these things. They also have a vegetarian option with spinach instead of meat that people said tasted even better. I know what I'll be trying next time!
BAR TOMA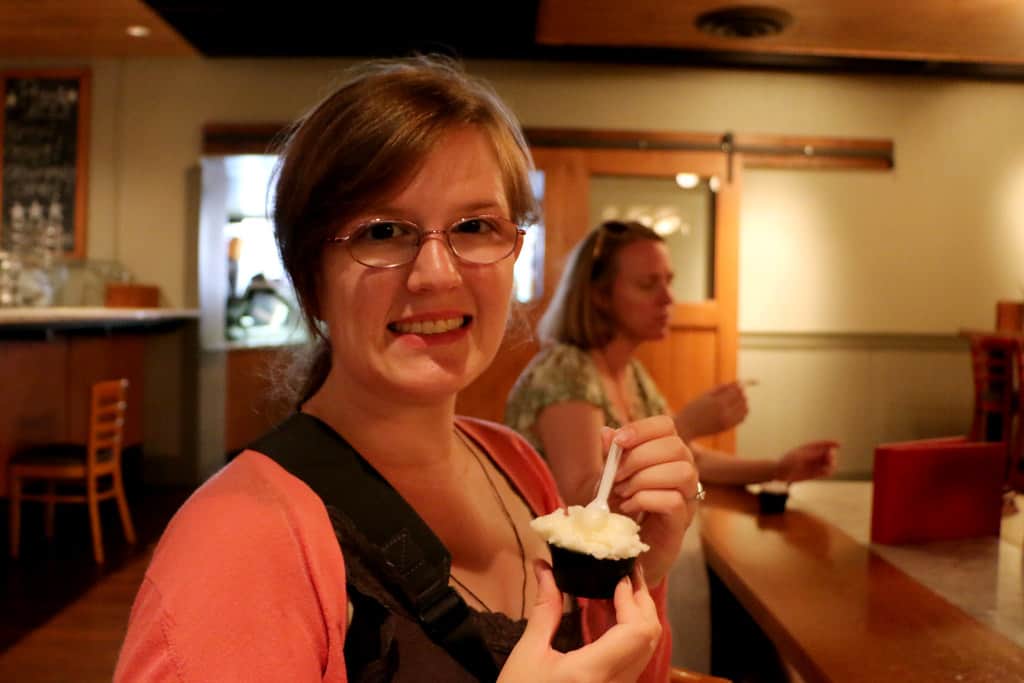 Losing track of what tasting we were on, I thought the tour must surely be ending. I couldn't even finish my rice ball and instead had to pack most of it in a to-go container. But we were on the go again, finally heading to our last destination.
It was time for some dessert! Because you can't forget dessert when you're on an Italian food tour.
Walking into Bar Toma we were greeted with mounds of gelato behind the glass counter. After mulling over my options for a few minutes, I finally settled on lemon– which was perfectly refreshing to clear my palate after eating so much.
Leaving completely stuffed and satisfied, I wouldn't hesitate to recommend Great Food Tours to anyone who wants to learn a little more about Chicago's food scene.
The Italian food tour was a great way to spend the afternoon, and you can be sure I'll be trying out some of their other tours eventually. Their Chicago Cupcake Tour in particular has caught my attention, where yes, you do eat six different cupcakes over the course of two hours. Talk about a sugar rush!
Now, if only they offered a donut tour… 
Disclaimer: Great Food Tours hosted us free of charge on their tour. As always, all opinions and love of Italian food are my own.