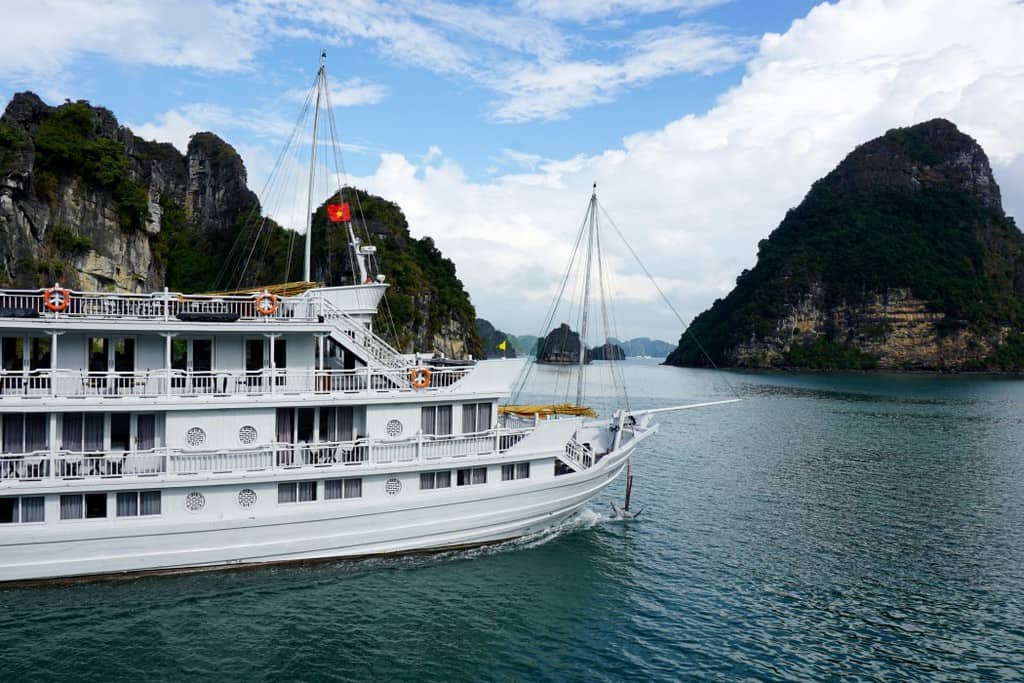 When I found out I would be arriving in Hanoi four days ahead of schedule, I struggled to decide what I would do with my time there.
Should I spend more time in the actual city? Should I hole up and get some work done?
Many of you recommended I go out to Ha Long Bay or Sapa.
Unfortunately Sapa seemed out of the question for this time of year, but I was intrigued at the idea of Ha Long Bay. People I knew who had been out here before went on and on about the beauty and surrealism of it.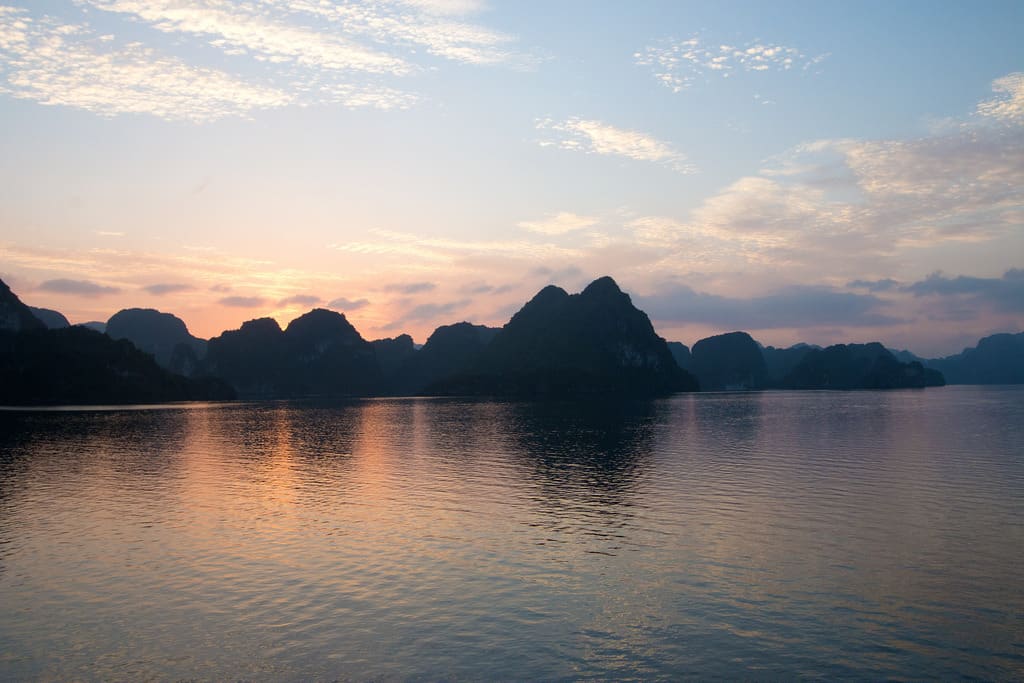 I immediately began looking at overnight junk cruises on the bay, and, of course, all the photos those sites featured were picture-perfect… evoking a romanticized version of Vietnam's past. So instead I turned to other travel blogs for a more realistic portrayal.
After looking at countless other blog posts on the famous UNESCO site, I still couldn't decide if it was worth the eight hour car ride there and back. To be honest, most photos I saw were dull and grey– hardly enticing me to go.
Located in northern Vietnam, and close to China, I knew the smog meant there was often little-to-no visibility. Hence the grey-ness in all the photos I had been seeing. The more I read through blog posts, the more I started reading about unsafe conditions, drunken junk party boats and more escapades I wanted no part in.
I really started to second guess my desire to go to Ha Long Bay and began looking at other options.
But then an opportunity arose that fit perfectly into my schedule, so I saw it as a sign and decided to visit Ha Long Bay with Buffalo Tours.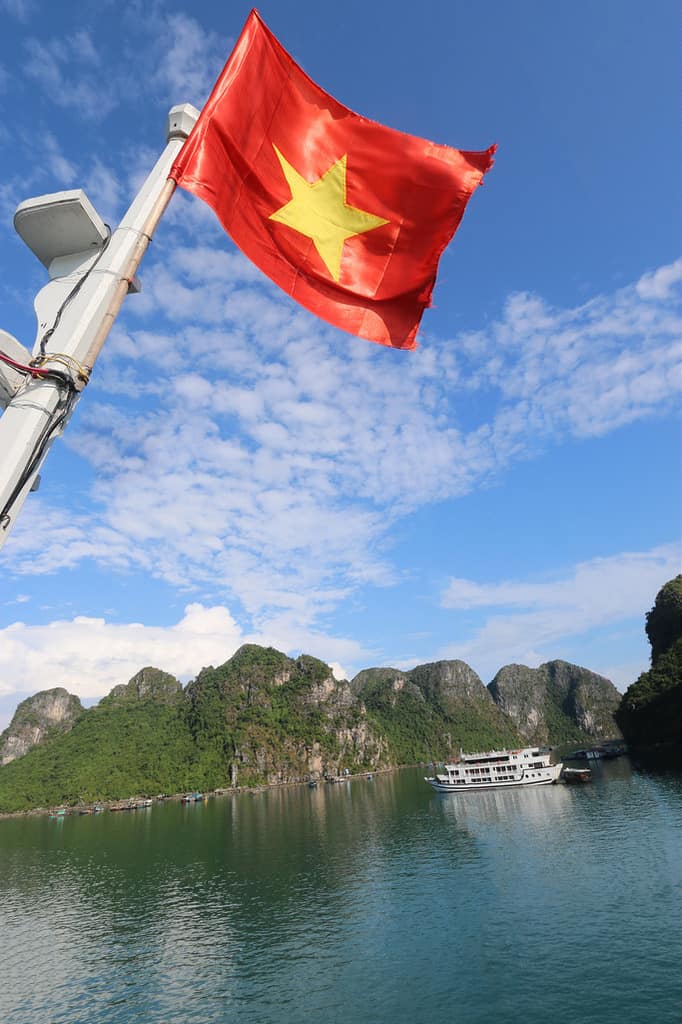 And you know what? The Ha Long Bay I experienced exceeded all my expectations. In fact, it ended up being one of the highlights of my time in Vietnam!
Yes, the drive out there was, well, long, but it wasn't entirely boring. There was plenty of local life to be seen and scary traffic to experience.
Arriving at the Aphrodite office I waited for the rest of the guests to arrive. I was surprised when somehow we lucked out with a grand total of five passengers (with 22 staff to wait on us). Our lovely guides took care of our luggage and escorted us to our rooms on the boat.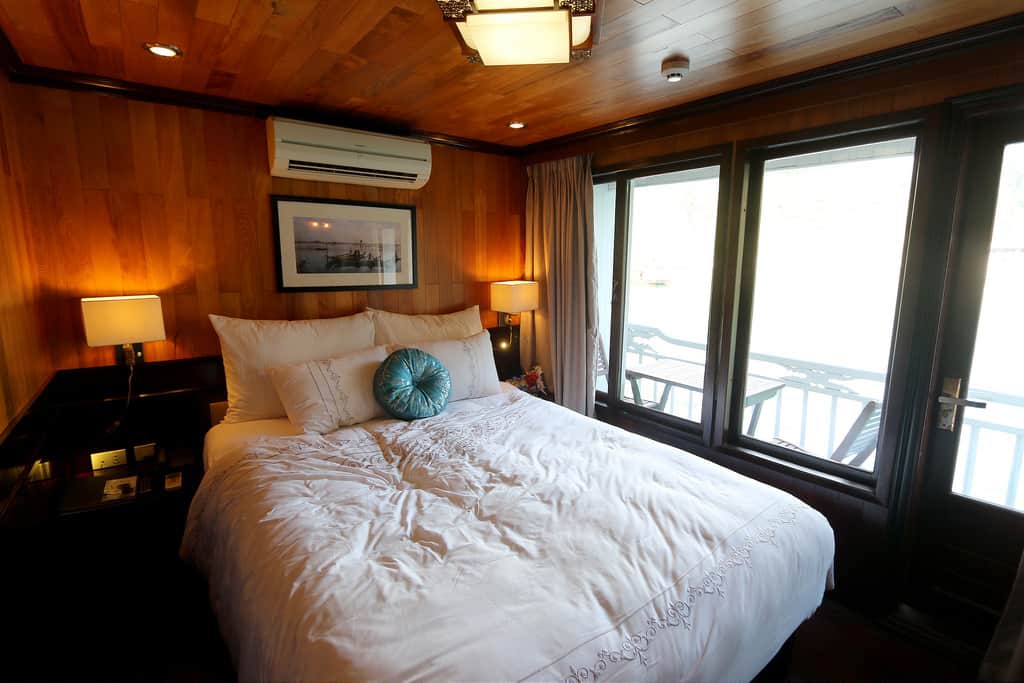 The rooms were surprisingly spacious and comfortable. I loved that they had private balconies so you could relax and enjoy the view.
They even offered all the normal toiletries you find in Asian hotels, which was a surprise to me. I really didn't expect to be given a toothbrush and all that.
Looking out my window however, I began to second guess my decision again. It was grey and rainy. Maybe those photos I had seen online would be my unfortunate fate as well.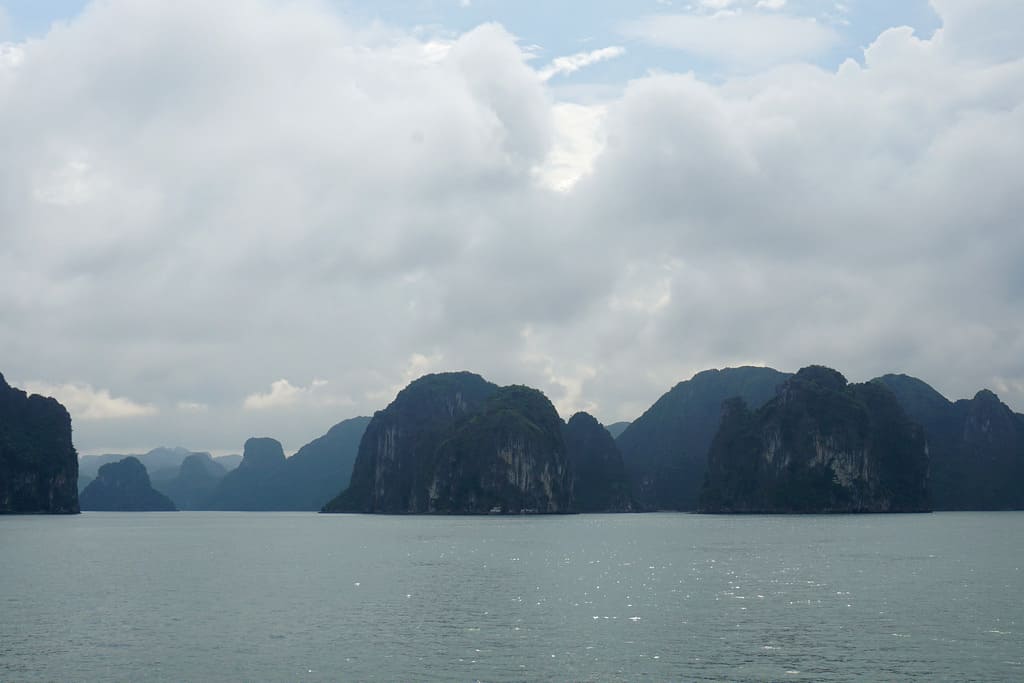 We had a quick safety briefing before enjoying lunch as we set sail on the bay.
Looking out the window I almost dropped my glass to grab my camera when blue sky suddenly started to show through. I thought this may be my only chance to get those gorgeous photos of blue skies and emerald waters.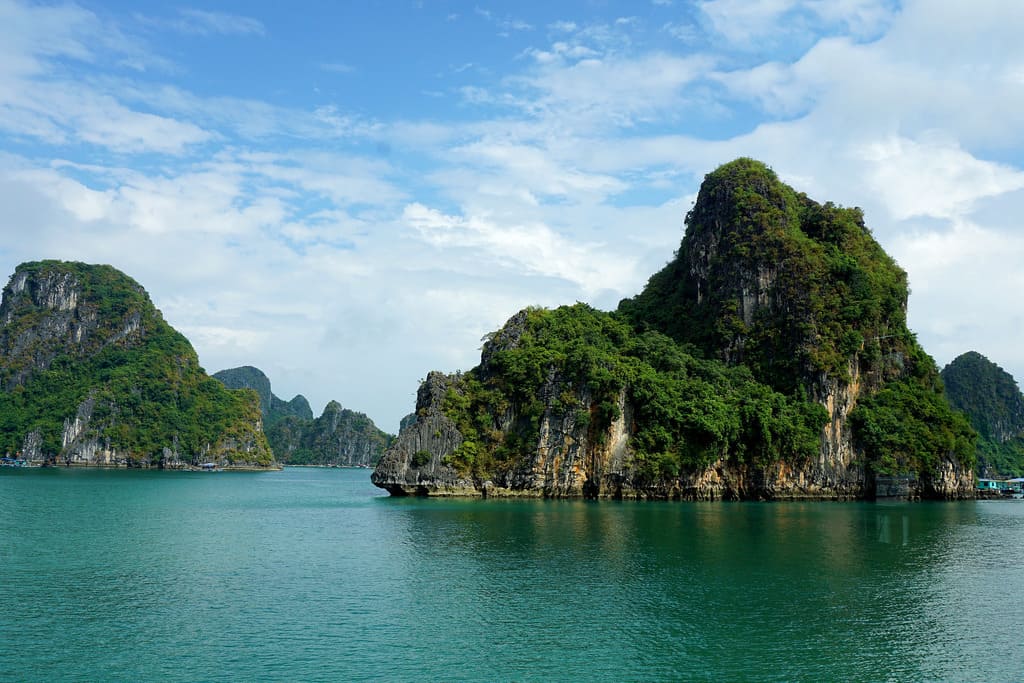 But I mean really, look at the difference the sun and blue skies make. Grey Ha Long Bay just isn't that pretty!
Fortunately the sun decided to stay with us for the rest of the trip.
After lunch, it was time for our first shore excursion– a trip to one of seven remaining floating villages within Ha Long Bay.
Without any English skills, a strong local woman rowed us around in a sampan giving us a tour of her village.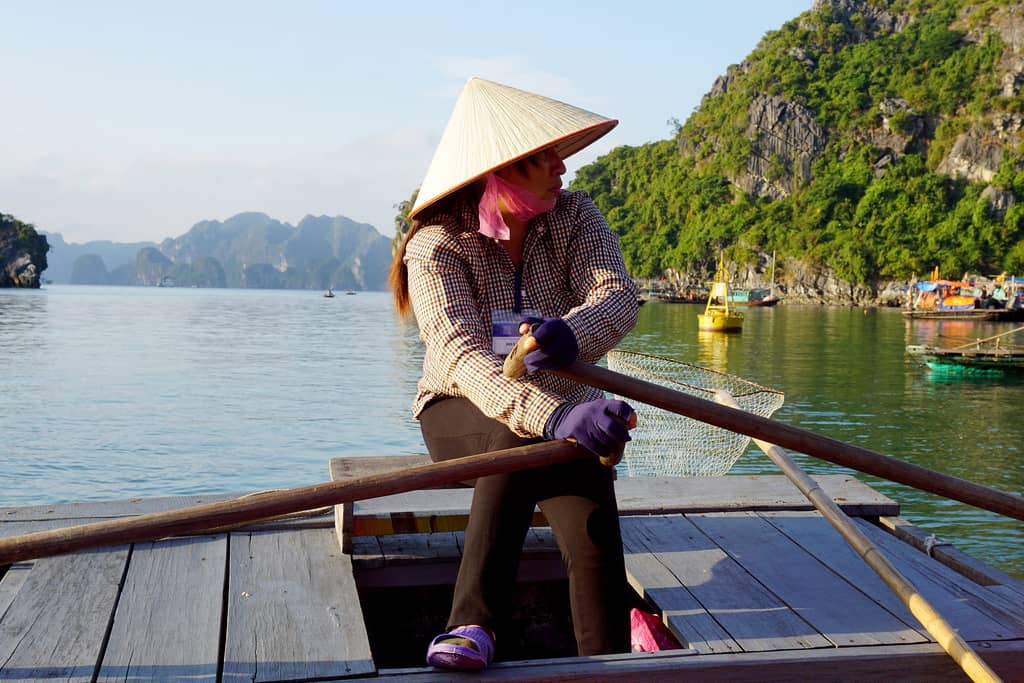 The village isn't quite what it used to be… mainly a collection of a few floating houses and a lot of fishing boats, but it was still fascinating.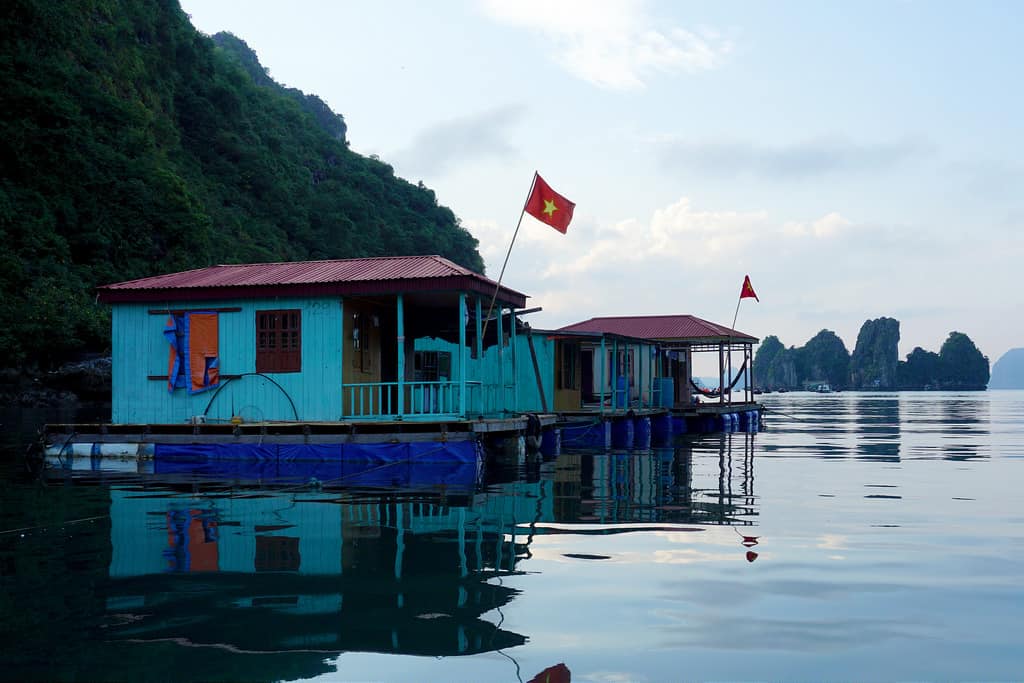 The government is working really hard to provide incentives for those who leave the bay in favor of the city.
It's worked on most people due to the promise of a better life with education, healthcare and stability, but some stubborn locals have remained to continue living the hard life of a fisherman.
Heading back to our boat, the sun was already starting to set, so I grabbed my camera and headed straight to the top deck.
Snapping away, the sunset continually got better and better.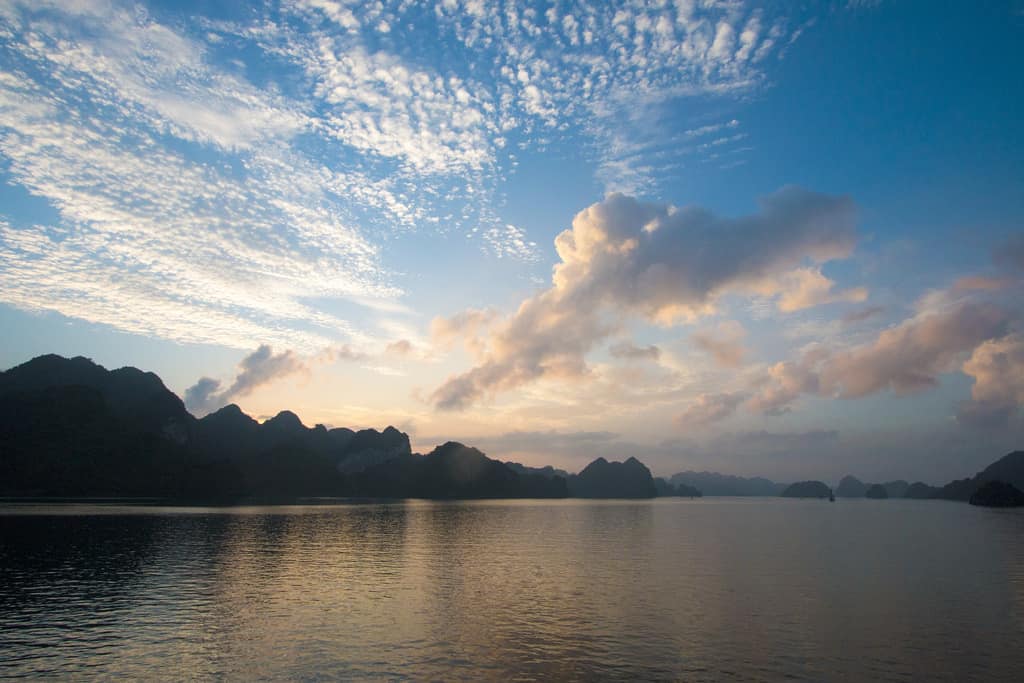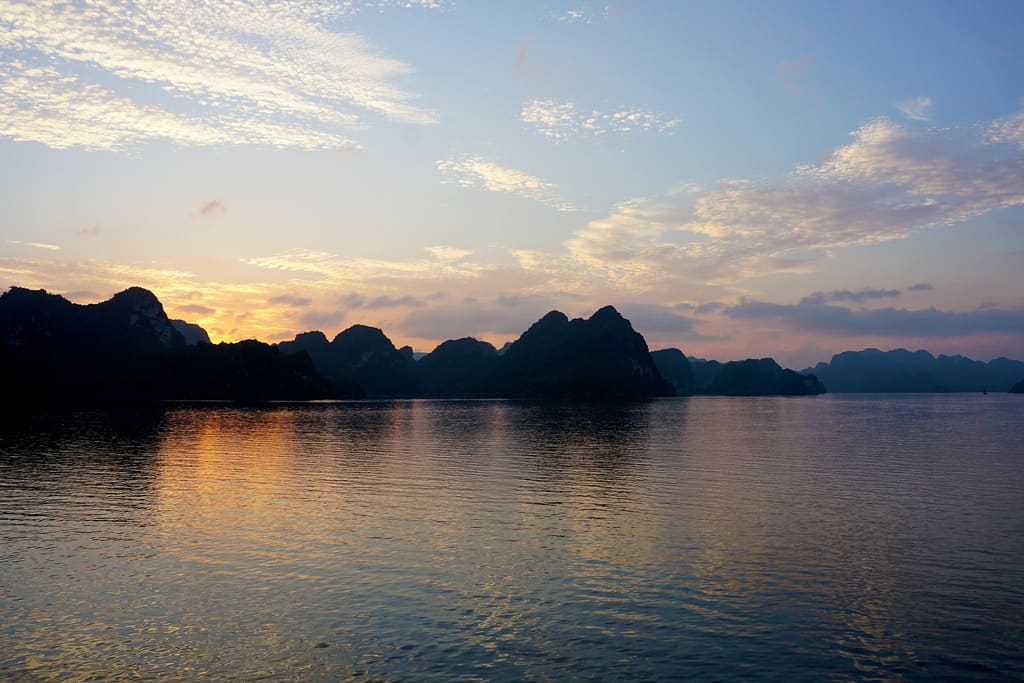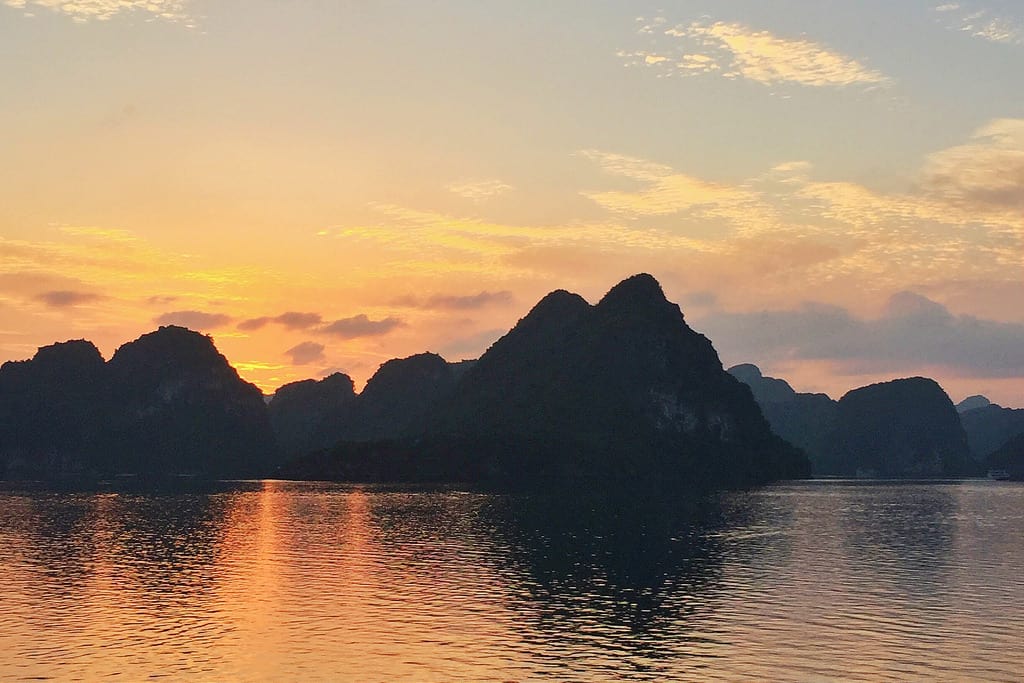 It seemed like we had the whole area to ourselves as I watched the hues of orange spread across the sky. I was amazed that not another boat was in site. In fact, most of the journey we hardly saw other boats and it was continually quiet.
I guess with more than 1,600 limestone islands, despite having 800 boats out at any given time, you really do have plenty of space.
Once it was dark outside, the boat anchored itself for the night and we prepared for dinner.
Meals were extremely filling and surprisingly delicious. It was a good mix of Western and Asian food– many of it locally sourced. For one course (yes, each meal was multiple courses) we even had fish that locals had caught in the bay!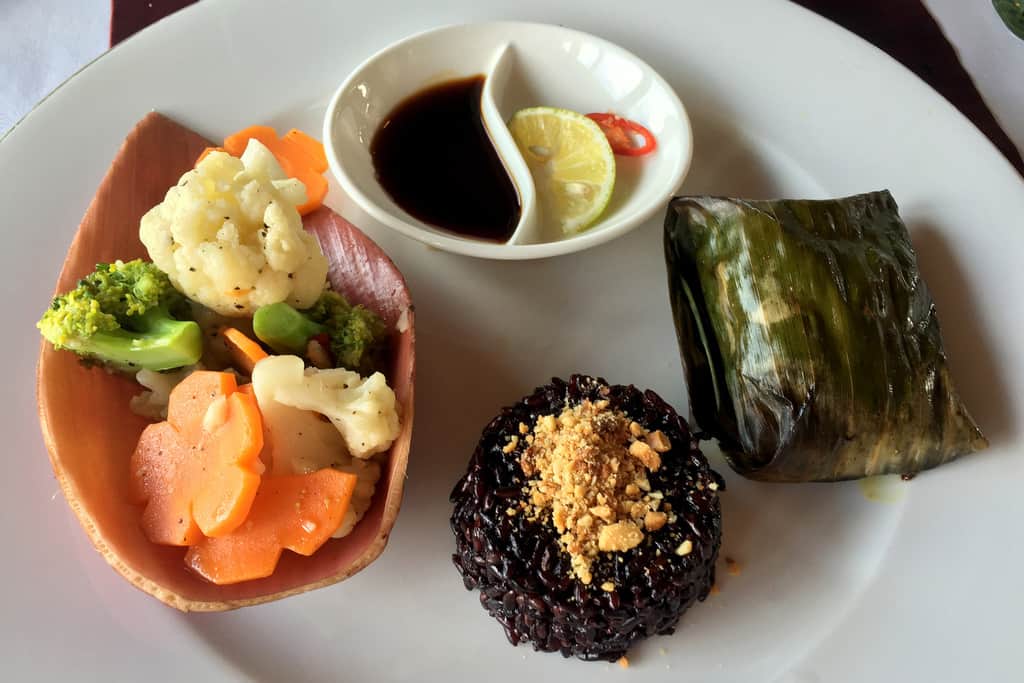 They were so accommodating with my allergies and made sure nothing had shellfish in it, which I appreciated.
Honestly, my initial fears of traveling in Vietnam while being allergic to shrimp have all proven to be misconstrued. I guess I worried and avoided traveling here for so long for nothing!
After dinner they had karaoke, squid fishing and other fun night activities planned. I was so exhausted I went straight to sleep though. I had planned to get up and do tai chi at sunrise but that didn't happen either, oops!
The next morning we still got an early start and had our second excursion at Me Cung Grotto. We had a bit of a hike exploring the stalactite and stalagmite formations.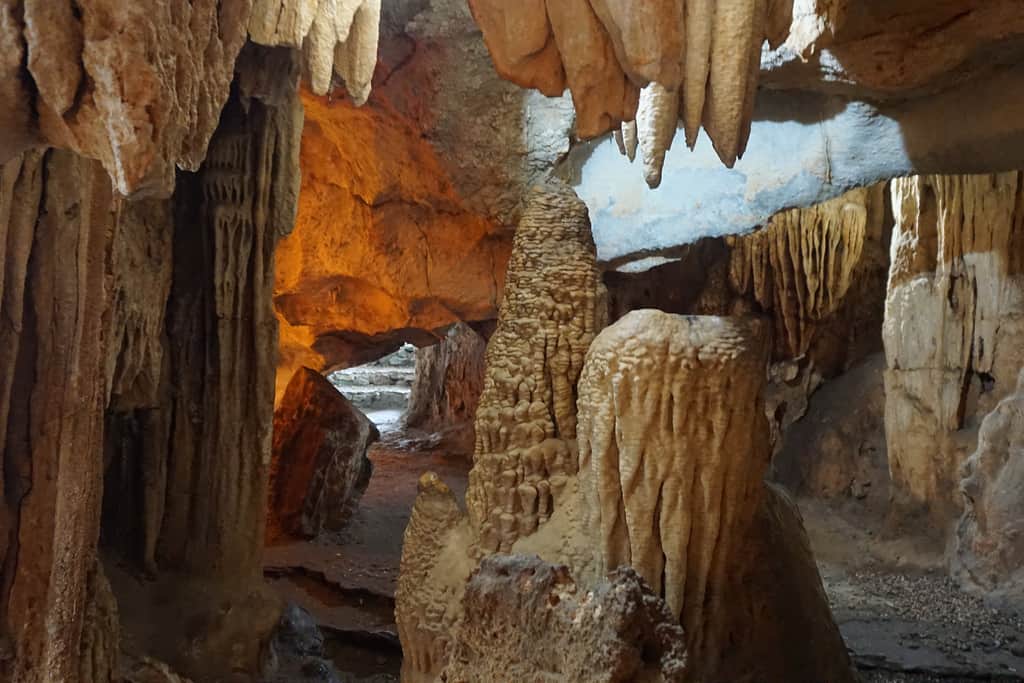 Most boats seem to visit Sung Sot, or Surprise Cave, which is the biggest in all of Ha Long Bay, but I really enjoyed Me Cung Grotto instead. It wasn't at all touristy and it was hardly crowded with people.
Afterwards we had another short hike to the top in order to get a better view of our surroundings!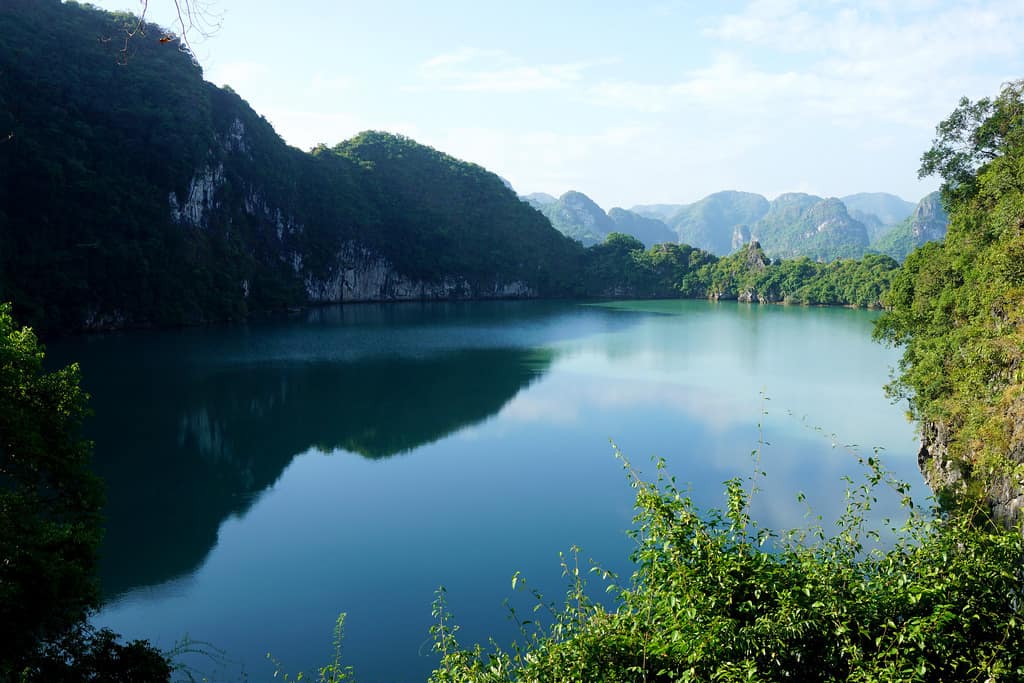 Then it was time to enjoy our fourth and final meal on board and head back to shore.
I am so, SO glad I decided to venture out to Ha Long Bay. It's no wonder so many people highly recommend it. It truly makes any trip to Vietnam.
Have you been to Ha Long Bay before? Would you like to?