Tugu Bali is more than a hotel, it's an experience.
In theory, it has everything anyone could want in a hotel– a romantic setting on the beach, authentically delicious food, and culture oozing everywhere. And I mean everywhere.
From the moment you step inside, you immediately feel relieved for the chaotic surfer haven that lurks outside. With wooden pavilions and traditional Javanese huts in the trees, you're transported to the romantic hay day of Balinese life and culture.
This is the Bali I had dreamed of. The Bali you won't find elsewhere amongst the trashy areas of Kuta or the cookie-cuter resorts in Seminyak.
Despite the tranquility, I felt like I was in an art museum. Walking into the lobby, you're greeted by a giant Garuda statue, the symbol of Indonesia, carved out of a single piece of wood. Looming over you, you can't help but to be impressed by this iconic piece.
Everywhere you looked there was something to discover, something to learn about. I suppose this makes sense as the Tugu Hotel brand is actually owned by Indonesia's largest collector of Indonesian art and antiques.
Each piece had a story and purpose. (Be sure to ask Pande to take you around, as he seems to know them all!) I spent the first afternoon wandering around the premises, continually being surprised by what await around each corner.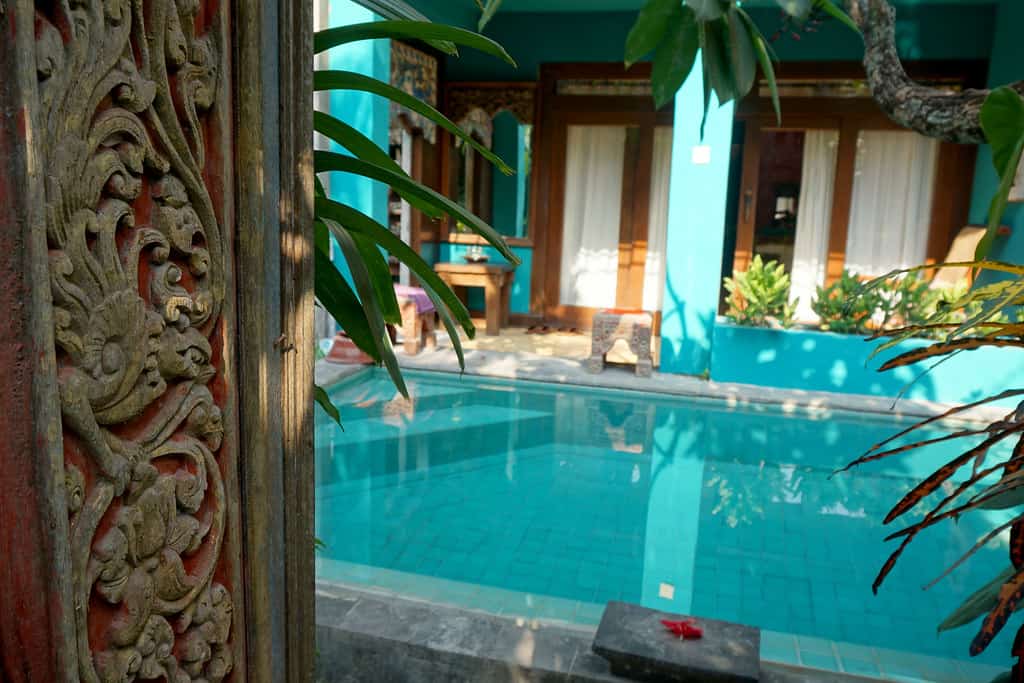 When it was time, I was escorted to my room, which was on the top floor of a tree house.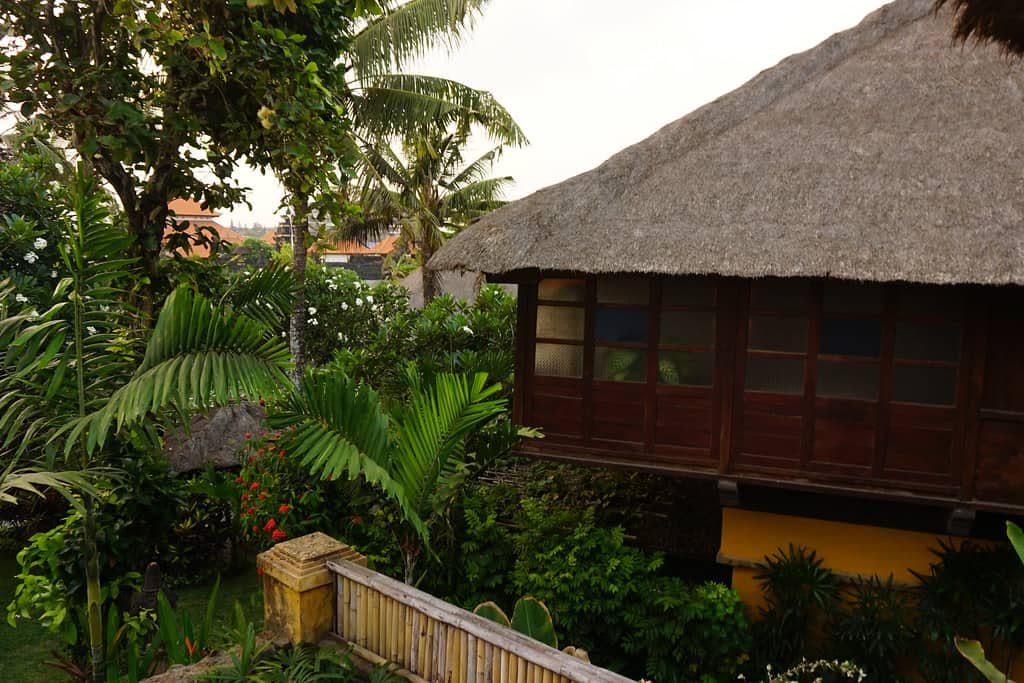 I was amazed with each and every detail– all the teak wood, the four poster bed and the ultra-romantic sunken bathtub.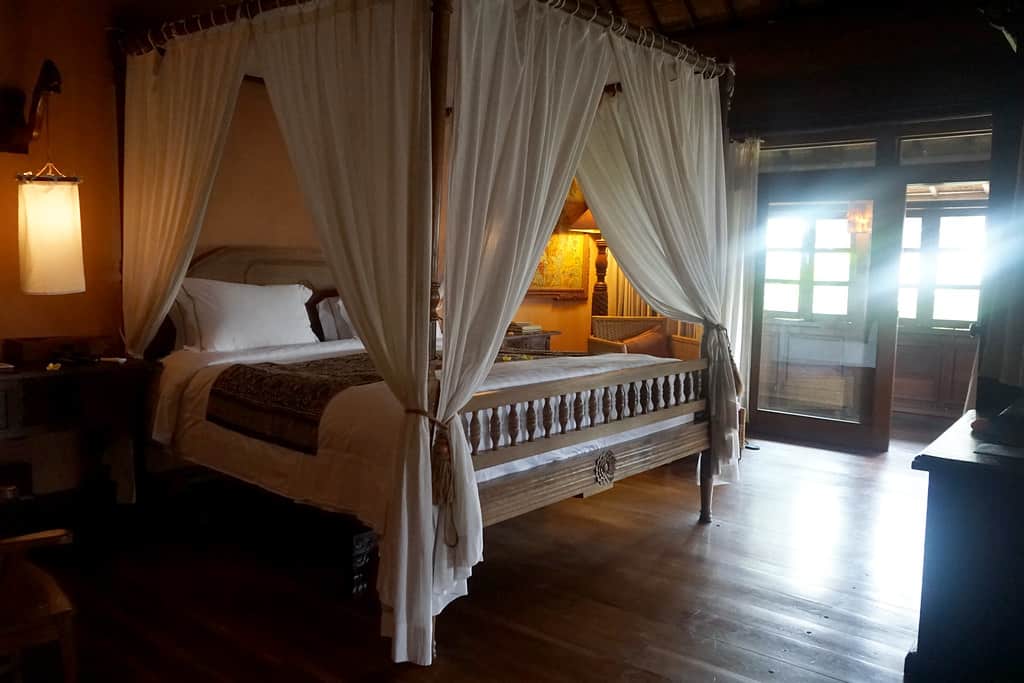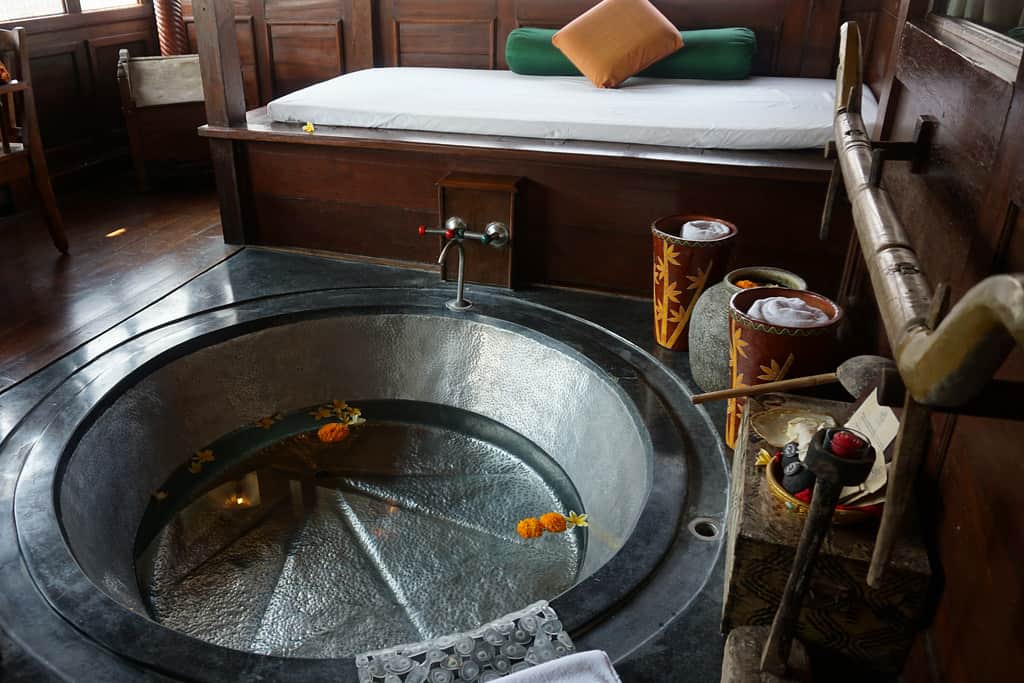 Waiting for me was a beautiful Balinese offering, which are handmade every morning by some of the local ladies.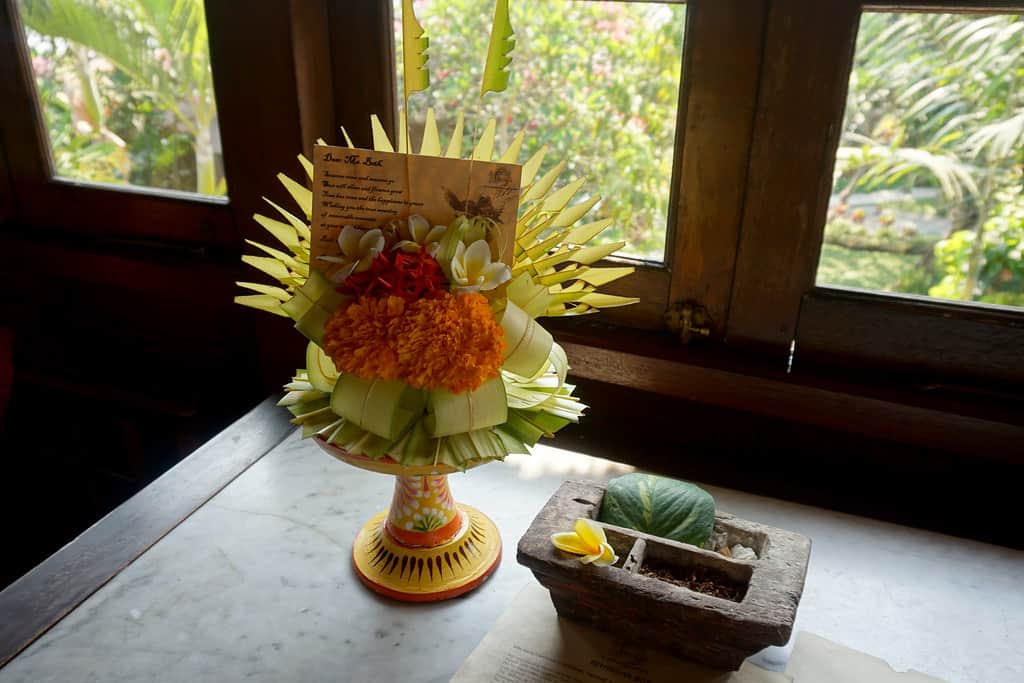 While the room was beautiful, it was unfortunately a bit uncomfortable with mosquitoes lurking everywhere (so please remember repellant! I got over 20 bites all over, after not getting a single one in other parts of Bali) and not a good aircon unit.
It was because of this that I spent most of my time wandering around the premises or working in the lobby– which wasn't all bad because they had daily afternoon tea set up and wifi that actually worked.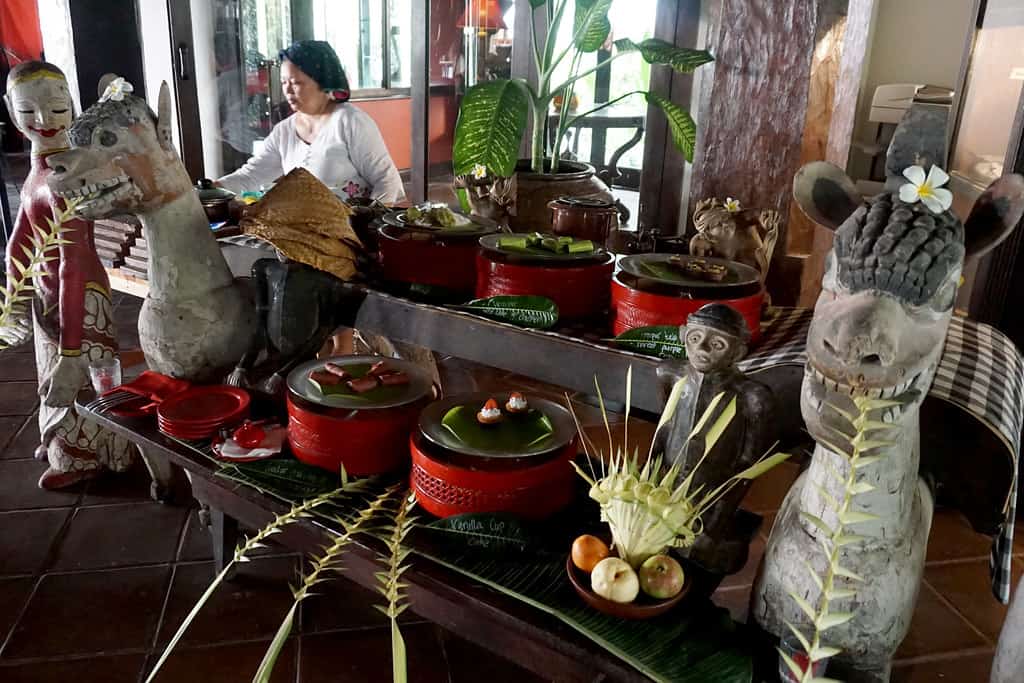 Dinning at Tugu Bali was actually my favorite part of the whole experience.
You see, as a guest, you can dine in any location of the hotel. So whether you want to set up a table on the beach at sunset or have lunch on the pavilion over the lily pond, anything your heart desires can come true at Tugu.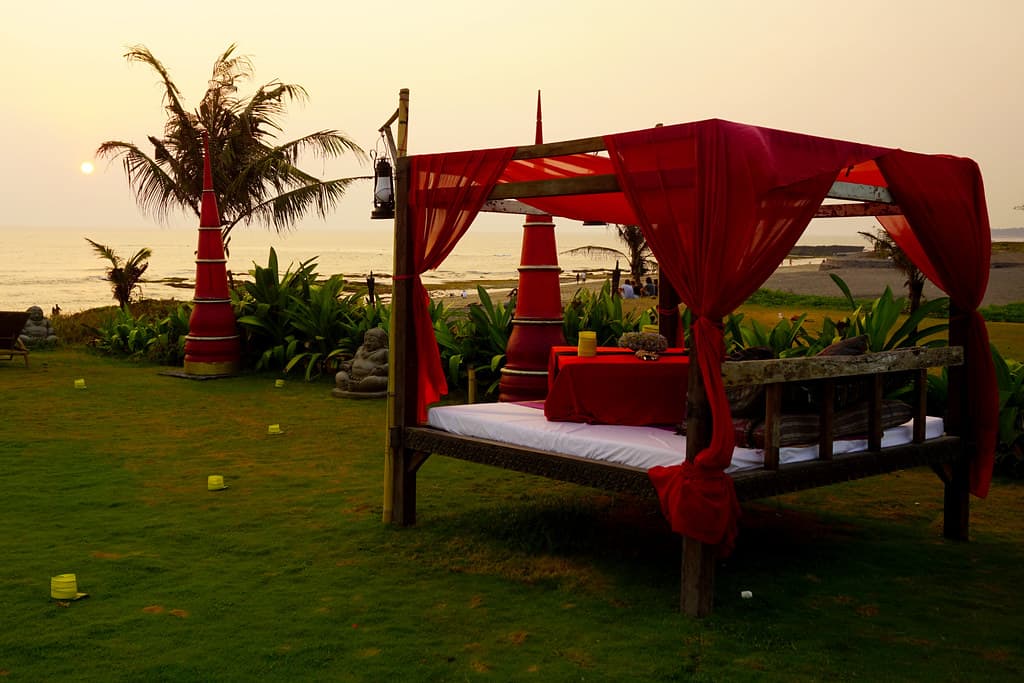 I highly recommend one of the two beautiful dining rooms, each decorated with antiques and paintings taking you back to days of Bali past. One of the rooms has the largest marble table in Indonesia, and the other (my personal favorite) has the roof of a 300-year old temple brought to Indonesia from China.
I sadly didn't have the chance to dine in either of those locations, because I was fortunate enough to be visiting on a Thursday which is when they hold cultural dance performances. The dinner show is made up of three different dances — and each week they change, meaning no two shows will ever be the same.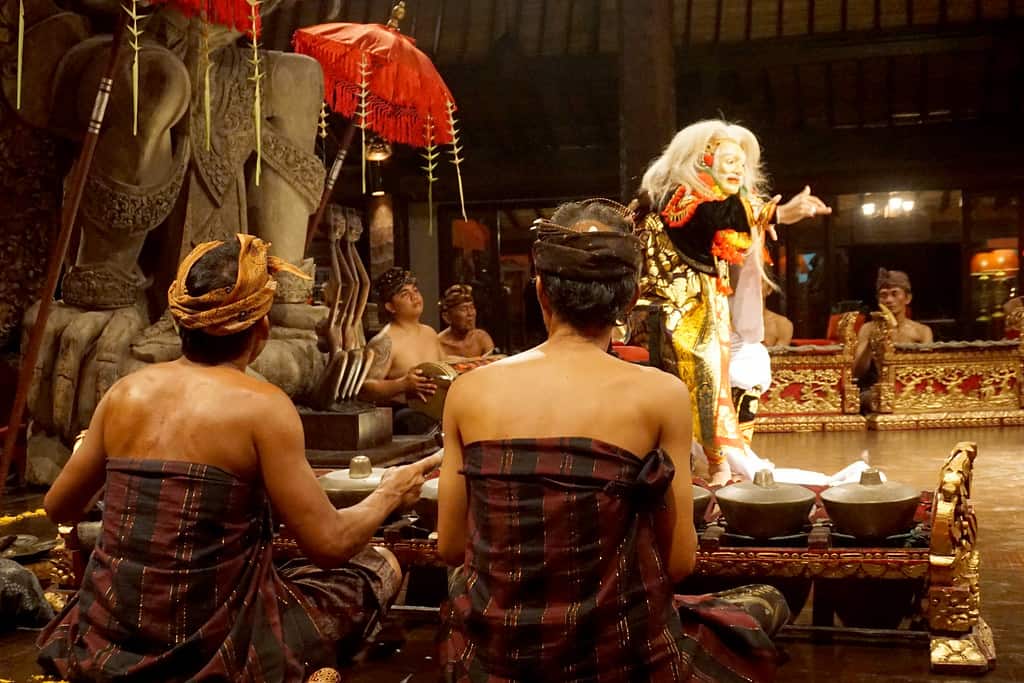 The dances I saw were the Sekar Jagat, a welcoming dance performed by young ladies, Topeng Tua, an old mask dance with slow movements (which reminded me of Japanese Noh), and finally, Kembang Girang, which symbolizes the emotions of a young girl growing up.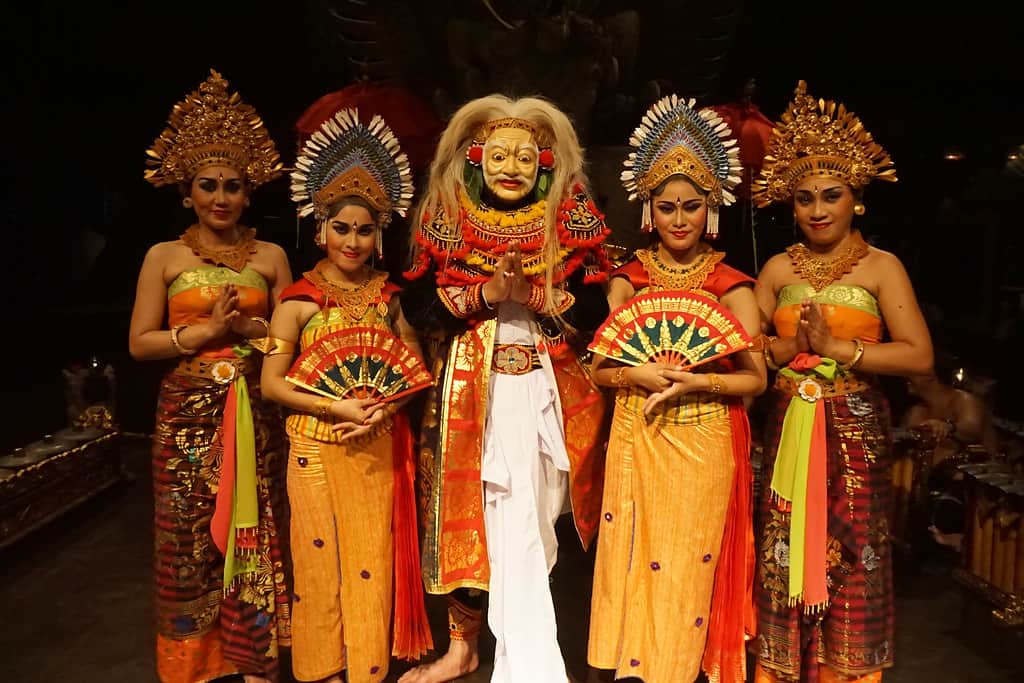 It was these little aspects of culture that the hotel focused on, that I truly appreciated and loved.
But maybe more than that, were the sunsets.
Until arriving at Tugu Bali, I had mainly stayed on the Eastern part of the island. While we had amazing sunrises, I'm not much of a morning person so they weren't something I enjoyed daily. And when it came to sunsets, we got nothing.
At Tugu Bali however, the sunsets were picture perfect everyday. With their location right on the beach, it was always easy to walk over, take a seat and enjoy the show.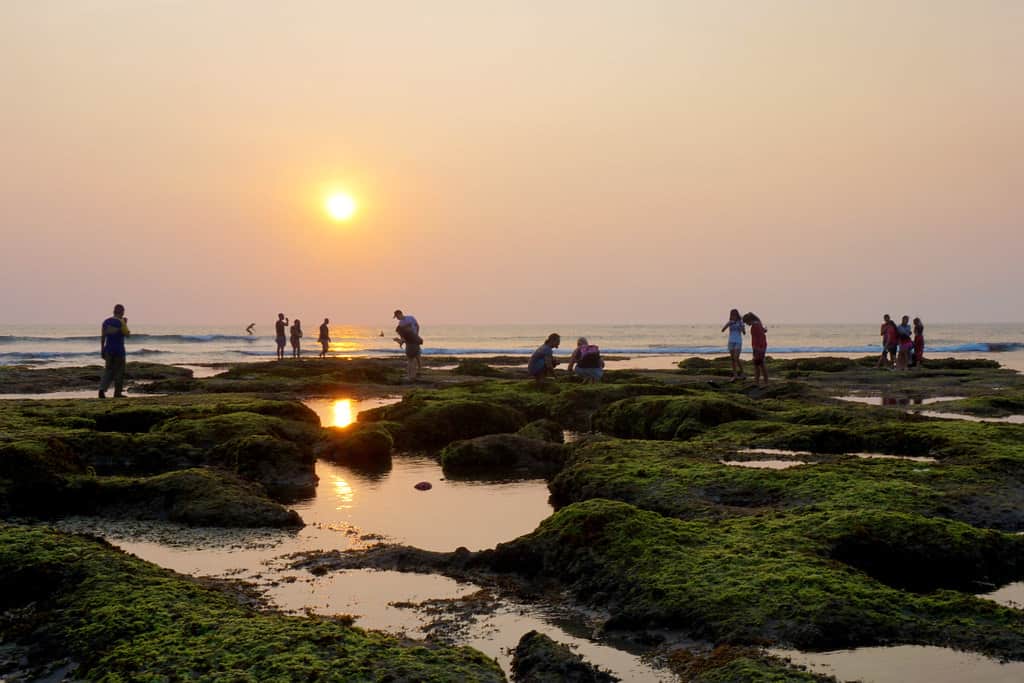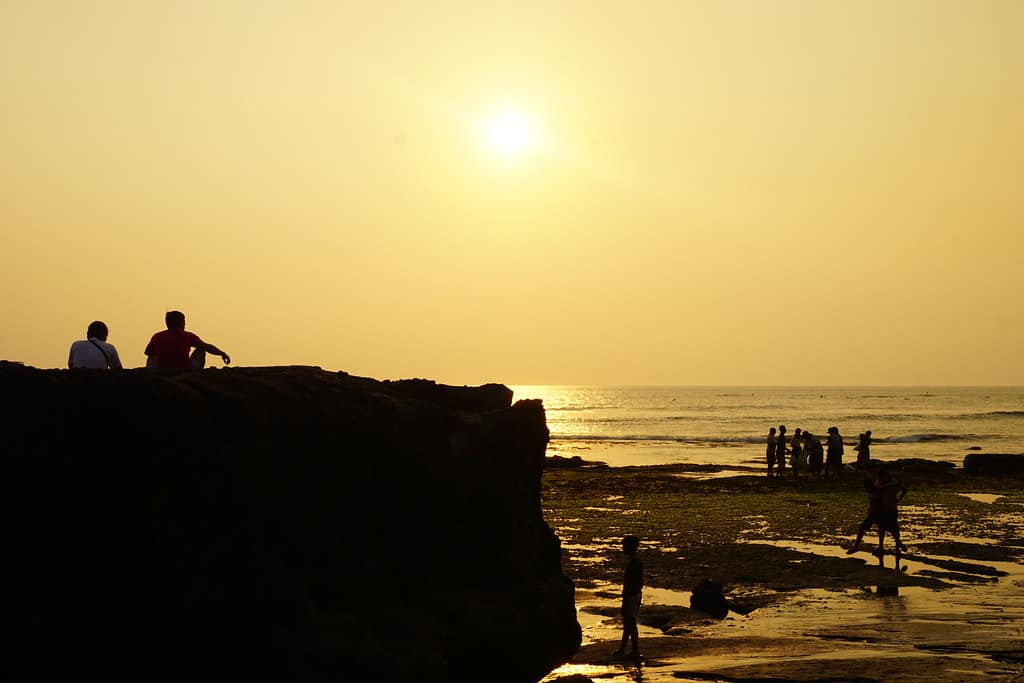 While I wouldn't call the hotel a luxury destination, if you're looking for a good cultural experience, you'll certainly want to book a night or two here during your time in Bali.