Since so many of you ask me for hotel recommendations in Hong Kong all the time, I'm pleased to say I finally have an answer for you!
Introducing… L'hotel élan!
L'hotel élan is the definition of luxury on a budget– and that's saying something being in Hong Kong!
You know Hong Kong and "budget" don't really go together when it comes to being a tourist there, especially when it comes to anything property related. Sure, Hong Kong has hundreds, maybe even a thousand, hotels to choose from within its small city center, but most of them will make your wallet cry.
And for what? A small little box with no windows or luxurious amenities. Uh. No thank you!
Well, L'hotel élan is changing that. I stayed there during my return to Hong Kong and I must say I was thoroughly, thoroughly impressed.
From the minute you walk inside, you're swept away to the top floor where the check-in counter sits. Now I don't know about you, but the only hotels I've been to where check-in was on the top floor were top-of-the-line luxury hotels that offered me club access, so talk about fancy!
35 stories above the city, the views are as you'd expect… gorgeous.
Even the views from the gym had me actually wanting to work out. I mean, how can you pass a scene like this up?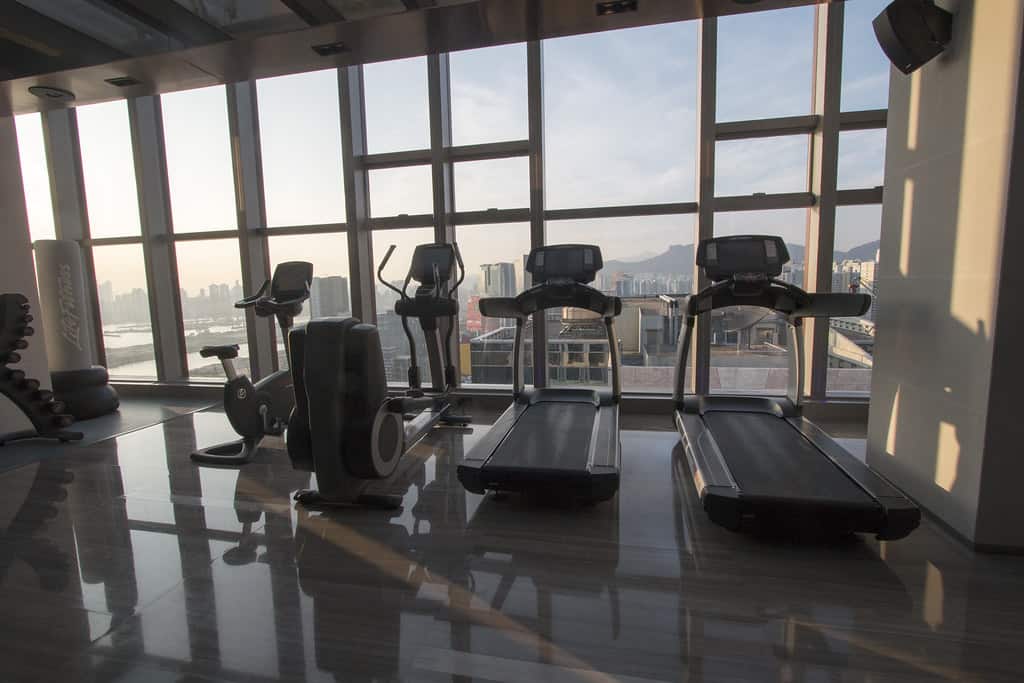 I know it may be hard to tell from a photo. But when I went down at sunset and walked up to the windows, this is what greeted me: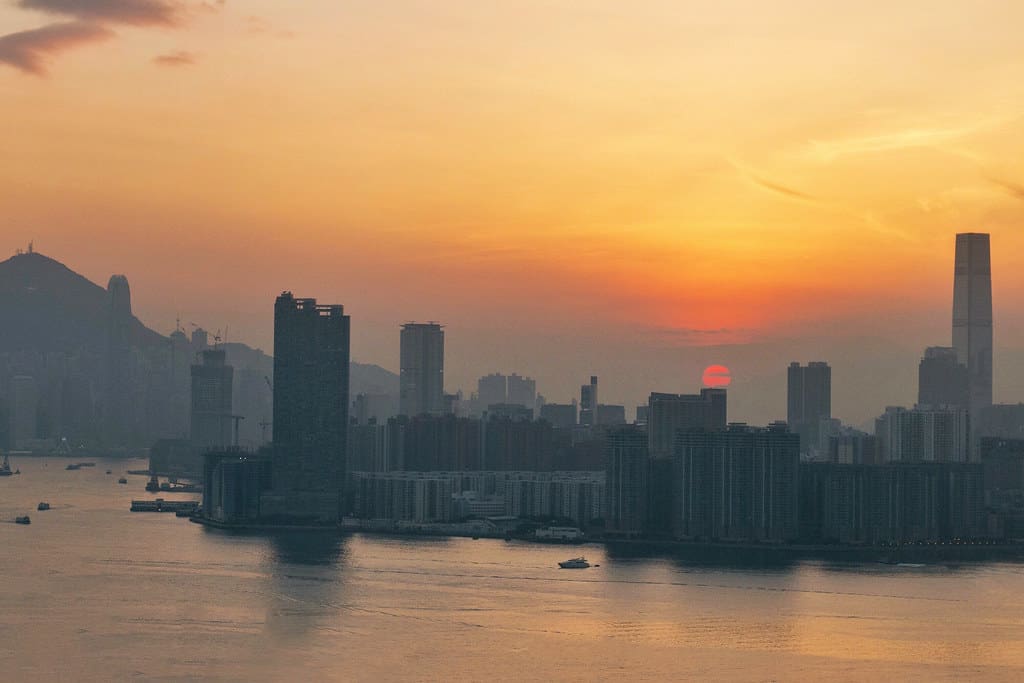 And the swimming pool? Equally eye-widening. Especially at night when it's all lit up.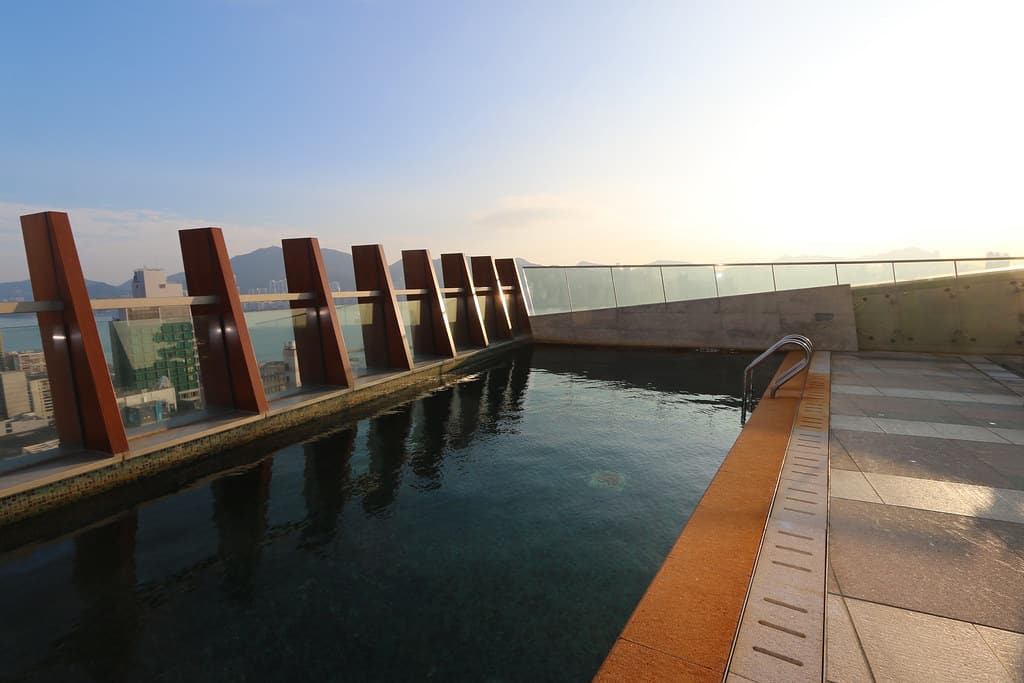 While the property is undoubtedly beautiful, the rooms are what counts. After looking around at the stunning top floor, I was convinced shabby rooms were what kept this hotel affordable. Fully expecting a small box with no windows, I was blown away when I opened the door to my room.
Look. At. All. That… SPACE!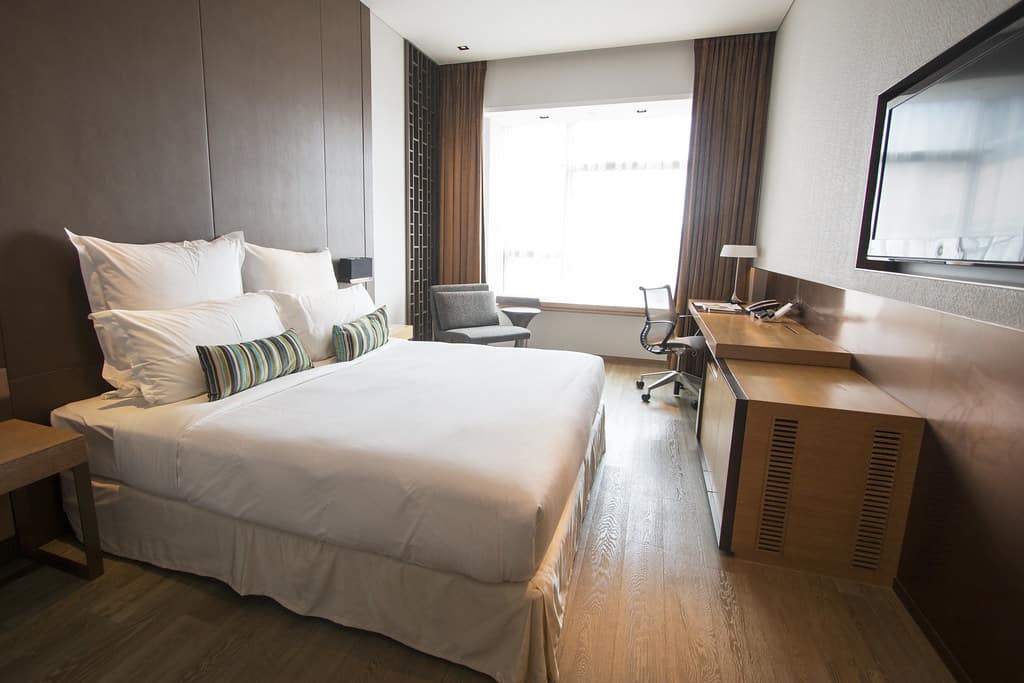 The room was so spacious and modern. The whole place seemed basically brand new as it was spotless. Being the only hotel group affiliated with Hong Kong's Geopark, I loved the subtle homage with the natural colors and even the artwork that contained various rock specimen.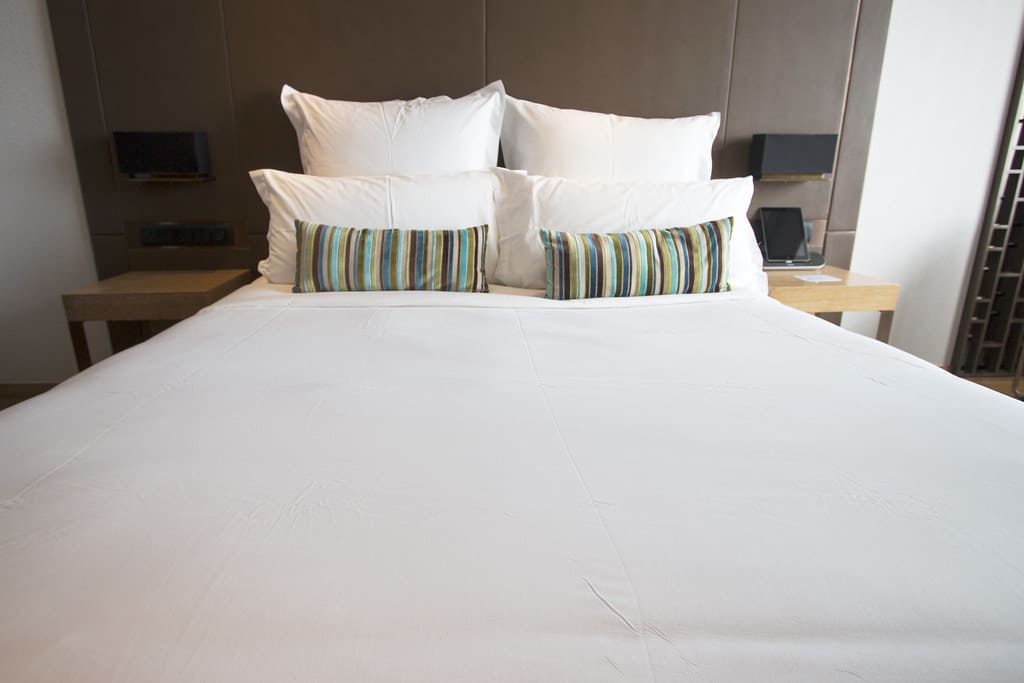 The bathroom was equally large with a complimenting color scheme.
Behind the mirror you could look into the other room and out the window, but with a switch of a button the glass became fogged and people could no longer see inside the bathroom. Pretty nifty.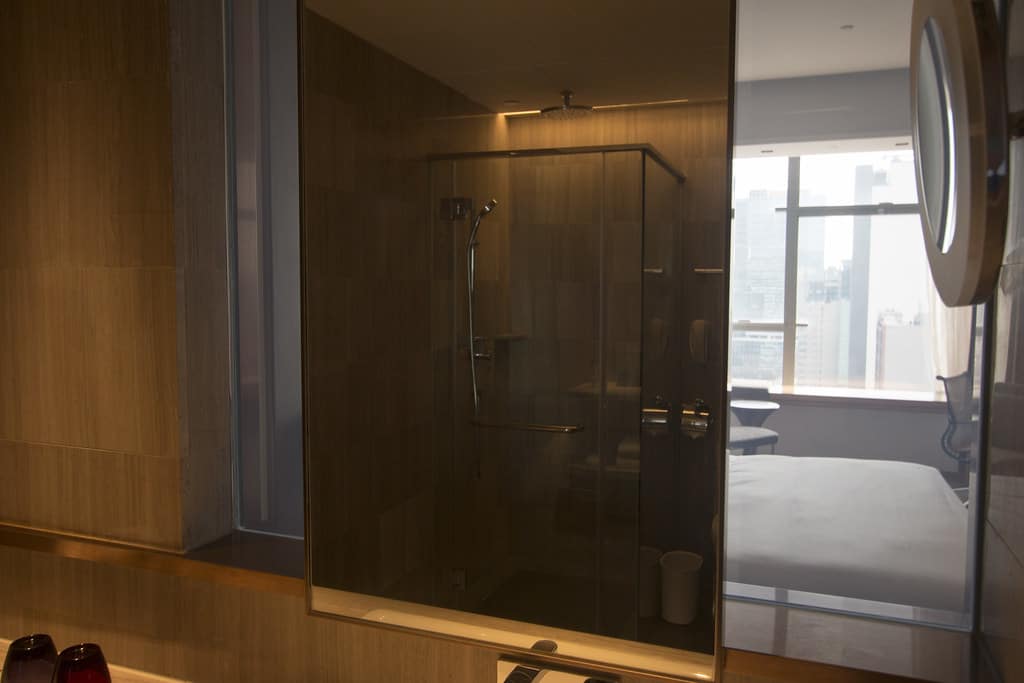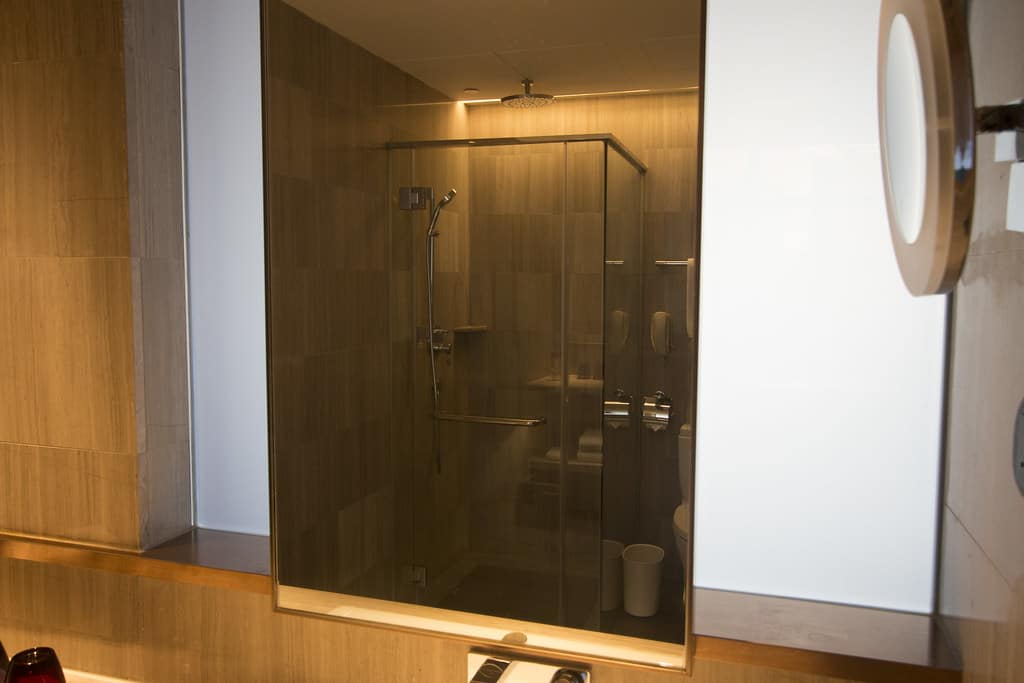 The minibar was stocked daily with free drinks– something I rarely encounter in Asia, and the oversized desk made a perfect work space paired along with their fast free Wifi. Guys, it was hard to leave this hotel room.
And again with the views.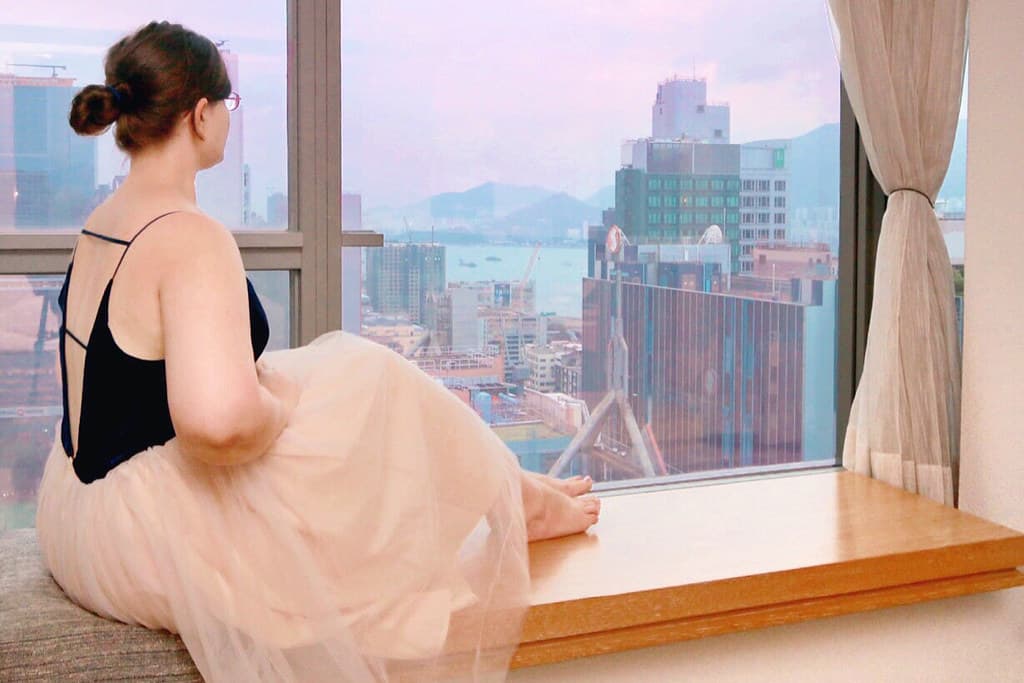 I loved that the room even had with an iPad. See what I mean about it being modern? Everything I could possibly need became just a tap away.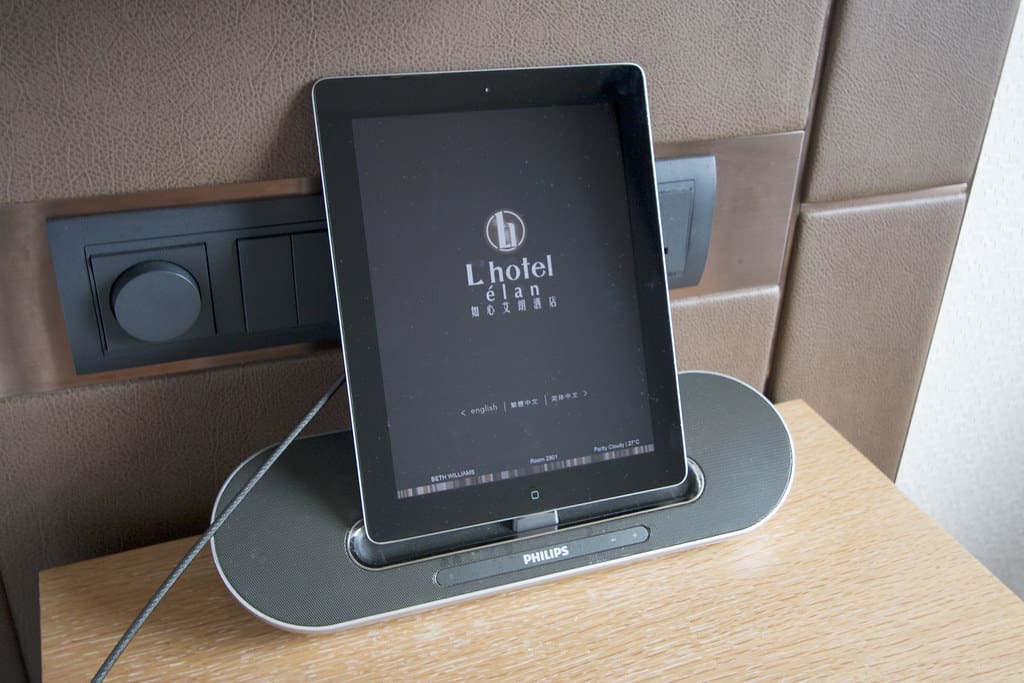 Each morning the hotel offered a lovely breakfast buffet featuring hot food stations and your usual continental-style. It was always a great way to kick off my mornings before heading out to explore the city. At night that space turned into a luxurious restaurant that was always packed full of people– including locals.
I mean, how often do locals splurge to eat at hotels?? So you know it must be good. And it was. My duck was cooked perfectly!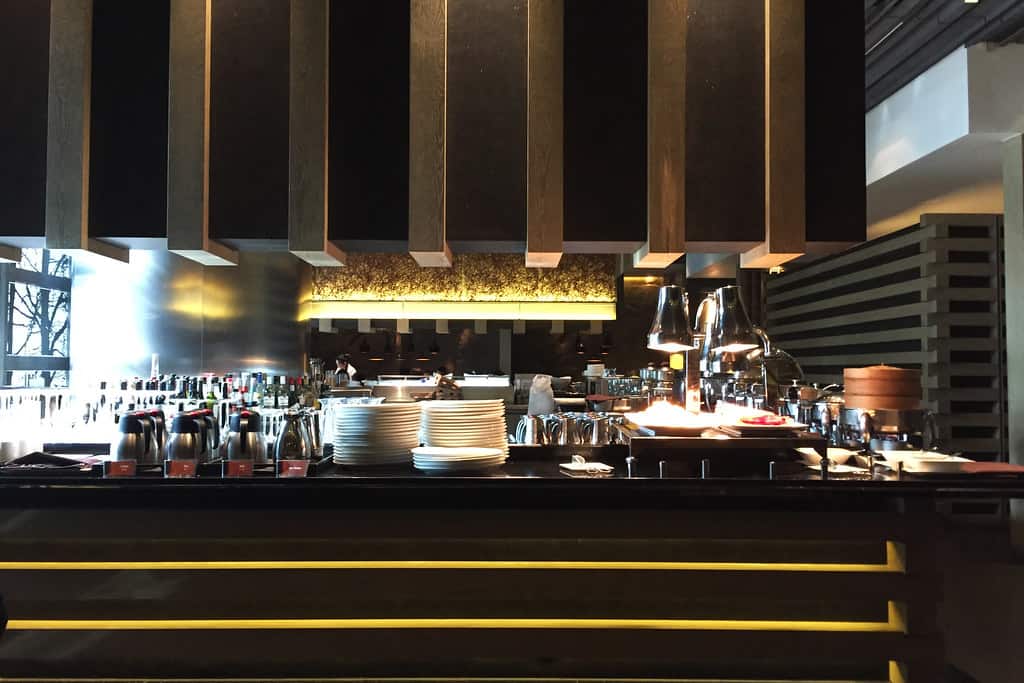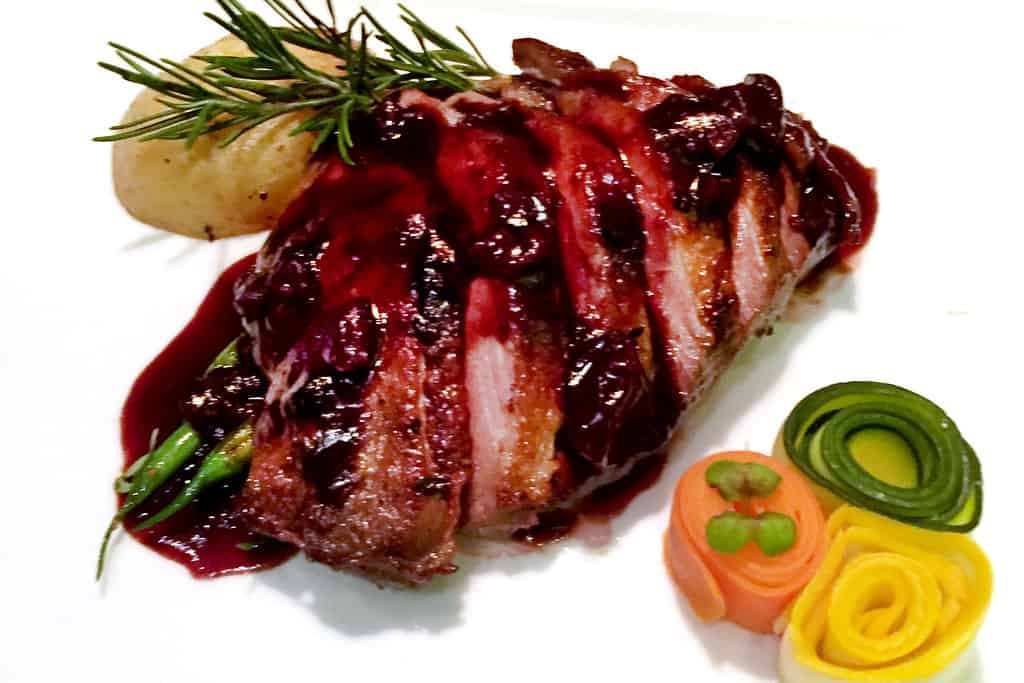 While getting to the city takes a little bit of effort as this hotel is out in Kwun Tong, so long as you're patient it's a small price to pay for such a wonderful hotel.
I would certainly stay here again whenever I'm in town.
WHAT'S YOUR DEFINITION OF AFFORDABLE LUXURY?
HAVE YOU STAYED AT L'HOTEL ÉLAN?
A huge thank you to L'hotel élan for hosting my stay. I feel like I've found a new home in Hong Kong! All opinions, as always, are my own.