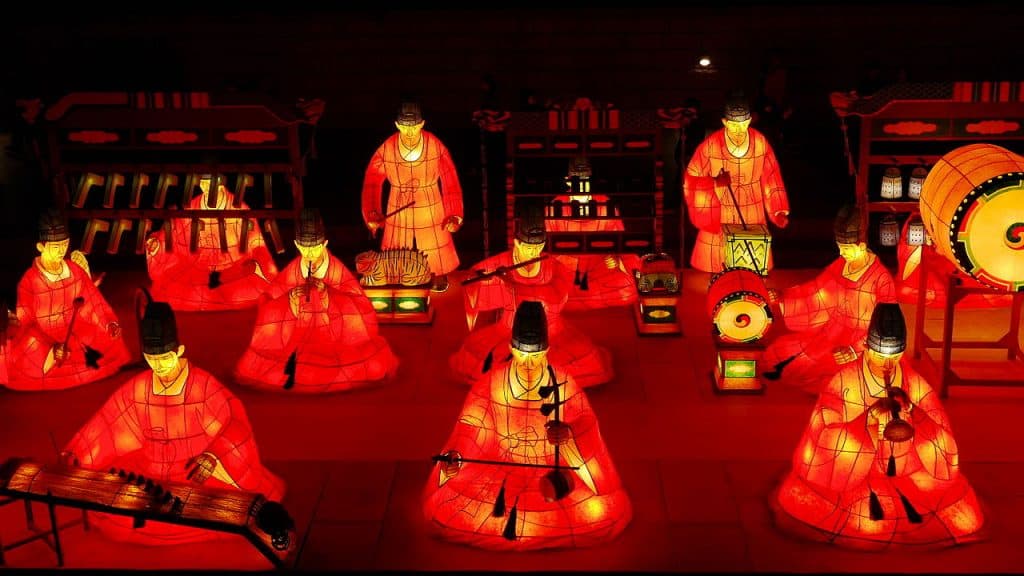 If you ever find yourself in South Korea, I recommend you take in the sights and sounds of one (or more) of the impressive Korean festival(s). Choosing to brave the crowds, you will find unique over-the-top parades, world class performances, and events rich in Korean culture and tradition. If given the opportunity to explore one of these extraordinary celebrations, be sure to check it out!
Seoul Lantern Festival
The Seoul Lantern Festival, which began in 2009, is held every year in November. The festival begins the first Friday of the month, and lasts for approximately two weeks. The aptly named festival attracts several million visitors each year, as citizens and tourists come to enjoy the illumination of downtown each night. Residents and visitors alike are encouraged to bring their own lanterns. You didn't happen to bring a lantern with you? No problem. There are all sorts of lanterns for purchase—in many shapes, colors, and sizes! The lantern makers are extremely creative and you will find lanterns in shapes such as bunnies, ducks, pigs, dragons, ships, fish, trees, and horses. You will discover all kinds of lanterns made into characters and themes at this vibrant Korean festival.
Jinhae Gunhangje Festival
Held in March each year, the Jinhae Gunhangje Festival, or Cherry Blossom Festival, celebrates the arrival of spring. This 10-day event also coincides with one of Korea's noted military victories. More than a million visitors attend the festival to enjoy the hundreds of beautiful blooming cherry blossom trees. As fragrant as they are aesthetically pleasing, these trees are not to be missed. You'll also see street vendors, live performances, and fireworks at night.
Seoul International Fireworks Festival
Enjoy fireworks? You will love the breathtaking Seoul International Fireworks Festival, held in October each year. In addition to the locals' spectacular fireworks displays, the festival features fireworks from residents of different countries around the globe. Previous participants include Japan and Spain. Each team sets their fireworks to music, and they choose a theme for their dazzling presentation.
Haeundae Sand Festival
Spend a few days in May appreciating the elaborate sand sculptures at the Haeundae Sand Festival. Walk along the beach admiring the intricate details of these giant creative displays. Each year has its own theme, for example, the 2016 theme was "Adventure in the Ocean, Passion on the Sand." Artists from around the world use sand to create the extraordinary sculptures in the likenesses of castles, animals, people—and probably anyone or anything else you can think of. There are also activities and programs like volleyball, and other sand-related exhibits. At night, sit back, relax, and enjoy the music and fireworks display.
Andong Maskdance Festival
Held in late September, into early October, the Andong Maskdance Festival is a celebration of the cultural heritage of the Andong region. When the festival began in 1997, it only lasted for two days. But, because it became such a popular attraction, the festival is now a 10-day long event. While attending the festival you will find shows featuring dancers and musical bands wearing traditional Korean masks. People in neighboring countries take part in the mask dancing, as well as marionette and pantomime productions. You will also discover a competition for world masks, international and national mask dance performances, mask exhibitions, and other fun mask-related renderings.
Ultra Korea Music Festival
Who doesn't love music? The Ultra Korea Music Festival, held in June, features electronic music musicians who are popular on the Korean music scene. Along with the Korean pop music, or K-pop, you can also enjoy the musical sets of some of the best international artists and DJs. Be sure not to leave early, you don't want to miss the sensational fireworks display.
Hi Seoul Festival
If you're attempting to find a festival featuring native cultural performances, history, and art, it would serve you well to check out the Hi Seoul Festival. Held in the spring and fall of each year since 2003, this festival is full of entertainment, international cuisine, and even drumming workshops. You will also find rhythm and dance performers, magicians, acrobats, and mimes. Some of the most popular features of the festival include light shows, dramatic acts, and traditional Korean ceremonies. This festival is filled to the brim with Korean cultural attractions, music, theatre, and performances you won't want to miss.
Other Must-See Festivals
There are an abundant of festivals you may want to take in while visiting South Korea. A wide range of events are held throughout each year, so tourists are sure to find several festivals to attend while on vacation. If you want to go to another fireworks show there are several to choose from, two of which are the Busan Fireworks Festival and the Jaraseom Fireworks Festival. If your interests are different and you want to explore bodypainting, or you enjoy watching poker, participating in mud activities, want to see another lantern festival, or even check out a lavender festival—they've got it. How about more music? They've got plenty for you at the World DJ, Ansan Valley Rock, and Incheon Pentaport Rock Festivals. There are a multitude of other entertaining, interesting, and even educational Korean festivals—too many to include in this article. So, if you ever get a chance to visit South Korea, a special place indeed, take in the sights and sounds of a couple of their amazing, sometimes quirky, festivals—there's something for everyone to revel in!
Which festival(s) would you like attend? Have any other recommendations?