The Japanese Shoji Screen Room Divider is made from Shoji Screen from Japan. These Shoji Screens are traditional architectural features from Japan and you're familiar with them, though you might not realize it. The shoji screen is a very recognizable form of Japanese art, design, and architecture and ever since its inception it always captivates people everywhere in the world till this present day.
If ever you've visited any Japanese-style building, or Japan, or ever seen any Japanese movie, then you would've noticed the paper walls or sliding doors. They are used as room dividers, windows, and doors alike.
They are made of translucent, thick paper stretched on top of a solid wooden frame that holds together firmly a panel of bamboo or wood. Shoji is used to adorn the facades and rooms of Japanese palaces, temples, and homes. They have been used as a fixture in the home ever since pre-modern times in Japan.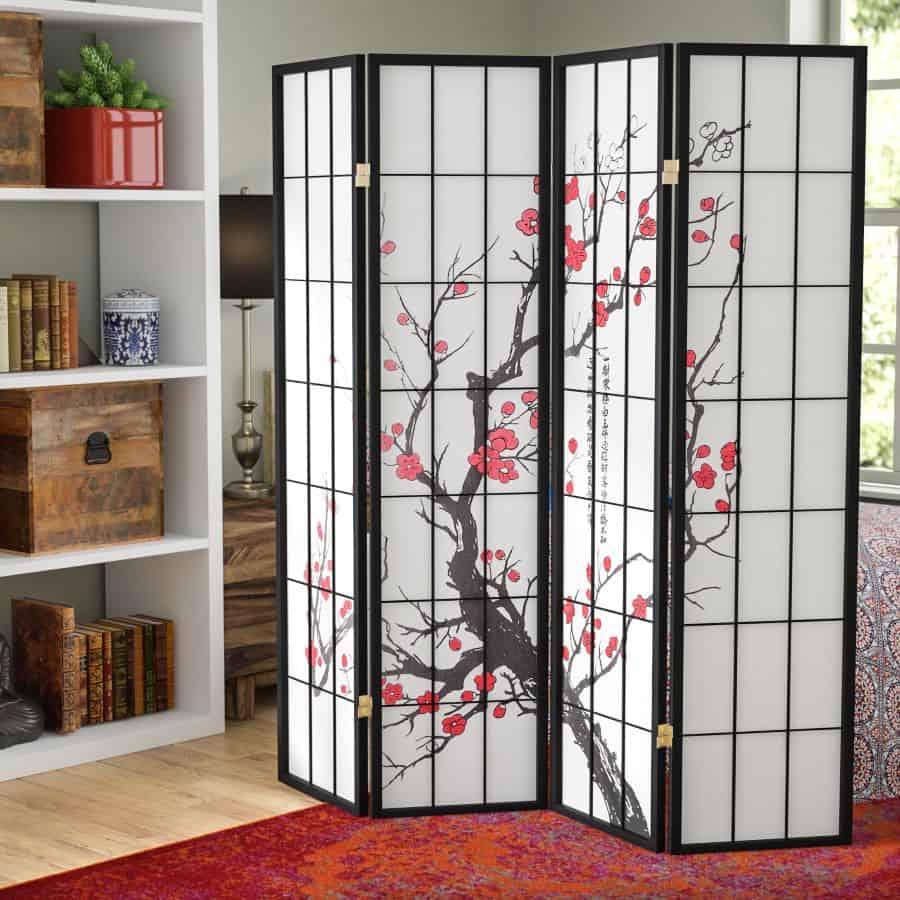 They function well for both artistic and practical purposes; this explains why the shoji screen room divider is still relevant even after more modern techniques have been invented. If you're willing to give these Shoji Screen room dividers a try then carefully go through the list of the best ones which we have prepared for you in this article.
Some other articles you may want to read:
Japanese Shoji Screen Room Divider – Japanese Privacy Screen with Reviews
Legacy Decor 4-Panel Blossom Japanese Shoji Screen Room Divider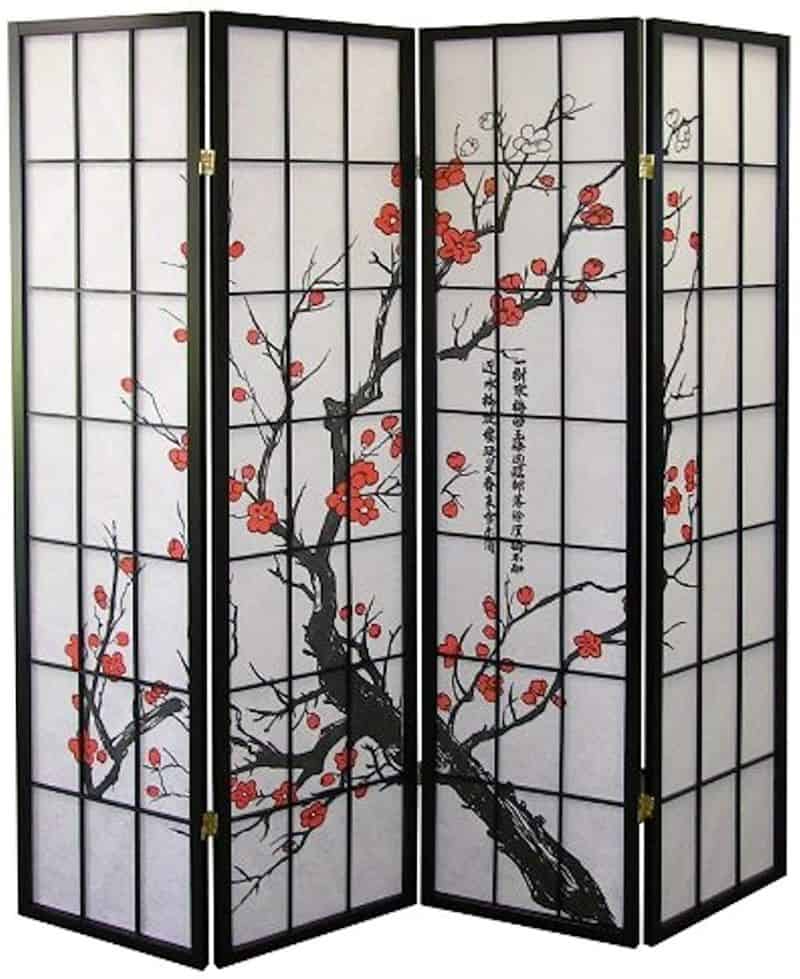 The Legacy Decor 4-Panel Blossom Japanese Shoji Screen Room Divider is Japanese inspired as the name implies and it serves as a room divider. It features four panels made of rice paper in a beautiful blossom screen. The frame is wooden and as a veneer black wood finish, it also folds flat and this makes it easy to store. The hinged sections fold and flex to make allowance for space. The product dimension is 71″Height X 70″ W.
The shoji screen room dividers are Asian traditional style screens. They are made from a lattice-style, folding, multi-paneled wooden frame, and translucent paper. Offered by stores with the best deals. The designs of these room dividers are light-friendly, but still they provide privacy also. It can be used for defining a space/room or dividing a bedroom.
Whether it is for workplace or home these shoji screen room dividers are versatile, they also serve as a pleasant ingenious addition to your interior. They are definitely a must-have for any modern decor. Also, these screens feature a hinge that is double action and can be folded easily for convenient storage. They don't need to be assembled. Their design is only on one side.
Pros
Can be assembled very easily
Has a lightweight
Folds flat and can be easily stored
Cons
They have an unpleasant chemical smell
More Details
Oriental Furniture 7ft. Tall Bamboo Tree Japanese Shoji Screen Room Divider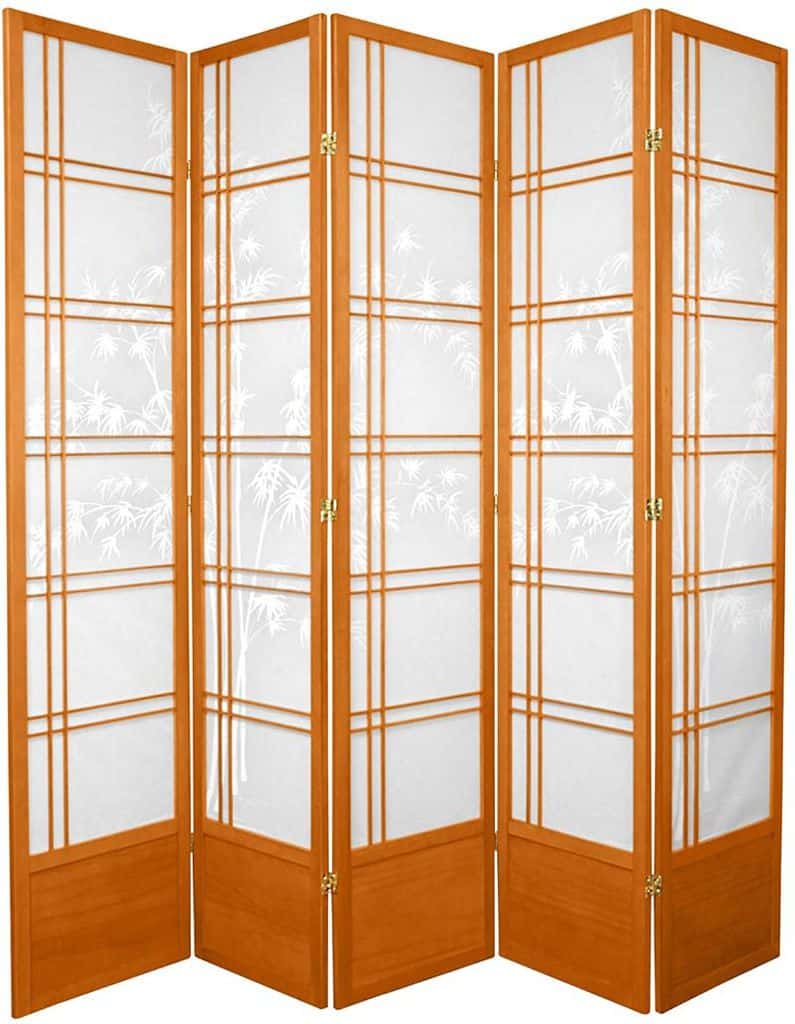 The Oriental Furniture 7ft. Tall Bamboo Tree Japanese Shoji Screen Room Divider comes in four sizes and four colors and it has 83.5″ × 17.5″ panels. It has a beautiful art print design shade and a Japanese lattice gorgeous design on the front side alone, its hinges are two-way.
This Japanese-inspired Shoji Screen room divider features a very beautiful bamboo print in a double-cross elegant frame which can be moved easily and adjusted for privacy or to divide a room. Having been used for so many years in various Japanese homes, the Shoji paper has a good reputation for providing excellent privacy without hindering ambient light from coming in, and this one has further been fiber-reinforced to make it more durable.
This folding Shoji screen divider is a beautiful way to partition a space/room and also adds a lovely sophisticated tone to any room. Definitely a very good purchase for a touch of class and elegance to your room, workspace, or any space.
Pros
The kick plate has a very solid bottom
Elegant and beautiful
It is durable
Cons
Paper becomes loose and easily falls over
More Details
ORE International 4-Panel Japanese Shoji Screen Room Divider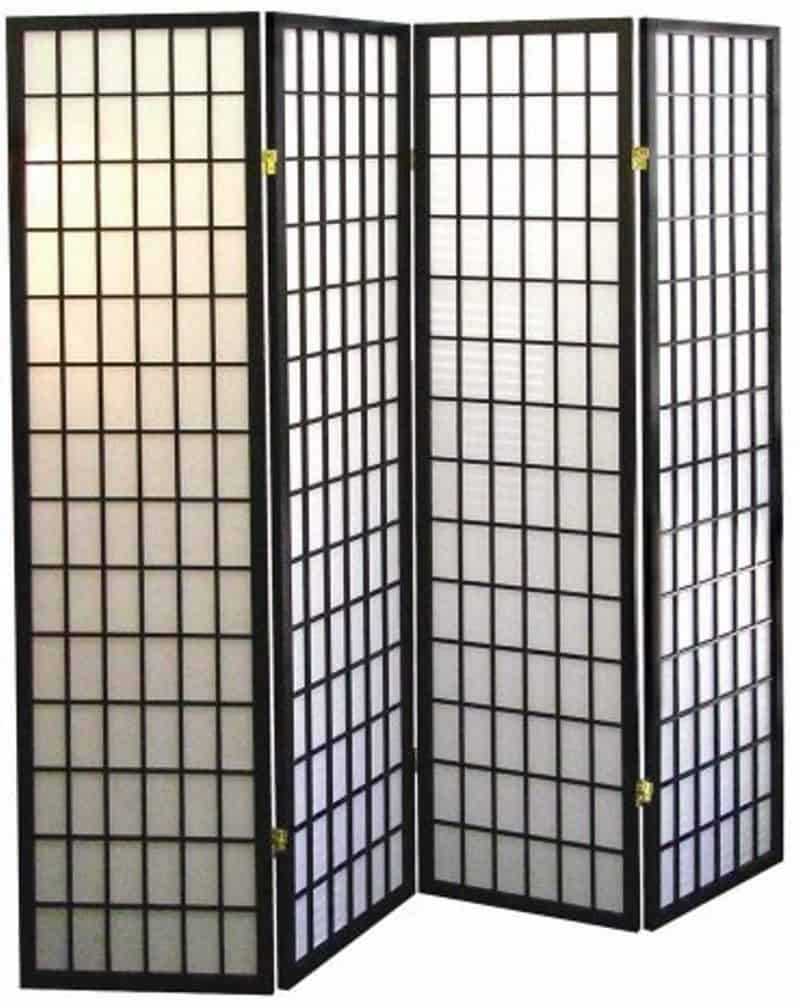 An ORE International 4-Panel Japanese Shoji Screen Room Divider allows you to create privacy or define your space effectively. It features four paper panels and it folds easily for convenient storage. The frame is wooden, made with quality wood veneer. The product dimension is 60 by 70 by 10 inches. It can be easily maneuvered, lightweight, and sturdy.
You can create a personal or private section anywhere in your living room or bedroom with this Japanese Shoji Screen Room Divider. It can also be used to divide a big room into smaller different sections to create a study area, dressing area, or entertainment space.
This Shoji Screen room divider comes in a white and black checkered frame and has four panels, hence, they are complementary to any type of home decor. They are manufactured from durable and long lasting hardwood. Also, this room divider can be folded easily for easy storage. The panels are thin and light but they aren't transparent. They perform an excellent job of giving you convenient privacy.
Pros
It has 4 panels
Easily folds for convenient storage
Sturdy and lightweight
Cons
More Details
Roundhill Furniture 3-Panel Oriental Japanese Shoji Screen Room Divider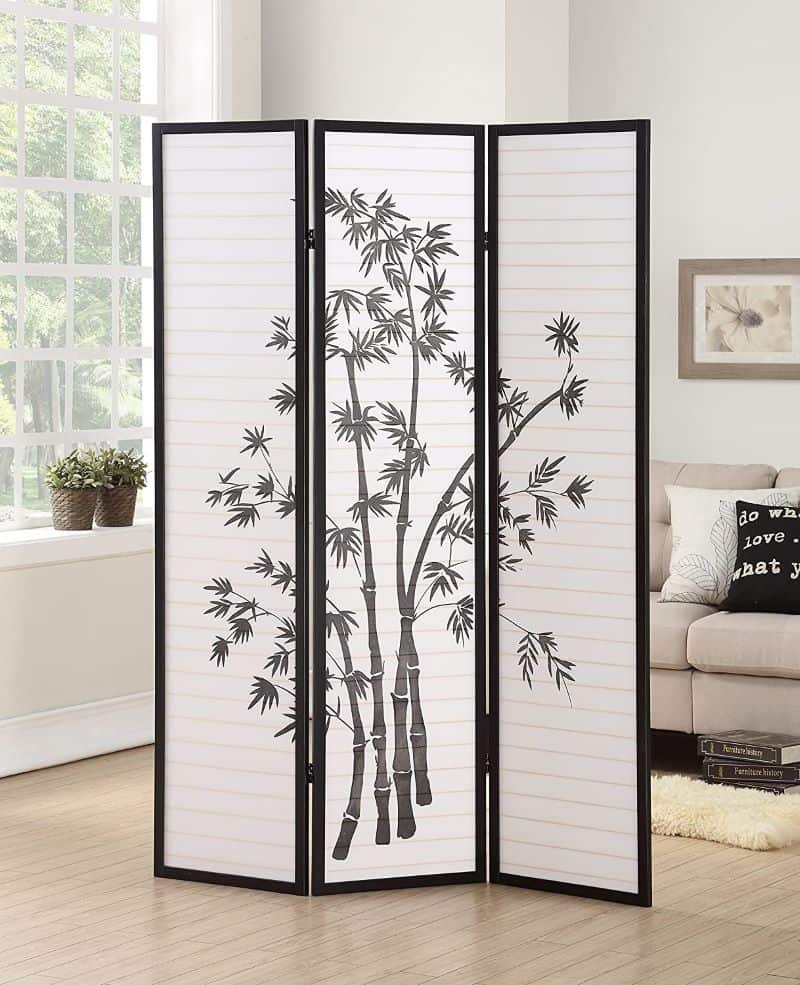 The Roundhill Furniture 3-Panel Oriental Japanese Shoji Screen Room Divider is a 3-panel Shoji room divider. It has rice paper that is heavy duty and fiberglass-like. This Japanese-inspired Shoji room divider works well for creating needed privacy in a small space, lightweight but it has a wooden stable frame with a good black finish. The wood is very solid and has on one of the sides a plant print. The dimension is (18″ Width by 3 Panel) by 71″ Height and the item weighs 12 pounds.
It can be easily maneuvered and the rice paper is durable and thick. They are elegant and the color being black makes it fit any decor style very well. You can use it in your bedroom, bathroom, workspace, or any space. It serves as an effective room divider and an elegant piece that gives your space a beautiful look, you will definitely get value for your money spent on purchasing this item.
Pros
It has a solid wood that has a plant print on one of its sides.
It has lightweight
The frame is stable
Cons
The shipping is sometimes poorly done.
More Details
Japanese Shoji Screen Room Divider Buying Guide
In this buying guide, you can access details about the variations in the Japanese Shoji Screen Room Dividers manufactured. Also, we have shared various buying considerations you should observe whenever you are selecting your desired Room Divider.
Features to consider before buying a Japanese Shoji Screen Room Divider
We have compiled for you some of the features you should carefully consider before buying a Japanese Shoji Screen room divider below.
Painting of Wood Frames
The cheapest Shoji Screen's wood frames are painted basic color black, to reduce their cost of production. Shoji Screen wood frames, also come in Pantone colors such as gold, green, blue, purple, pink, and red, pink, including popular white and ivory.
Fine Wood Frame Stained Finishes
The higher quality Japanese shoji screen room divider designs are built with traditional classic Japanese style of joinery and the wood frames are sealed with clear coat durable finishes over beautiful and elegant wood stains; natural pine, Walnut, Honey Oak, or cherry Rosewood.
Unique and Classic Lattice Design
The original window-pane wooden lattice is popular than the rest, though larger, distinctive window- pane material designs are available also. Contemporary lattice designs, like the "Botanic" or "Eudes" designs and other designs such as "double cross" or "cross hatch" lattice also offer unique, interesting variations.
Double and Single-Sided
Most shoji screen Japanese room dividers have their lattice work done only on the frontal side, and the backside of each of the panels has an expanse of plain shoji paper. Looking at it from a decor standpoint, the front side is only viable. But "Double sided" Japanese shoji screens room dividers are available, and both sides have lattice designs, they are just more expensive than Shojis with single-sided designs.
Kick Plates
More sturdy Japanese shoji screen room divider designs are in the market. They have a kick-plate by the bottom which reinforces each panel's structure and helps to prevent the shade of the rice paper from being scrapped by people's feet or getting kicked.
Types of Japanese Shoji Screen Designs
There are various types of Japanese Shoji Screens Designs used for room dividers.
Byobu: This is a Japanese Shoji folding screen. It literally means "protection from the wind."
Fusuma: It's a shoji screen that works as a sliding screen door.
Tsuitate: This Japanese Shoji Screen design has only one panel screen used for entrance.
Tobusuma: It's a Japanese wood sliding shoji screen.
Sugido: This is a Japanese shoji cedar board screen.
Frequently Asked Questions
We've compiled for you in this buying guide some of the frequently asked questions about Japanese Shoji Screen room dividers by people which may answer some of the questions you might have about this product.
How do I use the room divider or screen?
The Japanese Shoji screens complement every type of Japanese furniture or Asian furniture but they can stand alone also as single design features. Their folding partitions make them versatile in usage, they can be used as dressing screens, therapy screens, salon screens, privacy screens, restaurant screens, or office screens. Every room in your home can accommodate a Shoji Screen, you can use them to divide large rooms or to separate an area in a room, to create for yourself a closet, or study area.
Are Japanese Shoji Screen room divider private enough or can be seen through?
A Japanese shoji screen room divider is translucent but not transparent, it diffuses light throughout a room and as well provides needed privacy. It typically has a wooden frame that frames a cloth, wicker, or paper.
The original types of shoji screens used for room dividers were made from paper screens which were manufactured by applying many diverse layers of Japanese paper in an exact and specific sequence using a technique called Karibari. Some people for this reason refer to Japanese shoji screen as the "Japanese rice paper" or "rice paper screens" or "rice paper door panels."
How do I know which Japanese Shoji Screen room divider is right for me?
It all depends on what you desire and what you want to use it for. White and black designed Shoji will be perfect for the workplace and fit in elegantly with any interior decor style whether at home, work, or any place. If you desire a beautiful piece of Shoji screen room divider just for decorative purposes you should take your time to look for one with an elegant design like a Japanese Cherry blossom decor that will fit your decor style. Those made of solid panels are better for long term use of room partitioning.
Conclusion
The Japanese Shoji screen room dividers are suitable and useful not only inside the home but also in offices especially large offices, where concentrating can be very difficult if the privacy Shoji screens offer isn't in the office. Also, medical practices use shoji screens room dividers for more privacy. In offices or homes, clustered areas can be easily hidden through the use of shoji screens.
Most importantly, the Japanese shoji screen room dividers are a beautiful way to have an elegant Asian look in your home and you can place them against your walls or behind an armchair or sofa just for decorating your space. After reading our buying guide and product review you should have all the information you need to get a beautiful Japanese Shoji Screen room divider.