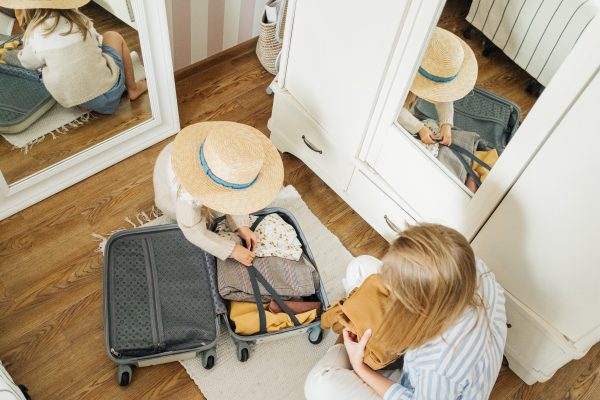 The mountains are calling, and you'd better answer.
Have you been in the middle of nowhere, surrounded by the greenest of trees, the bluest of mountains, and the peaceful silence? What's the spot? Definitely not your desk chair. If you find yourself daydreaming about mountain air, plan now.
Traveling, especially when you're close to nature, has a way of resetting your mind, body, and soul. Scientists claim that traveling boosts immunity by exposing our bodies to different antibodies. Being in nature can also help fight depression, improve sleep, and reduce stress.
But before you hit the road, there's one thing you need to do: pack. For this reason, we'll share some packing tips to help you make the most of your mountain vacation:
Check Your Destination
A regular traveler knows the importance of preplanning, and this doesn't stop when you're packing for a mountain vacation. The first step is to check your destination.
Research the climate and average temperatures.

Will you be near a lake or river?

What's the terrain like in your chosen area? Is it hilly or mountainous?

Are there any trails or parks you'll be visiting?

What's the forecast for the week you're visiting?

Do you need any permits or passes?

What are your hot spots?
Checking your destination will help you determine what clothing and gear you'll need to pack.
For instance, if you've been following Trip Advisor, you know how popular Gatlinburg, Tennessee, has been lately. So, if you're traveling there, you should know that the weather is somewhat unpredictable. The average temperature in Gatlinburg is 53.9 °F, but it can range from the mid-30s to the mid-80s.
And since Gatlinburg is located in the Great Smoky Mountains, you'll want to pack your best hiking shoes. As for accommodation, check out hotels in downtown Gatlinburg to benefit from various amenities at affordable prices. 
The Right Clothing
It might tempt you to stuff all your tracksuits in your suitcase and be done with it, but that's not how you pack for a mountain vacation. You might need parkas, sweaters, and long pants, since mountains can be pretty chilly, even in the summer.
Also, throw in some t-shirts, shorts, and light dresses for the sunny days. And don't forget your swimsuit.
You know you'll have to make short trips to the town to pick up some groceries or go out to eat? You'll need more than one "fancy" outfit for that. Don't go overboard, but make sure you're prepared.
The crux is to pack versatile items that can be mixed and matched to create different looks. A good pragmatism is to pack one outfit for every day you'll be gone, plus one extra. You will get enough wiggle room if you have a spill or want to wear something again.
Sorting the Shoe Dilemma
Since we are talking mountain vacation, you'll probably want to pack more than one pair of shoes. What if it rains and your shoes get soaked? You don't want to be stuck in wet shoes for the rest of your trip.
You might be used to walking around in your sneakers, but they won't be much help if you're planning on doing some hiking. A flexible pair of hiking boots is a must. 
If you're traveling in the winter, you'll need a pair of boots to keep your feet warm and dry. But if you're traveling in the summer, you can get away with packing just a pair of sandals.
Wear the heaviest pair of shoes on your flight to save space in your suitcase. You can carry some shoe dust bags to protect your clothes from getting dirty. And don't forget extra shoe laces, socks, and Band-Aids for blisters.
Packing for the Great Outdoors
What activities have you planned for your mountain vacation? Are you planning on hiking or camping?
Do you need a sleeping bag and a tent? What about a fishing rod or a pair of binoculars? If you plan on hiking, a daypack carrying all your essentials will greatly help. Make sure you pack sunscreen, insect repellent, and a flashlight. And if you're camping, don't forget the marshmallows.
You may not always find a fellow tourist ready to snap a picture of you in front of a beautiful waterfall. So, why not pack a tripod to get that perfect shot? Or, if you're facing a space crunch, you can always take a selfie stick.
Medication Maven
None of us want to get sick on vacation. But sometimes, it's just unavoidable. What if the change in altitude affects you? Maybe you'll catch a cold from all the people on the plane. Sprains? Cuts? Sunburn? Well, those are a possibility too.
Be prepared for the worst by packing a small first-aid kit. And don't forget to pack any prescription medication you might need. If you're carrying liquid medicine, make sure it's in a sealable bag.
Pack some baby wipes and diapers if you're traveling with young children. And don't forget the snacks – kids or no kids.
Keep it light
Light, light, and light should be your mantra when packing for a mountain vacation. The last thing you'd want is to have to lug around a heavy suitcase, especially if you plan on spending your time camping, hiking, and stargazing.
So, how do you manage to make space for everything you need without going over the weight limit?
Keep these tips in mind while packing:
Roll, Don't Fold:

It will help save space and prevent wrinkles.

Use Packing Cubes:

They are great for organizing your clothes and keeping them from shifting around in your suitcase.

Pack a Scarf:

It can be used as a blanket, pillow, or headrest.

Use Ziploc Bags:

They are great for packing toiletries and small items.

Take a Power Strip:

You can charge all your devices at once.

Ditch the Heavy Books:

You can always read eBooks or listen to audiobooks on your phone.

Wear Your Heaviest Clothes:

Jackets, jeans, and boots take up a lot of space. So, wear them on the plane.

Consider Renting Gear:

If you're only going to use it once, there's no point in lugging it around.
Conclusion
A mountain vacation is your pick-me-up from the chaos of daily life. The serene beauty, the fresh air, and the peace of mind that comes with it are what we all crave.
But more often than not, packing for a mountain vacation can be stressful. So, don't let the packing ruin your vacation. Use these smart tips and tricks to ensure you have everything you need without overpacking.