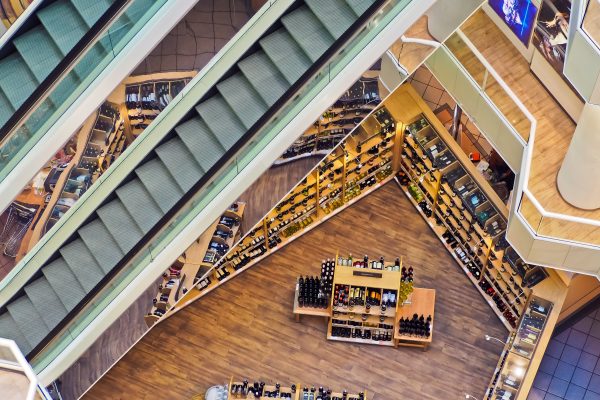 There's something for everyone in the Great Smoky Mountain area, whether it's local shopping, large outlets, or unique shops. It doesn't matter what you're looking for or what you want to shop for; Pigeon Forge and surrounding areas have it all.
You can get the best Pigeon Forge shopping experience with bargains and deals at local stores and outlet malls, or find souvenirs from the several art and craft shops to display in your home. You may even discover unexpected treasures inside Pigeon Forge's specialty and antique stores.
The Island
One of Pigeon Forge's most popular shopping destinations is The Island. Located in the heart of Pigeon Forge, just off the Parkway, it is a large shopping, dining, and entertainment area. At The Island, you can spend a whole day browsing their 80 unique shops and eating at one of their chic eateries and bars.
Take your family to Puzzled to play thousands of games and watch the light show at night at the Island fountain. Moreover, you can take a ride on the 200-foot Observation Wheel for the best views of the town or enjoy a unique and tasty drink at the Ole Smoky Moonshine Barn.
Pigeon Forge Factory Outlet Mall
It is a large shopping mall with 200,000 square feet of shops – ideal for bargain hunters. It is conveniently located in the center of town, just south of Highway 321 on the Parkway.
Despite the many clothing and gift shops, the quirky shops are the ones that really draw shoppers. You can also visit The Veterans Store here to see a wide selection of unique medallions, badges, pins, and other items. 
There's also Country Music USA, which features albums and instruments – a haven for those who love country music. 
The Shops at Lumberjack Square
A fun-filled afternoon at Lumberjack Square is a great way to spend time in Pigeon Forge. This square features a lumberjack show, an adventure park, shops, and restaurants located one block north of Highway 321. 
If you're looking for something more unique, visit the art gallery or shops like The Bubble Bath Boutique. Once you're done shopping, you can head to the Smoky Mountain Brewery to get a drink and a bite to eat, and then go to the Forge Cinemas to watch a movie.
Christmas Place
A magical Christmas Place awaits you at the intersection of Christmas Tree Lane and Parkway. Featuring an exclusive hotel, exquisite decorations, and various festive shops, this shopping center is a year-round destination for Christmas shoppers.
There are also a variety of Christmas collectibles available at Christmas Place, including Fontanini nativities and Christopher Radko ornaments. When you visit Pigeon Forge, be sure to stop by here to enjoy the gorgeous window displays, buy customized gifts, or browse the enchanting Christmas trees.
The Old Mill Square
The Old Mill Square is a must-see when visiting Pigeon Forge. Located just north of Patriot Park, this charming area houses one of the most notable landmarks in town, The Old Mill. Stop by the General Store after visiting the mill to grab some exciting gifts and mementos, such as homemade jams, pancake mixes, and local crafts.
The candy kitchen and the creamery are also great places to satisfy sweet cravings. You can also try buttermilk biscuits and crispy fried chicken at the Old Mill Restaurant if you're craving something savory.
The Shops at Patriot Mill
A small shopping mall with some of the most unique stores in town can be found across the river from Patriot Park. Whether you're dressing up in a costume or posing in one of their seven different sets, Old Time Photos is always a hit with the whole family.
There's also a home goods store, Man Cave Metal, with everything you will need to gear up and decorate your manspace. And located just a few shops down is the Ole Country Store, featuring interesting knick-knacks and souvenirs.
Ogle's Mall
Ogle's mall is a comparatively smaller shopping mall on McGill Street, just off Highway 321, not too far from the city. There is a grocery store here so that you can grab your essentials. It also features a few convenient stores, such as laundry facilities, a discount store, and one eatery called Lee's.
A hidden gem in town, Lee's Fusion Café is highly recommended by locals. Known for its affordable Japanese hibachi meals, authentic Thai cuisine, and custom bento boxes, this unassuming Asian restaurant offers a variety of delicious and affordable Asian dishes.
Antique Mall
If you're a collector or looking for a vintage treasure, Pigeon Forge's Antique Mall is a great place to go treasure hunting. This mall is located west of downtown along Wears Valley Road. 
You can spend an afternoon exploring this quaint mall, which has several antiques arranged in different areas. For collectors, there are posters, maps, records, and furniture. After your shopping spree, you can check the '50s diner and enjoy cheeseburgers and beer floats in a vintage setting.
The shops of Pigeon Forge
In downtown Pigeon Forge, there are several shops that have everything from trendy boutiques and name-brand stores to fine dining and attractions. If you're looking for bargains, head to Burlington or the Dollar Tree for new clothes at great prices.
A popular attraction on the plaza is Cooter's Place, which is a museum honoring The Dukes of Hazzard – a hit TV sitcom. They also have a mini-golf course and an indoor go-kart.
Conclusion
In Pigeon Forge, you will find a variety of shopping centers and exclusive stores, as well as family fun and interactive shows. From quirky souvenirs to exclusive gifts to designer clothing to upscale home goods, there are over 300 stores in town.
The shopping centers along the highway are a great place to complete your retail therapy for an hour or two. You can find more vintage and rare pieces by heading left on Highway 321 and checking out one of the large antique stores. Make sure to carry an extra suitcase with you so you can bring everything home after your shopping spree in Pigeon Forge.