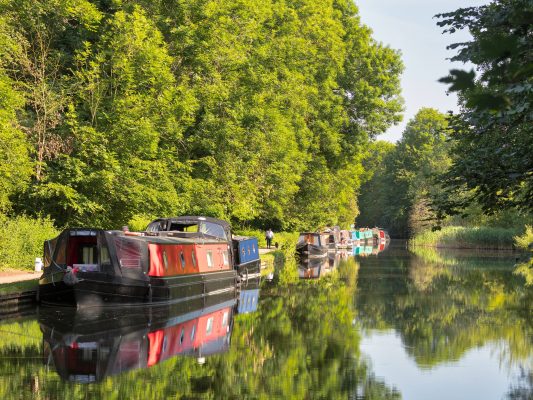 Have you ever wandered along the banks of one of Britain's many picturesque canals and been captivated by the canal boats plying the sedate waters or moored along the shore? If so, then you are probably already familiar with the aura of romance and adventure that accompanies these waterways and the vessels that call them home. 
In fact, so alluring is the siren song of Britain's canals that a surprising number of people have chosen to sell their four walls and move into a canal boat instead, swapping a life of earthy stability for a floating home that can take them the length and breadth of the country. 
Taking To The Waters
Of course, for most of us, a permanent relocation to a canal boat may not be possible, but that doesn't mean that you can't experience the wonders of casting off for yourself. 
There are plenty of canal touring options available to you, with boats available to rent at various scenic locations around the country – although, of course, if you have the opportunity and the motivation to buy a canal boat, there is always an assortment of stunning river and canal boat models for sale available from TheYachtMarket. 
Read on to discover more about Britain's most breath-taking canal routes, so you can start preparing for a watery adventure that is sure to give you a fresh perspective – not only on the UK's countryside but also on life in general. As a traveller, don't forget to get a high-speed prepaid travel sim card from Simify before you explore to stay connected while taking the adventure.
Exploring The Norfolk Broads
The waterways of East Anglia's fens were excavated in the 1600's and crisscross the landscape, bisecting the counties of Norfolk, Suffolk, Cambridgeshire, and Lincolnshire. 
While you can devote a significant portion of time to exploring the haunting landscapes that line the miles of waterways that branch off from the Rivers Ouse and Nene, if you are new to skippering it may be best to opt for an easier route. 
One of the most popular boating hotspots in the area is the Norfolk Broads, where visitors flock each year to soak up the arching blue skies, and savour the peace and beauty of the landscapes that line the shores. The Broads offer a wealth of enjoyable boating opportunities, and because there are no locks and the waterways are wide, they are an ideal place for beginners to learn how to navigate their vessels. 
Of course, besides hiring a river or canal boat to ply the Broads, you can also enjoy a variety of other water and land-based activities here. These range from fishing and kayaking, to visiting popular local attractions, such as Bewilderwood or Amazona Zoo, or exploring notable historic sights – from stately manors to centuries-old churches. 
You can also stop off at some of the many charming riverside restaurants and pubs that line Norfolk's waterways – although it's probably a good idea not to imbibe too heavily if you are taking the role of skipper. 
Boating holidays are available on the Broads for total beginners – with a free tutorial included, before you cast off – and you can sail away for three nights or even longer, following the waterways where you please and experiencing all of the wonders this large and sun-kissed county has to offer.
Soak Up The History Of Lancaster Canal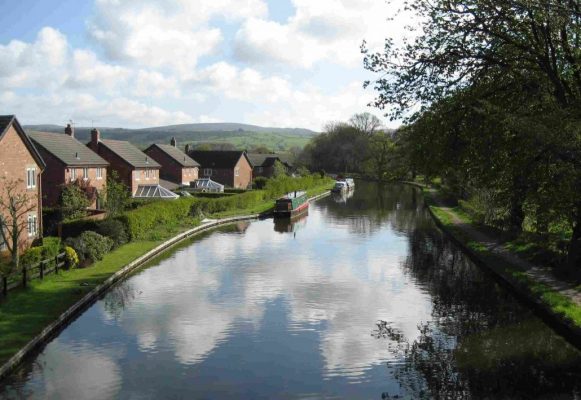 Another breath-taking canal route that doesn't contain any locks to worry about is the 41-mile stretch of Lancaster Canal that runs from Preston to Tewitfield. 
This broad and easily navigable waterway gives you the perfect opportunity to reconnect with the natural world, and to explore Lancaster's sometimes dark and disturbing past. 
For example, if you have an interest in the violent history of Britain's witchcraft trials, then you will certainly not want to miss the opportunity to pay a visit to ancient Lancaster Castle, where the Pendle witches were famously held captive as they awaited their grim sentences. This foreboding building has also previously served as a 19th century debtors' prison, so if you enjoy immersing yourself in the darker aspects of history, it's the perfect place to go. 
Also historic but providing a significantly more heartening experience is the Lune Aqueduct, which arcs over the canal just to the north of Lancaster, and provides the perfect opportunity to take some stunning photographs. 
Along this watery route, you will also be able to soak up the sights and sounds of some of Lancashire's most breath-taking natural wonders – from Morecambe Bay to the Forest of Bowland and the Silverdale coastline. 
If you're a keen birder and you have time to stop, don't forget to explore the reed beds of the Leighton Moss and Morecambe Bay Nature Reserve, where over 100 species of bird await you. 
The Monmouthshire And Brecon Canal 
Another spectacular route for nature-lovers is this 35-mile stretch of waterways, which run from Brecon itself to the Pontymobile basin, with the majority of the route guiding you through the Brecon Beacons National Park.
The first official dark sky reserve in Wales, this national park spans 520 square miles of picture-postcard landscapes, affording you plenty of opportunities for walking, mountain biking, horse riding, rock climbing, and exploring its local towns and villages. You may even want to try some wild swimming, particularly as you navigate the scenic waters of the Usk valley.
After a busy day of exploring, during the evenings you can kick back and relax on the deck of your canal boat and drink in the glittering beauty of the night sky. If you're lucky, as well as the familiar constellations, you will also be able to marvel at the Milky Way and perhaps even catch a meteor shower for that added celestial thrill. 
Along your route, you do have to be prepared for some locks and tunnels – two tunnels and six locks, to be precise. However, you will be given plenty of instructions and guidance when it comes to navigating these features, and if you do get into any trouble, other more experienced boaters are sure to lend a hand.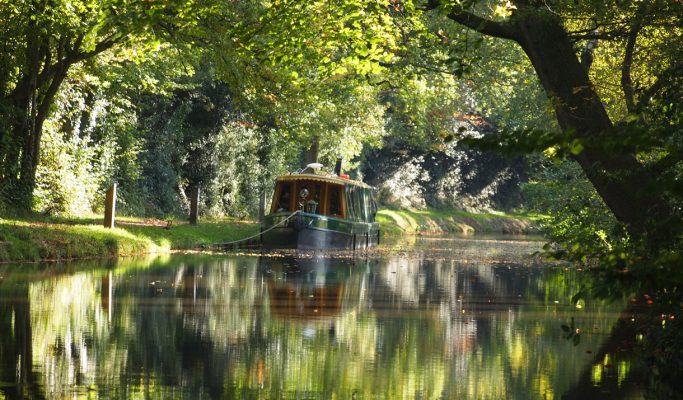 Taking On The Thames Ring
If you have time for a truly epic riverine adventure, then there is surely no route more fitting than the Thames Ring. This gargantuan 245-mile odyssey includes the Grand Union canal and the Oxford canal, and features a total of two tunnels and 176 locks, so by the time you have reached the end of your route you will be well-versed in the art of lock navigation. 
Whether you decide to do the whole ring in one go, or divide it into more manageable chunks, you will be sure to enjoy plenty of unforgettable experiences along the way – including getting the chance for a boat's-eye view of the illustrious Hampton Court, and admiring the gentle undulations of the picturesque Chiltern Hills. 
While you're drifting serenely through Oxford, you may also wish to moor for a day or two and explore the many historic and cultural wonders this famed university city has to offer – from the Ashmolean Museum and the Bodleian Library to the verdant Botanic Garden on the banks of the River Cherwell. You can even have a pint in the Eagle and Child, where Tolkien and his friends whiled away many an evening in lively conversation, or take a spine-chilling ghost tour around the city's historic streets. 
Anchors Away
The waterways described above are some of the UK's most beautiful and fascinating routes – but there are also many others that are well worth exploring. 
One thing is certain: whichever route you decide to take, your canal odyssey through Britain's breath-taking countryside and historic attractions will provide you with many cherished memories to look back on in the future – and perhaps even a newfound ambition to invest in a canal boat of your own.