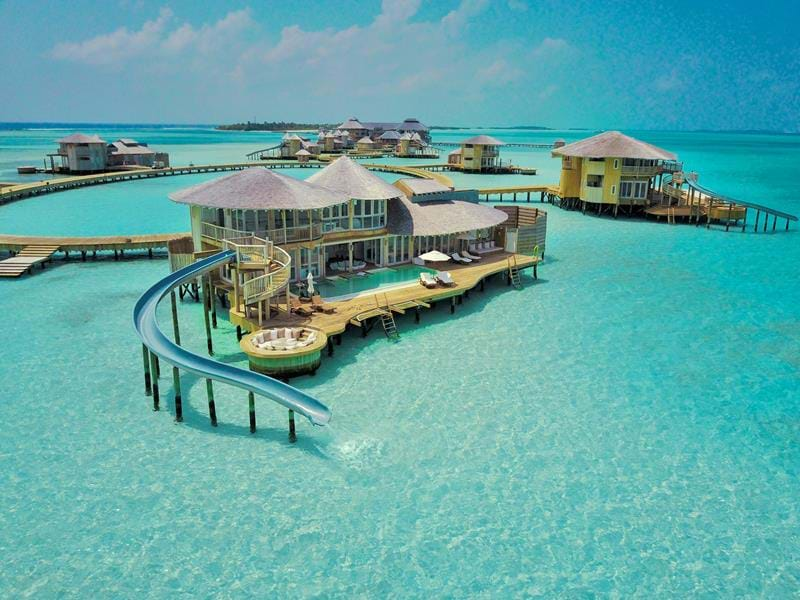 For those looking for a perfect holiday destination, there are so many available choices as the world seems to get smaller. Something relaxing could be on the radar for couples or those with lesser energy rather than a quick-fire city or adventure break.
For anyone looking to kick back and enjoy ultimate luxury located by incredible surroundings and wanting somewhere tropical while feeling like a million dollars, then checking out the best Maldives luxury villas is a great call.
Choices
By deciding on a villa on a couple of Maldives private islands, you have the choice of a water villa or a beach villa, both guaranteeing an amazing stay in a staggeringly beautiful location. Whichever option is selected, a secluded deck is provided to offer pure privacy, where guests can relax fully outside enjoying occasional rain showers. Moonlit dips or lazy intimate afternoons enjoying the sun are perfect in a such a dreamy setting. 
Indoors also offers the ultimate in opulence as visitors can enjoy the in-room entertainment which comes with an LED TV, the very best Bose surround sound while enjoying movies from around the world before you climb into a sumptuous king bed. A local butler service will guarantee anyone enjoying their stay will feel like a VIP. Prior to departure, it's a good idea to formulate a travel checklist containing things to do before going on a vacation.
Perfect for couples or families
The incredible 5-star hotel is ideal for couples looking for romantic or relaxing breaks to unwind and enjoy all that is on offer, while it is a marvellous retreat for the full family, with beach pool villas, pavilions and even a crescent that provides accommodation for up to 14 adults and 8 children is available.
The villas come with a family sized plunge pool, sensational sunset views, direct beach access so that everyone can enjoy the soft white sands before a dip in the beautiful clear ocean. The family living area is roomy and contains a sofa bed and guest bathroom, wonderful for learning all about local marine life.
Fantastic amenities
Many of the rooms offer a popcorn machine, ideal for making popcorn after an exciting day burning off the energy provided by the personalised bicycles to be able to explore the full resort. Others come with direct lagoon access or a private pool ensuring an experience that will create lifelong memories.
So much to enjoy
The hotel and islands offer so much more, with some captivating activities to be enjoyed, whether it's a cruise to see dolphins, or snorkelling to get close to see majestic sea turtles. The area is wonderful for surfing, catamaran sailing or flyboarding for the more adventurous. 
All this along with some wonderful dining and drinking facilities, including one of the best underwater restaurants in the Maldives ensures there's something for everyone, including an explorers kids' club.
To conclude
Choosing a luxury villa at an idyllic 5-star Maldives resort is guaranteed to be a favourite, for couples or a complete family.