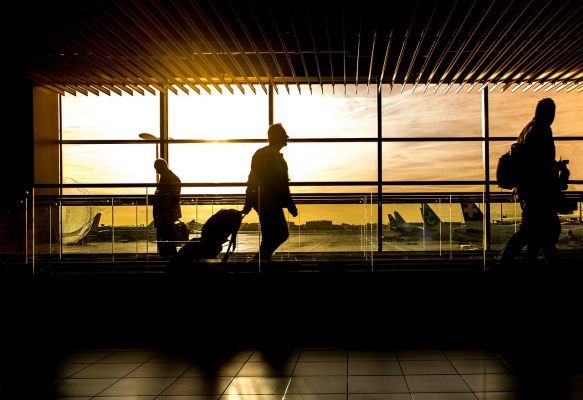 When you are planning a trip, it's easy to get trapped in the buzz. Whether you plan to spend the weekend on the beach or go on an extended holiday in a faraway foreign land for a month, chances are you have already started daydreaming about your trip. 
However, planning a trip can undeniably seem like an overwhelming challenge, much like any major task. Of course, you won't overlook essentials like making flight reservations and arranging travel documents. But, unfortunately, packing lists, household tasks, entertainment, reservations, and car rentals might fall to the wayside in favor of the more interesting matters. But as with everything important, you don't realize something is missing until you need it on the trip. 
So, to avoid such hassles, it's best to keep yourself prepared. We have compiled a brief list of the most important things you must do before leaving on a trip to help you make sure you have everything you need:
Make hotel reservations beforehand
If you don't have a hotel to stay in when you reach a new location, you'll surely find one – but not without unwanted stress. On the other hand, making a hotel reservation in advance gives you more alternatives. It increases the likelihood that you'll find a room in the hotel you want, at the price you want, and with the facilities you want. 
Let's say you're traveling to Gatlinburg, a picturesque mountain town in Tennessee with millions of tourists flocking every year. Chances are, you might not get your desired lodging if you skip booking on time. Besides, hotels tend to fill up rapidly during peak seasons, so making a reservation in advance can ensure you get a cozy room. 
If you plan a trip to Gatlinburg, Tennessee, look for cabins in Gatlinburg TN, that offer various amenities, including hot tubs, spas, pool games, and others. 
You might have decided where you wish to travel but want to figure out the dates and times you would spend at the destination. And there's no better way to do so than by booking your flight timely. If you are traveling abroad, having a finalized flight reservation can assist with other elements of the vacation planning, such as a hotel or rental car arrangements.
There are numerous websites for booking flights, each with a different cost. To ensure you're getting the best bargain, compare the final pricing. But, of course, the most excellent deal is to purchase directly from the airline.
Planning your arrival at the airport of your chosen destination and selecting the best route to your accommodations may seem tedious, but it is undoubtedly crucial. 
However, skipping over researching your transportation choices before purchasing your tickets could cost you a lot more money. It's particularly true if you arrive or depart early or late. Sadly, most airports don't offer car rentals or 24-hour public transportation. If so, you may have to pay high prices for cabs or hotel pickups.
Have a packing list with you
Never begin packing without making a packing checklist to save time and hassle. A holiday packing list is essential.
Regardless of the type of traveler, having at least a mental checklist of the items you'll need is always a brilliant idea, as is double-checking that you have everything. In addition, it can assist you in forgetting anything, including your wallet and earplugs. So, list the items you need and keep adding to them as you think of more.
Always get travel insurance when traveling. You should arrange for travel insurance right away if you don't already have it. 
It's not sufficient to merely purchase travel insurance. You need to verify the inclusions and coverage. A best practice is to call a licensed agent to find out which is the Best Travel Insurance while traveling and ensure you completely comprehend what is and isn't covered. A decent travel insurance policy will be helpful in medical crises and luggage loss or theft, vehicle rental issues, aircraft delays, and missed connections.
Contact your bank beforehand
Contacting your bank and credit card provider to notify them of your travel plans is crucial. For domestic journeys, registering your information is not as important, but if you're traveling abroad, do it to prevent your account from being reported or suspended.
If you don't inform your bank of this, they could block your credit and debit cards when you attempt to use them abroad. And no doubt, experiencing financial restrictions while abroad is the most stressful situation imaginable. Additionally, making a costly phone call to unblock a card is the last thing you wish to do.
Before leaving on a trip, it's an excellent idea to see your doctor to ensure all of your medicines are correct and filled and to consult any further medical procedures that may be necessary. Schedule a consultation to look into them at least a month beforehand, as some will require many shots spaced out a few weeks apart. Also, bring your prescription medications on your trip if you take any. 
You might also need to acquire specific immunizations depending on the country you are visiting. They differ from one country to another.
Unplug electronic items back at home
Appliances can use electricity even while they are off if they are plugged into a power source. Therefore, before leaving, it's always a good idea to turn off and unplug appliances like your microwave, TV, lamps, routers, computer, toaster, washing machine, or any other power-sucking device. That way, your energy bill will go down, and there will be less chance of electrical fires. It's better to do so since you won't be using any of the appliances.
Strictly lock your doors and windows
Ensure that all the locks in your home are secure before you leave the house for traveling by checking them all. Be cautious about locking your windows as well, as they are the second-easiest entrance point for burglars after thoroughly inspecting your doors.
Even better, installing a smart lock that enables remote locking and can notify you when a window is left unlocked. Finally, close the drapes or blinds. It improves the security and temperature control of your home.
Summing up
Even though going on vacation can be thrilling and fun, it's crucial to be ready and have everything you need. A travel checklist is essential for anyone preparing for a trip. It's a reminder of all that must be done before, during, and following a trip. A trip checklist ensures nothing gets overlooked, saving time and money and easing anxiety and stress. You'll be able to thoroughly enjoy your time away and create memories that will last a lifetime if you adhere to the travel checklist mentioned above.