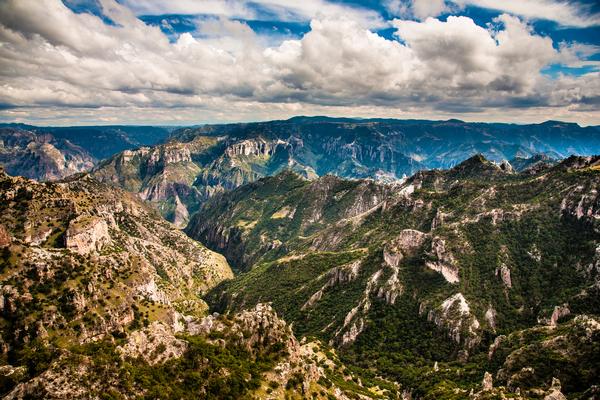 If you're looking for a truly spectacular natural wonder in Mexico, look no further than Copper Canyon. Located in the northern part of the country, this magnificent canyon system is actually larger and deeper than the Grand Canyon in the United States. But unlike its American counterpart, Copper Canyon is a hidden gem that has yet to be discovered by many travelers.
Stay tuned for more exciting activities and insider tips in the rest of the article!
5 Handpicked Things to do in Copper Canyon
Copper Canyon tours offer an unforgettable experience for travelers to Mexico, with breathtaking views, unique cultural experiences, and thrilling adventures. Now that you've arrived in Copper Canyon, it's time to start exploring. Here are ten handpicked activities that you can't miss:
1. Ride the Chepe Train
As mentioned earlier, the Chepe train is one of the best ways to experience Copper Canyon. The train ride takes you through the heart of the canyon system and offers stunning views of the surrounding landscape. Be sure to book your tickets in advance, as the train can get crowded during peak season.
2. Visit the Rarámuri People
The Rarámuri people, also known as the Tarahumara, are an indigenous group that has lived in the Copper Canyon region for centuries. They are known for their long-distance running ability and their intricate crafts, such as baskets and textiles. Visiting a Rarámuri community is a unique opportunity to learn about their culture and way of life.
3. Take a Zip-line Tour
For an adrenaline-filled adventure, take a zip-line tour through the canyons. You'll soar over the treetops and canyons, with incredible views of the landscape below. There are several zip-line companies in the area, so be sure to choose a reputable one with experienced guides.
4. Go Horseback Riding
Explore the canyons on horseback for a unique perspective on the landscape. There are several guided horseback tours available, ranging from short rides to full-day excursions. You'll ride through pine forests and along the canyon rims, with stunning views around every corner.
5. Visit the Cusárare Waterfalls
Located near the town of Creel, the Cusárare Waterfalls are a must-see attraction in Copper Canyon. The falls cascade down a series of steps and pools, surrounded by lush greenery and rock formations. You can hike to the falls on your own or take a guided tour. If you're planning to explore the waterfall, be sure to pack a sturdy pair of hiking boots for ankle support to ensure you can tackle the challenging trails with ease.
How to Get There
Chepe Train: As mentioned earlier, the Chepe train is a great way to travel between towns in the canyon system. However, it can be crowded during peak season, so be sure to book your tickets in advance.
Private Tours: There are several private tour companies that offer guided tours of the canyons. This is a good option if you want to avoid the hassle of navigating on your own and want a more personalized experience.
Rental Car: Renting a car can be a good option if you want more flexibility and independence. However, be aware that the roads can be narrow and winding, so it's important to drive carefully. Also, make sure to have a map or GPS system, as road signs can be scarce.
Conclusion
Copper Canyon is a stunning natural wonder that offers something for every type of traveler. Whether you're an adventure seeker, a culture lover, or a nature enthusiast, you'll find plenty to do and see in this hidden gem of Mexico.
We hope this guide has been helpful in planning your Copper Canyon adventure. So what are you waiting for? Start packing your bags and get ready for the trip of a lifetime!