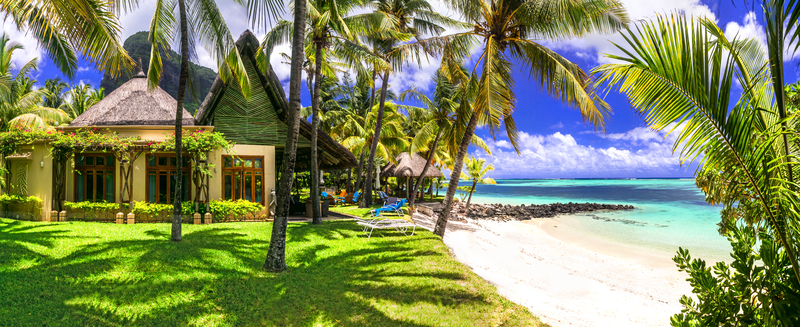 Imagine a place where the sound of waves crashing on the shore is the only alarm you need to wake up to. A place where the smell of salty sea breeze and the feel of sand on your toes are the only things on your mind. That's what a beach house in Mauritius feels like – a paradise for beach lovers and adventure seekers alike.
If you're looking for a getaway that offers more than just sunbathing and lounging on the beach, then you're in luck. Mauritius is famous for its pristine beaches and turquoise waters and its endless list of exciting activities. From water sports to island excursions and spas and wellness to beach picnics, a Mauritius beach house has everything you need for an unforgettable vacation.
Get ready to explore the island's hidden gems, indulge in mouth-watering delicacies, and create memories that will last a lifetime. In this article, we'll take you through 12 fun things to do in a beach house in Mauritius. So, pack your bags, put on your sunglasses, and let's dive into the ultimate beach adventure.
Water Sports:
Get ready to feel the adrenaline rush as we dive into Mauritius's exciting world of water sports. 
1- Kitesurfing
Kite surfing is a thrilling water sport that combines surfing, windsurfing, and paragliding. Mauritius is known for its perfect kitesurfing conditions, with steady winds and shallow waters. Whether you're a beginner or an expert, there are plenty of kitesurfing schools and rental shops to choose from. So, strap on your harness and get ready to fly.
2- Scuba Diving
For those who prefer to explore the underwater world, scuba diving is a must-try activity in Mauritius. The island is surrounded by diverse marine life, with colorful coral reefs, tropical fish, and even shipwrecks waiting to be explored. Whether you're a certified diver or a first-timer, plenty of dive centers offer guided tours and training courses. So, put on your scuba gear and get ready to discover the ocean's hidden treasures.
3- Paddle Boarding
If you're looking for a more relaxed water sport, stand-up paddle boarding is what you need. Imagine gliding across the lagoon's calm waters, surrounded by stunning scenery and tranquility. Stand-up paddle boarding is a great workout for your core and balance and a peaceful way to connect with nature. Whether you're looking for a solo adventure or a group activity, stand-up paddle boarding is a great way to enjoy the beauty of Mauritius.
Beach Activities:
If you hear someone say that beach vacations are just for lounging around, tell them about beach volleyball, beach picnics, and bonfires on the beach.
4- Beach Volleyball
A classic beach activity that's perfect for group fun. Whether playing with your friends or making new ones, beach volleyball is a great way to stay active and competitive. With the sand between your toes and the sun on your face, you'll forget everything else and focus on the game. Who knows, you might even discover your inner Olympian.
5- Beach Picnic
Pack a basket with some delicious snacks, sandwiches, and drinks, and head to the beach for a relaxing day under the sun. Whether with your family, friends, or yourself, a beach picnic is a great way to unwind and enjoy the island's beauty. And if you're lucky, you might even spot some dolphins or whales in the distance.
6- Bonfire on the Beach
Gather around the fire with your loved ones, roast some marshmallows, and enjoy the starry sky above you. There's nothing more romantic than watching the flames dance on the sand and feeling the warmth of the fire. And if you're feeling adventurous, why not try stargazing or telling ghost stories?
Island Excursions:
As much as you might want to spend all your time at the beach house, there's a whole island waiting to be explored. And what better way to do it than with some exciting island excursions? There's something for every type of adventurer in Mauritius.
7- Catamaran Cruise
A great way to explore the island and its crystal-clear waters. Hop aboard a catamaran and sail around the island, enjoying the stunning scenery and wildlife like Ile Aux Aigrettes. You might even spot some dolphins or whales along the way. And if you're feeling adventurous, why not try snorkeling or swimming in the turquoise waters?
8- Hiking to Waterfalls
Take a hike through the lush green forests and discover the island's hidden waterfalls. You'll be rewarded with stunning views and a refreshing dip in the natural pools. And you might even discover some hidden caves or wildlife along the way.
9- Barbeque on the Beach
A beach vacation is incomplete without a delicious barbecue feast! Mauritius offers several spots for beachside barbecues, where you can grill fresh seafood, meat, and vegetables while enjoying the sunset and the sound of waves. Bring your grill or rent one from a local vendor, and get ready for a mouth-watering culinary experience under the stars. 
Spa and Wellness:
10- Yoga on the Beach
Take in the stunning views of the ocean as you practice your downward dog and warrior poses. The sound of the waves crashing on the shore will help you find your inner peace and forget all your worries.
11- Massage
Next, treat yourself to a rejuvenating massage in the comfort of your beach house. Let the expert hands of a skilled masseuse work their magic and ease your tension and stress. You'll feel like a brand new person after this pampering session.
12- Meditation
And if you're looking for something more reflective, then meditation sessions on the beach might be just what you need. Practice mindfulness and relaxation as you listen to the sound of the waves and feel the gentle breeze on your skin. It's a great way to clear your mind and focus on the present moment.
Conclusion
A Mauritian beach house offers many fun and unforgettable activities, including kitesurfing, scuba diving, beach volleyball, visiting local markets, and more. With such unique experiences and memories waiting to be created, we encourage readers to book one and indulge in the magic of this paradise destination.