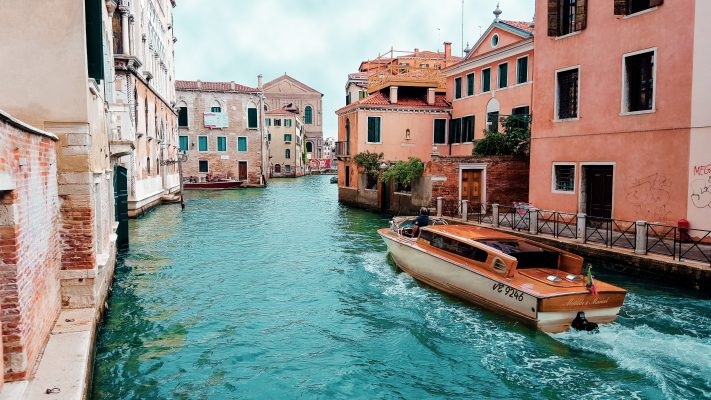 Italy, abundant with vibrant culture, historical significance, artistic marvels, and delicious cuisine, provides a captivating experience that leaves a lasting impression on visitors' hearts. With numerous attractions, organizing a week-long trip may seem daunting. 
This article will walk you through a 7-day itinerary featuring essential sights and lesser-known treasures of this charming place. Experience Venice's amorous canals and the Amalfi Coast's striking shoreline while maximizing your Italian adventure.
Day 1: Rome – The Eternal City
Embark on an adventure in the enchanting Eternal City of Rome, where history comes alive through ancient ruins and stunning architecture. As you visit the majestic Colosseum, the site of gladiator battles and public spectacles, prepare to be captivated by these iconic landmarks. Continue exploring the Roman Forum, walking among remnants of ancient temples and government buildings. Nearby, discover Palatine Hill, Rome's legendary birthplace and home to the ruins of imperial palaces.
As the sun begins to set, take a stroll to the enchanting Trevi Fountain. This baroque masterpiece is a popular spot for visitors to toss a coin into the waters, following the age-old tradition believed to ensure a return to Rome. As the day draws closer, make your way to the Trastevere neighborhood. Here, you'll find a plethora of authentic Roman eateries nestled among winding cobblestone streets and picturesque piazzas.
Day 2: Pisa and Lucca
Pisa, celebrated for its iconic Leaning Tower, will steal your heart with its magnificent cathedral and the picturesque Piazza dei Miracoli. After your Pisa expedition, the charming walled city of Lucca will enchant you with its rich history and winding, narrow streets.
To experience these cities to the fullest, opt for renting a car. With car rentals in Italy easily accessible, you'll be able to venture through the mesmerizing Tuscan countryside without any hindrance. The liberty and adaptability that come with a rental car will undoubtedly amplify your escapade.
Day 3: Vatican City 
Dedicate your third day to exploring Vatican City, the smallest independent state in the world. Begin by touring the Vatican Museums, which house a vast art collection, including the world-renowned Sistine Chapel. Afterward, make your way to St. Peter's Basilica, one of the largest and most significant churches in Christendom. Don't miss the opportunity to climb to the top of the dome for breathtaking views of Rome. In the evening, treat yourself to a gelato while wandering through Piazza Navona or the Spanish Steps.
Day 4: Florence – The Birthplace of the Renaissance
Now you can head north to Florence, the birthplace of the Renaissance. This captivating city is home to an array of world-famous art and architecture. Start your day by visiting the iconic Cathedral of Santa Maria del Fiore, better known as the Duomo. Climb Giotto's Bell Tower for a bird's eye view of the city, and then go to the Uffizi Gallery, where you can marvel at masterpieces by Botticelli, Michelangelo, and Leonardo da Vinci. 
End the day with a stroll across the Ponte Vecchio and a sumptuous Tuscan dinner.
Day 5: Cinque Terre
It's time to discover the scenic Cinque Terre region, a UNESCO World Heritage site. This striking coastal area features five delightful villages nestled atop craggy cliffs with views of the Mediterranean Sea. Hike or take a picturesque train ride between the villages, immersing yourself in the awe-inspiring landscape. Relish local wines and seafood as you immerse yourself in the vibrant atmosphere of these captivating fishing villages.
Day 6: Venice- The City of Canals
Make your way to the enchanting city of Venice, renowned for its winding canals, historic architecture, and romantic ambiance. Begin your day with a visit to St. Mark's Square, home to the magnificent St. Mark's Basilica and the ornate Doge's Palace. Next, meander through the labyrinth of narrow streets and bridges, stopping by the iconic Rialto Bridge for a stunning view of the Grand Canal. As the evening approaches, indulge in a quintessential Venetian experience by taking a gondola ride through the city's enchanting waterways.
Day 7: Amalfi Coast – A Coastal Paradise
End your trip by journeying south to the breathtaking Amalfi Coast. This stunning stretch of coastline is dotted with charming villages, vibrant gardens, and dramatic cliffs plunging into the azure sea. Start your day in Positano, a picturesque town built into the steep hillside, and wander its narrow streets filled with colorful boutiques and cafes. Then, go to the charming town of Amalfi, where you can visit the impressive Cathedral of St. Andrew and enjoy a leisurely lunch by the waterfront. Finish your day in Ravello, a hilltop town offering panoramic views of the coast and the lush gardens of Villa Rufolo and Villa Camborne.
Embrace Italian Cuisine
While exploring Italy's remarkable sights, don't miss the opportunity to indulge in its world-famous cuisine. Every region boasts unique culinary customs and delicacies, so indulge in local flavors during your week-long escapade. In Rome, savor traditional pasta dishes like cacao e pepe or carbonara. In Florence, relish the famed Bistecca alla Fiorentina, a delectable Tuscan-style steak. While in Venice, delight in scrumptious cicchetti, tapas-like local bites that complement a rejuvenating Aperol spritz. The Amalfi Coast proffers an array of fresh seafood and citrus-infused recipes, and don't miss the regional limoncello as a post-dinner pleasure.
Visit Local Markets and Festivals
To immerse yourself in Italian culture, visit local markets and festivals during your 7-day journey. Italy boasts a vibrant market culture, with an array of food, antique, and artisan markets throughout the country. These markets offer a unique insight into the daily life and customs of the local people and a chance to taste regional products and purchase authentic souvenirs. Additionally, attending local festivals and celebrations is another fantastic way to experience Italy's rich traditions and heritage. 
Conclusion:
This 7-day itinerary offers a taste of Italy's diverse beauty, from its awe-inspiring art and architecture to its stunning coastlines and charming villages. While it's impossible to cover all of Italy's wonders in a single week, this carefully curated journey will leave you with unforgettable memories and a longing to return for more. So pack your bags and embark on a once-in-a-lifetime adventure, immersing yourself in this incredible country's rich culture and captivating allure.