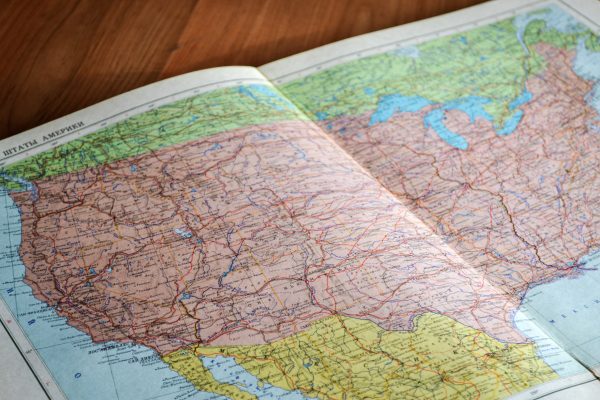 Hilaire Belloc once said that humans wander for distraction but travel for fulfillment. Of the vacations you take, the best ones are undoubtedly those spent in serene and peaceful places. America, with its 50 states, vast coastal belts, and natural marvels that mesmerize the human mind, has many vacation destinations to choose from. As a US citizen, you have access to an unending array of locations that offer peacefulness, unlike any other place on the planet. 
Here are the top ten peaceful vacation places to visit in the US:
The Savannah
The coastal city in Georgia is separated from South Carolina by the majestic Savannah River is the true definition of heaven on Earth. Ranked as the best, most relaxing getaway in the US, Savannah offers a unique combination of nature, history, fine cuisine, and vibrant nightlife. The warm temperatures between March and July make it the best time to visit this marvelous city. Take a walk in Forsyth Park, embark on the Savannah history tour, visit the Cathedral Basilica of St. John, the Baptist, enjoy the offerings on River Street, tour the Fort Pulaski National Monument, or take a day trip to Tybee Island, you won't be disappointed. 
Pigeon Forge
One of the most well-hidden, often visited gems on American soil is the town of Pigeon Forge in Tennessee. Commonly known as the gateway to the Smoky Mountains, this place offers views of a majestic mountain range with the Great Smoky Mountains National Park very close to it. There is an abundance of cabins to rent in Pigeon Forge that offer stunning views of the mountains, allowing you to absorb the beauty and serenity of nature around you. It is one of the most peaceful places to be at. There are also attractions like Dollywood and a plethora of dinner shows happening regularly. From Pigeon Forge itself, you can plan a wide variety of short trips to other fascinating mountain towns nearby. 
Hot Springs, Arizona
Moving on to the southwestern state of Arizona, the 6th largest in the US, you have the opportunity to explore the Hot Springs area. It is the ultimate vacation spot for those in search of outdoor adventures and unparalleled natural beauty. Whether it is the Bathhouse Row or the Hot Springs National Park, you have attractions all over the city that are bound to blow you away. There is also the Lake Ouachita State Park, where you can spend the night in a stunning campsite, gazing at the stars. In case you are looking for colors, Garvan Woodland Gardens offer an immense assortment of attractions that are both natural and man-made. From the architectural wonders of the Anthony Chapel Complex to the stunning features of the Joy Manning Scott Bridge of the Full Moon, you'll find sights that are stunning, to say the least. 
Sanibel Island
Sanibel Island is a peaceful vacation location that is welcoming throughout the year, partly because of its fantastic weather. Beautiful white sand beaches lay in wait of sunbathers, and the J.N. Ding Darling National Wildlife Refuge entices vacationers looking to spend time biking or hiking in the wilderness. To fully appreciate the magnificence of this Florida beach getaway, reserve a sunset cruise. Sanibel Island was one of the heaviest hit places by Hurricane Ian in 2022, but a lot of repair work has been done to bring the place back to its former glory. Still, there is a lot to see and do in the area for the traveler in search of peace and quiet. 
Kennebunkport
Kennebunkport is a favored holiday destination among numerous East Coast visitors, and it's simple to understand why with its stunning surroundings and peaceful beaches. Spend your days relaxing on white sand beaches, enjoying the wonderful seafood of Maine, and observing people as you walk around Dock Square. When the sun goes down, retire to one of the charming hotels in the area for a peaceful night's sleep. There are attractions here, like the Cape Porpoise, a little fishing village located a few miles from Dock Square. There are also the Kennebunkport beaches, boat tours, St. Anne's Church, and Walker's Point, to name a few stunning attractions. 
Nantucket
You will feel quickly at ease in Nantucket's laid-back vibe and remote seaside location. Bike the cobblestone streets of Massachusetts Island, read a book while lounging on the warm coast at Surfside Beach, or explore the trails of Coskata-Coatue Wildlife Refuge in search of osprey. Visit Cisco Brewers, a brewery, distillery, and winery all in one, if you'd rather sip some cold beverages outside. Although Nantucket may be pricey in terms of lodging and transport, it is one tranquil vacation spot you can't miss. The best months to take a trip down here are in the shoulder months, which include March, April, September, and October. Tourists are limited during this time, so you'll be able to find the peace and quiet you are looking for. 
Isle of Palms
Ranked as the sixth-best and most relaxing getaway place in the US, the Isle of Palms is a resort and residential community in South Carolina. The city's peaceful beaches and live music are its most notable attractions. Although seeing is believing, these minimal offerings are enough to offer you the calming experience you are looking for. Enjoy a game of beach volleyball or take a stroll through the beachfront cafes to grab a pizza and an ice cream. Anything you do offers an experience of fulfillment that is hard to find anywhere else in the country. 
Carmel by the Sea
The beach town of Carmel in California is highly revered for its incredible sunsets over the horizon and the white sandy beaches that are soft to walk as well as rest on. Just sitting on the beach with a towel and a chair spread out gives you an otherworldly sensation. You can also take a mountain stroll through the scenic paths surrounding this beach, or if you are looking for a more social experience, the nearby Pebble Beach resort is on many people's bucket list. 
Conclusion
The United States of America is a land of many marvels, and whatever your definition of a peaceful vacation may be, this country has it all on offer. All you need to do is pack a bag, get in your car or book a flight, and make your way to the location that picks your fancy.