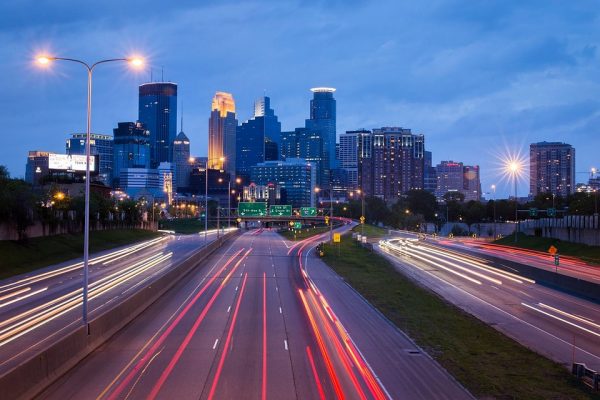 Looking for a perfect spot for your next vacation? Minneapolis is what you need! The modern American metropolis offers a well-developed industry and infrastructure. The city boasts multiple skyscrapers, magnificent cultural and architectural sights, picturesque natural surroundings, authentic cuisine, and other recreational options for all ages. What's more, all of these highlights are available for less than what you're used to. 
According to Forbes, Minneapolis is a place that combines affordable prices and high quality of life. Thus, the city attracts thrifty tourists from all over North America and the world. Are you one of them? Then we have prepared for you a list of essential travel tips to help you enjoy a budget trip in the heart of Minnesota. Keep reading for more information!
Ways to get around the area
The city offers you to use buses or subways with route lines entwining the entire city. These are the most money-saving transport options in case you don't travel much. However, if you plan to travel a lot, it will be better to choose the most optimal ticket option. At the same time, fans of a healthy lifestyle may prefer a bicycle. 
If traveling with family or friends, consider a 12 passenger van rental in MN Minnesota as a cheap and comfortable way to move the crowd. Car rental for 12 people allows you to travel together, thus eliminating the possibility of someone getting lost. Also, it's just super convenient to move at your own pace and not depend on public transport schedules. Cars for rentals in Minneapolis start at $20 per day for Economy models. That is, they fully fit into the concept of a budget trip. 
One more fairly efficient way to get around the city is Skyway – pedestrian zones located on the 2nd-3rd floors of buildings. The spans between the buildings are covered, which is undoubtedly convenient in winter or rainy weather, as well as in summer heat.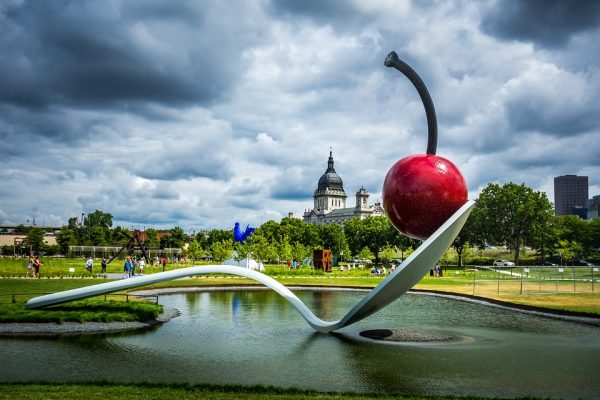 Cheap things to do in Minneapolis 
The good news is that the city is rich in places of interest, so you'll find something exciting to do no matter your age or budget. Atmospheric urban areas, shopping centers, embankments, natural parks, theaters, and museums are ready to provide you with a complete travel package for an eventful weekend. Let's check out the main Minneapolis landmarks and activities you can enjoy. 
Walk by the lakes 
The first reason for the high popularity of the city is the dozens of picturesque lakes penetrating its territory, and you should visit at least a few. Their appearance is in development and is constantly changing. Separate reservoirs have straits connecting them to each other, as well as bays and lagoons. They eventually flow into the Mississippi River near the famous Minnehaha Falls. 
In the vicinity of the lakes, you can have a great rest, ride a bike, and cruise on a boat. The lakes occupy a large area that stretches from South to North along the western neighborhoods. We recommend you visit the following lakes: 
Nokomis 

Harriet 

Calhoun 

Lake of the Isles 

Cedar Lake 
Soak up the cultural life 
If you want to spruce up your trip with a cultural program but don't want to spend too much, we can give you some precious tips. First, explore the Institute of Arts, Walker Art Center, and Northrup King Building, exhibiting paintings, photographs, sculptures and statues, pieces of architecture, and textiles. African and Asian art collections stand out in particular. 
One more urban attraction that reminds everyone of the region's milling past is the Washburn-Crosby Mill Museum. And, despite the city's mills long gone, the local Grain Exchange, founded in 1881, is still open today. 
Inveterate theatergoers will be able to appreciate the performances by visiting, for example, the Riverview Theater, Guthrie Theater, State Theater, or Orpheum Theatre. In the meantime, symphonic music lovers can enjoy a concert at the Minnesota Orchestra. 
Feel the natural inspiration
In addition to visiting the lakes, you can take a walk in the open air and contemplate the surrounding flora along with sculptures, monuments, and other man-made compositions. So, head to Eloise Butler Wildflower Garden, Minnehaha Park, or Sculpture Garden for such a travel experience. 
If you are planning a picnic then Boom Island Park is your best bet. Located north of Nicolette Island, it offers special shelters (with grills) where you can sit comfortably and relax. In addition to excellent fishing conditions, the park is home to Pillsbury Mill, which for 40 years held the title of the world's largest mill.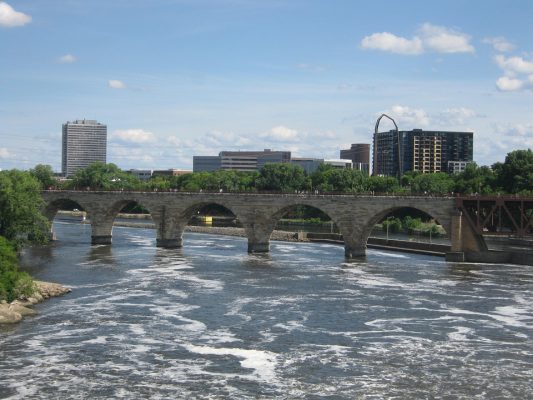 Budget-friendly eats 
The idea of having a bite to eat comes in handy after a couple of hours of sightseeing. Local culinary establishments invite you to take a tour of Vietnamese, German, Chinese, and Mexican cuisines at establishments located on Nicollet Avenue's Eat Street. If you miss fast food, head to Dinkytown and Stadium Village for an Americanized Chinese meal. 
However, we recommend trying a local delicacy called Juicy Lucy – a cheeseburger in which the cheese is inside the meat patty, and not on top. Two bars located on the same street in South Minneapolis claim to have invented Juicy Lucy – Matt's Bar and Grill (Address: 3500 Cedar Ave) and 5-8 Club (Address: 5800 Cedar Ave). In the northern part of the city, head to Nye's Bar (Address: 112 E Hennepin Ave) or Kramarczuk's Deli (Address: 215 E Hennepin Ave). If you want to eat more traditional food, keep your way to Manny's Steakhouse (Address: 825 S Marquette Ave), Alma (Address: 528 University Ave SE), or 112 Eatery (Address: 112 N 3rd St).
As you see, a trip to Minneapolis can be budget-friendly. The city offers a big assortment of cheap things to do. What's more, an even greater selection of secret places will be available to you if you rent a car. For easier driving, use the additional driver option. You can follow the Rental24h blog for more information about this service and other helpful car rental products.