Living abroad for an uncertain amount of time can be hard. I left my pets back home and I find myself constantly fighting any temptation to get a pet while in Hong Kong. Lucky for me, while we were in Japan I had the chance to visit a cat cafe.
Everyone loves cats. I mean really, let's be honest. Nowadays, who doesn't find themselves watching a cute cat video on YouTube every now and then? Okay, maybe it's just me. But while owning a pet in the Western hemisphere isn't a big deal to most, the majority of those living in Japan are not able to have this luxury of companionship. Most apartments don't allow Tokyoites to keep pets; therefore, cat cafes, despite being a relatively new trend, have been popping up all over the greater Tokyo area.
We chose to visit Cat Plus, which is a cat cafe and pet store combo. You pay by the amount of time you spend with the cats. For 30 minutes it was 700 Yen (USD $7) or for 1 hour it was 1,000 Yen (USD $10).  Each additional 30 minutes would be charged at 500 Yen (USD $5) and if you wanted a bowl of food for the cats it was 100 Yen (USD $1). We were a bit short on time and the cafe was going to be closing soon, so we opted for the 30 minute option.
The attendant quickly came over to help us sterilize our hands, trade our shoes for slippers and put all our belongings in a locker.
Once all that was out of the way, she had us look the rules.
All cat cafe's have rules– in some you cannot touch the cats, in some you cannot photograph the cats, so it's important to take time to fully read and understand the rules of the place you are visiting.
Some of Cat Plus's rules are:
Do not chase, pet or pick up cats that have not shown interest in you.
Do not feed the cats any outside food, even if it is meant for cats.
Do not use flash photography.
Do not photograph the staff and facilities without permission.
Do not yell or use loud voices.
Do not consume alcohol.
These rules may seem basic, but I'm sure I don't have to tell you how many tourists don't end up following them. So please don't disregard any rules; they are in place for the safety and comfort of the cats.
DID YOU KNOW?
There are even blogs dedicated to the various cats living at the cafe. Dedicated fans will run these blogs to post photos and keep people updated on the cat's life. Some cats will even have their own Mixi (a Japanese social networking site similar to Facebook) profiles for people to friend and follow!
WHAT TO DO?
#1) SPEND TIME WITH THE CATS!
With Cat Plus being a pet store, they had quite a selection of cats! The store in general had about 30-40 cats, although they only put around 10 in the room at once. Once we stepped inside there were plenty of cats ready and waiting for us.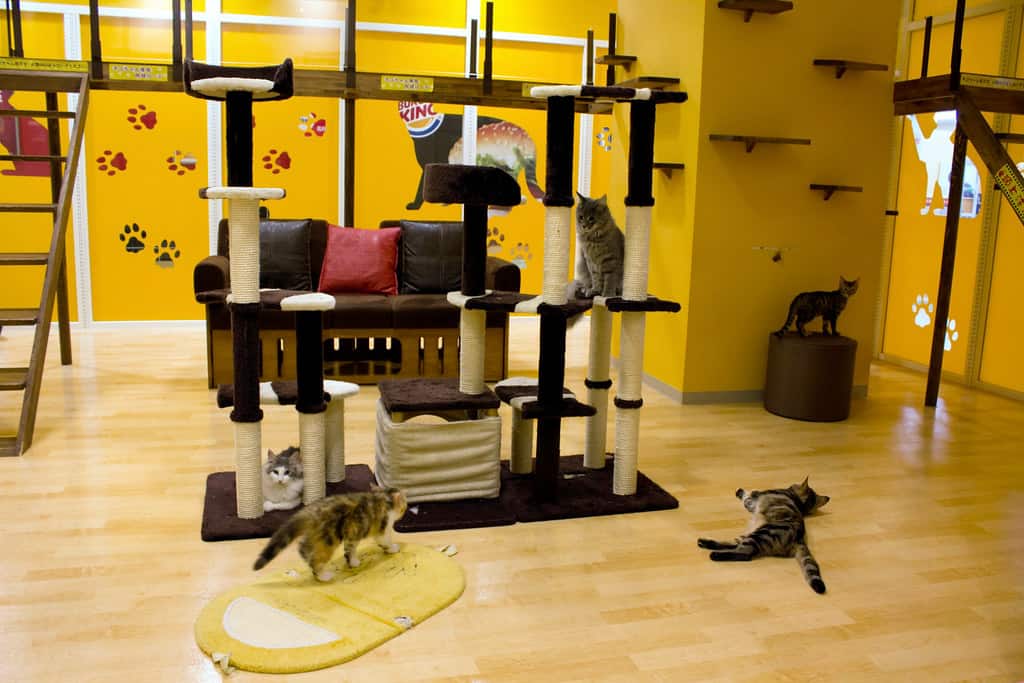 Right as we sat down we were greeted by some of the not-so shy kitties. One of my favorites of the day was this super active Bengal.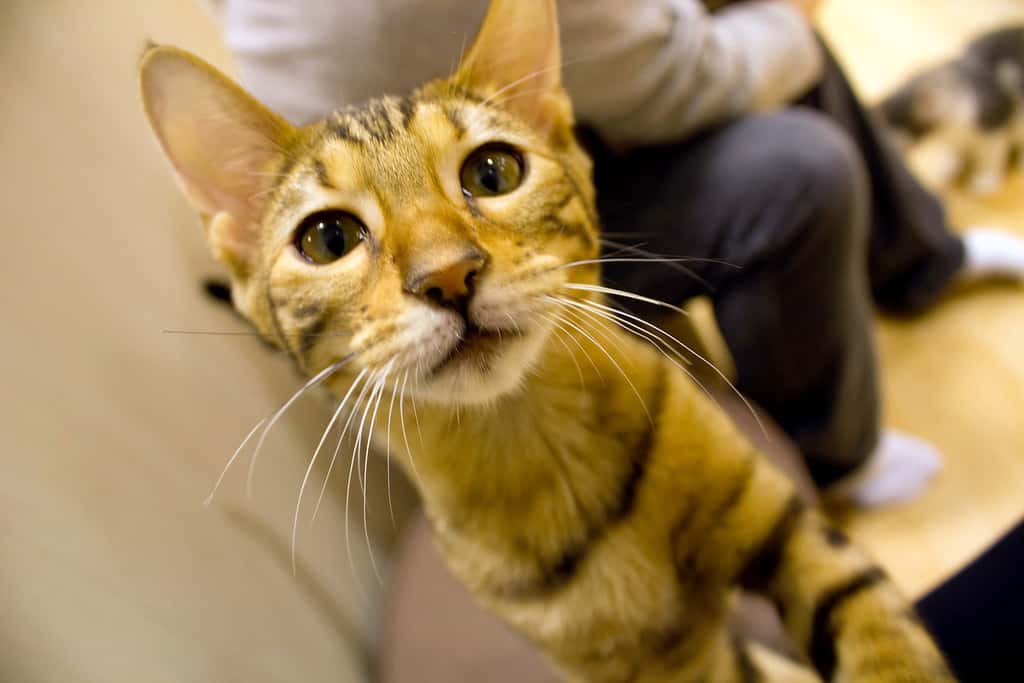 We were soon brought in a complimentary bowl of food (probably because it was near closing time), and instantly we made many new friends. They all rushed over hoping to get a few treats. Instead of putting the bowl on the floor, we decided to ration it out a bit better so that every cat could have a chance to eat some.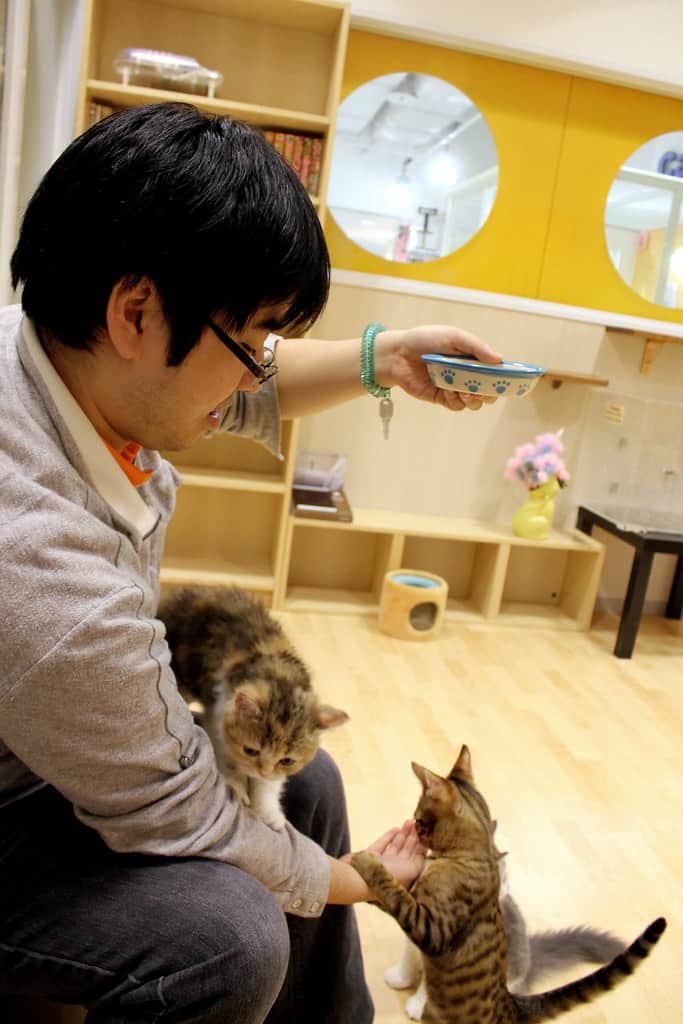 Some of the cats quickly got pushy when food was involved. Our Sphinx friend, who we dubbed "Naked Mole Rat", discovered he would be closer to the food if he climbed on top of Johnny. This seemed to become his new favorite spot for the rest of our time at Cat Plus, even when no food was involved.
Being surrounded by a mob of kittens is never a bad way to spend your day! I was so happy just to be able to pet a cat again– something I hadn't done in a long time.
Tip: Wear clothes you don't really care for because these cats do have claws. I was wearing a new pair of pants and when I left, there were a few tiny holes and pulled threads from cats walking all over me.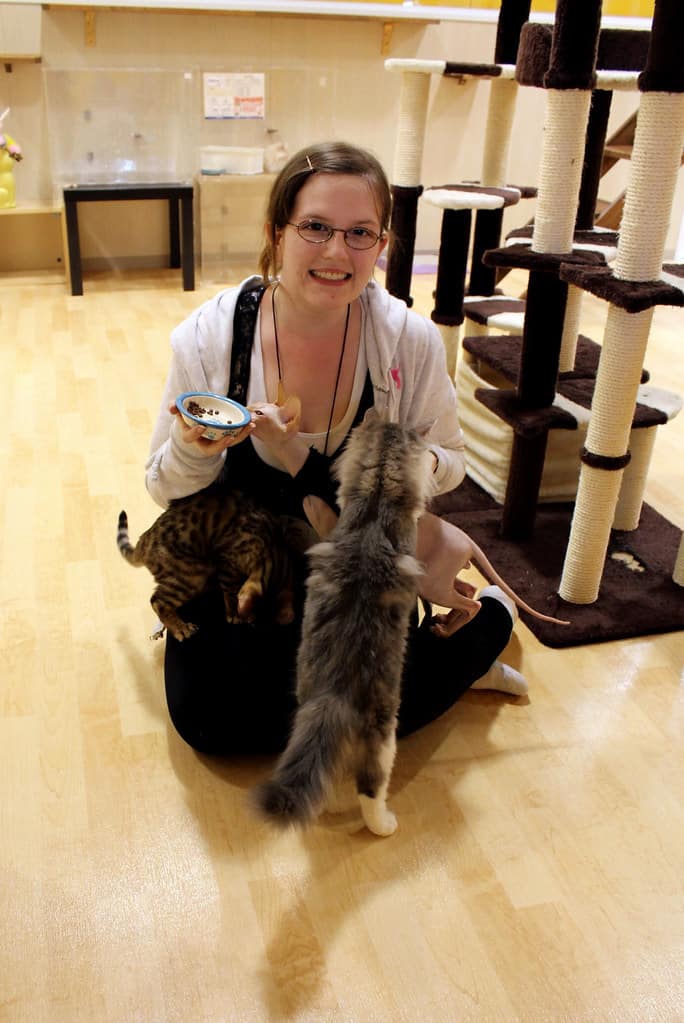 When the food was finished, we decided to give playtime a try. There were plenty of cat toys lying around the cafe. We grabbed some toys and tried to lure some cats to play with us. And although most of the cats seemed a little bored of the same old toys, our Sphinx friend was excited and ready to play.
We each had cats we fancied, but any time we tried to interact with them, Naked Mole Rat would run over and try to join the fun. We really couldn't get him to leave our side!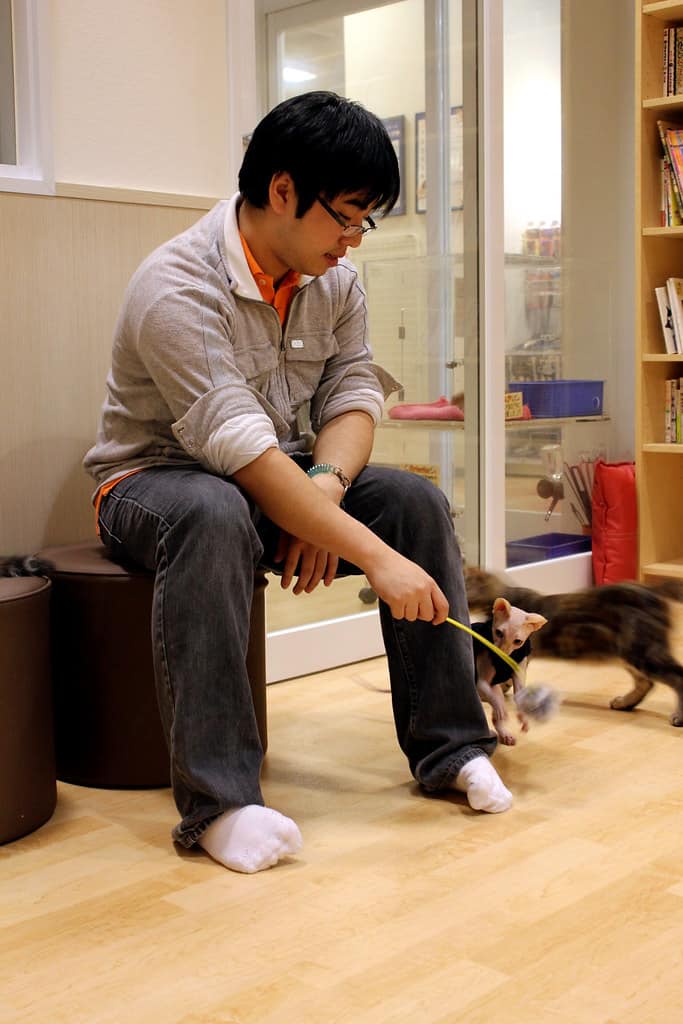 Right before our time was up, Naked Mole Rat decided it was time to settle back down on Johnny's back. Johnny tried to get up to put the toys away and NMR still wouldn't get off his back! You can watch all of this unfold in the video below, it was hard to contain my laugher while filming.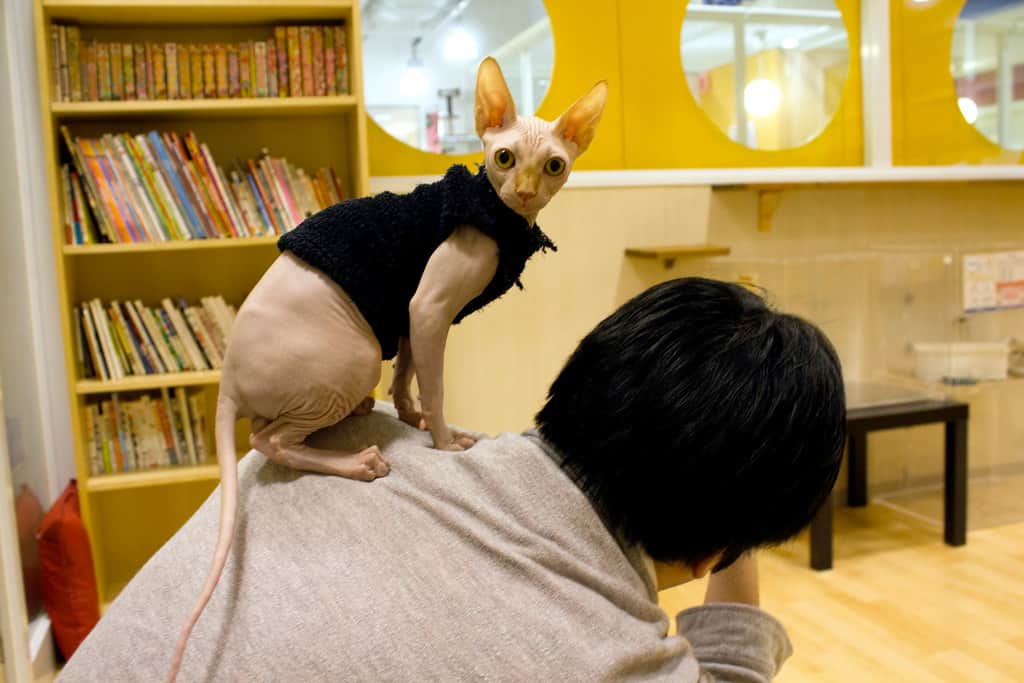 If the shop had been open later and we hadn't had somewhere else to be, I definitely would have stayed longer than 30 minutes. The time seemingly flew by.
#2) BRING THEM HOME AS YOUR NEW PET!
Since Cat Plus is a combo cat cafe and pet store, any cats you meet and fall in love with are able to be purchased! All around the cafe and the normal part of the store were pictures and biographies for all of the various cats.
On our way out we spotted our Naked Mole Rat friend's profile.
NMR is a boy cat who had been born in November, making him just under 5 months old. We almost died when we saw his price tag– 750,000 Yen, or $7,600 US Dollars! 
Go figure the stores most expensive cat would be the one to become our new best friend.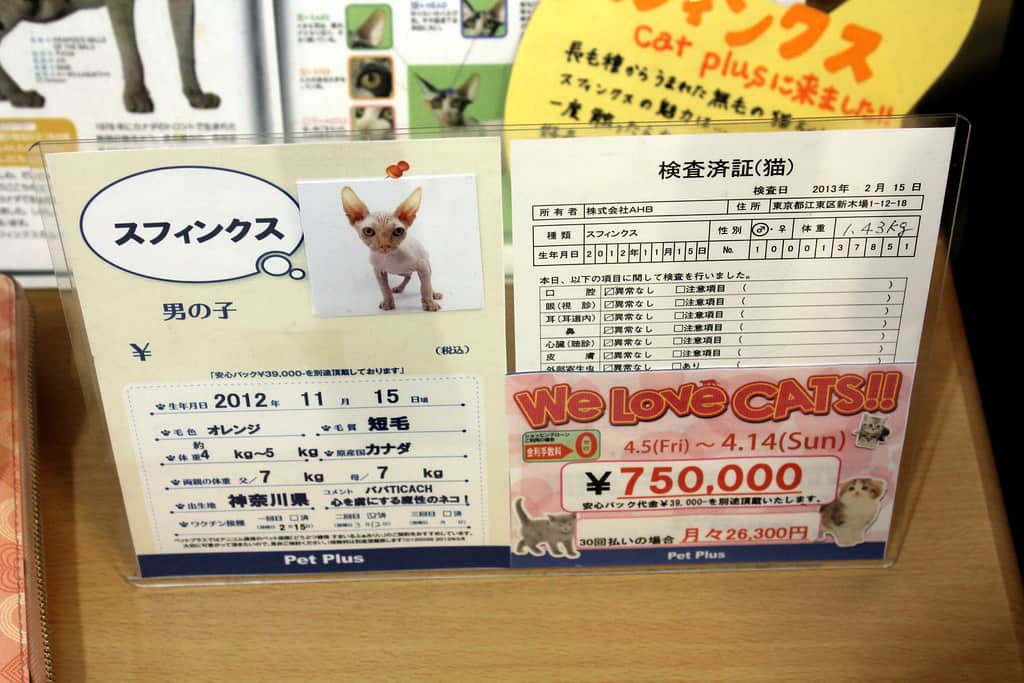 I feel like the price of animals in Japan is another reason that most people don't own pets…
Though, never fear! If you really are bent on getting a pet in Japan, NMR can be your new best friend for just 30 payments of 26,300 Yen, or $270 USD.
WHAT TO EAT?
Many cat cafes look no different from normal coffeehouses–just with cats wandering around. Most will have menu's with various drinks and snacks that you can order while reading books, browsing the internet and of course, surrounding yourself with cats.
Cat Plus is not this kind of cat cafe. Although there are books you can read, this cafe does not have a menu, and they do not allow you to have food inside with the cats. However, after your time is up, they do give you a complimentary canned beverage afterwards.
MY RECOMMENDATION
If you aren't offered any for free– pay the extra yen to buy the cat food. Those cats will love you forever.
My sassy little Bengal friend who greeted me when we arrived, followed me everywhere once I was holding that platter of food. He was very pushy and only had one mission– EAT ALL THE THINGS.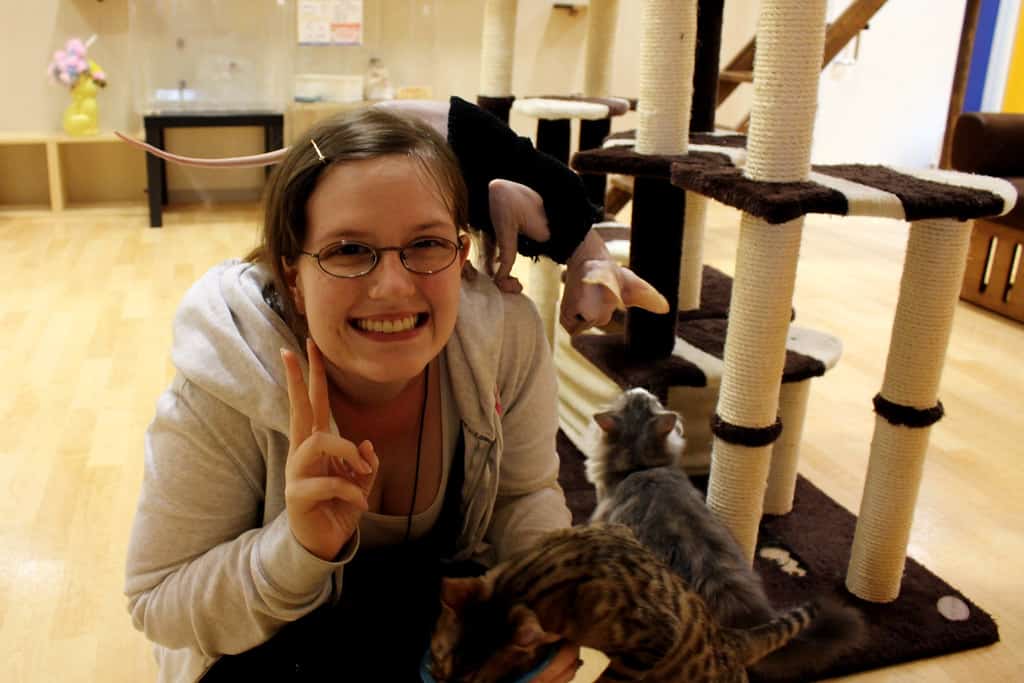 With all the cats jumping on one another, you'd think the like treats or somethin'?
FINAL THOUGHTS
I know there is a lot of debate over cat cafes in general in Japan, as to whether or not they are in the best interest of the cats. If you are feeling weird or skeptical, it may comfort you to know that a cat cafe must obtain a license and comply with strict regulations of the Animal Treatment and Protection Law.
Cat Plus itself was very clean, and all of the cats had access to fresh bubbling water at all times. The food portions were all controlled by the workers, which was good so that the cats are not overfed if there are many customers. All of the cats generally seemed happy and well taken care of.
I really liked Cat Plus's system. Instead of having all cats out at all times, the cats are rotated so that they do not get too tired or stressed. Right before we entered the room, they took out the cutest orange kitten. I was really sad, so we asked if they could put him back in the room, but the worker explained he needed some time to rest and be away from customers. It really showed me that they do have the cats' best interest in mind.
I also think it is a nice way for cats to be socialized while they're waiting to be purchased and moved to a permanent home. It's much better than most normal pet shops that just keep their animals locked away in small cages 24/7!
Overall, I loved my experience at the cat cafe. It's probably a good thing I don't currently live in Japan because they're pretty pricey and I would definitely go broke as a regular customer!
WATCH MORE OF MY EXPERIENCE AT CAT PLUS BELOW!
WANT TO VISIT CAT PLUS?
When: Daily, 11am – 7:30pm
Price: 700 Yen for 30 minutes, 1000 Yen for 1 hour (discounts are given to students and groups).

How to get there: Take Odaiba's Yurikamome Line to Daiba Station. Cat Plus is on the basement level of Aqua City shopping center.
HAVE YOU BEEN TO A CAT CAFE? WOULD YOU GO?
> Some other articles about Japan that may interest you: