–People have been responding really well to a lot of my articles on Japanese culture. Since Japan is a country that fascinates many people, myself included, and my degree is in Japanese culture, I've decided to write a series of posts delving a bit deeper into the culture than what most people would see when merely traveling through the country.
Learning Japanese in university, one of the first words I was taught was omiyage (お土産). Back then I was told that omiyage meant 'souvenir' but let me assure you– omiyage is not a mere Japanese souvenir.
If you've been to Japan, surely you've seen them before, tourist shops everywhere filled with enticing boxes of local sweets that are all packaged individually inside a nice, large pre-gift wrapped box. These are omiyage.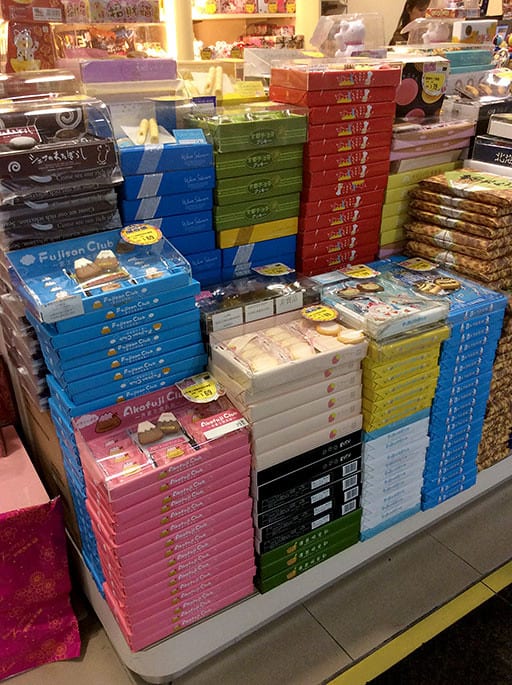 The tradition of gift-giving permeates Japanese culture. Usually goods are associated with the a specific region, such as yubari melon from Hokkaido or green tea products from Kyoto, but regional omiyage deserve an article of its own.
In Japan, it is very easy to pick up omiyage a moment's notice. You'll find shops in airports, in train stations and even on the street selling omiyage already beautifully wrapped, ready to give. Because, kind of like lai see in Chinese culture, it is very bad form to be caught off-guard without something to give. It's omiyage that oils the cogs of Japanese society.
Unlike a souvenir, omiyage are not kept for yourself, and they are not meant to mean you were thinking of someone while you were away. This is not to be confused with gift-giving in Japan, that's a whole 'nother intimidating ballgame. In regards to omiyage, you have no choice on whether you'd like to bring something back for others, it's an obligation.

Living in Japan, every time I went on a trip– even if it was a simple field trip for school, upon return my host family would all gather around the kitchen table, waiting to see what omiyage had made the trip back with me.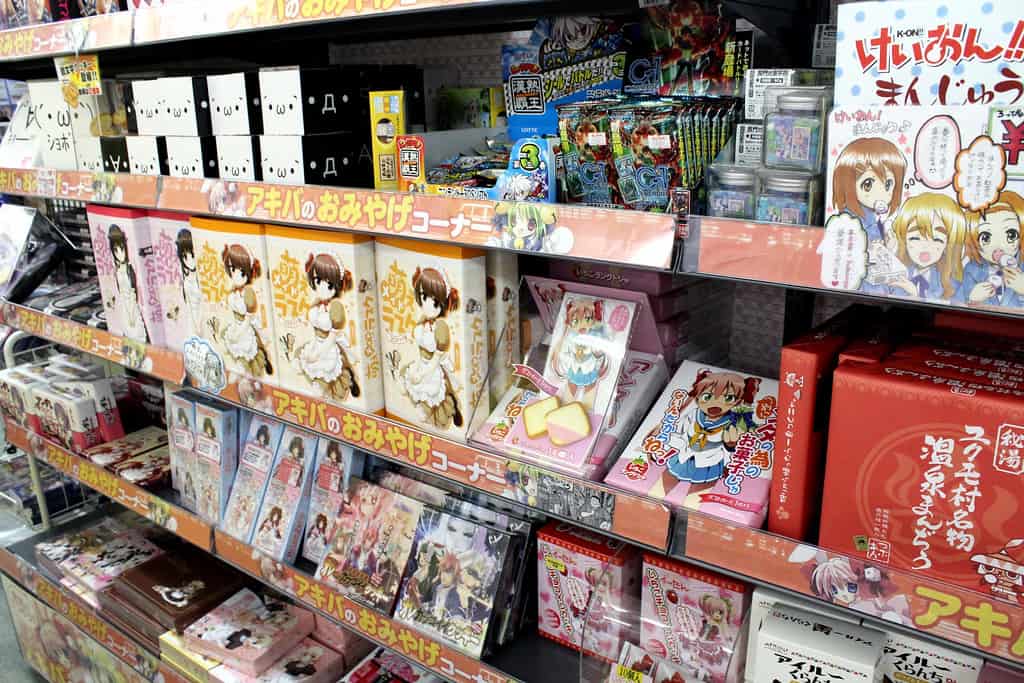 Even during the trips themselves, our school staff would bluntly remind us, don't forget to buy omiyage, as our bus pulled into the parking lot. 
Between the special mochi from Ise, the tins of cookies from Disneyland, and special products from Hong Kong, my bank account cried. Spending US $20 here, $20 there; traveling and exploring Japan was becoming more of a hassle as I immediately fretted over what omiyage to purchase.
Before I had even set foot in Japan, I was searching for omiyage to give upon my arrival.
So if you're reading this about to study abroad in Japan or about to participate in the JET Program– yes, you do need to buy omiyage representing your home country to give to your new host family or coworkers in Japan. Don't expect to be excused because you are a foreigner, because you won't be, and it will put a damper on your relationships.
5 RULES FOR OMIYAGE ETIQUETTE:
1. THE BEST OMIYAGE IS SOMETHING YOU CAN EAT
Despite Japan being a decent sized country, over 70 percent of it is covered in mountains and uninhabited, so space is limited. Don't burden people by giving them gifts that take up even more space.
Instead give them food. Almost every region of the world specializes in some sort of delicacy, so bring that as your omiyage. Did you just come from Canada? Great! Bring some maple syrup back. Italy? How about some balsamic vinegar? Germany? Beer!  
You get my point?
Why do you think Japan loves to sell mangos that cost US $100 a pop, or US $300 cube-shaped watermelons? Because they make great gifts.
Also, it is important to note that food items should be individually wrapped. Especially in the workplace, make it easy for others to quickly grab one item for themselves. Don't put out a bowl of communal candy you bought expecting others to help themselves to however much they'd like– no one will take any.
2. THE APPEARANCE OF THE GIFT IS JUST AS IMPORTANT AS THE GIFT ITSELF
When you buy omiyage in Japan, everything will always come gift wrapped for you. But if you're buying gifts from outside Japan, make sure that everything is beautifully wrapped before presenting it to the recipients.
So unless you are a professional gift wrapper yourself, pay to have this done.
This is also true of all gift-giving in Japan.
3. BRAND NAMES ARE ALWAYS GOOD
If you can't go the food route, your next best bet is something with a well-known label on it. So whether it's makeup, perfume, or even luxury scarves and bags, the more well-known the name, the better the item will be received.
4. HOME-MADE IS BAD, BUT MADE IN YOUR HOME COUNTRY IS GOOD.
I don't care if your grandma makes the best darn strudel with a recipe handed down eight generations that all your friends have asked for. Do not give homemade items as omiyage.
With that being said, things that represent you or your home are good. Kind of like the regional food delicacy idea, except without the food. If you visit a region known for a particular handicraft or item it makes a good omiyage. Think clogs from Holland or a matryoshka doll from Russia.
Or, if you're coming from your hometown or country, something that represents that is good. When I first arrived in Japan one of the things I brought were t-shirts for my younger host sisters from my university back home.
5. NEVER GIVE SOMETHING THAT WAS 'MADE IN JAPAN'
Of course if you're traveling to other prefectures in Japan, this is okay. But if you're coming from other countries, do not give items that are made or found in Japan.
I don't care how rad you think the gift is, if you look at the label and see that it was actually outsourced to Japan, don't buy it. Even if it's a t-shirt saying I ♥ New York, if it says "Made in Japan" anywhere on the tag, it's a no-go.
LET'S PIN IT!