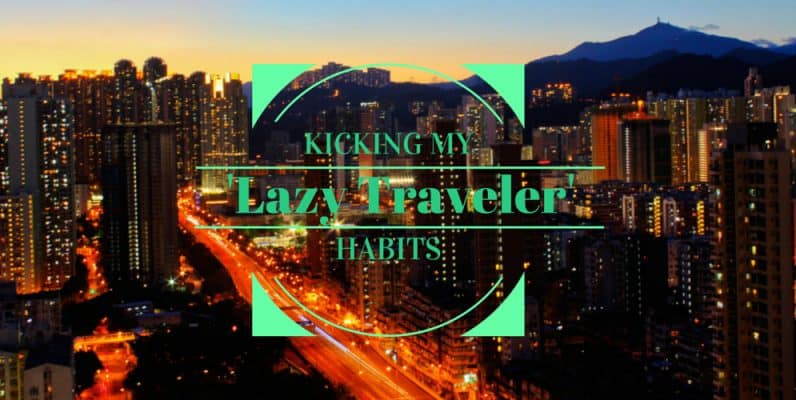 Afew weeks ago, Audrey of That Backpacker wrote an article about something that really hit home for me– being a lazy traveler.
She complained how she had been living in Chaing Mai, Thailand for almost a whole month, yet she had barely gone to explore past her apartment. This lazy traveler syndrome seems to affect a lot of travelers who stay in one place for a while, myself included.
In an attempt to force herself to explore her surroundings before it's too late, she outlined a list of things she's planning to do during her remaining time in Chiang Mai.
I, too, had a list of things I wanted to see and do when I first visited Hong Kong. That list was only around 10-20 things at the time, almost all of which I quickly checked off. Once we up and moved to Hong Kong, I mentally continued to add more and more to that list of things to do. But… instead of getting out and checking them off my list, I fell into the trap of being a lazy traveler.
I kept telling myself that I would have all year to see and do these things, but now the year has passed and I'm not that much closer to completing it. So I decided I would post my list here in order to motivate myself to finally get out and explore all the nooks and crannies of Hong Kong– because before I know it, my time here will be up.
Below I've included my original list with the addition of 30 or so more things that I've added throughout the year, and I'll be crossing them off as I complete them! No more lazy travel syndrome for me, I'm kicking my lazy traveler habits once and for all.
55 Things I Plan to See & Do in Hong Kong:
1. Climb up to Big Buddha
2. Go to Hong Kong Disneyland
3. Go up to the Sky100 observation deck
4. Take the tram up to the Peak
5. Visit Ocean Park
6. Walk the 1,000 Buddha Path
7. Visit Noah's Ark Theme Park
8. See Man Mo Temple
9. Walk along Avenue of Stars
10. Ride Star Ferry across the harbor
11. Watch a Symphony of Lights
12. Go pink dolphin watching
13. Walk Nan Lian Garden
14. Explore the fishing village of Tai O
15. Ride a ding ding
16. Ride in a sampan
17. Take part in 'Winterfest'
18. Party in LKF
19. Ride the Mid-Level escalators
20. Eat at Jumbo floating restaurant
21. Take a Geopark tour
22. Eat at a stall-style dai pai dong
23. Go squid fishing
24. Charter a junk
25. Shop at the various street markets
26. Eat street food
27. Climb to the actual peak of Hong Kong Island
28. Trek 'Dragon's Back'
29. Ride the ding ding from start to finish
30. Visit the observation floor in IFC
31. Visit all museums
32. Ride on Duk Ling or Aqua Luna
33. Visit Lamma Island
34. Have a Chinese-style BBQ
35. Eat a Buddhist meal prepared by a monk
36. Stay in the Disneyland Hotel
37. Visit Kowloon Walled City Park
38. Attend the Cheung Chau Bun Festival
39. Watch fireworks over Victoria Harbour
40. Take a helicopter ride over Hong Kong
41. Visit Stanley
44. Take part in a protest
45. See the Golden Bauhinia
46. Go sea kayaking in Sai Kung
47. Bet on a horse race at Happy Valley
48. Visit the zoological gardens
49. Relax at Shek O beach
50. Sip on high tea at The Peninsula
51. Visit Aqua– or any bar overlooking the skyline
52. Go up to Bank of China observation center
53. Visit Kat Hing Wai Walled Village
54. See a Hakka Village
55. Ride the Ngong Ping cable car
Have you ever been victim to lazy traveler syndrome? Or have any other HK places to add to my list? Tell me below!