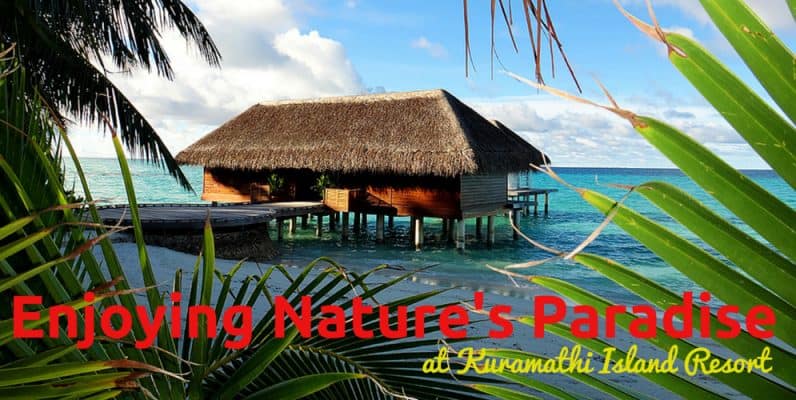 Being unable to leave Hong Kong for the past six months, Johnny and I were ready for a bit of luxury and time away from the city. So what better place to relax and de-stress than in the Maldives at Kuramathi Island Resort, which became our home for the better part of one week.
Arriving via seaplane, we stared out our window as we approached the long, teardrop shaped island. Located in the Rasdhoo Atoll, Kuramathi is one of the largest islands in the Maldives.
With 290 guest rooms, we were a little worried Kuramathi would feel more like a crowded resort than a tropical paradise. But let me assure you, from the atmosphere to the architecture, everything about this place said tropical paradise.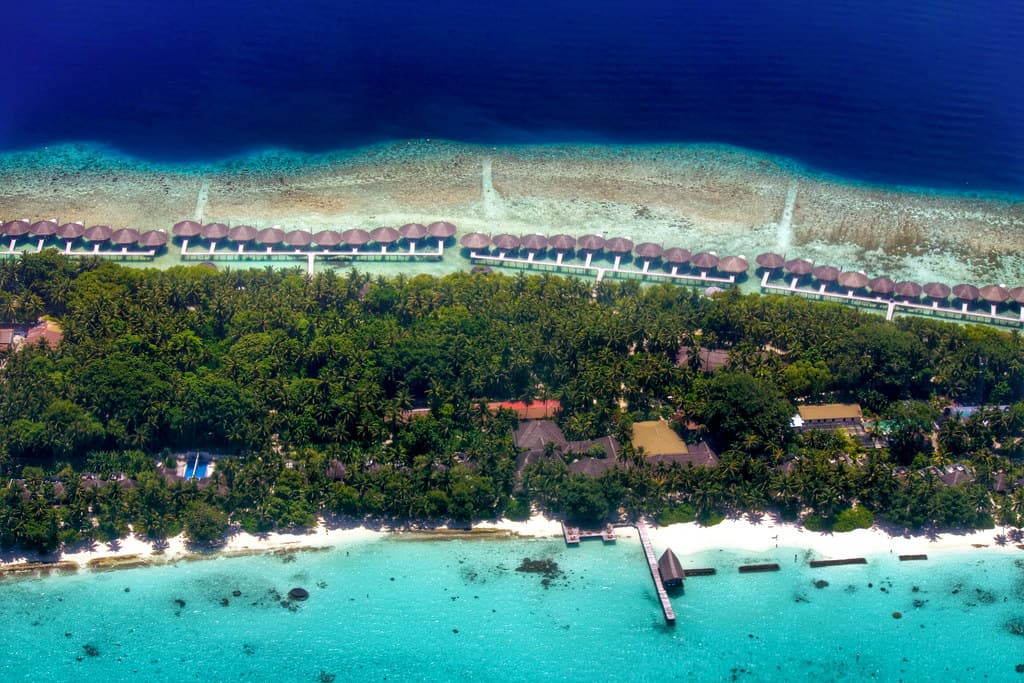 Our seaplane gracefully landed in the middle of the ocean. At first I was a little confused, because at the prior resort the seaplane stopped at, it drove right up to the resort's jetty.
Then I noticed a ferry was ready and waiting to take us the final stretch to the resort. While I didn't think much of it at first, I later appreciated that seaplanes cannot land directly at Kuramathi, as seaplanes are loud and rather obnoxious. This kept our holiday quiet and relaxing.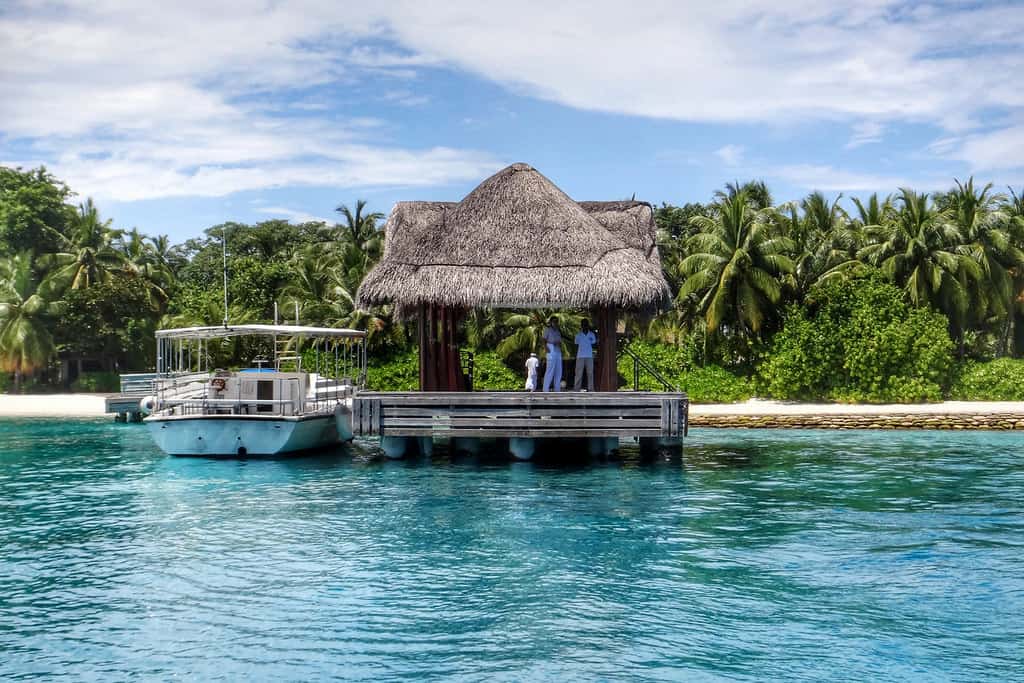 Upon arriving to Kuramathi's jetty, a welcome team greeted us accompanied by delicious fresh fruit mocktails and chilled scented towels. Exactly what we needed after a long morning of transit in the humid Maldives.
Check in took place on plush white couches, where we could relax and sip our mocktails, rather than at an impersonal desk.
As we began the check in process, they explained all about the island, the facilities and amenities, and what was included in our package. Normally I want to check in as quickly as possible so I can go explore, but it was actually really great to be given such a thorough rundown upon arrival considering the island is so large. Plus, they even gave us great tips for things to do around the island and best times to do them.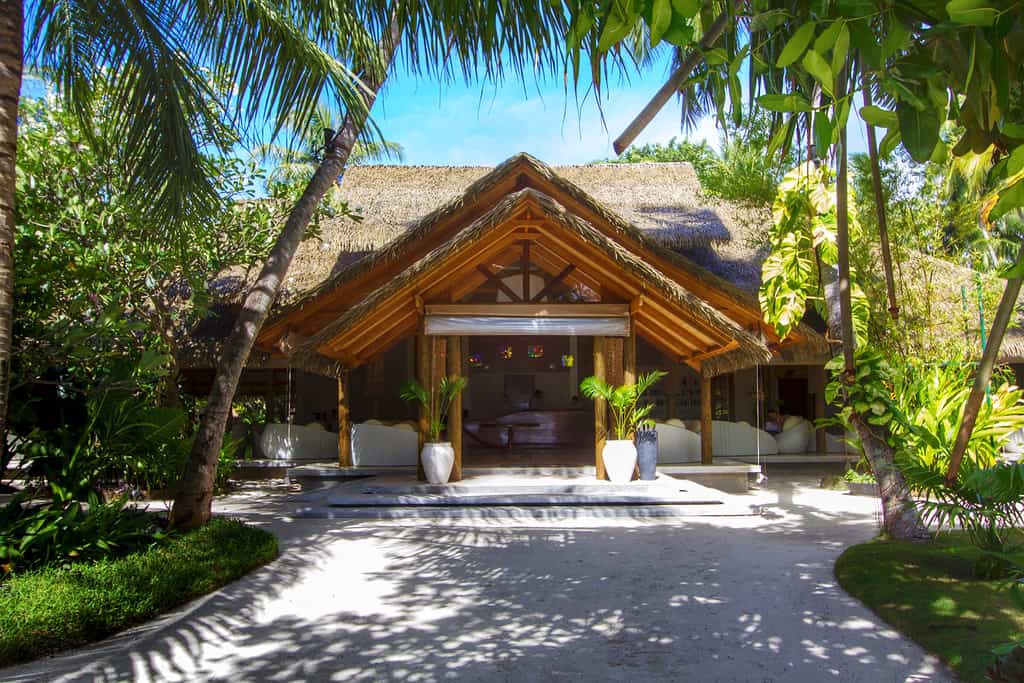 Due to the size of Kuramathi, the island actually used to be made up of three separate resorts. Today, it has all been combined into one, but they still lay out the island into three main parts. Each section has its own reception and restaurant allocated to it, so that you never have to walk too far. Although I do recommend taking the 30-45 minute walk from one end to the other at least once.
The first part, which is at the widest part of the island, was where the main reception was located. Luckily, you'll rarely need to visit main reception other than for checking in and out of the resort. Otherwise, your section's local reception will handle everything else for you.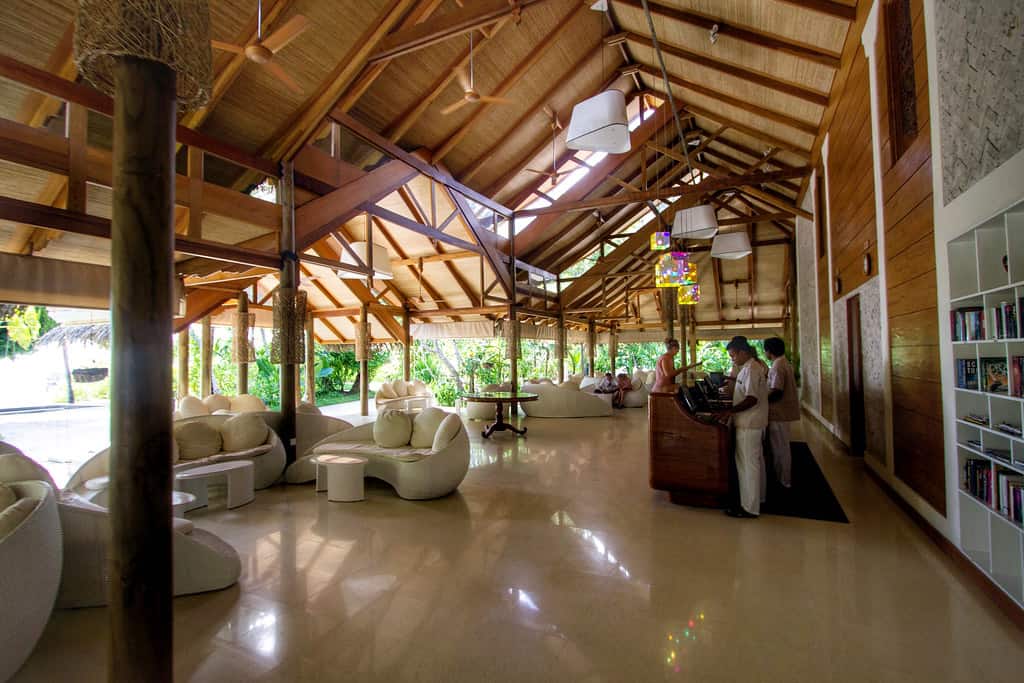 Kuramathi's first section's room categories mainly comprised of the various Beach Villas, as well as the Garden Villas, so we didn't spend too much time in this area, since our room was in the second section.
We did use the recreation center for a short while though, which housed games like ping-pong and darts, and we even strolled by the infinity pool a few times.
The pool was modestly sized and although it looked rather tempting, we never got around to trying it. I mean, let's face it, with over 2 miles of beach-lined shores, did I really want to swim in a swimming pool?
In all honesty, if we had stayed longer, we probably would have swum in it– even if it was just for the novelty of it being an infinity pool. Although we did get a chance to try out the accompanying bar, and even took a peek inside this section's main restaurant, Haruge.
Also in the first section is where you'll find the Aqua Sports, Fun Center and Eco Center.
Aqua Sports & Fun is one of the first stops we made, and you'll want to stop here too. Here is where you can pick up your snorkel equipment, which you're able to keep throughout your stay and then simply return at check out. There are plenty of other sporting equipment options here as well, such as various balls and rackets. Those all cost a fee to rent but you can save money by buying and bringing your own. Check out www.onlysportsgear.com for great deals!
This is also where you can sign up for daily excursions like a sunset cruise, snorkel safari and more– just make sure to book far enough in advance because they do fill up!
The Eco Center, which is led by their Resident Marine Biologist, has great information about all of the plants, animals and marine life found around Kuramathi. At night you can attend educational lectures about various topics, including eco-conservation, offered in both English and German.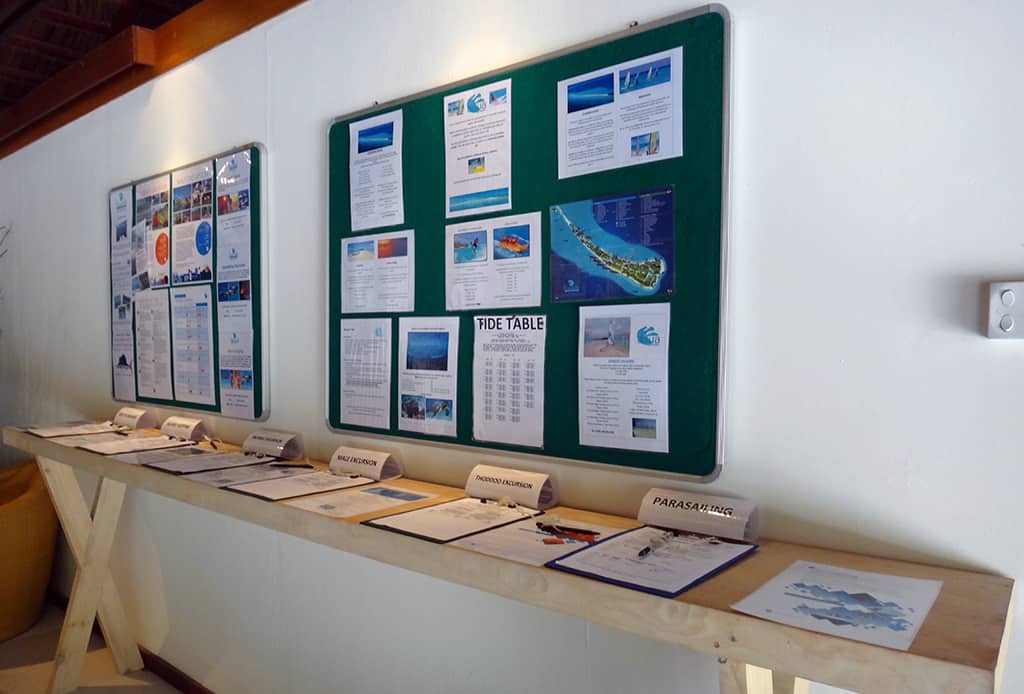 The second section was where the Water Villas with Jacuzzi, Deluxe Beach Villas with Jacuzzi and the Honeymoon Pool Villas were located. This is the section we spent the most time in, as our accommodation was a Water Villa with Jacuzzi.
When we were shown to our suite, we couldn't have been happier with what we found. Those too-good-to-be-true pictures you often find on hotel websites were actually exactly what we were given. We had to stop ourselves from ripping open our suitcases to grab our swimsuits– at least long enough to take some nice photos before our room became a mess of scattered luggage, wet towels, and snorkel equipment.
So for now I'm going to skip talking about our room, because you'll hear (and see) all about it shortly.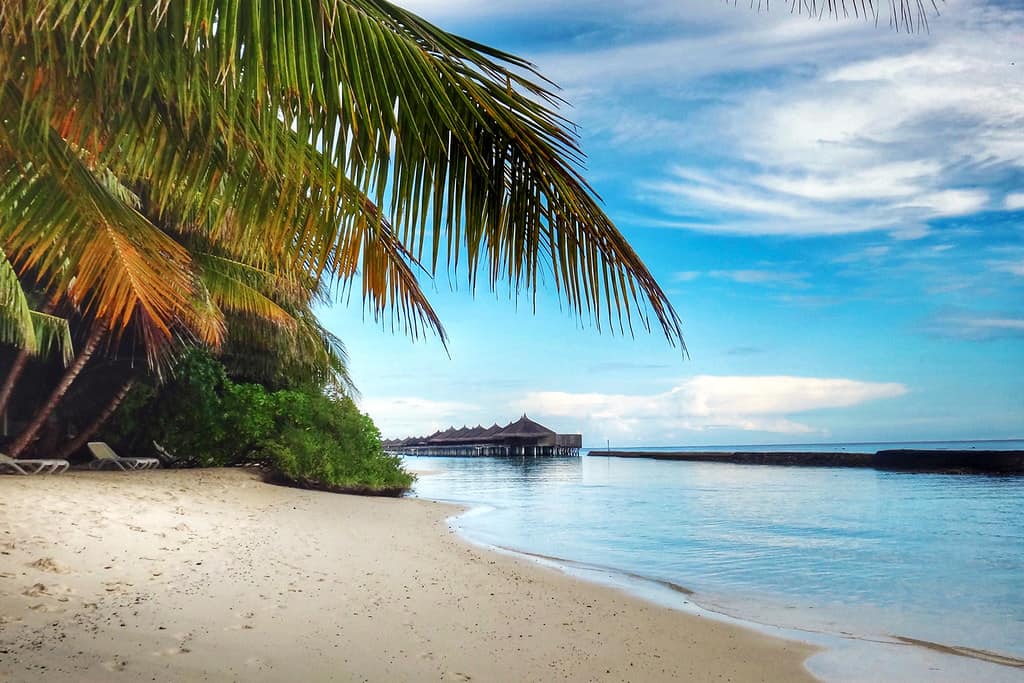 We never had to go too far when we were hungry, as just footsteps from our villa door brought us to the entry of our reception and our main restaurant Malaafaiy. It was here that we enjoyed a majority of our meals daily, and a wide variety of delicious cocktails.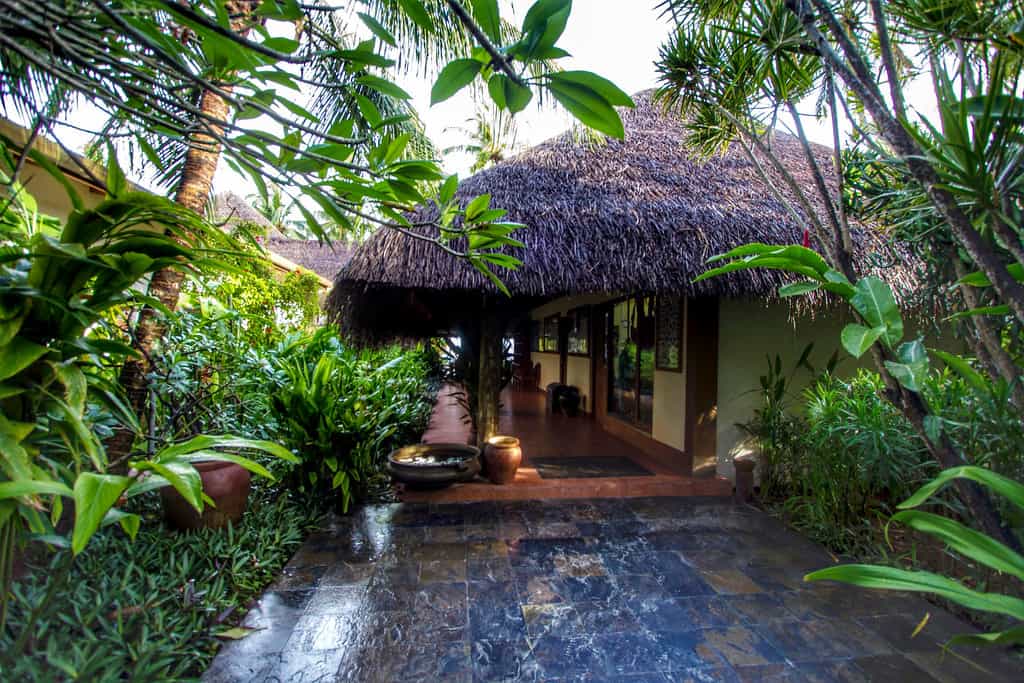 I felt that out of all the sections, our middle section seemed to be the most convenient to stay in. We could get to either of the other two sections rather quickly, and we also had a lot of resort facilities in our section, such as Rasdhoo Divers.
Located next to our reception and restaurant, Rasdhoo Divers is where you'd want to go if you plan to do any diving at Kuramathi. Which you totally should.
Even if you're not planning on doing any diving, you should still check out that area because the beach was almost always empty and there were always lots of colorful fish and sharks to watch.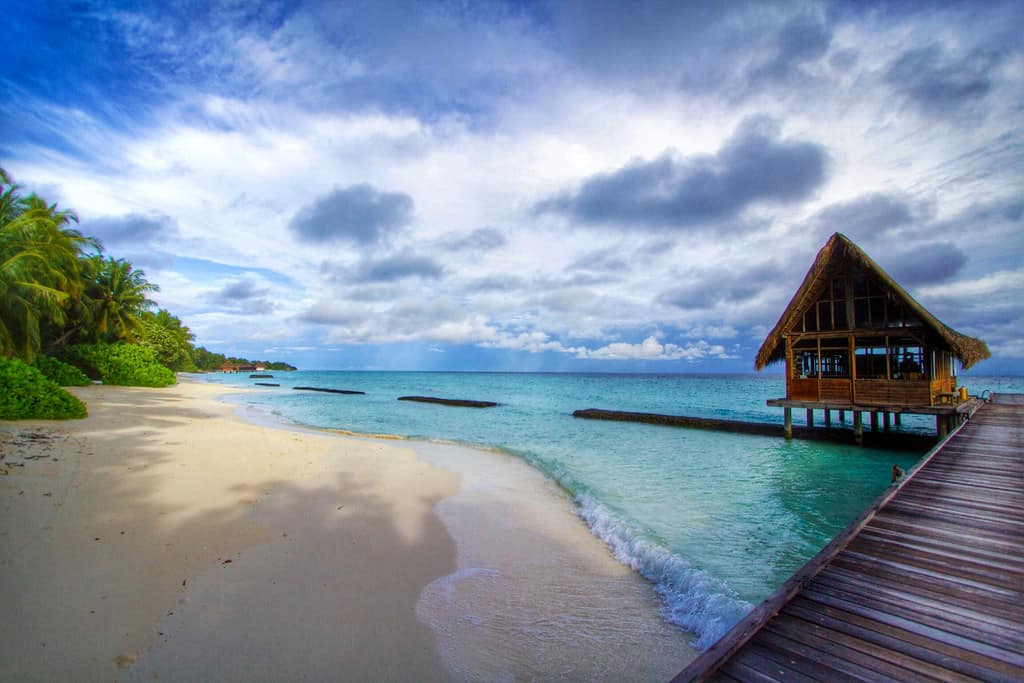 Our room was also conveniently just a short minute walk to Kuramathi Spa. Ever since exposing Johnny to the wonderful world of massages in Thailand, he's been hooked like me.
We were excited to receive a 30-minute massage after a long morning of snorkeling. Our masseuses were wonderful in knowing exactly what areas we needed worked on and how to help heal a bit of sunburn we had gotten.
After indulging in a relaxing massage in one of their private beach side treatment rooms, our bodies felt completely at ease. Sipping tea while looking out at the ocean, we then took notice of their water pavilion massage room, and instantly knew we needed to come back.
So we booked an appointment for the next day to have massages out over the water.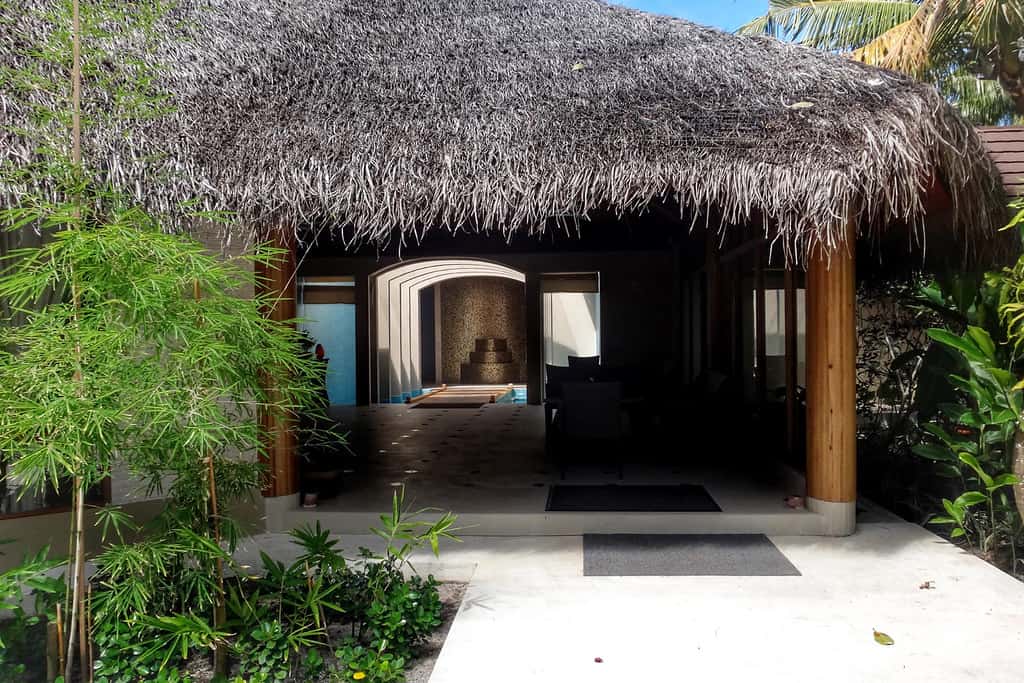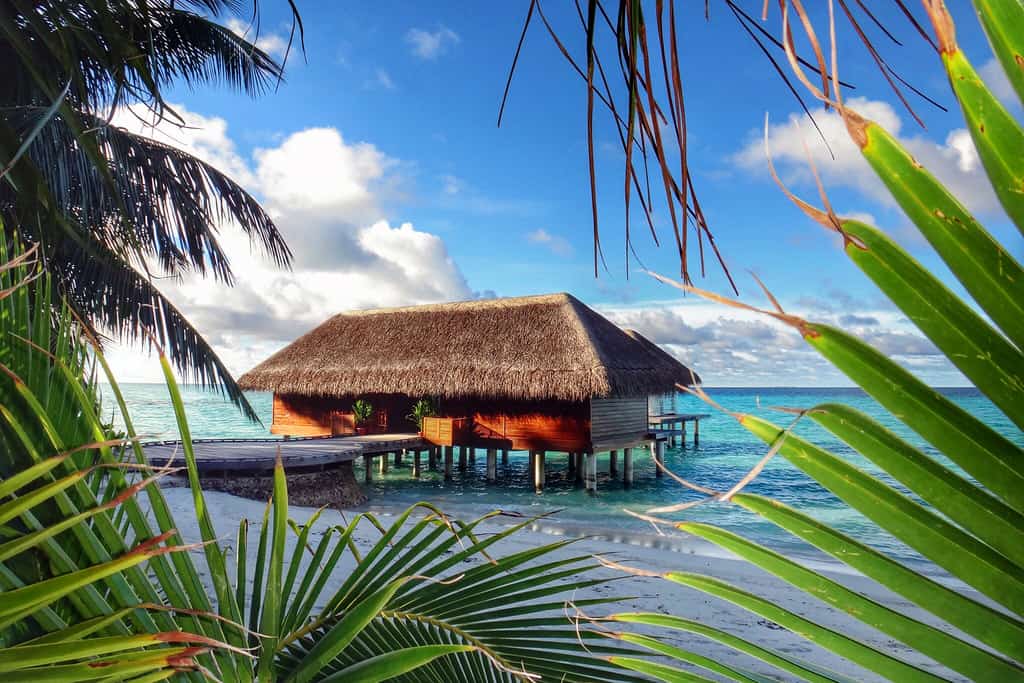 The third section is the smallest of the three, but we found ourselves visiting daily. Hidden through a pathway of jungle, their main restaurant had a bar similar to ours, only with plenty of outdoor seating along the beach.
Every night at 6:30 stingray feedings would be conducted.
People sat all along the jetty and watched as nearly a hundred stingrays arrived like clockwork looking to be fed. And it wasn't just stingrays either, there were sharks and other marine animals who came to the party as well.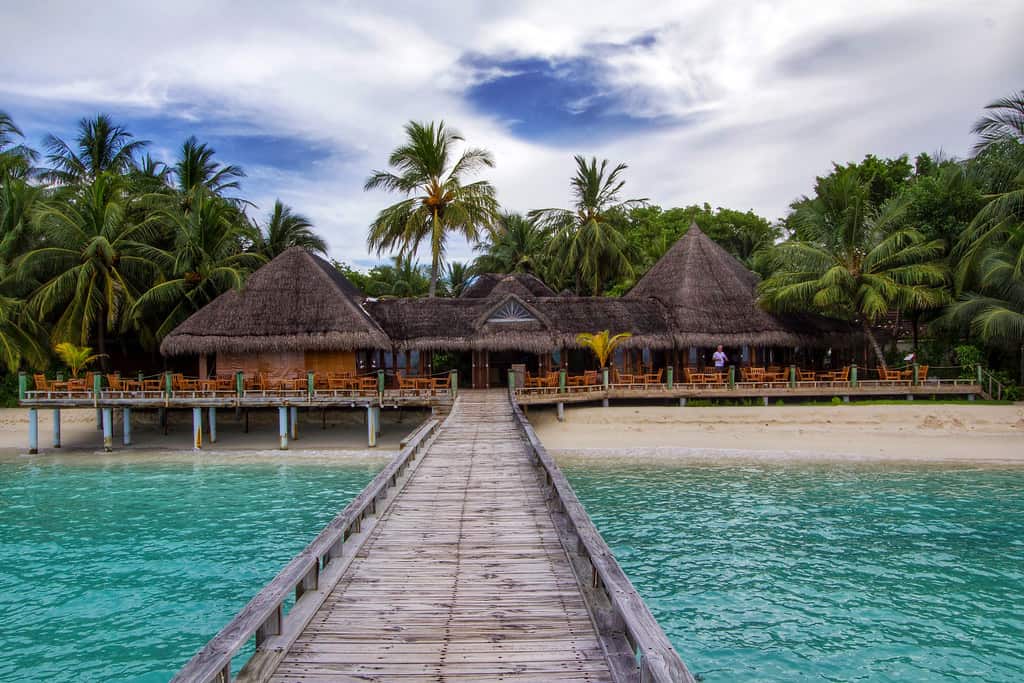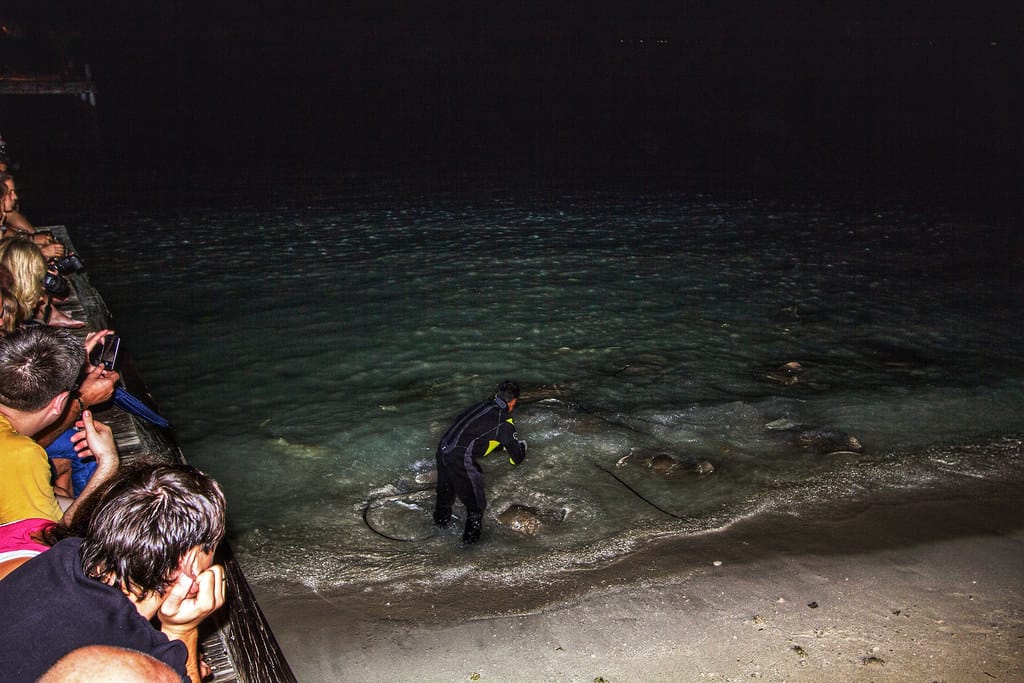 With the third section being so narrow, there are only a few rooms located in this area, which are the Water Villas and Deluxe Beach Villas.
Walking through this area especially, we hardly saw other people and often had long idyllic areas of beach all to ourselves.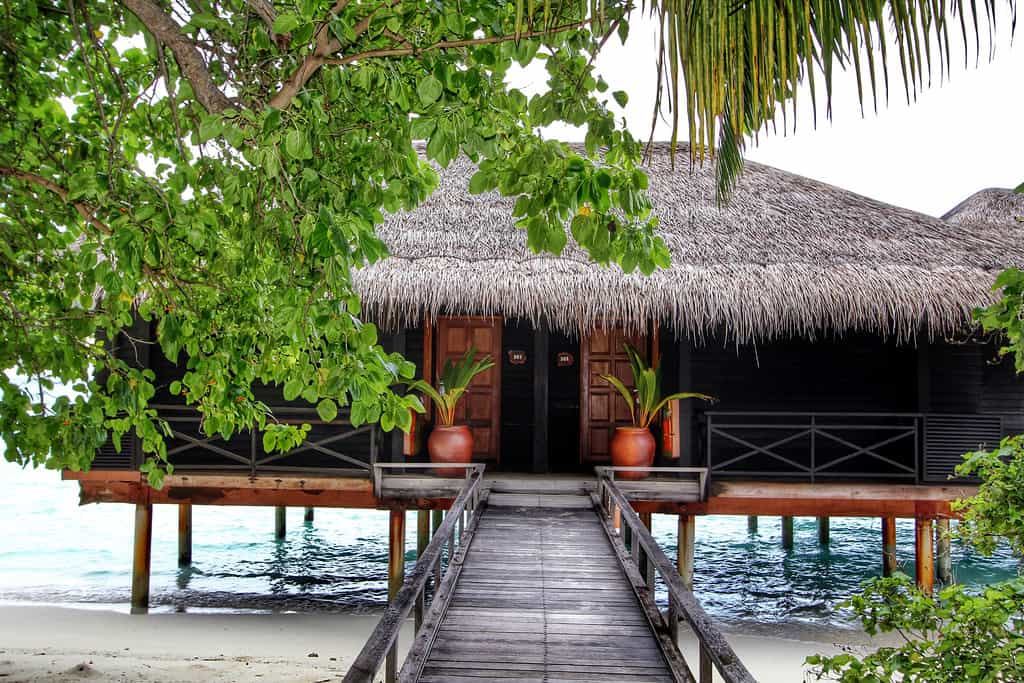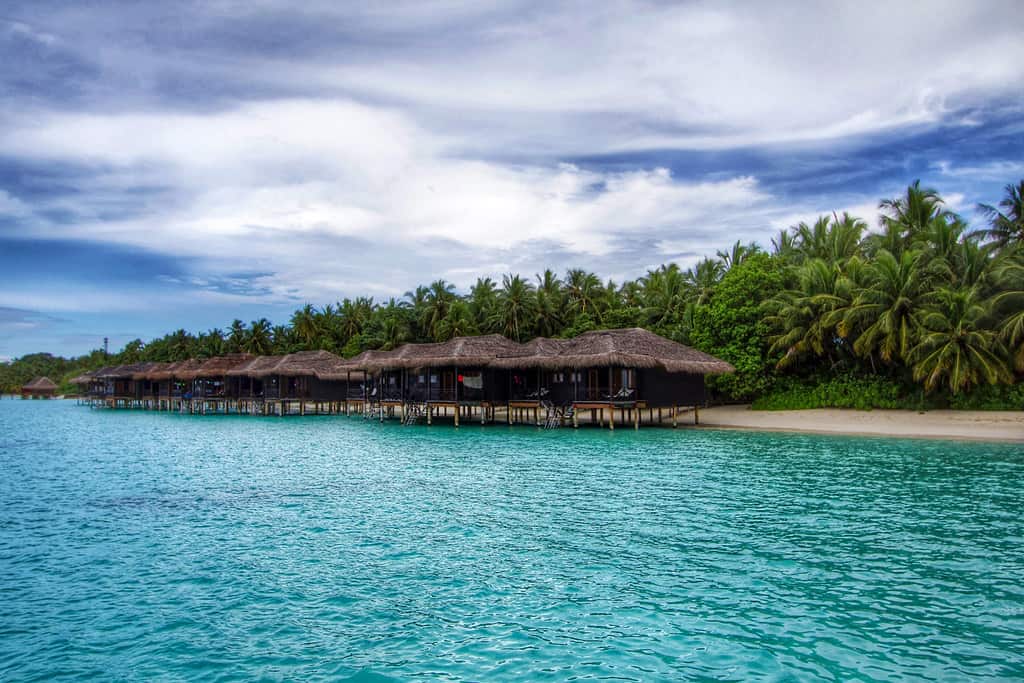 Our favorite spot in the third section, and maybe even within all of Kuramathi was, without a doubt, the sandbank.
The Maldives is a naturally low country. In fact, it's actually the lowest country in the world with the highest point being a mere 4 ft. above sea level. Because of this, you'll often see natural sandbanks that form at low tide, and this particular sandbank tapered out an impressive mile into the azure Indian Ocean.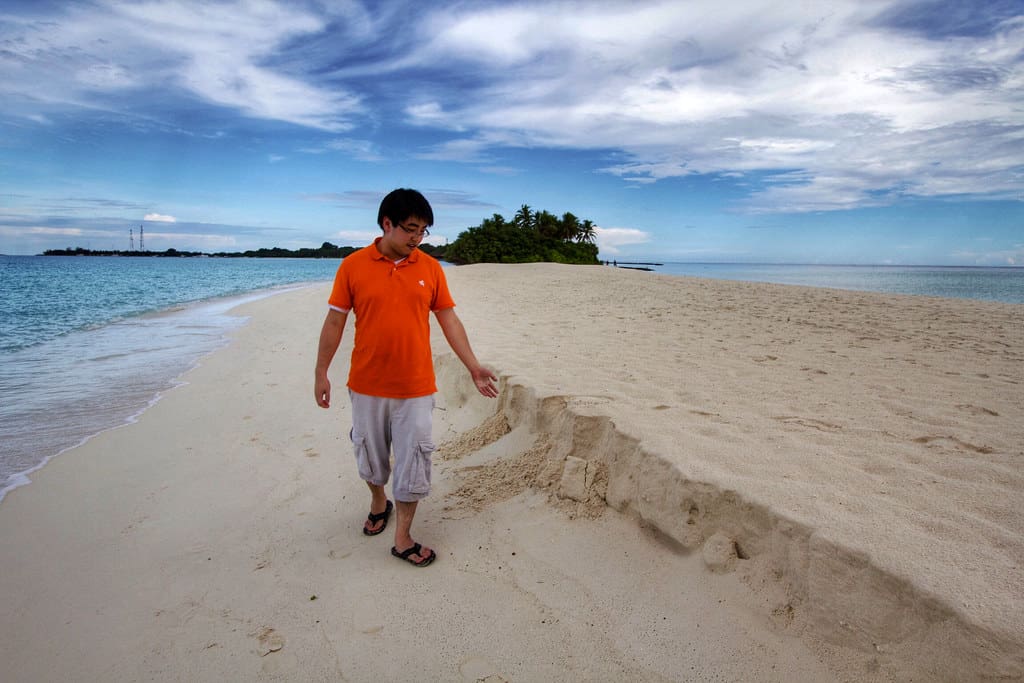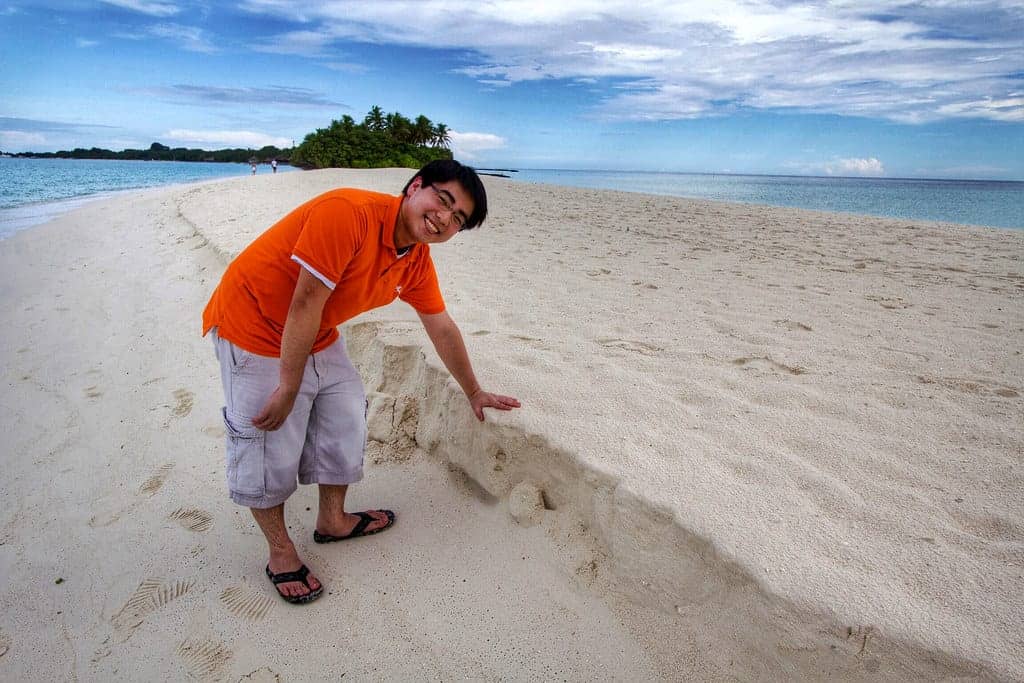 Walking along the curved path of sand, being surrounded completely by the ocean was such a surreal feeling.
This was the ultimate place to enjoy the sunset. We came here time and time again, only watching the sunset elsewhere once during our entire visit.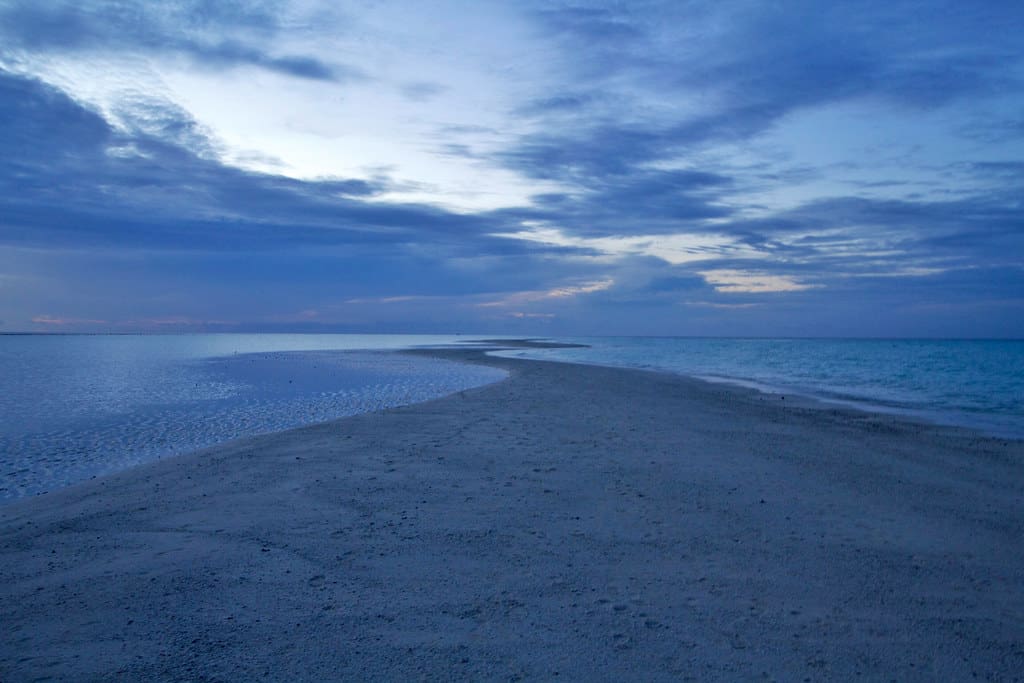 Eco-Conservation at Kuramathi
Kuramathi's slogan is "Naturally Maldives", which was part of what really allured me to this resort in the first place. You can see Kuramathi's love and conservation for the environment throughout your stay at more than just their Eco Center.
Our first encounter with eco-conservation was when we first arrived and went to pick up our snorkel gear. Before we were even able to collect our snorkel fins, we had to go through a brief orientation to learn proper methods for ensuring the safety of the coral and marine environment. On top of this, you could only snorkel in designated snorkel channels that have had paths cleared for snorkelers. This keeps you from swimming over coral and breaking it with your fins.
All snorkel channels were clearly marked with the signs below.
Much of the vegetation was untouched at Kuramathi, and the lush green pathways made you feel as though you were trekking through a jungle as you explore the island. There were even multiple nature walks located throughout the island including the Botanic Walk, Nature Trail, Hermit Crab Walk and Hydroponics Garden.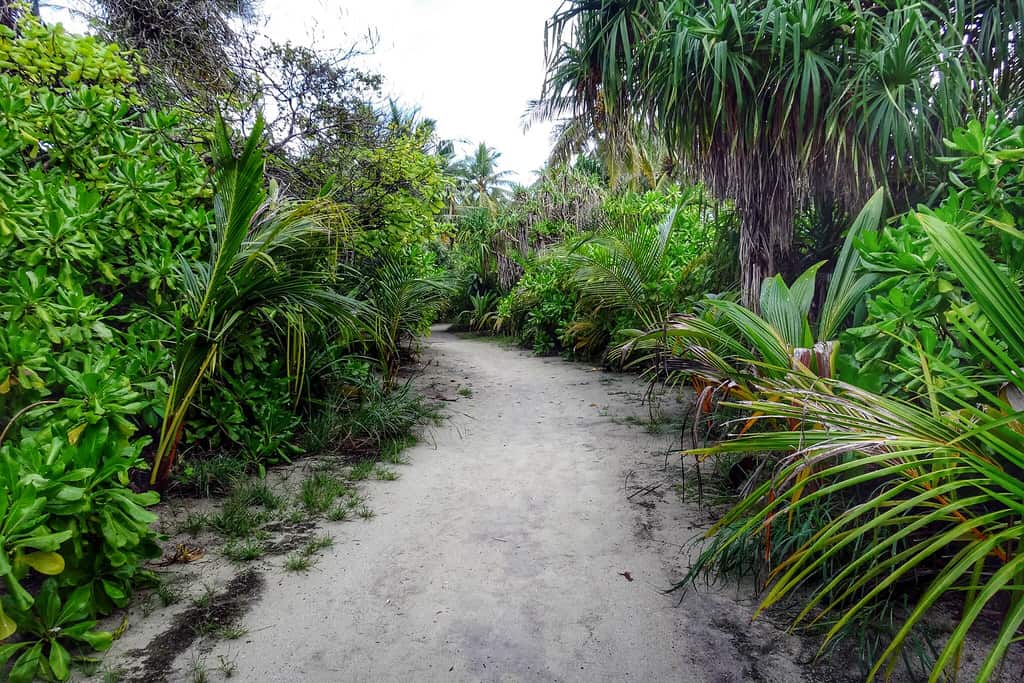 The sheer amount of diverse flora and fauna was amazing. I stopped to photograph everything from fruits to flowers, and was rather impressed that they had signs all along the walks identifying the plants and educating visitors on the plants' local uses.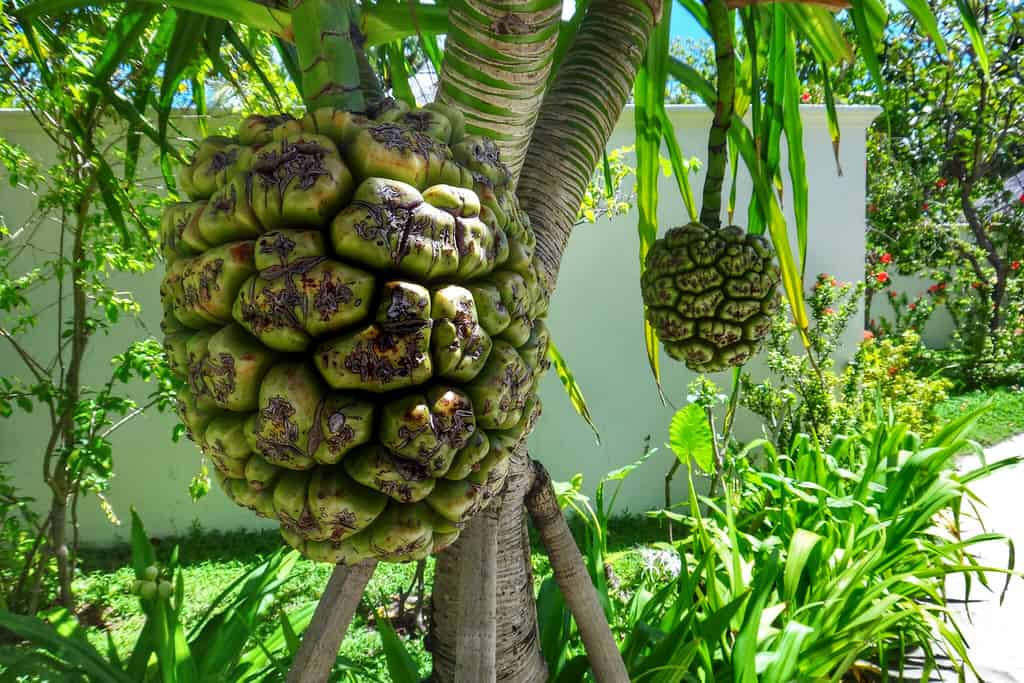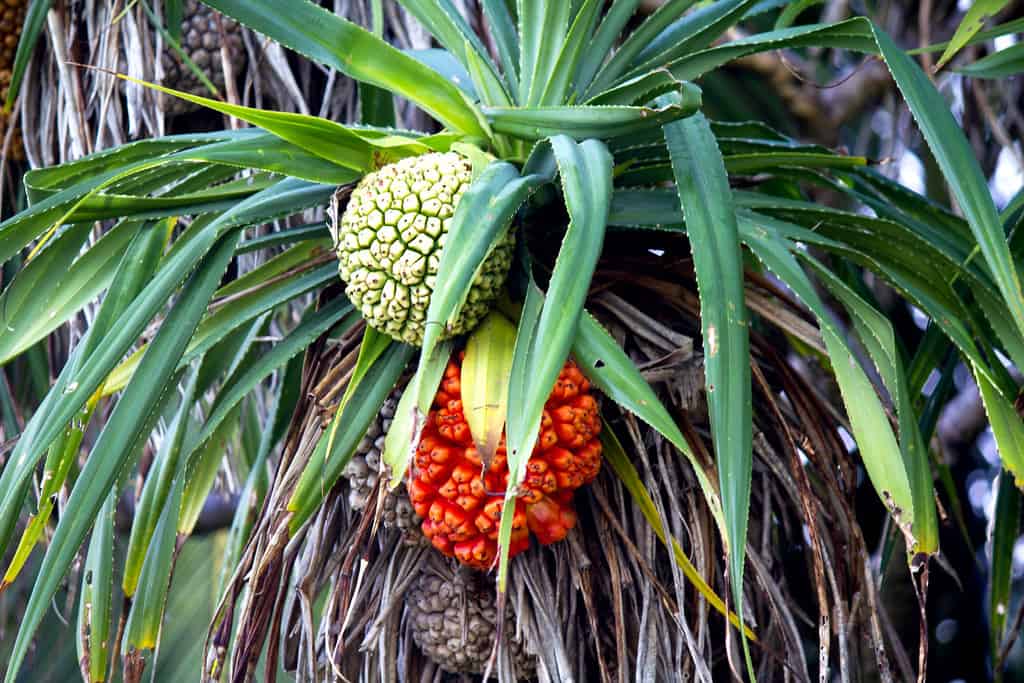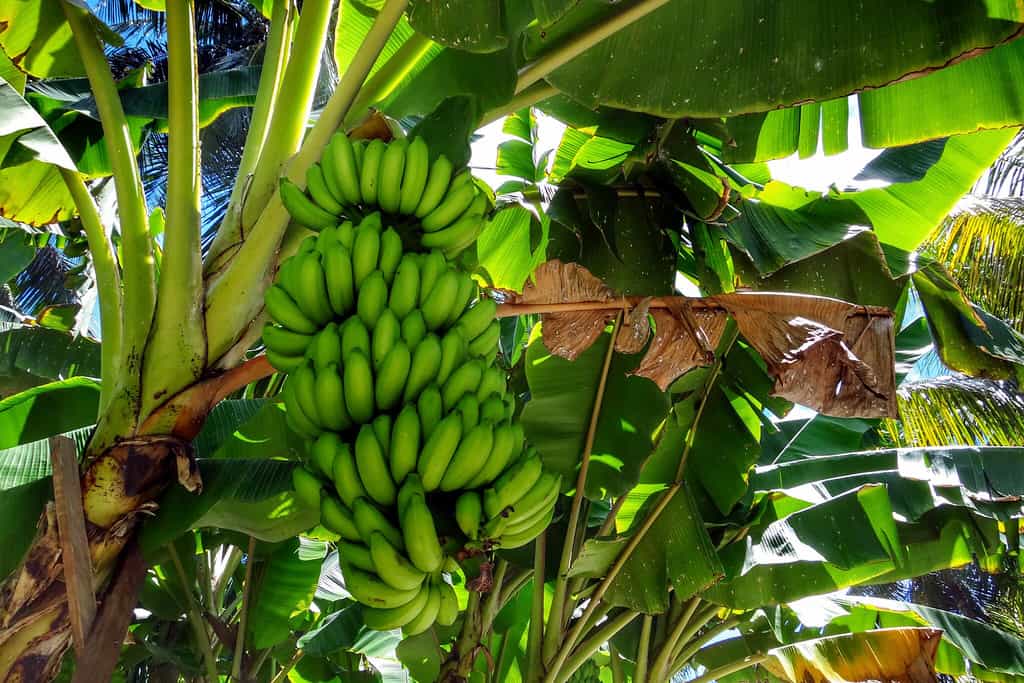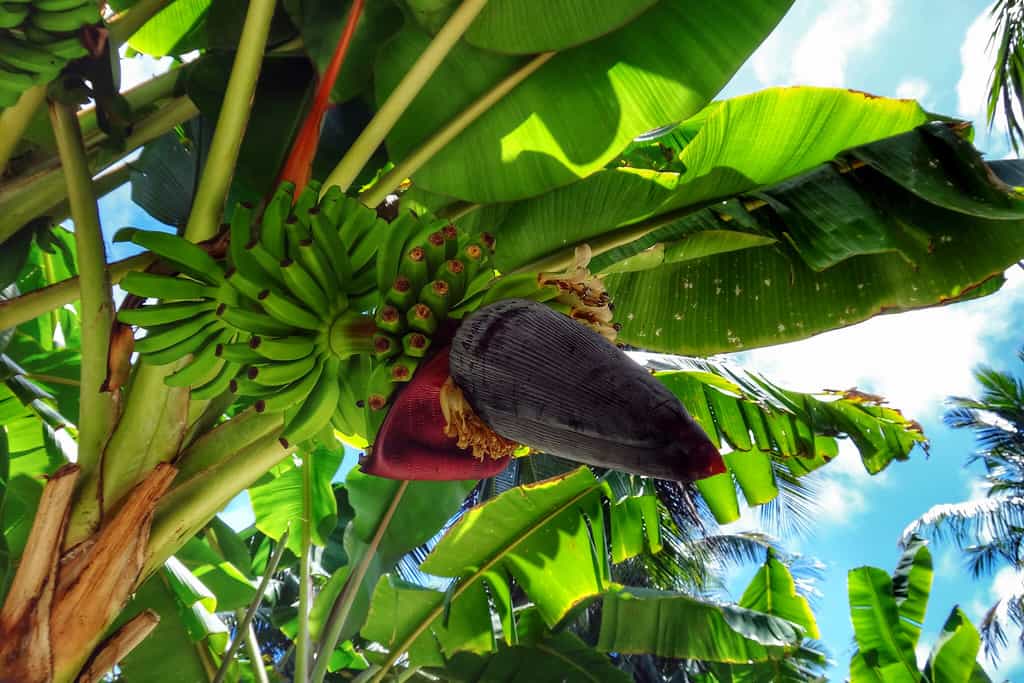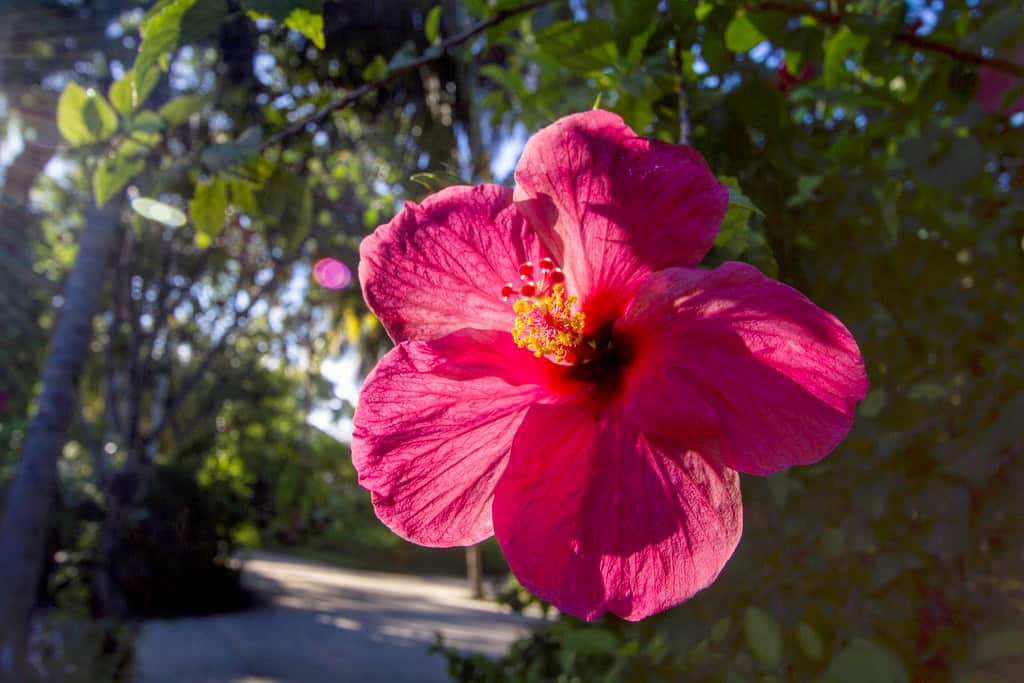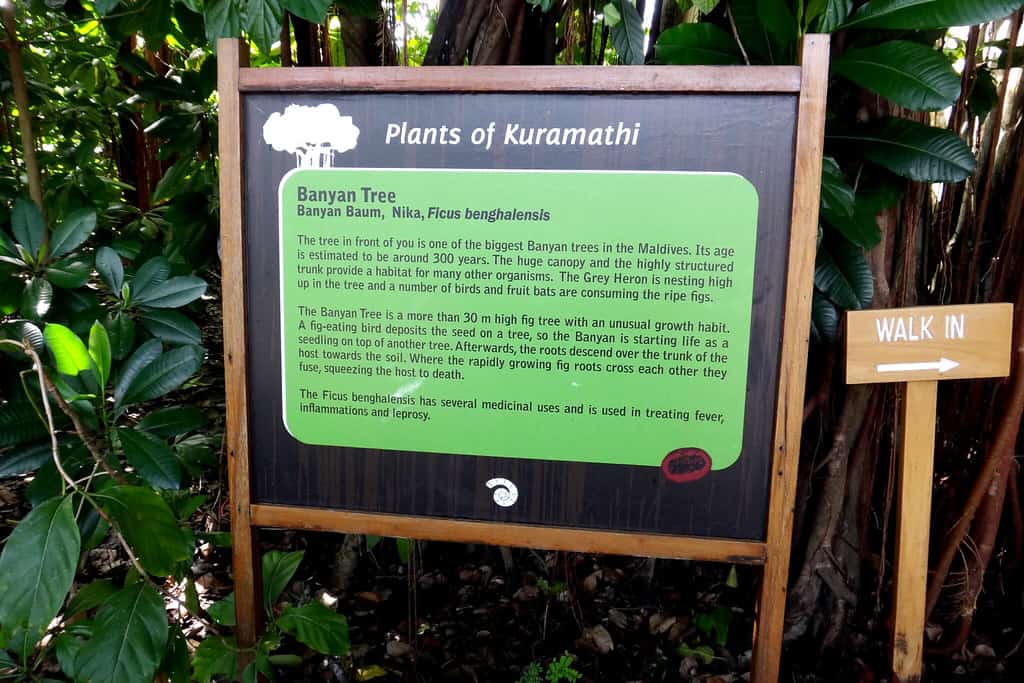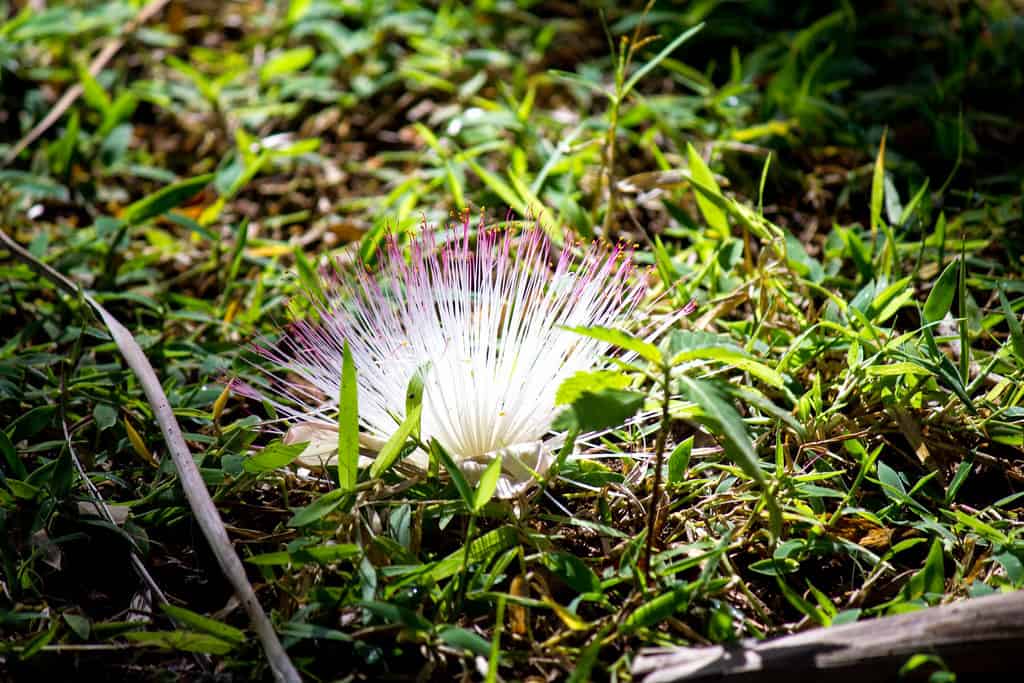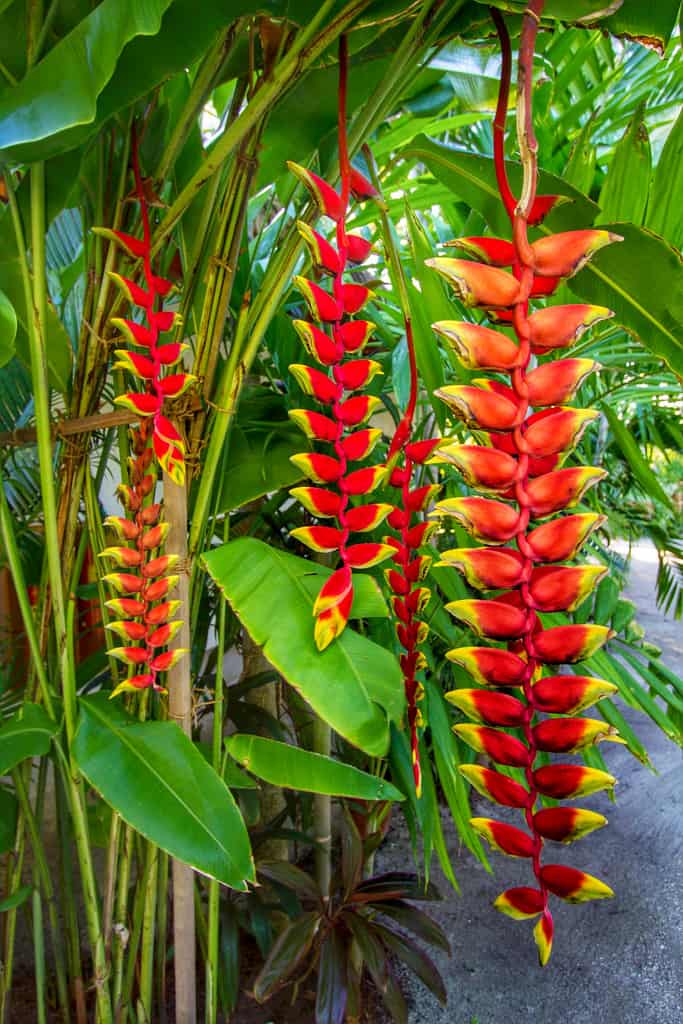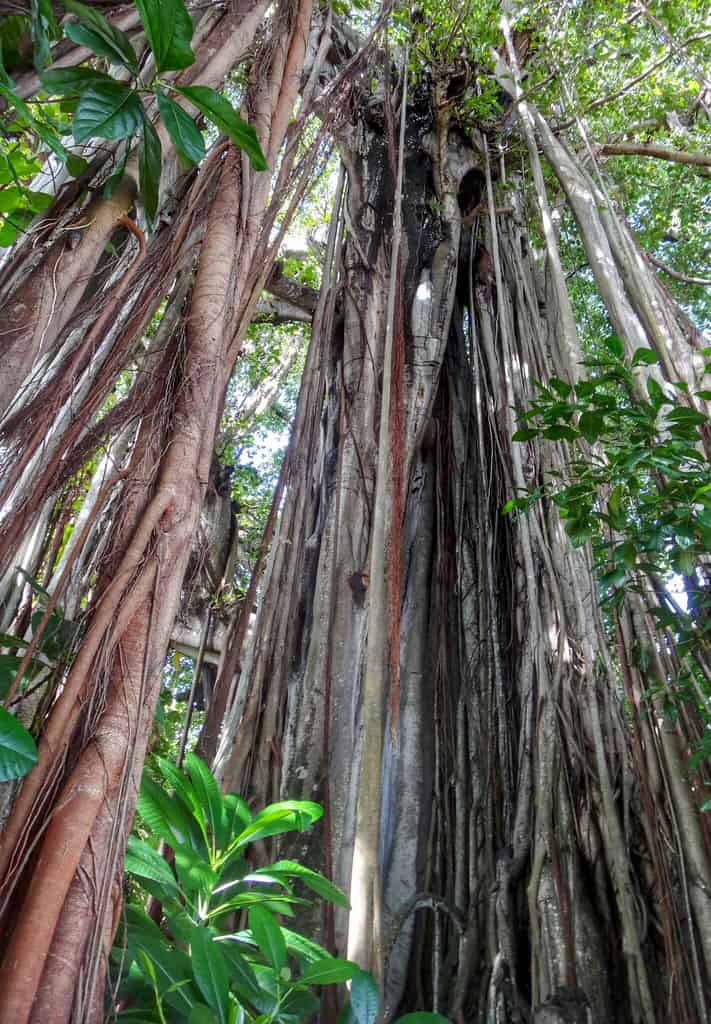 Even the wildlife we saw was simply amazing. I saw fish that I had only ever seen in photos like clown triggerfish, unicorn fish, and my favorite Picasso triggerfish. We were greeted by a shark within minutes of our arrival, and then continued to see them daily swimming near by.
On our last morning as we said goodbye to our beloved water villa, we saw a pod of dolphins swimming past our deck to see us off. As a lover of animals and nature, I couldn't have been more impressed with this aspect of Kuramathi.
I had seen everything I hoped to see (with sadly the exception of a manta ray) and more.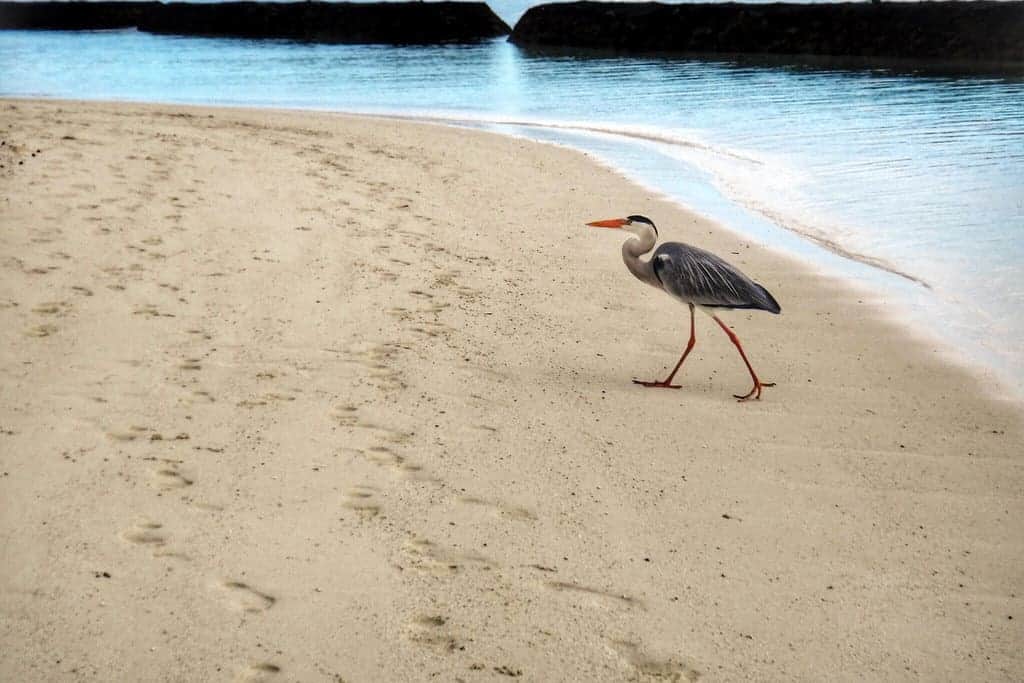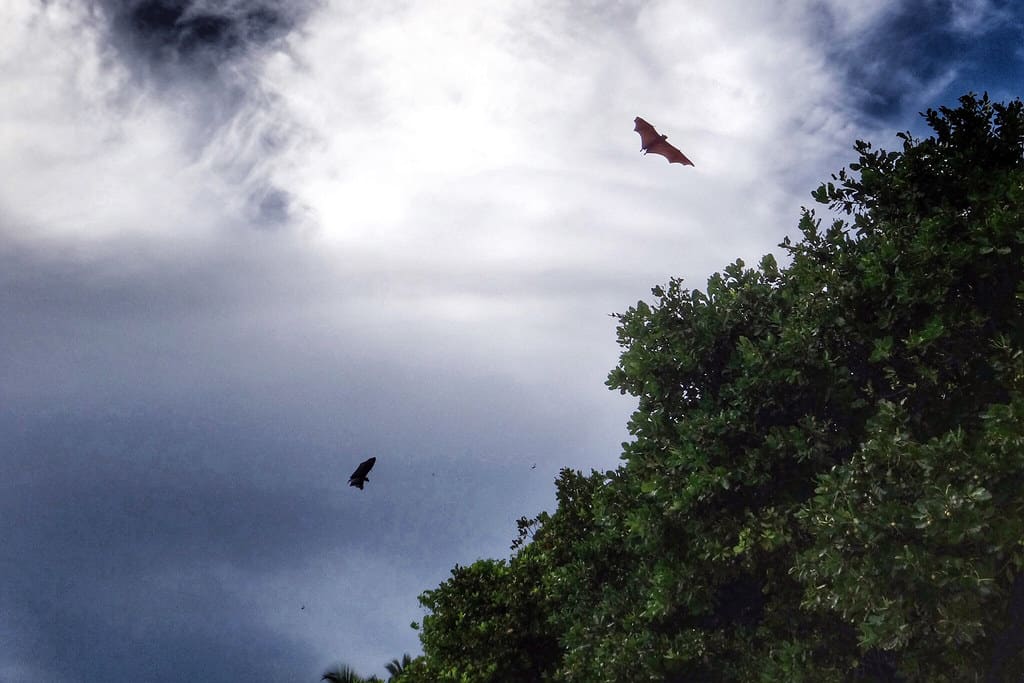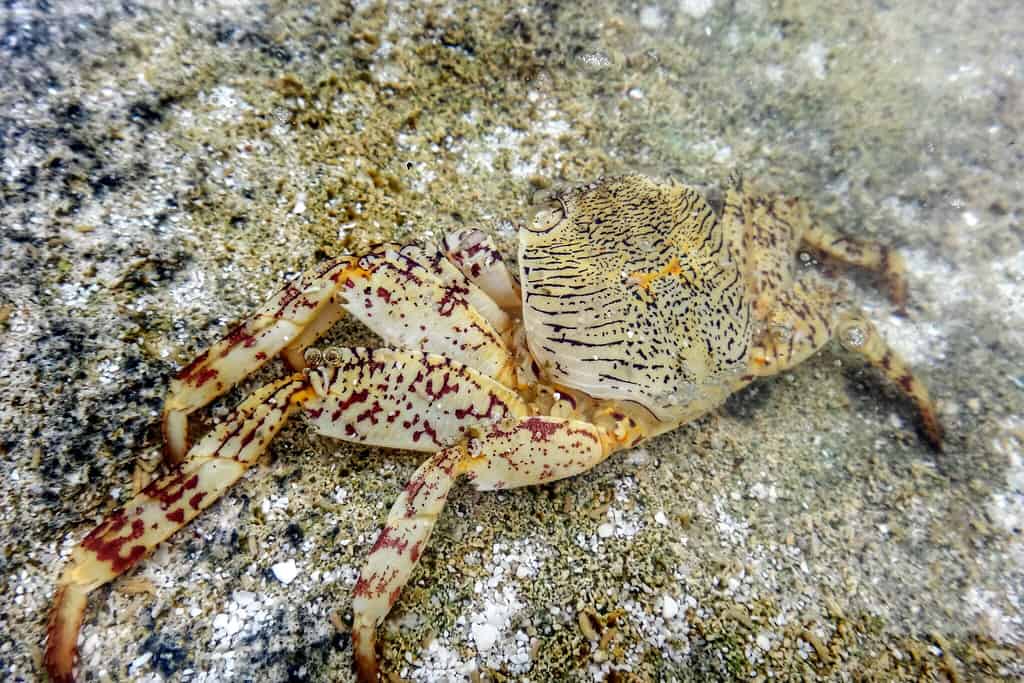 So if you're ready to splurge and enjoy total relaxation in a natural paradise, I can't think of a better place than Kuramathi Island Resort (be sure to see booking details, as well as a video tour of the island below).
I know someday we'll be back– it's not a matter of if, only when. Until then, I'll leave you with a few more photos of the sandbank, a place where sunsets were consistently beautiful.
Even up until the last drop of color had faded from the sky.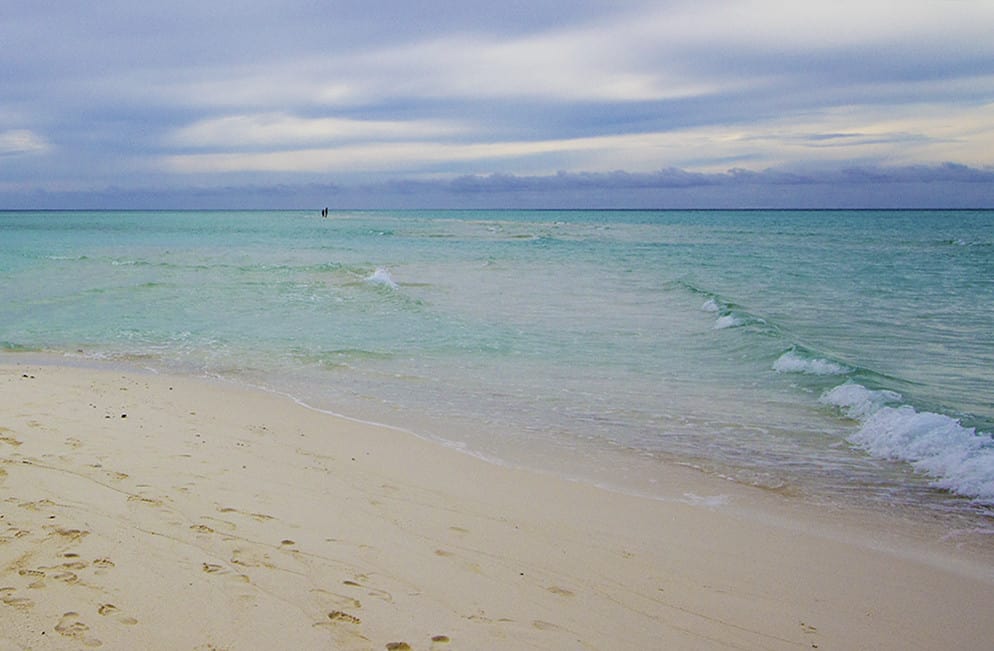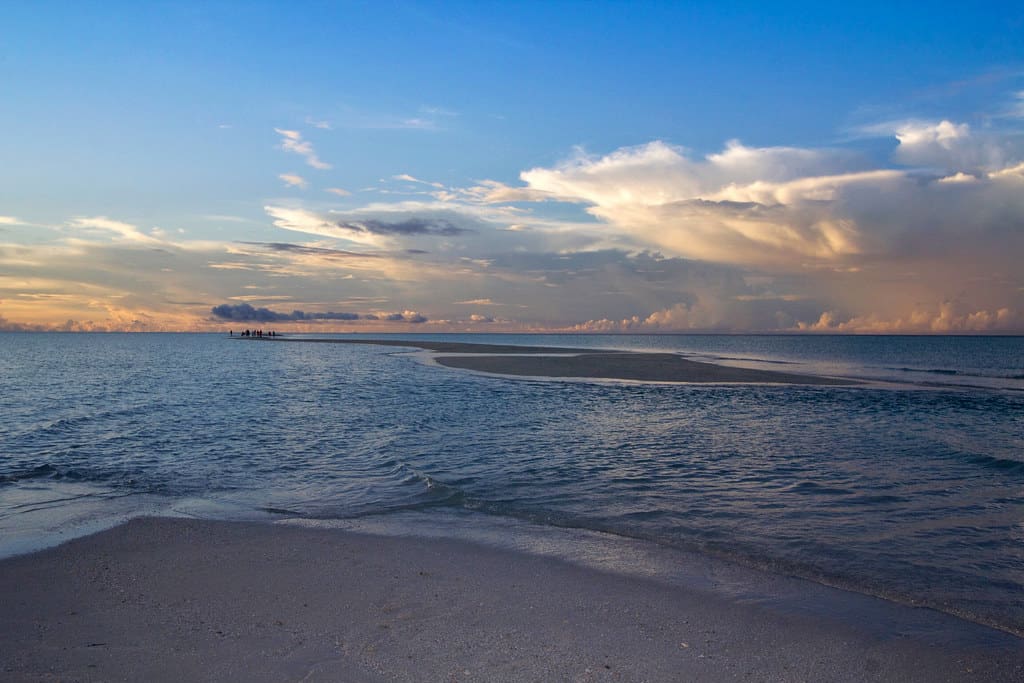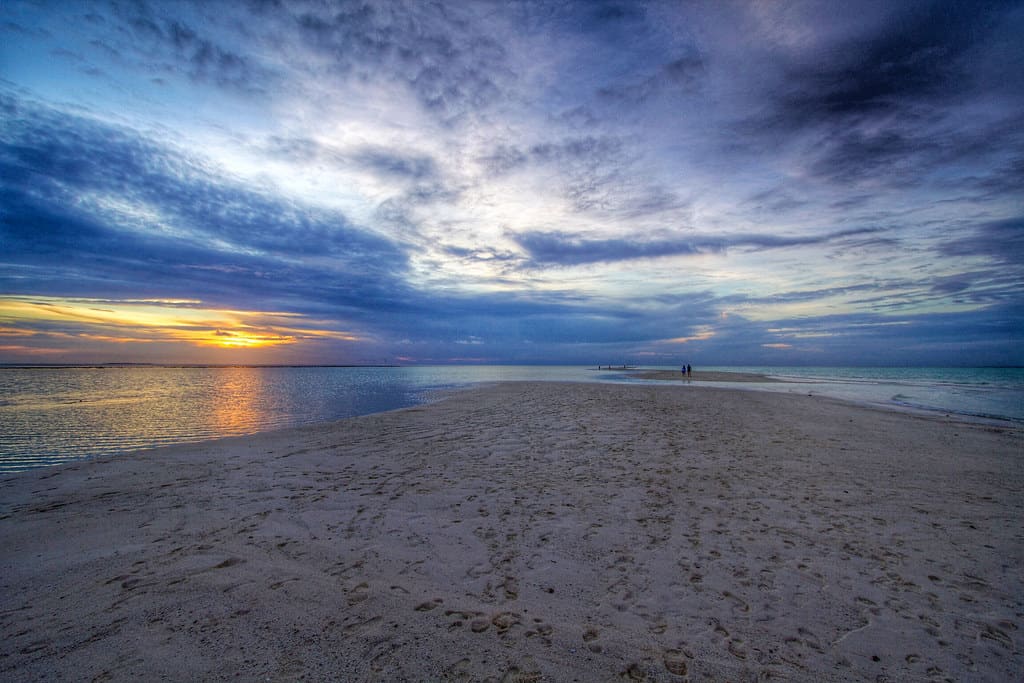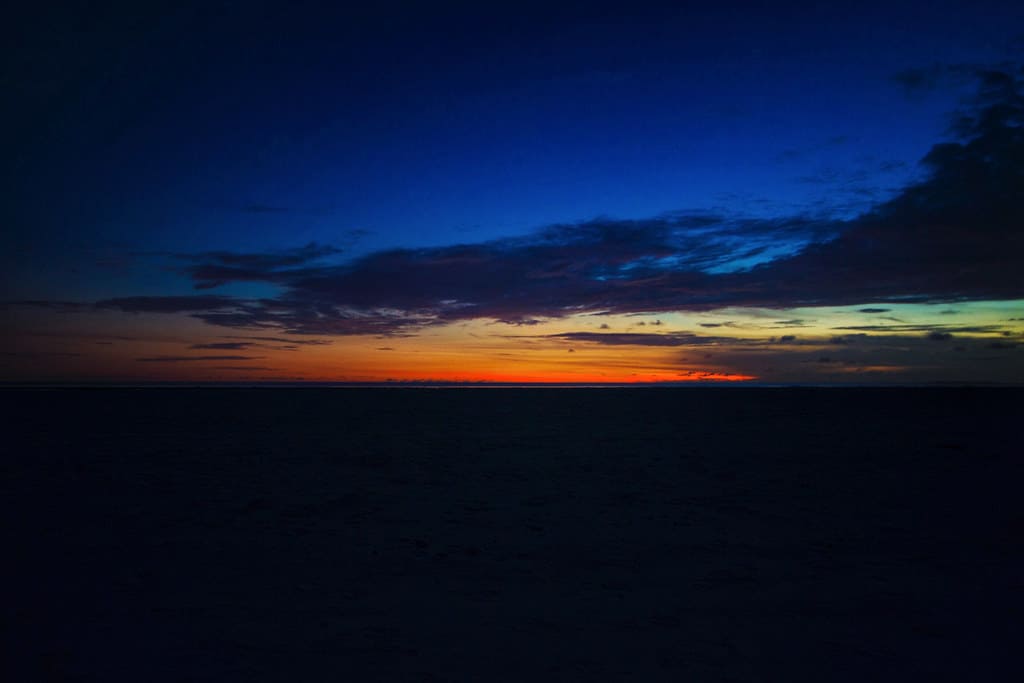 A huge thanks to Kuramathi Island Resort for their generous hospitality. I received a media rate on our room and seaplane flight in order to share my experiences with you here. As always, my opinions are my own.