Another morning of seaplane transfers, as we arrived back at the Malé International Airport, we were quickly whisked away by speedboat. We watched as Malé's small skyline disappeared behind us, and in a few short minutes we reached our destination.
Greeted with chilled mint towels and coconut ice cream, it was a refreshing introduction to our new island home, Kurumba Maldives.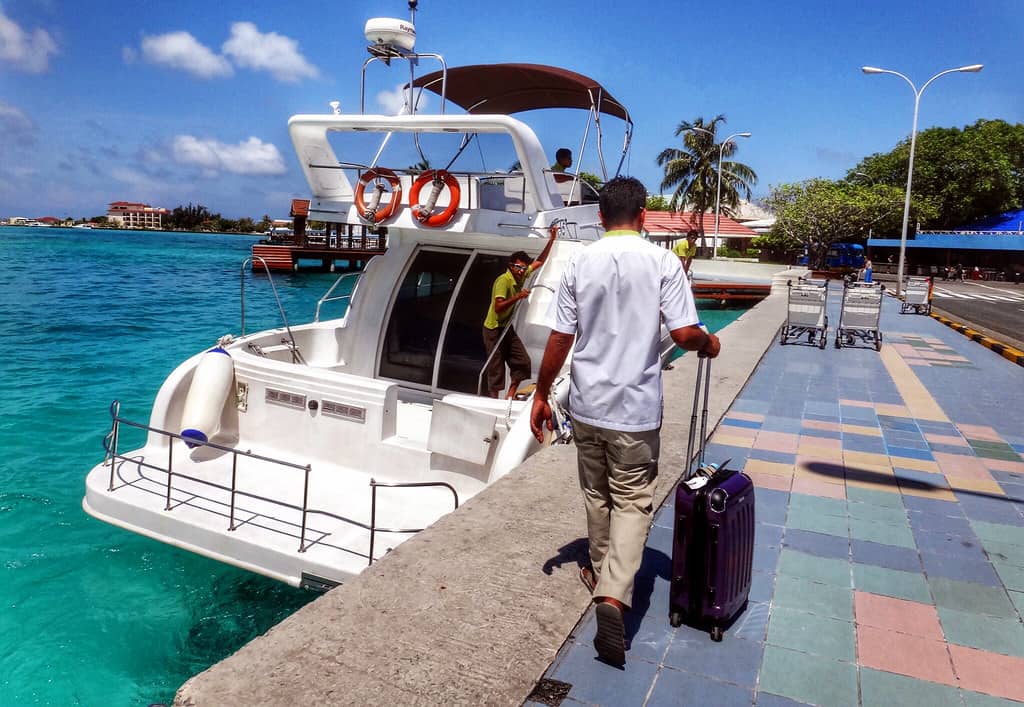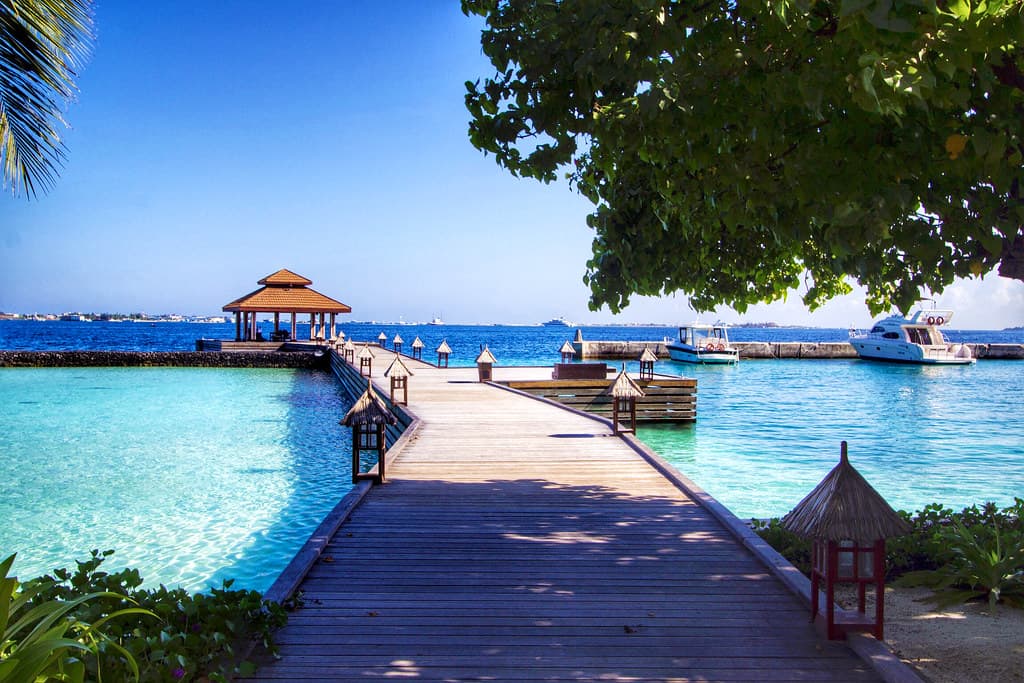 We later learned the reason behind greeting guests with coconut ice cream is because kurumba is Dhivehi for "coconut", and this wouldn't be the last time we encountered coconut during our stay.
The first thing that struck me, other than the deliciously creamy ice cream, was the design of the reception. With it's grand open-air structure, and beautiful reflection pools throughout, I felt like I had stepped in some exotic, luxurious palace.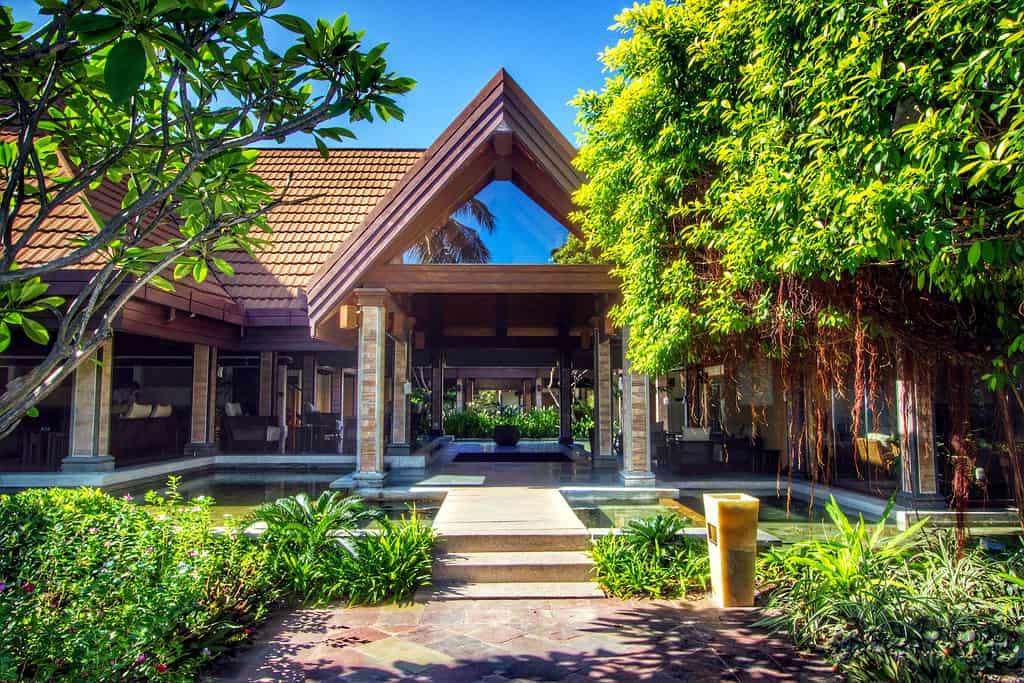 Accommodation
Following check-in, we were shown to our Deluxe Bungalow.
As we walked down the floral-lined pathways, I could already feel a completely different atmosphere from our previous island, Kuramathi. We had just come from one of the largest islands, focused on nature and that Robinson Crusoe feeling, to one of the smallest islands, rich with history and luxury. We were a bit relieved that now everything was a short 5-minute walk away, although this meant we constantly saw people.
It's amazing how each island in the Maldives, has a completely different feel to it. And this is also why, if you plan to invest the money to visit the Maldives, you need to choose your resort carefully.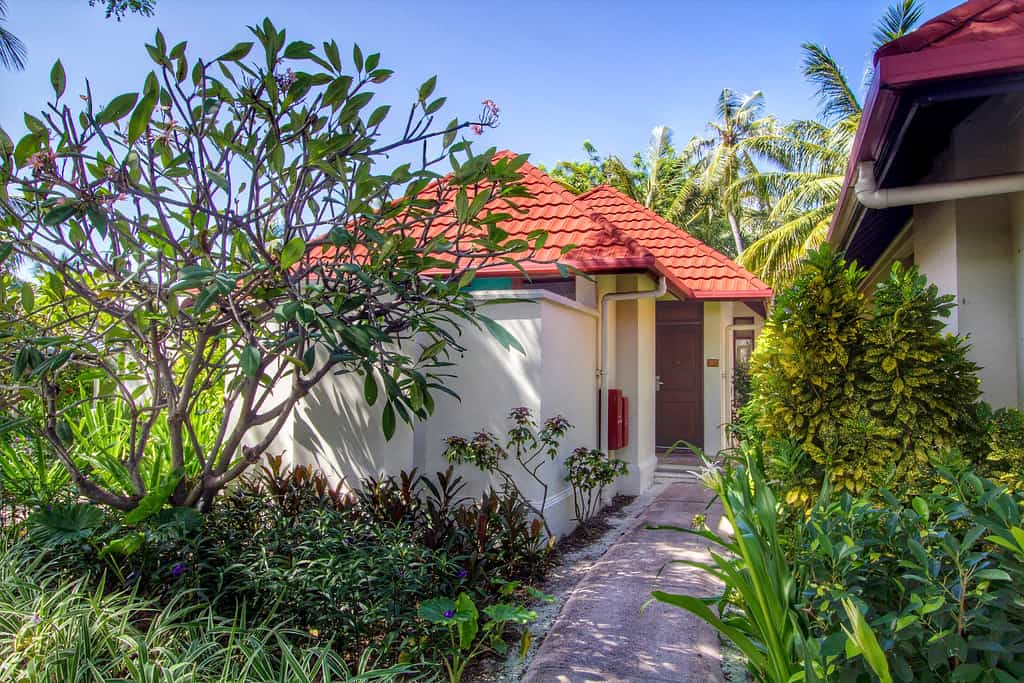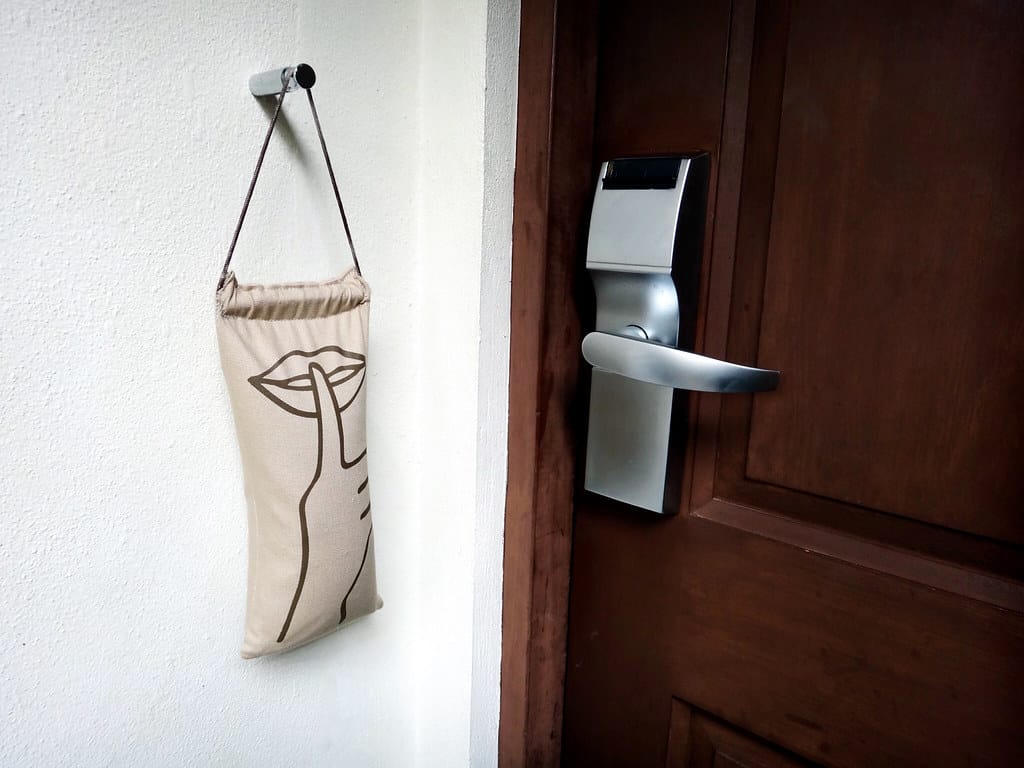 Inside our bungalow, the interior design instantly resonated with me. I loved the warm orange-based palette and again, the high Maldivian ceilings. For a resort that just recently celebrated 40 years in operation, the rooms look modern and fresh.
After exploring the room, I rushed over to the windows that stretched floor to ceiling and threw open the curtains. Just footsteps from our backyard was the beach and the crystalline waters. Besides a small table and chair set, there was another daybed outside on our covered patio. This later became the perfect place to sit and read as it poured rain in the afternoon.
From the plush bed to the multiple over-sized daybeds, everything about our room said relaxation. My only regret was that I didn't get to enjoy the daybeds as much as I would have liked.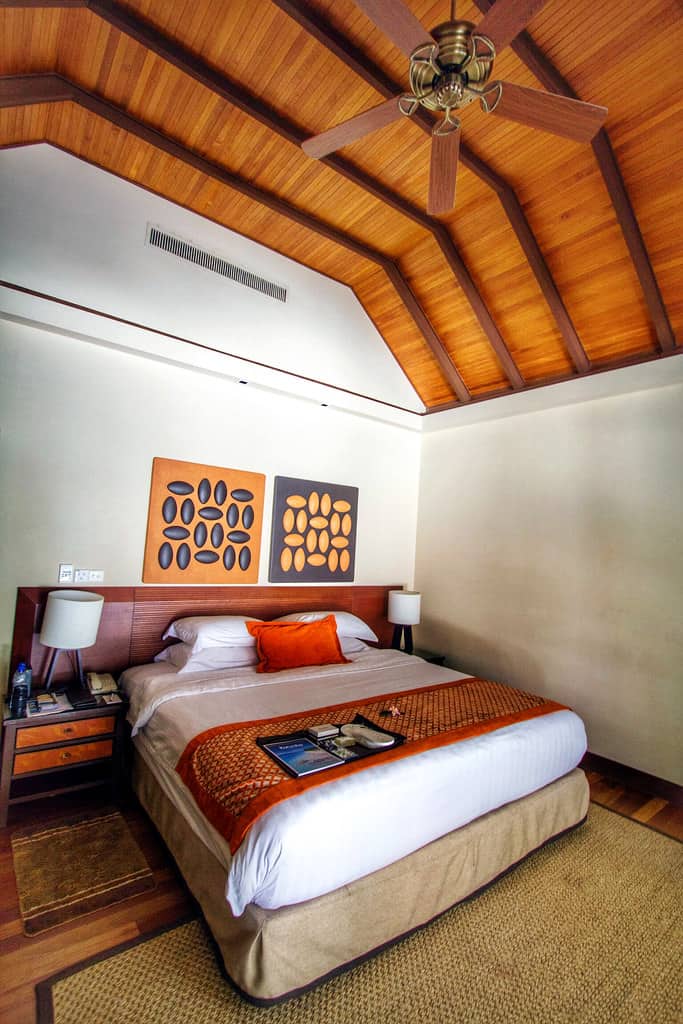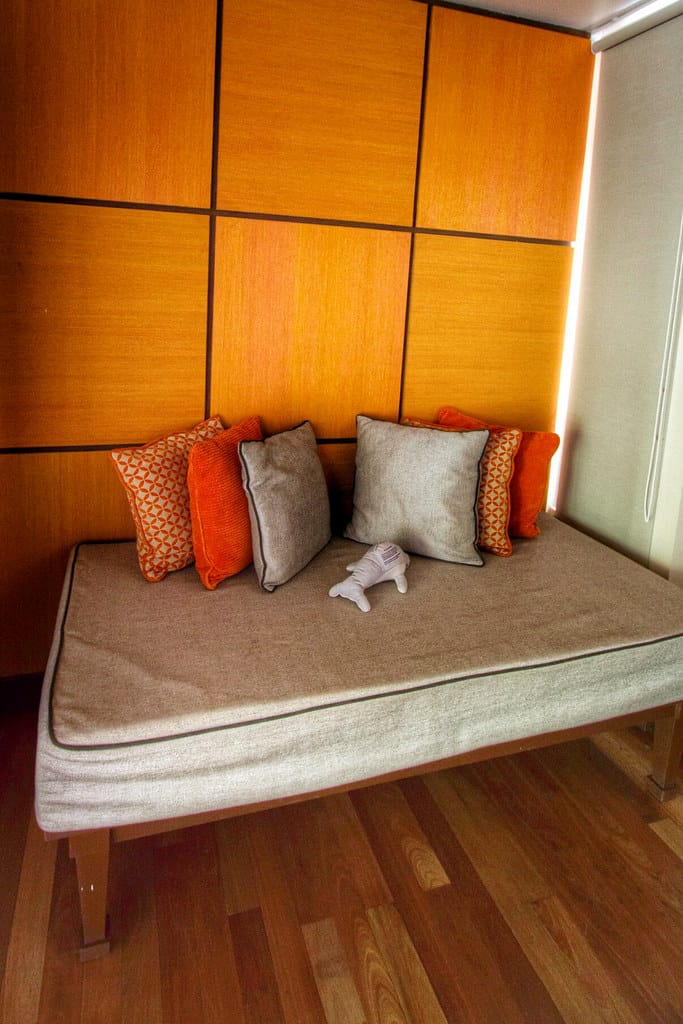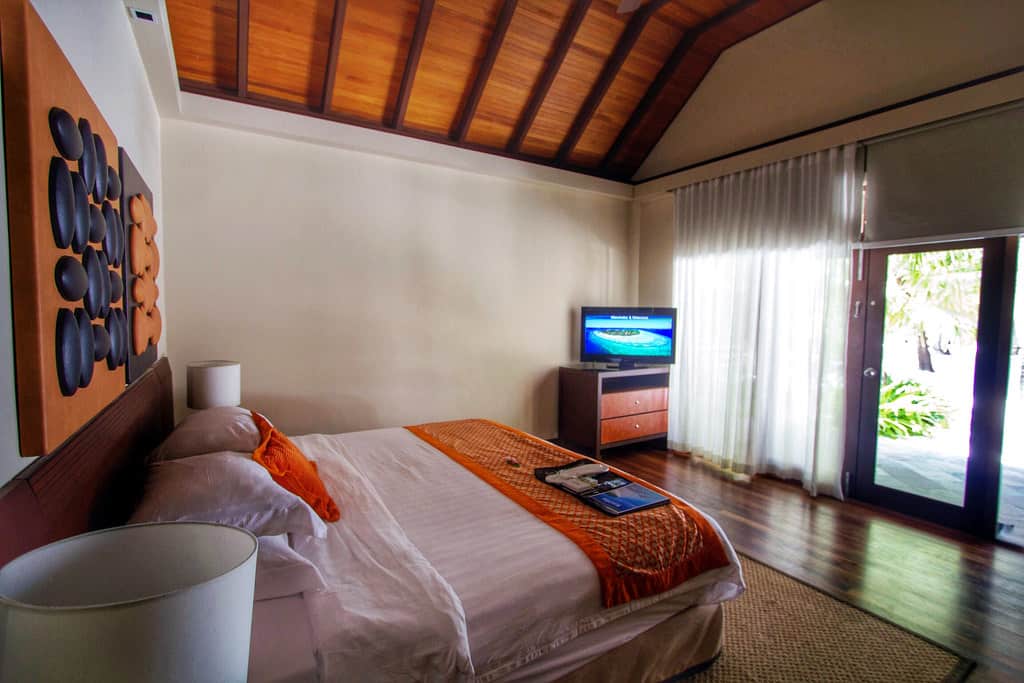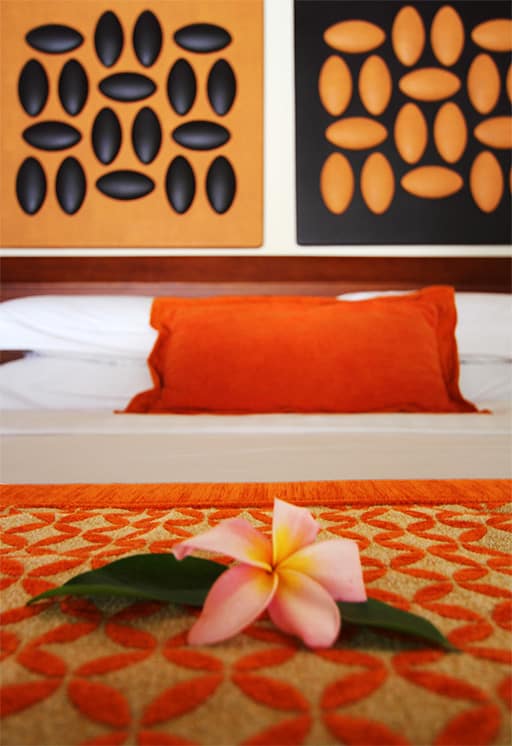 In a separate back room is where we found the closets, the mini bar, along with the mixology station, and the door to the bathroom.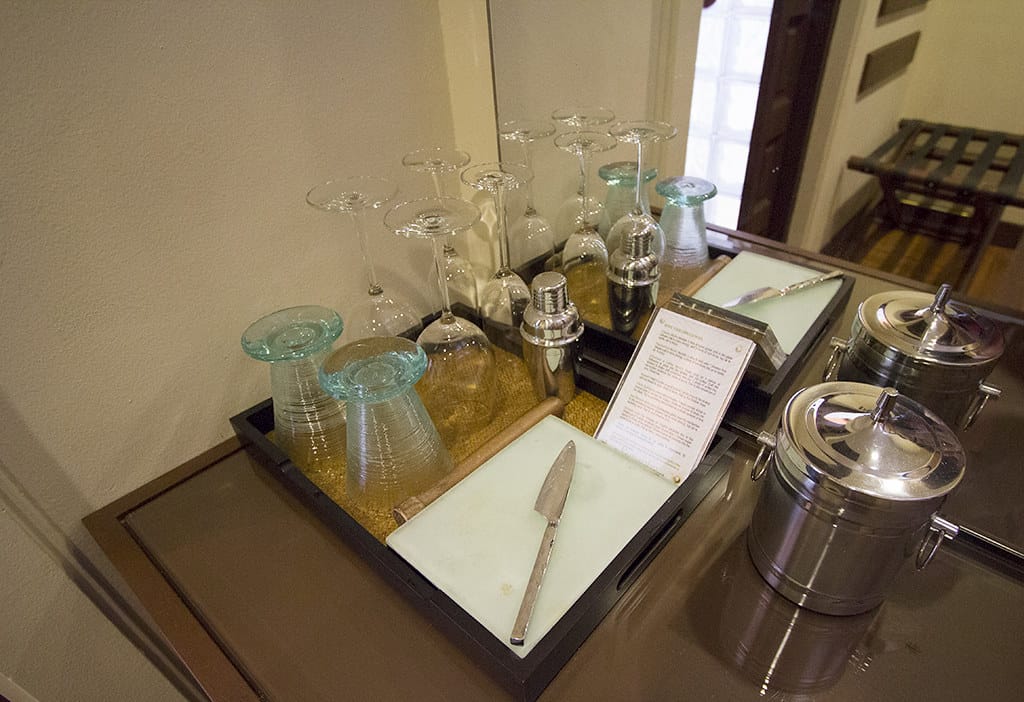 The bathroom door was thick and hard to push open, but upon my efforts I was awarded with the sight of the bathroom of my dreams. Instantly I felt a flood of humid air hit me in the face with the scent of lemongrass and coconut. I could hear birds chirping and see the stream of sunlight coming in through the trees.
Instead of feeling like I was in a hotel bathroom, I felt like I had just entered a spa.
The giant open-air bathroom had a beautiful over-sized marble tub and its own outdoor rain shower. Heaven. Johnny resorted to only using the indoor shower, but he was missing out.
The bathroom was undoubtedly my favorite part of the suite. Each time we would walk inside, I enjoyed the fresh air and the geckos that skittered about the walls.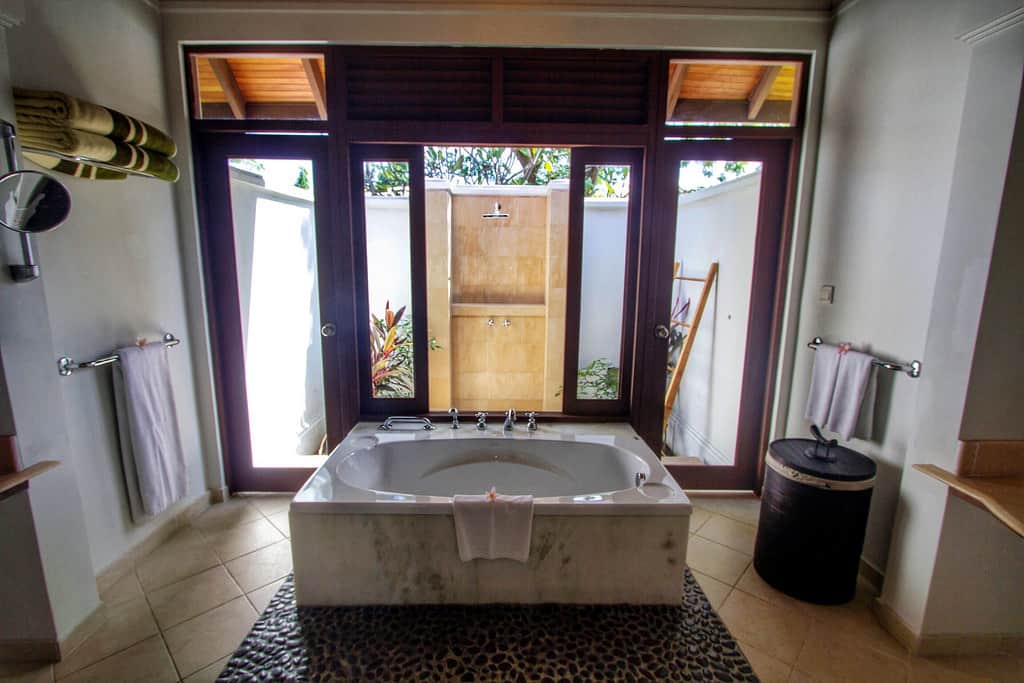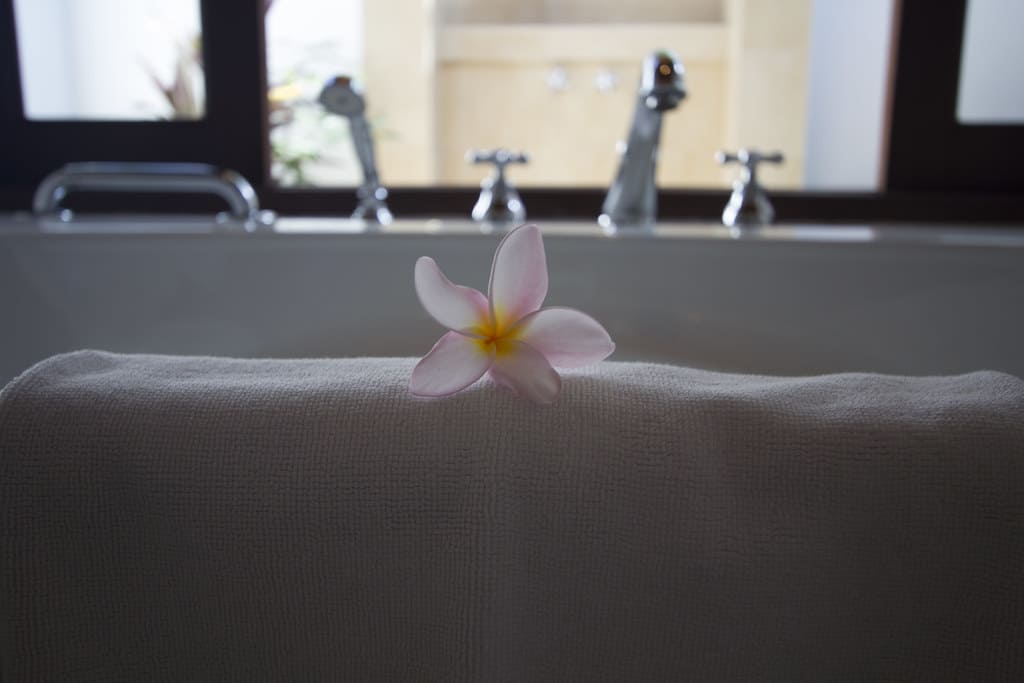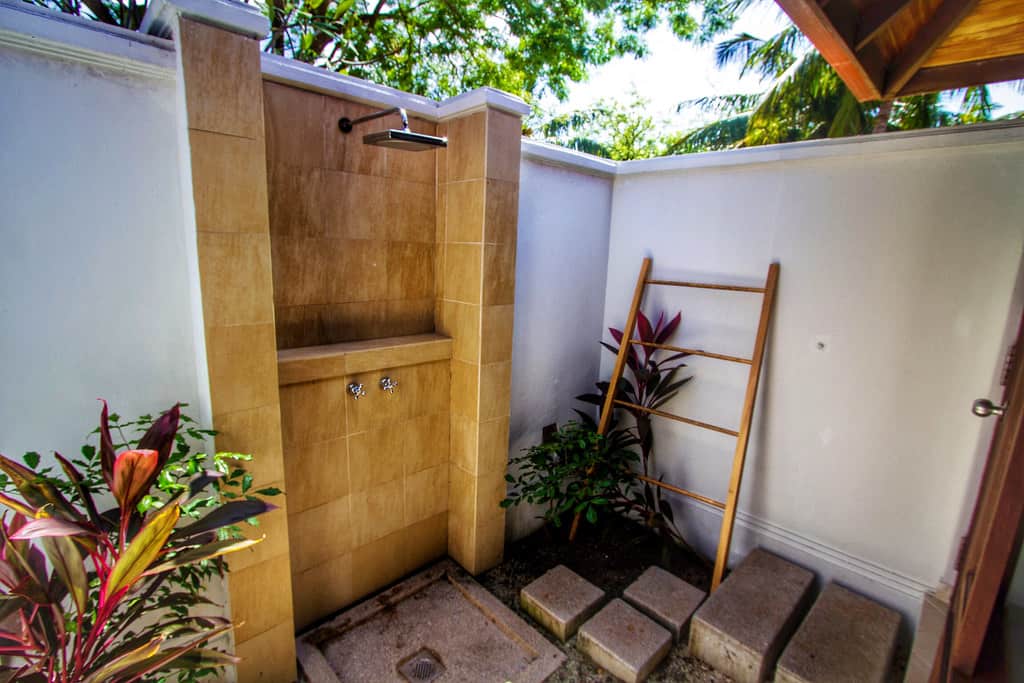 The kind staff at Kurumba also allowed us to see their last available room to get a feel for their other types of accommodation. Even the Deluxe Room, which was one of their lowest category rooms, seemed perfect for couples on their honeymoon.
It was a bit less spacious than our Deluxe Bungalow, but who needs space when they're on their honeymoon anyways.
The bathroom didn't have my beloved outdoor rain shower, but the space above the bathtub was still open giving it that tropical, open-air feeling.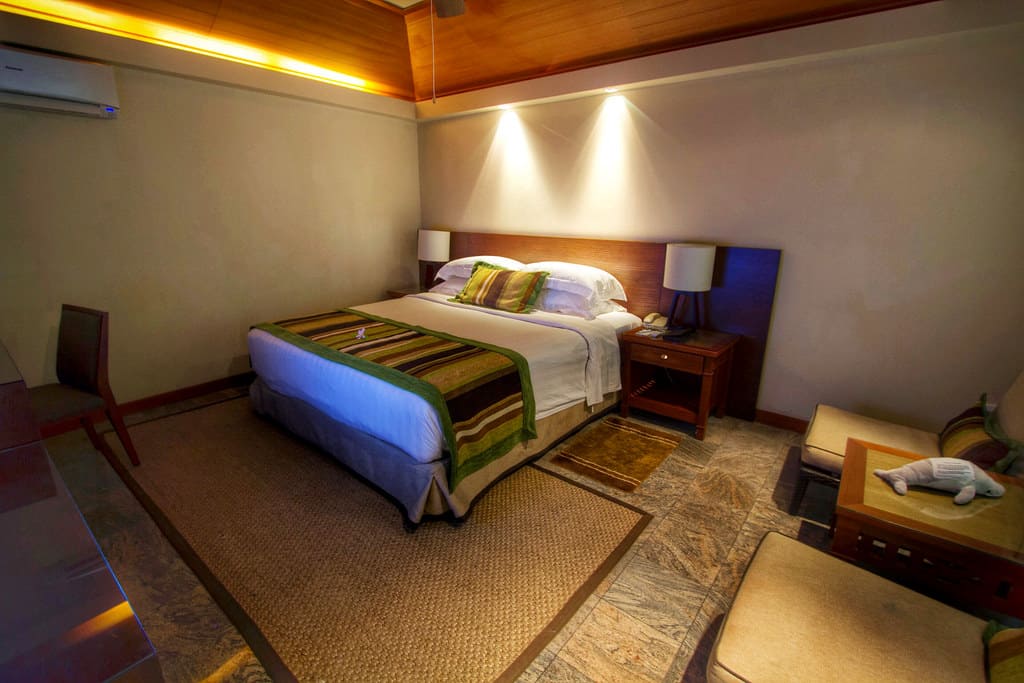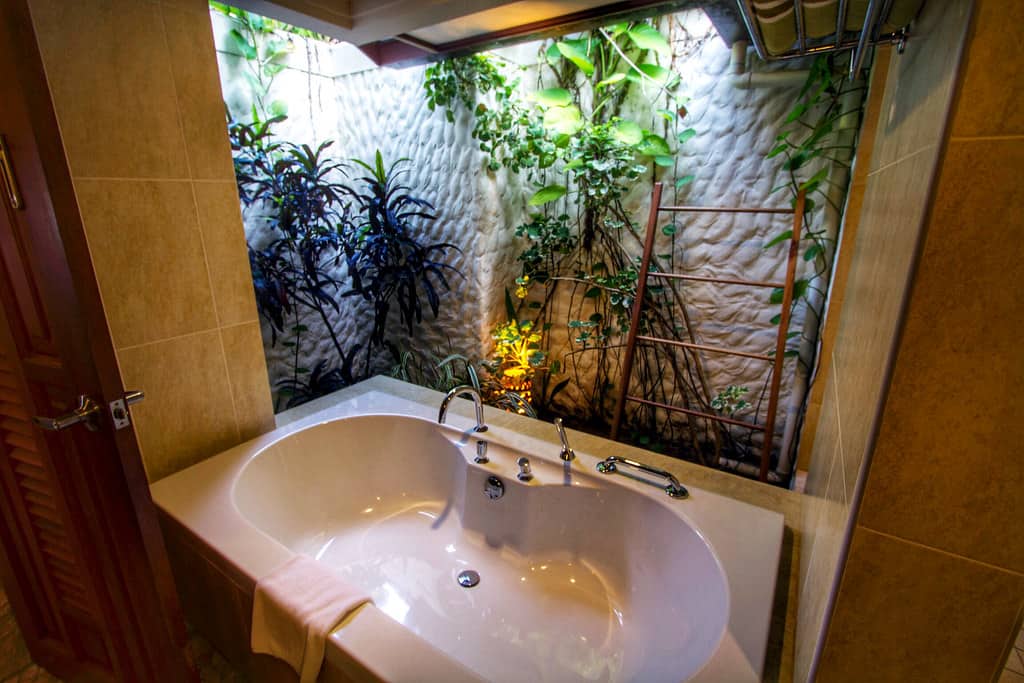 Facilities
Our stay at Kurumba was very short, but I regret not putting aside time for a massage. Located just footsteps from our bungalow, we passed Veli Spa many times.
Upon popping our heads in the reception area we saw the sunken-in waiting area, that looked utterly relaxing. The lovely spa manager even showed us some of their signature beauty products and massage oils, which are creatively themed after the elements.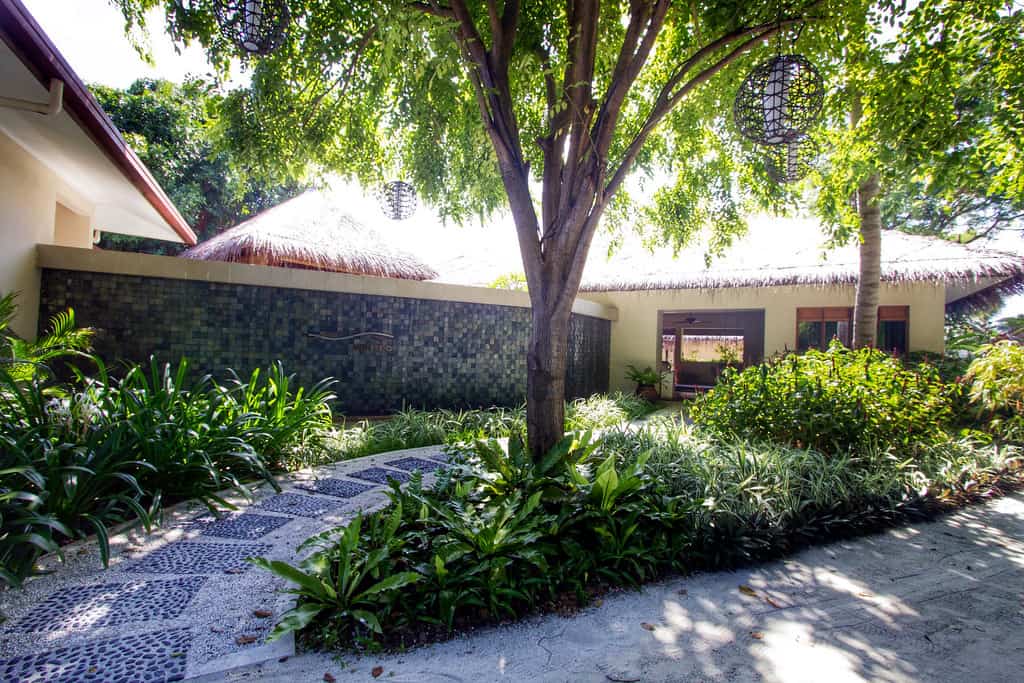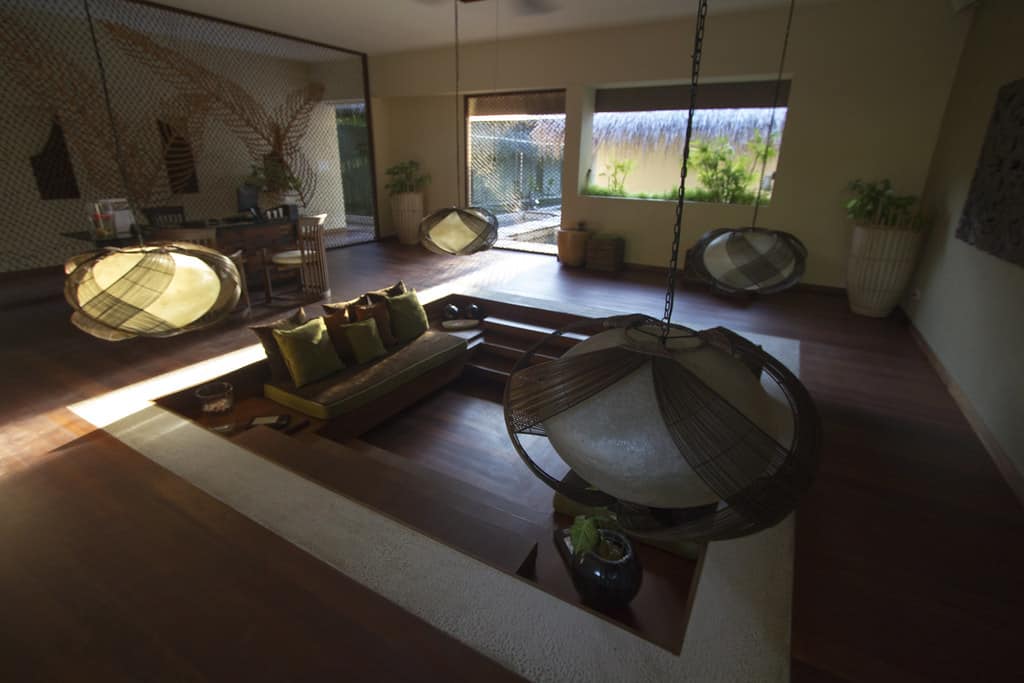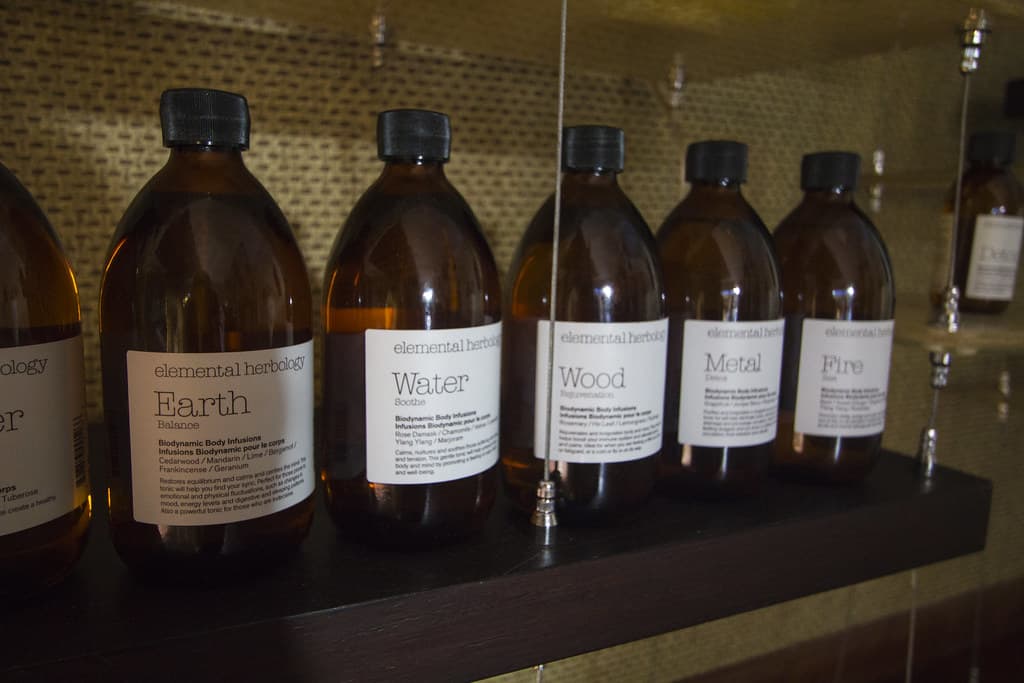 While many resorts in the Maldives might not be family-friendly, Kurumba offers the Majaa Kids' Club to keep children entertained while their parents are off on excursions.
Each day different activities for children were planned– things that even I wished I could join, like learning towel art or having a local Maldivian artist teach painting.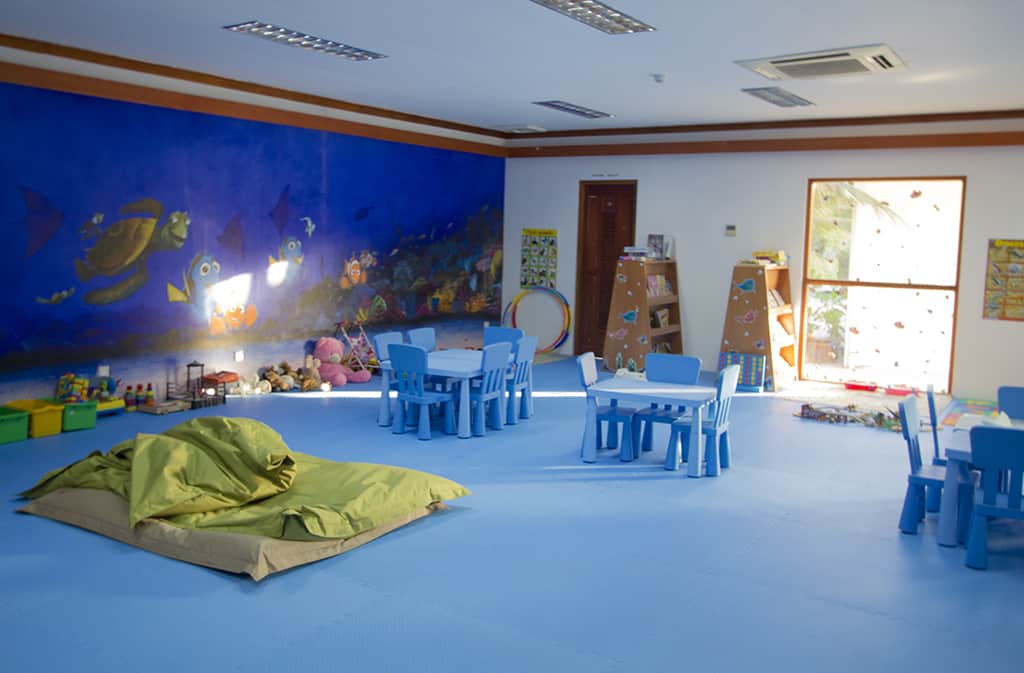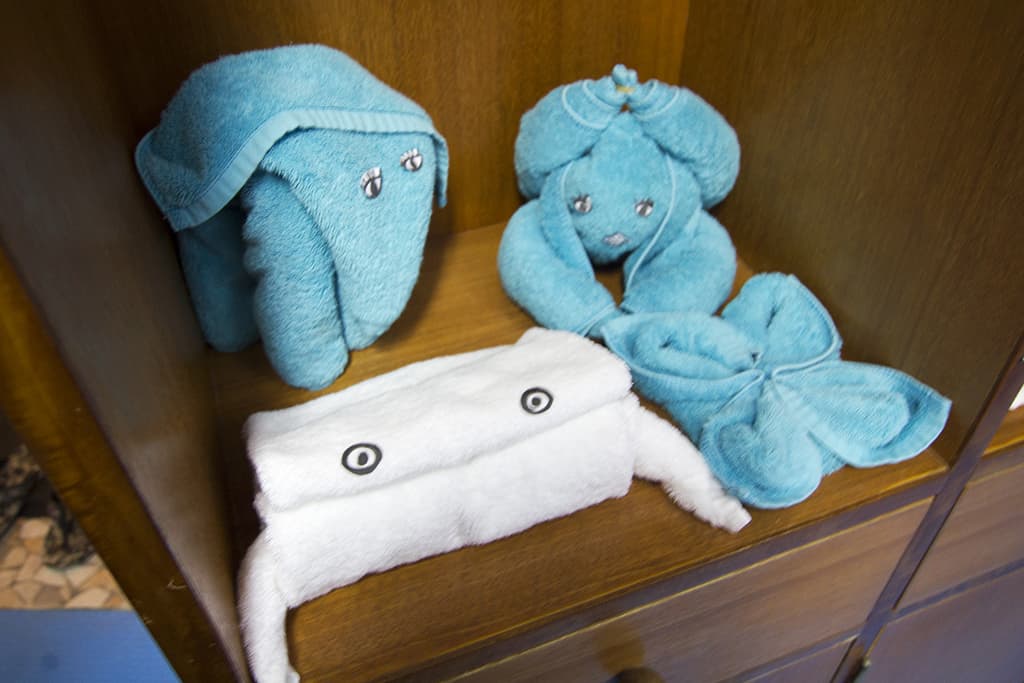 While there were plenty of tree-lined paths and flowers to enjoy around the island, an area we particularly enjoyed was the orchid nursery. Orchids have long been some of our favorite flowers, so much so that we have one in our home. It was great to see so many different orchid varieties and colors in their nursery.
Plus, every time we passed by, the area smelled absolutely wonderful.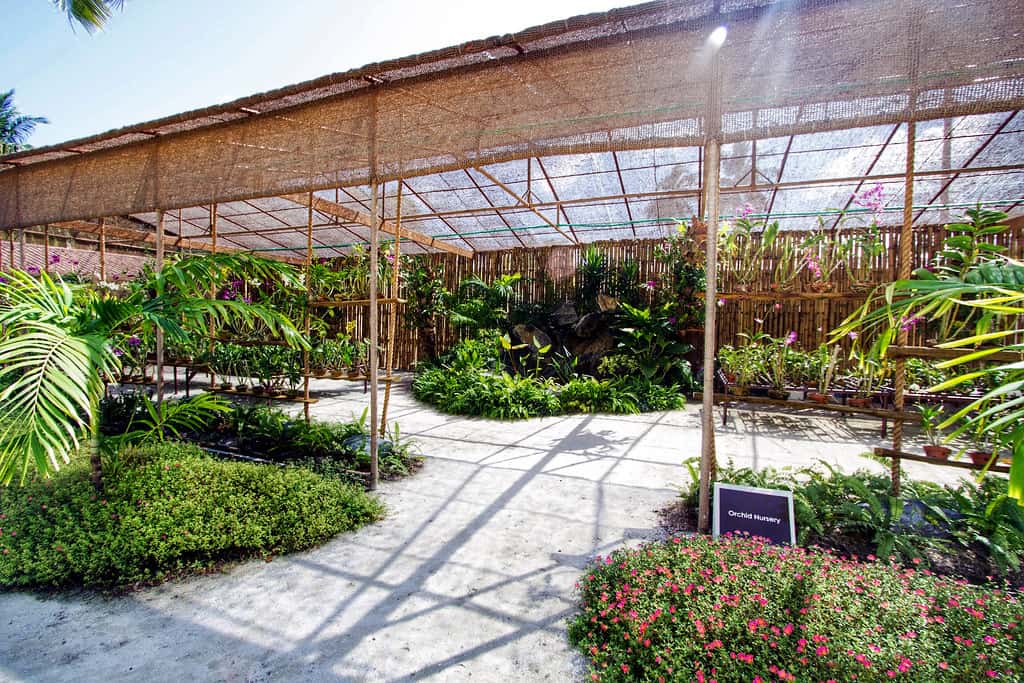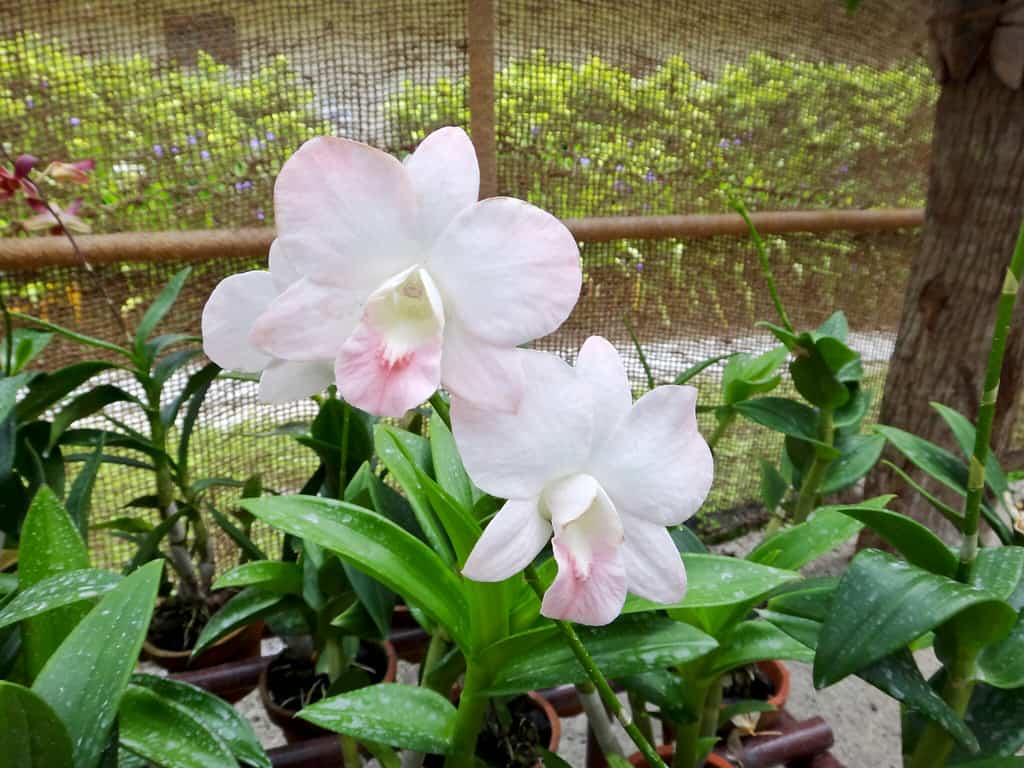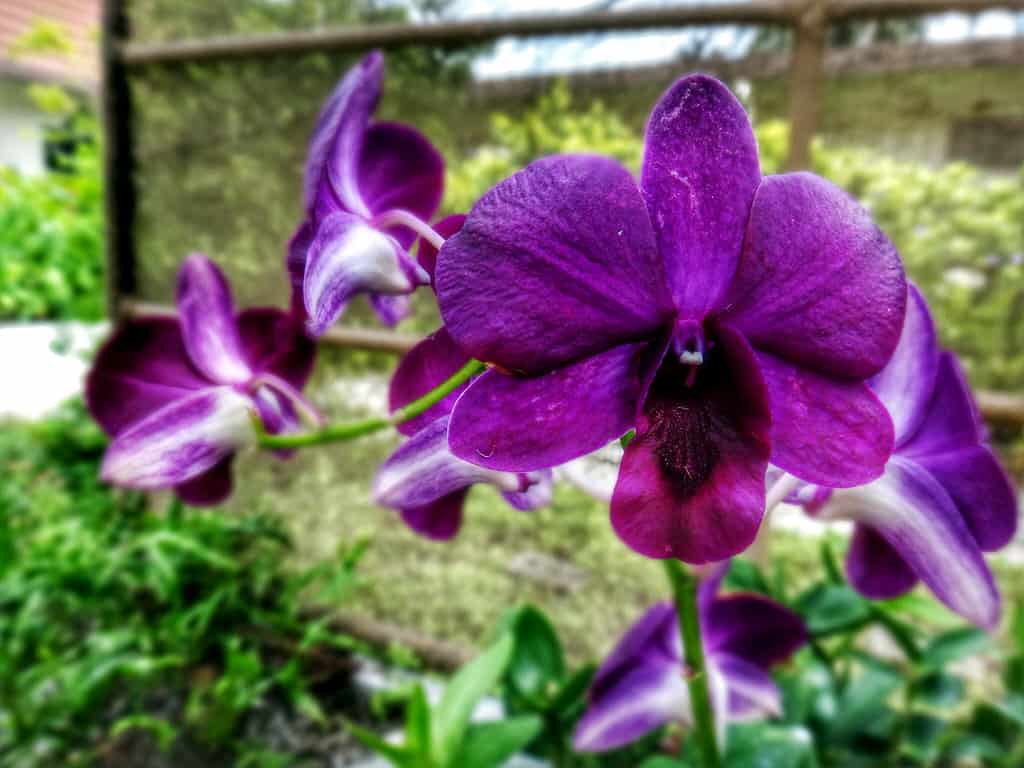 One of the things I noticed most about Kurumba was the sheer amount of spaces they have dedicated to just lounging and relaxing. From luxurious sunloungers along the ocean to chill beanbag chairs scattered on the beach, there seemed to be an unlimited number of ways to relax around the island. And you bet we took advantage of this during our stay.
My favorite spot were these circular, cushy pods lining the edge of the deck. Comfortable and shaded, it was the perfect spot to sit and watch sharks swim in the lagoon, while enjoying the cool ocean breeze.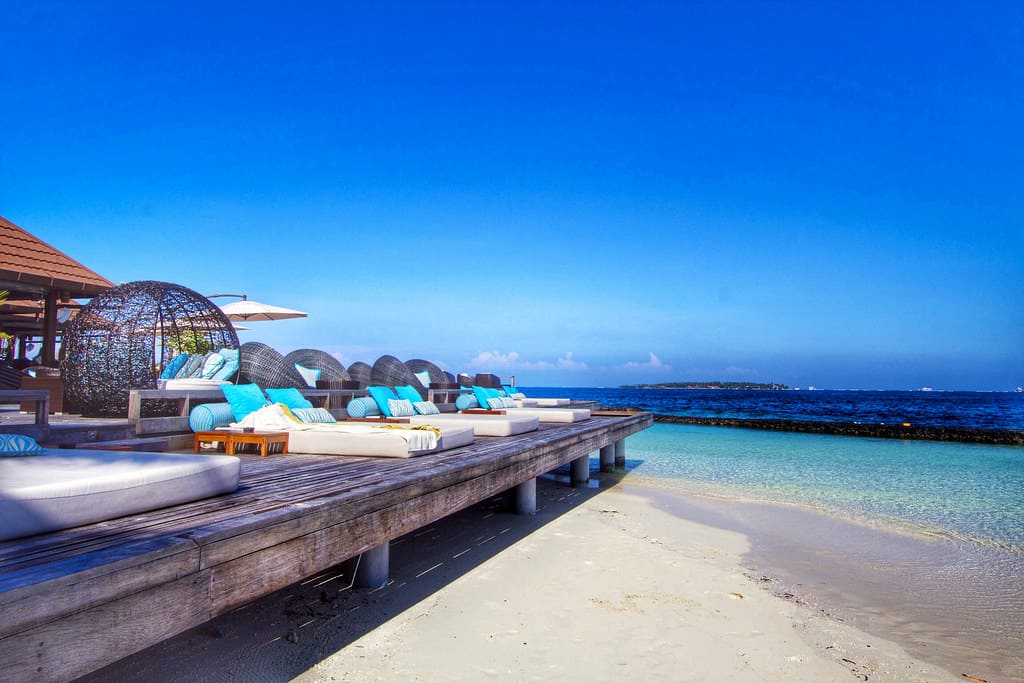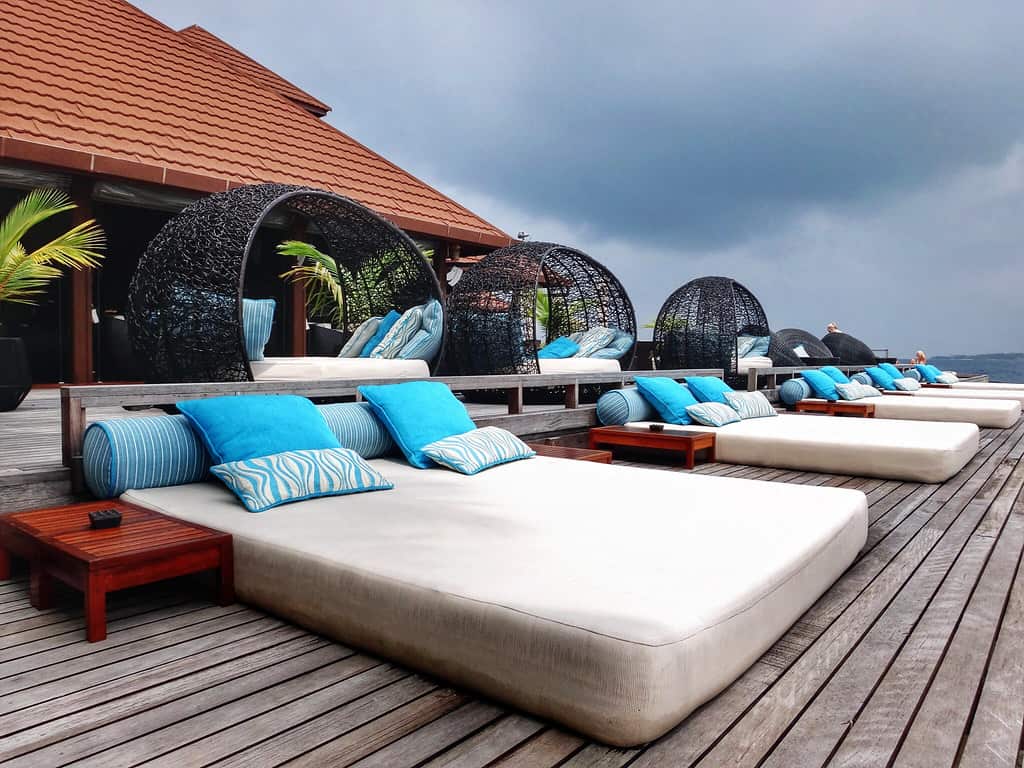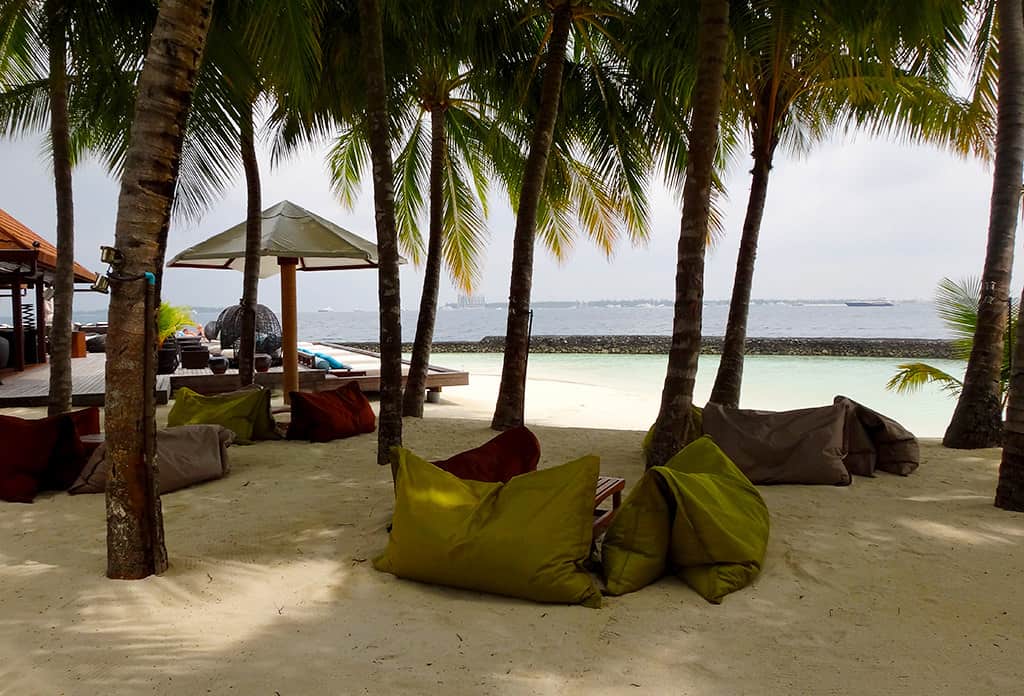 While there is plenty of marine and aquatic entertainment being on an island, there is also a swimming pool near the reception. We never got a chance to enjoy the pool, but we constantly saw many other guests enjoying it.
Besides all the excursions and marine-related activities, Kurumba also offers nightly entertainment, from cultural Boduberu dancing to jazz musicians playing at sunset.
We didn't stay long enough at Kurumba to experience most of these forms of entertainment. However, we did enjoy a bonfire on the beach as the sunset in the distance.
Once the sun had set, we found ourselves in the dark and realized we didn't know how to get back to our room. Luckily, we followed the orange glow of the bungalows along the shore until we were able to find the one we called ours.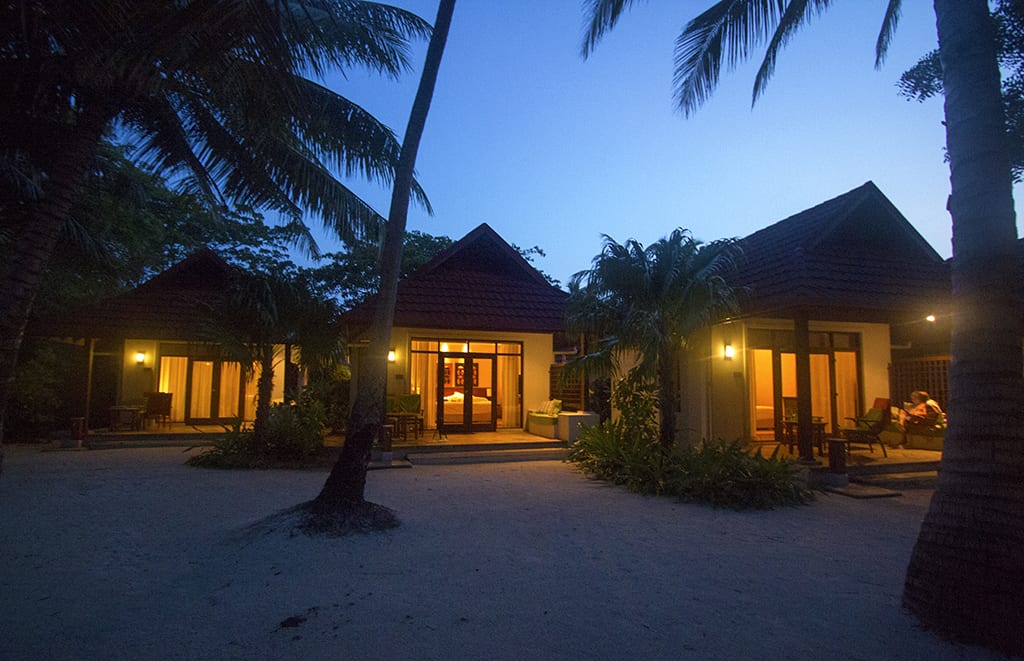 What once was the Maldives first private resort, has blossomed into a resort of outstanding luxury paired with Maldivian hospitality.
The staff was warm and welcoming throughout our stay, and often went out of their way for us. An example? It suddenly down-poured multiple times throughout our stay, yet somehow, we never learned and were always caught off-guard without an umbrella. Each time a wonderful staff member would offer us their umbrella to save us from the rain. By the end of our stay, we actually had to do an umbrella run to return 4 umbrellas!
Our time at Kurumba was not nearly long enough, but we enjoyed our short stay with them. It was clear to us why so many people constantly return to this particular resort time and time again.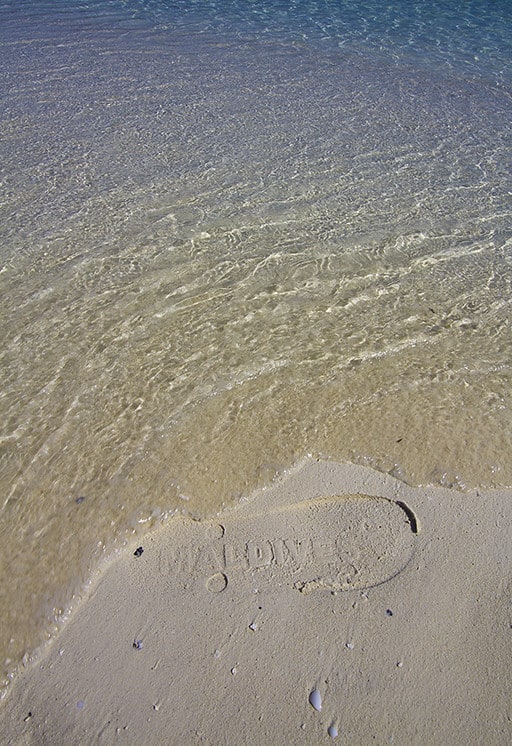 Thank you ever so much to Kurumba Maldives for their generous hospitality. We were guests of their beautiful resort, but as always, all opinions and love of open-air bathrooms are our own, regardless of who's footing the bill.